Caprese Grilled Cheese is made with melty mozzarella, juicy tomatoes, and pesto all in golden brown, toasty sandwich bread.
This recipe is the perfect twist on classic Grilled Cheese Sandwiches. Instead of cheddar or American cheese, the sandwich gets an Italian makeover with mozzarella cheese and juicy tomatoes. It's a delicious Lunch or Dinner that your whole family is sure to love.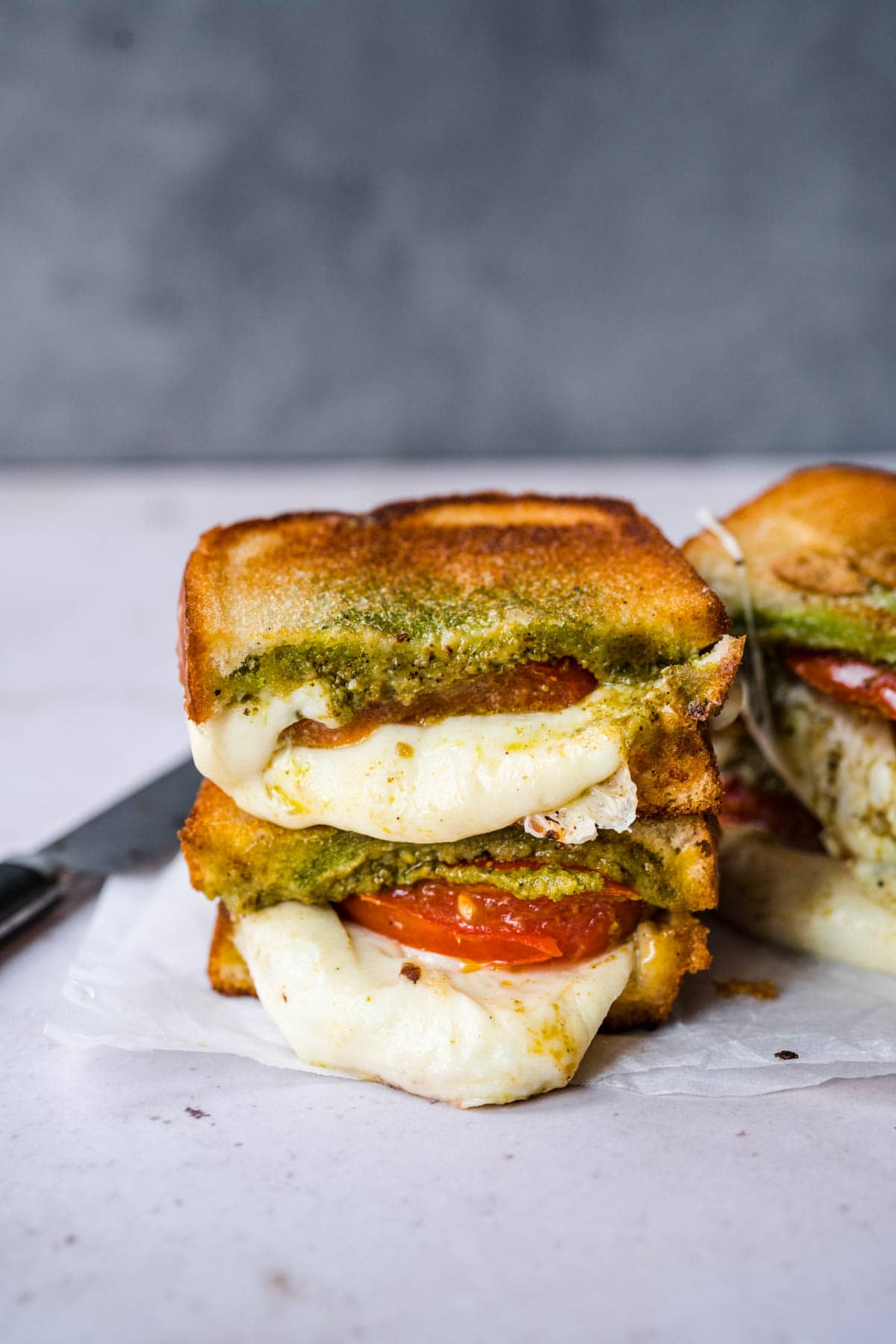 Caprese Salad is a traditional Italian dish made by layering fresh mozzarella and ripe tomatoes, then topping them with fresh basil leaves and dressing. The delightful salad is perfect for enjoying as a side dish, particularly in the summer when it's quite refreshing. This recipe is inspired by the same traditional Italian flavors but transforms them into a comforting sandwich.
If you're a Caprese lover, then this sandwich is sure to be a new favorite. The combination of melty cheese, juicy tomatoes, and toasty bread is the perfect way to get the best parts of both grilled cheese and Caprese Salad in one recipe.
You can serve Caprese Grilled Cheese as a main dish on its own or serve it up with a bowl of soup for a café-style meal. If you're looking for the perfect dinner idea for a cold night, it doesn't get cozier than a cheesy sandwich with a piping hot bowl of soup. Caprese Grilled Cheese is especially outstanding with Italian soups like Creamy Tomato Tortellini Soup or Italian Chicken Soup.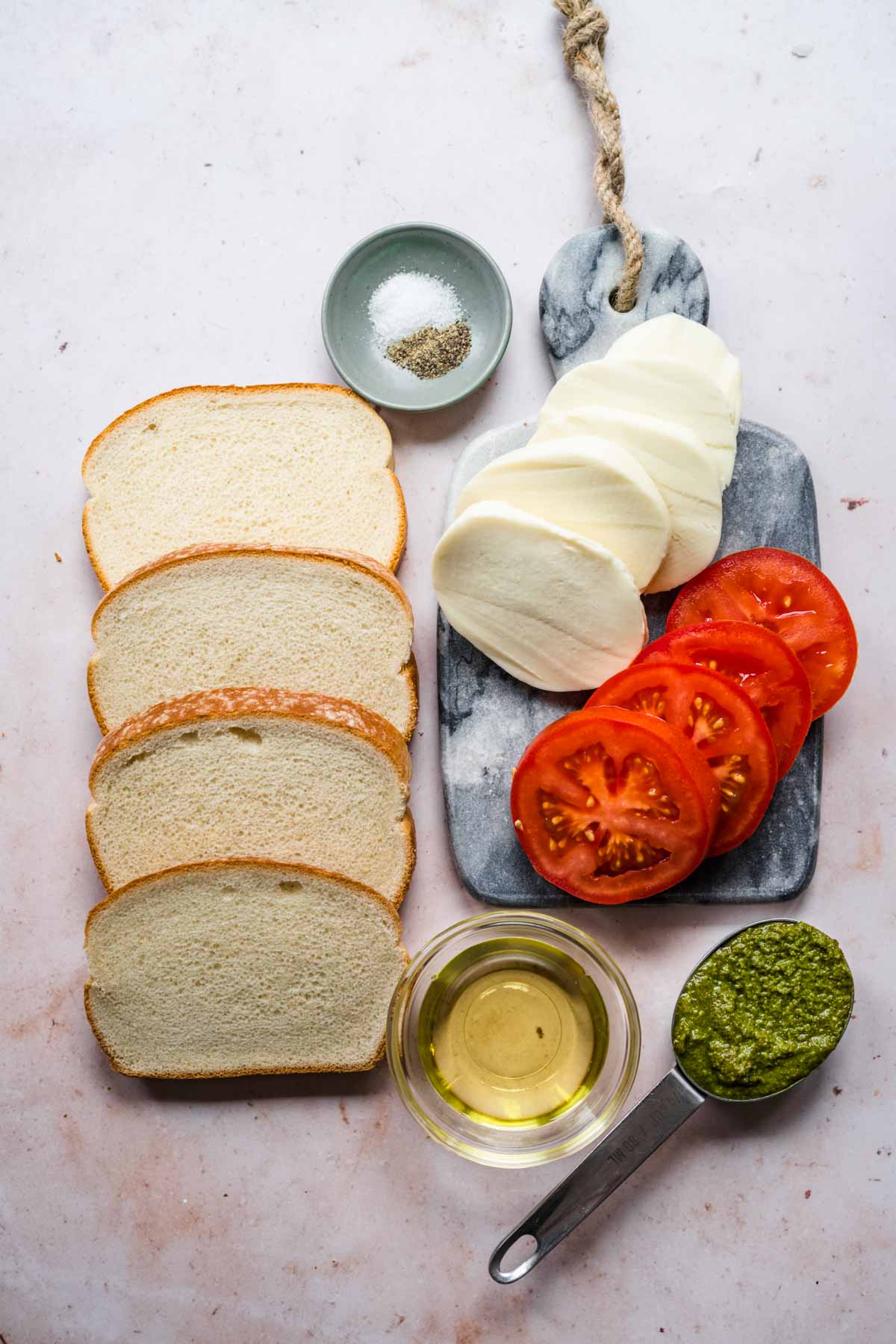 Frequently Asked Questions About Caprese Grilled Cheese
What's the best kind of bread for grilled cheese?
You want to use thick-cut white bread for the perfect grilled cheese. Texas Toast, sourdough, or brioche would work well. 
Can I add meat to the recipe?
You can absolutely add meat to your Caprese Grilled Cheese. Crispy bacon or Grilled Chicken would taste amazing with the mozzarella and tomatoes. Plus, the protein makes the recipe into a more filling entrée. Use leftover meat, or cook the meat ahead of time, then layer it into the sandwich filling. 
More Sandwich Recipes
Key Ingredients
Mozzarella: This recipe uses the same classic ingredients that you'd find in Caprese Salad for the sandwich filling. The first vital ingredient is fresh mozzarella cheese. It melts into gooey, stringy perfections, just like you want in grilled cheese sandwiches, but it also adds a distinct Italian flavor. 
Fresh Tomatoes: Speaking of Italian flavor, this sandwich recipe wouldn't be the same without juicy tomato slices. Pick out some fresh, red, juicy tomatoes to layer into the sandwich. They add refreshing summer flavor to the comforting sandwich recipe. 
Olive Oil: Instead of the butter you'd spread over the bread in a typical grilled cheese recipe, use some virgin olive oil. It works just as well to toast the sandwich bread as butter would. Plus, its taste is more reminiscent of the olive oil dressing on Caprese Salad.
Basil Pesto: You can pick up a jar of pesto from the grocery store or follow this easy recipe to make your own delicious Pesto from scratch.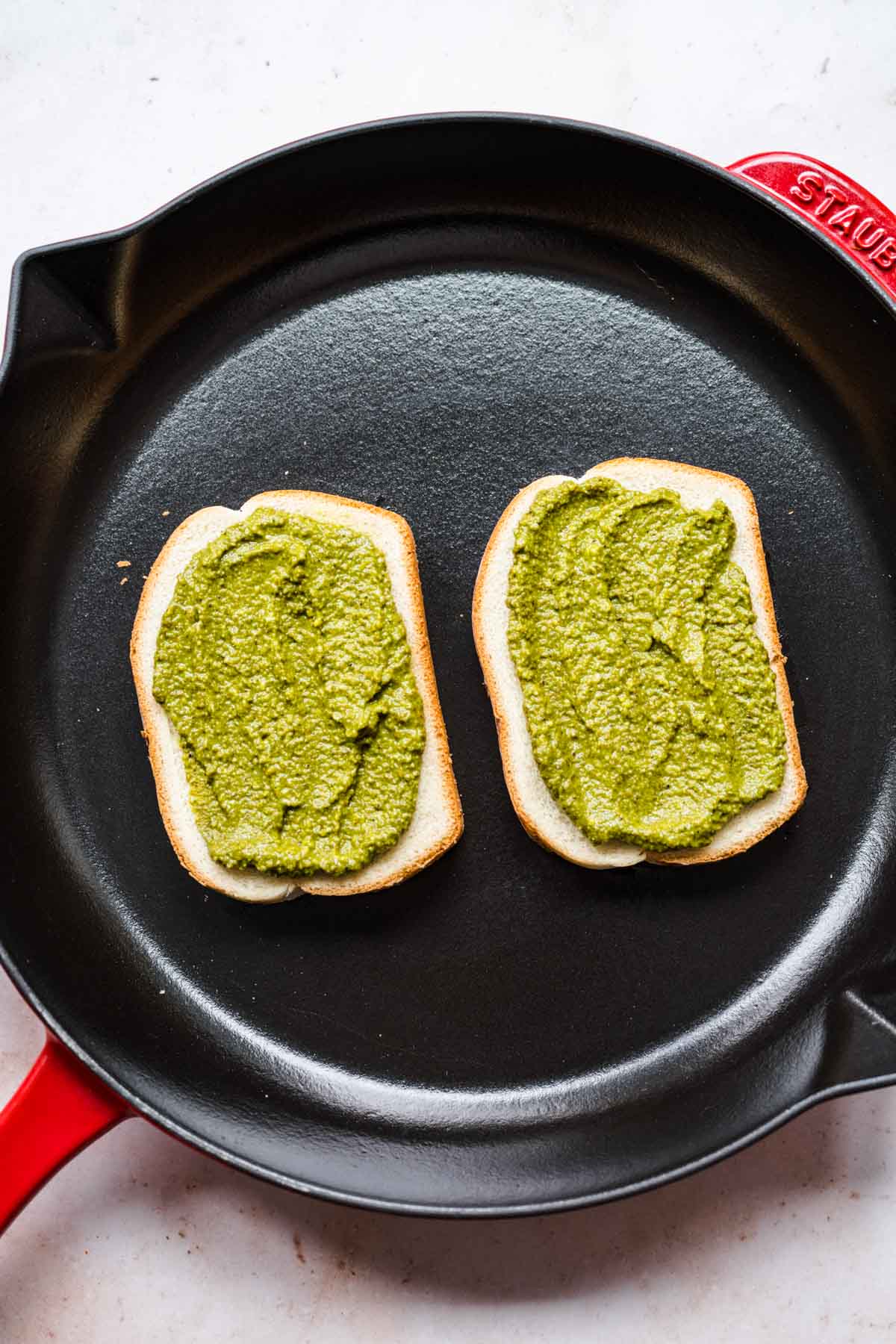 How to Make Caprese Grilled Cheese
Prep Time: Slice fresh tomatoes into 1/2″ thick circles, and cut the bread loaf into thick pieces if it's not already sliced. 
Bread: Brush each slice of bread with olive oil on one side. Then place two pieces onto a large, non-stick skillet with the oil side down. Turn the stovetop to medium heat.
Filling: Spread 2 tablespoons of pesto over each slice of bread. Then top that with tomato slices and a slice of mozzarella cheese. Sprinkle kosher salt and black pepper over the top.
Finish: Top with the remaining slices of bread with the oil side facing out.
Cook Time: Continue to cook for 3 minutes on each side. Once the bread is golden brown with melty cheese inside, you can remove the Caprese Grilled Cheese Sandwiches from the hot skillet and serve.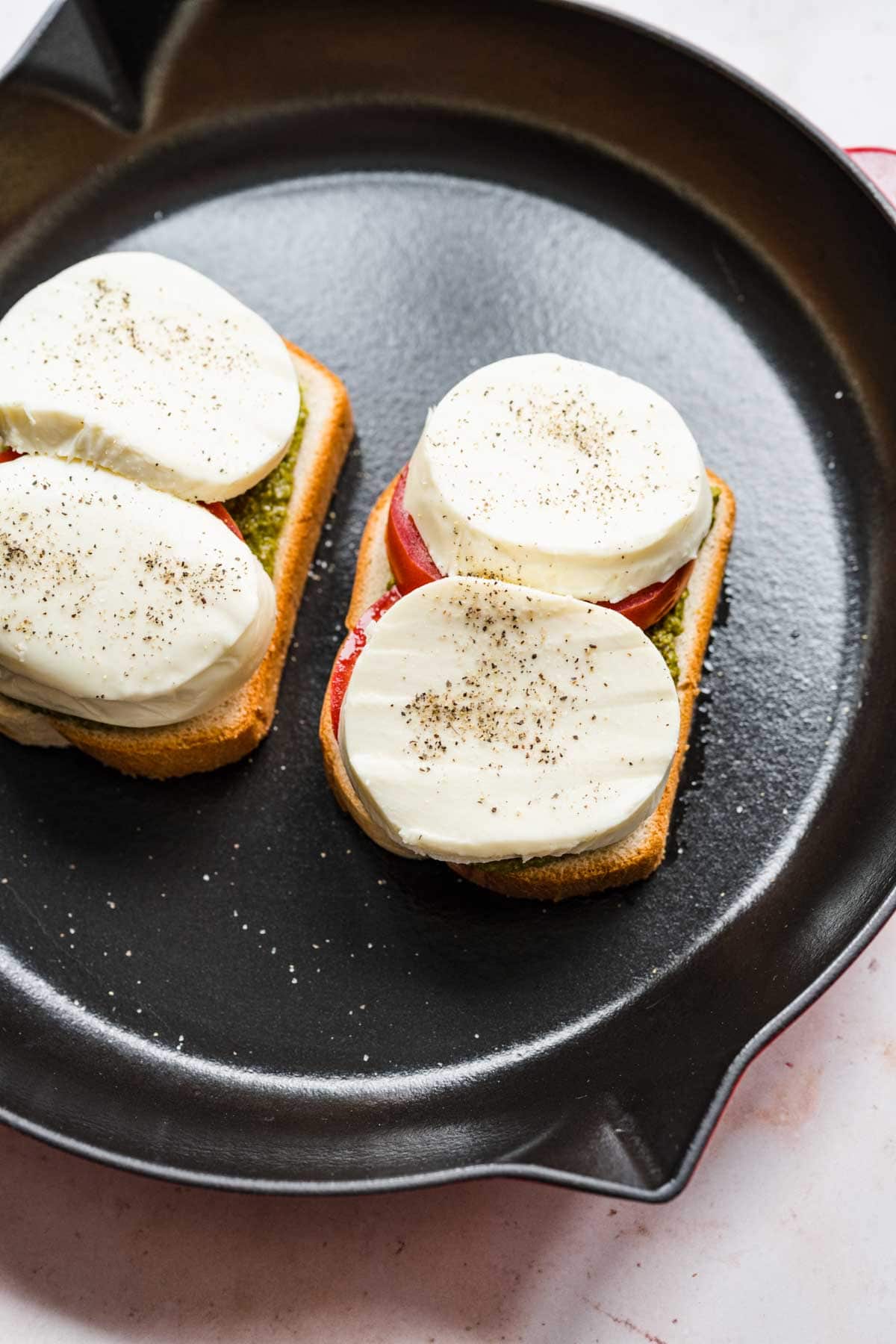 Create a free account to

Save Recipes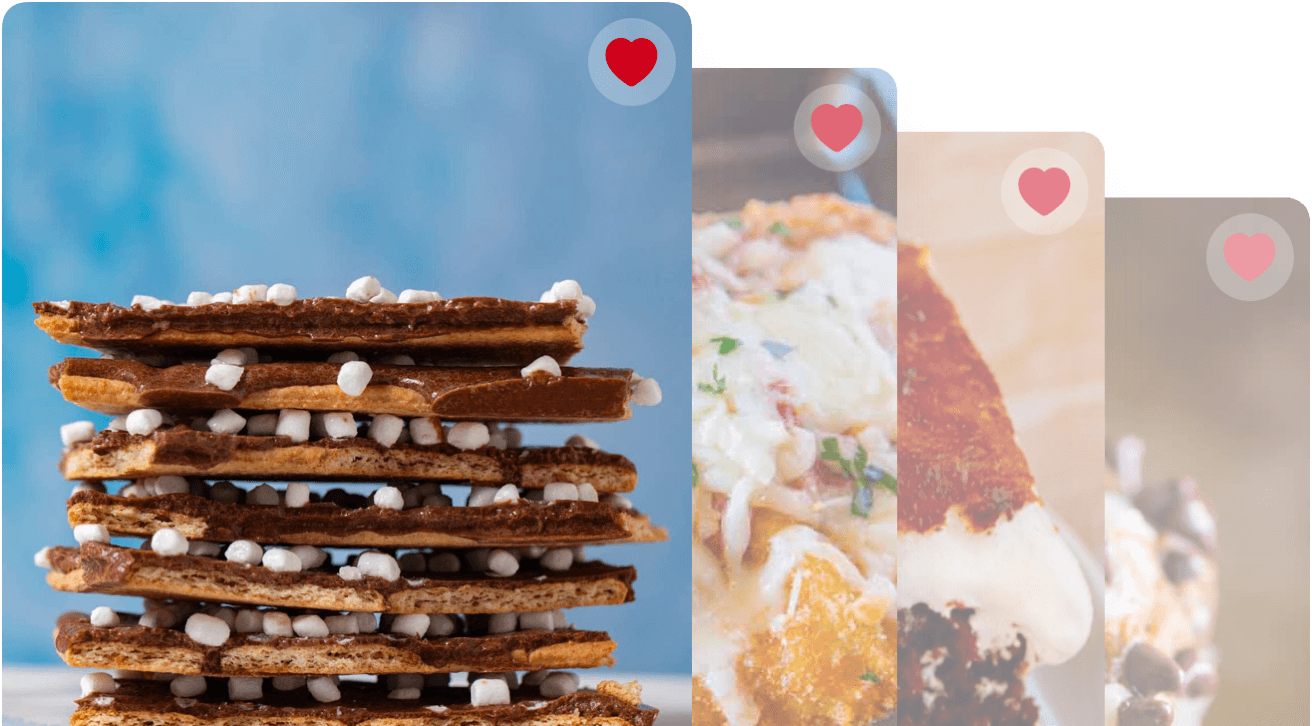 Variations on Caprese Grilled Cheese
Bread: You can try out different kinds of bread to make your Caprese Grilled cheese. Crusty sourdough bread, Italian bread, ciabatta, brioche, or pumpernickel would all taste wonderful. Just slice the fresh bread and toast it up as usual for the perfect sandwich.
Fresh Basil: Caprese salad uses fresh basil, but for this recipe use pesto instead. If you'd prefer to use fresh basil leaves, you can layer them between the tomato and cheese in the bread slices. 
Cheese: The mozzarella cheese is essential to making this sandwich recipe reminiscent of a Caprese salad. However, you can always add a second kind of cheese into the filling along with the mozzarella. Parmesan, cheddar, or provolone would taste particularly good. 
Seasonings: You could add some seasonings to the olive oil used to brush on the bread. Garlic infused olive oil will add a nice Italian flavor to your grilled cheese. A sprinkling of salt and pepper on the outside of the bread would also add additional flavor with every bite. A light sprinkling of parmesan cheese on the outside of the bread would add a decadent, nutty, salty, cheesy Italian flavor, and a gourmet grilled cheese experience.
Balsamic Glaze: You can use fresh balsamic glaze to dip your sandwiches in or spread over the bread slices before cooking. To make the balsamic glaze, mix ½ cup balsamic vinegar and 3 tablespoons honey or brown sugar. Add the mixture to a small saucepan over medium heat. Then, reduce the heat to medium-low once the mixture starts to bubble. Continue to simmer for about 10 minutes until the glaze reduces. Then let it cool before using it on your sandwiches.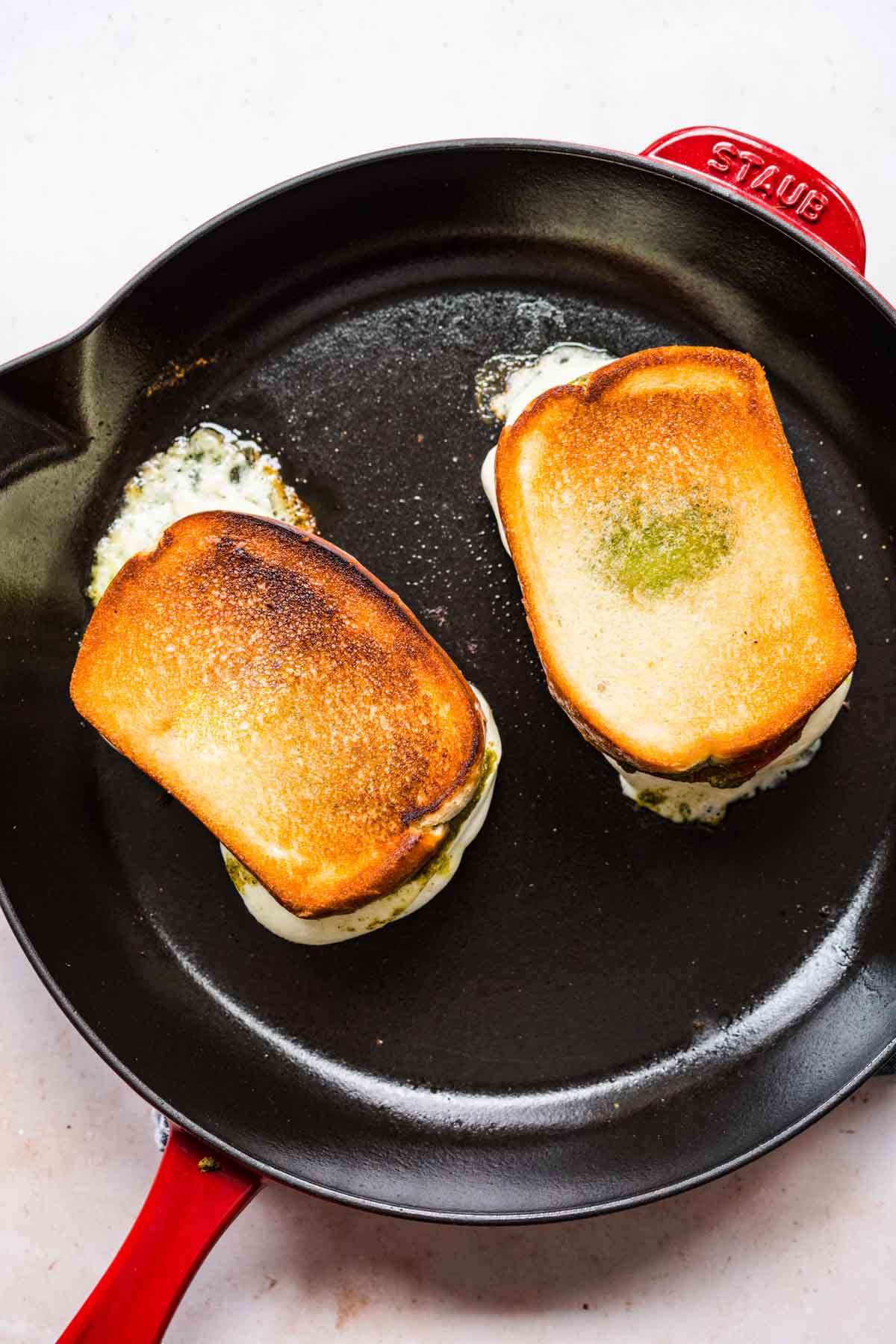 More Italian Favorites
How to Store Caprese Grilled Cheese
Serve: After cooking Pesto Caprese Grilled Cheese, don't leave the sandwiches at room temperature for more than 2 hours.
Store: Although Grilled Cheeses are best fresh, you can store leftovers in the fridge for 1-2 days. Wrap them carefully in plastic wrap. Then when you're ready to enjoy the leftovers, reheat the sandwiches in your heavy skillet until the cheese is melty again.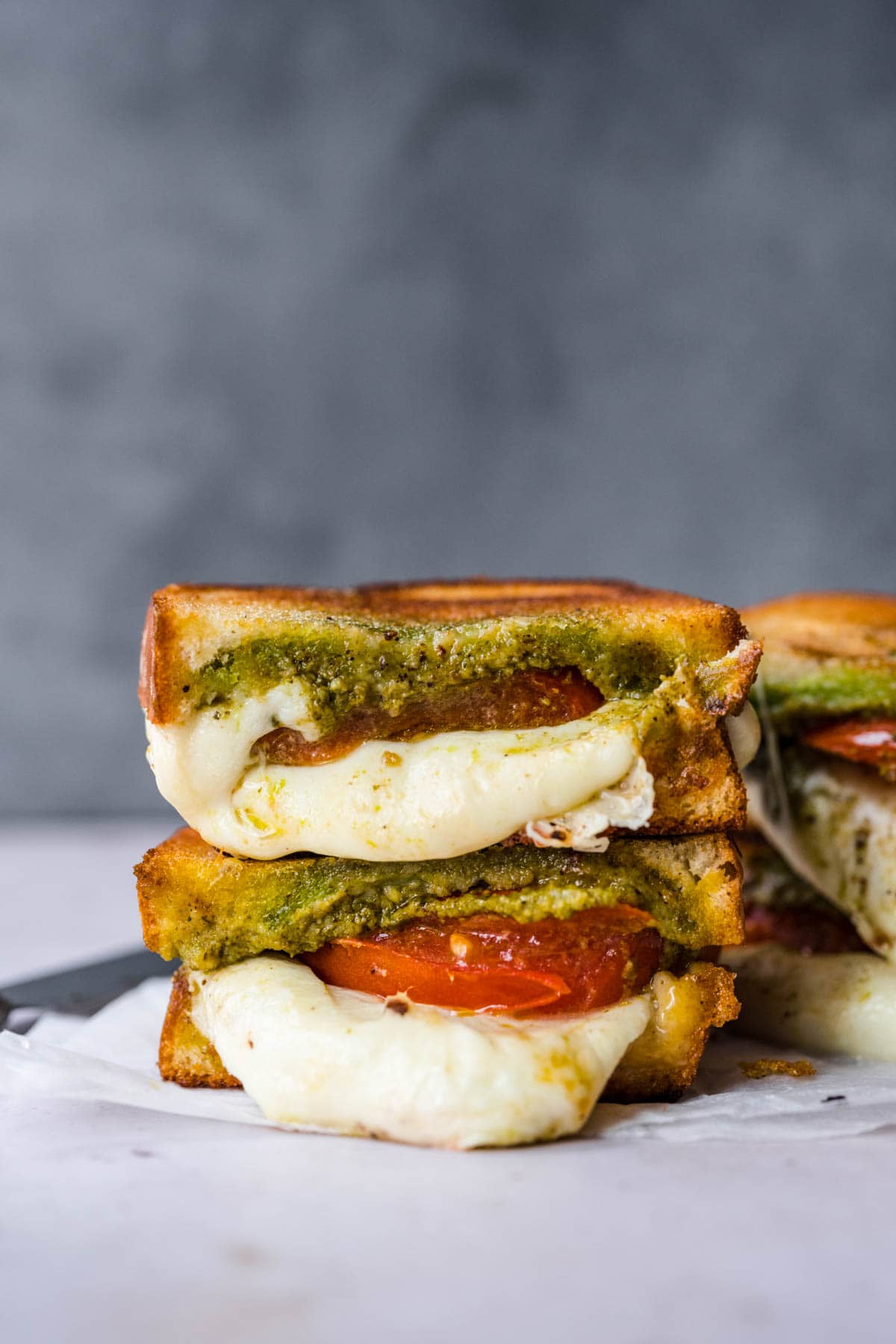 Ingredients
4

slices

thick cut sandwich bread

2

tablespoons

olive oil

1/4

cup

basil pesto

1

vine tomato

, sliced 1/2" thick

4

slices

fresh mozzarella

, cut thick

1/4

teaspoon

kosher salt

1/8

teaspoon

coarse ground black pepper
Instructions
Brush one side of each piece of bread with olive oil.

Place two pieces of bread, oil side down in a large, heavy skillet on medium heat.

Spread 2 tablespoons of pesto on each piece of bread.

Top with tomato slices and mozzarella cheese.

Sprinkle on the salt and pepper.

Top with the remaining bread, olive oil side out.

Cook for

3 minutes

on each side until golden brown.
Nutrition
Calories:
560
kcal
|
Carbohydrates:
31
g
|
Protein:
19
g
|
Fat:
40
g
|
Saturated Fat:
12
g
|
Polyunsaturated Fat:
3
g
|
Monounsaturated Fat:
14
g
|
Trans Fat:
0.01
g
|
Cholesterol:
47
mg
|
Sodium:
1178
mg
|
Potassium:
249
mg
|
Fiber:
2
g
|
Sugar:
6
g
|
Vitamin A:
1522
IU
|
Vitamin C:
8
mg
|
Calcium:
449
mg
|
Iron:
2
mg