Easy Crepes are an amazing and easy breakfast made with simple ingredients and perfect for adding your favorite sweet or savory toppings.
This is the perfect crepe recipe for a holiday breakfast, weekend morning, or brunch. It's a classic Breakfast Recipe, similar to Pancakes, but wonderfully light and thin. They're delicious and easy to customize with your favorite toppings.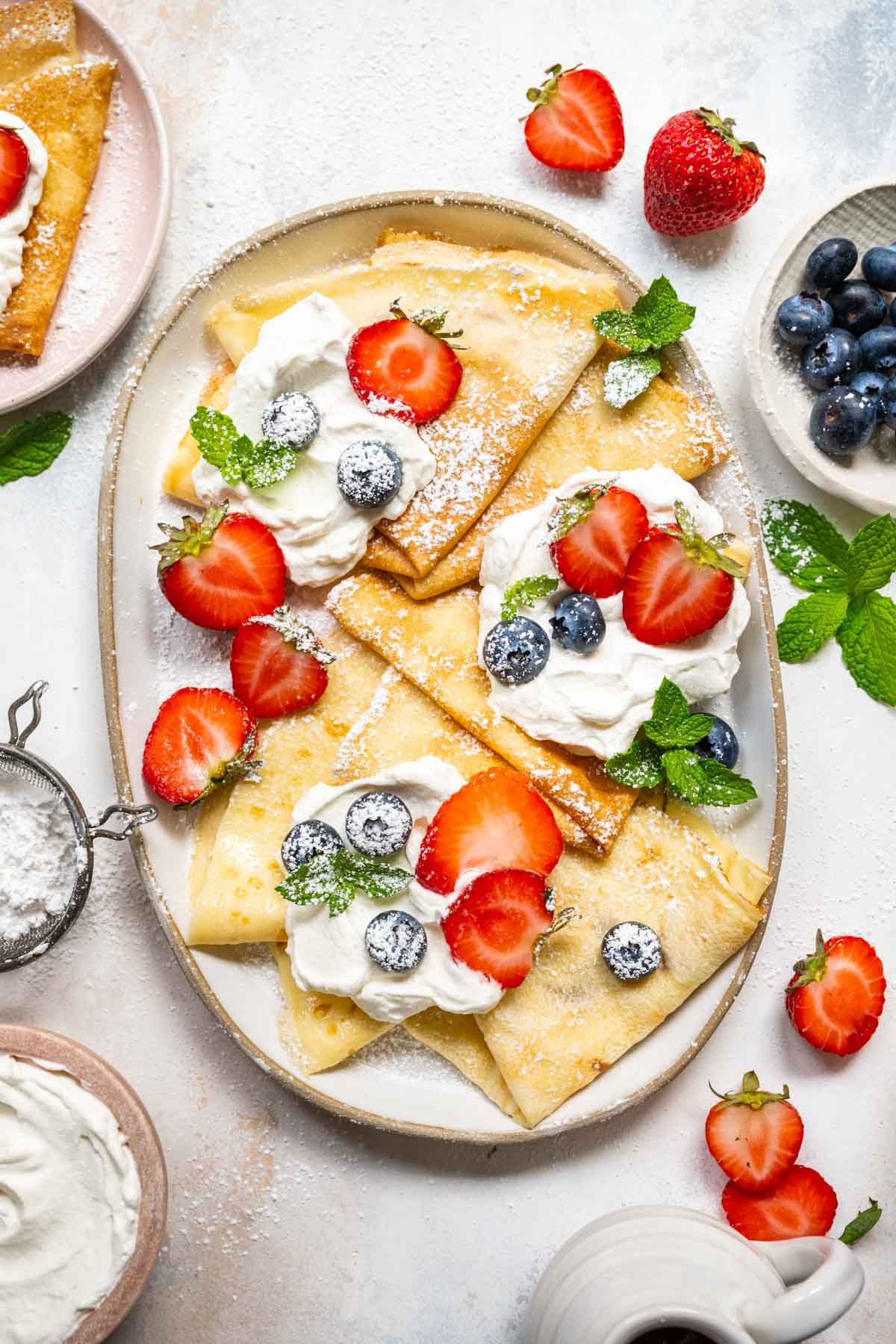 This Easy Crepe recipe is the perfect way to enjoy a classic breakfast anytime you're craving it. If you've never made them before, the paper-thin French crepes might seem intimidating. However, they're actually super easy to make with a basic ingredient list and ultra-simple cooking method.
Making crepe batter isn't that different from pancake batter. The main difference is that crepe batter doesn't have a rising agent, like baking powder or baking soda. Those ingredients are what help pancakes to rise and become fluffy. Instead, this dish stays flat, and is perfect to roll up with savory or sweet filling.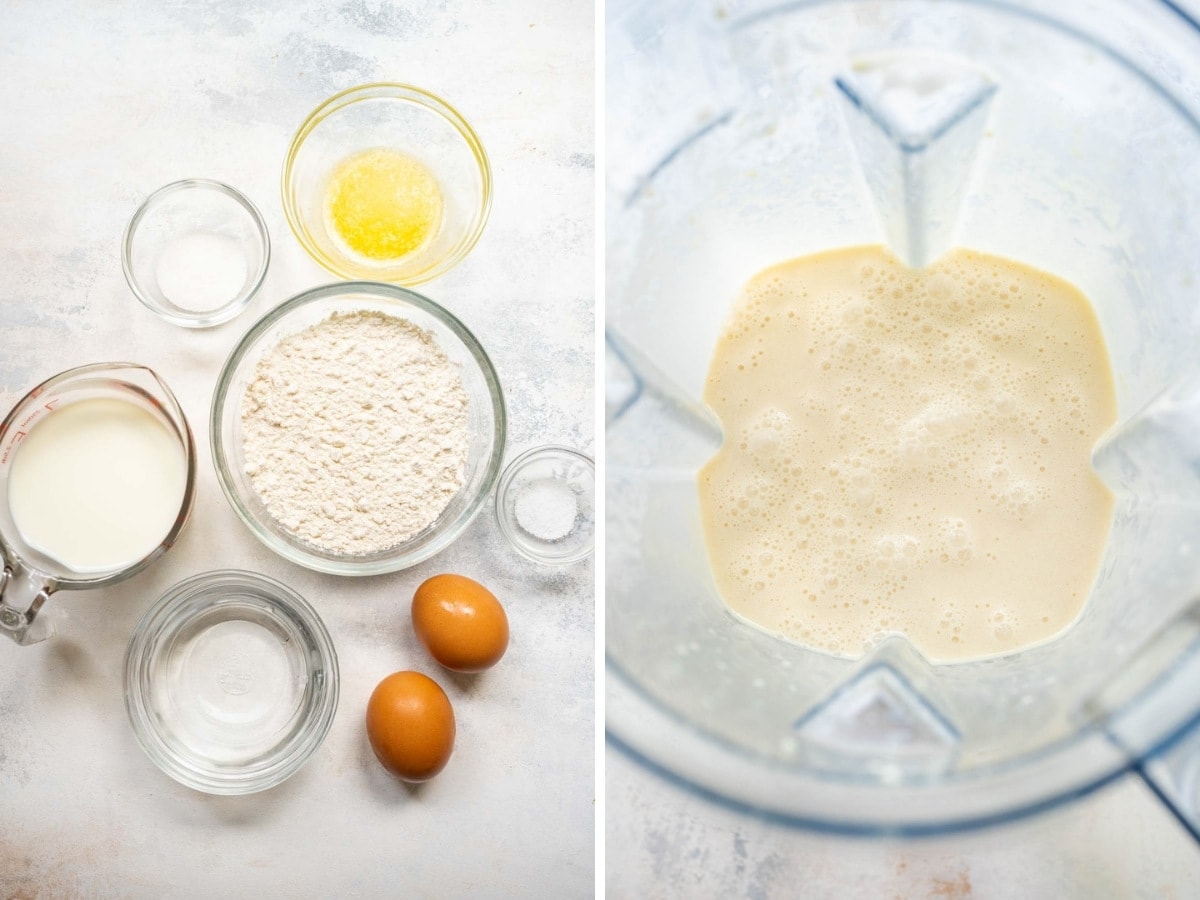 Fillings and Toppings
There are so many ways you can enjoy this delicious crepe recipe. Finish off the breakfast treat with typical toppings like maple syrup, powdered sugar, or cinnamon sugar. You could also get a little more creative with other favorite crepe fillings. Below are some favorite fillings you might want to try.
Sweet Cream Cheese: Try combining a softened package of cream cheese with 1 ¼ cups powdered sugar, 1 teaspoon vanilla extract, 1 teaspoon lemon juice, and 1 cup heavy cream. The sweet cream cheese filling is perfect to spread over the crepes and it's a good base that you can add other ingredients over the top like fresh fruit or chocolate chips.
Strawberry Cream Cheese Filling: One of the best ways to enjoy the cream cheese filling is by spreading it over the crepe, then adding Strawberry Jam on top. Roll the crepe, then add some Whipped Cream, and sliced strawberries for another burst of fruit.
Blueberry Crepe Filling: Just like with the strawberries, you can make an amazing blueberry filling with simple Blueberry Jam.
Banana Crepe Filling: Slice up a ripe banana to layer in the crepe. This is especially great if you combine it with a layer of Nutella, or combine peanut butter and drizzled melted chocolate.
Ice Cream: Serve some ice cream on top of sweet crepes for an extra special dessert.
Crepe Dessert Bar: Your guests will be delighted with a Crepe dessert bar where they can build their own sweet Crepe creation. Set out the Crepes, various fruit toppings, jams, chocolate sauce, caramel sauce, whipped cream, and some sprinkles or crushed candies to really make your dessert bar extra special.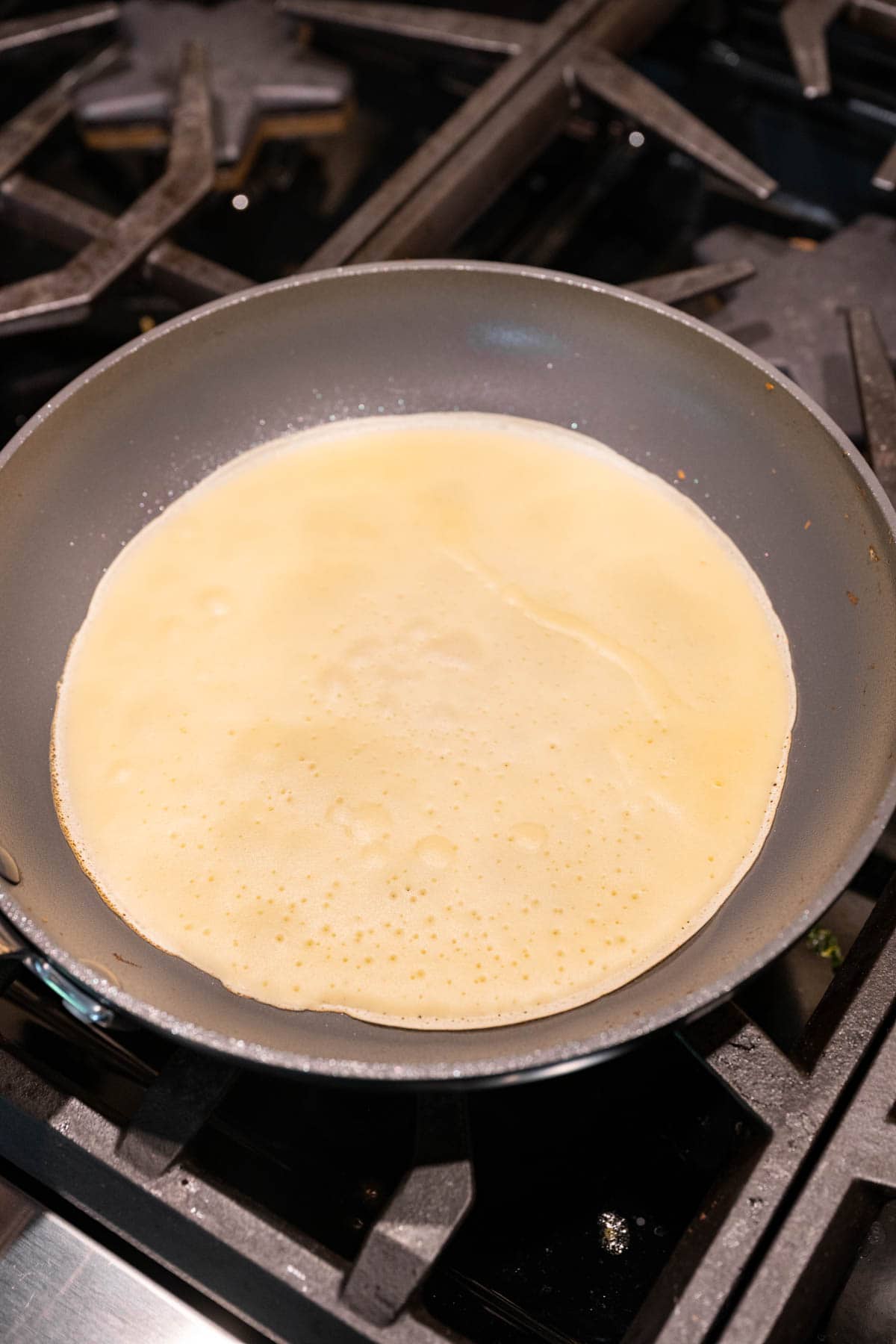 Classic Breakfast Recipes
How to Make Easy Crepes
Crepe Batter: Add the flour, granulated sugar, and salt to a small mixing bowl. Then add 1 cup milk, water, melted butter, and eggs to a blender. Process until combined. Add the flour mixture to the wet ingredients and process again until smooth.
Chill: Cover the batter bowl and put it in the fridge to chill for at least an hour, or as long as overnight. This is an important step because it allows the flour to absorb the liquid, which gives you a more delicate end result.
Cooking Time: When you're ready to cook in the morning, oil a paper towel or use a butter wrapper to grease the pan. Use the oil or butter to coat the base of the entire skillet. Then put it over medium-high heat. Fill up a little less than ¼ cup crepe batter, and pour it into the center of the skillet. Cook for about 1 minute, then flip and cook for 10-20 seconds on the second side. To easily flip without breaking, use a small metal spatula and work your way from the outside to the middle before flipping.
Finish: Place the finished Easy Crepes on a towel to let them cool. Repeat the cooking steps with the rest of the batter and layer them with wax paper or parchment paper between each one so they don't get stuck together.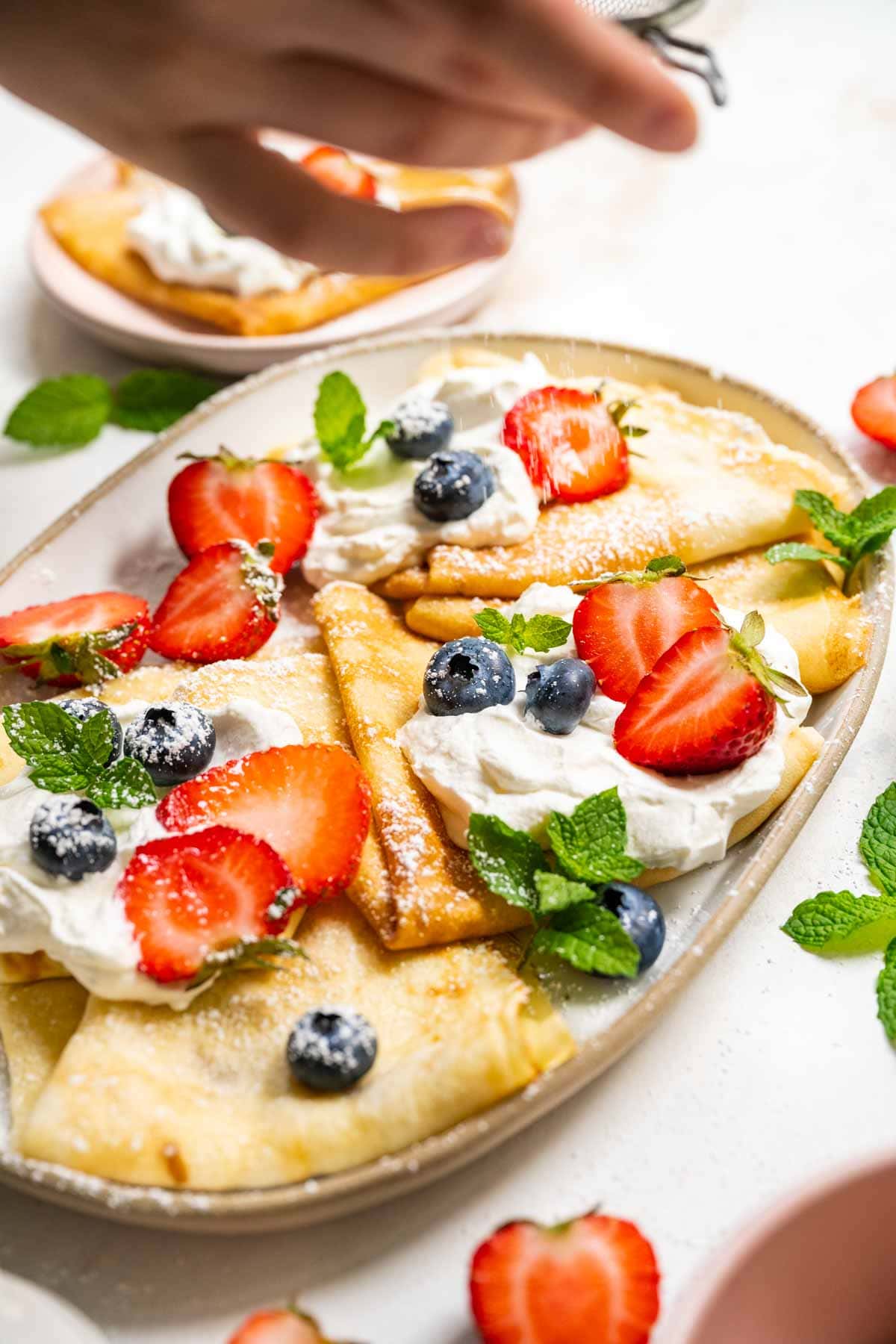 Create a free account to

Save Recipes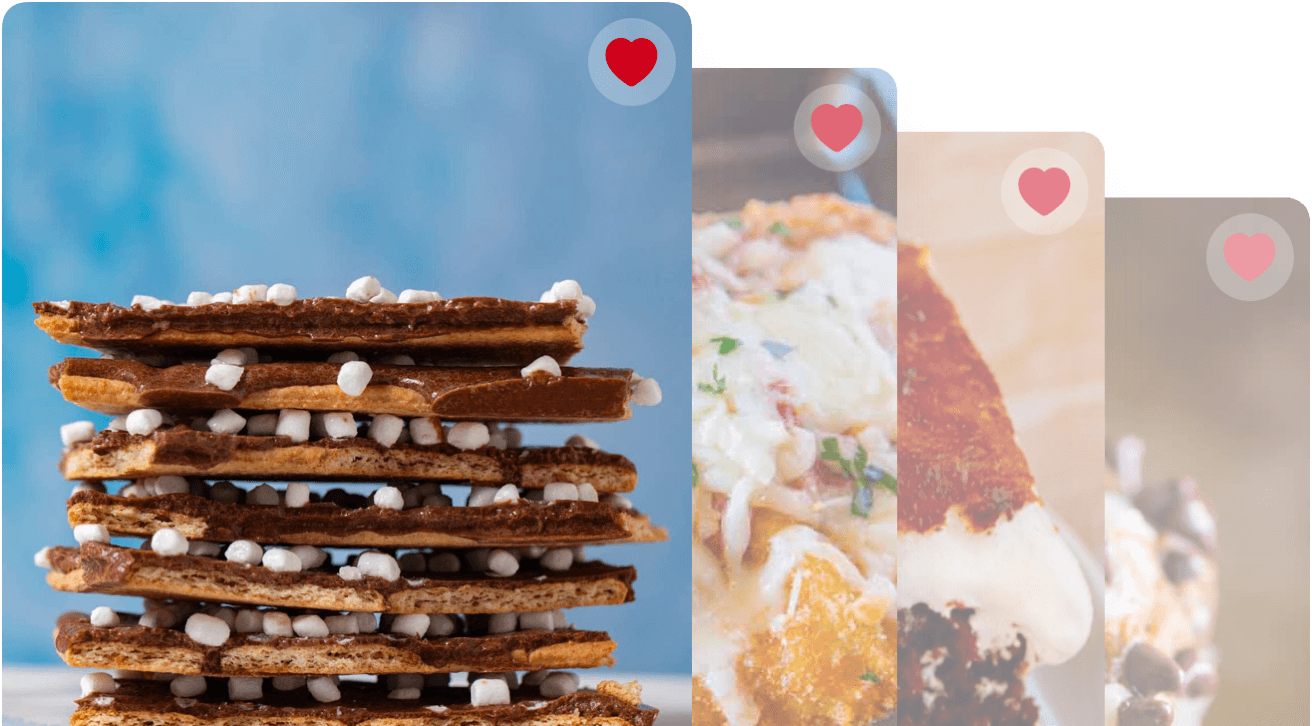 Frequently Asked Questions About Easy Crepes
What kind of pan is best when making crepes?
A stainless steel pan is a great choice when making crepes. If you'd like to use a nonstick pan, that will also work. Just be sure to use a thin rubber or silicone spatula on the pan so it won't scratch your nonstick surface.
Can crepes be made ahead?
Crepes will store well in the refrigerator and will make things very easy on the day you want to serve them. If you're making sweet crepes you can serve them cool or at room temperature. To make savory crepes you'll want to warm them up in the microwave or covered in the oven set at a low 250 degrees.
Variations
Chocolate Crepe: For an amazing dessert crepe, reduce the amount of all-purpose flour by 2 tablespoons and whisk 2 tablespoons of unsweetened cocoa powder into the dry ingredients.
Spices: You can add some different flavors to the recipe like a pinch of cinnamon, nutmeg, or ginger.
Savory Filling: To make a delicious savory crepe you can use fillings like mushrooms, garlic, spinach, kale, broccoli, and top it all off with parmesan, Swiss, or cheddar for a delicious cheese crepe. Add some protein with thinly sliced chicken or steak. You could also make a savory breakfast crepe with scrambled eggs, veggies, and sliced ham or any other breakfast meat.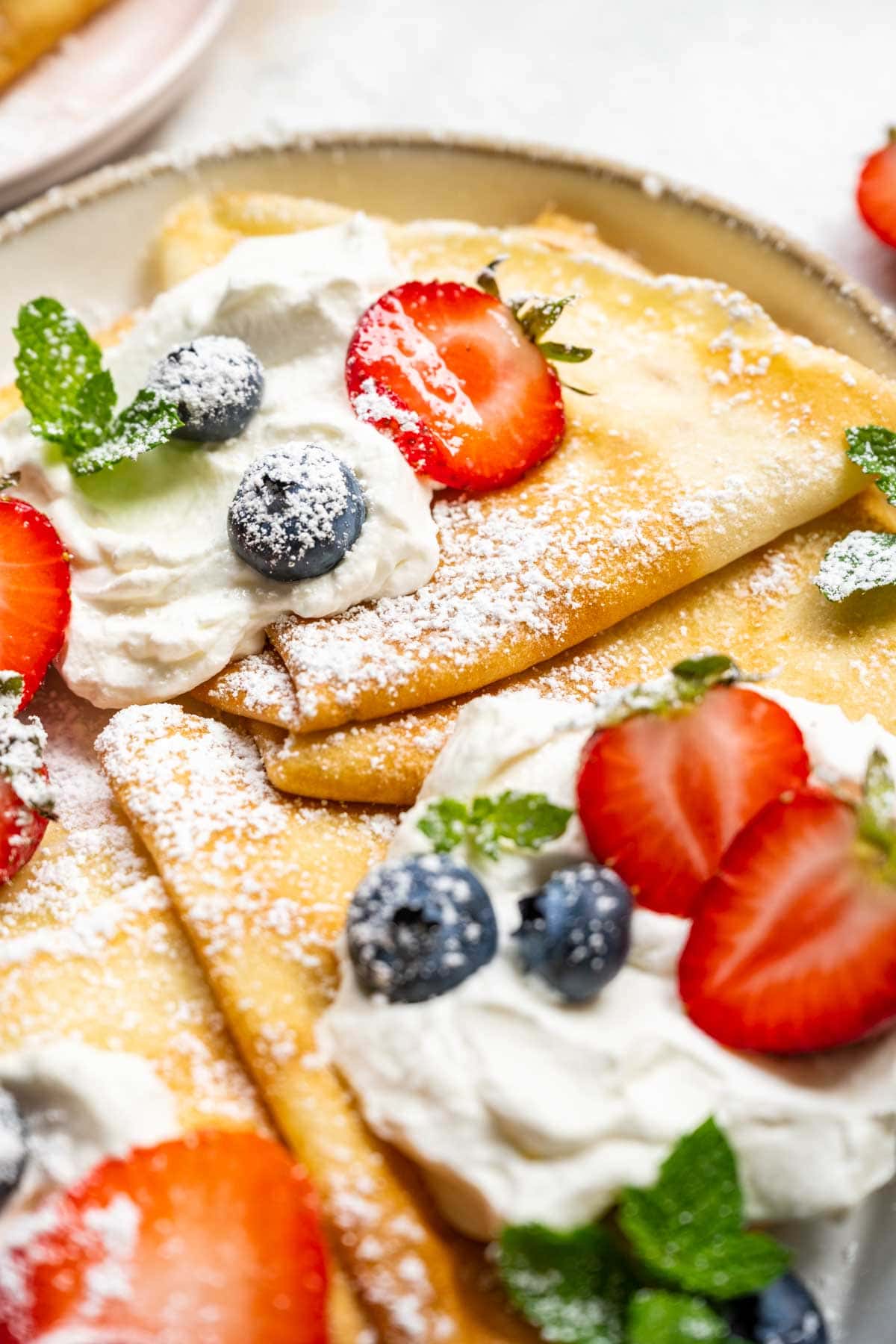 Sweet Breakfast Recipes
How to Store
Serve: This homemade crepe recipe will stay good at room temperature for up to 2 hours.
Store: You can store the delicious crepes in an airtight container in the fridge with wax paper between each of them. They'll stay good for up to 5 days.
Freeze: To freeze the crepes, separate the stack with wax paper and seal them in an airtight freezer bag. They'll keep well for 2 months. To reheat them, let them thaw in the fridge. Then pop them in the microwave, or place them on a baking sheet covered with tin foil to heat in a 250-degree oven.


Ingredients
1

cup

flour

2

teaspoons

sugar

1/4

teaspoon

salt

1

cup

whole milk

1/2

cup

water

1

tablespoon

unsalted butter

, melted

2

large

eggs
Instructions
Add flour, sugar, and salt in a small bowl.

Combine milk, water, melted butter, and eggs in a blender.

Add the flour mixture to milk mixture, and process until smooth.

Cover batter; chill for at least 1 hour or as long as overnight.

Wipe a large skillet with an oiled paper towel or butter wrapper, then heat on medium heat.

Pour just under ¼ cup batter into the pan; use the bottom of the cup to lightly and quickly spread the batter on the pan in a circle.

Cook

1 minute

, flip and cook for

10-20 seconds

until the second side is cooked.

Place crepe on a towel; cool completely.

Repeat the procedure with the remaining batter, stirring batter between crepes. Stack crepes between single layers of wax paper to prevent sticking.
Nutrition
Calories:
109
kcal
|
Carbohydrates:
14
g
|
Protein:
4
g
|
Fat:
4
g
|
Saturated Fat:
2
g
|
Polyunsaturated Fat:
0.4
g
|
Monounsaturated Fat:
1
g
|
Trans Fat:
0.1
g
|
Cholesterol:
54
mg
|
Sodium:
103
mg
|
Potassium:
80
mg
|
Fiber:
0.4
g
|
Sugar:
3
g
|
Vitamin A:
161
IU
|
Calcium:
48
mg
|
Iron:
1
mg