Chocolate and Strawberry Ice cream cake that's great for birthday parties! You (and kids!) can make in minutes, and decorate it with your favorite toppings!
We've made an Ice Cream Sandwich. We've made an Ice Cream Bar. We've even made an Ice Cream Burger. Now, get ready for ice cream cake! Our recipe is a delicious blend of chocolate and strawberry ice cream over fluffy pound cake.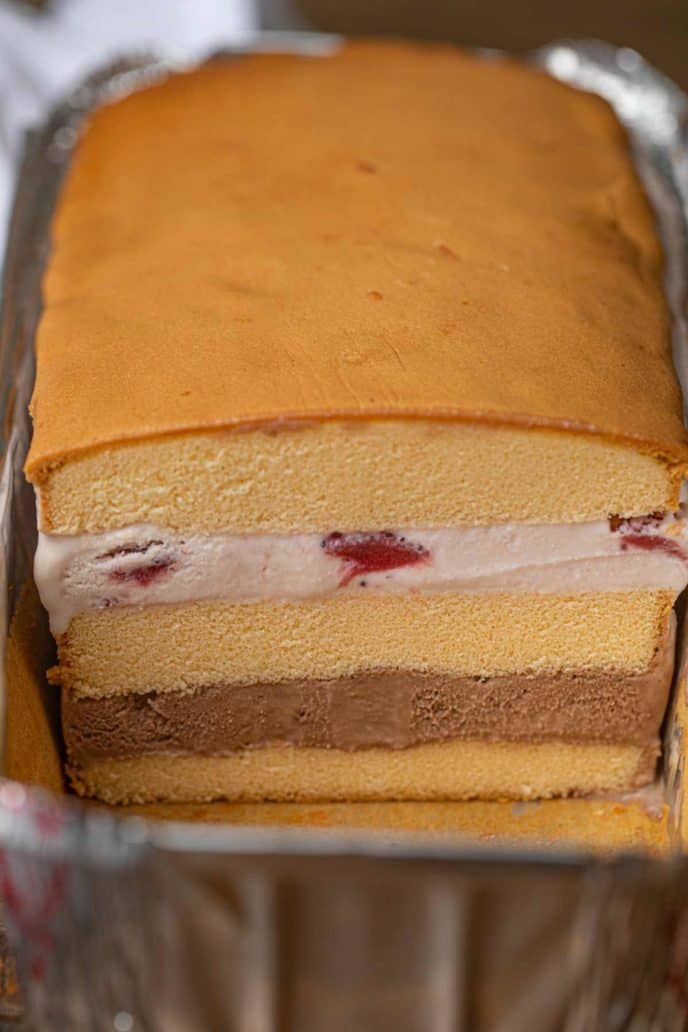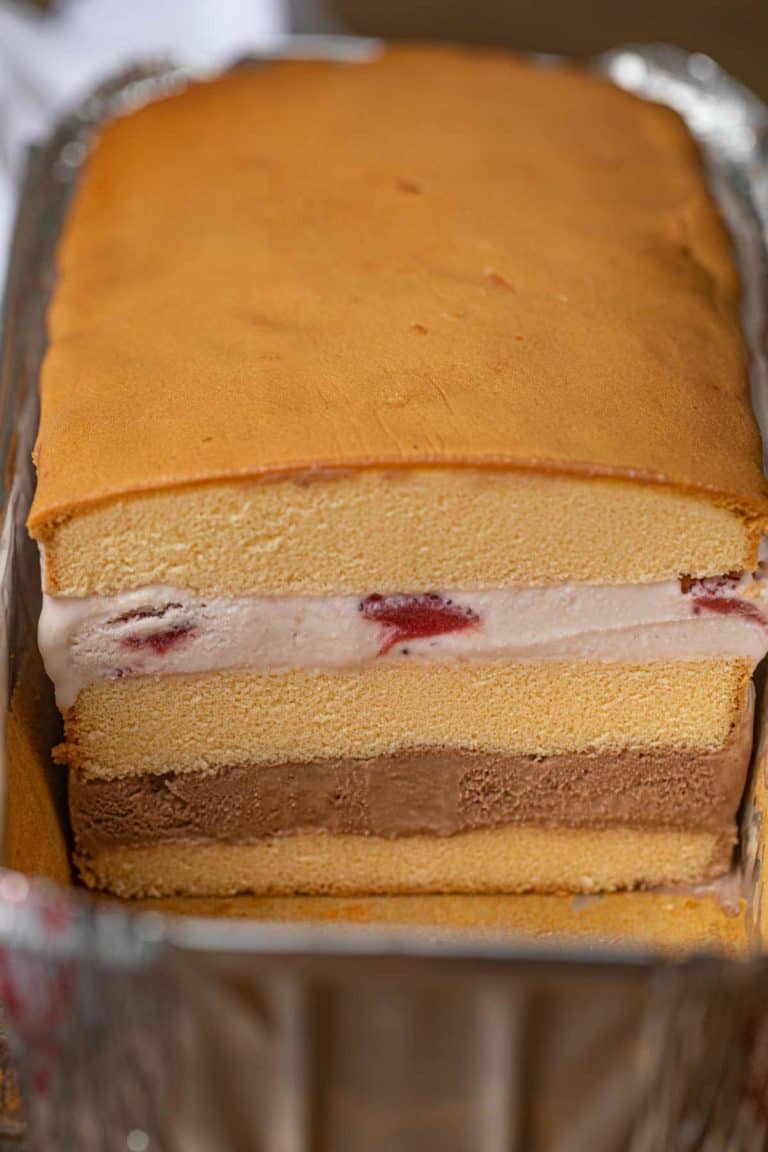 ICE CREAM CAKE
So you want an ice cream cake, but you don't have time to battle with cake batter made from scratch. You also don't want to pick up an impersonal one from the store. Our cake recipe is the best of both worlds: all you have to do is assemble, freeze and eat it.
All you have to do is go pick up some pound cake from your grocery store, along with two flavors of ice cream. We chose strawberry and chocolate ice cream because of how well the two flavors go together, but feel free to pick any kind you like. You can mix and match your favorite flavors for whoever's birthday cake it is, from cookie dough to mint chocolate chip ice cream.
If you want to really impress your friends and family, you can make your own Homemade Vanilla Ice Cream and Vanilla Pound Cake to use for this easy recipe. We used the pre-made variety because this recipe is all about a quick and easy dessert hack, a fun treat to make with your kids and also because slicing into the frozen pound cake is just so much fun.
If you liked this cake, there are plenty of others! Try our Best Oreo Cheesecake, Chocolate Chip Pizookie, or Chocolate Cake Roll.
How to an Make Ice Cream Cake:
Let your ice cream sit out long enough for it to be easily moldable, but not runny.
Line the loaf pan with plastic wrap (trust me, it makes getting the frozen cake out so much easier).
Cut the pound cake into three horizontal pieces and set the lowest sliced piece into the bottom of the pan.
Scoop out the chocolate ice cream and spread it over the pound cake as evenly as you can.
Put the middle piece of cake back on top of the ice cream layer.
Do the same thing again with your strawberry ice cream and cap the whole thing off with the top piece of cake.
Once it's all put together, wrap the plastic wrap over it tightly and set it in the freezer for 4 hours.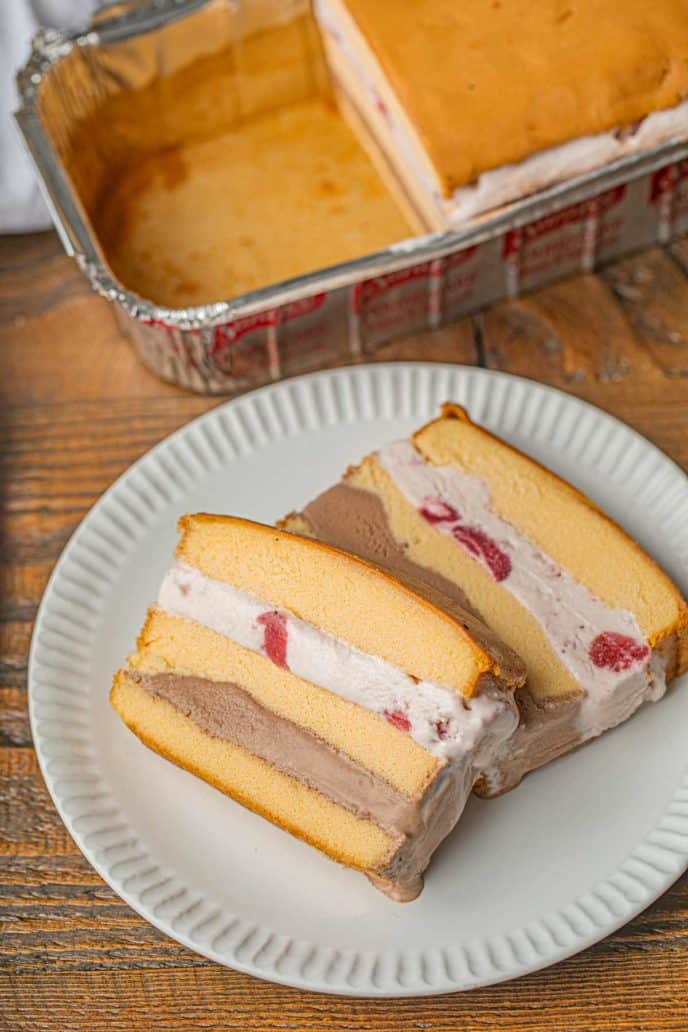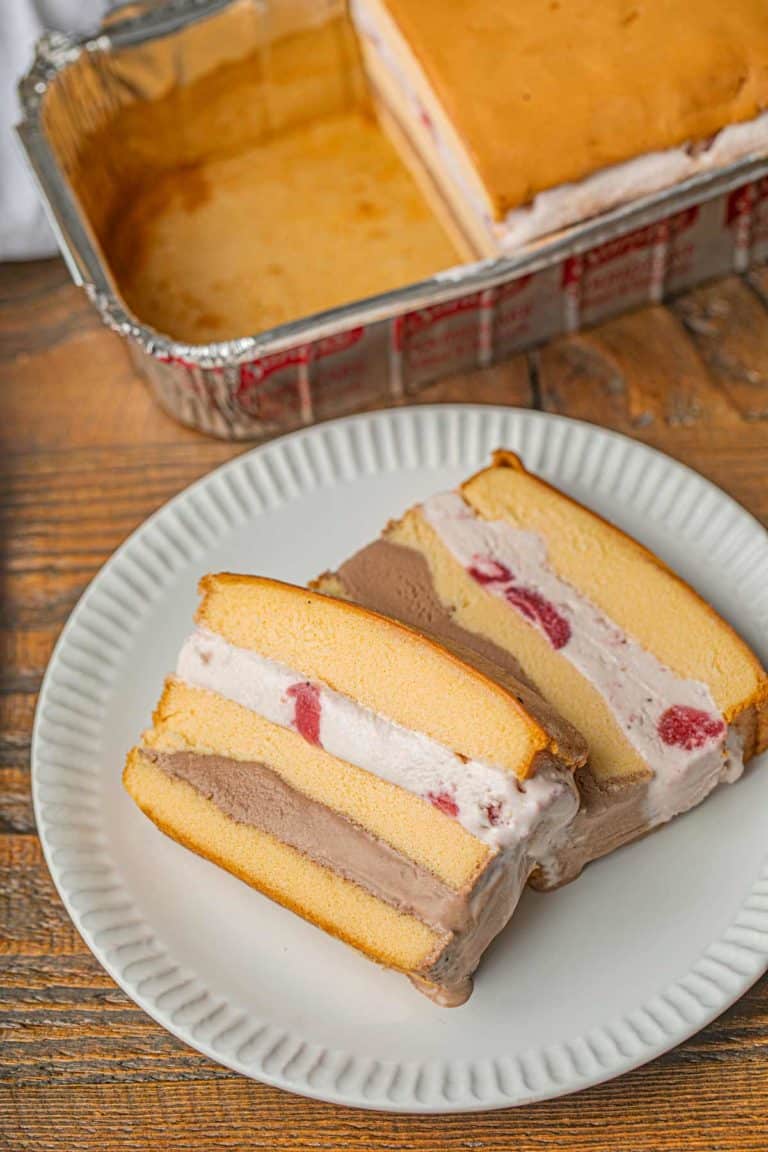 Create a free account to

Save Recipes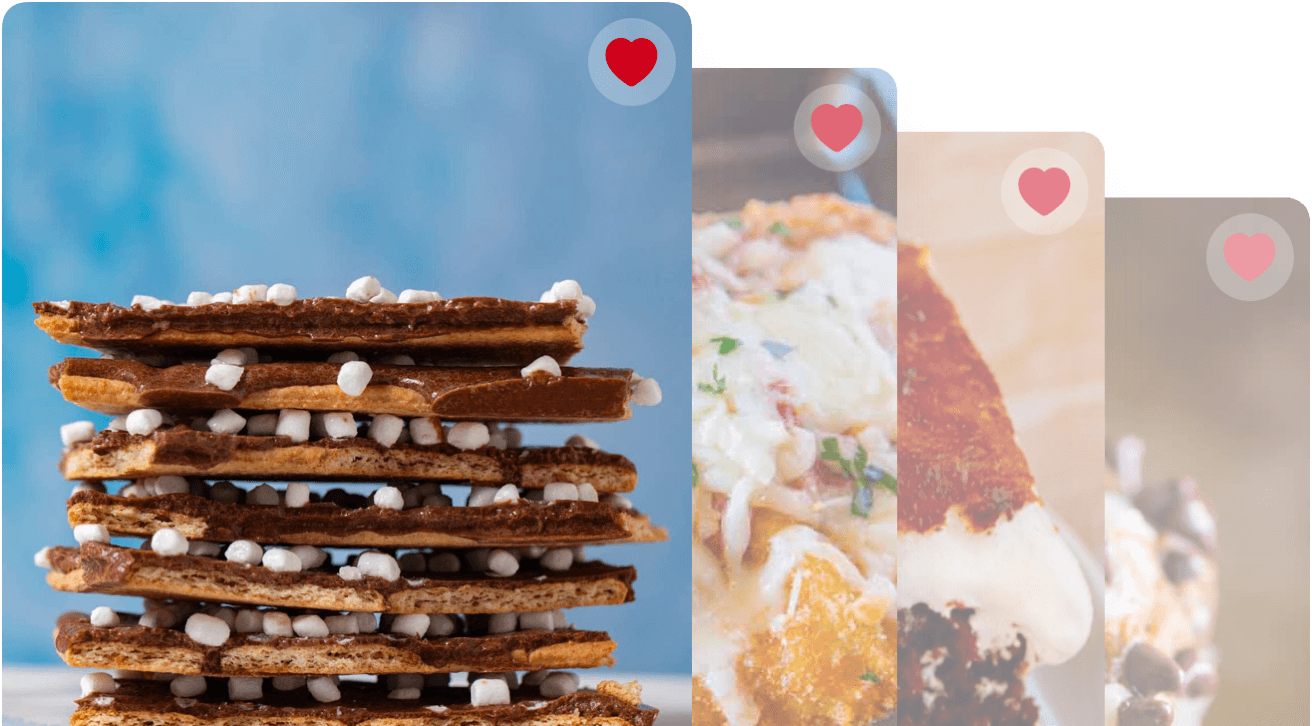 FROSTING AND TOPPINGS
Once your cake is completely frozen, you can dress it up with some frosting. Here are some we recommend:
Ice Cream Cake Toppings:
If you aren't happy with just frosting the cake, you can add more toppings to dress it up.
Chocolate Ganache: cut fudge squares into various shapes to make designs for a very fancy presentation, or try drizzling hot fudge sauce over the top for a whole different effect. Chocolate and caramel are the most popular, but feel free to experiment.
Whipped Cream: make your own from heavy cream or just grab a tub of cool whip (or use my Homemade Cool Whip version.)
Crumbled cookies: find a cookie with a flavor that compliments the ice cream in your cake, and crumble them over the top. To make them into a finer topping, put them in the food processor for a few seconds until they are the right size for what you're going for. One of our all-time favorites are Oreo cookies.
Chocolate pieces: take chocolate candies, unwrap them and set them in a circle on the top of the cake over dollops of frosting. This is an easy way to make the cake look fancy without spending hours icing it.
Fresh fruit: with the right flavor of ice cream, fresh fruit can add an extra pop of flavor. Cut them into a variety of shapes and arrange them on the top of the cake to make your dessert colorful as well as tasty. You can even dot the sides with any fruit about the size and shape of a blueberry.
Chopped nuts: nuts give your cake some crunch, and we would suggest using pecans, walnuts or chopped peanuts.
ICE CREAM CAKE FUN FACTS
Here are some fun facts about your dessert so that they can sound cool at dinner parties.
Ice cream cake comes from the Victorian era, when people used to mix together ice cream and fruit in fancy moulds, kind of like trifle. They used to be called Bombes, and were a very popular dessert for the upper class. Someone had the great idea to add cake to the moulds, and the rest, they say, is history.
Shockingly, ice cream cake hasn't really caught on in the rest of the world yet, but Canadians and Americans love it, and can you really blame us?
The first American ice cream recipe was written down by none other than Thomas Jefferson around 1790.
The world's favorite flavor is vanilla ice cream (mine too), according to Ben and Jerry's website (we'd consider them experts.)
STORING
Serve: since two of the main ingredients are ice cream, you shouldn't leave your cake out at room temperature for very long at all, no longer than 2 hours tops. After that, it will be a gooey, mushy mess. Also, don't store your ice cream cake in the fridge unless you want it to turn into soup.
Freeze: you can store ice cream cake in the fridge for up to 3 months tightly wrapped.


Instructions
Slice the pound cake horizontally into three pieces.

Line the pan with plastic wrap and place the bottom piece of pound cake back in.

Add the chocolate ice cream over the layer evenly then place the middle cake layer on top.

Add the strawberry ice cream evenly over the layer then place the top cake layer on top.

Wrap the plastic wrap tightly over the cake and re-freeze for at least

4 hours

before serving.

Top with your favorite dessert toppings.
Nutrition
Calories:
209
kcal
|
Carbohydrates:
37
g
|
Protein:
4
g
|
Fat:
6
g
|
Saturated Fat:
3
g
|
Cholesterol:
54
mg
|
Sodium:
235
mg
|
Potassium:
145
mg
|
Fiber:
1
g
|
Sugar:
20
g
|
Vitamin A:
240
IU
|
Vitamin C:
2.1
mg
|
Calcium:
83
mg
|
Iron:
1.3
mg