French Onion Soup Dip is perfect to serve with chips or crusty French bread as a party appetizer, with onions and bubbly Swiss cheese over the top.
Creamy, rich, cheesy dips are perfect to serve for Party Appetizers. Try other delicious cheesy dip recipes like Queso Dip, Jalapeno Popper Dip, or Bacon Cheddar Ranch Dip.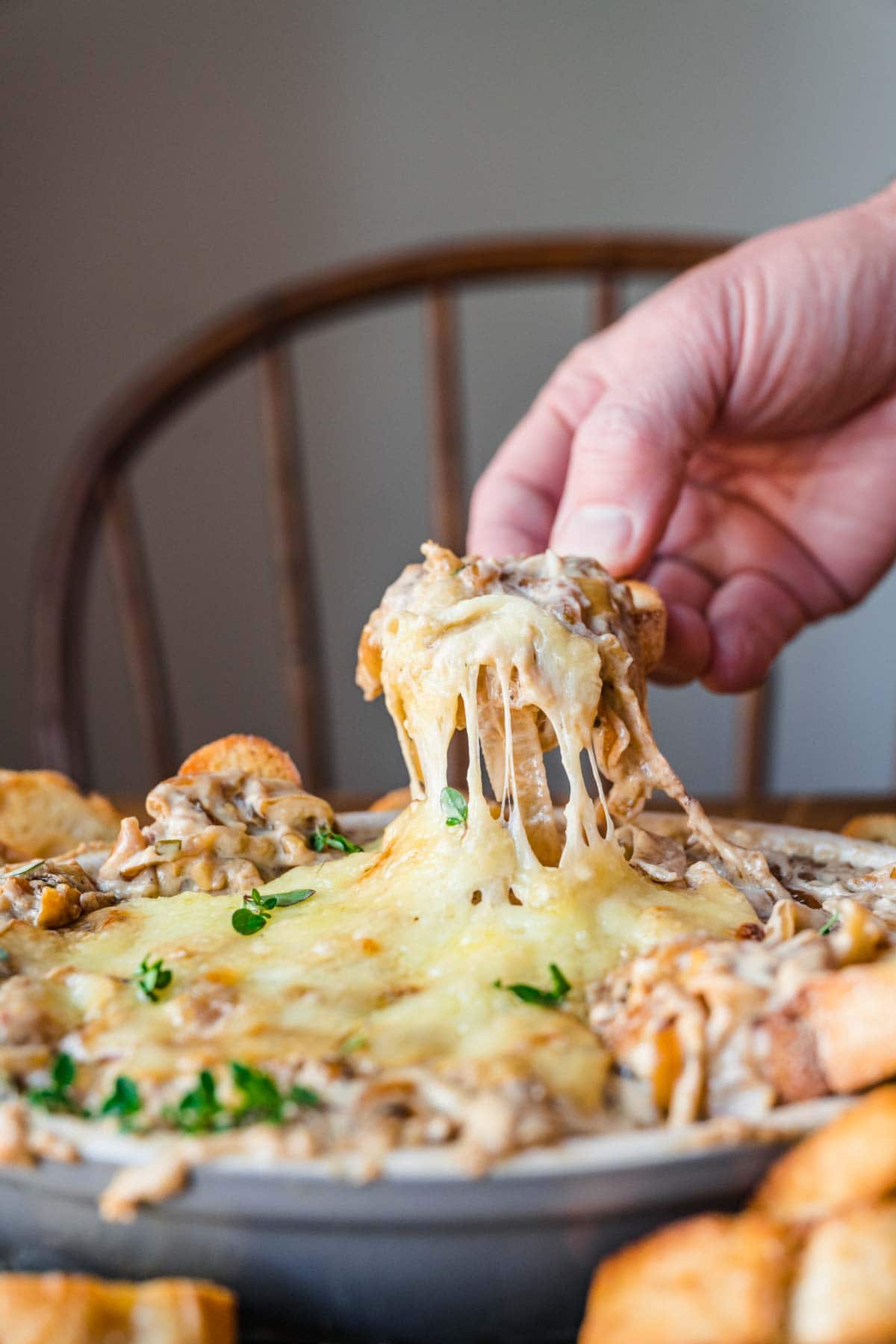 This cheesy French Onion Dip gets its flavor inspiration from French Onion Soup. Just like the soup, it's made with onions, Worcestershire sauce, thyme, beef stock, dry wine, and other savory ingredients. The ingredients are cooked down into a thick, creamy dip that tastes just like the classic soup, and is just as hearty and filling.
Be sure to make this dip at your next party as an alternative to classic queso. It's just as thick and creamy, but with lots of extra flavors. French Onion Dip is a nice blend of salty and sweet with onion, and garlic flavors throughout. The thick consistency is perfect for scooping up with chips, crackers, veggies, or bread and it tastes great with any of them.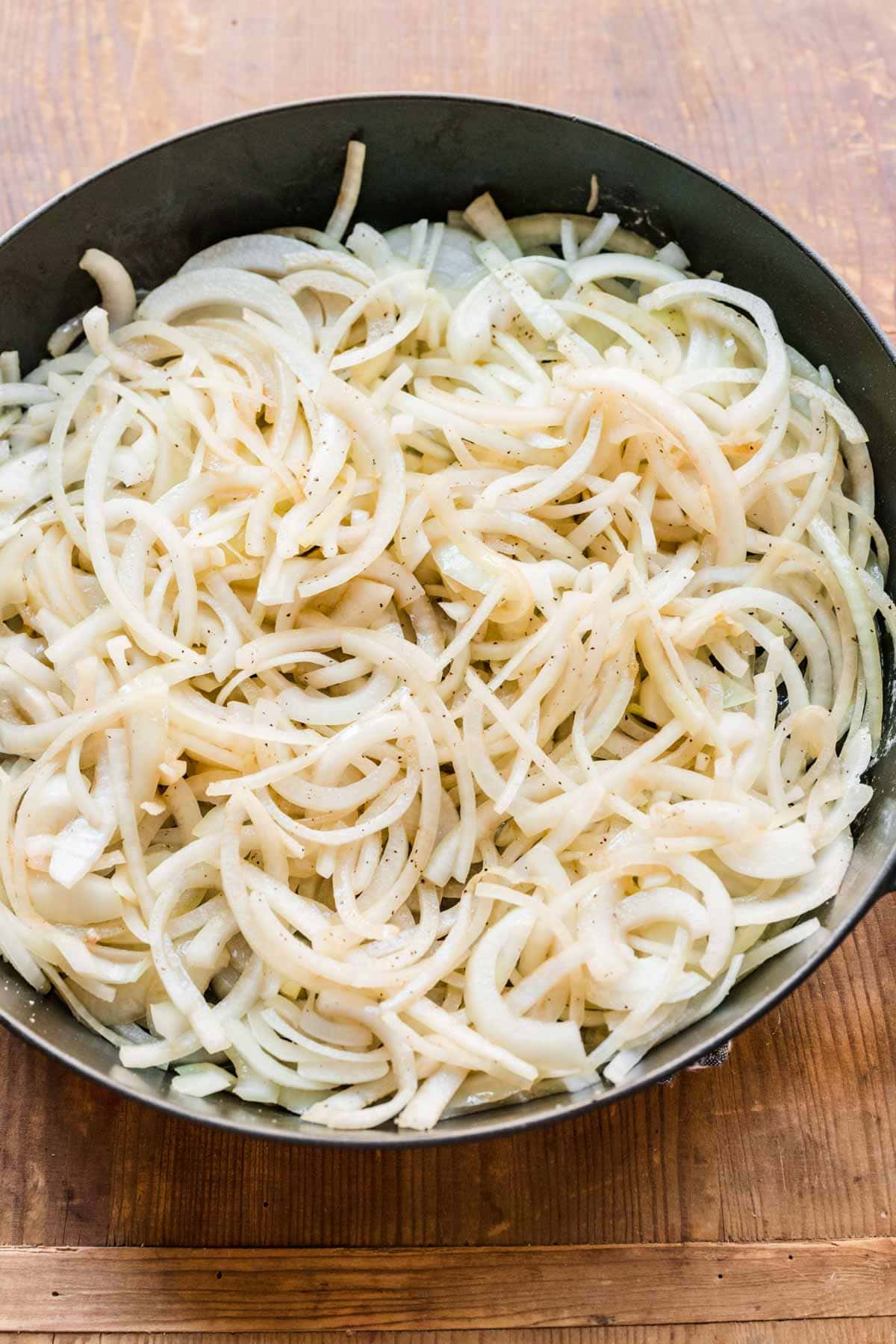 What to Serve with French Onion Soup Dip
There are so many delicious dip-ins you can serve with this creamy dip. Put it out at a party with a variety of dippers on a tray for your guests to choose from. You'll be amazed at how fast the dip goes! Here are some dippers to try:
Tortilla Chips: Salty, crispy, and verstile. You can't go wrong with these classic dippers.
Wheat Thin Crackers: Salty and a little sweet, definitely a crowd pleaser. You can use either the regular size Wheat Thins, or there are Big Wheat Thins which will allow you to scoop up more cheesy onions.
Crusty French Bread: There's no better way to honor the inspiration for this dip than to serve it with crusty french bread. The french bread dippers will be a nod to the toasted bread that tops classic French Onion Soup.
Sea Salt Chips: These salty, crispy potato chips will add a little different flavor and texture than the tortilla chips. Try both and see which one you like the best! You can also just not choose a favorite and alternate between them both.
Ritz Crackers: Buttery and flaky, these are a comfort classic. They'll add some decadence to every bite.
Garlic Bread: If you enjoy dipping french bread into the cheesy onions, you're going to love dipping with delicious garlic bread. The added flavor of garlic, butter, and parsley just enhance the flavor of the onions so well.
Veggies: Add a lighter option to your creamy French Onion Soup Dip by slicing some veggies. You can slice cucumber or radishes into discs. You can also slice carrots, celery, or jicama into sticks for dipping.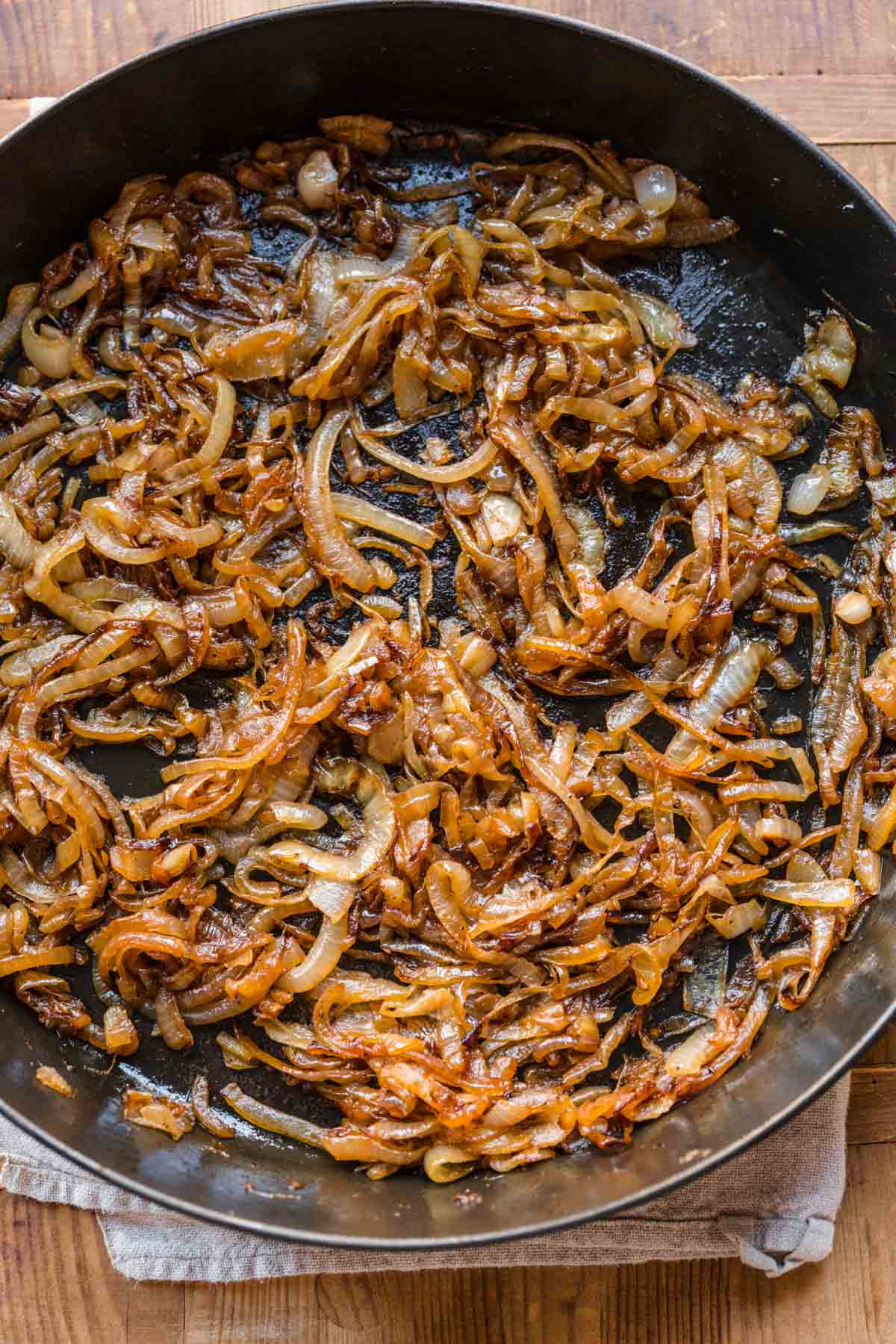 FAQs About French Onion Soup Dip
What is the difference between Onion Dip and French Onion Soup Dip?
Both Onion Dip and French Onion Soup Dip have one thing in common: lots of onions! However, French Onion Soup Dip will have the addition of beef stock to go along with the onions and creamy base. There's also the addition of cheese in French Onion Soup Dip to add that extra special touch.
Why do the onions in French Onion Soup Dip take long to cook?
The onions in this Dip recipe need time to caramelize for all of the flavors to come out and for the natural sugars to be released. You want to do this slowly so the onions won't burn in the pan.
More Homemade Dip Recipes
Key Ingrdients
Onions: Of course, you will need plenty of onions to make this Onion Soup Dip. The onions bring all the flavor and texture. They will sweeten while they cook as the juices and sugars start flowing.
Worcestershire Sauce: The flavor of Worcestershire Sauce is so uniquely sweet, tangy, savory, and salty. It will add so much to the dip, with just a small amount.
White Wine: Wine will always add a unique dimension of flavor, especially in this dip. It will also help pick up any brown bits from the bottom of the pan. If you're going to be serving this recipe to kids, don't worry too much because the alcohol in the wine will cook off as you reduce the liquid. If you prefer to not cook with any alcohol, you can leave the wine out and you will still have a delicious dip.
Beef Stock: To add the soup element to this Dip, the addition of Beef Stock really does the trick. If you don't have beef stock, you could use beef broth instead. The only difference between the two is that beef stock is made with beef bones and vegetables so it can be a little richer and thicker than stock which is not made with the bones.
Mayonnaise and Sour Cream: Just like in classic onion dip, you will add some creaminess to this recipe with with Mayo and Sour Cream. They will add creamy, tangy flavor, but they will also contribute to the thickness to make this dip very dippable!
Lemon Juice: It is always wise to add an element of acidity to something super creamy and decadent. Lemon juice does the job almost every time and French Onion Soup Dip is no exception.
Swiss Cheese: This addition of flavor from the Swiss cheese will not only make this taste like the classic soup, but melting Swiss over hot dip will also create that classic French Onion Soup look! Everyone will know exactly what they're dipping into.
How to Make French Onion Soup Dip
Caramelize: In a large skillet combine butter, onions, sugar, Worcestershire sauce, salt, and pepper. Stir the ingredients together occasionally as they cook over medium heat. Stirring will make sure the ingredients don't burn or stick to the bottom. It'll become well caramelized as it cooks for 40-50 minutes. Once caramelized, stir in the garlic and thyme and continue cooking for another minute.
Cooking Liquid: Pour in the white wine and beef broth and cook for 6-8 minutes. The liquid will begin to boil away and reduce by half.
Thicken: Once it's reduced, mix in the sour cream, mayonnaise, lemon juice, and Swiss cheese. Continue mixing until well combined.
Serve: If you're serving the French Onion Dip hot, put it in a serving dish and add some extra cheese to the top to melt over the dip. If serving cold wait for the dip to cool down then cover and refrigerate it for at least 2 hours.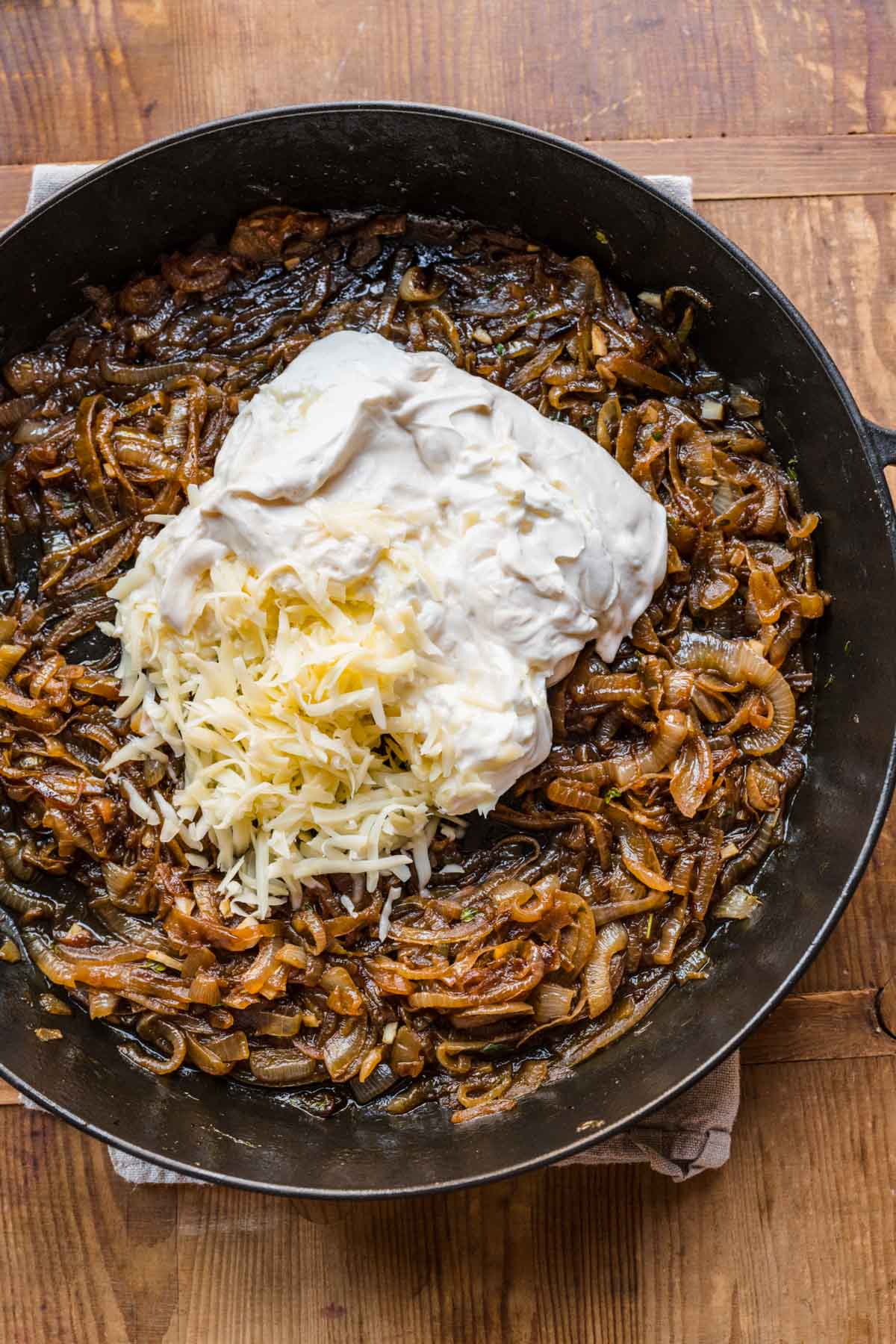 Create a free account to Save Recipes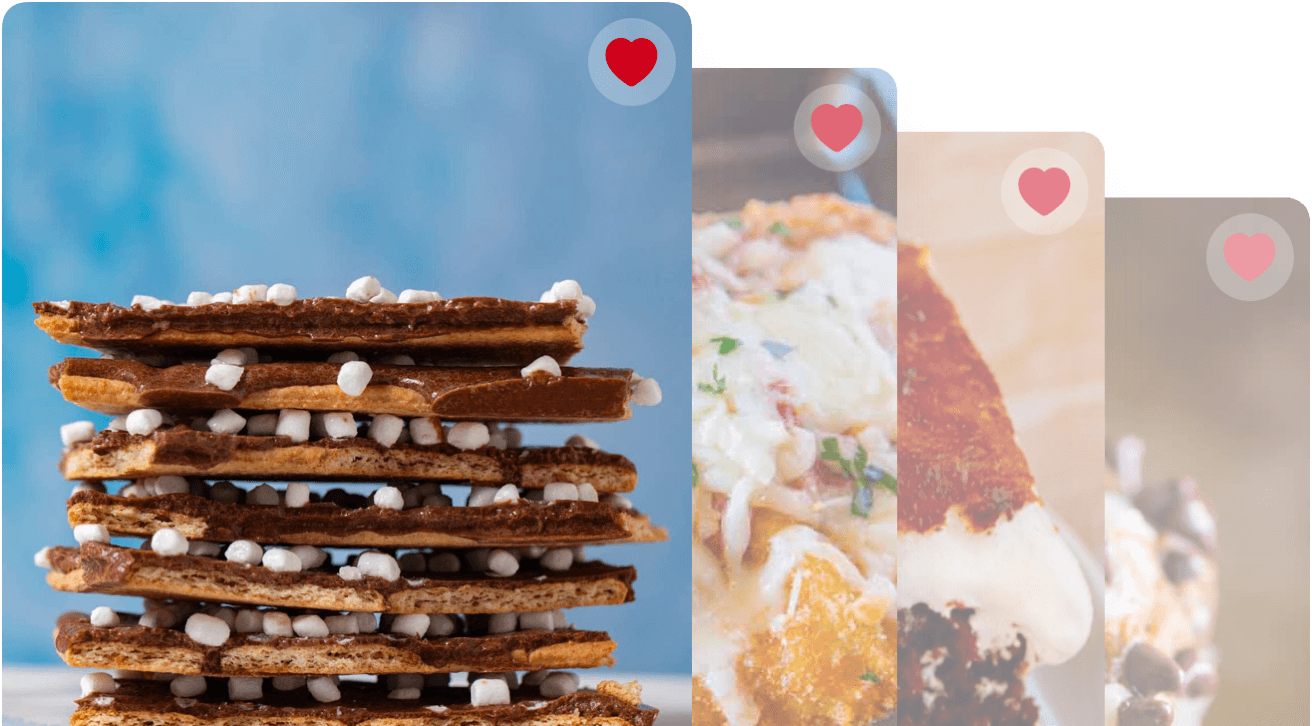 French Onion Soup Dip Variations
Cheese: Instead of using Swiss cheese you can try mixing in Gruyere Cheese, Mozzarella, Brie, or Blue Cheese.
Wine Replacements: If you don't want to use white wine in your recipe there are plenty of replacements you can try in your French Onion Soup Dip. Apple cider vinegar, chicken broth, white wine vinegar, ginger ale, or apple juice all make good substitutes. Each one will bring a unique flavor twist that you can try out to find our favorite one.
Add-ins: For some mix-ins try adding bacon bits, yellow mustard, cayenne pepper, or chopped green onions.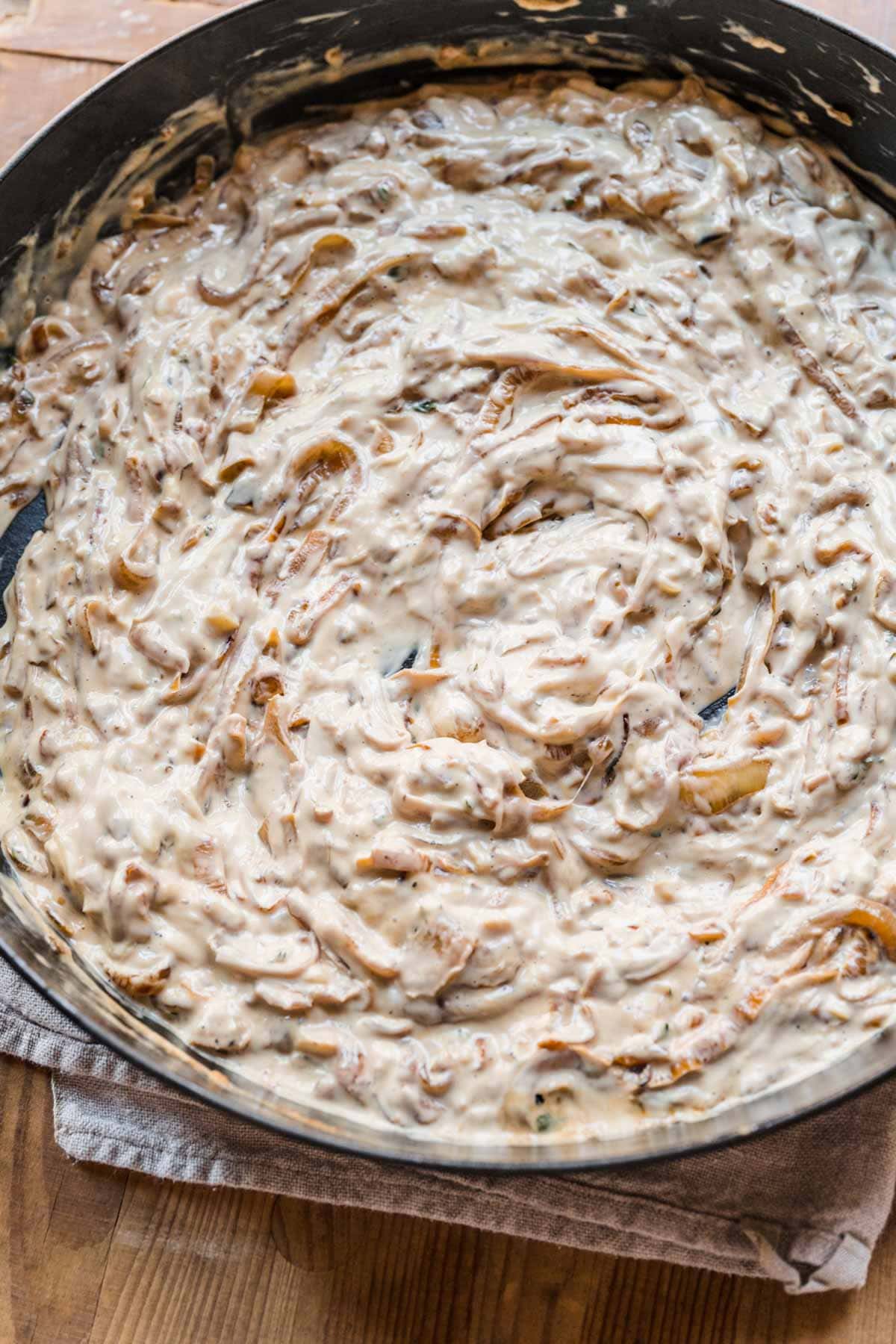 Can French Onion Soup Dip be made ahead?
You can be confident about making this dip ahead of time, especially if you're going to serve it cold. French Onion Soup Dip ip is best served fresh if you're going to serve it hot. However if it will help to get ahead on the day you want to serve it, you could cook the dip and put it in the fridge for a day or two.
To serve it hot, warm it up in the microwave, stirring and checking the temperature in 30-second intervals. Then top with cheese in the last 30 seconds. You can also warm the whole thing up in the oven at 350 degrees. Place in a baking dish with cheese sprinkled over the top. If you like you can turn on the broiler in the last few minutes to brown the cheese a little bit.
Even More Delicious Dips
How to Store French Onion Soup Dip
Serve: To keep your dip fresh, don't leave it at room temperature for longer than a few hours.
Store: French Onion Dip will keep well in the fridge for 3-4 days. Make sure to keep it covered or in an airtight container and the leftovers will keep well, easily.
Freeze: Unfortunately, the dairy in this dip won't freeze well. If you haven't finished the dip after 4 days it's best just to throw it out and make a fresh Onion Dip.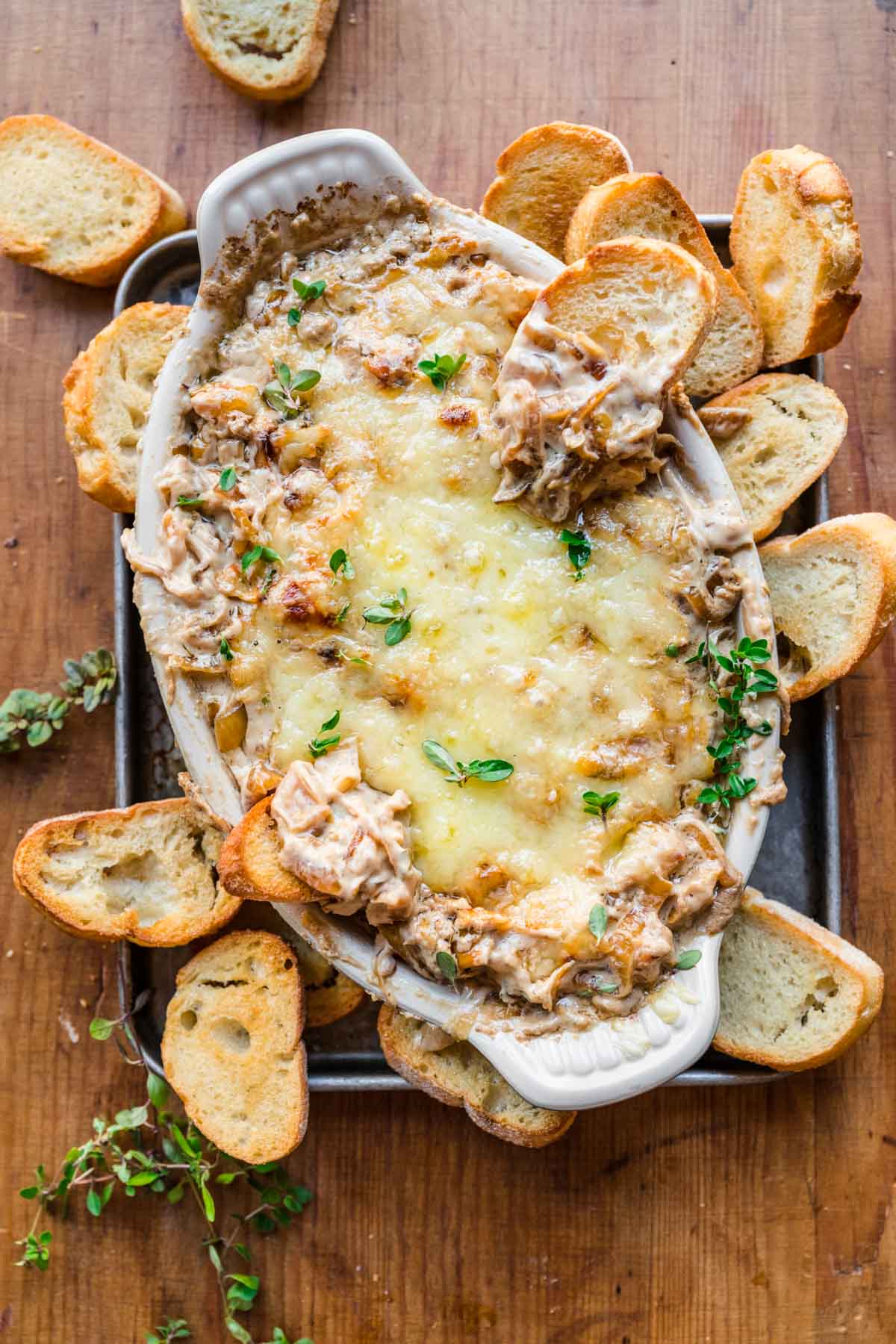 Ingredients
4

tablespoons

unsalted butter

4

yellow onions

, sliced

1

teaspoon

sugar

1

tablespoon

Worcestershire sauce

1/2

teaspoon

kosher salt

1/8

teaspoon

coarse ground black pepper

1

clove

garlic

, minced

1

teaspoon

fresh thyme

1/2

cup

white wine

1/2

cup

beef stock

3/4

cup

sour cream

3/4

cup

mayonnaise

1

tablespoon

lemon juice

1/2

cup

swiss cheese

, grated
Instructions
In a large skillet on medium heat add the butter, onions, sugar, Worcestershire sauce, salt, and pepper and cook for

40-50 minutes

, stirring occasionally until well caramelized.

Add in the garlic and thyme, cook for

1 minute

.

Add in the white wine and beef broth and cook for

6-8 minutes

until reduced by half.

Whisk in the sour cream, mayonnaise, lemon juice, and swiss cheese until the mixture is fully combined.

If serving hot consider adding more cheese on top or a cheesy dip. Place in the broiler in an oven-safe dish to get the cheese browned and bubbly.

If serving cold, refrigerate for at least

2 hours

before serving.
Nutrition
Calories:
140
kcal
|
Carbohydrates:
7
g
|
Protein:
2
g
|
Fat:
11
g
|
Saturated Fat:
5
g
|
Polyunsaturated Fat:
2
g
|
Monounsaturated Fat:
3
g
|
Trans Fat:
0.2
g
|
Cholesterol:
25
mg
|
Sodium:
266
mg
|
Potassium:
121
mg
|
Fiber:
1
g
|
Sugar:
3
g
|
Vitamin A:
263
IU
|
Vitamin C:
4
mg
|
Calcium:
70
mg
|
Iron:
0.3
mg