Grilled Chicken Wings are cooked to juicy, crispy perfection with a smoky flavor. Up your grilling game with this easy chicken wings recipe!
If you've had Baked Chicken Wings, you know you don't need a deep fryer to make perfectly crispy, tasty wings. This easy barbecue-grilled chicken wing recipe makes the perfect Appetizer for your next Summer party!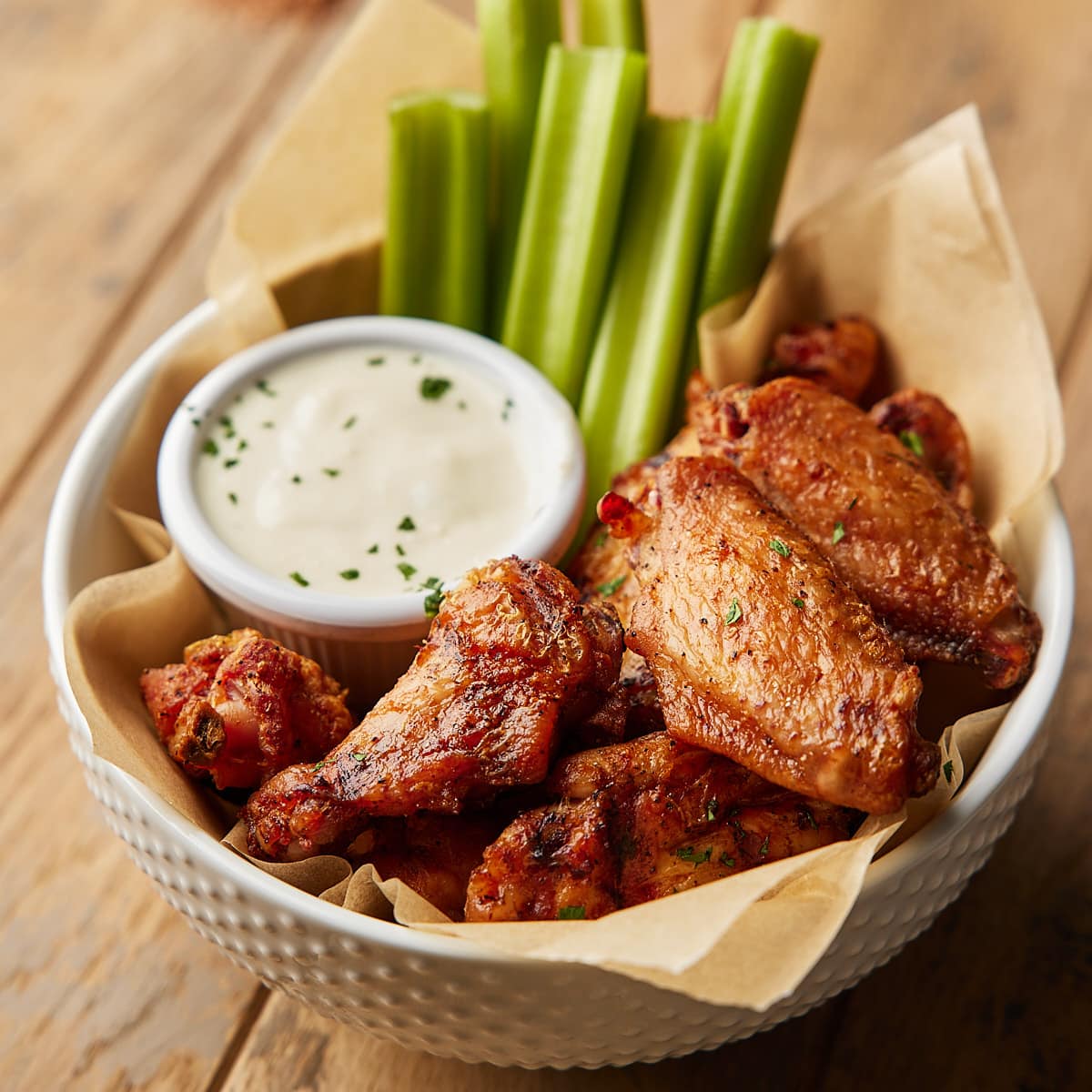 Step up your grilling game this year by swapping out your regular grilled chicken breasts with the best-ever grilled chicken wings! Grilling chicken wings is far less messy than deep-fried Buffalo Wings, plus using your outdoor grill means no hot kitchen from baking wings. This grilling season, skip your plain ol' chicken breasts and thighs, and serve up these easy chicken wings with crispy skin, a delicious caramelized char and smoky flavor.
Delicious chicken wings are an incredible appetizer or main dish, and you'll love how easy this recipe is to make! All you have to do is toss the chicken wings with a bit of oil and a simple spice rub. Grilling them with just a bit of oil produces perfectly crispy skin that tastes incredible. Once they are seasoned, you fire up half your grill and start cooking them over indirect heat, and finish them over direct heat to let the skin char.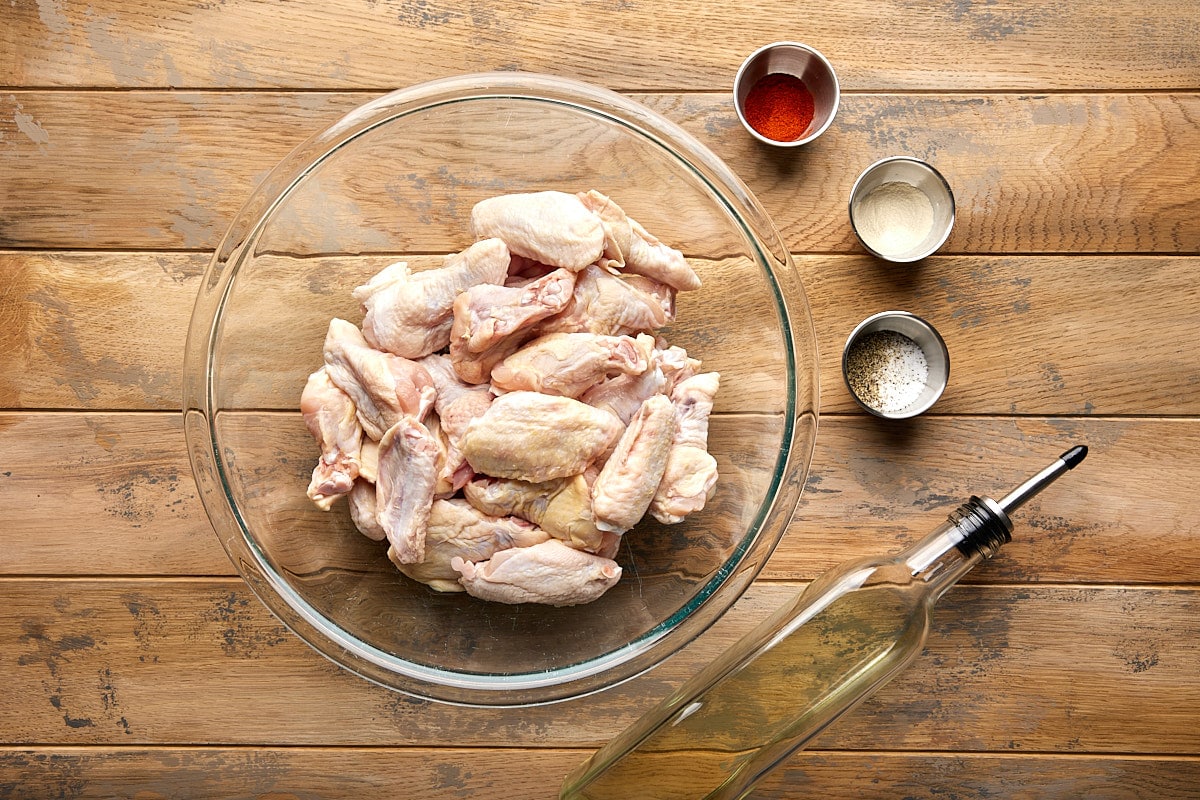 These tasty chicken wings are perfectly seasoned with a garlicky, smoky flavor! The crispy, tender chicken wings are flavor explosion by themselves but they are also perfect for dunking in your favorite dipping sauce. Whether you like cool, creamy Blue Cheese Dressing, tangy BBQ Sauce, or spicy Buffalo Wing Sauce, you'll love smothering these crispy wings in sauce.
What is the difference between a Chicken Wing and Chicken Wings?
If you've ever bought a whole chicken, you know that a chicken wing isn't the same as the Chicken Wings you order at the restaurant. When we refer to wings for a Chicken Wing recipe, what we really mean is the parts of a whole chicken wing. Whole wings actually consist of 3 parts, but we only really eat two of them. There is the drummette, which looks like a chicken leg when it has been separated from the middle part, also known as the flat or wingette. Finally there is the point end of the wing, or the wing tip but that barely has any edible meat on it so it is normally discarded or used in chicken stock or broth with other bones.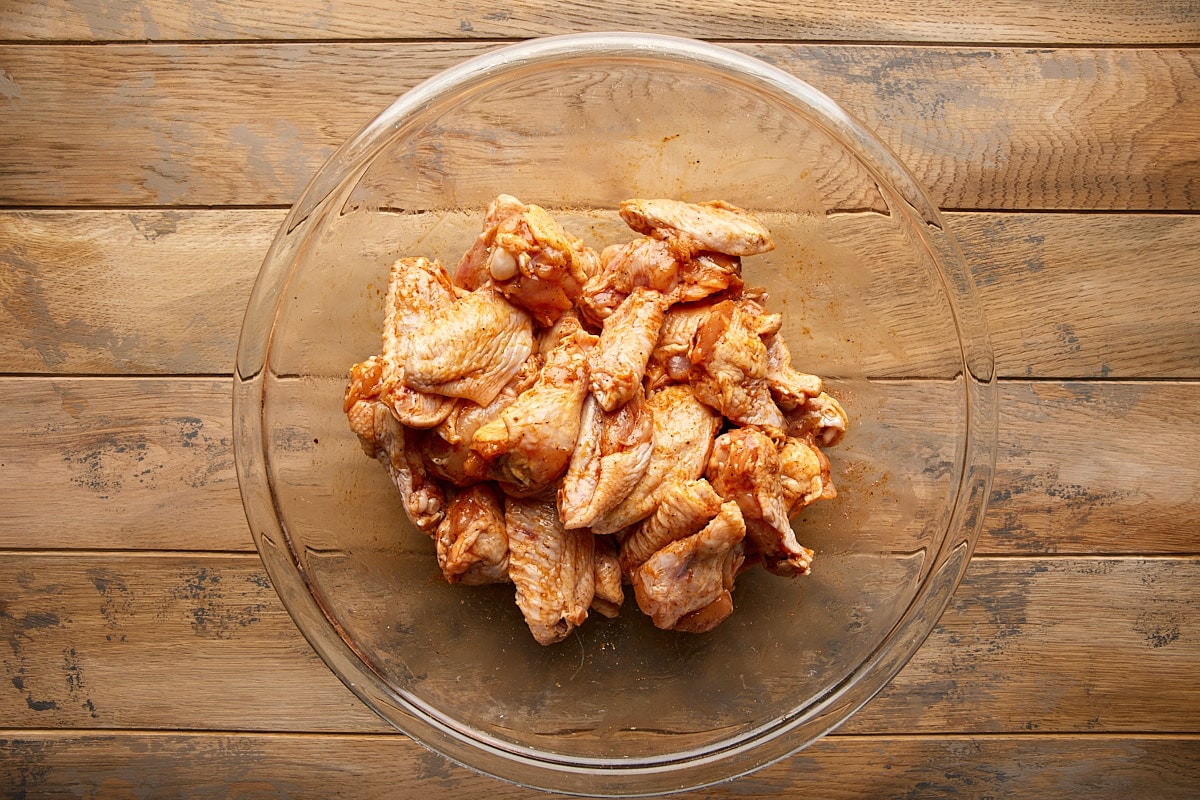 How to Make Grilled Chicken Wings
Prep: If you're using frozen chicken wings, be sure to take them out of the freezer and put them in the fridge to thaw and use a clean paper towel to pat them dry. It's best to bring the chicken to room temperature, especially if it was previously frozen.
Heat: While you season the chicken, bring the grill temperature to medium heat. If using a charcoal grill, place the coals on one side for indirect heat cooking, if you are using a gas grill, only turn on half the burners for direct heat cooking.
Season: Place the chicken wings in a large mixing bowl. Season with salt and pepper, then add the olive oil, garlic powder, and paprika. Toss the wings in the marinade ingredients until evenly coated.
Cooking Time: Once the heat level reaches the correct grill temperature, take wings from marinade and place on indirect heat source. Close the grill lid and grill chicken wings for 15-18 minutes, then flip and cook another 15-18 minutes. Use an instant-read thermometer to check the internal temperature, the chicken is done when it reaches 165 degrees.
Finish: After the chicken reaches the correct internal temperature, transfer to the direct heat source. Finish by direct grilling over the heat for 3-4 minutes, flipping halfway through, to let the chicken skin char on both sides and get extra crispy.
Amazing Dipping Sauces for Wings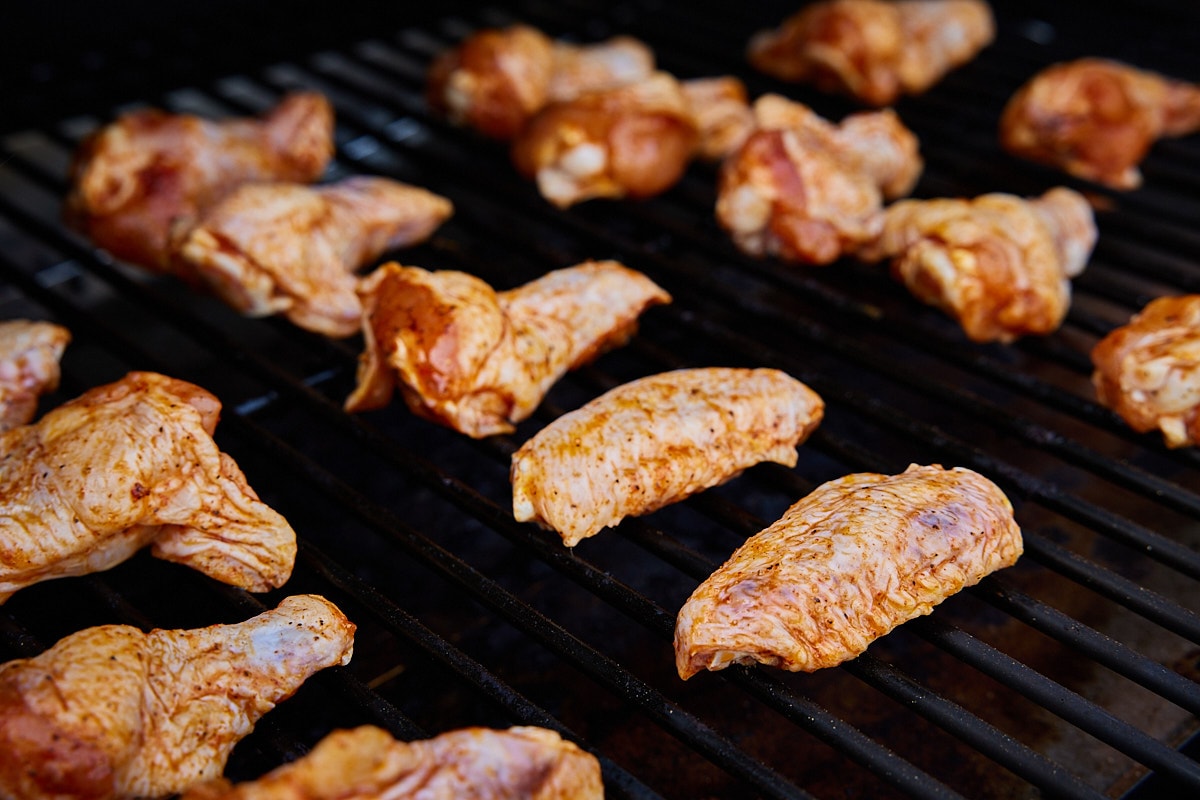 FAQs for Grilled Chicken Wings
Should you grill chicken wings over direct heat or indirect heat?
For the best-ever grilled chicken wings, you want to use both indirect heat cooking and direct heat cooking. The gentle heat of the indirect heat source allows the chicken to cook slow enough that the juices stay locked in for juicy, tender wings. Finishing over direct heat for a couple of minutes allows the skin to crisp and char without drying out the meat.
Should I boil my chicken wings before grilling?
With this chicken wings recipe they will cook thoroughly without needing to boil them before grilling. However, if you want to prep in advance you can boil raw chicken wings for 15-20 minutes, until cooked through. Then give them a quick finish on the grill for a couple of minutes to get that crisp skin and caramelized char.
How many people does this Chicken Wings recipe serve?
It really depends on whether you are serving these wings as an appetizer or main course, and how many wings you want to serve each person. Three pounds of chicken wings that have been cut into drumettes and wing flats equals about 30-36 pieces of chicken.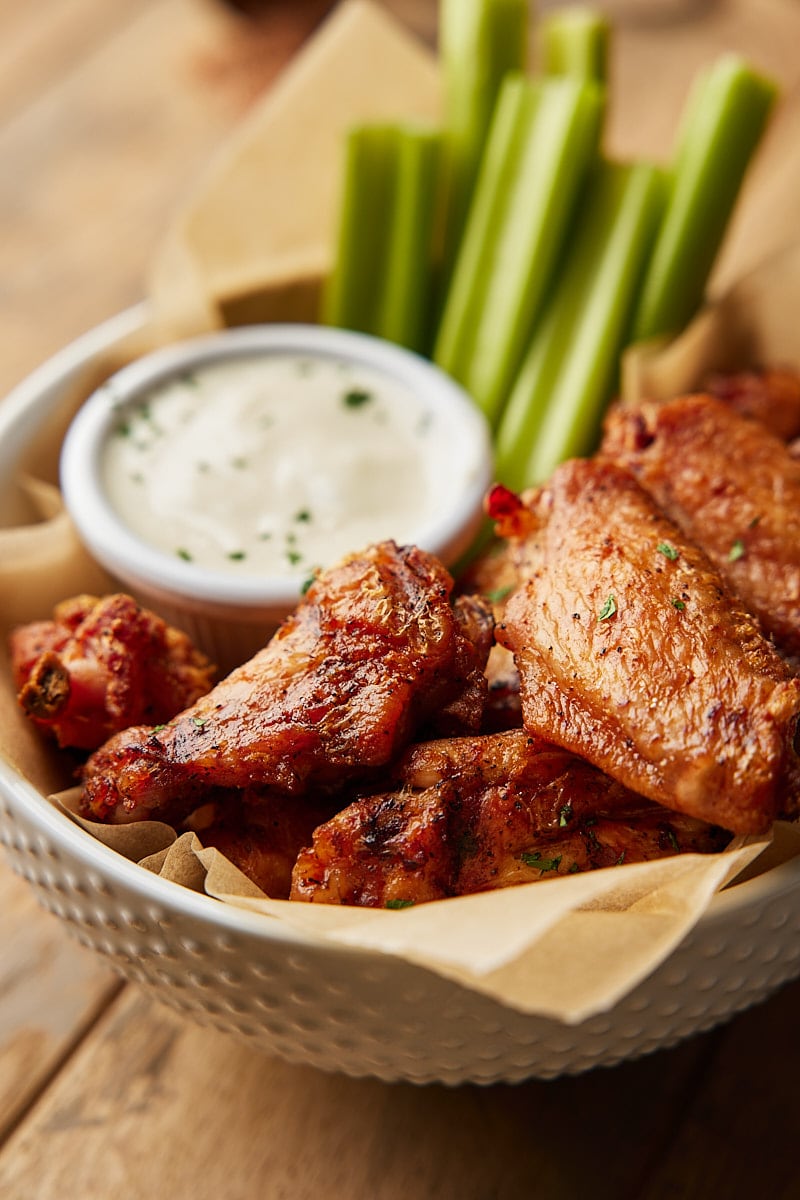 Create a free account to Save Recipes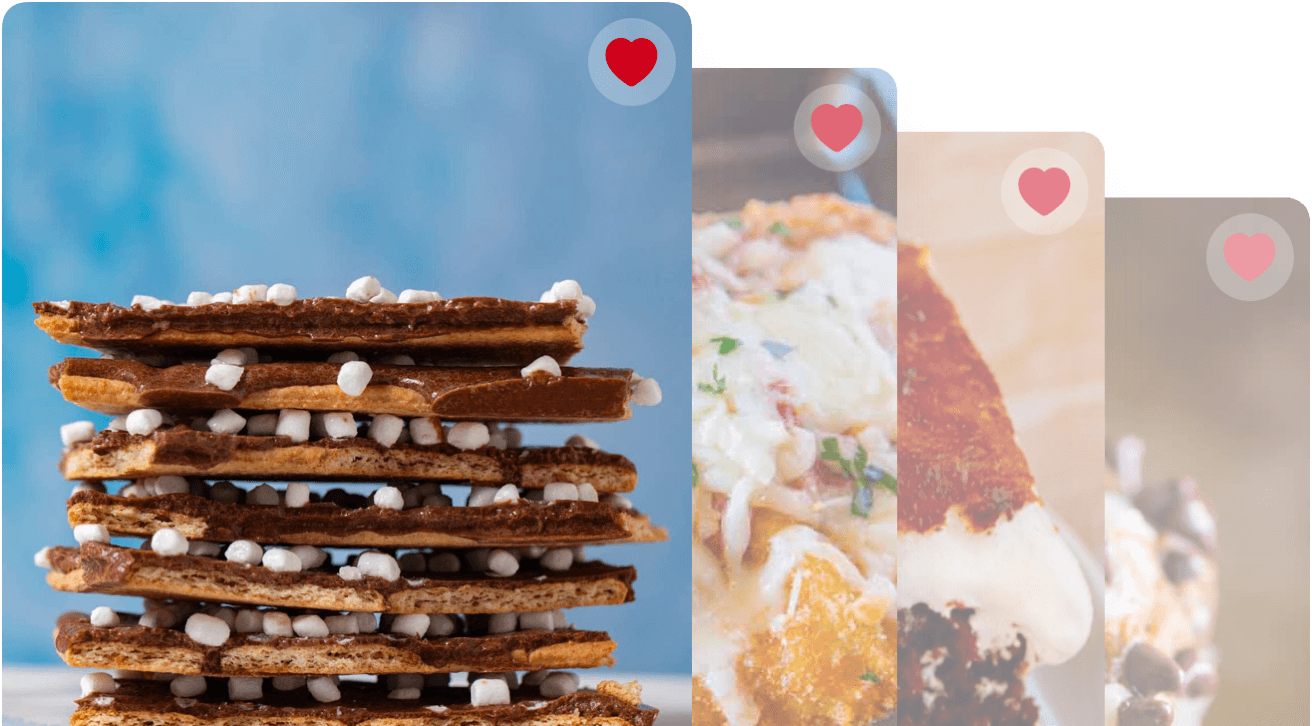 Key Ingredients
Chicken Wings: You can buy chicken wings already separated into flats and drums, or you can buy whole chicken wings and cut them yourself. If you chop them yourself, save the wing tips to add more flavor the next time you make homemade broth!
Dry Rub: A basic mixture of kosher salt, black pepper, garlic powder, and paprika make an easy and flavorful chicken wing dry rub. The garlic adds an aromatic, earthy flavor while the paprika enhances the smoky flavor from the char.
Olive Oil: The olive oil helps the seasoning stick to the chicken and adds a little extra flavor to the skin. Additionally by coating the chicken skin in oil, it raises the smoke point so it can cook at high heat longer without burning. Olive oil is the key ingredient and the difference between getting extra crisp skin with a caramelized char versus burnt, rubbery skin.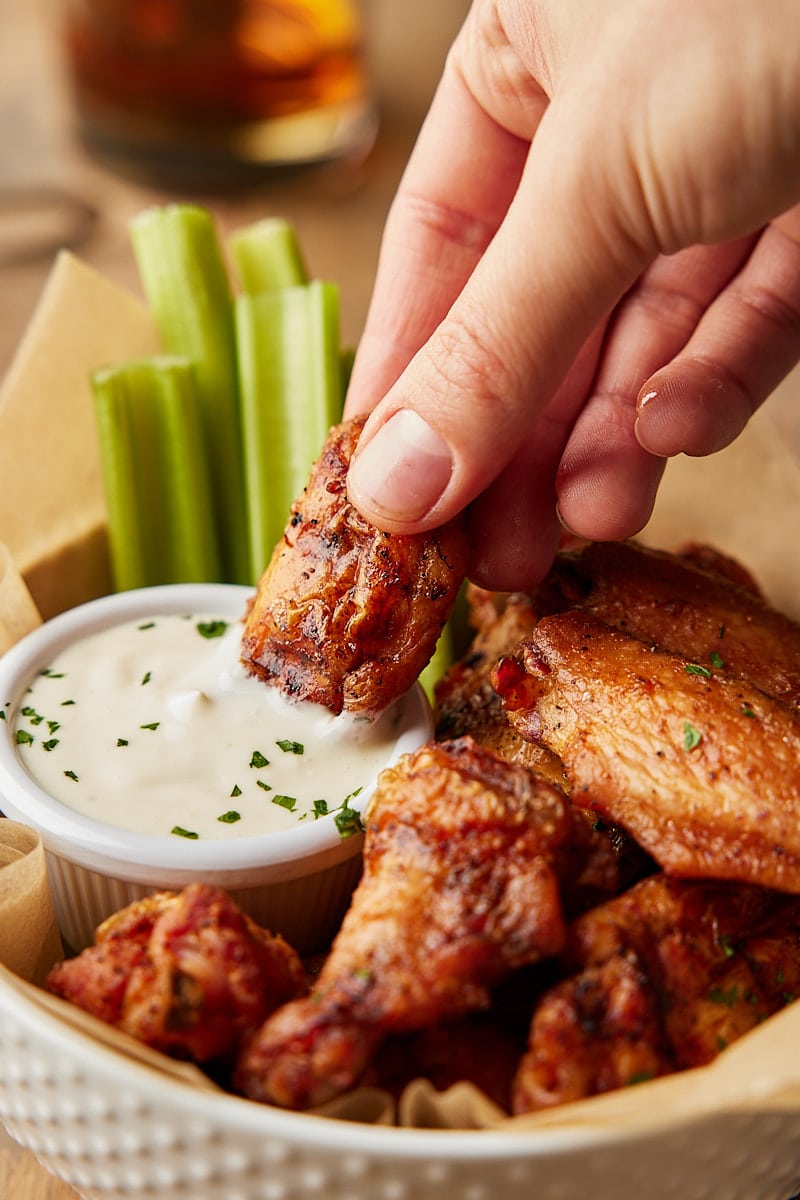 Can Grilled Chicken Wings be made ahead of time?
Fresh, hot wings straight from the grill are always going to taste best, but you can make them ahead to reduce the cook time the day you serve them. You can toss the wings in the marinade ingredients and refrigerate them overnight before grilling. You can also cook the wings and store them for up to 3 days, then heat them back up by grilling or in the oven. Finally, you can freeze them for up to 3 months after grilling. Spread the wings in a single layer on a baking sheet to cool then freeze the cooled wings for at least an hour, until frozen solid, prevent sticking. Transfer the frozen wings into a resealable plastic bag and reheat in the oven from frozen.
Variations
BBQ Wings: To give these wings a classic Barbecue flavor, you can brush them with a layer of BBQ Sauce as they are grilling. Turn your favorite barbecue sauce into Honey BBQ Sauce by mixing in a ¼ cup of honey. Make a Carolina Gold sauce by adding ¼ cup of mustard or using mustard powder.
Buffalo Wings: For Buffalo Chicken Wings, toss the seasoned wings in flour, then in buffalo hot sauce before grilling. Once the wings have cooked, brush another layer of buffalo sauce over the wings and let them cook another couple minutes.
Spicy Wings: If you want to up the heat level without making them saucy, you can add a dash of hot pepper sauce, red pepper flakes or cayenne pepper into the dry rub mix. For some Asian-inspired heat, try chili garlic paste.
Lemon Pepper Wings: For a refreshing peppery flavor explosion, make Lemon Pepper Wings by adding fresh lemon juice to the chicken wing marinade and let them sit for at least an hour. Then sprinkle your favorite lemon pepper seasonings over the wings as they grill. Finish with some fresh cracked black pepper and a squeeze of lemon juice.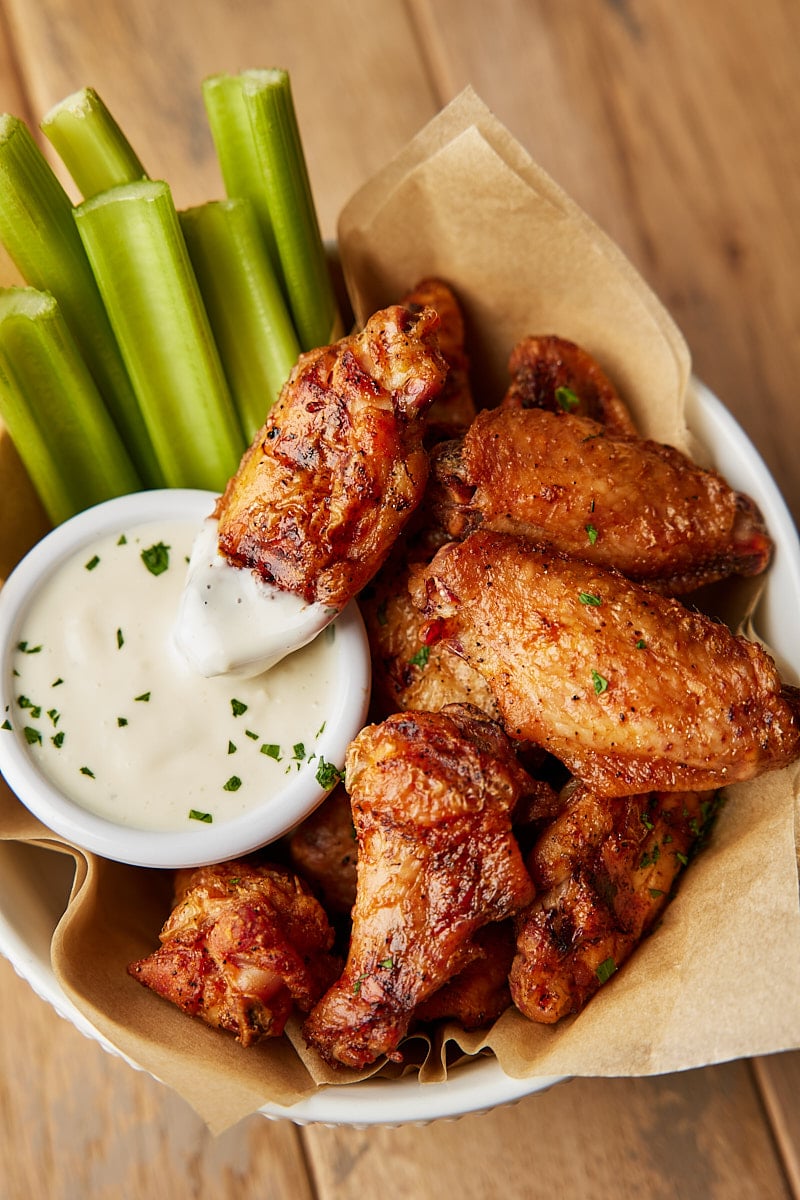 More Chicken Wings Recipes
How to Store
Store: Let the wings cool to room temperature before transferring to a resealable plastic bag or other airtight container. The wings will stay good for up to 4 days and should not be at room temp for more than 2 hours.
Reheat: To keep the chicken juicy, it's best to reheat the wings in the oven on low medium heat. Arrange wings in a single layer on a baking sheet and bake at 350 degrees until heated through.
Freeze: You can also freeze the chicken wings for up to 6 months. Reheat the frozen chicken wings in a single layer on a baking pan in the oven, flipping halfway through, until they are hot.


Ingredients
3

pounds

chicken wings

, preferably air chilled

2

tbsp

olive oil
Dry Rub:
2

tsp

Kosher salt

1/2

tsp

black pepper

1

tsp

garlic powder

1

tsp

paprika
Instructions
Preheat half the grill to medium heat. If using a charcoal grill, place the charcoal on one side of the grill and with a gas grill use only the burners on half of the grill.

Place wings in a large bowl with olive oil and dry rub ingredients. Toss well to combine.

Place wings over the indirect heat source and cook for

15-18 minutes

on each side, for about

30 minutes

total or until the internal temperature registers at least 165 degrees and skin is crispy.

Transfer the wings to the direct heat side and finish cooking for another

1-2 minutes

on each side.Remove wings from the grill and serve.
Nutrition
Calories:
316
kcal
|
Carbohydrates:
1
g
|
Protein:
23
g
|
Fat:
24
g
|
Saturated Fat:
6
g
|
Polyunsaturated Fat:
5
g
|
Monounsaturated Fat:
11
g
|
Trans Fat:
1
g
|
Cholesterol:
94
mg
|
Sodium:
865
mg
|
Potassium:
207
mg
|
Fiber:
1
g
|
Sugar:
1
g
|
Vitamin A:
345
IU
|
Vitamin C:
1
mg
|
Calcium:
17
mg
|
Iron:
1
mg