Italian Sub Sandwich is a classic deli sub loaded with salami, ham, mortadella, provolone cheese, and all the fixings topped with homemade Italian dressing!
When you want a hot Sandwich, it's hard to beat a French Dip or Philly Cheesesteak, but when you are craving a submarine sandwich this cold-cut classic is a must-have!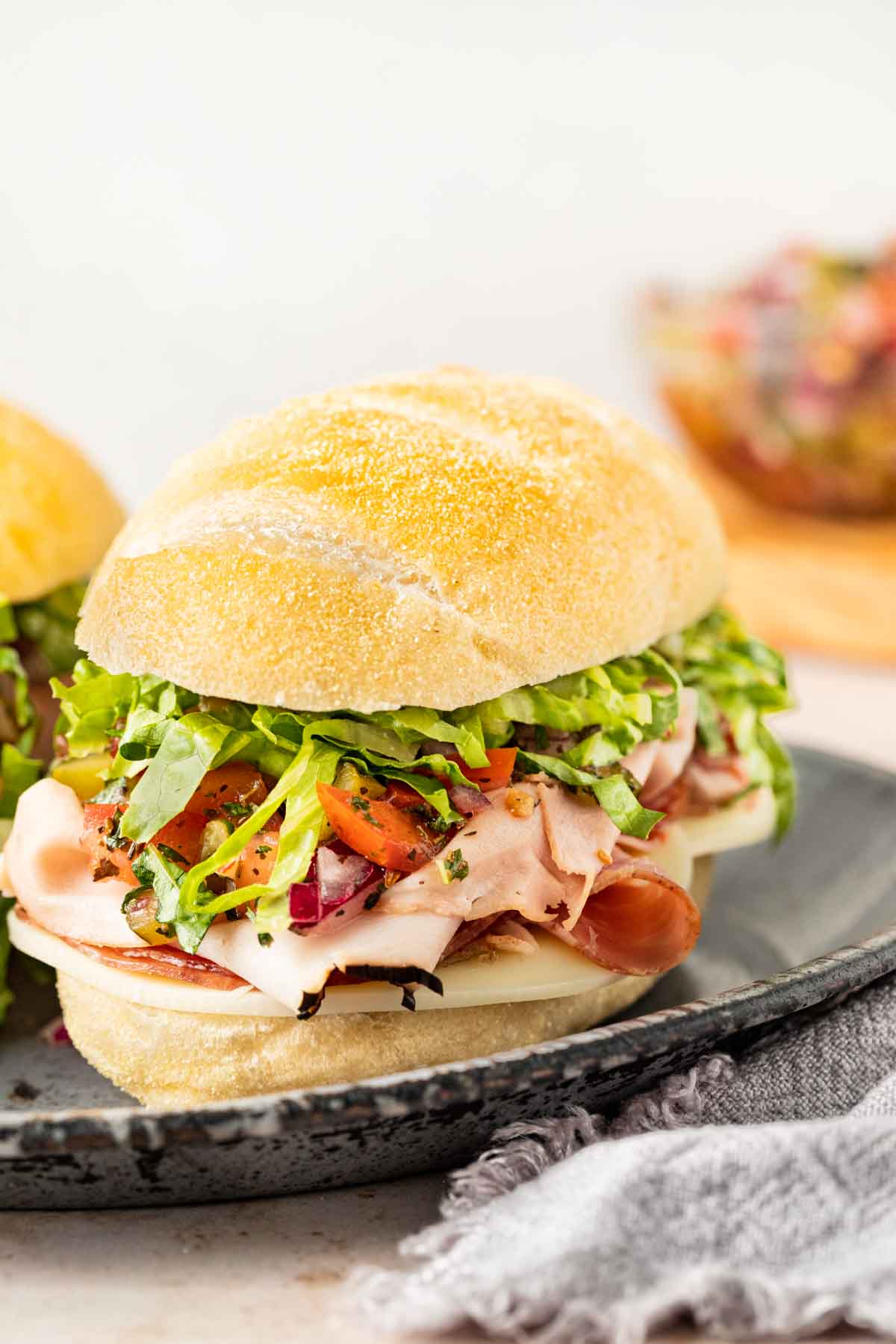 No need to take a number and wait in line when you are craving deli classics, just recreate them at home with our easy recipes. We've got an ever-growing list of all your favorite sandwiches, like Italian Subs, that taste just as good (if not better!) than your local sandwich shop! Check out more Sandwich Recipes for hot and cold subs that are easy to make and your family will love.
The start to making the perfect submarine sandwich is the bread. You want bread that is large and sturdy enough to hold all the toppings, but soft enough that you can get all the filling in one bite. The best bread for this large Italian sandwich is hoagie-style Italian bread. Try to get the fresh rolls from the grocery store bakery if possible. Not only is it cheaper (usually less than a dollar a roll), but it tastes so much better!
Once you get the perfect sandwich bread, it's time to make your sandwiches! The salad dressing mix for this Italian Sub Sandwich recipe is all you need for condiments. It's tangy and flavorful, with the right balance of herbs and oil for an authentic deli Italian Sub dressing taste. The longer you let the tomatoes, onions, and pickles marinate in with the salad dressing ingredients, the better it will be. You can make the Italian Sub dressing a day ahead of time too, making it prep time for parties a snap.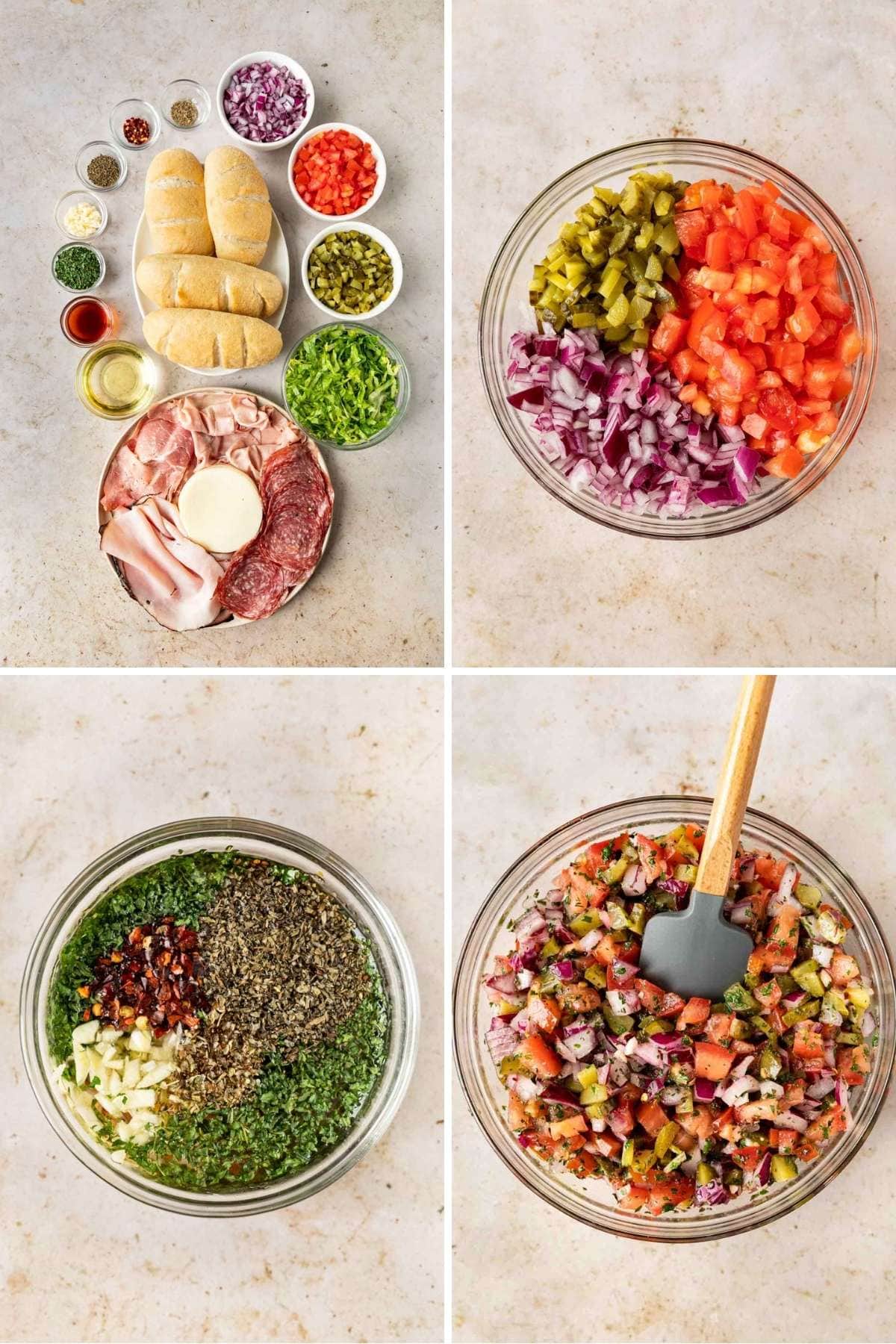 Deli Side Dish Recipes to Serve with Sub Sandwiches
A traditional Italian Sub recipe has a variety of Italian meats, at least 3 kinds of meats from Italy, and all variations of ham and pork. While the names sound fancy, capicola (or capocollo) is just a type of salami and mortadella is a type of bologna/sausage hybrid. If you've never tried capocollo or mortadella, most deli counters will let you sample the meats before you buy them.
Turn this Italian Sub Sandwich into a party sub for your next birthday party, family gathering, or office luncheon. Use our variation below to turn this deli sandwich into an easy, delicious party meal that comes together quickly and can feed a crowd. Grab a variety pack of individual potato chip bags for a sandwich shop theme, or serve with classic deli sides like Potato Salad and Macaroni Salad.
How to Make Italian Sub Sandwiches Ahead
Whether you pack them for a trip to the beach, or for school lunches, Italian Sub Sandwiches are a tasty lunch on the go. To keep the bread from getting soggy when you make these sandwiches ahead of time, pack the Italian sub dressing and salad mixture on the side. Toast the sub rolls with the cheese and put the lettuce between the cheese and the cold cuts. When you are ready to serve, top with the Italian dressing mixture and enjoy!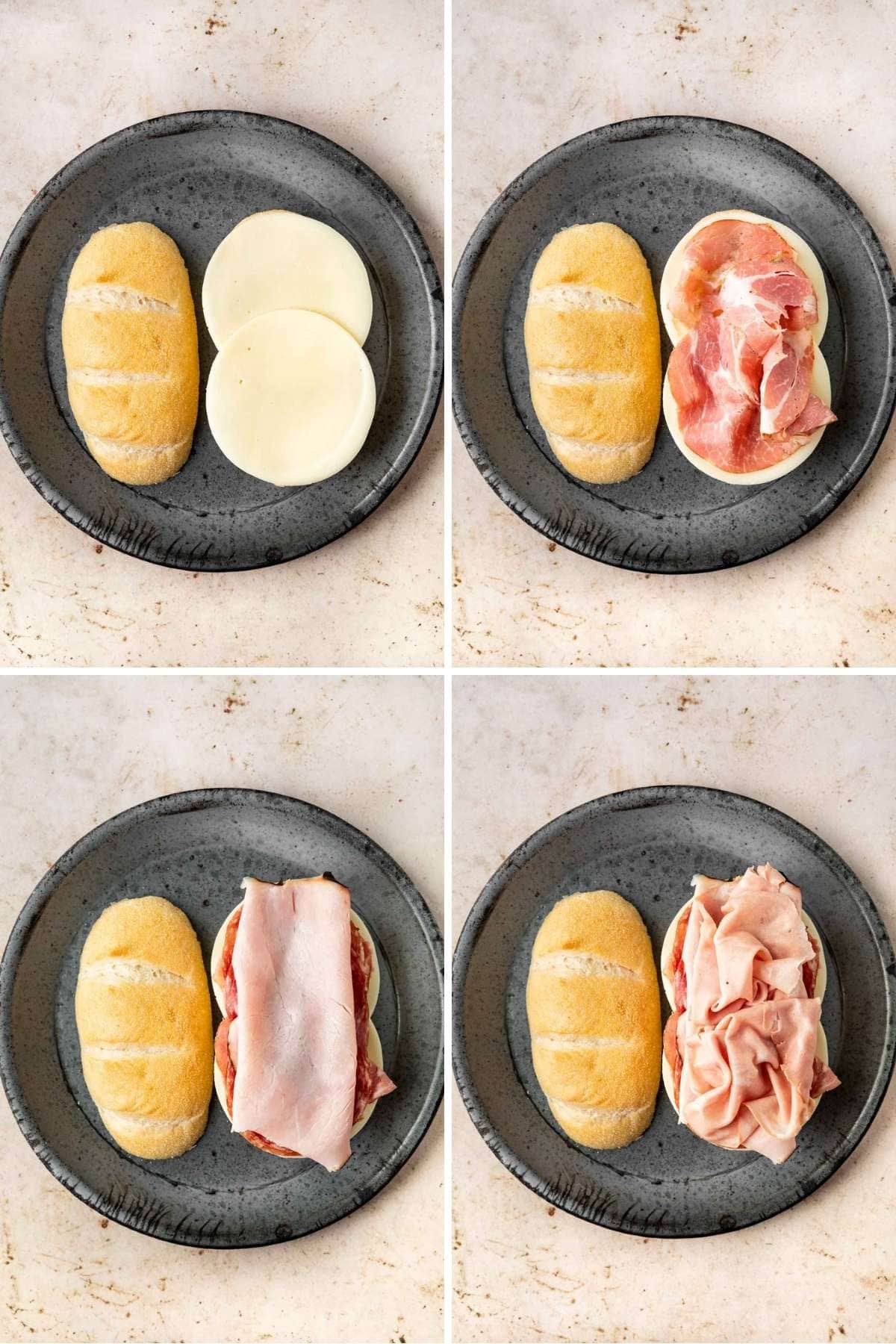 Create a free account to

Save Recipes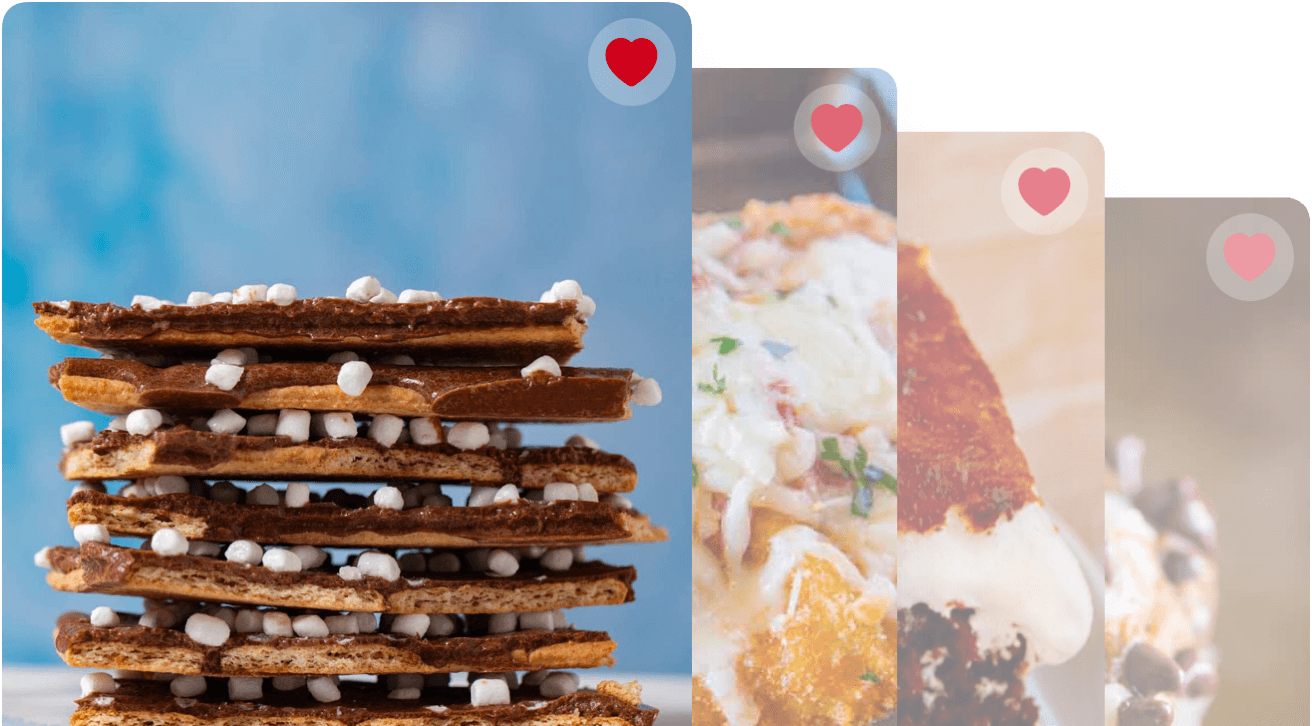 Variations on Italian Sub Sandwich
Bread: Instead of hoagies, you can use other soft bread like sandwich rolls, bolillo rolls, or soft French bread rolls. Make a panini with ciabatta bread, or use large tortillas to make pinwheels.
Cold Cuts: Other cold cuts you can swap in for the slices of salami and ham are soppressata, bologna, turkey, or chicken breast. Everything gets better with bacon, so add some cooked bacon, pancetta, or prosciutto!
Cheese: If you don't want provolone, try other options from the deli like mozzarella cheese, Havarti cheese, American cheese, cheddar cheese, Swiss cheese, or Muenster cheese.
Italian Dressing: Drizzle the lettuce with olive oil and red wine vinegar and sprinkle with dried Italian seasoning blend and black pepper before you add the top bread slice for extra Italian flavor. If you don't want to make a dressing mix from scratch, use ⅓ cup of your favorite Italian vinaigrette.
Condiments and Toppings: Other sandwich shop favorites to top this Italian Sub recipe with are spicy brown mustard, giardiniera (a pickled pepper blend), banana peppers, black olives, green bell peppers, or tomato slices.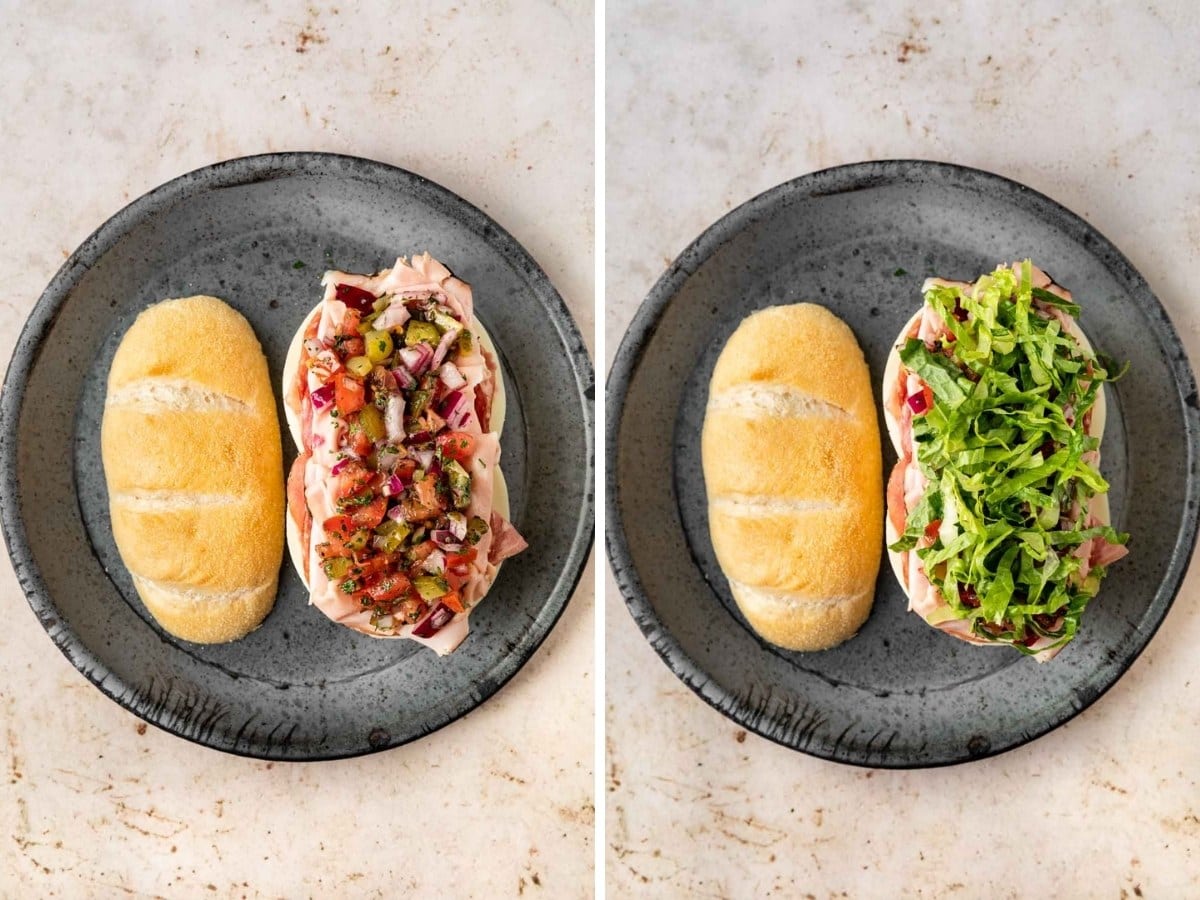 Six Foot Party Sub
Set Servings in Recipe card to 32 servings to get the amount needed for each ingredient. Prepare Italian Sub Dressing mixture.
Start with 4 loaves of Italian bread, about 2 feet long each.
Cut both ends off of the middle loaves, lining up similar sizes.
On the end loaves, only cut off one side end, again matching to ends of middle loaves.
Slice each loaf longwise in the center so you have two halves.
Lay out 2 sheets of 7 feet of plastic wrap longwise, overlapping so you have one large wide and long plastic wrap (tape it to the table while you assemble).
Line up the bottom halves of loaves in a long line. Add provolone slices and shredded lettuce and then layer meats. Top with bread halves.
Lift one long side of plastic wrap over bread and tuck tightly, then repeat with the other side wrapping under and securing. You want it to be very tight. Refrigerate for at least 4 hours.
Carefully unwrap and slice in 2-3 inches wide slices with a large serrated knife, using toothpicks to secure while slicing if needed. Serve with Italian Sub dressing mixture on the side.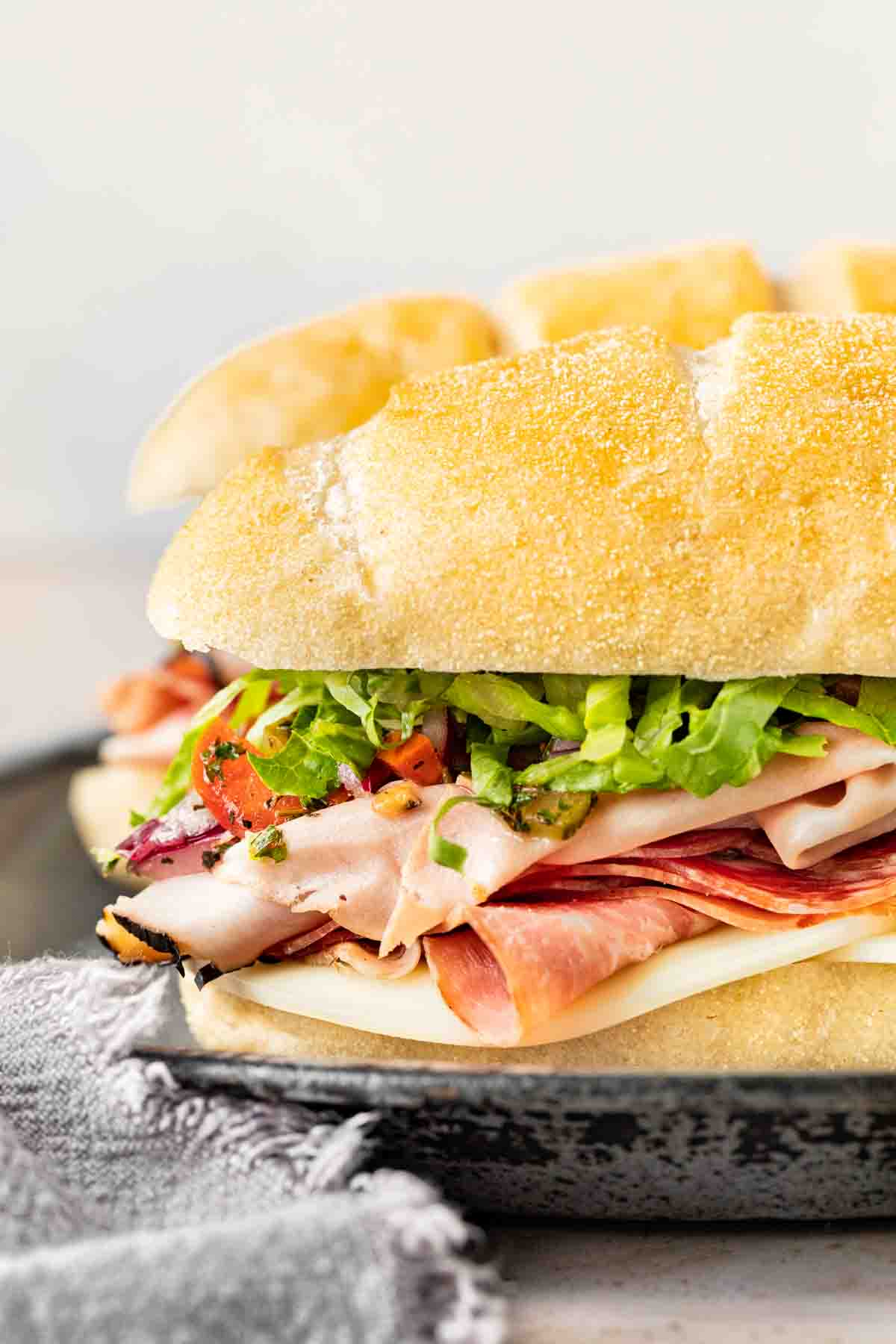 More Easy Sandwich Recipes
How to Store Italian Sub Sandwich
Serve: Once the dressing goes on the sandwich, you want to serve it right away. You can keep Italian Sub Sandwich at room temperature for up to 2 hours.
Store: Store the ingredients separately and assemble the sandwich right before you are ready to serve. The meats and cheese can be kept for up to 2 weeks, and the prepared Italian dressing mixture with veggies can be kept for up to 1 week.
Freeze: Italian Sub Sandwiches are not good frozen and thawed. Make this dinner fresh for the best taste!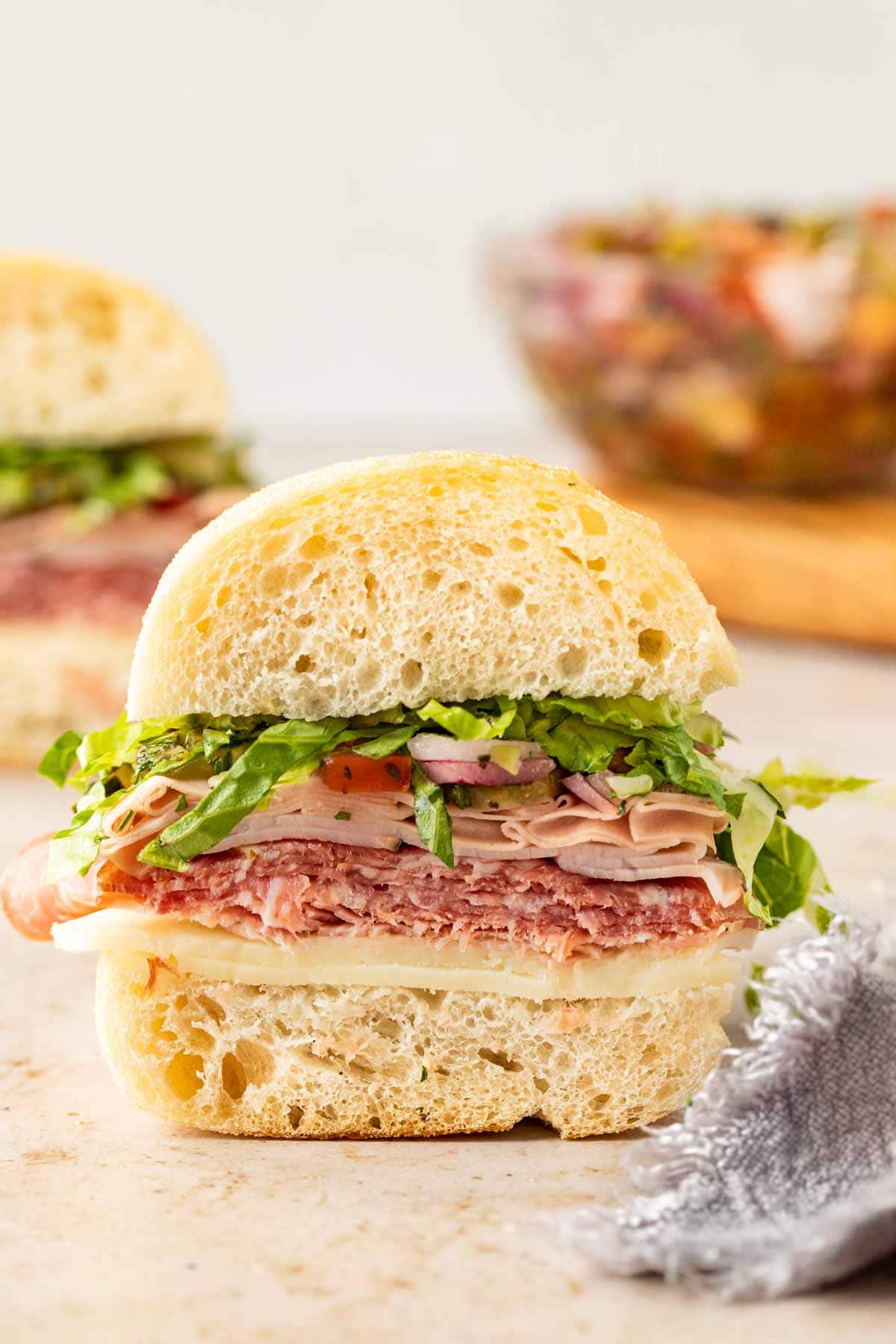 Ingredients
1

cup

dill pickles

, chopped

2

vine tomatoes

, diced

1

red onion

, diced

1

cloves

garlic

, minced

1/3

cup

olive oil

2

tablespoons

red wine vinegar

2

tablespoons

parsley

, chopped

1

teaspoon

dried basil

1/4

teaspoon

dried oregano

1/4

teaspoon

red pepper flakes

4

submarine hoagie rolls

4

ounces

capocollo salami

, sliced

4

ounces

Genoa salami

, sliced

4

ounces

deli ham

, sliced

4

ounces

mortadella

, sliced

8

slices

Provolone cheese

2

cups

lettuce

, shredded
Instructions
In a large bowl, toss together the pickles, tomatoes, and onion.

In a separate bowl, whisk together the olive oil, white wine vinegar, parsley, garlic, basil, red pepper flakes, and oregano.

Pour dressing over the salad and toss to coat evenly. Refrigerate for about

1 hour

.

Toast the hoagie rolls, then add 2 slices of Provolone cheese to each hoagie roll.

Layer with capocollo, Genoa salami, ham, and mortadella. Top with tomato-onion mixture.

Top with shredded lettuce and close.
Nutrition
Calories:
774
kcal
|
Carbohydrates:
42
g
|
Protein:
34
g
|
Fat:
52
g
|
Saturated Fat:
17
g
|
Polyunsaturated Fat:
5
g
|
Monounsaturated Fat:
26
g
|
Cholesterol:
82
mg
|
Sodium:
2201
mg
|
Potassium:
591
mg
|
Fiber:
3
g
|
Sugar:
9
g
|
Vitamin A:
1303
IU
|
Vitamin C:
15
mg
|
Calcium:
355
mg
|
Iron:
13
mg