Oreo Cinnamon Rolls are the ultimate sweet breakfast treat! Tender rolls are made with cinnamon and Oreo filling and topped with cream cheese icing.
This Sweet Breakfast Recipe is great for an indulgent weekend morning or holiday. It's an extra sweet take on Classic Cinnamon Rolls with delicious Oreo sandwich cookies mixed into the filling.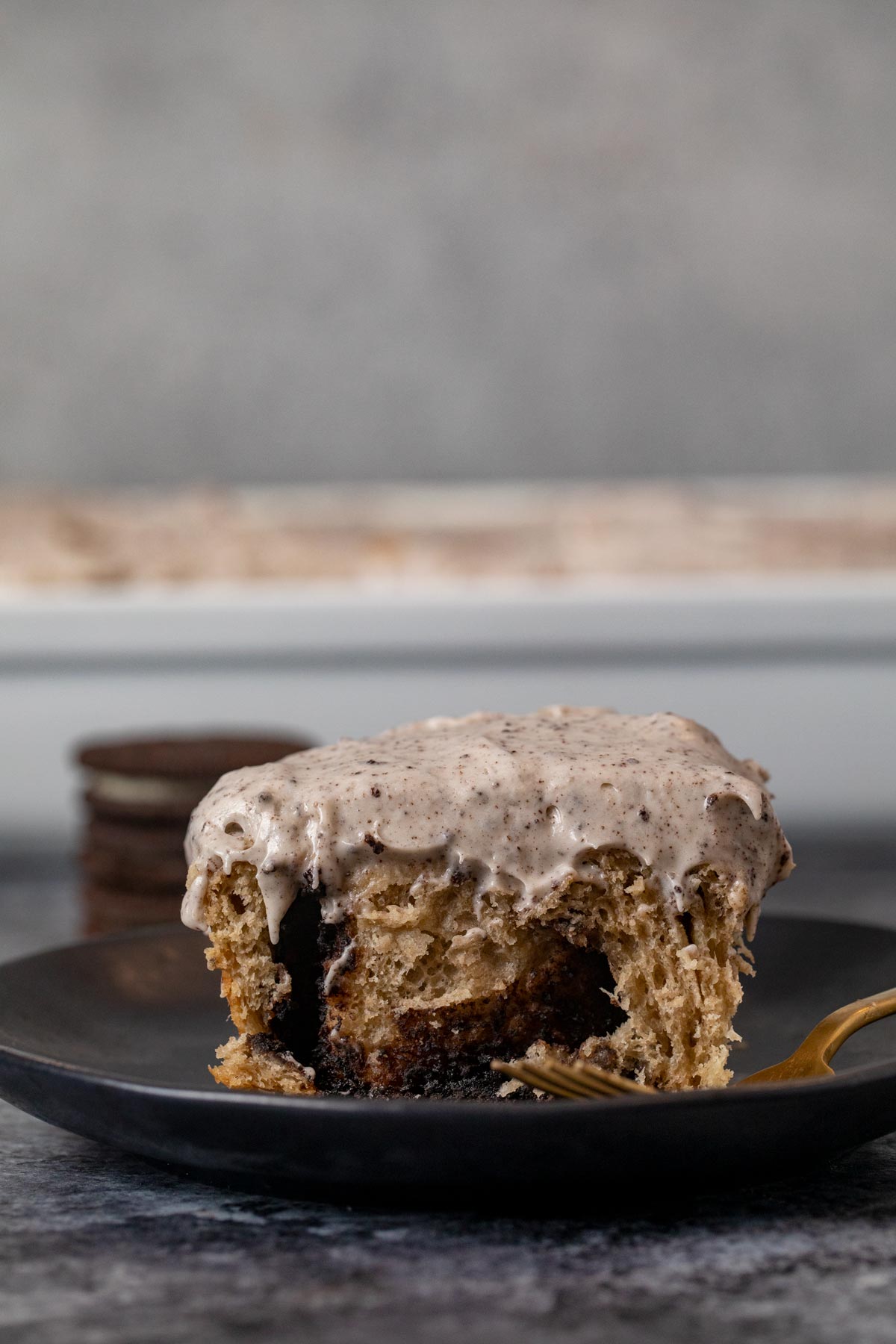 OREO CINNAMON ROLLS
Oreos are probably the most popular store-bought cookie out there. The crunchy chocolate wafers and rich creamy filling make them delicious to enjoy on their own or to add to your favorite baked goods. So, why not add them to chewy cinnamon rolls? The chewy, chocolatey cookies go great with the tender, sweet dough.
These Fluffy Cinnamon Rolls are made with 1 full-sized package of Oreos and flavored with a hint of cinnamon. They're the perfect twist on traditional cinnamon rolls! They have the same light, airy base, and classic cinnamon roll frosting, but with the addition of delicious, chocolate cookies.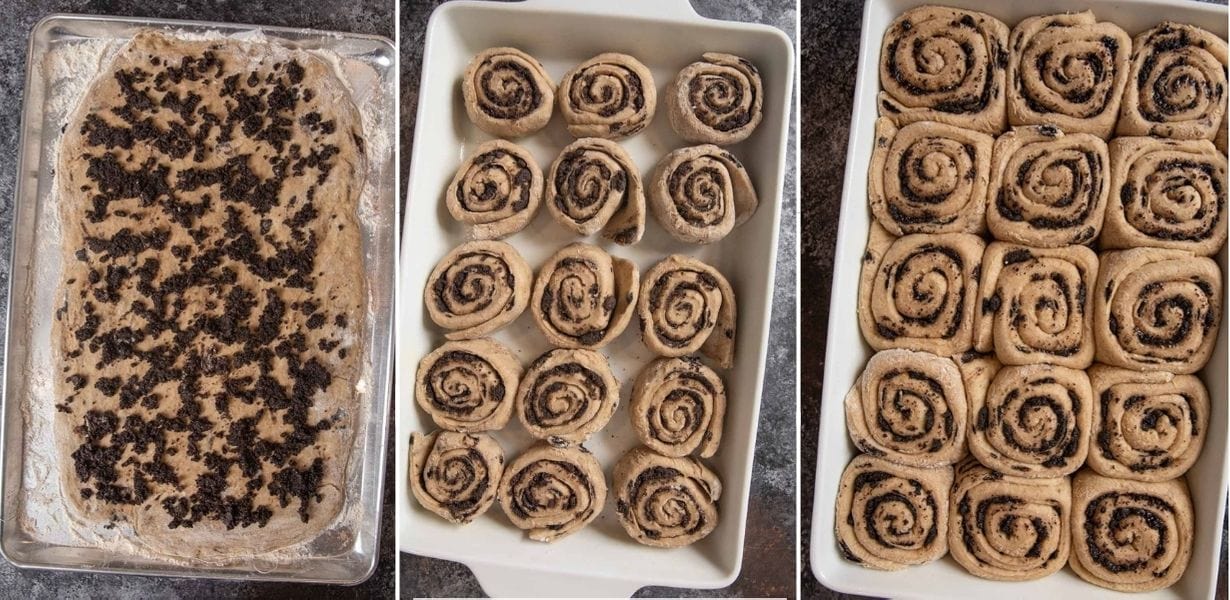 We're always adding Oreo cookies to dessert recipes, like Oreo Pie or Oreo Cheesecake. But, there's no reason these cookies can't bring some extra sweetness to breakfast too. Although you probably don't want such an indulgent breakfast every day, it's great for holidays or a brunch party. The cookies add extra rich flavor to the traditional breakfast, and make them an instant favorite with kids!
MORE CINNAMON ROLL RECIPES
TIPS FOR MAKING OREO CINNAMON ROLLS
Cookies: Put the Oreos in a food processor and pulse until they're in coarse crumbs.
Yeast mixture: Add the milk and butter to your saucepan and heat it to 110 degrees. If you don't have a thermometer this should be warm to the touch. Pour the milk into your stand mixer, and add the dry yeast. Whisk them together then let the yeast sit for 1 minute.
Dough: Add all-purpose flour, sugar, salt, and eggs. Cover it with a clean towel to make sure the flour doesn't go everywhere when you mix it together. Use the dough attachment and turn the mixer on low to medium speed. Continue mixing for 5-7 minutes as the dough ball forms. Then mix 6 crushed Oreos into the mixture. You can add extra flour to the sticky dough ball to make sure it pulls away from the walls. Just be careful not to add too much flour, or you'll end up with dense cinnamon rolls. Transfer dough from the bowl, grease the bowl, and then add it back in.
Rise: Cover the bowl with a towel, and let it sit for 10 minutes. Preheat the oven and make the filling.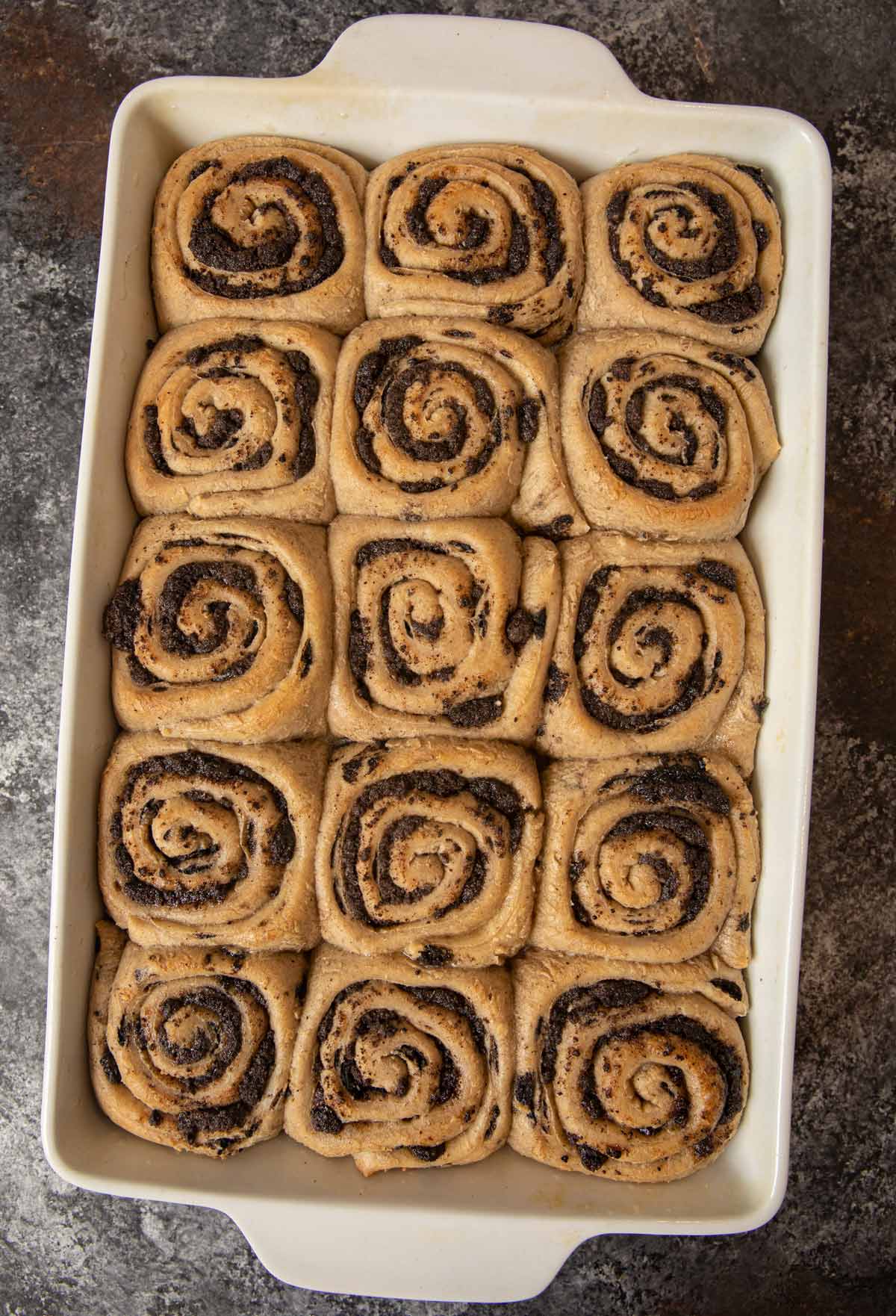 Cinnamon roll filling: In a separate bowl mix in the sugar, cinnamon, and the remaining crushed Oreo cookie crumbs.
Form: Sprinkle ½ cup flour on the counter or another even surface. Roll the dough out on the surface in a large rectangle about ½ inch thick. Spread butter over the dough. This is easiest to do with your hands so that the dough doesn't rip. Sprinkle the Oreo and cinnamon mixture over the butter. Roll the dough into a log and use a thread to slice it into 18 pieces. Place them onto buttered baking pans or jelly roll pans. Place the pans in a warm place for 20 minutes.
Cream Cheese Icing: Beat together the 12 ounces softened cream cheese, ⅓ cup butter, 1 tablespoon vanilla extract, 5 cups powdered sugar, 3 tablespoons milk, and 6 crushed Oreos. Mix until they reach a light fluffy consistency. You can add extra milk if it's not soft enough. Put the icing in the fridge while you bake the cinnamon rolls.
Baking time: Bake the rolls for 18-20 minutes until they're light golden brown. Let the cinnamon rolls cool slightly before you spread the cream cheese and Oreo icing over the individual cinnamon rolls.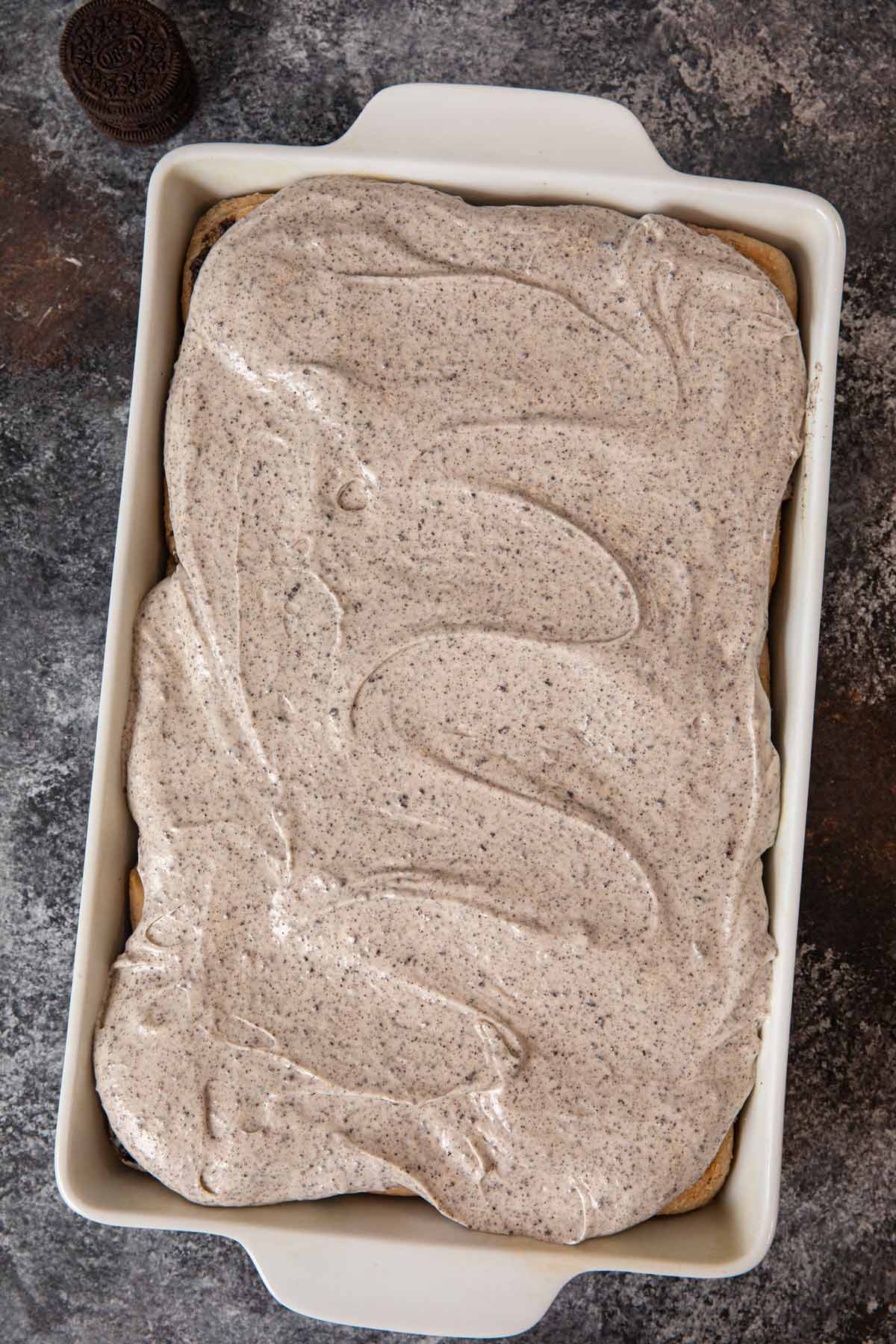 Create a free account to

Save Recipes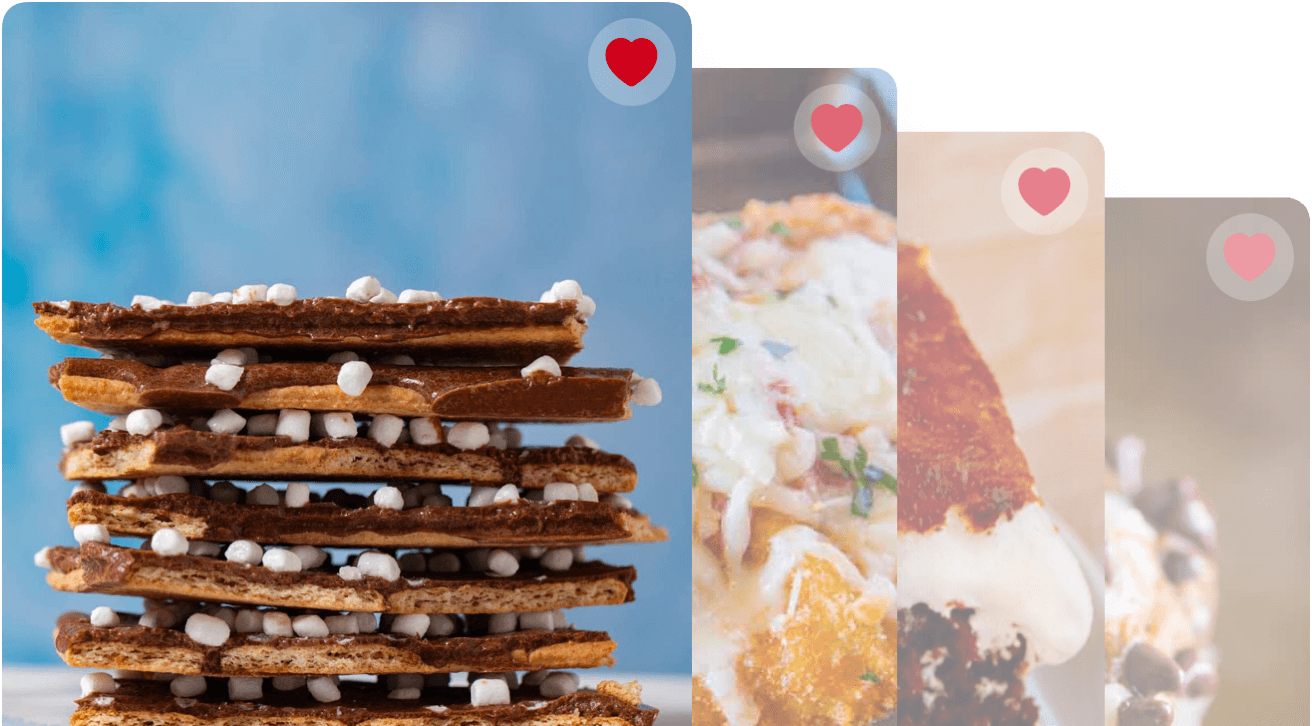 VARIATIONS ON OREO CINNAMON ROLLS
Funfetti Cinnamon Rolls: You can use different types of cookies in the recipe, like Funfetti Oreos for Birthday Cake Cinnamon Rolls. This version is perfect to serve them for a Birthday breakfast.
Oreos: You can use any other Oreos of your choice like red velvet, vanilla, mint, or chocolate Oreos.
Pre-made Cinnamon Buns: For a quicker recipe, you can use Pillsbury dough instead of making homemade dough. Then just add the Oreo filling and frosting to them.
MORE OREO RECIPES
HOW TO STORE OREO CINNAMON ROLLS
Serve: If you have any leftover cinnamon rolls, they can stay good at room temperature for 2-3 days. Cover them in plastic wrap or tin foil to keep them fresh.
Store: You can also seal them to store in the fridge for up to 1 week.
Freeze: If you want to make batches of cinnamon rolls ahead of time, you can store them in the freezer for up to 5 weeks. Let them thaw in the fridge and then reheat them in the oven.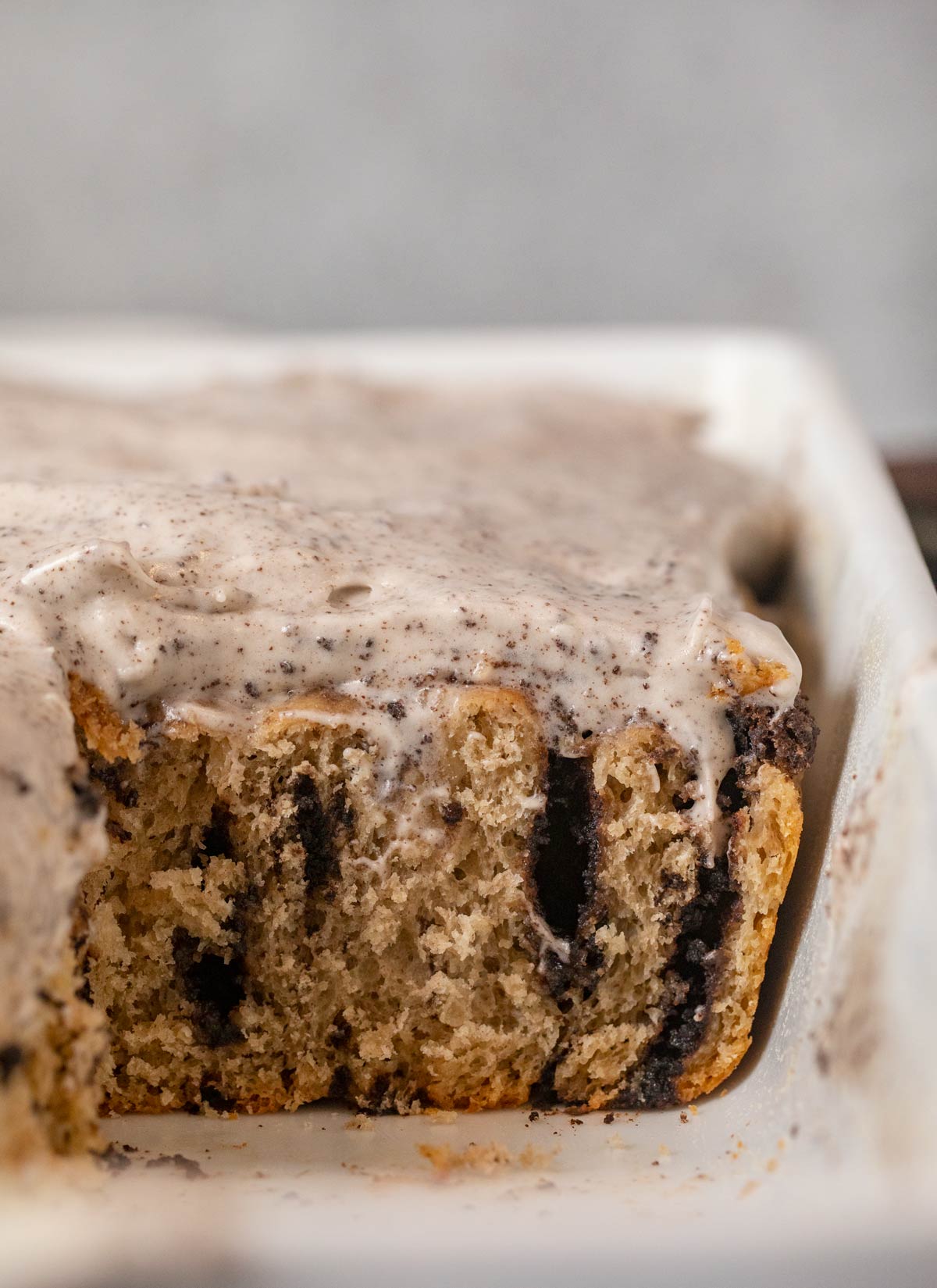 Ingredients
Oreo Cinnamon Roll Dough:
2

cups

whole milk

1/2

cup

butter

, room temperature

2

packets

instant rapid rise yeast

6 1/2

cups

all-purpose flour

, divided

1/2

cup

granulated sugar

1

teaspoon

salt

2

large

eggs

6

Oreos

, crushed to crumbs
Oreo Cinnamon Filling:
1

cup

sugar

3

tablespoons

ground cinnamon

14

Oreos

, crushed to coarse crumbs

1/2

cup

butter

, room temperature
Oreo Cream Cheese Icing:
12

ounces

cream cheese

, (1 ½ packages) softened

1/3

cup

butter

, room temperature

1

tablespoon

vanilla extract

5

cups

powdered sugar

3

tablespoons

milk

6

Oreos

, crushed to crumbs
Instructions
Cinnamon Roll Dough:
In a small saucepan heat the milk and butter to 110 degrees (warm to touch).

Into your stand mixer add the yeast and milk mixture and whisk and let sit for one minute.

Add 6 cups of the flour, sugar, salt and eggs to the stand mixer.

PRO TIP: COVER YOUR MIXER WITH A CLEAN DISH TOWEL.

Attach the dough hook and turn the mixer on speed 3-4 (low to medium).

Let it go for

5-7 minutes

, you want the dough to become a ball that doesn't stick to the walls of the bowl.

Add in 6 crushed Oreos and continue to mix for

30 seconds

until incorporated.

If you find the dough sticking to the sides of the bowl add flour ¼ cup at a time until it pulls away (no more than another cup)

Take the dough out, grease the stand mixer bowl, and put it back in.

Cover the dough with your dish towel you used to keep the flour in the stand mixer.

Let sit for

10 minutes

while you set the oven to preheat to 350 degrees and you make the filling.
Oreo Cinnamon Filling:
In a medium-sized bowl mix the sugar, cinnamon, and 14 crushed Oreo Cookie crumbs.

Using a large even surface, add ½ cup of flour and roll it out onto the surface to coat the rolling pin and the surface.

Roll out the dough into a large rectangle about a ½ inch thick (if your space is limited do this in two halves).

Spread the butter over the dough (I use my hands) and sprinkle the Oreo cinnamon mixture over the butter.

Roll the dough tightly to form a long log and using a piece of thread slice off pieces.

The dough will make 18 large cinnamon rolls.

Place the rolls into buttered baking pans or jelly rolls.

Place the rolls into a warm place for

20 minutes

(I have a second oven, so I heat it to warm when I start the recipe, then turn it off and open the door for a couple of seconds then close the door. The residual warmth is perfect for these rolls).
Cream Cheese Icing:
In your stand mixer beat all the ingredients together until light and fluffy.
To Finish:
Bake the rolls for

18-20 minutes

or until golden brown.

Spread the cream cheese frosting over the rolls and serve warm or at room temperature.
Nutrition
Calories:
630
kcal
|
Carbohydrates:
101
g
|
Protein:
9
g
|
Fat:
22
g
|
Saturated Fat:
12
g
|
Trans Fat:
1
g
|
Cholesterol:
70
mg
|
Sodium:
440
mg
|
Potassium:
192
mg
|
Fiber:
2
g
|
Sugar:
59
g
|
Vitamin A:
608
IU
|
Vitamin C:
1
mg
|
Calcium:
94
mg
|
Iron:
4
mg