Oreo Ice Box Cake is an easy no bake dessert with Oreos and whipped cream (or cool whip!) you can serve all summer long!
I've made quite a few cake recipes, from the traditional like Angel Food Cake and Chocolate Chip Cheesecake to extravagant and unusual ones like Mixed Berry Trifle and Chocolate Lava Cake, and here's another one: Ice Box Cake is an unusual, classic American dessert.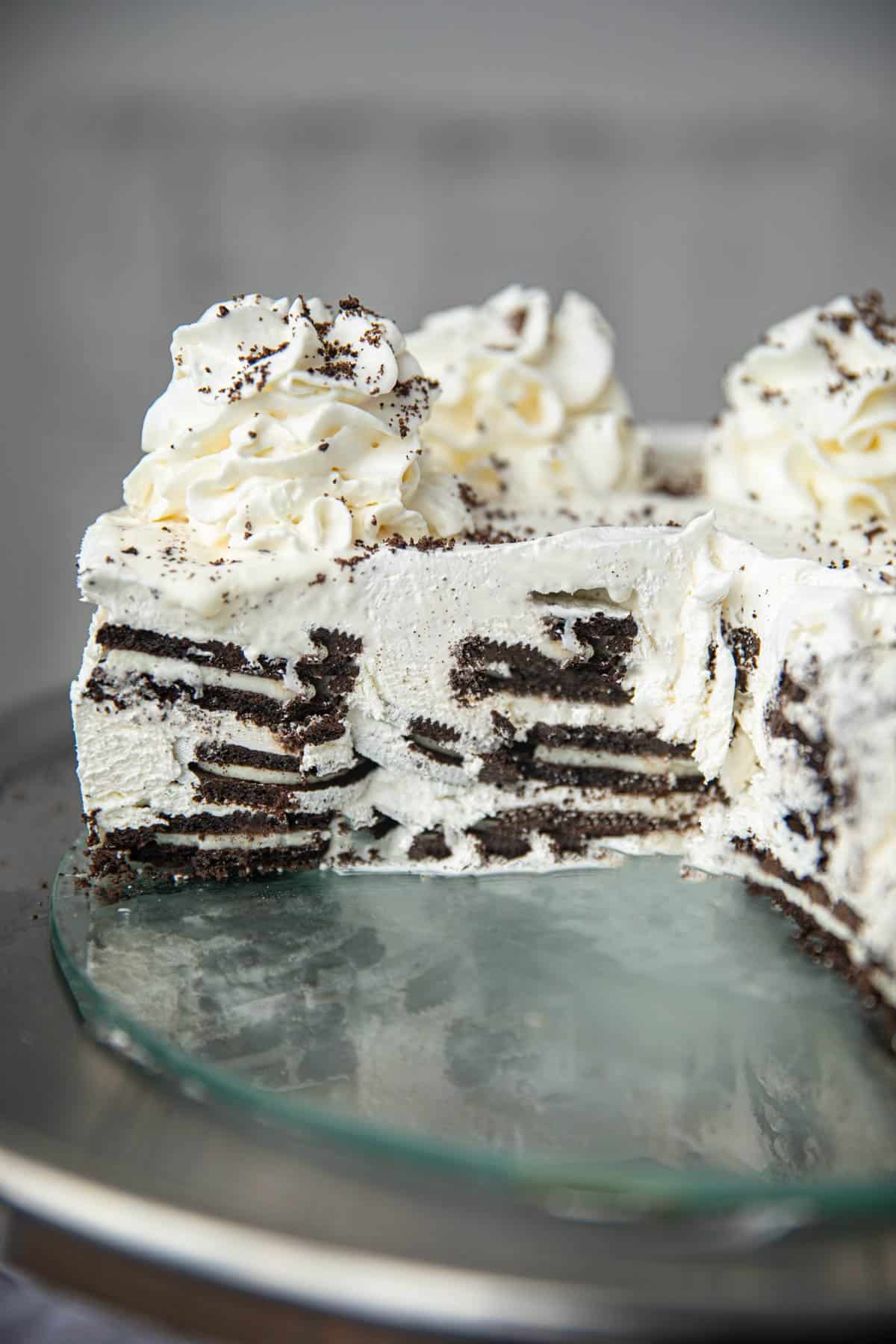 OREO ICE BOX CAKE
Oreo Ice Box Cake is more cake-like rather than being actual cake, but it's a delicious, easy recipe that you can make the night before for a restaurant ready dessert you'll love. Plus you get soft delicious Oreos covered in homemade whipped cream. Did I mention the Oreos soften to make them chewy and delicious?
That is the best part of this cake, chewy and soft Oreos.
This cake will be one of your favorite desserts because of how customizable it is: you can use the basic recipe as many times as you want for any occasion.
How to Make Ice Box Cakes:
Layer whipped cream (or cool whip) with your graham cracker or cookies.
Layer as high as the dish will allow then cover and chill.
Leave refrigerated for at least four hours before serving.
If serving the following day or days later freeze until you need it.
Add any fun additional mix in ingredients you'd like.
If you want to customize your cake for a particular holiday, or if you just want it to have some more flavor, here are some great toppings and variations to try out.
TOPPINGS AND VARIATIONS
Powdered sugar: use white powdered sugar or you can buy a colorful version at the grocery store and powder the top of the cake. This is a fun, decorative topping that you don't have to spend a ton of time on.
Berries: use berries on the cake to give it a pretty, and delicious, look. I would recommend using blackberries, blueberries, sliced strawberries or all three. Definitely add the berries right before serving your cake or the whipped cream will be stained by the juice.
Frosting: once the cake is chilled and firm, ice the top with homemade Cream Cheese Frosting, thick, Classic Buttercream Frosting, or you can even use a premixed spread like Nutella.
Whipped cream: impress yourself and all of your dinner guests by putting aside the cool whip and making your own Whipped Cream. Use an electric mixer or whip cream by hand, but only if you are looking for a new arm workout.
Nuts: arrange sliced or crushed nuts on the top of the cake in patterns or imitate Jackson Pollock. Nuts are a crunchy, rich topping that look amazing.
Vanilla Ice Cream:  Homemade Vanilla Ice Cream made from scratch and served with ice box cake is a dessert that you shouldn't miss. The vanilla ice cream and the rich, sweet ice box cake go well together, and the rich flavor of the Oreos only adds to the deliciousness.
Sauce: a spoonful of Chocolate Ganache or melted Salted Caramel drizzled over the top give the cake a marbled look, and they taste delicious to boot.
Ice box cupcakes: if you're having a party and want to give everyone a small, personal dessert, this is a fun recipe to try. (you need a steady hand for this one.) Use parchment paper to line bottoms of the pan, and leave enough hanging out of the top to grab onto to get the mini cakes out. Make your cookie and whipped cream layers much thinner layers in order to get the same textured feel.
WHY IS IT CALLED ICE BOX CAKE?
Ice box cake was invented during World War 1 when certain food and ingredients were heavily rationed. Things like sugar, which everyone had been using like crazy right before the war, were in short supply, so baking became more and more difficult. People started experimenting with desserts and came up with cakes that used already packaged ingredients.
Pudding mix, Wafer cookies and the fruit people grew in individual gardens and were really popular ingredients, and some of the most beloved recipes, like vanilla or lemon icebox cake came about. Of all of the flavors though, chocolate icebox cake was the clear favorite from the very beginning. Ice box cake got its name from sitting overnight int he "ice box" or refrigerator overnight to firm up.
TASTY TIME TRAVEL
Want to throw a themed party? Here are some authentic dishes from the 1920s and 30s that were served at parties. Try them out with your ice box cake.
Baked Ham: baked ham glazed in brown sugar was very popular at parties, particularly before the stock market crash.
Roasted Cauliflower: you may think that roasted cauliflower is a more modern fad, but it was really big back in the day. It's crunchy, it's savory, and it's great to serve up at a party.
Zucchini Bread: during the Great Depression people experimented with savory breads in order to get the most use out of fruits and veggies that had started to go bad. Zucchini bread is thick and moist, and is a great treat with coffee or as a starter.
AROUND THE WORLD
American: the modern American recipe for ice box cake uses some of the original ingredients like vanilla wafers, pudding mix, and thick layers of graham crackers. We've gotten a little more fancy over the years and use toppings that people wouldn't have been able to use, like banana or sliced pineapple (pineapples were so expensive that wealthy people brought used to bring them to parties to show off their high status.)
Australian: the Australian version almost exclusively use Chocolate Ripple Crackers for the base of the cake, which is why ice box cake is commonly called chocolate ripple cake. Australian chocolate ripple cakes are topped with chocolate, berries or, for the winter holidays, crushed peppermint.
The Philippines: the Filipino version of ice box cake is sometimes called a mango float and uses slices of mangos, graham crackers or wafer cookies, whipped cream and condensed milk to make the layers.
How long is Icebox Cake Good For?
Serve: you shouldn't leave your cake out at room temperature for long or it will melt. Make sure to let it chill in the fridge overnight so that the layers are firm and not runny.
Store: your ice box cake should be good for 3 days in the fridge as long as it's in an airtight container.
Freeze: don't freeze your ice box cake for more than about 1 week or it will get really gross. You may want to skip freezing altogether, since ice box and doesn't thaw well.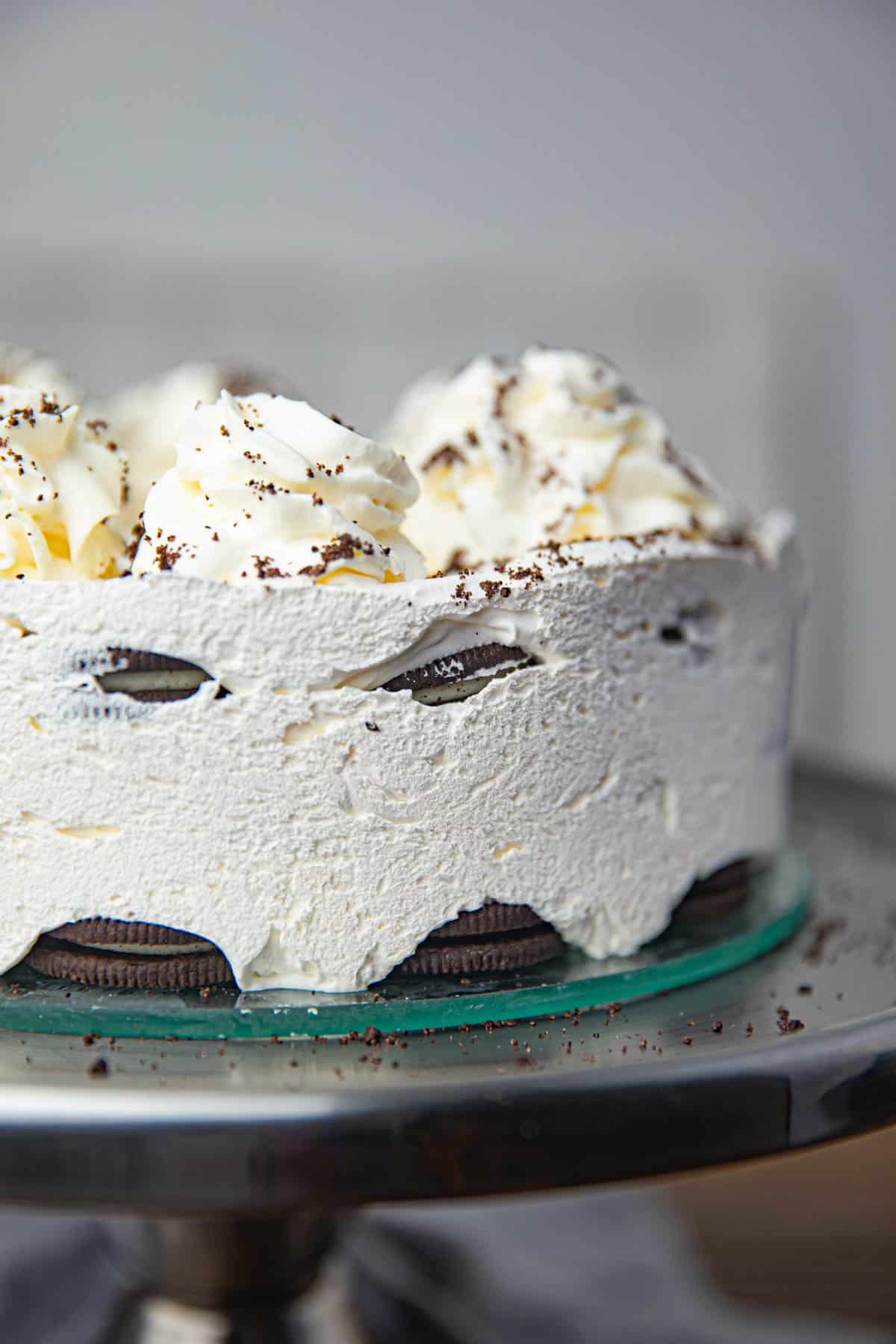 Recipe
Save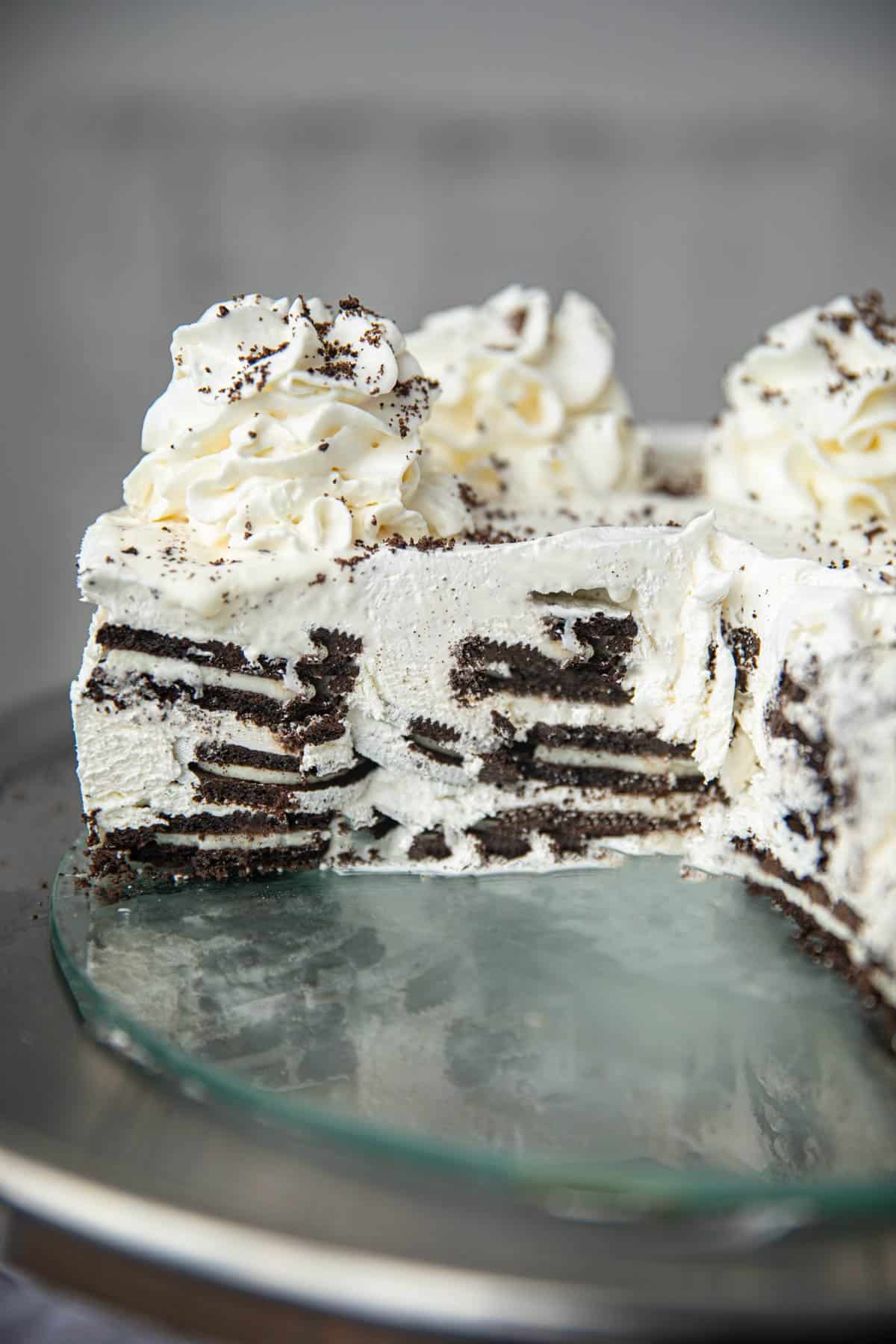 Oreo Ice Box Cake
Yield:

8

Prep Time:

10

minutes

Cook Time:

4

hours

Total Time:

4

hours

10

minutes

Course: Dessert
Cuisine: American
Author: Sabrina Snyder
Oreo Ice Box Cake is an easy no bake dessert with Oreos and whipped cream (or cool whip!) you can serve all summer long!
Ingredients
3

cups

heavy cream

1/3

cup

powdered sugar

46

Oreo cookies
Instructions
Note: click on times in the instructions to start a kitchen timer while cooking.
In a stand mixer, add the heavy cream and powdered sugar together on low speed until the sugar is mixed in.

Increase the speed to high for 1-2 minutes until the whipped cream is light and fluffy but do not let it go too long or you will make sweetened butter.

In a 9" springform pan layer whipped cream and Oreos until you reach the top of the pan.

Cover the pan with plastic wrap gently and refrigerate for 4 hours.

If not serving right away freeze until you are serving (thaw before you serve, but remember the 4 hours in the refrigerator is needed for softening the cookies, so don't skip that step.)
Nutrition Information
Yield: 8 , Amount per serving: 651 calories, Calories: 651g, Carbohydrates: 56g, Protein: 6g, Fat: 47g, Saturated Fat: 25g, Cholesterol: 122mg, Sodium: 351mg, Potassium: 215mg, Fiber: 2g, Sugar: 33g, Vitamin A: 1310g, Vitamin C: 0.5g, Calcium: 73g, Iron: 6g
All images and text © for Dinner, then Dessert.
Save