Pear Bread is a moist fruit-filled quick bread recipe. Naturally sweet and full of flavor with fresh pears, cinnamon, vanilla, and almonds.
Banana Bread is one of the most well known and easy Quick Bread Recipes, but you can make a tasty breakfast bread with practically any fruit just as easily!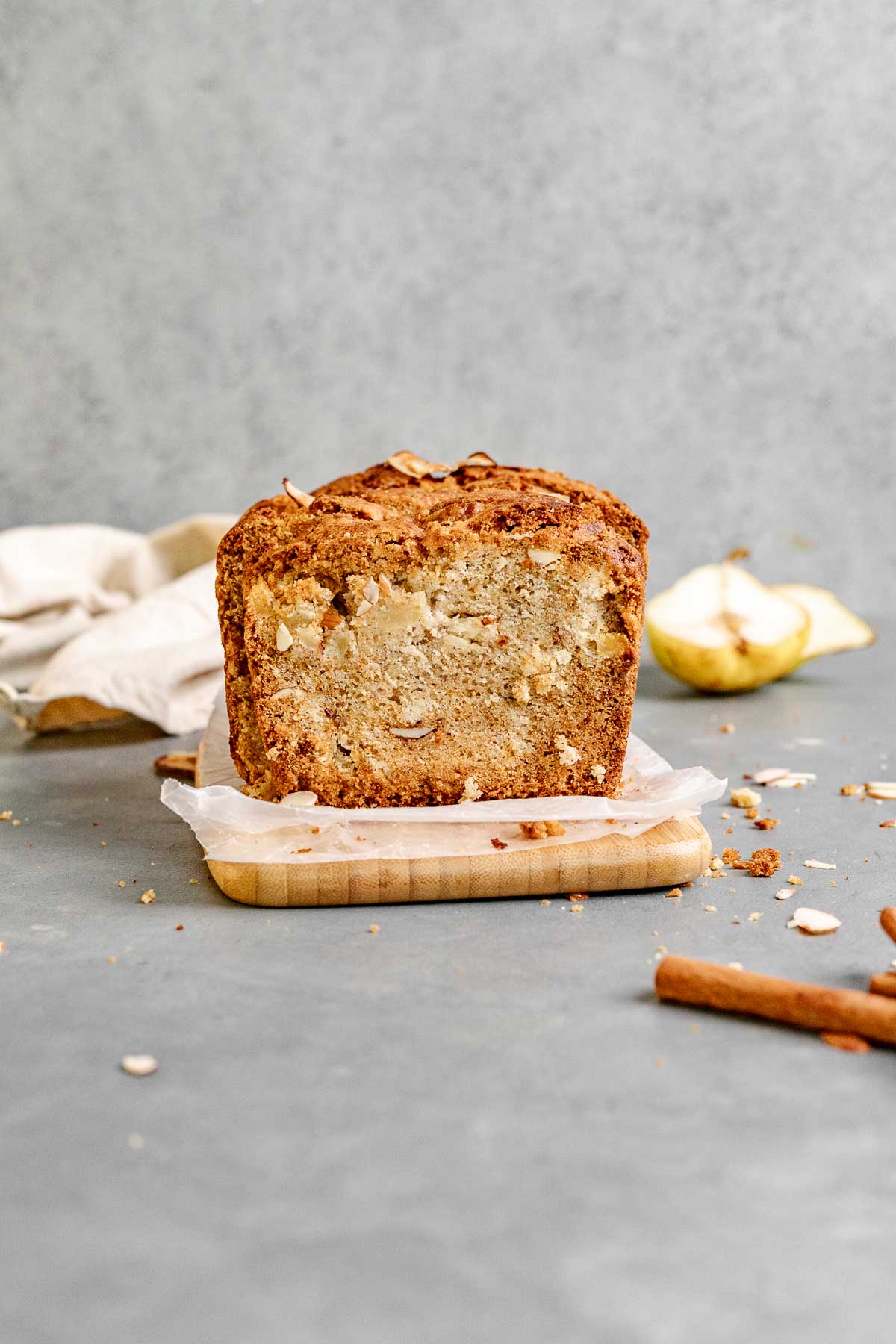 When it comes to late summer fruit desserts, there is one fruit that you are probably missing out on! Pears are ripest in the late summer, right along with berries and peaches, and become incredibly sweet and juicy. If you don't bake with pears often (or ever) this fresh pear recipe is one you need to try. The ripe pears add a level of natural sweetness and moisture that makes this tender, quick bread so delicious. It's sure to be a new favorite breakfast and dessert.
Pear Bread is just as easy make as other fruit quick breads, like Apple Bread, with a few subtle changes that make all the difference. This Pear Bread recipe is made with extra cinnamon, a flavor that tastes amazing with fresh pears. The lemon juice helps tenderize the pears as they bake so it's extra moist, and the almonds finish it off with a nice crunch.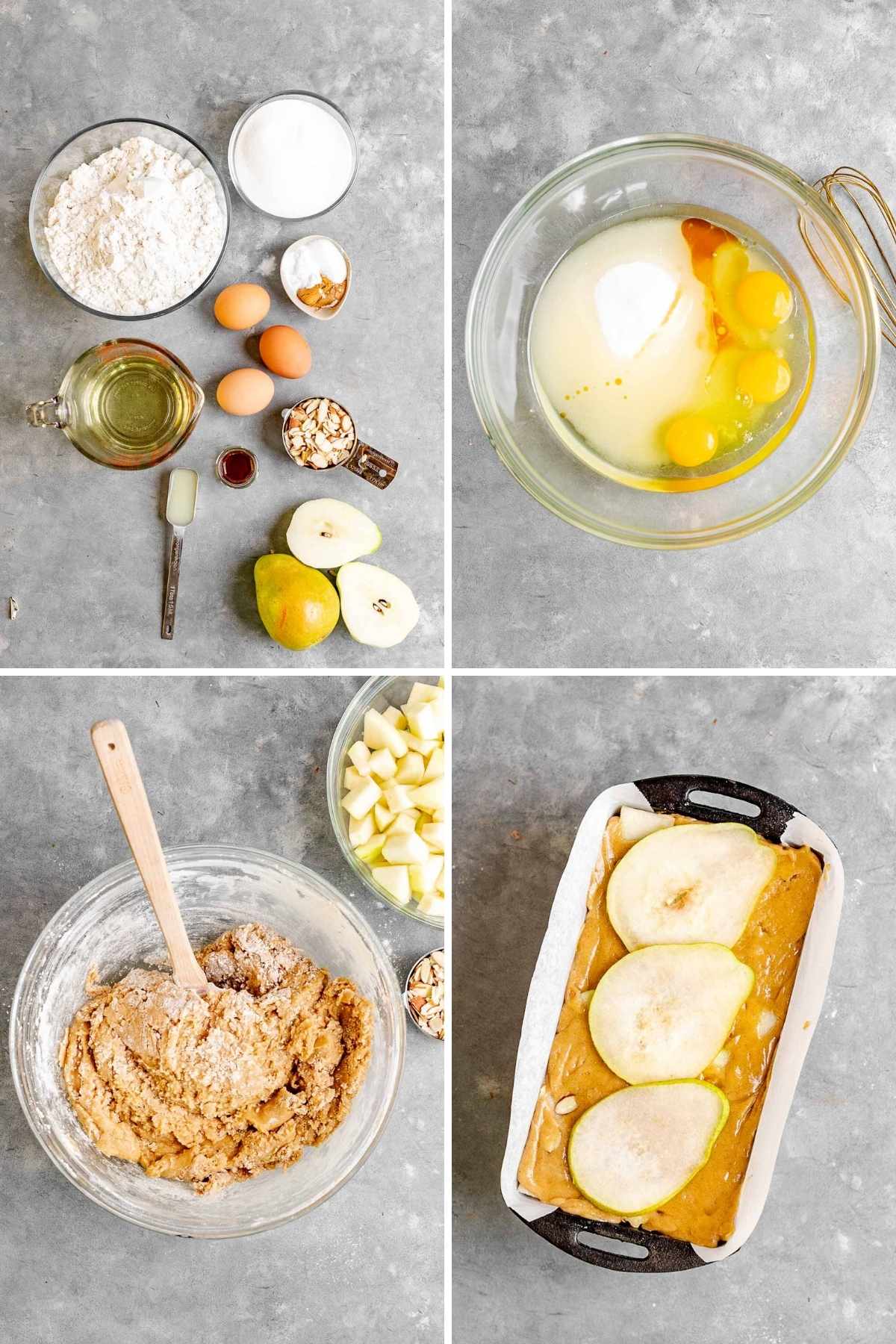 This rustic Pear Bread can be made at the peak of the season, around late summer to early October, and saved for later. A prepared loaf of Pear Bread can be frozen for up to 9 months, so right when your bread is running out, it will be time for fresh pear season again. It makes a special, unexpected fruit bread to gift during the holidays too!
Let the pear taste shine in this simple fruit bread and enjoy with a cup of coffee, or serve with a little butter and a sprinkle of cinnamon sugar or confectioner's sugar. Transform this delicious Pear Bread from breakfast to dessert by topping with Cream Cheese Frosting or a drizzle of Salted Caramel Sauce. Try a scoop of Vanilla Ice Cream on a warm slice of Pear Bread for a cozy late summer dessert.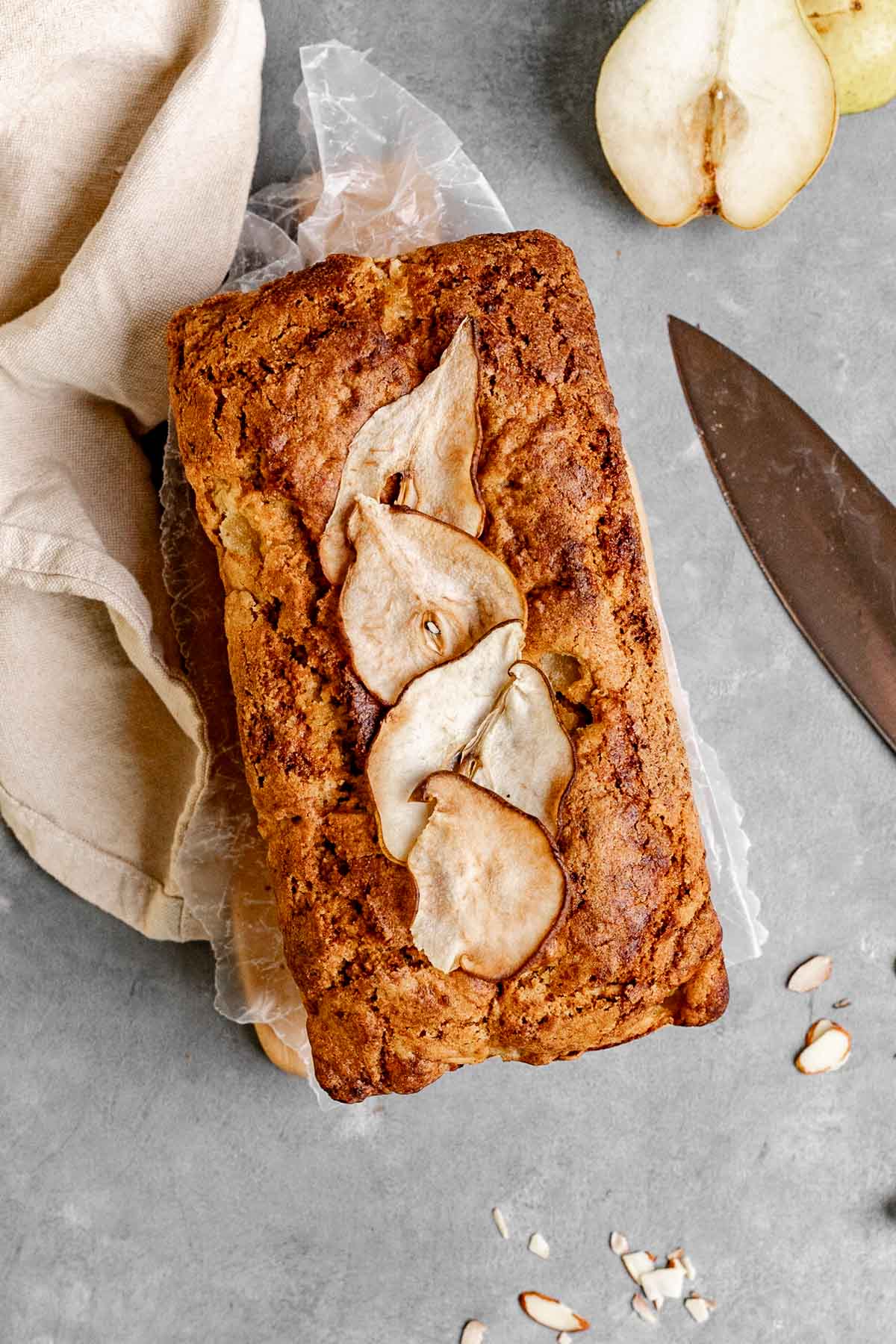 How to Make Pear Bread
Prep: Preheat your oven. Grease your pan generously with butter then lightly dust it with flour. You can also use spray. Cut three thin slices of pear before chopping and reserve for decoration.
Batter: Whisk the eggs, oil, sugar, and vanilla in a large bowl. Sift the flour, baking powder, baking soda, cinnamon, and salt in a different bowl. Whisk the dry mixture into the wet mixture until just combined.
Bake: Stir the pears in lemon juice to coat, then gently fold the pears and almonds into the batter. Pour the bread batter into the prepared pan and place the reserve pear slices on top. Bake until an inserted toothpick comes out clean with moist crumbs.
More Easy Fresh Fruit Bread Recipes
FAQs for Pear Bread
What kind of pears should I use for Pear Bread?
The type of pear you use will affect the flavor of this Pear Bread. This recipe uses D'Anjou pears that are mild and sweet. Bosc pears have a spicy sweetness, Asian varieties tend to have an almost butterscotch flavor, and Bartlett pears have a floral and full-bodied flavor. Try different pears to find the one you like best.
How do you keep the pears from sinking to the bottom?
Pat the chopped pears dry and toss in a little cornstarch or flour before adding to the bread batter so that they don't sink to the bottom.
Do I have to use fresh pears?
You can use canned or frozen pears in place of the fresh pears. For frozen pears, just chop and add without thawing. For canned pears, drain and rinse off any sugary syrup before chopping and adding.

Create a free account to

Save Recipes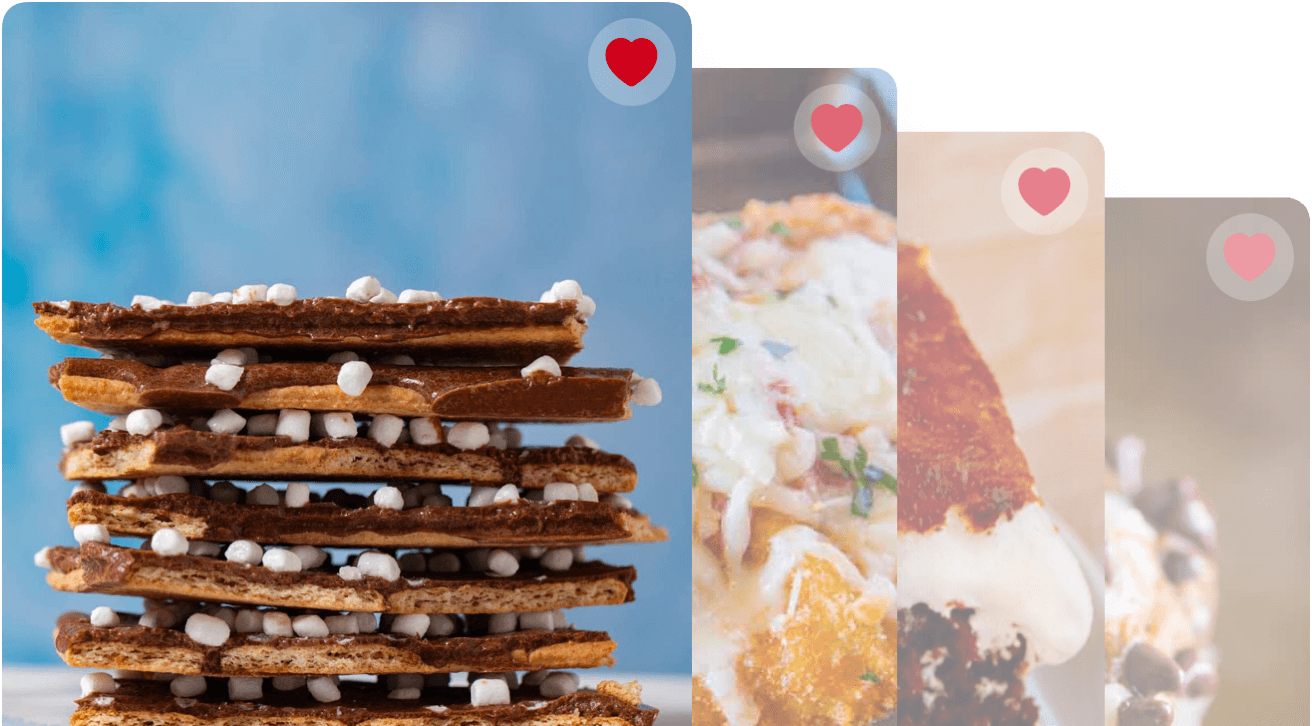 Key Ingredients
Pears: Fresh juicy D'Anjou pears are the star of this recipe delicious Pear Bread. They have a natural sweetness and their juices help keep the bread moist as it bakes. Their delicate, lightly sweet and almost floral flavor is perfect for breakfast bread.
Eggs: Eggs add moisture and richness to the bread while binding all the ingredients together. You want them to be room temp so they whip up a lot of air for a lighter bread.
Oil: Vegetable oil provides moisture to the bread, and using oil keeps it moist and tender for longer because it doesn't return to a solid at room temperature like butter does.
Sugar: Pears tend to be sweet, depending on the type you use, but you still want to add a little sugar to help draw out their natural sweetness. It also locks in moisture for soft, tender bread.
Vanilla: Vanilla extract enhances the overall flavor of the bread and adds a warm, aromatic note that complements the sweetness of the pears and cinnamon.
Leavening: This bread recipe gets both baking powder and baking soda as leavening agents. There is a lot of moisture in this batter thanks to the eggs, oil, and natural pear juices, so both are needed to help the bread rise well.
Cinnamon: Cinnamon adds a warm and comforting flavor to fruit breads and it goes especially well with the tender, sweet pears without overwhelming their delicate flavor.
Lemon: Lemon juice is added to prevent the pears from browning and adds a touch of acidity. It also helps activate the baking soda, so the bread is nice and fluffy.
Almonds: Sliced almonds are sprinkled on top of the bread before it bakes. They add a delightful crunch, nutty flavor, and beautiful finishing touch to this delicious, fruity bread.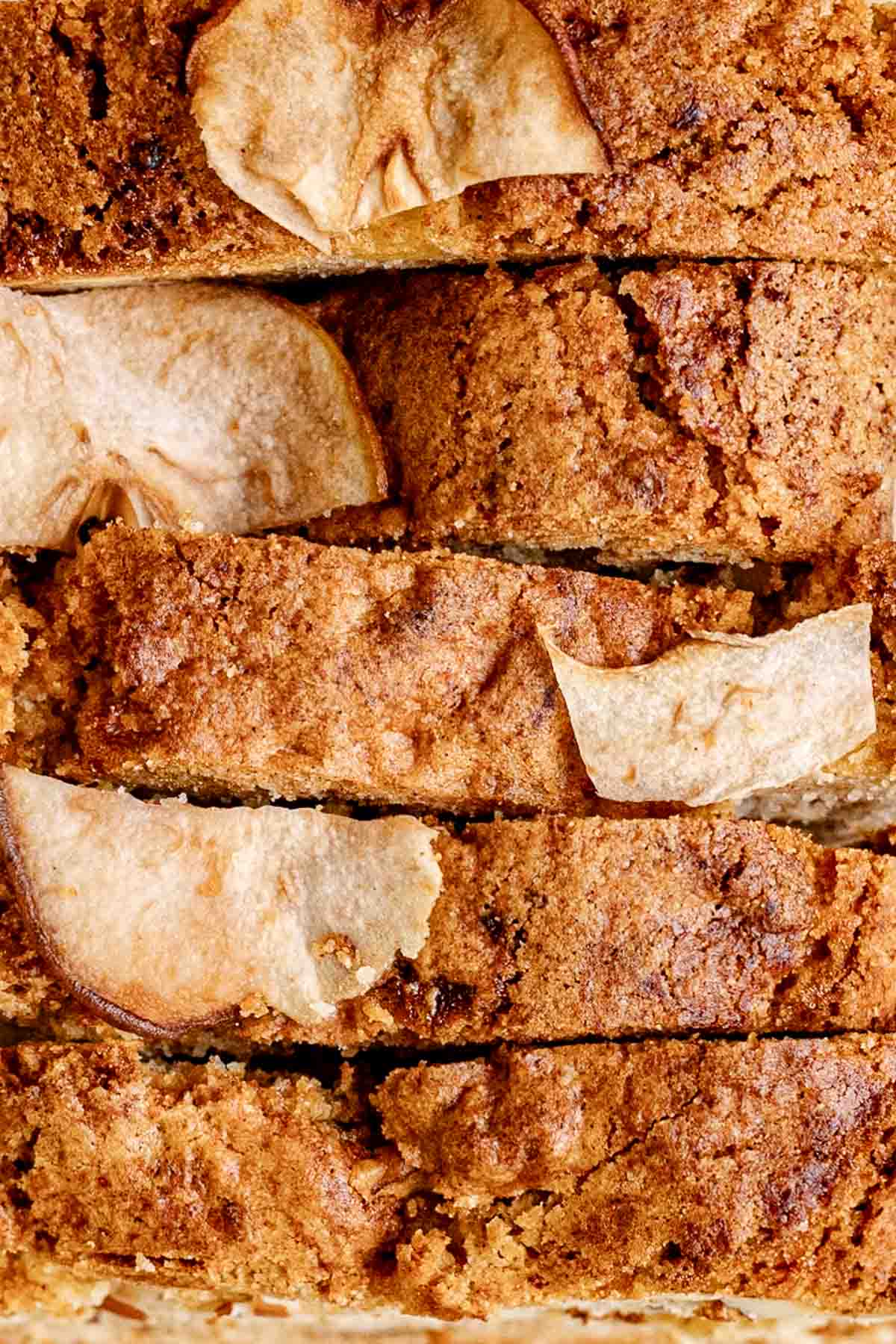 Can Pear Bread be made ahead of time?
Yes, Pear Bread can be baked ahead of time and frozen or refrigerated until you are ready to serve it. You can also cut the pears up and store them in lemon water for a day, just make sure they are completely submerged so they don't turn brown. Once the batter is prepared though, you will want to bake it right away or your bread will turn out dense.
Variations
Nuts: For extra nutty and earthier flavor, toast the nuts in a dry skillet over medium heat until fragrant before adding. Instead of almonds, you can use pecans, walnuts, or hazelnuts in your bread. Try Candied Walnuts during the holidays for a sweet crunchy burst!
Spices: Swap out half the cinnamon with an apple pie spice blend, Pumpkin Pie Spice blend, or other warm spices like nutmeg or ginger. Ginger especially goes well with pear, so add some fresh grated ginger for a bright zesty flavor.
Streusel Topping: Make Pear Bread with Oatmeal Streusel topping. Combine ½ cup rolled oats, ½ cup sugar, ½ cup flour, and 4 tablespoons cold butter with a fork until a crumble forms. Sprinkle evenly on top of the batter in the pan and cook as usual.
Butter: Replace the vegetable oil with melted butter for a buttery Pear Bread. For a healthy Pear Bread, you can use applesauce or mashed banana instead of the oil.
Apple: Turn this into Apple Pear Bread by swapping half the pears with peeled and diced apples like Granny Smith, Jonagold, or Fuji apples. You could also swap in stone fruit or berries like plums, peaches, blueberries, or strawberries for half of the pears too.
Roasted Pears: Make next-level good Roasted Pear Bread and roast the pears before you add them. Toss chopped pears in 2 tablespoons melted butter and 1 teaspoon vanilla and bake at 400 degrees until golden, about 15 minutes.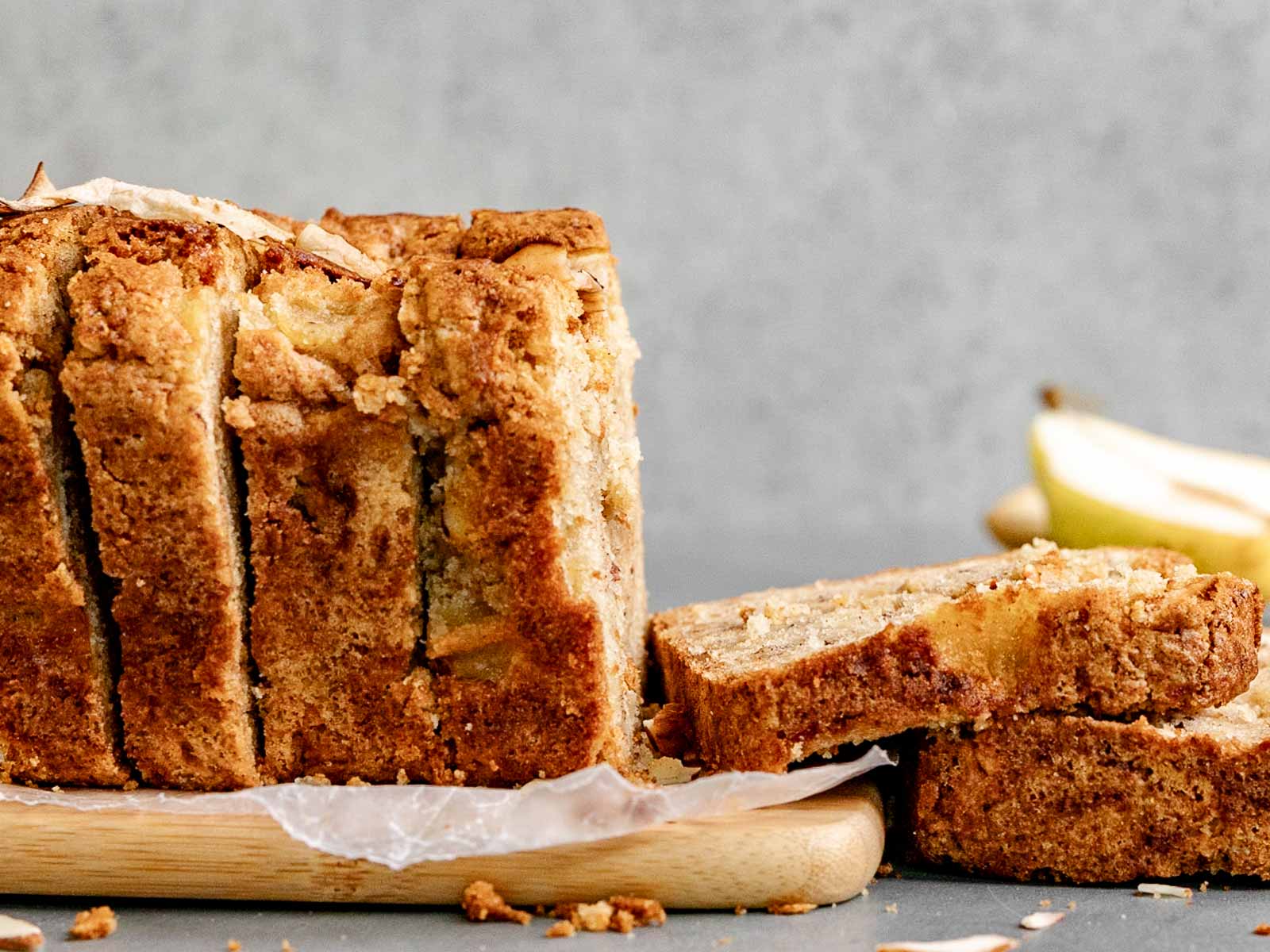 Pear Muffins
Line a 12 cup muffin tin with paper liners or grease really well.
Divide Pear Bread batter between muffin cups evenly, filling about 2/3 full.
Bake for 18-22 minutes until golden.
Muffins are done when an inserted toothpick comes out clean with moist crumbs.
The Best Fresh Fruit Recipes
How to Store
Serve: Cover Pear Bread and keep at room temperature for up to 3 days in a cool, dry place. Use a paper or linen towel to absorb moisture in the container.
Store: Once cooled to room temperature, transfer Pear Bread to an airtight container and store up to 2 weeks in the refrigerator. Warm Pear Bread in microwave or bring to room temperature to serve.
Freeze: Cool completely before wrapping Pear Bread, either whole loaf or slices, in plastic wrap and storing in a freezer safe bag. Freeze Pear Bread for up to 9 months and thaw overnight in the refrigerator before heating to serve.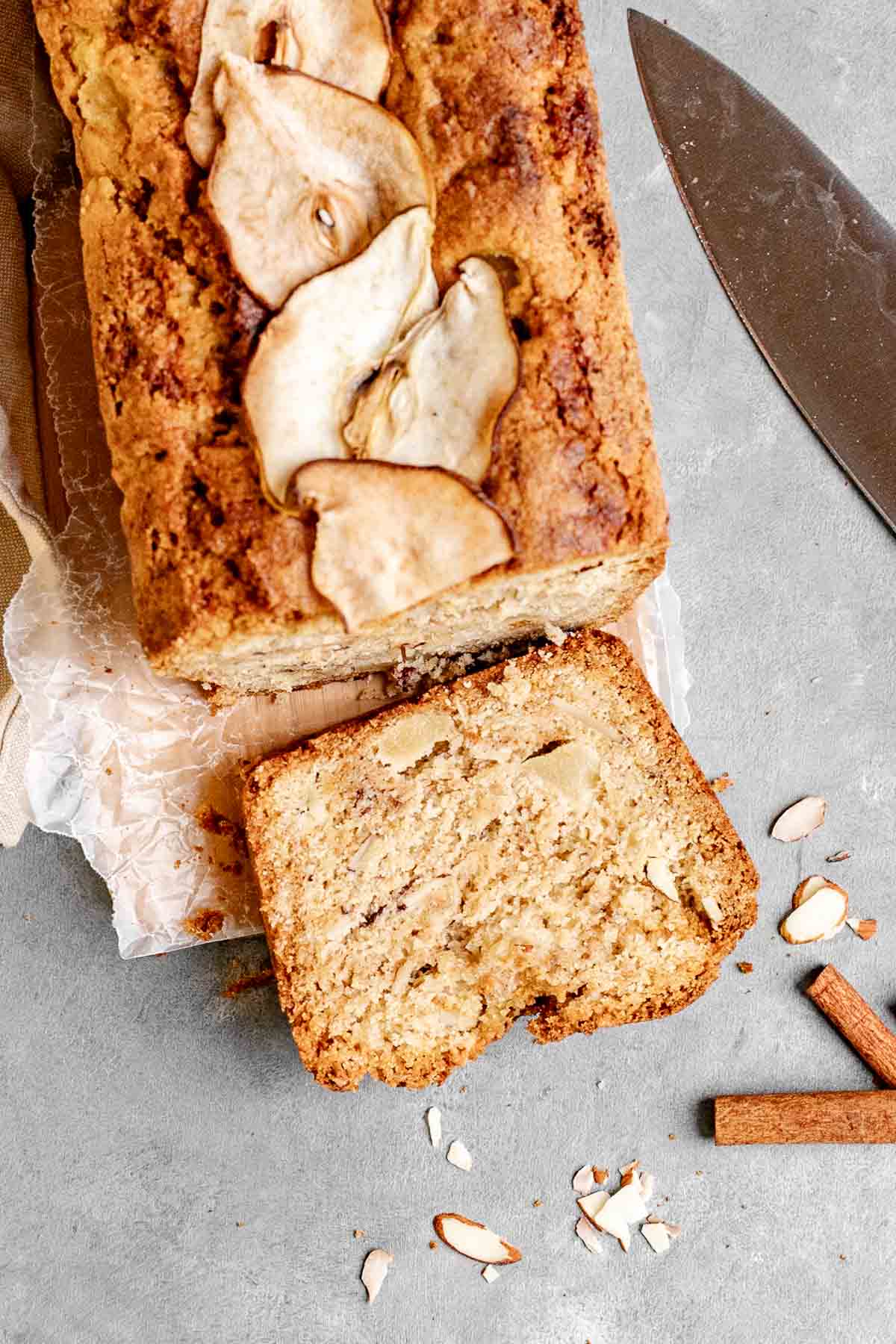 Ingredients
3

large

eggs

, room temperature

3/4

cup

vegetable oil

1 1/2

cups

sugar

1

teaspoon

vanilla extract

3

cups

flour

2

teaspoons

baking powder

2

teaspoons

ground cinnamon

1

teaspoon

baking soda

1

teaspoon

salt

4

D'Anjou pears

, peeled, cored and chopped

1

tablespoon

lemon juice

1/2

cup

sliced almonds
Instructions
Preheat the oven to 350 degrees and butter and flour an 8×4 inch loaf pan.

In a large mixing bowl whisk together eggs, oil, sugar and vanilla extract until well blended.

In a separate bowl sift together the flour, baking powder, cinnamon, baking soda and salt.

Add flour mixture to the wet ingredients and whisk until just combined.

Toss pears with lemon juice.

Fold pears and almonds in by hand until just combined and pour into the pan and bake for

55-60 minutes

until a toothpick comes out clean.

Note: If you'd like, you can cut a couple very thin slices of pear before chopping. Place them on the batter before baking.
Nutrition
Calories:
406
kcal
|
Carbohydrates:
60
g
|
Protein:
6
g
|
Fat:
17
g
|
Saturated Fat:
12
g
|
Cholesterol:
41
mg
|
Sodium:
303
mg
|
Potassium:
217
mg
|
Fiber:
3
g
|
Sugar:
31
g
|
Vitamin A:
74
IU
|
Vitamin C:
3
mg
|
Calcium:
60
mg
|
Iron:
2
mg