Peppermint Dipped Biscotti are an amazing holiday treat or gift made with peppermint mix-ins and dipped in creamy melted white chocolate.
The addition of peppermint flavor to classic biscotti makes this the perfect Dessert or Breakfast for Christmas. For more peppermint treats, try our Chocolate Peppermint Hearts and Peppermint Bark Brownies.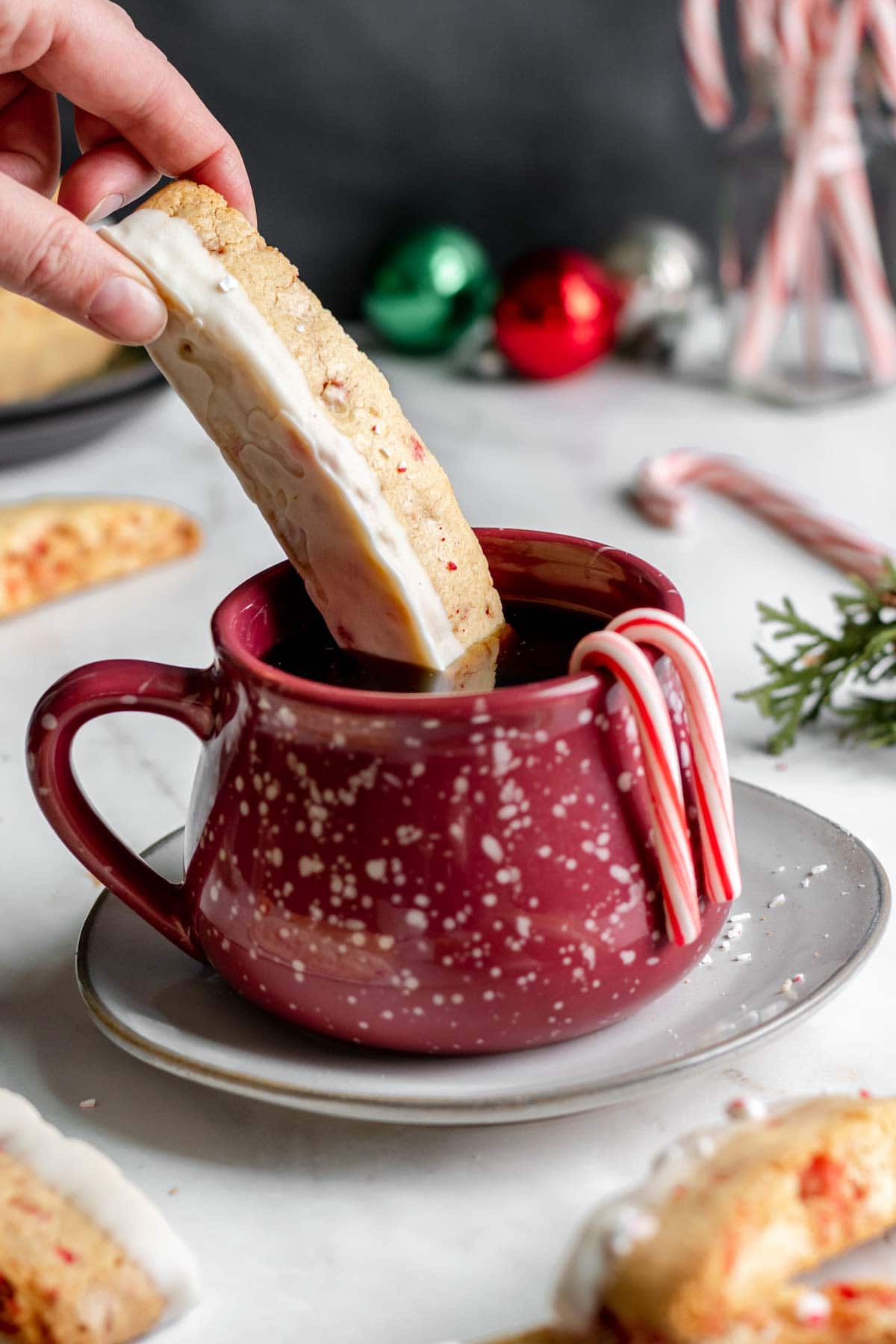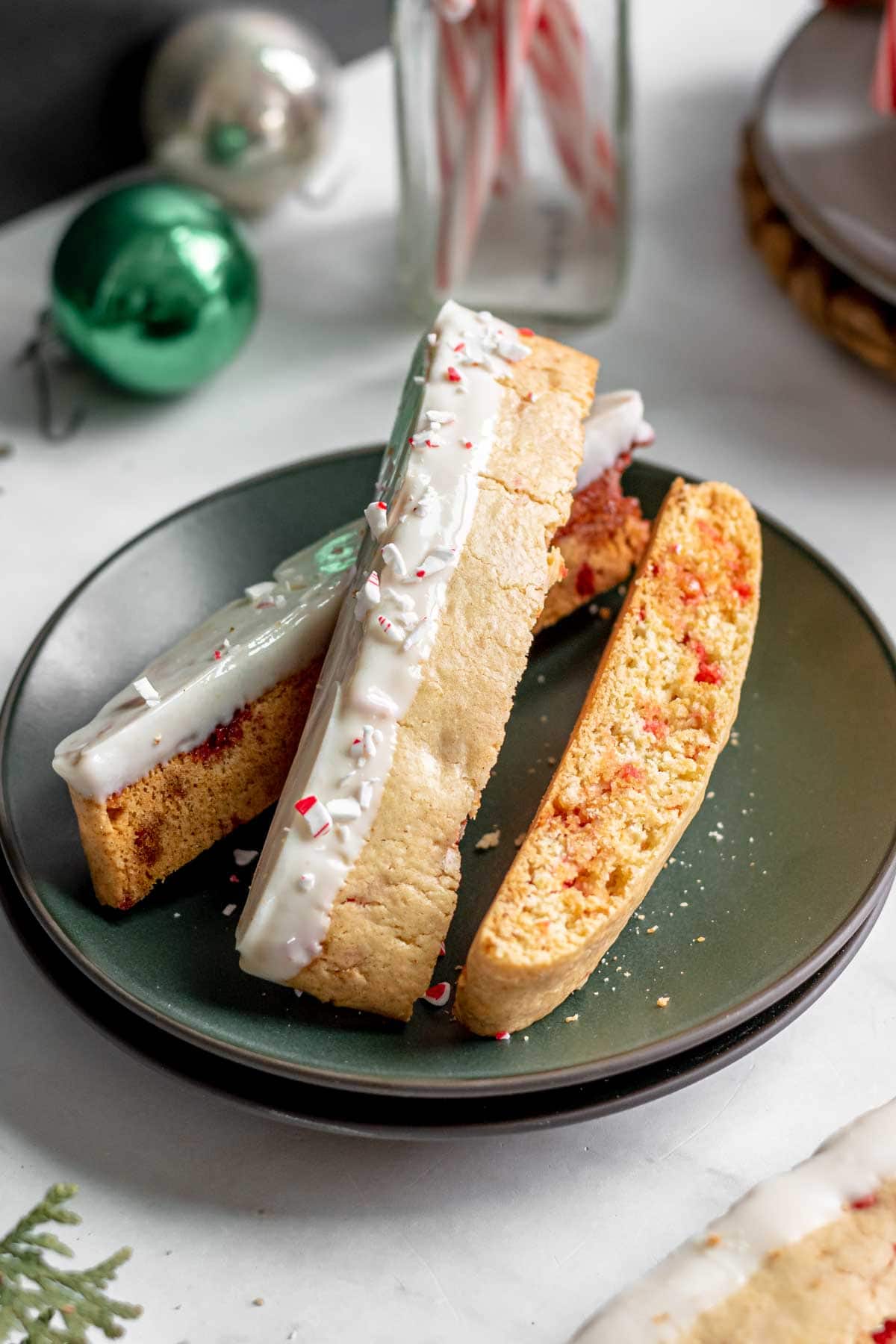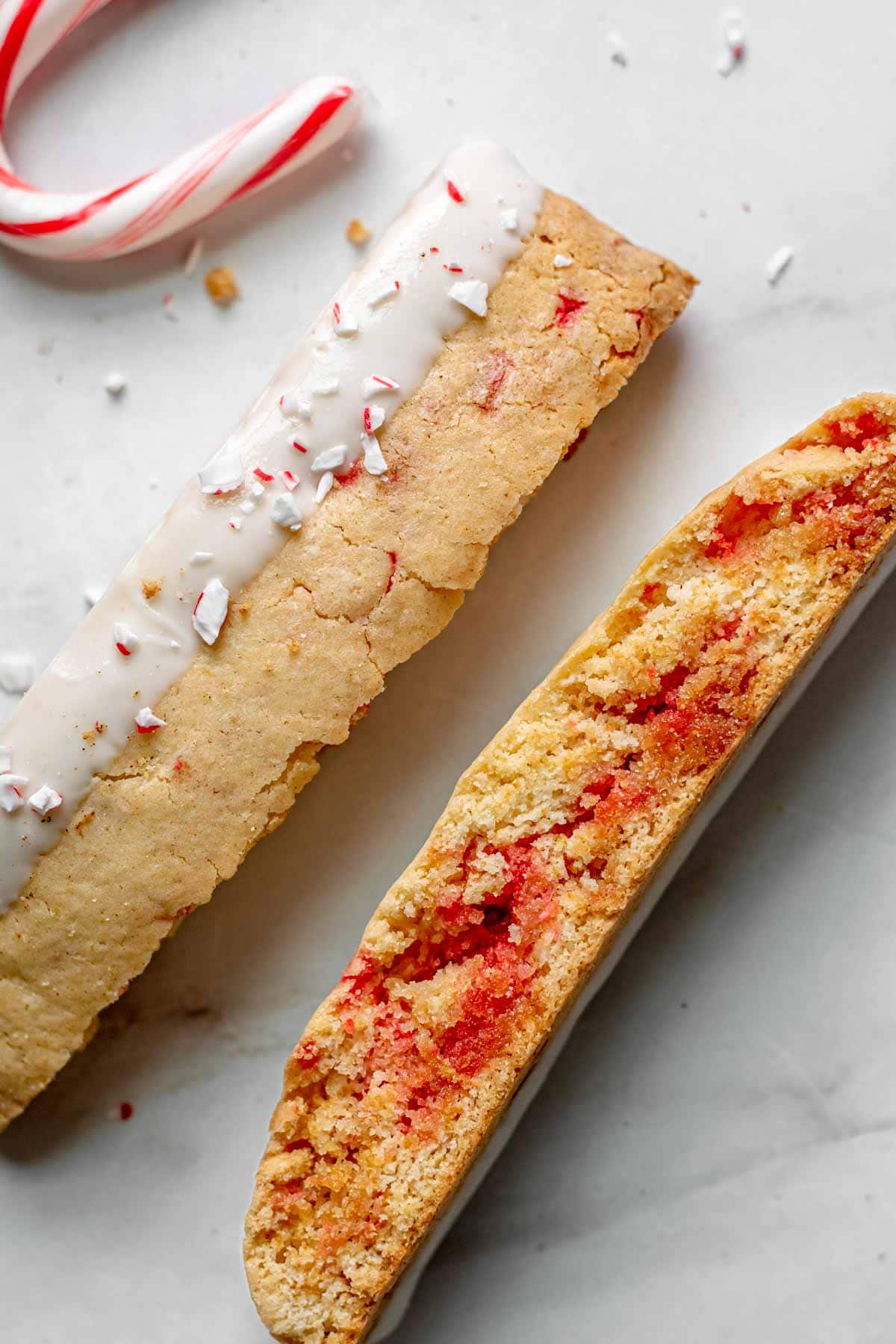 About Our Peppermint Dipped Biscotti Recipe
Biscotti are traditional biscuit-like Italian cookies. Due to their dry, crumbly texture, they're the perfect companion for coffee, which is why you can find them at most bakeries. However, with this simple recipe, you can enjoy the best biscotti without paying coffee shop prices.
Like all Classic Biscotti Cookie recipes, these are also twice baked. That is how they get their crumbly texture. Peppermint Dipped Biscotti are a wonderful version of biscotti that are all dressed up for the holidays, similar to the holiday flavors of Gingerbread Dipped Biscotti and Cranberry Orange Biscotti. This recipe is so versatile, as they can be used for breakfast, snacks, desserts, or gifts.
"Can Peppermint Dipped Biscotti be made ahead?"
Biscotti Cookies are a great choice to make ahead whether you're storing them to eat throughout the week, or making them to give out as gifts later. Seal the white chocolate-dipped Peppermint Biscotti in an airtight container as soon as they cool to retain freshness. 
Peppermint Dipped Biscotti Key Ingredients
½ cup vegetable oil: Adding oil to biscotti dough gives it the perfect texture. The cookies still have their traditional dry and crisp texture. However, after you bite into the crunchy cookie, they melt in your mouth perfectly.
1 teaspoon peppermint extract: Adding peppermint extract to the biscotti dough gives it a wonderful Christmasy flavor. Just remember that peppermint extract is pretty strong, so you don't want to add more than a teaspoon to your Peppermint Dipped Biscotti recipe.
¾ cup peppermint candies: Along with the peppermint flavor, the recipe also calls for crushed candy canes. Make sure when you're breaking the candy pieces, you don't crush them too small. You still want them to be whole pieces and not just dust.
12 ounces white chocolate melting disks: Melting disks are a great choice over white chocolate chips as they will melt smoothly due to the oil they are made with. They are ideal for dipping to add sweetness and as a holder if you want to add extra candy pieces.
Kitchen Tools & Equipment
Baking Sheets: The recipe will call for 2 full size baking sheets or cookie sheets. You will roll them out lengthwise and bake 2 batches at the same time.
Parchment Paper: It is important to line the baking sheets with parchment so your Biscotti cookies don't stick to the pan.
Rolling Pin: You can use a rolling pin to break apart your peppermint candies inside of a plastic bag. The dough also requires rolling, so you'll use it twice for this recipe.
Ziplock Bag: Place the Peppermint candy into a ziplock bag to carefully break apart with the rolling pin. Be sure to squeeze all of the air out of the bag first.
Large Bowl and Whisk: Use the bowl and whisk to mix your ingredients together. A wire whisk will probably hold up better to the dough than a silicone whisk. You can choose to use your stand mixer and whisk attachment if you wish.
Knife or Pizza Cutter: Use a good, long serrated knife to cut the Biscotti when it's still slightly warm. A pizza cutter would also be a great choice here to make clean, long slices.
Microwave-Safe Bowl and Spatula: Use this bowl to melt the white chocolate disks. Make sure the rim is wide enough to dip your long cookies. Use a spatula to stir the white chocolate as it melts. This spatula can also be used to fold the peppermint candy into the dough.
How to Make Peppermint Dipped Biscotti
Time needed: 58 minutes.
Prep Time

Start by preheating the oven to 375 degrees. Then get out two rimmed baking trays, and line each sheet with parchment paper. You can place peppermint candies in a plastic bag and use a rolling pin to break them into pieces. Another option is to pulse the peppermint in your food processor until broken into small candy cane pieces.

Biscotti Cookie Dough

Whisk together oil, sugar, eggs, and peppermint extract in a large bowl. Then add the all-purpose flour and baking powder. Whisk again until the flour mixture is just combined into the wet ingredients.

Add Candy

Add the peppermint candies and stir the dough carefully.

Form Dough

Divide the dough into two separate pieces, and roll each one into logs about as long as the baking sheets. Place the dough on the prepared baking sheets, and continue to roll them until they're about ½ inch thick and 4 inches wide.


Baking Time

Put the biscotti in the oven for 20-22 minutes or until golden brown. Then use a pizza cutter or serrated knife to cut the dough logs diagonally into 1/2-inch slices.

Second Bake

Turn the biscotti slices so that they're facing cut-side up, and bake for another 8-10 minutes, or until lightly golden brown on top.

Dip

Let the cookies cool on a wire rack. Then add white chocolate melting disks to a microwave-safe bowl. Heat in microwave in 30-second increments, stirring between each cooking session until smooth. Dip biscotti cut-side-down about ¼ inch deep in the melted chocolate. Then let any excess chocolate drip off.

Dry

Place the Peppermint Dipped Biscotti dipped side down on parchment paper, and let them dry for 20 minutes.
Nutritional Facts
Nutrition Facts
Peppermint Dipped Biscotti
Amount Per Serving
Calories 54
Calories from Fat 54
% Daily Value*
Fat 6g9%
Iron 0.001mg0%
* Percent Daily Values are based on a 2000 calorie diet.
Baking Tips & Tricks
Master the art of culinary perfection with these handy hints! (Change to fit recipe)
Proper Storage

It is important to keep Gingerbread Biscotti Cookies stored in a sealed container. These Cookies are already dry, by nature. They will become too dry if left out for very long.

Don't Over-Mix the Dough

Be careful not to over-mix your dough, as the cookies can become too dense. This is especially important if using a stand mixer, as it is very easy to over-mix.
How to Store Peppermint Dipped Biscotti
Serve: Let the Peppermint Dipped Biscotti recipe cool to room temperature before you serve it.
Store: To keep biscotti fresh, put the Italian cookie recipe in an airtight container to store at room temperature for up to 1 month.
Freeze: To freeze the Peppermint Biscotti, first lay the cookies out on a parchment-lined baking sheet. Then freeze them for about an hour. Once they've hardened, put the cookies in a resealable plastic bag or another freezer-safe container. They can stay good frozen for up to 2 months.
Ideas to Serve Peppermint Dipped Biscotti
Peppermint Dipped Biscotti are an excellent holiday twist on classic biscotti. You can enjoy them with a cup of coffee on cold December mornings or turn them into the ultimate Christmas treat by serving them with a mug of Hot Chocolate.
Peppermint Dipped Biscotti also make an amazing holiday gift to give to friends and family. Make sure that you add plenty of tissue paper to cushion them. If the biscotti have room to shift around, they'll break off each other. However as long as you're careful about that, they're an easy and delicious gift that the recipient is sure to love. You can also take the opportunity to use pretty tissue paper to add some festivity. Avoid tissue paper with glitter that can come off on your cookies.
FAQs for Peppermint Dipped Biscotti
How long will Biscotti keep?
This Italian cookie recipe keeps quite well at room temperature. Keep them nice and crumbly in an airtight container with parchment paper between the layers. As long as they're properly sealed, the crispy cookies can stay good for up to 1 month.
Why is Biscotti twice-baked?
Biscotti dough must have two baking times. For the first round, leave the dough formed in a large log. Then slice the partly baked dough into biscotti-sized pieces, and bake again. This method gives the cookies their traditional and delicious crunchy texture.
Why is my Biscotti cracking?
If you aren't careful, biscotti can crack when you slice it. To avoid that, make sure you're using a sharp knife or pizza cutter and give the dough log a few minutes to cool. However, if you wait too long, it will harden and crack. So, give it a couple of minutes before you slice it diagonally into ½ inch biscotti cookies.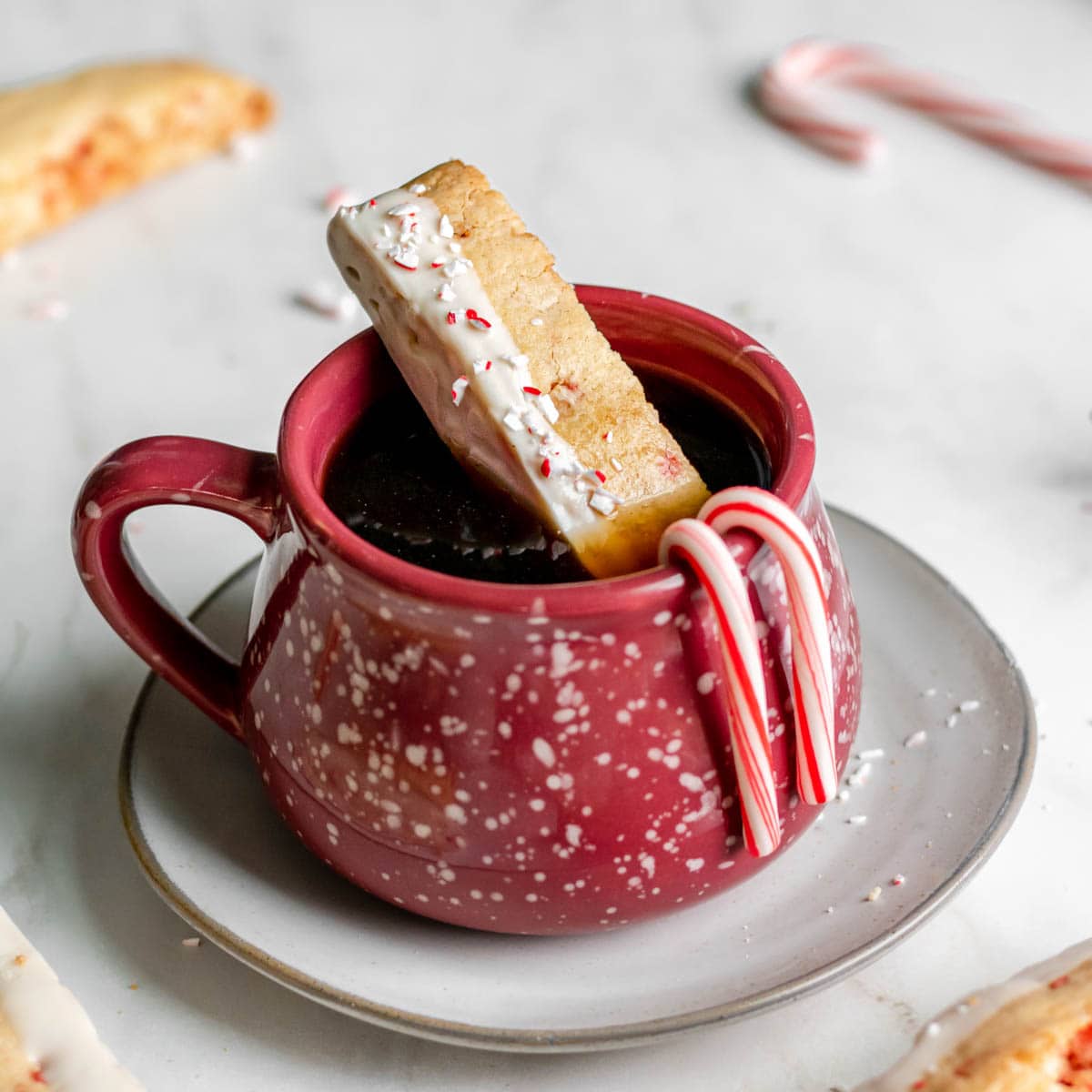 Recipe Card


Instructions
Preheat oven to 375 degrees and line two baking sheets with parchment paper

In a large mixing bowl, whisk together oil, sugar, eggs, and peppermint extract.

Add in the flour and baking powder, whisking until just combined.

Stir in the peppermint chips.

Divide the dough into two pieces and roll into logs almost as long as your baking sheets.

Place the dough on the baking sheets and roll out to about ½ inch thick, about 4 inches across.

Bake for

20-22 minutes

or until golden brown.

Using a pizza cutter, roll the slicer across the log in 1/2″ slices.

Turn the cookies to show the cut side up and bake it an additional

8-10 minutes

until the tops are slightly golden brown.
To Finish:
When cookies have cooled, melt the white chocolate disks in a medium microwave-safe bowl.

Cook in

30-second increments

, stirring in between each cooking until smooth.

Dip the cookies, cut side down about ¼ inch deep, and let chocolate drip off, scraping some of the chocolate off the bottom against the bowl if necessary (if the chocolate is too thick, this is an easy way to thin out the layer).

Place dipped side down on the parchment paper.

Let dry for

20 minutes

before storing.
Notes
Note: If you need the log to be shorter to make it still 4 inches wide and ½ tall, then shorten the log.
Nutrition
Calories:
54
kcal
|
Fat:
6
g
|
Saturated Fat:
1
g
|
Polyunsaturated Fat:
3
g
|
Monounsaturated Fat:
1
g
|
Trans Fat:
0.04
g
|
Iron:
0.001
mg
Peppermint Dipped Biscotti Variations
Chocolate Chips: Try adding chocolate chips with the peppermint candies that you mixed into the dough. You can use white chocolate chips to go with the white chocolate coating. However, it might be even more delicious to use dark chocolate chips to add some more flavor contrast to your Peppermint Dipped Biscotti.
Chocolate Coating: This recipe is made with a delicious white chocolate coating, but you can also use milk, semisweet, or dark chocolate, depending on your taste.
Candy-Dipped: Add a delicious candy crunch to your Biscotti. Break up some extra peppermint candies and add them to a container wide enough for dipping. After you dip the cookies in chocolate, dip them in the candy right away. If you're adding chocolate chips inside, you can also add some outside. Mini chocolate chips would be a fun addition to the candy.
Chocolate Peppermint Biscotti: If you want to add chocolate flavor to the actual biscotti dough, you can mix in unsweetened cocoa powder. Reduce the all-purpose flour in the recipe to 3 cups, and add ⅓ cup cocoa powder. Chocolate biscotti recipes also work better using butter instead of vegetable oil. If you use butter, make sure to put the dough in the fridge for at least 20 minutes before baking it.
Related Recipes