Pickled Red Onions are so easy to make with salt, sugar, peppercorns, and white wine. Perfect to use for tacos, salads, or sandwiches.
This onion recipe is the perfect Side or topping to add to a variety of your favorite dishes. Serve it alongside your favorite Mexican meals like Chicken Tacos or Carnitas Tacos. You can also use the onions as a Sandwich filling and in so many other delicious recipes!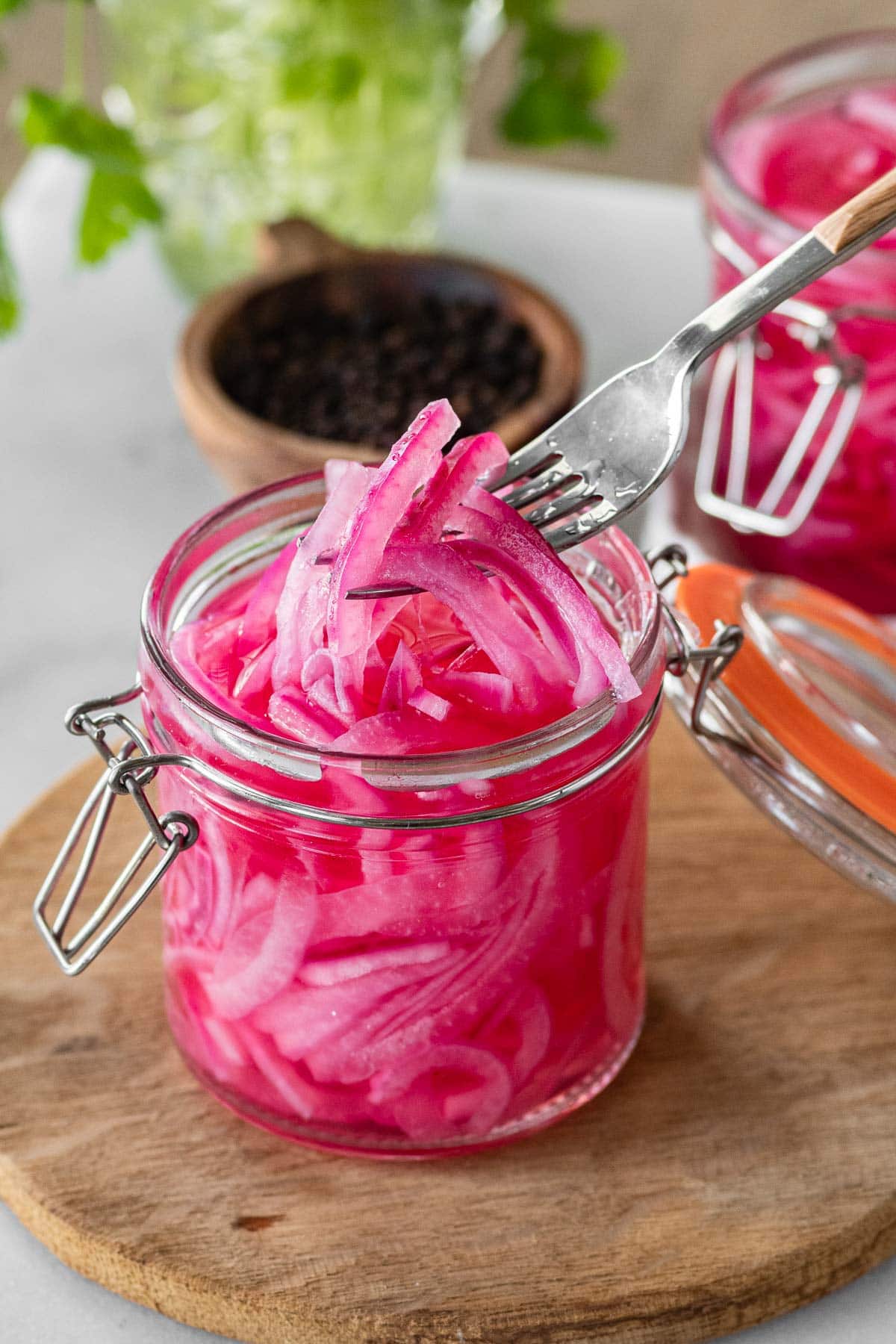 PICKLED RED ONIONS
Pickled vegetables give unique and delicious flavors to any dishes that they're paired with. The pickling process makes tangy onions that are savory and a little bit sour. This recipe uses white sugar as a sweetener to cut back on some of the sourness so that it's just the right amount of tang.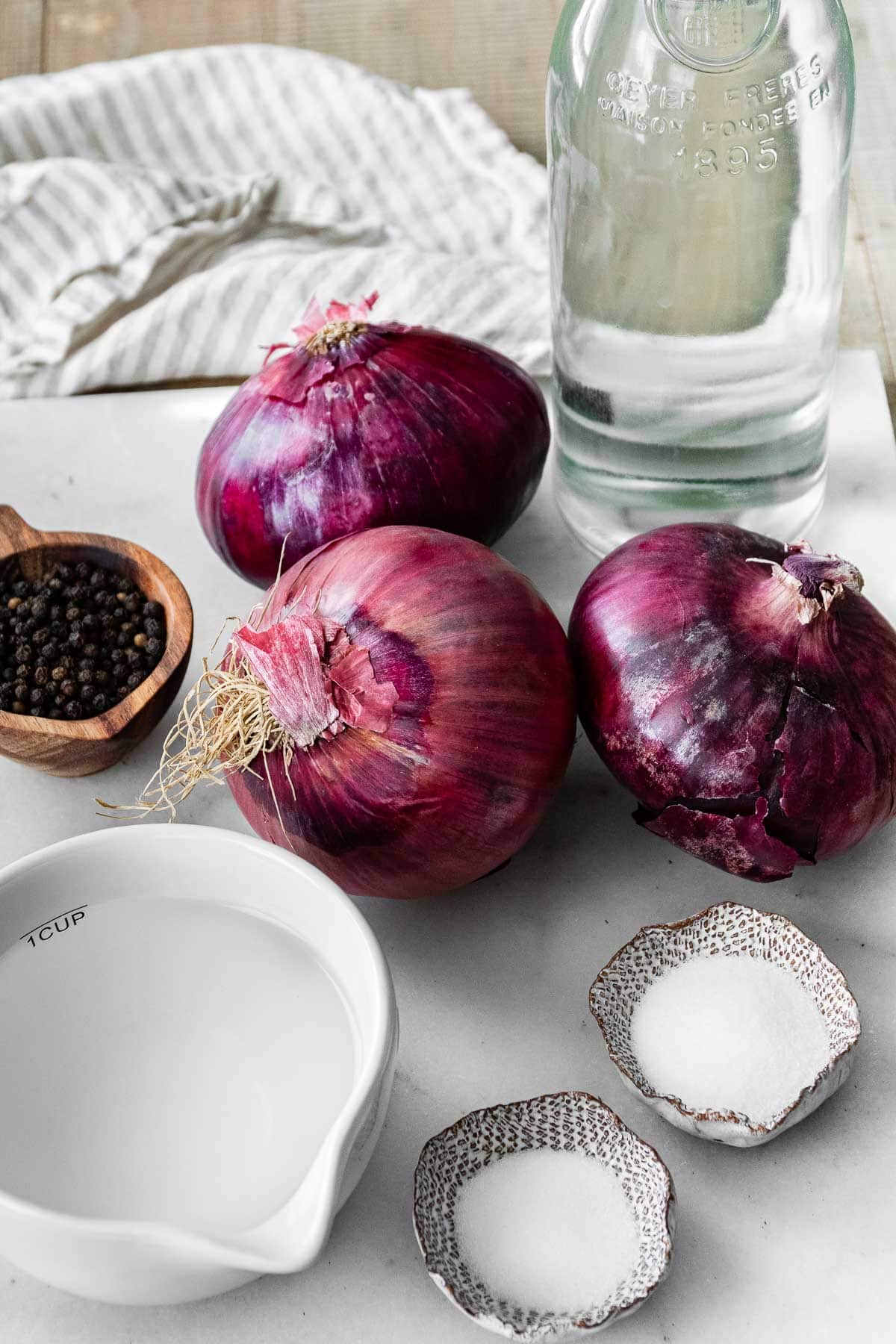 The fun pink color and complexity of the flavor make quick-pickled red onions perfect to pair with so many tasty food dishes. Like we mentioned earlier, these Pickled Red Onions taste amazing with any of your favorite Mexican dishes. The onions are an easy addition to tacos, burrito bowls, or a taco salad.
Thinly-sliced onions are also great to toss into any rich mayo-based salads like Potato Salad or Creamy Avocado Egg Salad. If you want a unique and delicious sandwich topping, look no further than these onions. Use bright onions as a topping for Egg Salad Sandwiches, Tuna Salad Sandwiches, or simple avocado toast. They also taste amazing over burgers. There is really no end to the delicious recipes that can incorporate pickled red onions.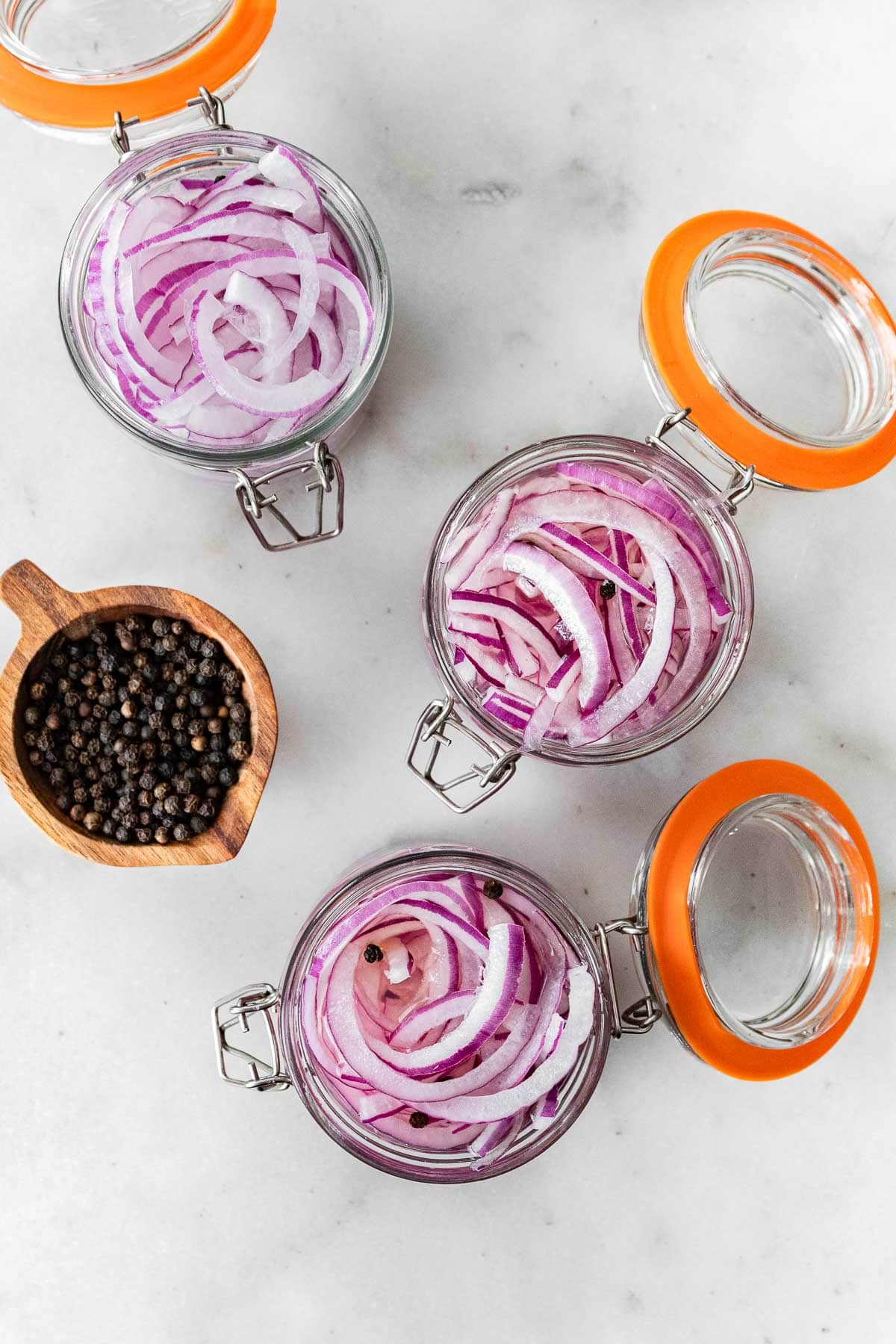 DISHES TO SERVE WITH PICKLED RED ONIONS
TIPS FOR MAKING PICKLED RED ONIONS
Prep time: Use a sharp knife to slice each onion into thin slices. Then set the raw onions to the side while you prepare the pickling liquid.
Pickling Marinade: Put 3 cups of water over medium heat and bring it to a boil, then turn off the heat. Add salt, sugar, and peppercorns to the hot water. (Be sure to use kosher salt and not table salt!) Stir until the salt and sugar have dissolved into the pickling brine.
Combine: Add the pickles and onion, and stir until nicely combined. Leave the onion to sit in the liquid until it's cooled.
Pickle: Pour it into the mason jar and seal. Put the mason jar in the fridge for a minimum of 2 hours before you open and serve the Pickled Red Onions.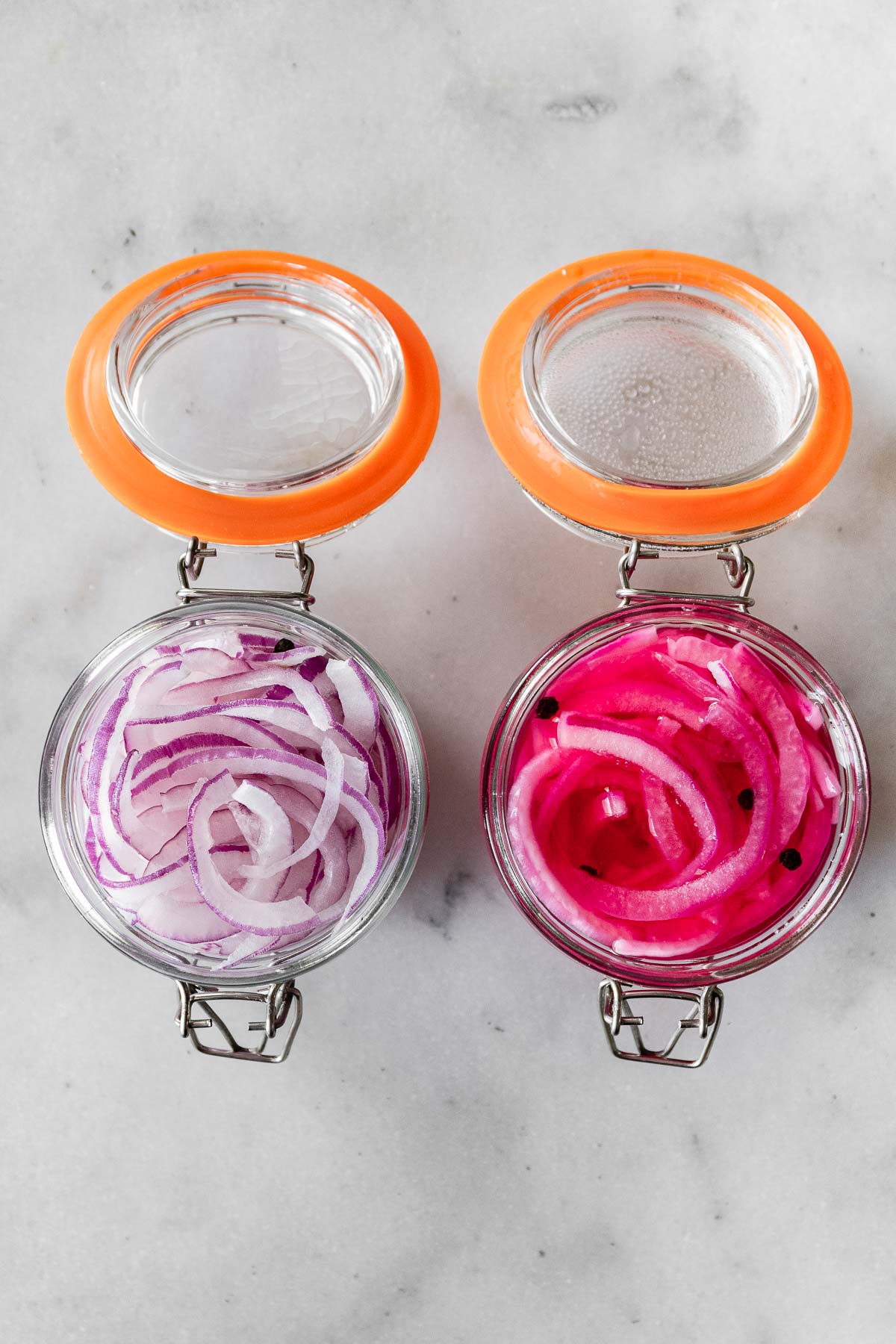 Create a free account to

Save Recipes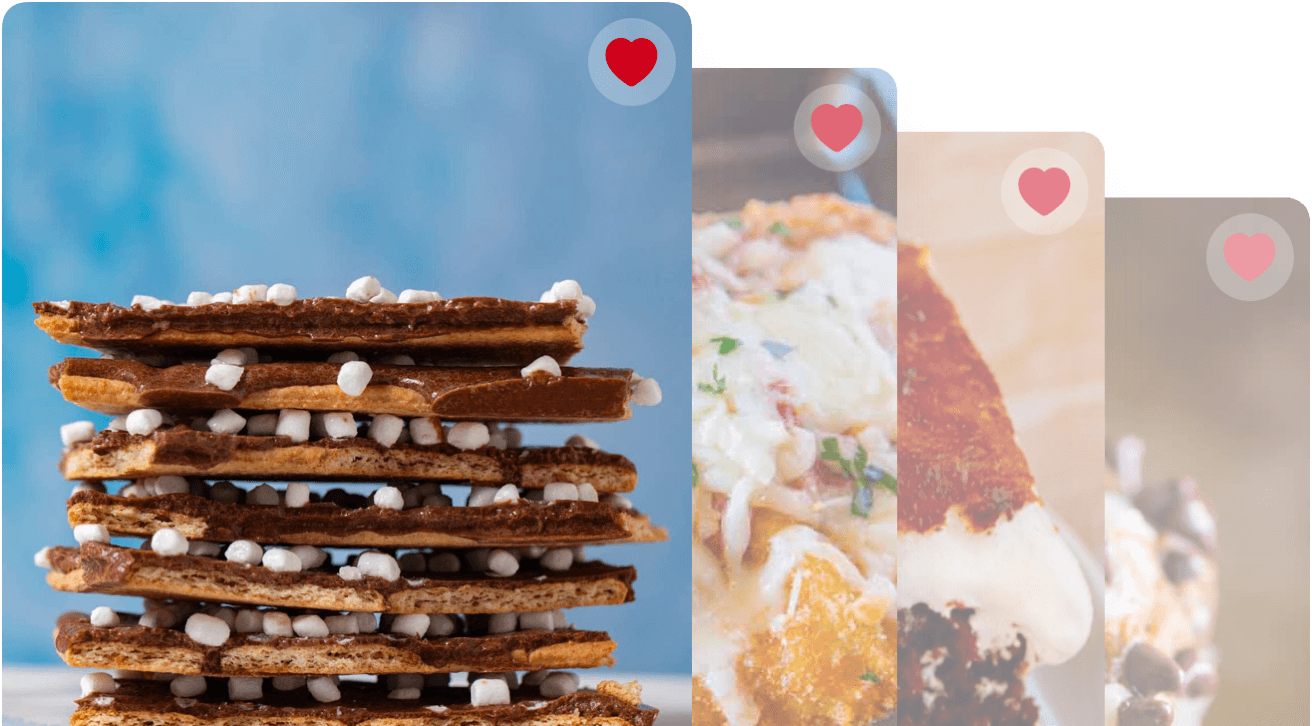 VARIATIONS ON PICKLED RED ONIONS
Additional seasonings: You can experiment with the flavors of the pickling mixture by adding in additional spices and fresh herbs. Try stirring a bit of allspice, paprika, rosemary, sage, thyme, coriander, or cumin with the pickling liquid. You could also add a hint of heat with some red pepper flakes.
Spicy onions: If you want a stronger dose of heat than you can get from red pepper flakes, slice and deseed some jalapeno pepper to add to the recipe. Seal the pepper slices in the mason jar along with the rest of the ingredients.
Citrus: To add some tangy, citrus flavor to the pickling brine stir in ¼ cup freshly-squeezed lime juice or add a few tablespoons of orange juice for some extra sweetness along with the tang.
Asian flavors: If you want to serve Pickled Onions up with your favorite Asian cuisine, you can add some spices that go better with the Asian dish. A dash of ginger, star anise, turmeric, or cloves would all make amazing additions to the recipe.
Garlic onions: For some delicious garlic goodness in the Pickled Red Onions, mince a clove of garlic or two and add them to the cooking liquid. The garlicky flavor will blend into the brine and get absorbed into the onion slices.
Vinegar: You can try different kinds of vinegar brine. Apple cider vinegar, white vinegar, rice vinegar, or balsamic vinegar would all give their own unique taste to the recipe.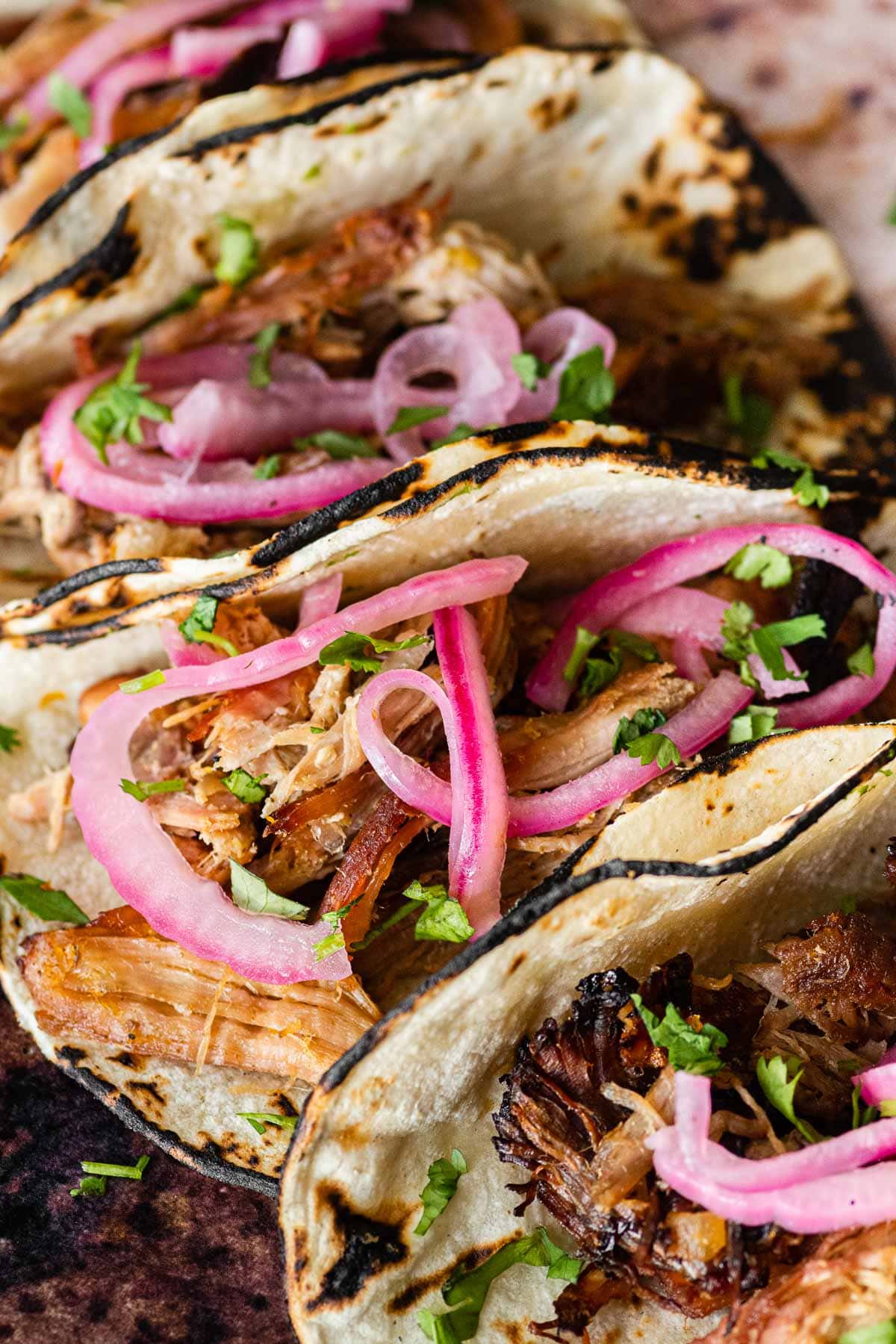 MORE VEGETABLE RECIPES
HOW TO STORE PICKLED RED ONIONS
Serve: Make sure to give the Pickled Red Onions at least 2 hours in the fridge before you take them out of their airtight containers to serve.
Store: Even after you've given the recipe time to pickle, you don't want to leave the red onion at room temperature for more than a few hours. After serving, reseal the jar and store the Pickled Onions in the refrigerator for up to 2 weeks.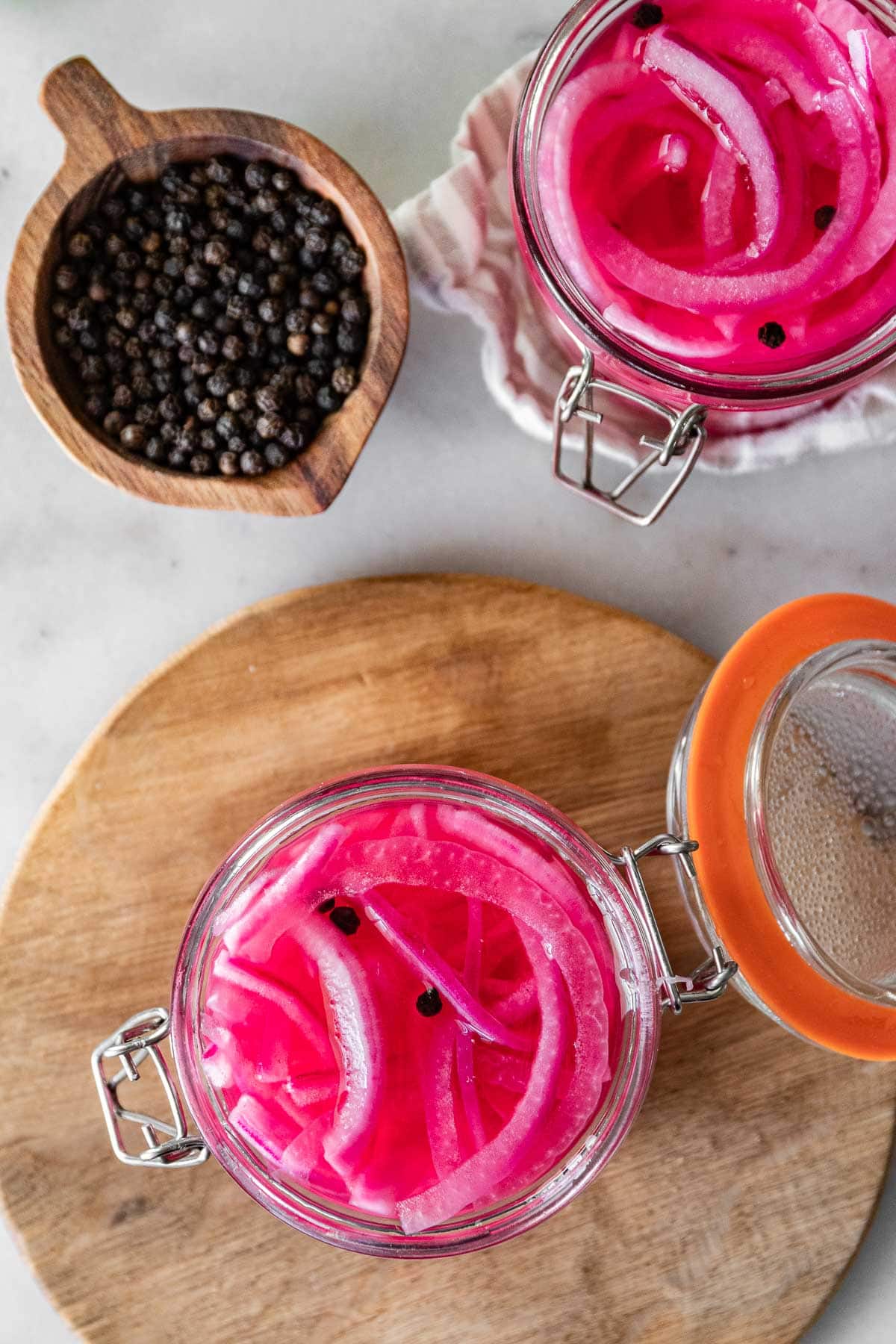 Ingredients
3

cups

water

2

teaspoons

kosher salt

1

teaspoon

sugar

5

black peppercorns

1 1/4

cup

white wine vinegar

3

red onions

, thinly sliced
Instructions
Bring water to a boil in a medium pot, turn off the heat.

Stir in salt, sugar, and peppercorns until salt and sugar are dissolved.

Add vinegar and onions, stir well.

Let sit until cooled, then add to the jar and refrigerate for a minimum of

2 hours

.

Store in the refrigerator for up to 2 weeks.
Nutrition
Calories:
34
kcal
|
Carbohydrates:
6
g
|
Protein:
1
g
|
Fat:
1
g
|
Saturated Fat:
1
g
|
Sodium:
787
mg
|
Potassium:
101
mg
|
Fiber:
1
g
|
Sugar:
3
g
|
Vitamin A:
2
IU
|
Vitamin C:
4
mg
|
Calcium:
20
mg
|
Iron:
1
mg