Make perfect Homemade Potato Gnocchi from scratch with easy to follow step by step instructions for the classic Italian potato pasta dish.
When it comes to Italian Recipes, you can't go wrong with creamy pasta dishes like Creamy Lemon Ricotta Pasta and Fettuccine Alfredo. These perfect potato gnocchi are sure to be your new favorite type of Pasta with cream sauce dish!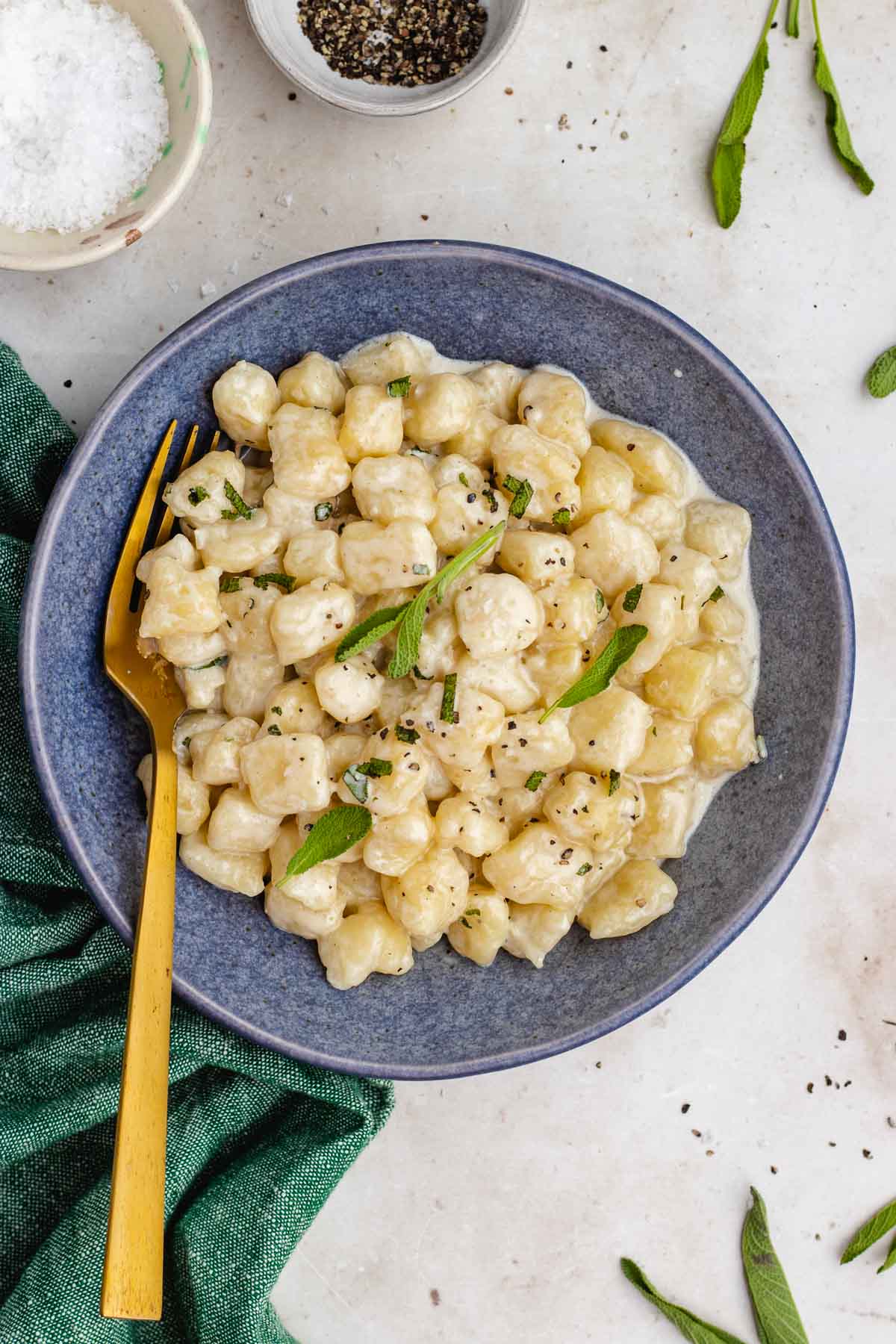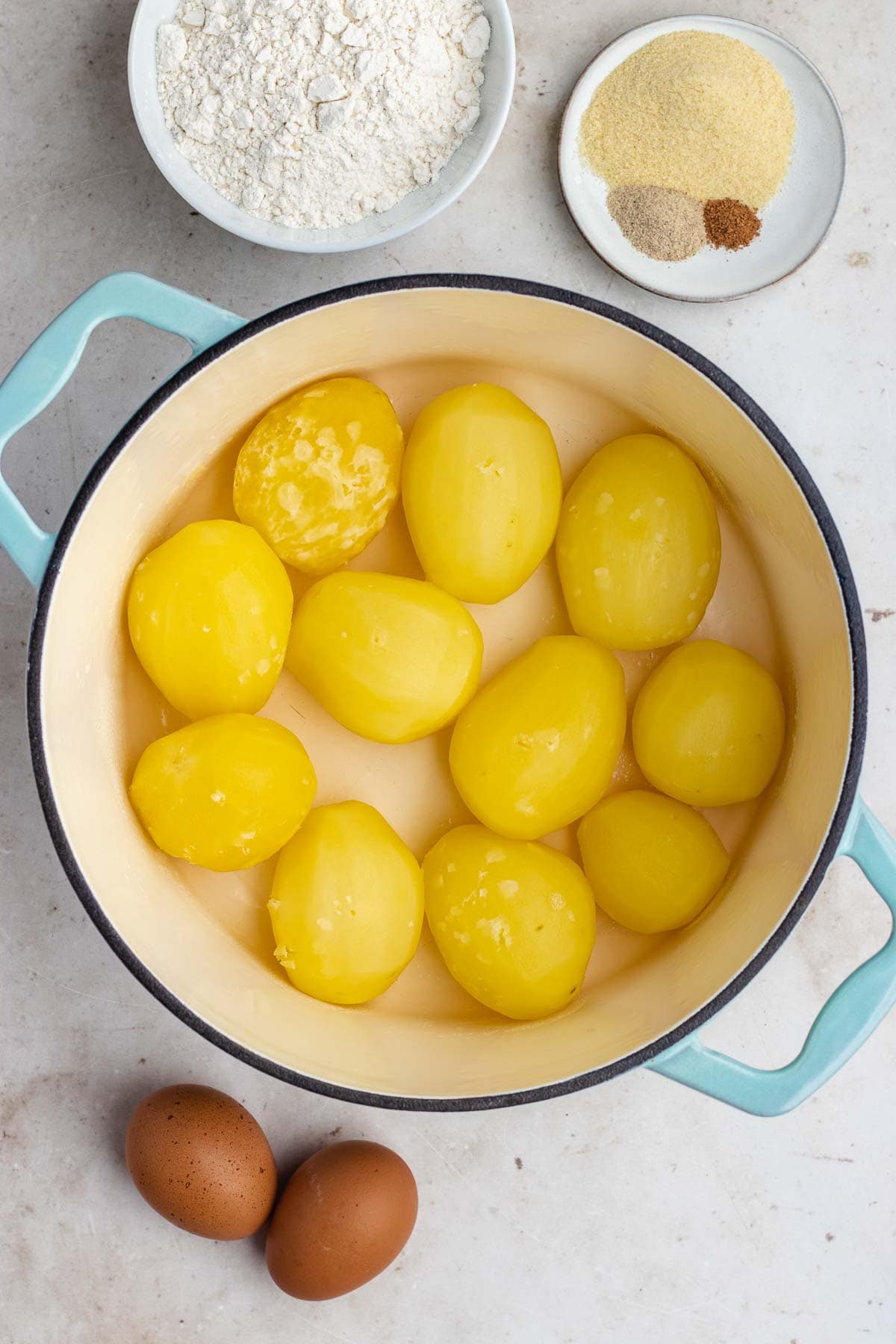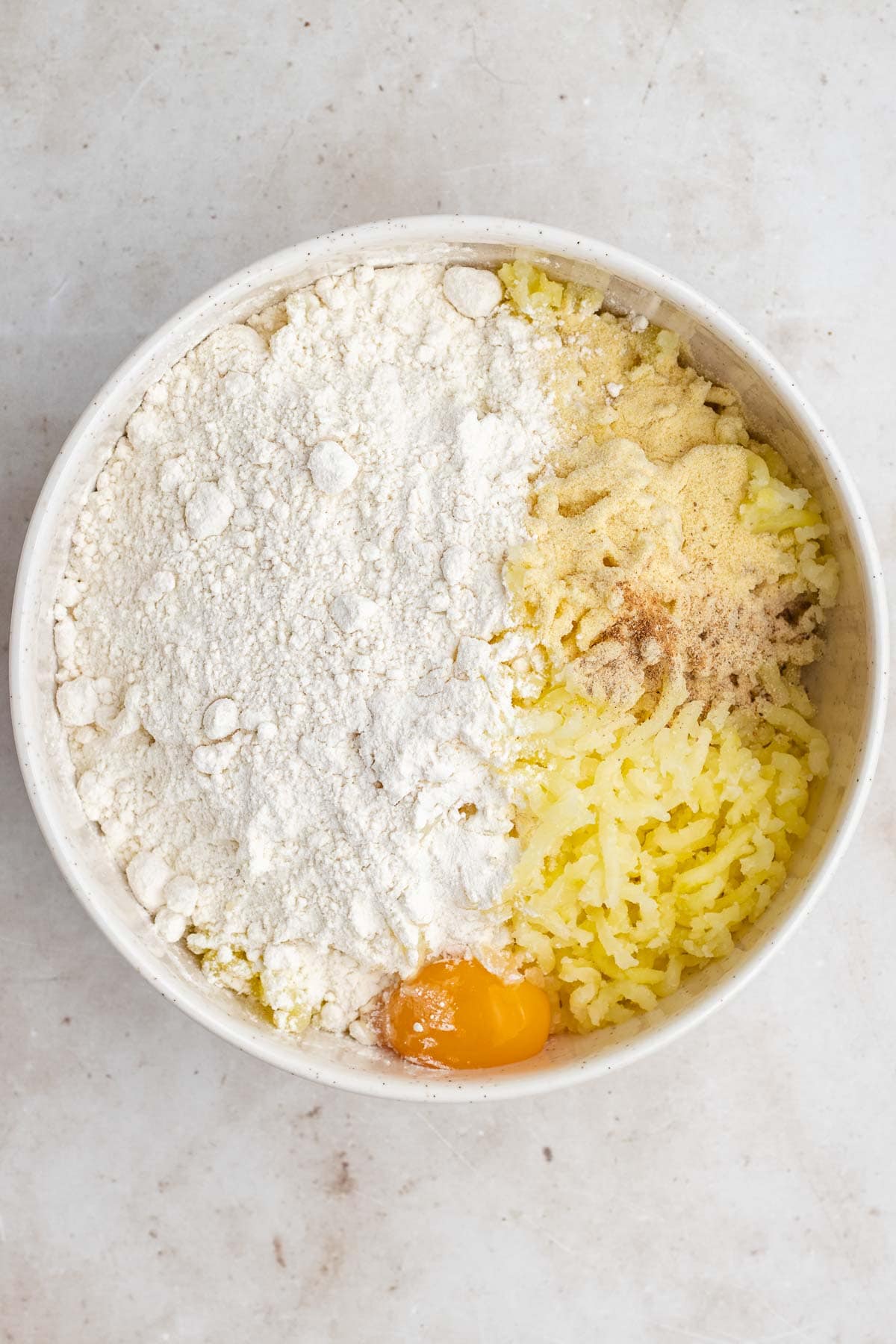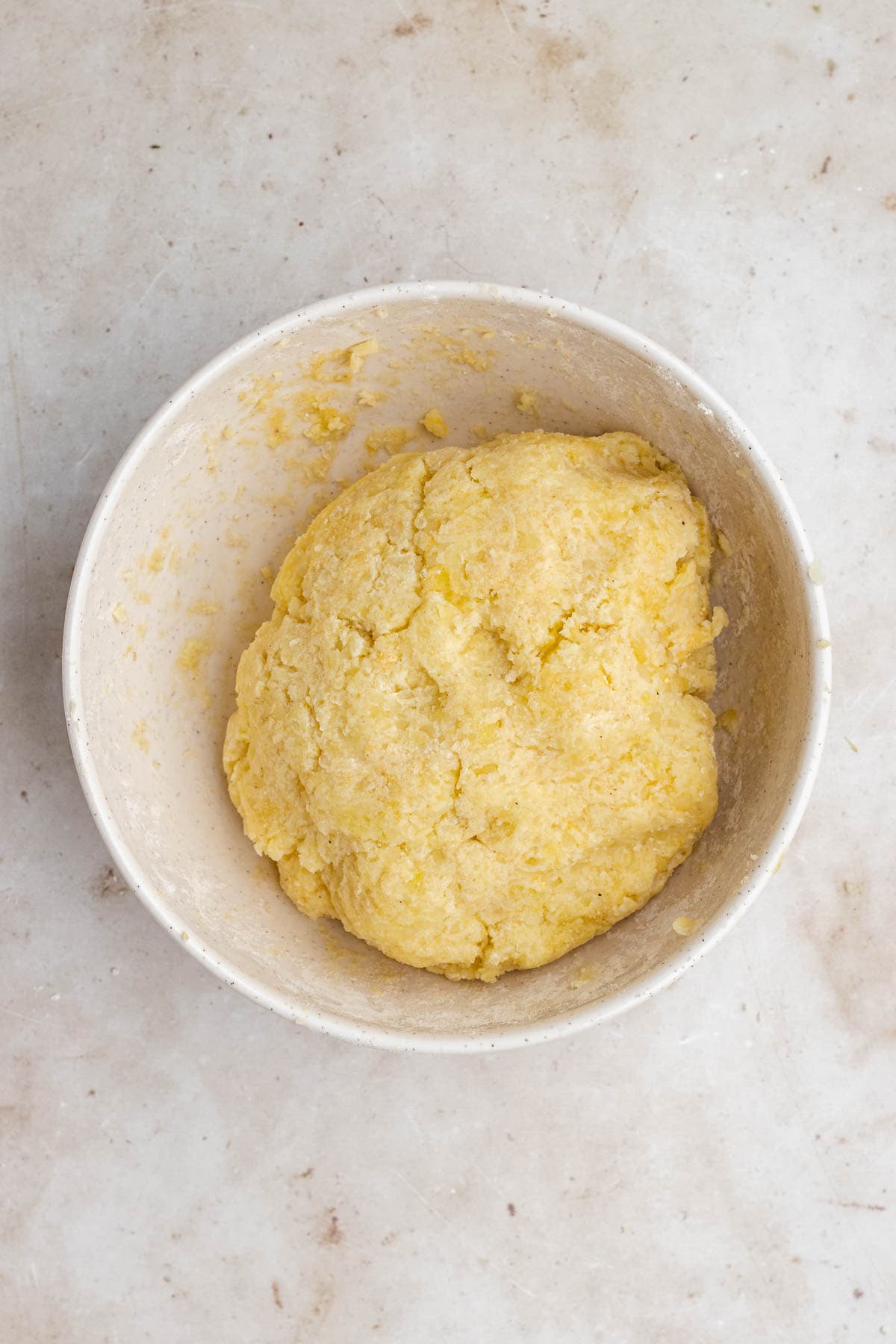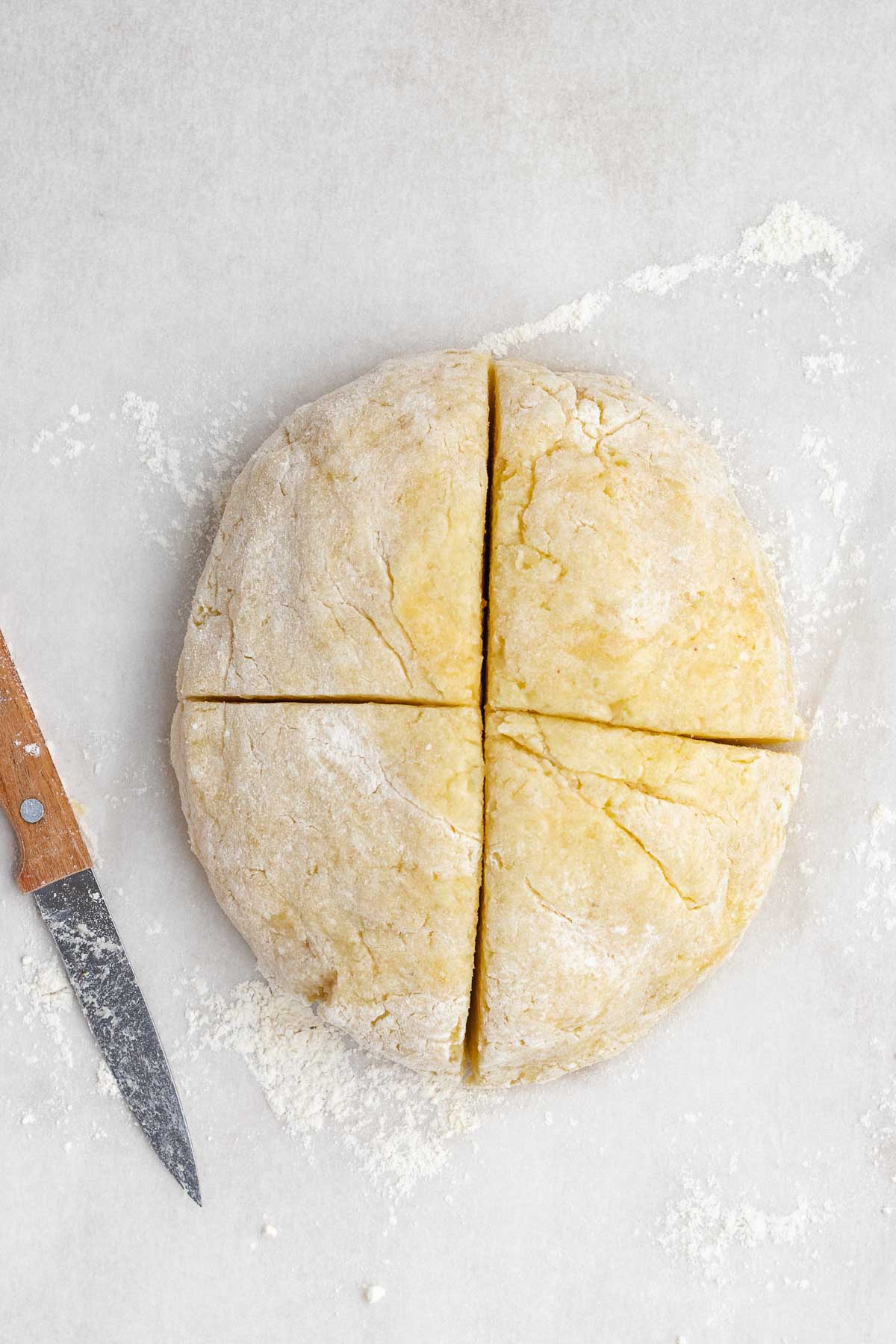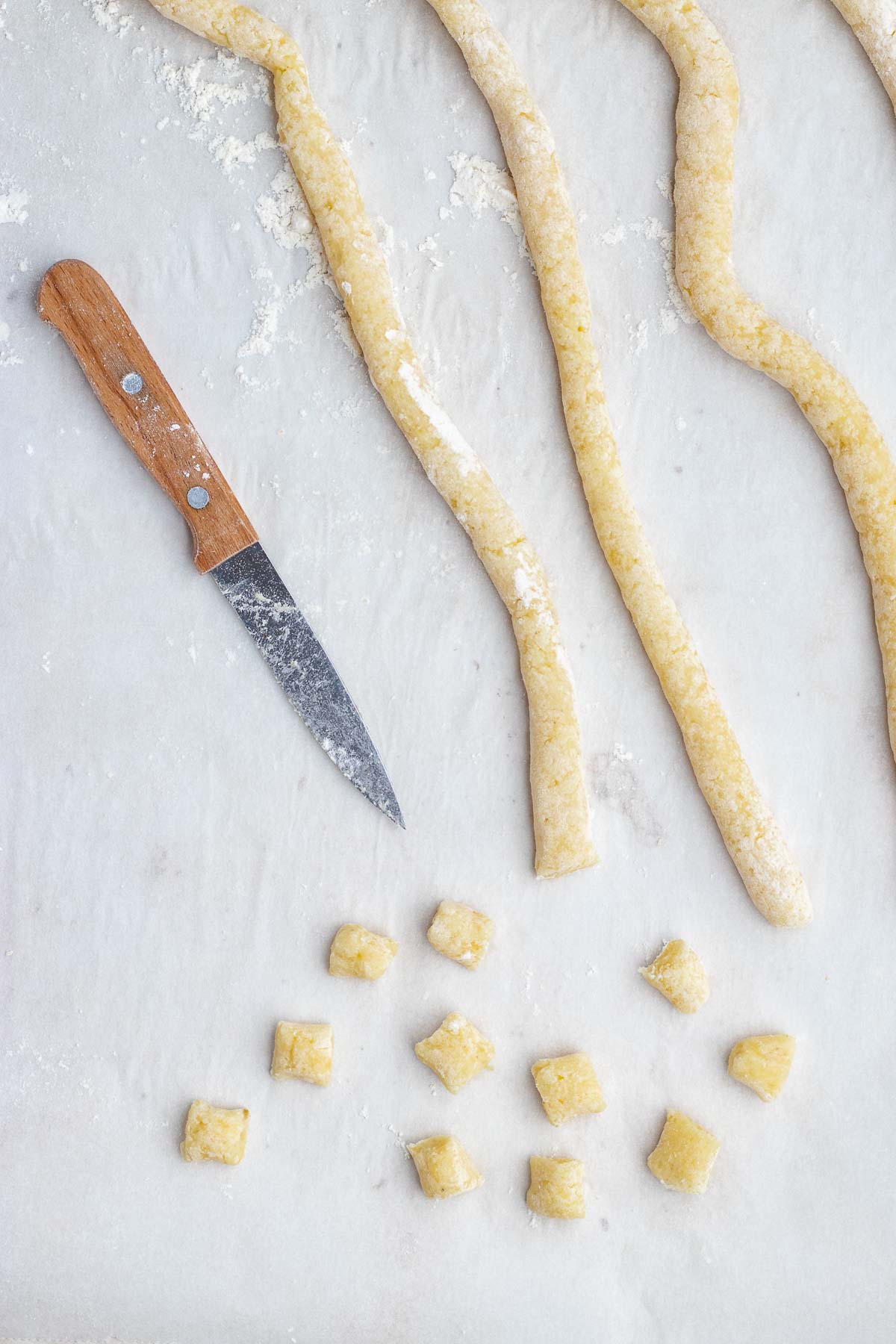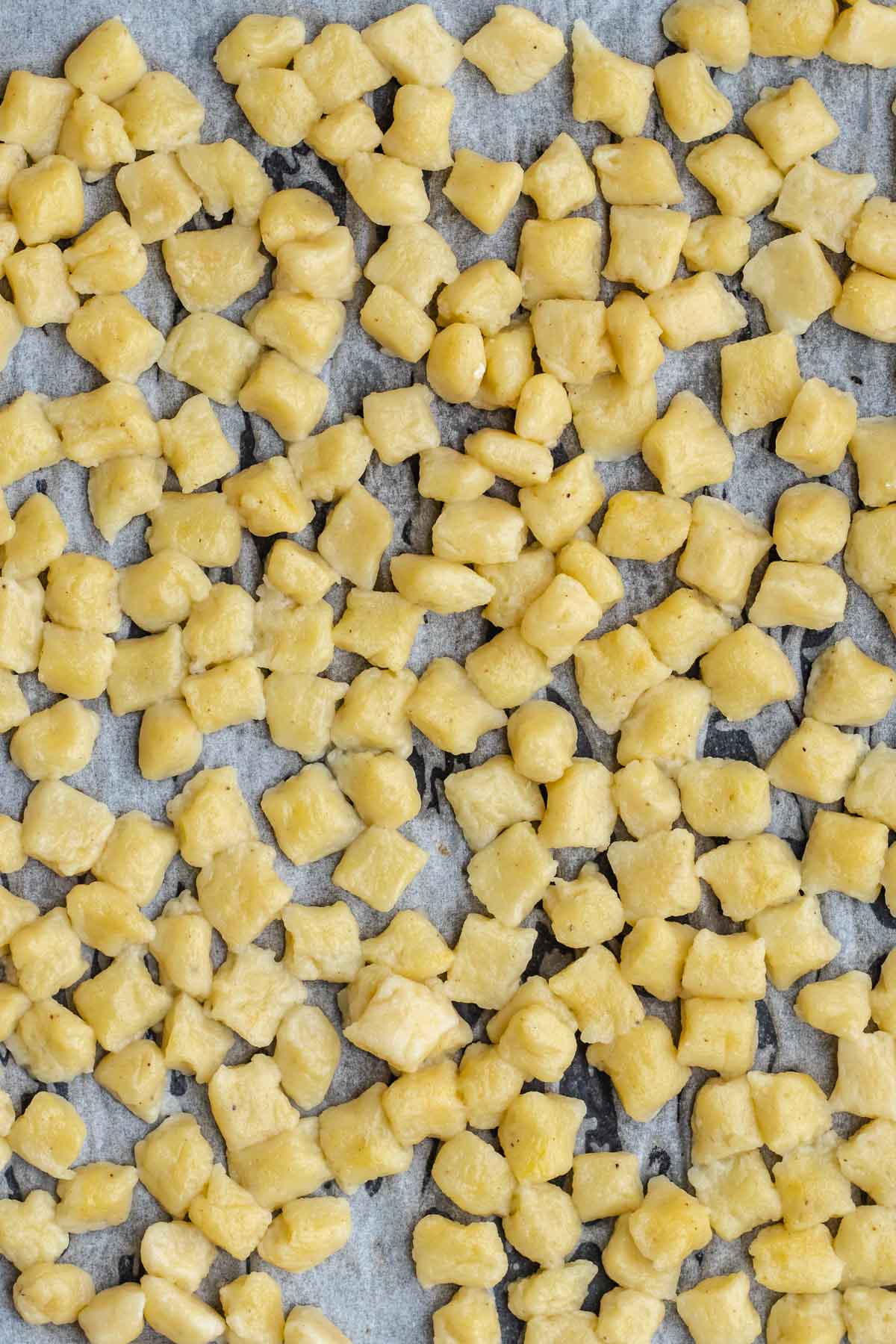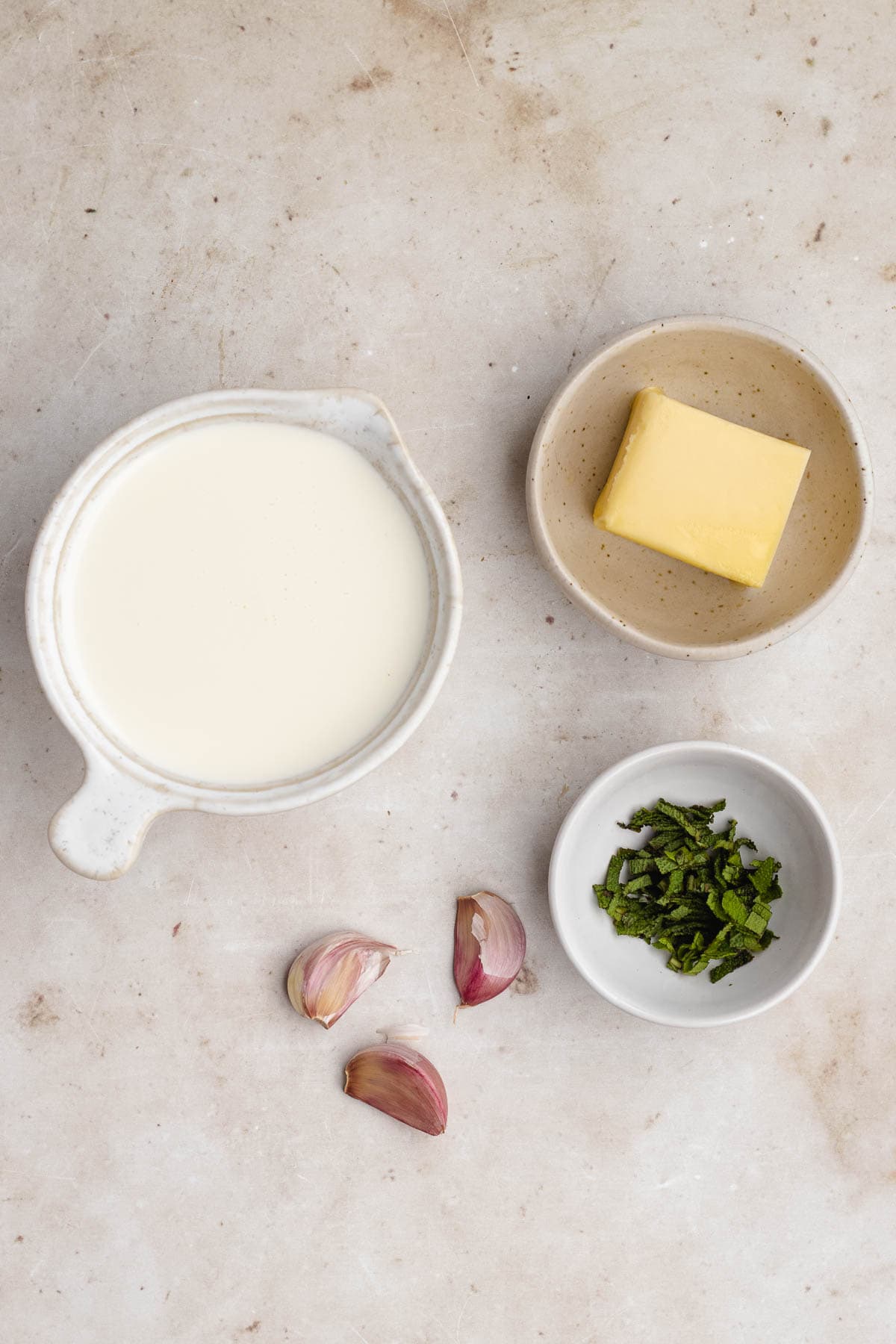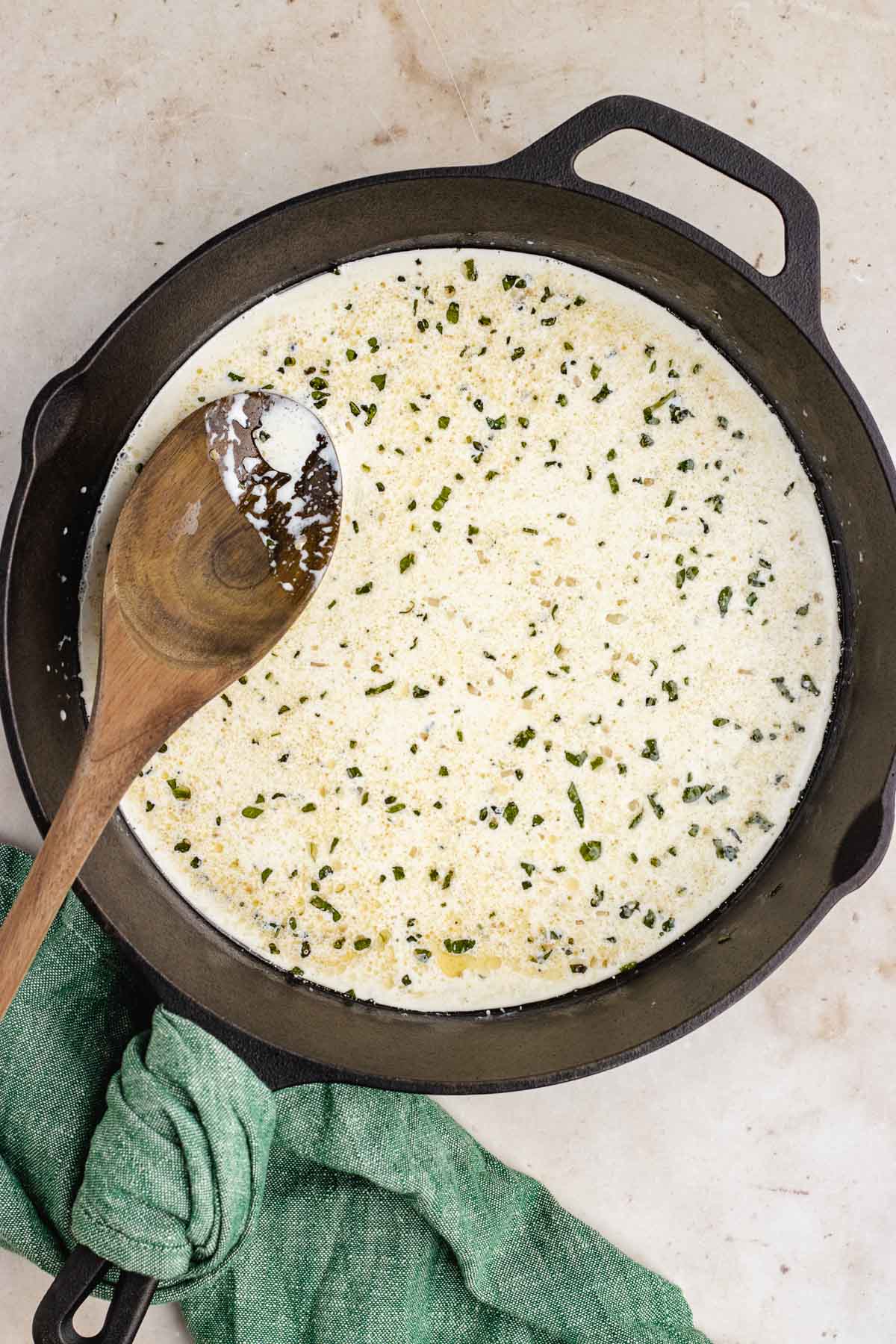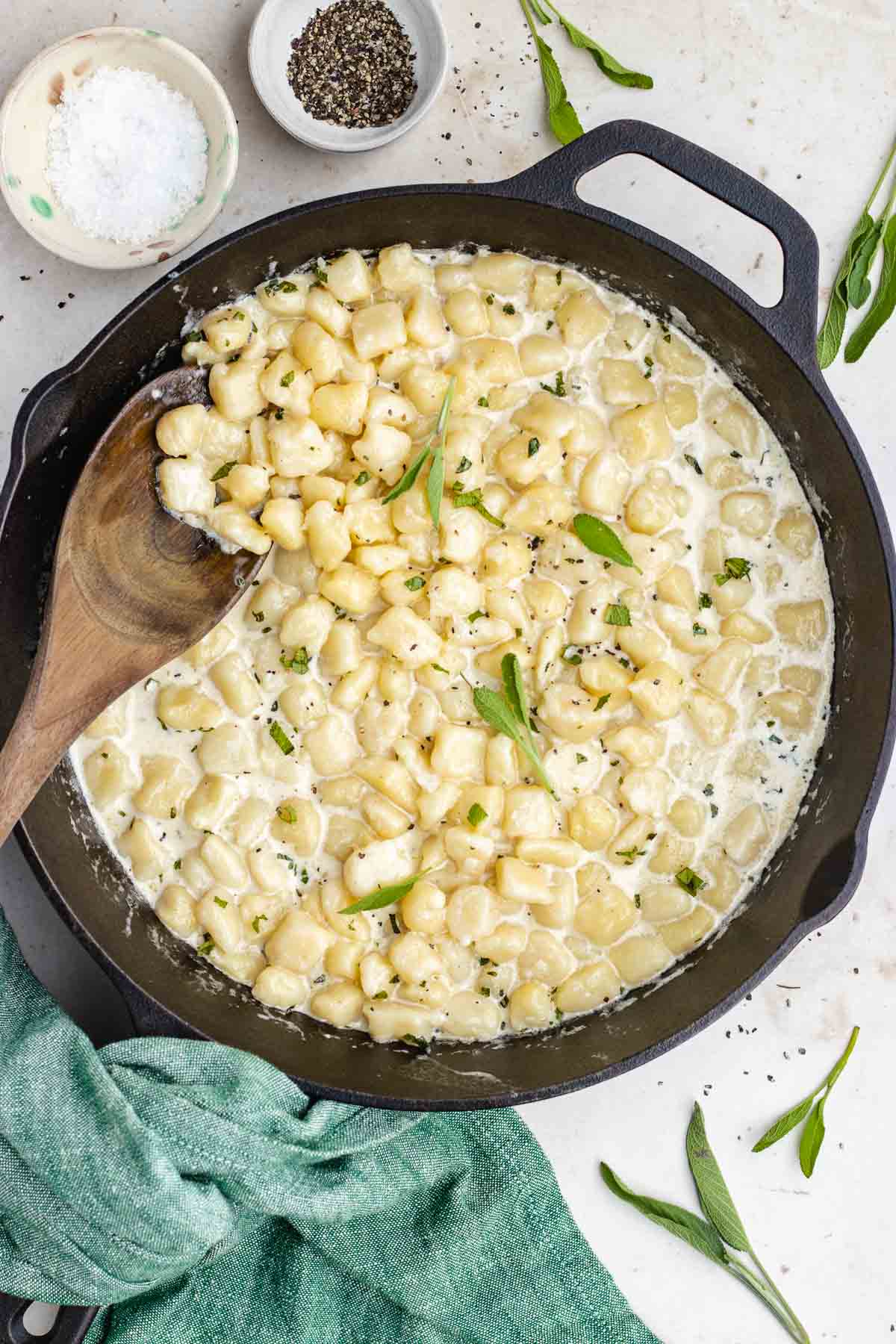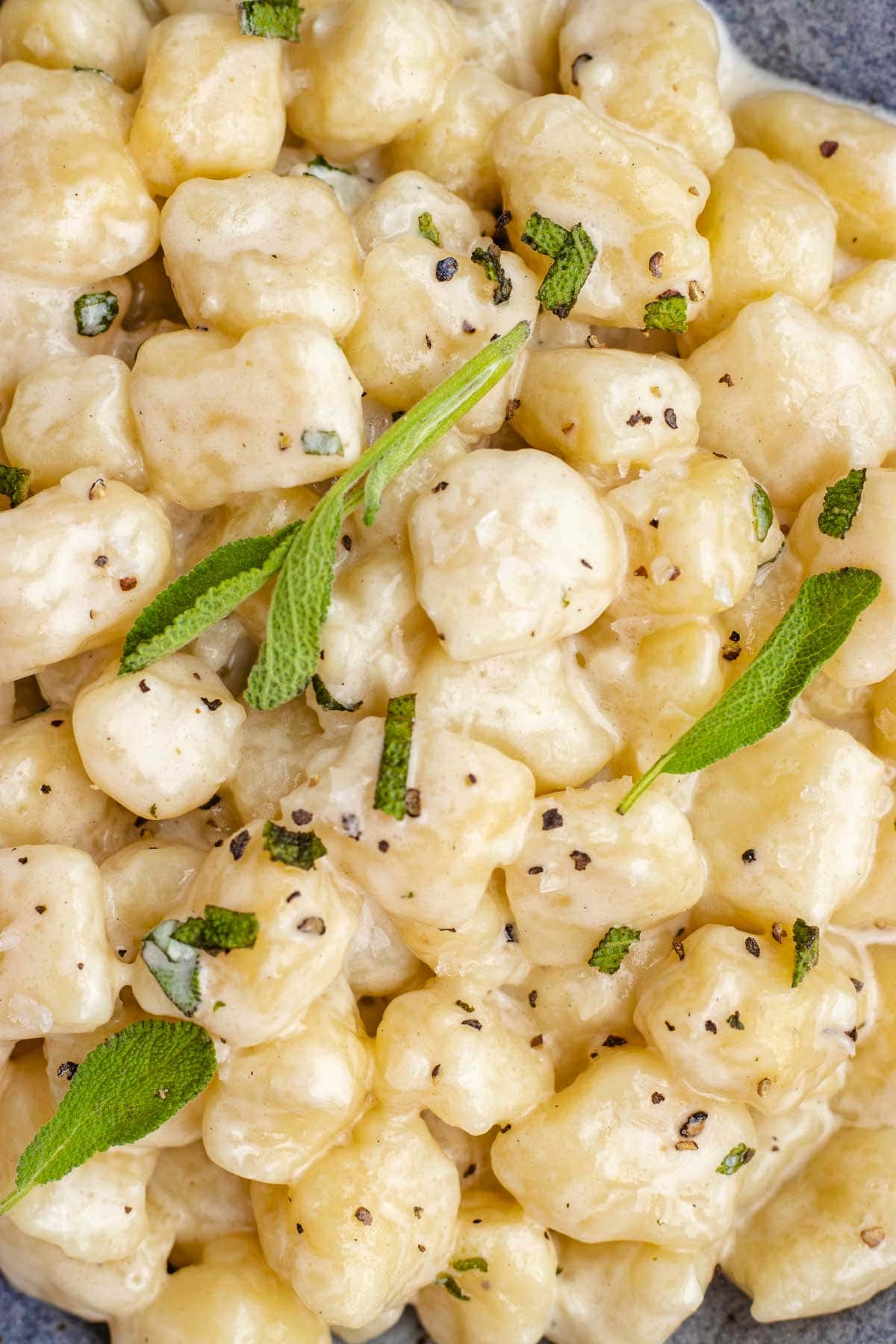 Table of Contents
About our Potato Gnocchi Recipe
This is an easy to follow recipe for homemade gnocchi that you can make in less than an hour! Our simple, basic gnocchi dough is made with simple ingredients and the cooked gnocchi are served in a quick homemade garlic cream sauce. It is the perfect recipe for beginners who want to learn how to make flavorful, traditional Italian dishes.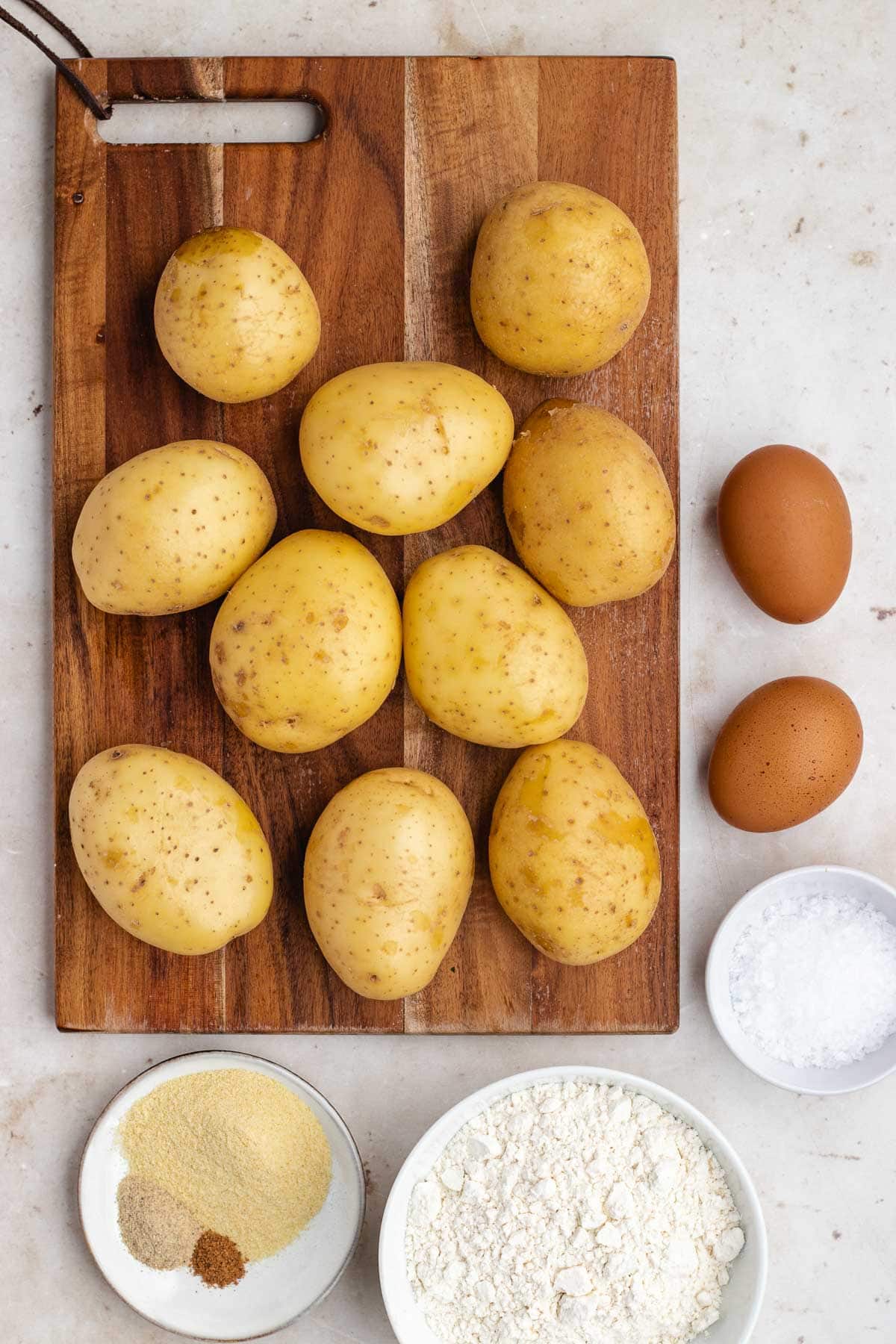 Potato Gnocchi Ingredients
Potatoes: The potato you use is very important but the good news it's the same kind you use to make Mashed Potatoes! Russet potatoes, Idaho potatoes, and red potatoes all work well for gnocchi because they blend easily and get nice and smooth.
Flour: For the most part, you use regular all-purpose flour to turn the mashed potatoes into a pasta dough. There is a little semolina flour added to prevent your dough from being too sticky.
Egg Yolks: Egg yolks add a rich flavor and give the potato dough some moisture without making the gnocchi dough too loose or wet.
Salt: You want a good amount of salt in the water to boil your potatoes and cook the gnocchi to add a good amount of flavor. Salt in the water also helps keep the gnocchi from sticking together as they cook.
Spices: The spices are kept simple, just a bit of nutmeg and white pepper, for a lighter, more delicate tasting gnocchi. This also lets the potato gnocchi pair well with any of your favorite Italian sauces.
Cream Sauce: While you can always add another sauce of choice, the butter and cream sauce really compliments the lighter texture of the gnocchi pasta. The garlic and sage bring a lot of flavor without overpowering the subtle flavors of the fresh gnocchi.
Kitchen Tools & Equipment
Potato Ricer: A potato ricer is key for smooth, light and fluffy gnocchi. Instead of mashing them, it turns them into a mound of airy potato bits that are perfect for mixing into a smooth dough without over mixing. The good news is a ricer is relatively inexpensive and it pulls its weight in the kitchen so you'll get a lot of cooking "miles" for your investment.
Sharp Knife: To cut your gnocchi evenly and quickly, you want to use a sharp knife. A dull knife is going to drag the dough or flatten them, and since you want to handle them as little as possible, you don't want to have to reshape them.
How to Make Potato Gnocchi
Time needed: 1 hour.
Boil the Potatoes

Add the potatoes and salt to a large pot of water. Bring to a boil and cook until fork tender, about 15 minutes. Drain the potatoes and allow them to cool and dry. Use a potato ricer to rice potatoes in a large bowl.

Form the Dough

Add the flour, egg yolks, semolina flour, pepper, and nutmeg to the riced potatoes. Gently stir until the mixture combines into a soft dough. Pat the dough into a ball, careful not to overmix or handle too much.

Shape the Gnocchi

Divide the ball into 4 even pieces of dough. Roll one dough piece into a ½ inch thick long rope of dough. Repeat with remaining dough pieces. Cut each rope into even ½ inch bits. Optional: Add some texture by rolling each gnocchi on a gnocchi board or the tines of a fork to create ridges. 

Cook the Gnocchi

Add fresh salted water to your pot and bring to a boil over medium high heat. Once boiling, begin cooking the gnocchi in small batches. Cook for just a few minutes, the gnocchi will float to the top when they are ready. Using a slotted spoon, transfer the gnocchi to a baking sheet to dry while you cook the remaining pasta and make the sauce.

Make the sauce

Melt the butter in a large heavy skillet over medium high heat. Add the garlic and sage and cook until fragrant, about 30 seconds. Stir in the heavy cream and bring the sauce to a simmer. Add the cooked gnocchi to the sauce, stirring gently to coat and to heat up the gnocchi. Serve the gnocchi with the sauce immediately.
Nutritional Facts
| | | | |
| --- | --- | --- | --- |
| Calories: | 505kcal | Protein: | 10g |
| Carbohydrates: | 61g | Fat: | 26g |
| Cholesterol | 131mg | Sodium: | 2352mg |
| Fiber: | 4g | Sugar: | 3g |
Cooking Potato Gnocchi Tips & Tricks
For the lightest, fluffiest Gnocchi, be sure follow these handy cooking tips.
Preventing Gummy or Soggy Gnocchi

The key to perfect light, fluffy gnocchi is to make sure your potatoes are completely cooled and as dry as you can get them. Too hot and your gnocchi might get a gummy texture and excess moisture will make them soggy.

Pick the Right Potatoes

You want to use starchy potatoes like Russet potatoes or red potatoes, basically the kind you use for mashing, for the perfect smooth dough. Waxy potatoes, like Yukon Gold, that are known for holding their shape will not blend smoothly with the flour mixture.
What to Pair With Potato Gnocchi
Meat: These Gnocchi would go best with lighter meat dishes, like Chicken Piccata, that won't overpower the flavors in the creamy, delicate gnocchi sauce. If you serve your gnocchi with tomato sauce, then you could serve something like Chicken Parmesan as a main dish.
Side Dishes: A simple garden salad tossed with Italian Dressing and some Garlic Bread are easy, classic sides for Italian pasta dishes. You can also serve this tasty Gnocchi with easy veggies with Sauteed Green Beans or Parmesan Brussels Sprouts.
How to Store Potato Gnocchi
Store: Let the gnocchi and sauce cool to room temperature and then store in an airtight container for up to 4 days. Don't leave them out for more than 2 hours before storing.
Reheat: Reheat refrigerated gnocchi in the sauce on the stove until heated through. If you freeze them without the sauce, you can cook the gnocchi from frozen in boiling water until hot and floating on the top of the water.
Freeze: It's best to freeze the gnocchi without the sauce. Freeze them for an hour on a baking tray lined with parchment. Then transfer them to a sealed container and freeze for up to 3 months.
Ideas to Serve Potato Gnocchi
Sauce: Our quick and easy Marinara Sauce is a simple tomato sauce that would taste amazing with these tender, fluffy gnocchi. They would also taste delicious with Basil Pesto instead of the creamy gnocchi sauce in this recipe.
Toppings: All your favorite Italian pasta toppings like Sauteed Mushrooms, fresh Parmesan cheese, and Italian parsley would go great with this gnocchi recipe. For a crunchy, delicious twist, add some chopped toasted walnuts as a garnish.
FAQ for Potato Gnocchi
What is the best flour to use to make Potato Gnocchi?
You want to use flour with a good amount of protein to help give the dough some structure and keep the mixture together as it cooks in the water. All-purpose flour is a great flour for making gnocchi dough, and you can add some semolina flour to help keep them from falling apart or sticking.
Are Potato Gnocchi gluten-free?
No, since they are made with both all-purpose flour and semolina flour, this Potato Gnocchi recipe is not gluten-free. You would need to use gluten-free flour substitutes, which we included in our Variations section below the Recipe Card.


Ingredients
Potato Gnocchi:
2

tablespoons

kosher salt

, for boiling the potatoes

3

pounds

russet potatoes

, peeled

1

cup

flour

2

large

egg yolks

1

tablespoon

semolina flour

1/2

teaspoon

white pepper

1/8

teaspoon

nutmeg
To Finish:
5

tablespoons

unsalted butter

3

cloves

minced garlic

1

tablespoon

fresh sage

, minced

1

cup

heavy cream
Instructions
Add the potatoes to a large pot of salted water and bring to a boil.

Cook for

13-15 minutes

, until just fork tender.

Remove the potatoes, allow them to cool and dry.

Put through a potato ricer into a large bowl.

Add in the flour, egg yolks, semolina flour, white pepper and nutmeg.

Form into a ball of dough, well mixed, but do not overmix.

Cut the dough into 4 even parts, then roll each piece into a 1/2″ thick log.

To a fresh pot of salted water and add the gnocchi in small batches.

Cook for

3-5 minutes

until the gnocchi float to the top.

Remove from the pot, let dry on a baking sheet.
To Finish:
Add in the butter, garlic and sage until the garlic becomes fragrant.

Add in the heavy cream stir well to combine and bring to a simmer.

Add in the potato gnocchi, stir to combine.

Stir well and spoon over the buttery sauce.
Nutrition
Calories:
505
kcal
|
Carbohydrates:
61
g
|
Protein:
10
g
|
Fat:
26
g
|
Saturated Fat:
16
g
|
Polyunsaturated Fat:
1
g
|
Monounsaturated Fat:
7
g
|
Trans Fat:
0.4
g
|
Cholesterol:
131
mg
|
Sodium:
2352
mg
|
Potassium:
1030
mg
|
Fiber:
4
g
|
Sugar:
3
g
|
Vitamin A:
959
IU
|
Vitamin C:
14
mg
|
Calcium:
81
mg
|
Iron:
3
mg
Potato Gnocchi Variations
Gluten-Free Gnocchi: To make these gluten-free gnocchi, you can swap in a gluten-free blend that is a 1 to 1 substitute for flour. Make sure it's a blend designed to replace all-purpose flour though and not just gluten free flour like almond flour,
Lemon Garlic Sage Sauce: Easily give the cream sauce a brighter, fresher taste and make a Lemon Garlic Sage Sauce by adding fresh lemon juice and lemon zest. Stir the lemon in at the end so you don't curdle the cream.
More Creamy Italian Pasta Dishes