Pumpkin Dump Cake is the easiest fall cake recipe made with boxed spice cake mix and pumpkin pie filling and topped with caramel and pecans.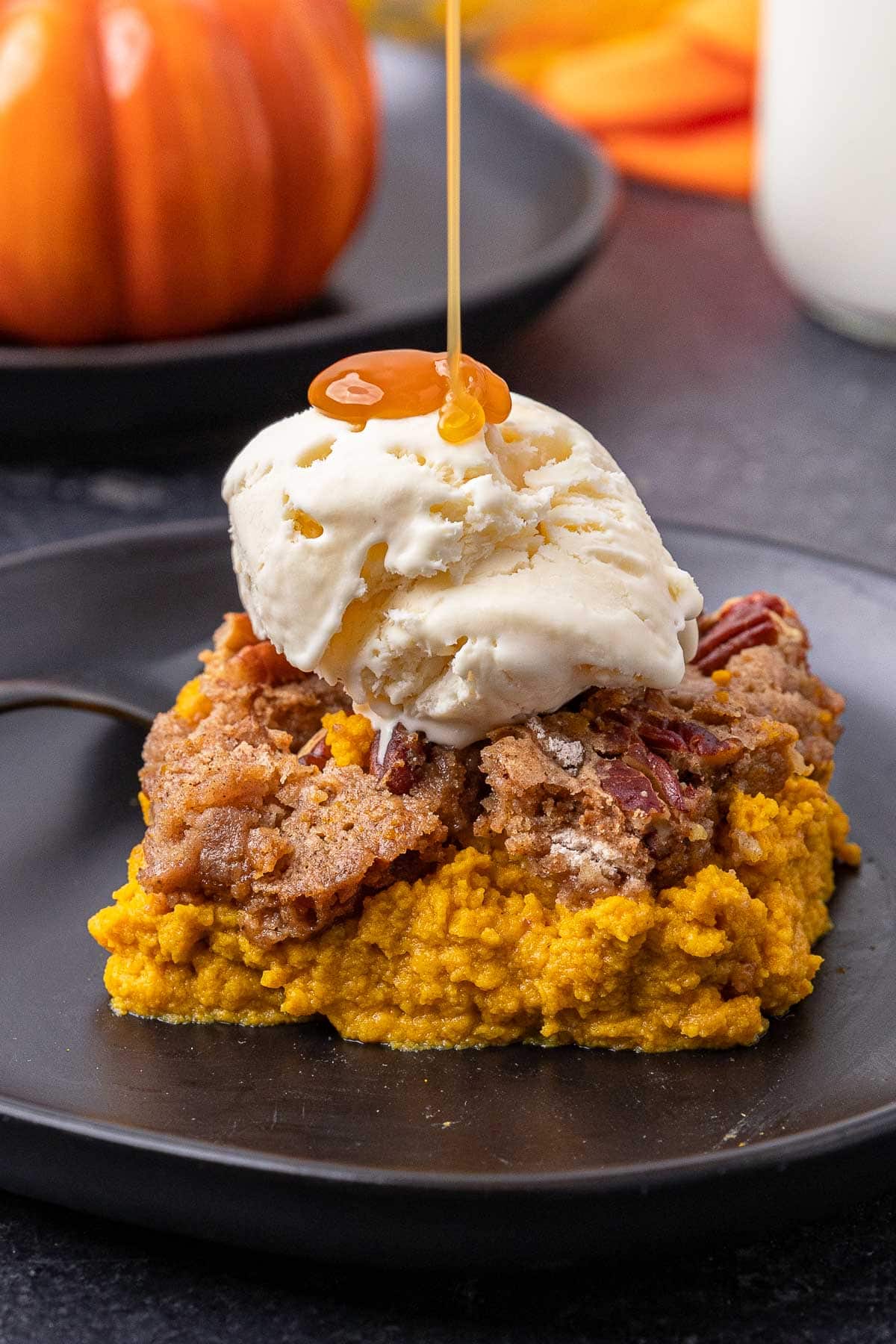 Pumpkin Cake and Pumpkin Pie are two amazing pumpkin Dessert Recipes that folks love spending the extra time during the holidays to make. If you're looking for homemade pumpkin pie flavor without all the work, this is a go-to quick dessert recipe you can make all year long.
When it comes to Autumn desserts, there's no flavor that has the spotlight more than delicious, tender pumpkin! This little (or sometimes giant) squash can be both savory and sweet, with just a tiny adjustment of spices. A gooey, warm fall cake packed with pumpkin pie flavor is definitely in the sweet column of the amazing pumpkin recipes list.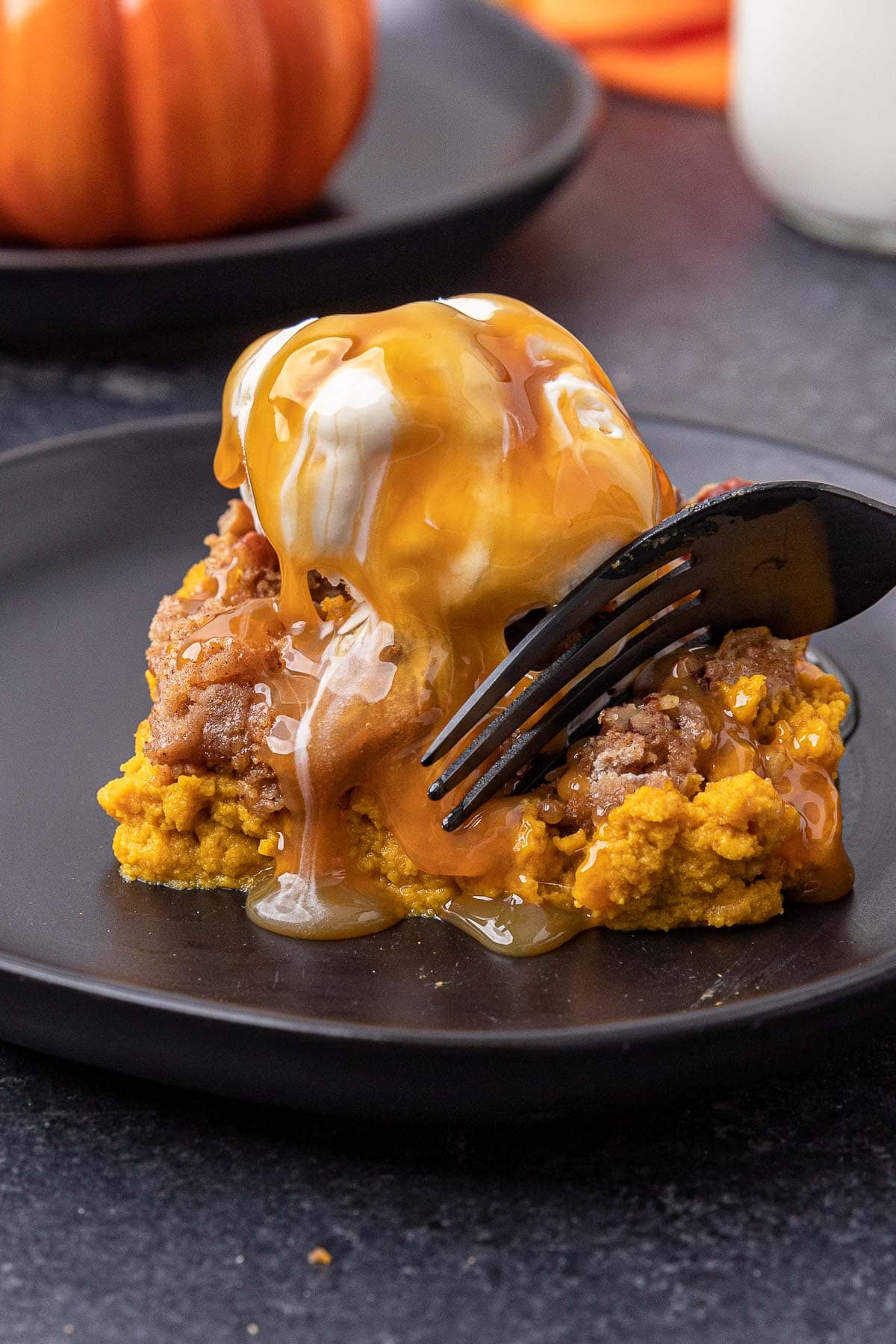 This delicious Pumpkin Dump Cake, also known as Pumpkin Crunch Cake, is the easiest recipe for pumpkin cake you'll ever make! It is made with just seven ingredients, ready in less than an hour from start to finish, and almost no clean up required. You don't need a stand mixer or beaters to make this cake, just a whisk and a bowl.
The cake starts with canned pumpkin pie mix, evaporated milk, and eggs whisked together. The pumpkin mixture is dumped into the baking dish then the dry cake mix is dumped on top. Everything is completely covered in melted butter then some pecans are added for a nice crunch factor. It's baked for about 40 minutes and served warm with some caramel sauce and Vanilla Ice Cream! Truly, can making a cake be any easier than that?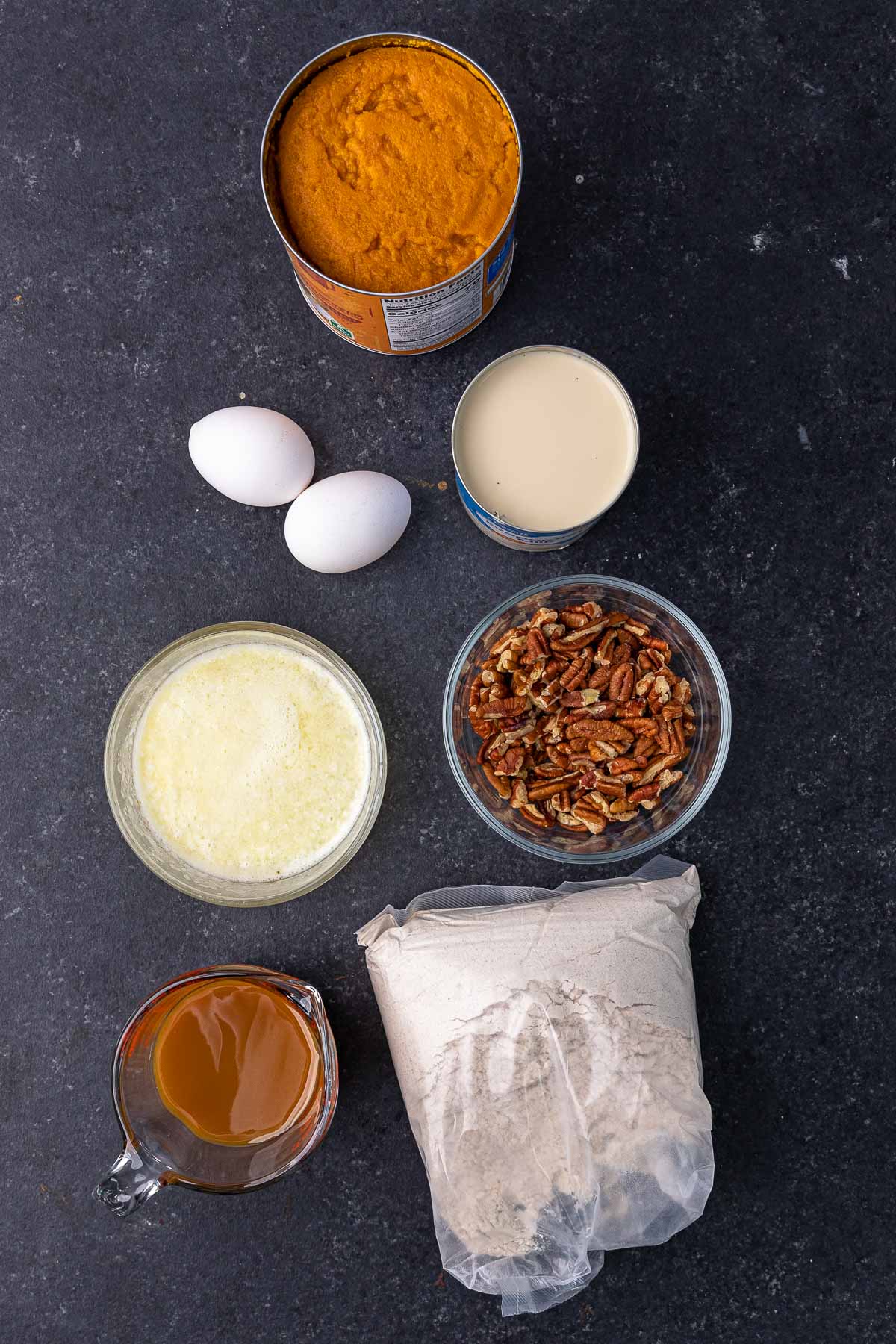 What is a Dump Cake?
A dump cake is a cake that is basically ingredients layered in the pan without mixing everything in a bowl first then pouring into a pan like traditional cakes. It usually starts with the wet ingredients and any fillings in the bottom of the baking pan, then a box of cake mix is "dumped" on top followed by a hot liquid, like water, coffee, or melted butter. The ingredients mix together as the cake bakes and you end up with a gooey thick pudding-like dessert that has all the cake taste with almost no work.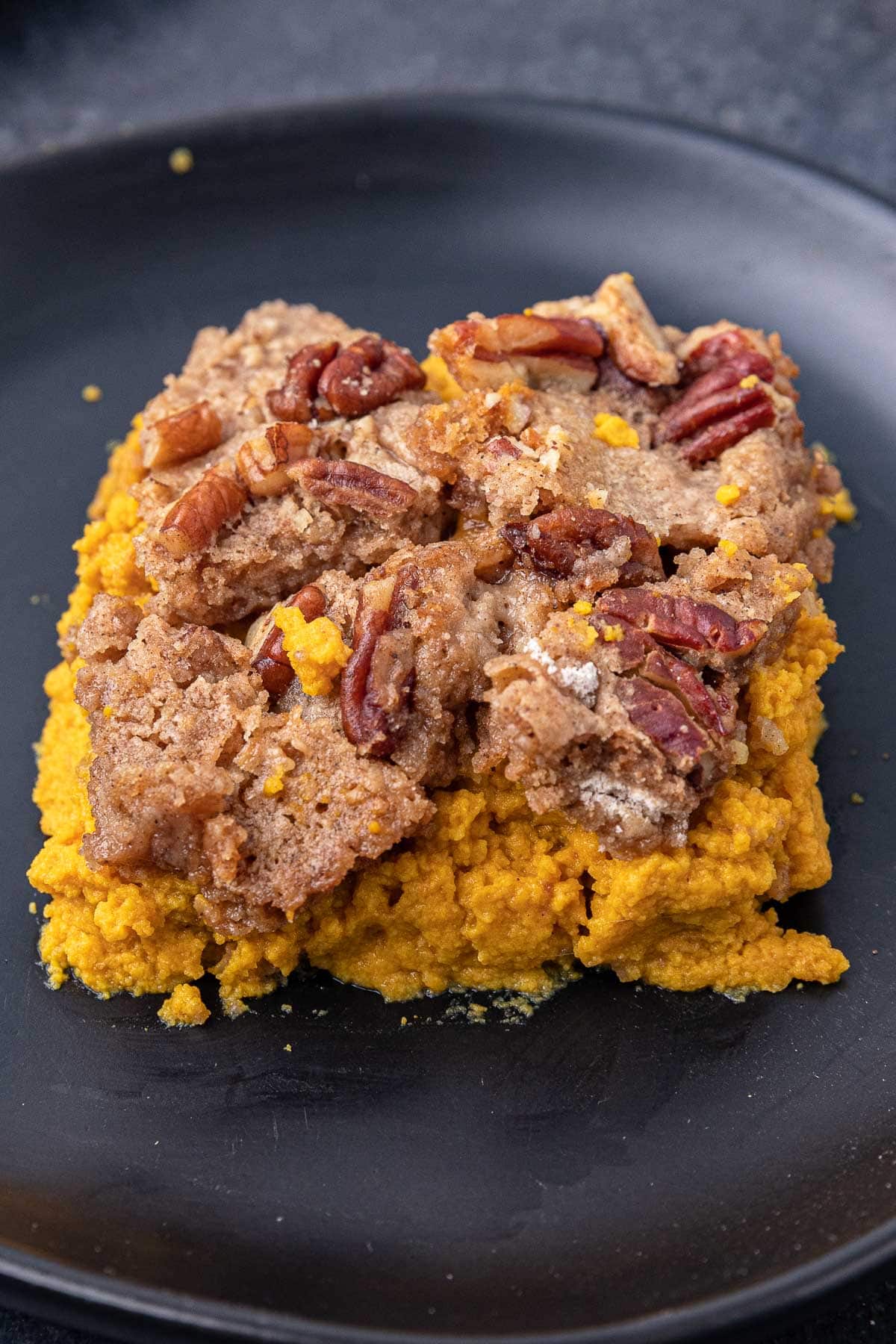 What is the difference between Pumpkin Dump Cake and Pumpkin Cobbler?
Pumpkin Dump Cake and Pumpkin Cobbler are very similar except for the topping used, and often Pumpkin Dump Cake gets called Pumpkin Cobbler. The main difference between a cobbler and a dump cake is that a true cobbler has a biscuit or pie crust topping. If it's made with cake mix, it is actually a dump cake.
How to Make a Pumpkin Dump Cake
Prep: Preheat the oven and generously grease your baking dish.
Filling: Combine the pumpkin pie filling, evaporated milk, and eggs in a bowl until smooth. Pour into the baking dish.
Layer: Dump the box of cake mix evenly over the pumpkin mixture. Top with melted butter, tilting the pan as needed so the dry cake mix is covered as much as possible.
Bake: Add chopped pecans then bake until the top is dry and the edges are bubbling.
Serve: Cool for 5 minutes, then serve with vanilla ice cream and caramel sauce.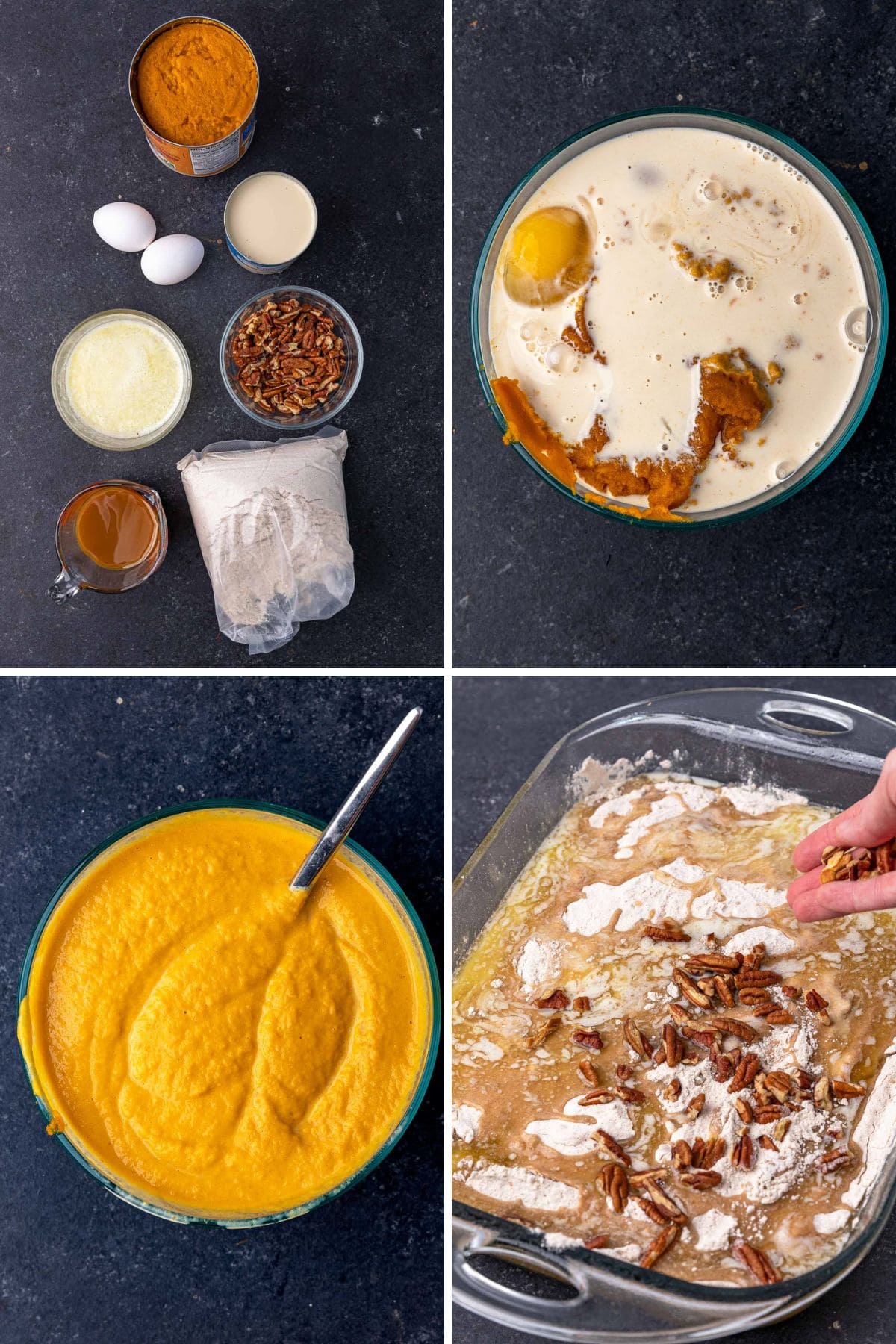 FAQs for Pumpkin Dump Cake
How do you know when a dump cake is done?
Since dump cakes are meant to be gooey, you can't use the toothpick method, like you do in traditional cakes to see if it is done. Instead, you want the top to form into a mostly dry crust that has pulled away from the sides of the pan and around the edges, the filling should be bubbling up.
Should a dump cake be refrigerated?
Yes, you need to refrigerate a dump cake after it has been baked. It can be at room temperature for up to two hours before it should be stored in the fridge or freezer.

Create a free account to

Save Recipes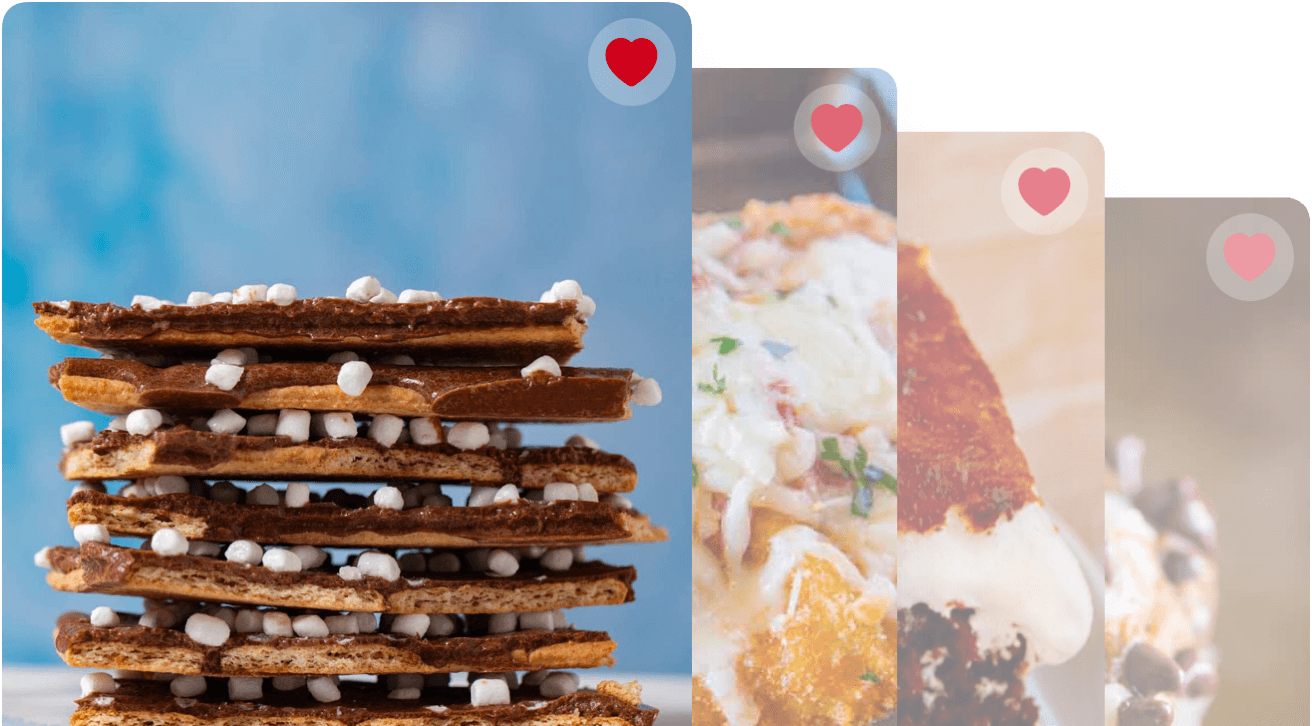 Key Ingredients
Pumpkin Pie Filling: This is one of the few recipes that calls for pumpkin pie FILLING, not just pure pumpkin puree. Since this is supposed to be a super easy cake, it uses pie filling that already has spices and sugar added to save you ingredients and steps!
Spice Cake Mix: Dry cake mix is what makes this a dump cake instead of a cobbler, and there's no better mix for this pumpkin version than spice cake mix. It brings out the pumpkin spice flavor in the pie filling and makes it extra yummy!
Butter: You need a hot liquid poured on top of the cake mix that will seal the steam created from the filling under the cake mix as the cake bakes so the whole thing cooks from the top and bottom. Butter makes a great topping because not only is it delicious but it's fatty enough to make a thick seal.
Pecans: The pecans give this cake some crunch, which is why it's sometimes called Pumpkin Crunch Cake! You can use regular salted nuts or toast them in a dry skillet until they are fragrant for even more earthy pecan flavor.
Caramel Sauce: Caramel ice cream topping or other jarred caramel sauce keeps this dump cake recipe easy peasy. In the variations, there's a super quick caramel sauce you can make or if you have a bit more time, try this favorite Salted Caramel Sauce made completely from scratch.
Can this be made ahead of time?
You can prepare this Pumpkin Dump Cake 1-2 days ahead of time and reheat it in the oven, covered with aluminum foil, for 15 minutes at 350 degrees. You can also bake it in a freezer safe baking pan, then seal it with plastic wrap and foil before storing for up to 3 months. Then when you are ready to serve it, simply thaw the prepared dish overnight in the fridge before reheating in the oven until warmed through.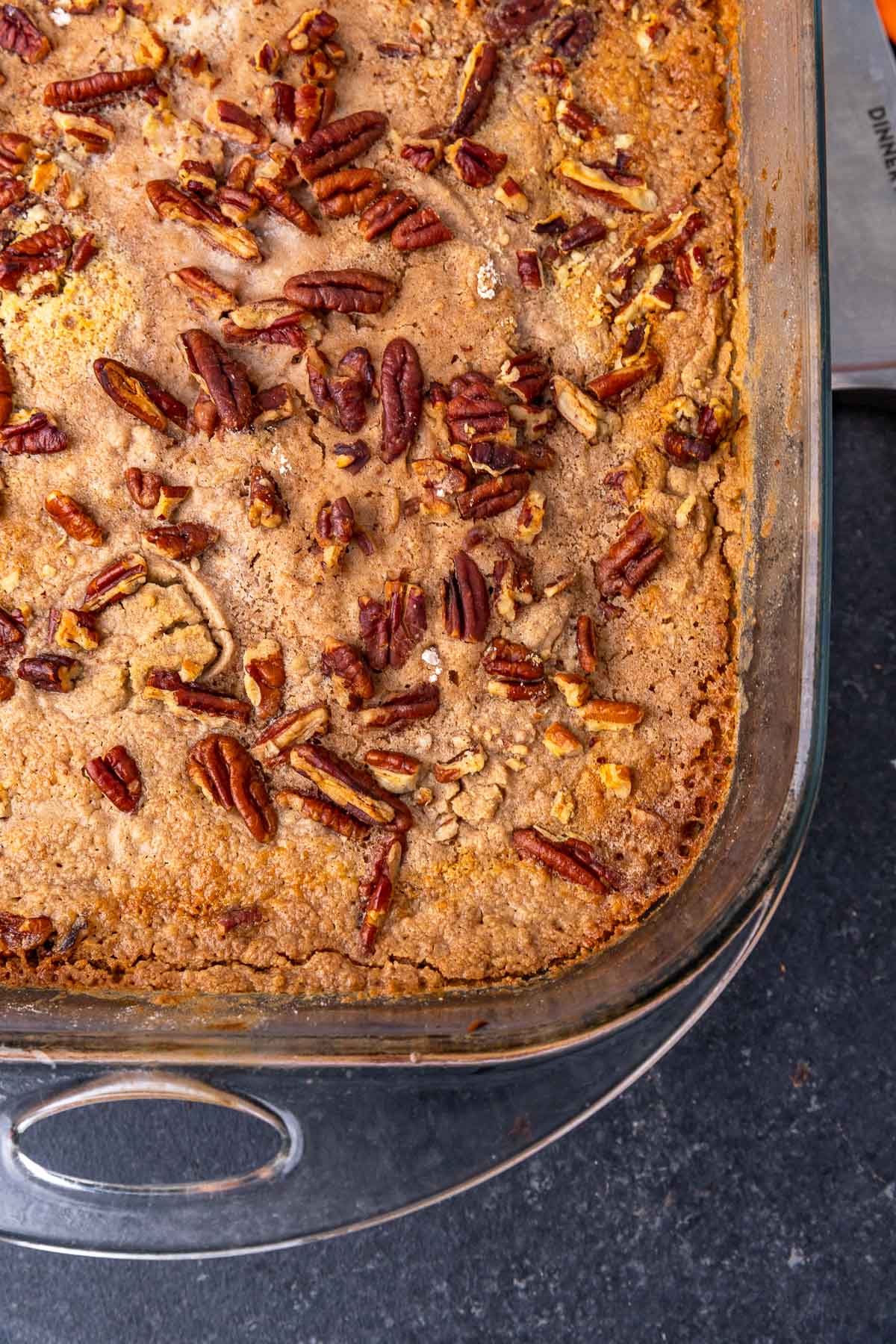 Variations
Caramel Sauce: You will need ½ cup room temp heavy cream and 1 cup soft caramels. Melt caramels with the heavy cream in increments in a bowl in the microwave, stirring each time until smooth.
Cake Mix: Instead of the spice cake mix, you can use white cake mix or yellow cake mix. Make sure to add a teaspoon of Pumpkin Pie Spice so your cake still has those yummy cozy fall vibes!
Mix Ins: Add some extra sweet goodness to this tasty cake, try adding some chocolate chips, toffee chips, or butterscotch chips on top before adding the butter. You could use either semi-sweet chocolate chips or white chocolate chips, based on your preferences.
Pumpkin Pie Filling: If you only have cans of pumpkin puree on hand, you can turn it into pumpkin pie filling with a few ingredients. Start with a large can of pumpkin puree (or 2 small) in a bowl and add 1 ½ cup white sugar, 2 teaspoons ground cinnamon, ½ teaspoon nutmeg, ½ teaspoon ground ginger and ½ teaspoon salt. Combine until smooth then use 3 ½ cups total of the pumpkin mixture for this cake recipe.
Slow Cooker Pumpkin Dump Cake
Grease the inside of the slow cooker insert really well with butter or baking spray.
Combine the eggs, pumpkin pie mix, and evaporated milk in a bowl until smooth.
Pour the mixture into the bottom of the prepared slow cooker.
Combine the melted butter and cake mix in a large bowl until crumbly and dough-like, like a cross between pie crust and streusel.
Sprinkle cake mixture over the pumpkin filling and top with pecans.
Cover with the lid and cook for 2 hours on high heat or 4 hours on low heat.
Serve with ice cream and caramel sauce.
You can keep this cake in the crock pot, covered, on warm for up to 3 hours before it needs to be stored.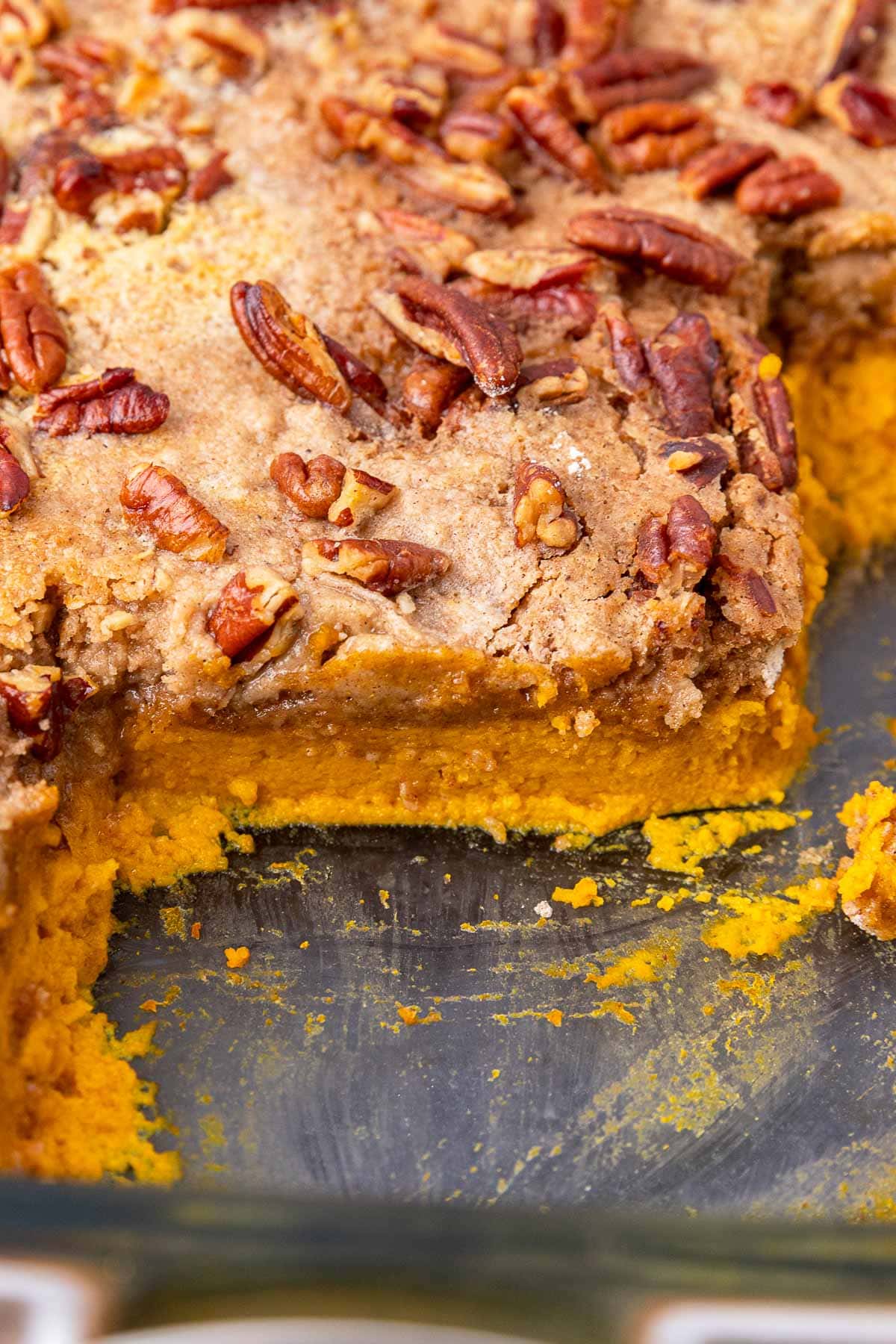 More Super Easy Cake Recipes
How to Store
Store: Pumpkin Dump Cake can be at room temperature for up to 2 hours before it needs to be stored. Cool cake then transfer leftovers to an airtight container. If you plan on reheating all the leftovers to serve at once, store them in the pan to make it easier.
Reheat: If you are reheating a pan of leftovers, cover the baking dish with foil and heat in the oven at 350 degrees until heated through. Reheat individual leftovers in the microwave, covered with a damp paper towel, in 15-20 second bursts until warm and gooey again.
Freeze: Once cooled, store individual dump cake portions in sealed containers and freezer for up to 3 months. Thaw the cake overnight in the fridge before reheating and serving.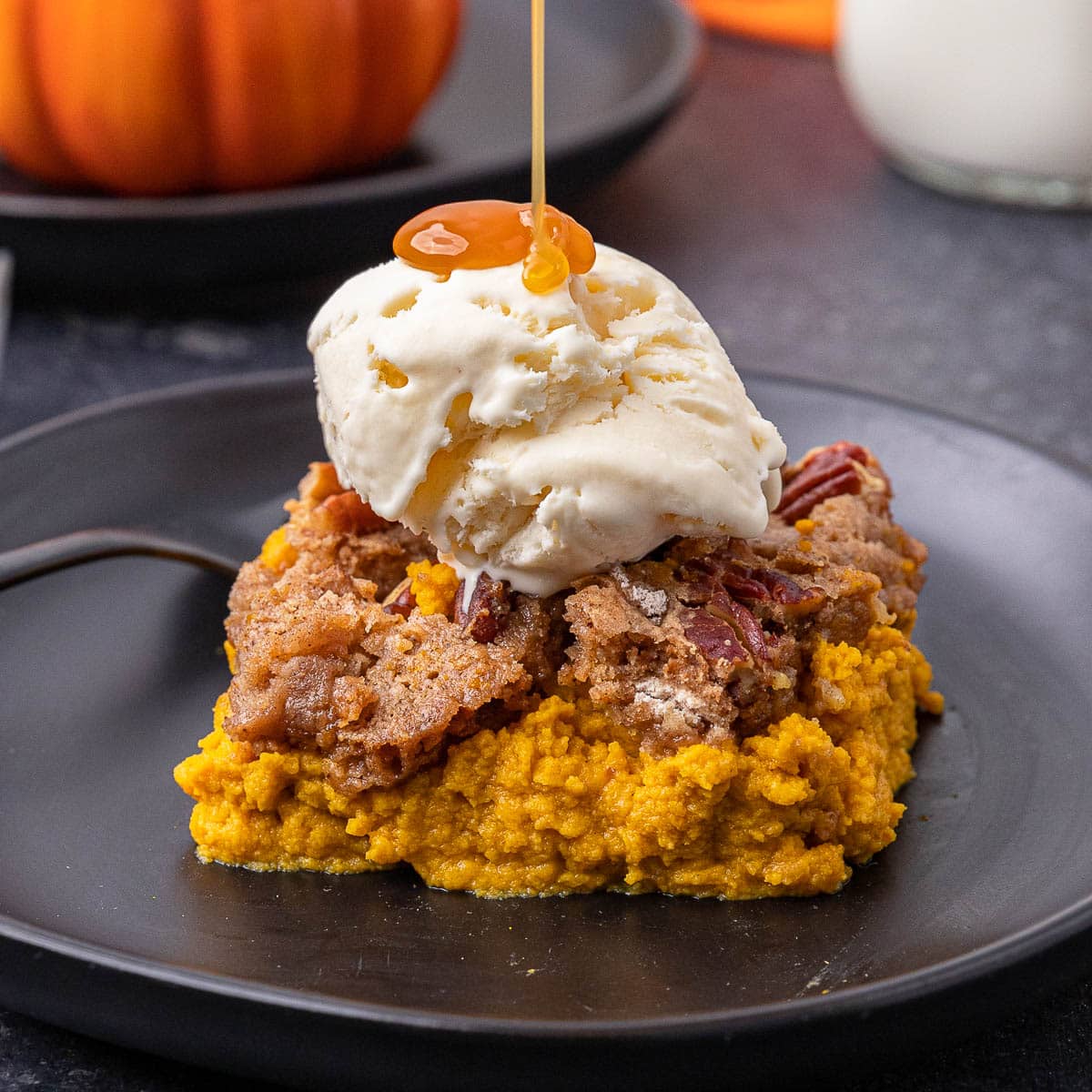 Ingredients
29

ounces

canned pumpkin pie filling

, not the plain puree

12

ounces

evaporated milk

2

large

eggs

1

box

spice cake mix

, 15.25 ounces

3/4

cup

unsalted butter

, melted

1/2

cup

pecans

, chopped

1/2

cup

caramel sauce
Instructions
Heat oven to 350 degrees. Spray bottom of 9×13 inch glass baking dish with cooking spray.

In a medium glass bowl mix pumpkin pie filling, evaporated milk and eggs.

Pour filling in baking dish.

Top with dry spice cake mix; gently shake pan to distribute evenly.

Pour melted butter over top, tilting pan to cover as much of top with butter as possible.

Bake

40-45 minutes

or until mostly dry on top and bubbly around edges.

Allow to cool for

5 minutes

before serving. Drizzle with caramel sauce. Serve warm with vanilla ice cream.
Nutrition
Calories:
552
kcal
|
Carbohydrates:
71
g
|
Protein:
7
g
|
Fat:
28
g
|
Saturated Fat:
13
g
|
Polyunsaturated Fat:
3
g
|
Monounsaturated Fat:
11
g
|
Trans Fat:
1
g
|
Cholesterol:
84
mg
|
Sodium:
601
mg
|
Potassium:
438
mg
|
Fiber:
8
g
|
Sugar:
34
g
|
Vitamin A:
7397
IU
|
Vitamin C:
4
mg
|
Calcium:
186
mg
|
Iron:
4
mg