Pumpkin Mousse is a creamy fluffy mousse recipe made with real pumpkin puree and no Cool Whip! The ultimate easy no-bake autumn dessert!
There are so many delicious Dessert Recipes you can make in the fall that are pumpkin-themed. Between Pumpkin Pie, Pumpkin Bread, and Pumpkin Cookies, there are plenty to choose from. This mousse is an easy no-bake dessert that you can make when you want the festive flavor without the work.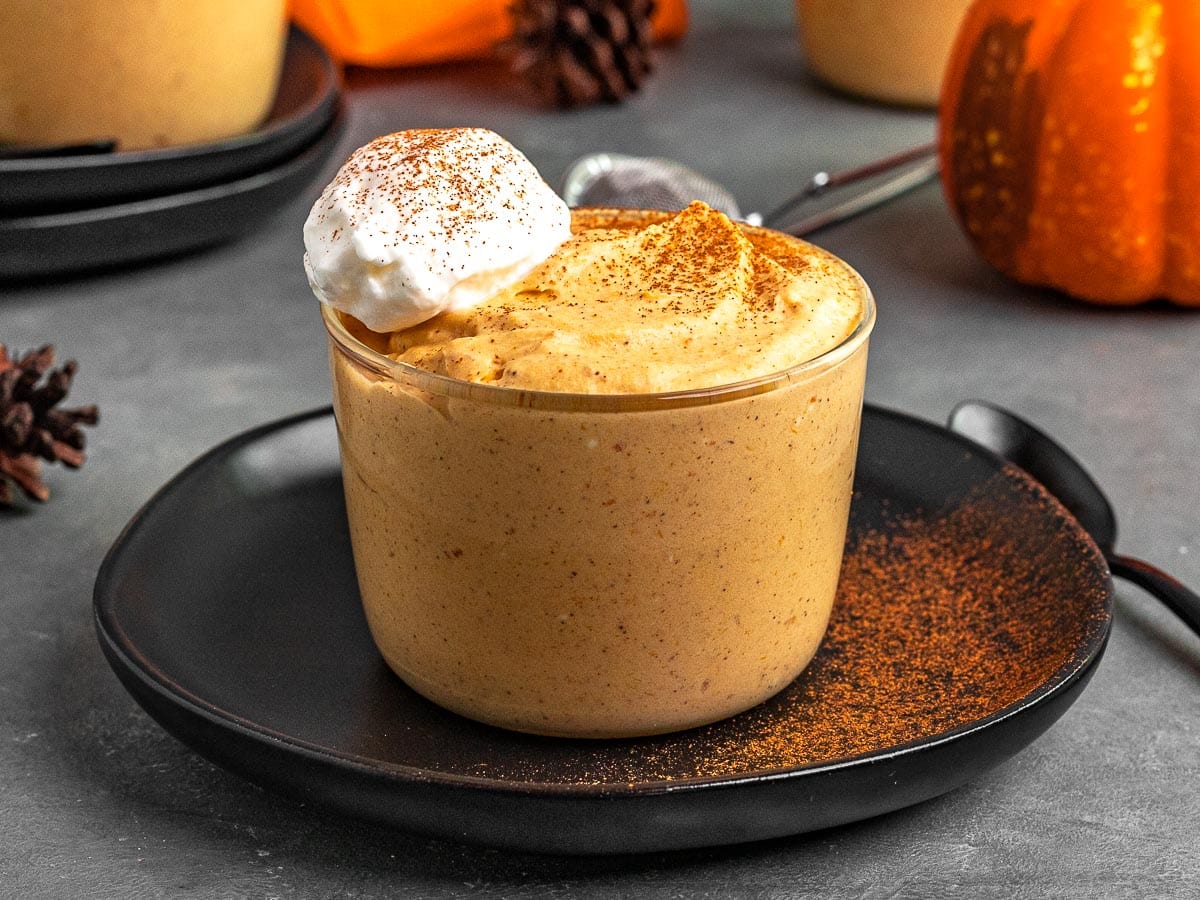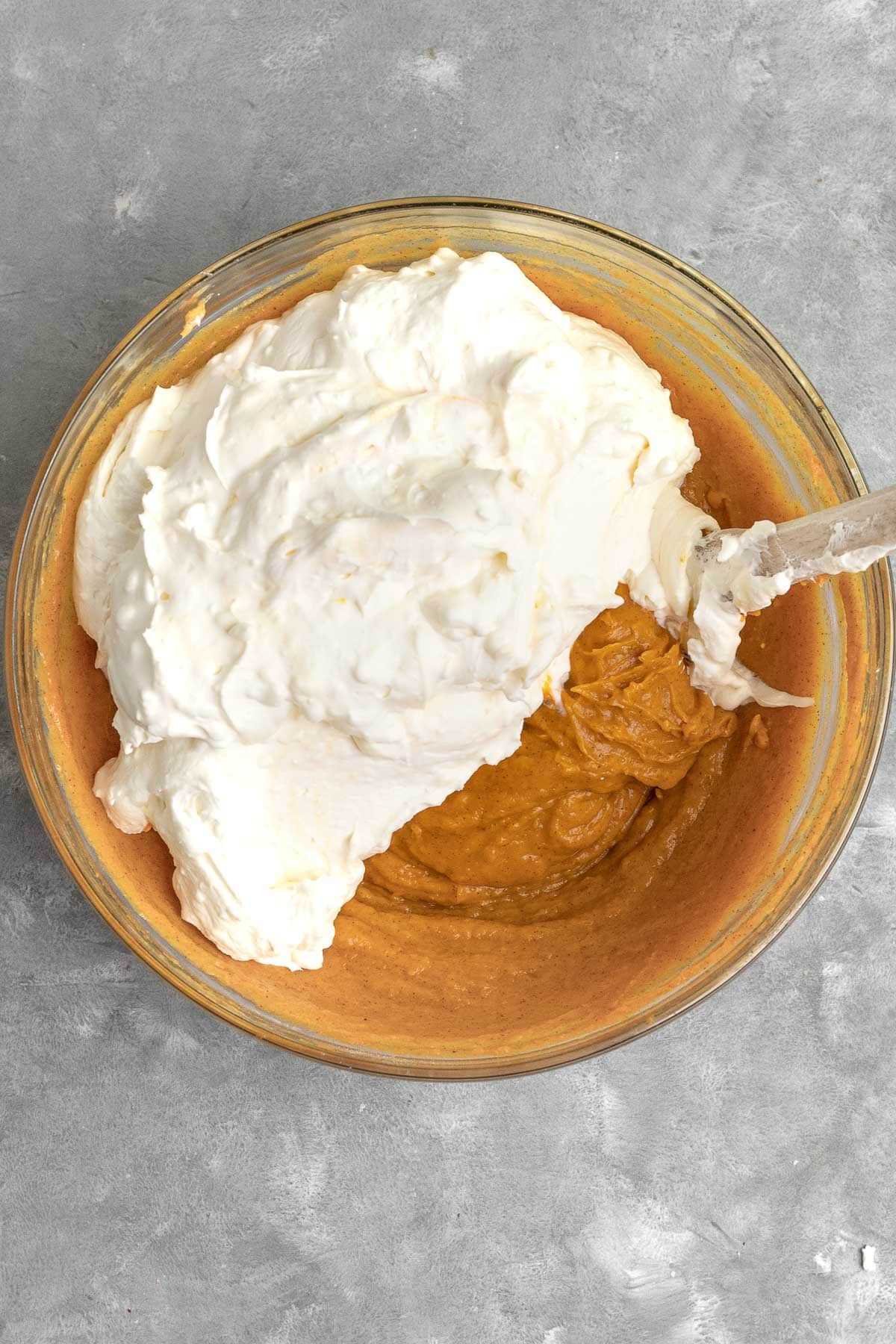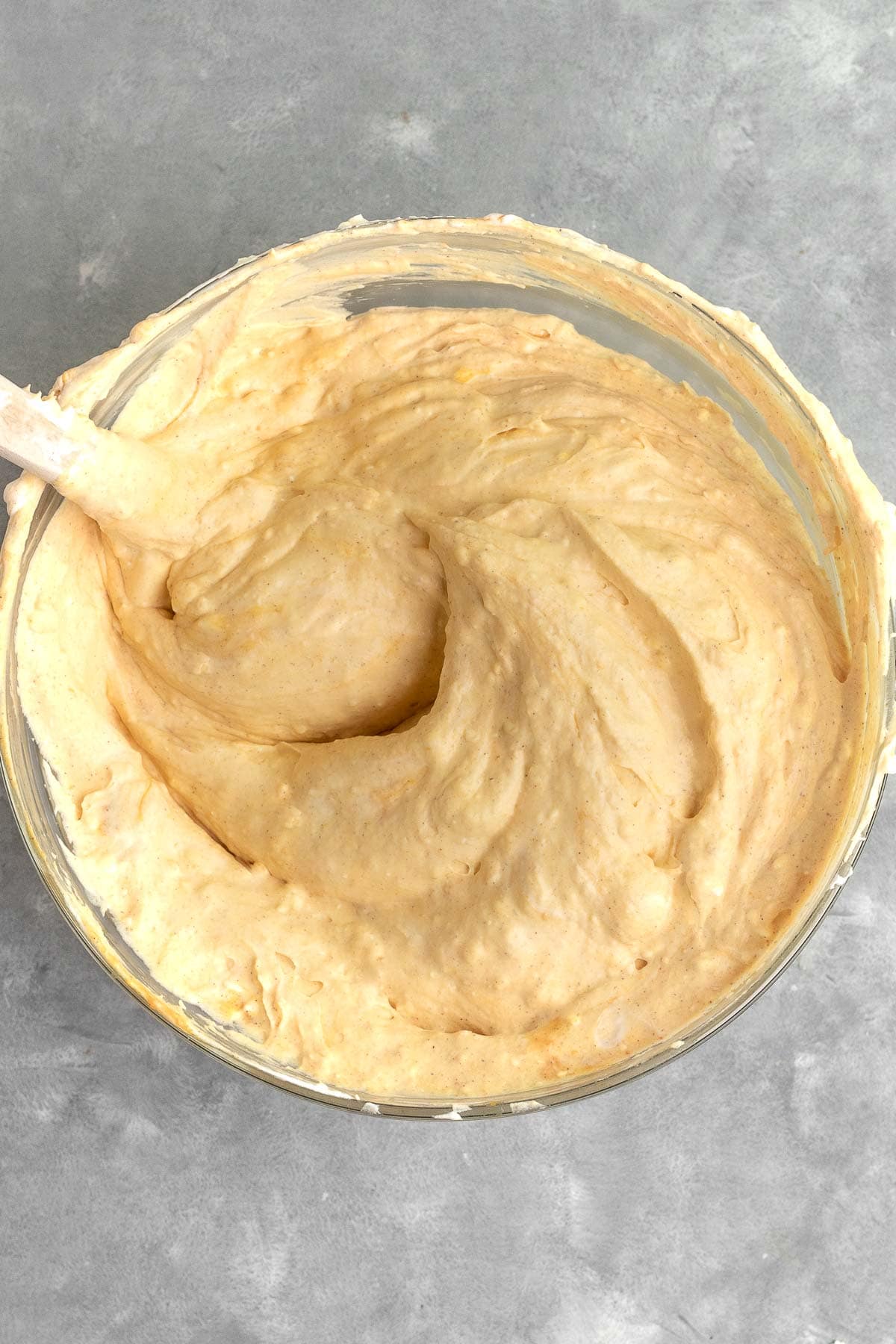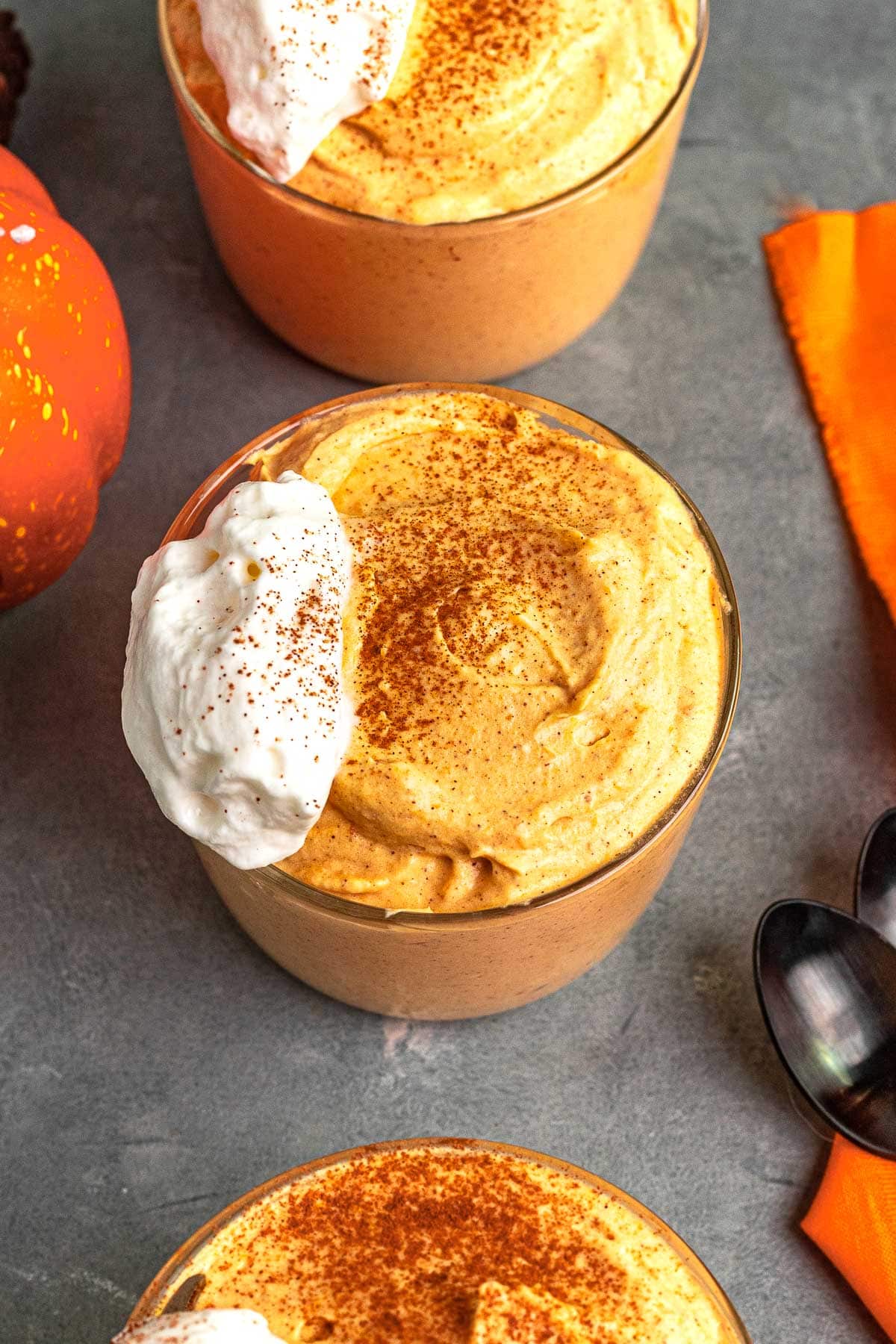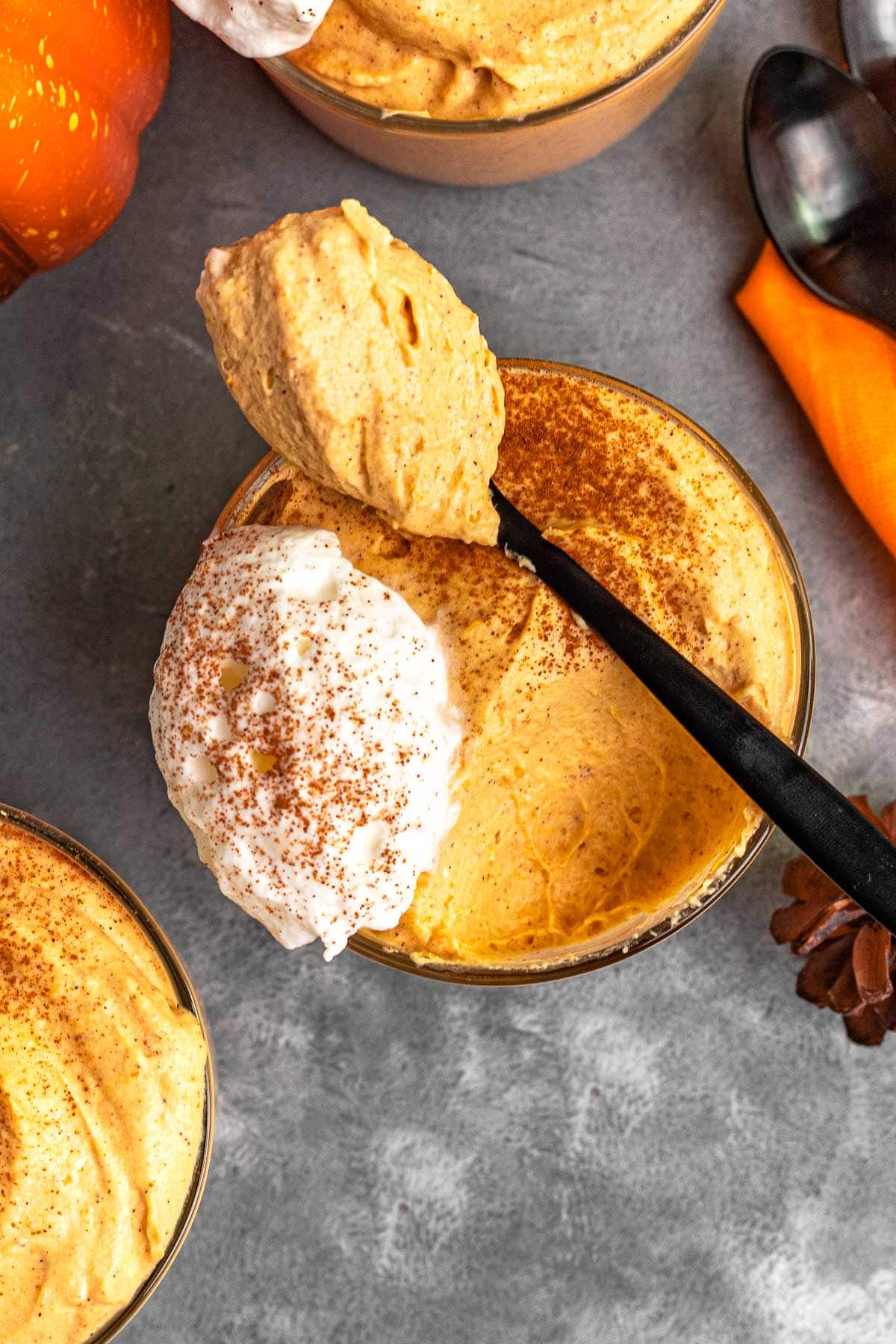 About our Pumpkin Mousse Recipe
This Pumpkin Mousse recipe is a delicious and simple treat for the holiday season. It's easy to whip together in a matter of minutes, then you just have to let it set in the fridge for a few hours. With vanilla pudding, cream cheese, heavy cream, and milk, it comes out just as light and fluffy as any of your favorite mousse desserts. The added real pumpkin and blend of warm spices makes it perfect for autumn.
To get the warmly spiced pumpkin flavor, all you need is pumpkin puree and pumpkin pie spice. You can make your own homemade puree and spice blend, or pick up some at the store. This is a great recipe for the fall when you have leftover ingredients from other pumpkin desserts but you don't want to spend another night baking!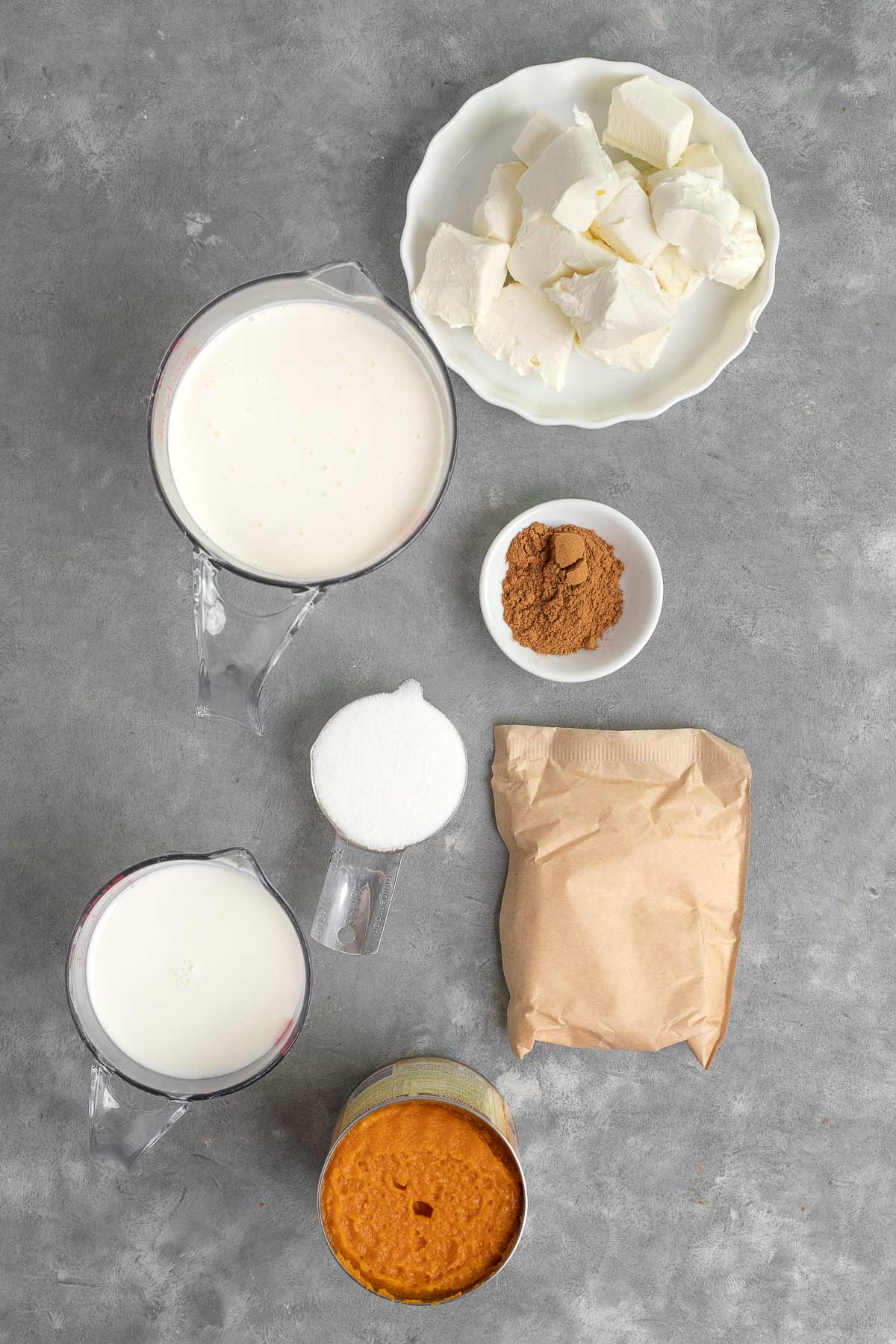 Pumpkin Mousse Ingredients
Whipped Topping: Instead of frozen whipped topping, this pumpkin fluff recipe starts with heavy whipping cream beaten to until stiff peaks form. It makes for a much lighter, fluffy dessert.
Cream Cheese: The cream cheese mixed with the whip cream is what helps stabilize the cream mixture and keep it firm instead of using gelatin or cool whip. You don't want to use cold cream cheese or it won't blend as well.
Sugar: Since you are also adding instant pudding mix, you don't need too much sugar or it will end up overly sweet. The granulated sugar adds the perfect amount of sweetness, although you could swap it with brown sugar too.
Pudding Mix: Some instant vanilla pudding mix adds sweetness and vanilla flavor while also helping thicken the mousse as it sets. Cheesecake instant pudding mix in this pumpkin dessert recipe would be a delicious flavor combination too!
Pumpkin Pie Spice: A blend of pumpkin spices makes this dessert taste of pumpkin pie and not just pumpkin flavor! You can make your own blend with our Pumpkin Pie Spice Recipe or use a store-bought blend.
Whole Milk: The cold milk is what activates and sets the instant pudding mix. If you were using cooked pudding, you would have to cook the milk and pudding mixture then cool completely before adding. This recipe skips that step, just make sure to use super cold milk!
Pumpkin Puree: The key to the real pumpkin flavor in this dessert is of course using real pumpkin! You can use canned puree or make your own Pumpkin Puree. Just make sure not to use canned pumpkin pie filling because it already has sugar and spices added.
Kitchen Tools & Equipment
Electric Mixer: An electric beater or stand mixer whips up your cream to perfect peaks in no time! Whisking by hand could take up to 10 minutes but the electric mixer has it done in less than 3 minutes and your arm won't get tired.
Mousse Cups: You could use any kind of glass to serve you mousse, but it's always nice to serve this festive dessert in a pretty clear glass to show off the beautiful orange color and light, airy texture.
How to Make Pumpkin Mousse
Time needed: 2 hours and 15 minutes.
Whip the Cream

Beat heavy cream in your stand mixer or with a handheld electric mixer on high speed. Continue mixing until it forms soft peaks. Add the cream cheese and continue beating until it mixes in and stiff peaks form. Make sure the cream cheese has had time to soften before you start the recipe so that it can mix well.

Make the Pumpkin Mixture

In a separate bowl whisk together the vanilla pudding mix, pumpkin spice, and milk. Continue mixing for about 2 minutes until it's nice and smooth. Let the two mixtures sit for about 5 minutes, then add the canned pumpkin to the pudding mixture.

Combine the Mixtures

Add the whipped cream to the bowl with the pumpkin pudding mixture. Gently fold in the cream mixture until no streaks of cream remain and it's a light orange color with a creamy smooth texture.

Set before Serving

Spoon the finished mousse into 4-6 serving glasses and place the mousse cups in the refrigerator for 2-4 hours before serving to give them a firmer texture that is still light and fluffy. Serve with a sprinkle of pumpkin pie spice.
Nutritional Facts
Nutrition Facts
Pumpkin Mousse
Amount Per Serving
Calories 367
Calories from Fat 243
% Daily Value*
Fat 27g42%
Cholesterol 86mg29%
Sodium 209mg9%
Potassium 288mg8%
Carbohydrates 28g9%
Protein 6g12%
Vitamin A 9354IU187%
Vitamin C 3mg4%
Calcium 137mg14%
Iron 1mg6%
* Percent Daily Values are based on a 2000 calorie diet.
Tips and Tricks for Making Pumpkin Mousse
Start with Cold Ingredients

You want to start with super cold heavy cream and milk so that your pudding mixture sets quicker and your whipped cream reaches stiff peaks easily. One thing you don't want cold though is the cream cheese, or it won't blend as well.

Make the Mousse in Advance

Since you need a couple hours for the mousse to be properly set, this is a great dessert to make the night before or the morning of the day you want to serve it. It will keep for up to 4 days in the fridge but it has the best light and fluffy texture in the first 48 hours.
What to Pair With Pumpkin Mousse
Once you've made the Pumpkin Mousse you can add your favorite toppings to each serving like Whipped Cream, graham crackers, or ginger snaps. You can also sprinkle some extra pumpkin pie spice or cinnamon right on top for a pretty flavorful dusting.
How to Store Pumpkin Mousse
Store: It's best to keep this pumpkin dessert recipe chilled because after about an hour it will start to melt and separate. Wrap the mousse cups with plastic wrap and store in the fridge for up to 4 days.
Freeze: Transfer the Pumpkin Mousse to a freezer-safe container, or individual containers, and top with a layer of plastic wrap before adding the lid. The plastic keeps out excess moisture and prevents freezer burn. The mousse will stay good for up to 3 months in the freezer. Thaw and then beat with an electric hand mixer to fluff it back up.
Ideas to Serve Pumpkin Mousse
Pumpkin Mousse Pie: Pumpkin Mousse can also be used to make Pumpkin Mousse Pie. Just pour the mousse into a Graham Cracker Crust or regular baked buttery Pie Crust and put the dish in the fridge to set. After about 2 hours you can cut yourself a slice of delicious Pumpkin Mousse Pie.
Pumpkin Mousse Parfaits: A great way to use up some leftover Gingerbread Cookies or gingersnap cookies. Alternately layer the fluffy mousse with cookie pieces and Candied Pecans in individual glasses. Top with a dollop of Whip Cream and a sprinkle of cinnamon.
FAQ for Pumpkin Mousse
What is the difference between Mousse and Pudding?
While they are both creamy desserts, there are a couple key differences between mousse and pudding. Pudding is usually a cooked mixture of milk with sugar and the warm milk mixture is thickened with cornstarch or unflavored gelatin. Mousse generally uses a whipped topping (like whipped cream) to thicken a col and usually you add a pudding mix to help thicken and flavor it.
Can I make Vegan Pumpkin Mousse?
To make Vegan Pumpkin Mousse, you'll need to use a Vegan instant vanilla pudding mix as well as swapping in a milk alternative like almond milk. For the heavy cream, use coconut cream because the high coconut milk fat content will stiffen up similar to regular heavy whipping cream. Finally, use a vegan cream cheese or sour cream.
Recipe Card


Ingredients
2

cups

heavy cream

, very cold

8

ounces

cream cheese

, softened and cut into cubes

1/4

cup

sugar

3.4

ounces

instant vanilla pudding mix

2

teaspoons

Pumpkin Pie Spice

1

cup

whole milk

, very cold

15

ounces

pumpkin puree
Instructions
Add heavy cream to stand mixer and beat on high speed until it forms soft peaks.

Add in cream cheese and beat to stiff peaks.

In a large bowl whisk together vanilla pudding mix, pumpkin pie spice, and milk for

2 minutes

until smooth.

Whisk pumpkin into pudding mixture until smooth.

Add the whipped cream mixture into the pudding and fold it in until creamy.

Spoon into a serving dish or small serving cups.

Refrigerate for

2 hours

before serving.
Nutrition
Calories:
367
kcal
|
Carbohydrates:
28
g
|
Protein:
6
g
|
Fat:
27
g
|
Saturated Fat:
17
g
|
Polyunsaturated Fat:
1
g
|
Monounsaturated Fat:
7
g
|
Cholesterol:
86
mg
|
Sodium:
209
mg
|
Potassium:
288
mg
|
Fiber:
2
g
|
Sugar:
22
g
|
Vitamin A:
9354
IU
|
Vitamin C:
3
mg
|
Calcium:
137
mg
|
Iron:
1
mg
Pumpkin Mousse Variations
Toppings: For some delicious and beautiful toppings try adding brown sugar, powdered sugar, cinnamon, shaved chocolate curls, Cool Whip, or ginger snaps.
Milk: You can use dairy-free milk alternatives for the whole milk like light coconut milk or almond milk. To replace the heavy whipping cream, use coconut cream or a plant-based whipping cream alternative.
Sweeteners: If you want to replace the regular, white granulated sugar in the recipe try using brown sugar or maple syrup. You can also use sweetened condensed milk for the milk to sweeten the mousse.
Related Recipes
More Delicious Creamy Pumpkin Recipes