Royal Icing is easily made with powdered sugar and meringue powder. It sets quickly without becoming too hard and is great for sugar cookies.
This Royal Icing recipe is the perfect topping for so many of your favorite Desserts. Use it to frost your Christmas Sugar Cookie Recipe, or to pipe decorations onto Cake Recipes.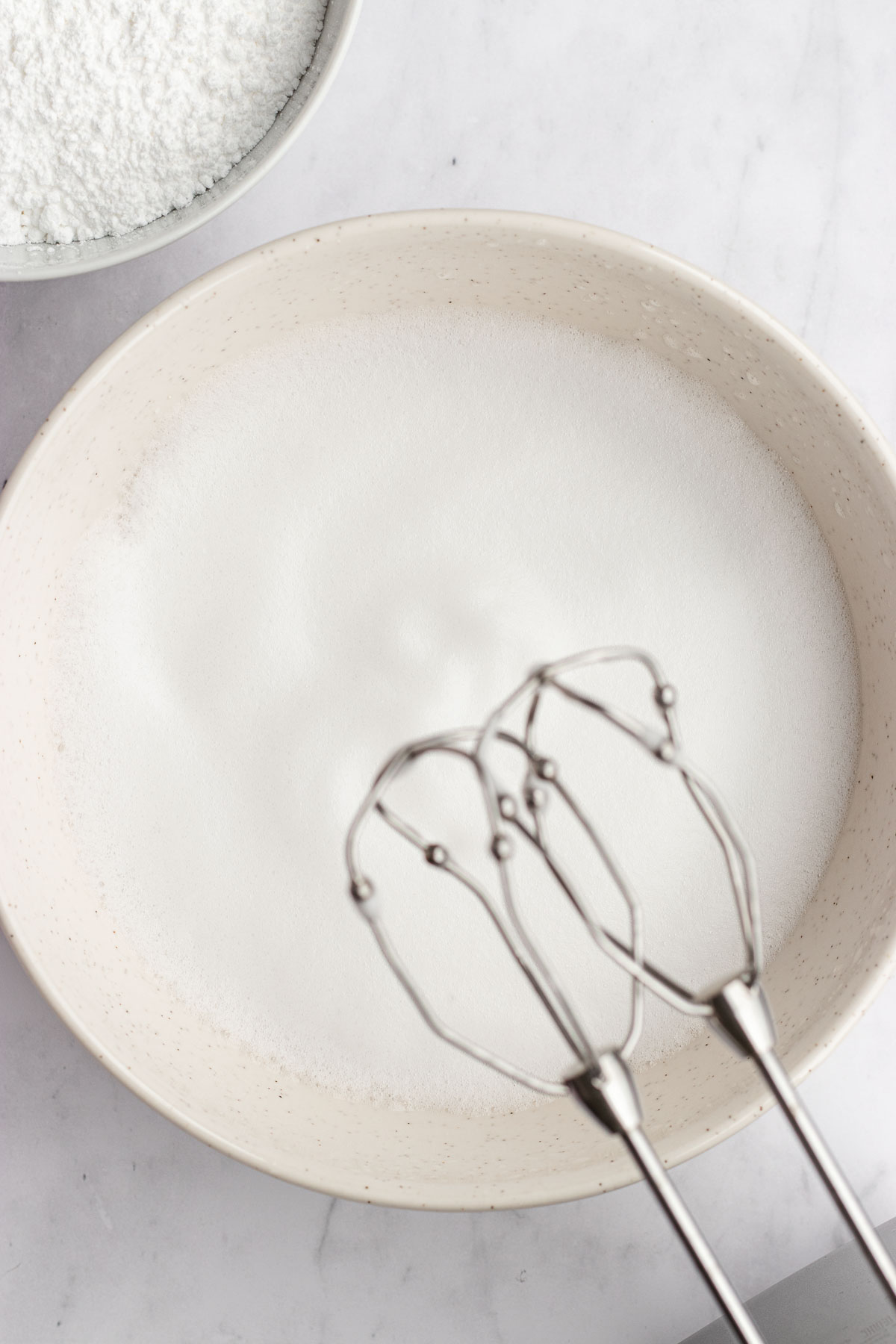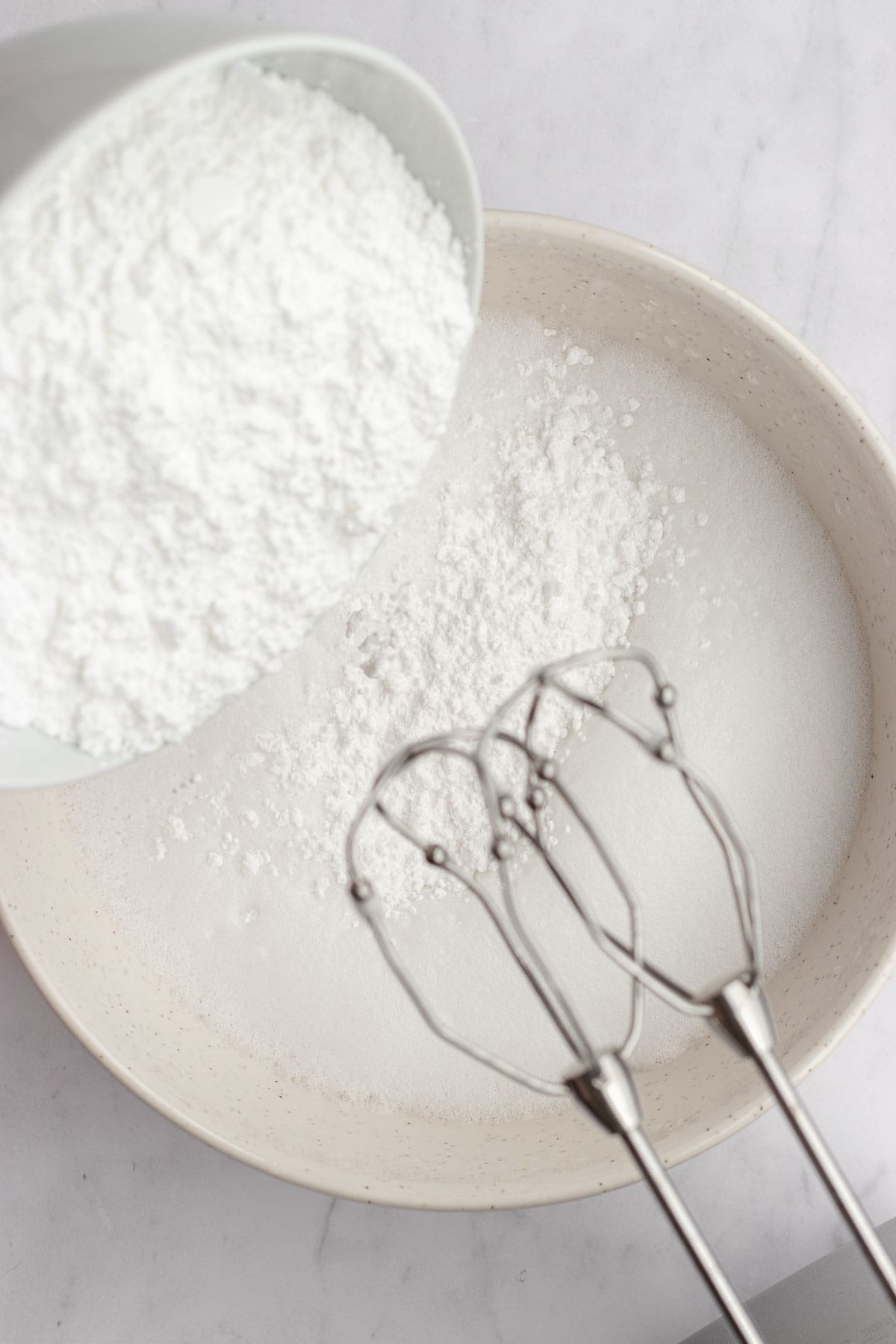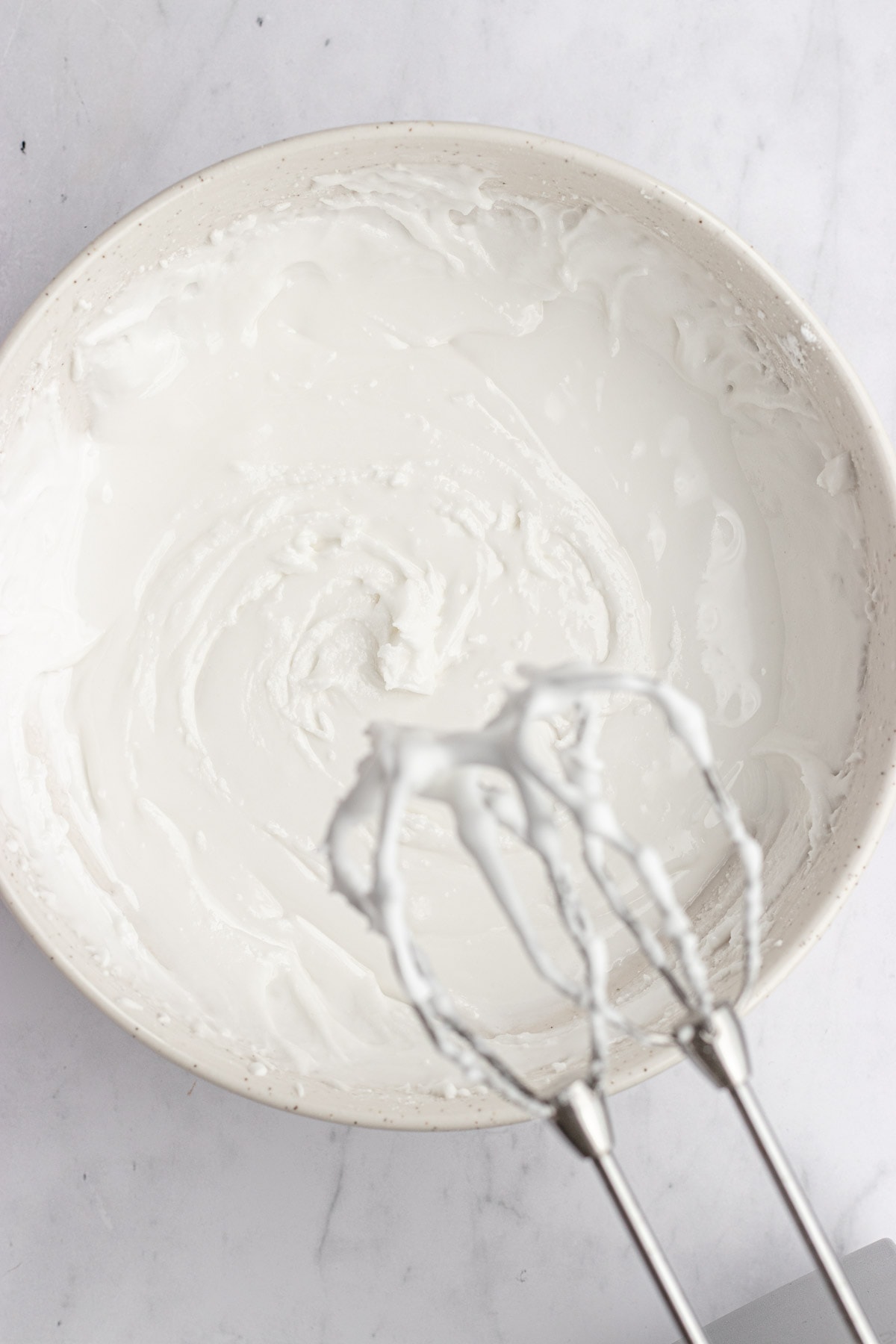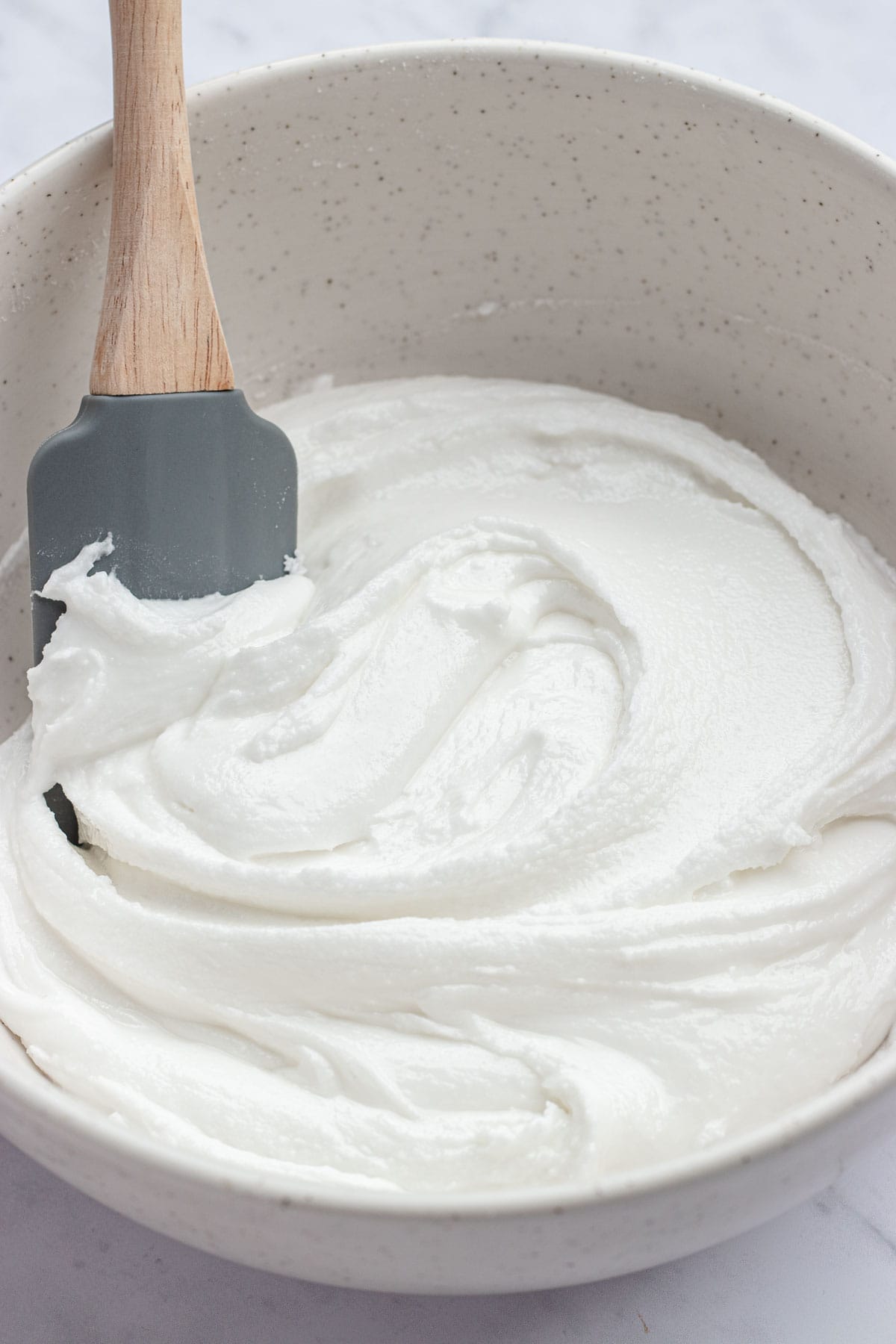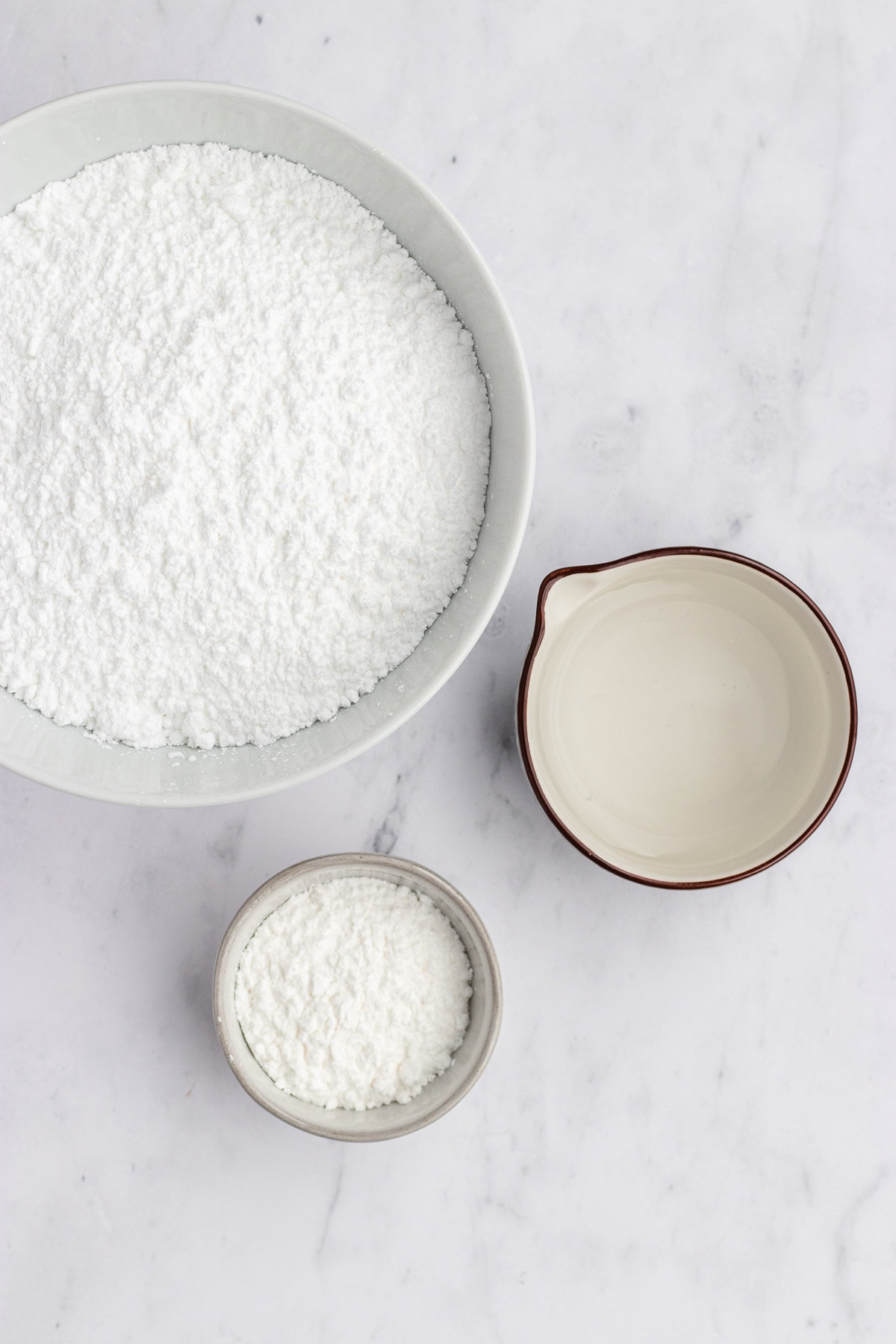 Table of Contents
About Our Royal Icing Recipe
While it makes a perfect topping for cookies because of how it hardens, Royal Icing is also great for cake decorating. You can do basic piping designs, or make intricate royal icing decorations, like flowers to place on the dessert for a special occasion. Over the holidays, you can also make royal icing for gingerbread houses. The white icing is easy to pipe into decorations for a beautiful gingerbread house, and it all hardens to stay together nicely.
You'll have this basic icing done in practically no time. The only ingredients you need are meringue powder, powdered sugar, and water. Just whisk them into the right consistency. Then add them to cookies or cakes and give them time to harden.
"Can Royal Icing be made ahead?"
You might think that you shouldn't make Royal Icing ahead because of how it hardens over time, but that is not true at all. You can make this Royal Icing a day, or even several days ahead of time. Just be sure to keep it in a sealed, airtight container in the refrigerator until you're ready to use it. Take it out of the fridge and let it come to room temperature before you use the icing. You might need to whisk it again to make it spread or pipe more easily, but once you do it will be just like you made it fresh.
If you're using the Icing for several different treats for a party, or platter, you can make more than one batch of icing and keep it divided in the refrigerator. Make sugar cookies one day, then gingerbread men the next day, then cakes and candies another day. Take the dedicated batch of icing out to use it when you're ready.
Royal Icing Ingredients
2 tablespoons Meringue Powder: Using meringue powder makes this Royal Icing recipe so easy! Instead of having to use an egg white, the powder gets that classic Royal Icing consistency just right.
2 ½ cups Powdered Sugar: Of course, powdered sugar is essential to give the icing its sweet flavor.
⅓ cup Water: Lastly, the water thins the icing. You can add more or less as needed for the right consistency.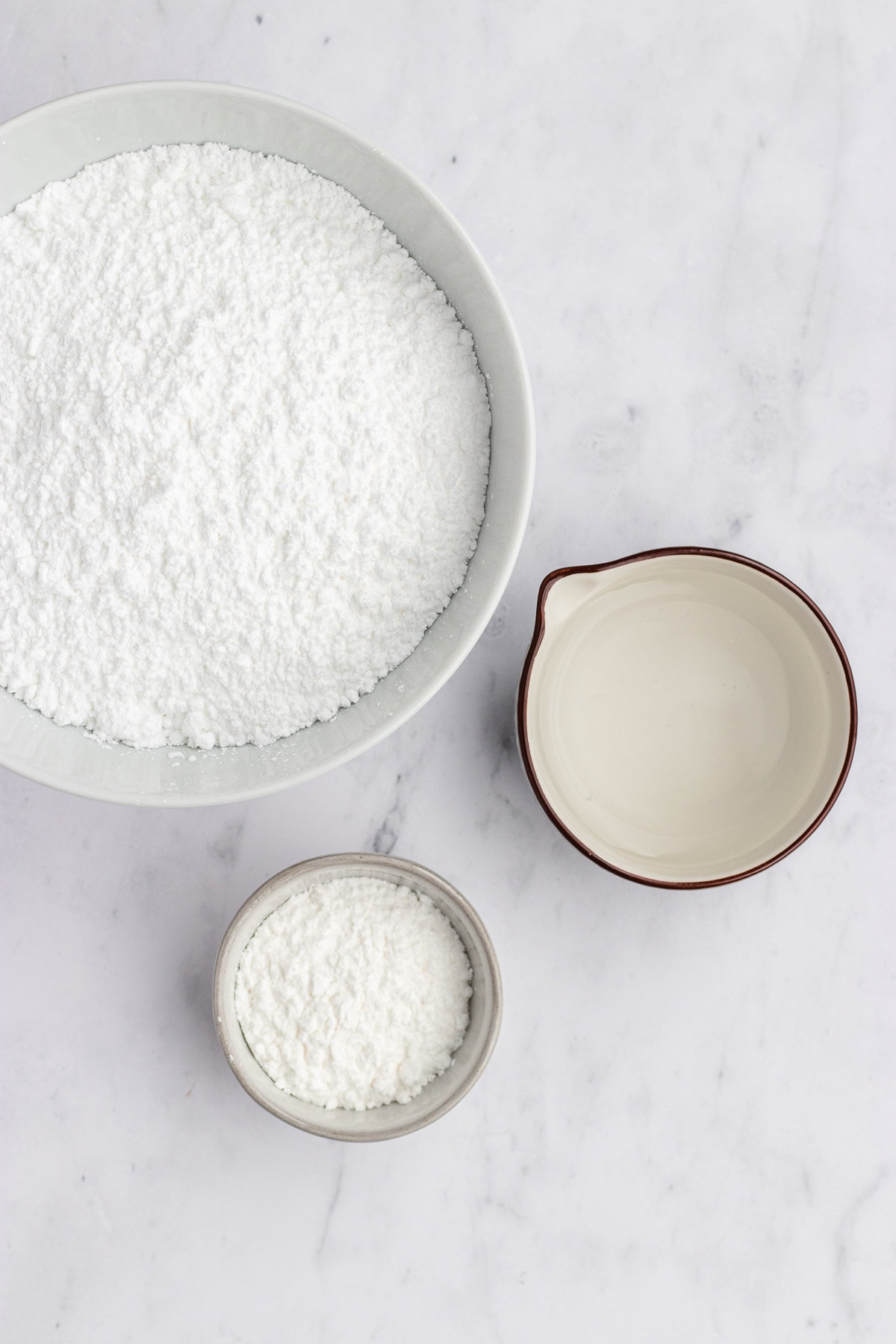 Kitchen Tools & Equipment
Electric Mixer with Whisk Attachment: Use a stand mixer to making whisking ingredients for several minutes much easier. Use an electric hand mixer if you don't have one.
Spatula or Piping Bags: You will spread the icing with a spatula, or pipe it onto your desserts with a piping bag. Use different piping tips for the shape you want.
Food Coloring and Bowls (optional): Gel food coloring works best to color frosting as it is thicker and won't change the consistency of your frosting as much. Divide the uncolored frosting into different bowls if you need more than one color. Dye each bowl of frosting as needed.
How to Make Royal Icing
Time needed: 10 minutes.
Prep

Add the meringue powder and water to your electric mixer. Add the whisk attachment.

Meringue Powder

Mix the meringue powder with the water at medium speed for 3-4 minutes. If you don't have a stand mixer, you can use an electric hand mixer and a large mixing bowl.

Powdered Sugar

Add powdered sugar to the mixture, and continue mixing at medium speed until stiff peaks form.

Finish

Finish by adding more water for thinner icing as needed for the perfect consistency. Then frost cookies or cakes. You can divide the bowl of icing into a few separate bowls. Add food coloring to the white icing to make as many colored frosting varieties as you want.
Nutritional Facts
Nutrition Facts
Royal Icing
Amount Per Serving
Calories 70
% Daily Value*
Fat 0.01g0%
Polyunsaturated Fat 0.002g
Sodium 4mg0%
Potassium 0.4mg0%
Carbohydrates 18g6%
Protein 0.01g0%
Vitamin A 0.05IU0%
Calcium 0.4mg0%
Iron 0.1mg1%
* Percent Daily Values are based on a 2000 calorie diet.
Recipe Tips & Tricks
Follow these tips and your Royal Icing will be your crowning achievement.
Warm Water

Use water at least at room temperature, or warmer for this, to help it incorporate with the meringue powder.

Piping Tips


If you want to use the icing to pipe decorations onto cake or cookies, transfer frosting to a piping bag. If you don't have a piping bag, just use a ziplock bag and cut a small hole in one bottom corner of the bag to pipe your icing. To make basic shapes, you can make piping designs directly on the dessert. For more elegant designs, lay parchment paper on a flat surface. Then you can pipe royal icing flowers, or other intricate designs onto the paper. You can get a set of piping tips in multiple shapes at your local craft store. Give the icing decorations 10-12 minutes to harden before you place them on the dessert.

Food Coloring

Use gel food coloring to add more color to your Royal Icing without changing the consistency and making it too runny. Keep an eye on your icing after you add the food coloring, no matter which one you choose. Make sure the consistency stays the same after you add coloring, and if it looks more runny, whisk in a bit more powdered sugar. If your icing is too stiff, mix in just a few drops of water at a time until it loosens up.
How to Store Royal Icing
Serve: After mixing it together, you can store Royal Icing at room temperature for up to 2 weeks. Make sure to tightly cover it with plastic wrap, or put it in an airtight container.
Store: Alternatively, if you have leftover icing to save for later, you can store it in the fridge. This is great to keep the icing out of the way, and it will also last for 2 weeks.
Freeze: You can also freeze Royal Icing for 6 months. Then when you're ready to use it, let it thaw in the fridge, and whisk it to bring it back to the right consistency.
Ideas to Serve Royal Icing
The obvious choice is to use your icing on Gingerbread Cookies or Christmas Sugar Cookies, however don't forget that sugar cookies are fun and delicious any time of the year. Valentines Day sugar cookies in heart shapes, Easter sugar cookies in egg and chick shapes, St. Patrick's Day sugar cookies in clover shapes all come to mind. Sugar cookies in the summer shaped like watermelon, suns, or sunglasses emojis would be a fun treat to serve.
Pipe cute shapes onto parchment to top your cupcakes. You can pipe initials to customize individual desserts to celebrate a birthday. You can even add a layer of icing or icing decorations on top of Cookie Bars, Candy Bark, a Fudge Wreath, or Rice Krispies Treats. 
FAQs for Royal Icing
What is meringue powder?
Meringue powder replaces the need for fresh, raw egg whites in your recipes. It is useful when making a light, fluffy, whipped meringue, and especially for Royal Icing. It is essentially dried egg whites with a couple extra ingredients like a little bit of sugar. You will reconstitute the egg whites with water in the recipe.
How is Royal Icing different from other icings and frostings?
Royal Icing is quite different than classic frostings like Buttercream and Cream Cheese Frosting. Instead of the soft fluffy texture, Royal Icing hardens into more of a stiff icing because of the meringue ingredient. However, it is still perfectly sweet and not so hard that it's unpleasant to bite into.
Recipe Card


Ingredients
2

tablespoons

meringue powder

1/3

cup

warm water

2 1/2

cups

powdered sugar
Instructions
To a stand mixer add the meringue powder and water, mix on medium speed for

3-4 minutes.

Add in the powdered sugar and continue to mix on medium speed for

2-3 minutes

until the mixture holds stiff peaks.

Add gel colors of your choosing and if you need to thin for thin piping add small amounts of water at a time.
Nutrition
Calories:
70
kcal
|
Carbohydrates:
18
g
|
Protein:
0.01
g
|
Fat:
0.01
g
|
Saturated Fat:
0.001
g
|
Polyunsaturated Fat:
0.002
g
|
Sodium:
4
mg
|
Potassium:
0.4
mg
|
Fiber:
0.1
g
|
Sugar:
16
g
|
Vitamin A:
0.05
IU
|
Calcium:
0.4
mg
|
Iron:
0.1
mg
Royal Icing Variations
Vanilla Extract: You can add a little more flavor to the Royal Icing recipe by using flavored extract. Vanilla extract is the most obvious one to use and it tastes wonderful. Make sure you don't use too much, or it will quickly overwhelm the icing. ½ teaspoon should be plenty.
Almond Extract: A little almond extract is another way to add a little more interest to the flavor of the icing. Almond extract will be especially delicious if you're icing cookies, as it has that subtle almond almost a bit of a cherry flavor
Lemon: If you want a fresher taste, whisk a few drops of fresh lemon juice into the icing along with the water. You can even top the dessert off with a little lemon zest for extra lemony flavor. This would be a refreshing pairing on gingerbread cookies, or some summery sugar cookies paired with lemonade or tea.
Related Posts