Slow Cooker Thai Peanut Chicken is an easy weeknight meal made with coconut milk, lime juice, peanut butter, ginger and garlic. Skip the delivery!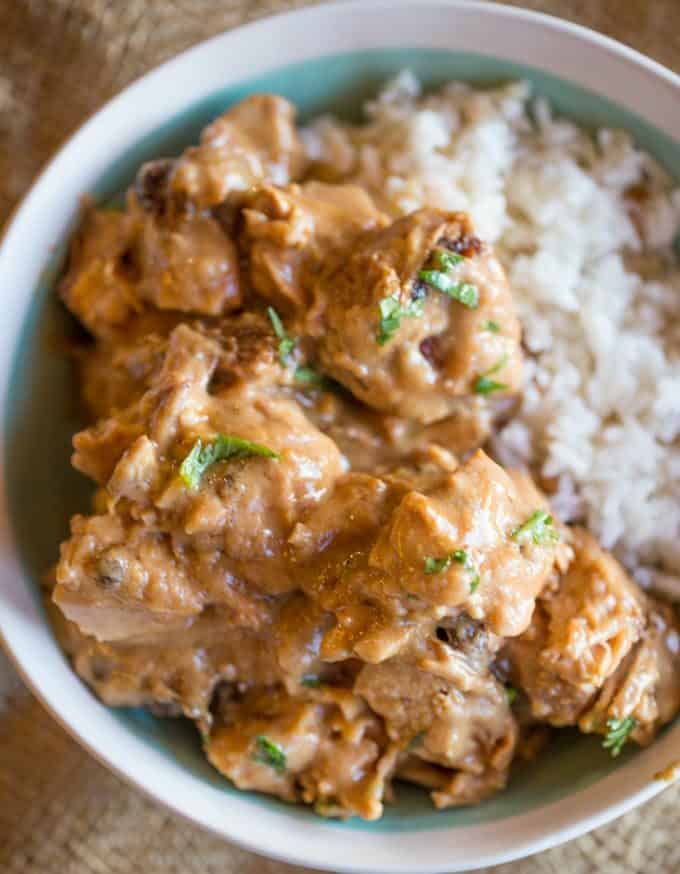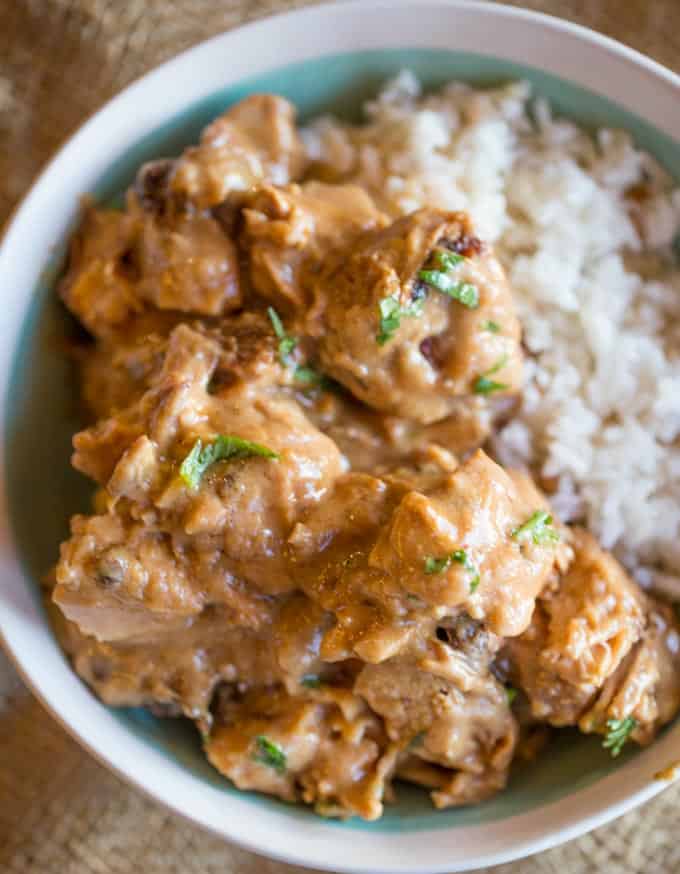 Slow Cooker Thai Peanut Chicken is one of our favorite meals because the kids love it so much. I find that any time I can add peanut butter to dinner that doesn't include a sandwich we tend to be happier as a whole family unit because a huge pet peeve of mine is making multiple meals. It happens more than I would care to admit, but on nights when I make something everyone will happily eat I feel a lot more at peace.
This recipe is the slow cooker equivalent of the Sheet Pan Peanut Chicken and Vegetables I posted last week. In the less than ten days since it was posted I got more than a dozen emails asking for a slow cooker version of the recipe. I love this about you guys, you know exactly where I am headed with recipes! I replied saying it was already scheduled for today and you guys were so excited. This brings me to one of my favorite things about how engaged you all are.
If you ever want to see a recipe on the site or have a favorite you're looking for, please email me! I am totally open to hearing what you guys want to see more of (and yes I know the following: Bacon, Oreo everything and slow cooker). You can email me at contact @ dinnerthendessert.com. By the way, I just want to say how much I love you all and your love for all things bacon, 6 of the top ten recipes on the site have bacon in them!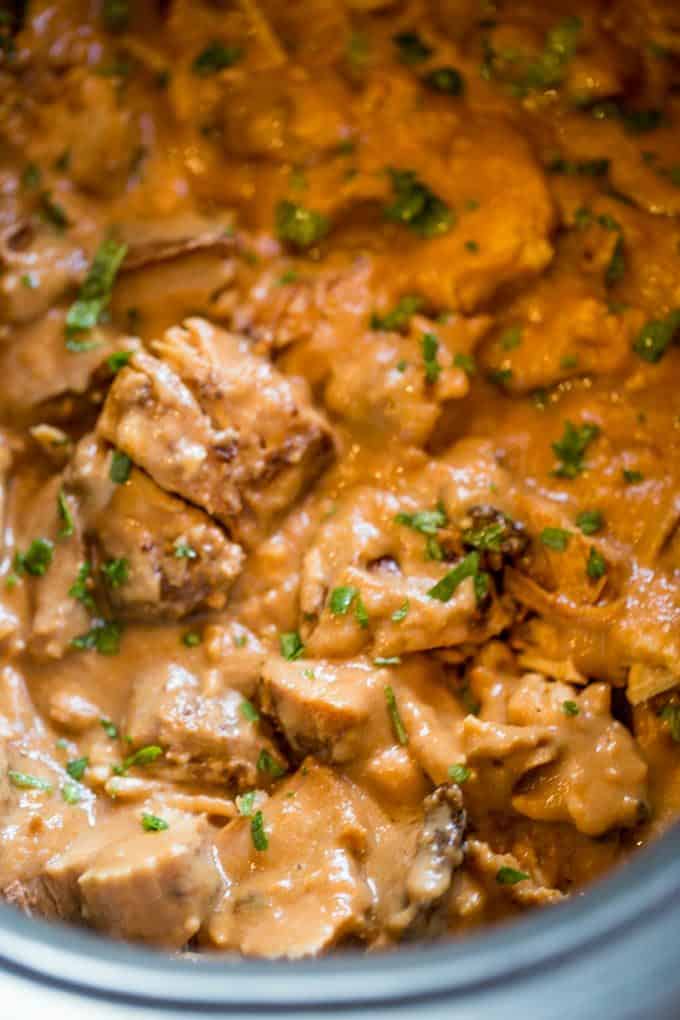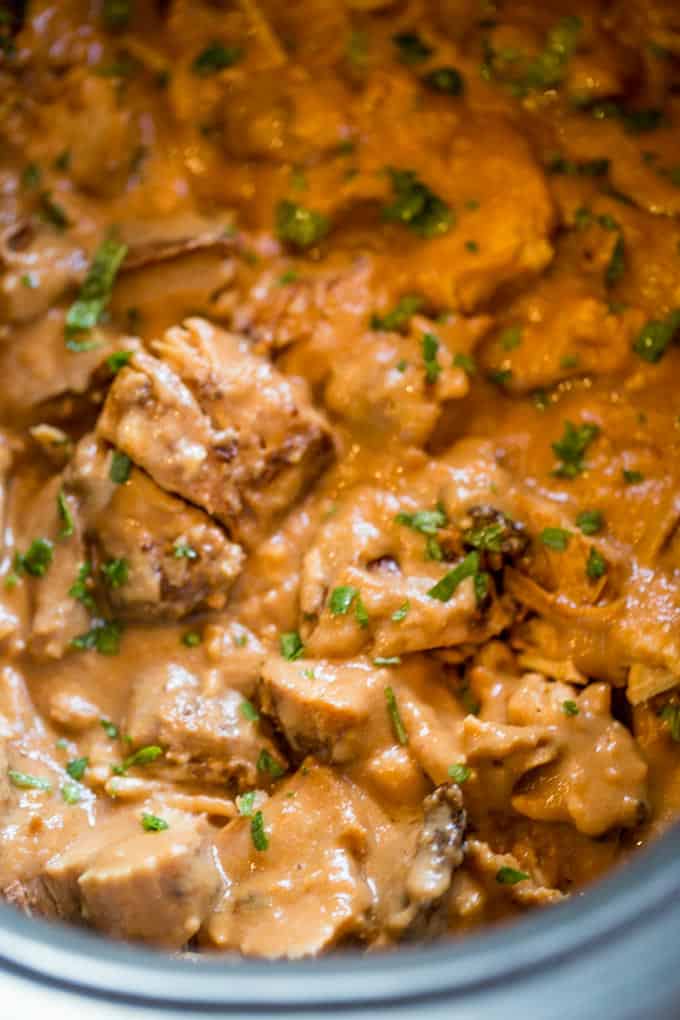 This Slow Cooker Thai Peanut Chicken intentionally calls for only a half a can of coconut milk because every time we make this we use the leftovers in our rice. What we do is cook our rice as you would any regular rice, but replace some of the water with the rest of the coconut milk and usually whatever lime juice is left in the lime we are using in the recipe. Served with some roasted Garlic and Ginger Carrots this is a meal your family will enjoy for a long time to come.
The best part of this is also that it is almost completely hands off. You start the chicken in the slow cooker and when you are about a half an hour away from dinner you put your carrots in the oven and make the rice in your favorite rice cooker. Anytime meal prep can be this passive is a win, there won't be anything cooking on your stovetop for you to watch.
Some tips and tricks for this This Slow Cooker Thai Peanut Chicken:
You can cut up the chicken and add the ingredients into a large ziploc bag/bowl the night before if you'd like then you can just put it in the slow cooker in the morning.
If you are making this fresh in the morning you can brown the chicken before cutting it up and it will add a deeper flavor.
Using chicken thighs can keep the chicken moister and allow for you to cook it longer (7-8 hours on low) if you will be away all day. I recommend boneless skinless thighs for this since the skin would add a lot of rendered fat to the sauce.
There are some pre-made garlic and ginger pastes on the market that you can keep on hand if you find that you don't want to have to keep fresh ginger and garlic in your kitchen.
You can easily make this dish on your stovetop or in your oven as well. Add the ingredients to a dutch oven and cook in the oven at 375 degrees for 30 minutes or on your stovetop (covered) on medium heat for 20-25 minutes.
Looking for more slow cooker Chicken Recipes?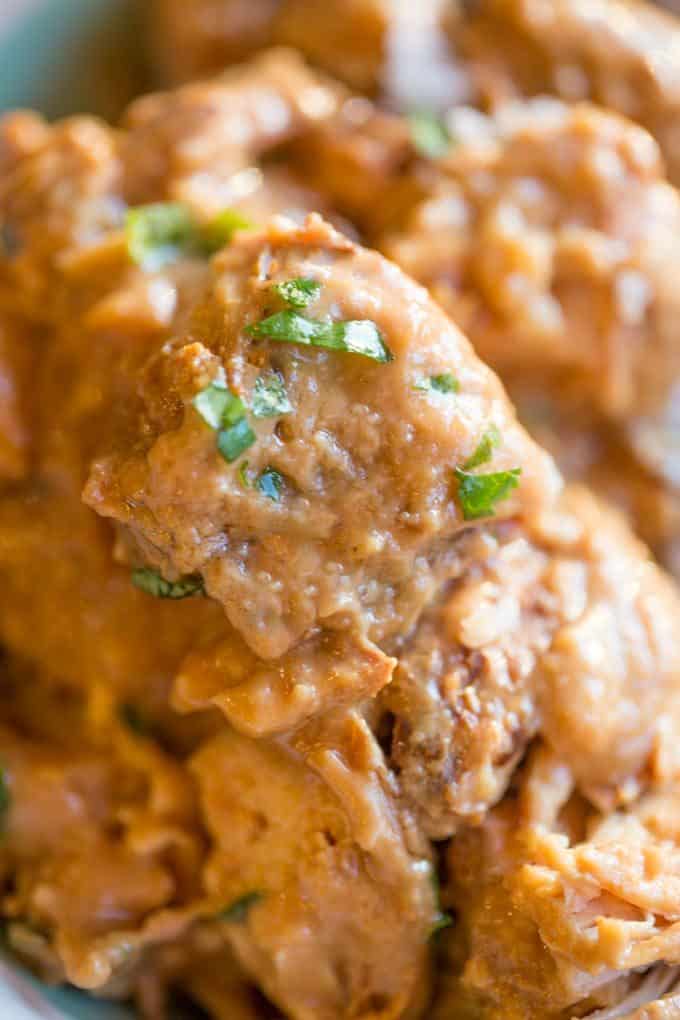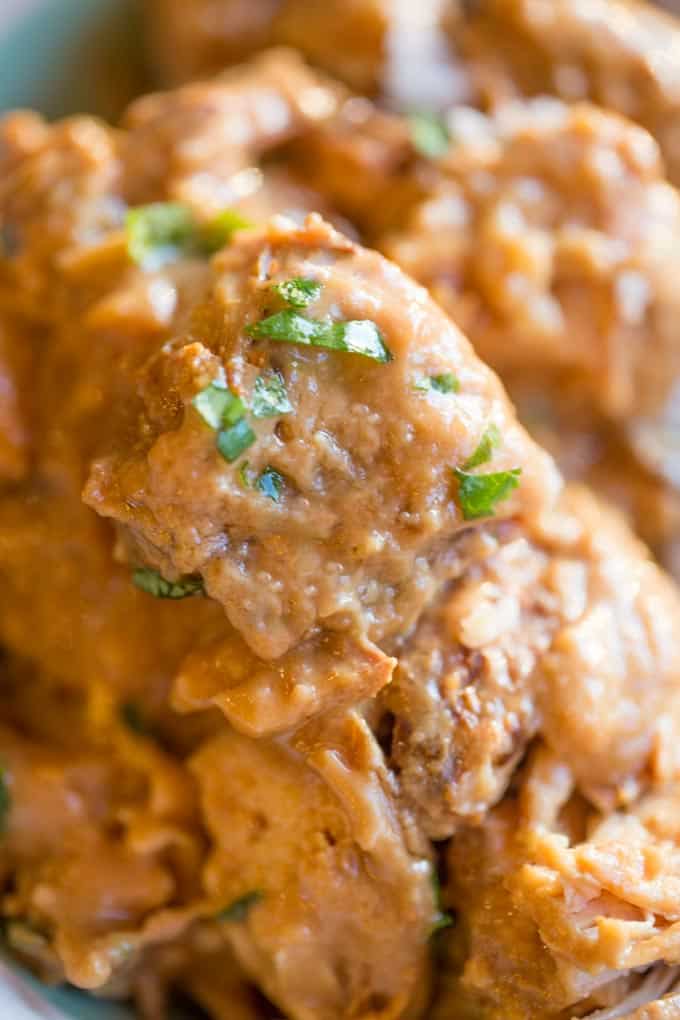 Tools Used in the making of this Slow Cooker Thai Peanut Chicken:
Low Sodium Soy Sauce – I find regular soy sauce much too salty, remember you can always add salt but you can't subtract it. Starting with low sodium allows you to alter to your tastes if necessary.
Coconut Milk: I stick to the full fat for the thickness and creaminess in the dish, if you want to stick to a lower fat alternative you may want to cook this on the stovetop as it may break the sauce in the slow cooker.
Slow Cooker: Love this slow cooker and how programmable it is, it has been a workhorse for me… until…
My New Slow Cooker: This recipe was made in this slow cooker. For larger roasts I also brown the meat in the insert and not lose a bunch of the flavor by transferring the meat and leaving the browned bits behind. If you're thinking of a new slow cooker, consider it if your budget is open.


Ingredients
1

cup

coconut milk

about a half a can

1/3

cup

creamy peanut butter

2

tablespoons

soy sauce

low-sodium

2

tablespoons

honey

1

tablespoons

rice wine vinegar

1

tablespoon

ginger

peeled and minced

3

garlic cloves

minced

3

chicken breasts

boneless and skinless

2

tablespoons

cornstarch

mixed with 2 tablespoons water

1

tablespoon

lime juice

Optional garnishes: chopped peanuts

cilantro or green onions
Instructions
To a 6 qt slow cooker, add the coconut milk, peanut butter, soy sauce, honey, rice wine vinegar, ginger, garlic, and stir until combined.

Cut the chicken breasts into one inch chunks and add to the slow cooker.

Cook on low for

4-5 hours

.

Add the lime juice and cornstarch/water mixture to the slow cooker and stir carefully.

Cook for an additional

20 minutes

until sauce is thickened.

Garnish with desired toppings like chopped peanuts, cilantro or green onions (or all three!).
Nutrition
Calories:
326
kcal
|
Carbohydrates:
13
g
|
Protein:
29
g
|
Fat:
18
g
|
Saturated Fat:
9
g
|
Cholesterol:
72
mg
|
Sodium:
537
mg
|
Potassium:
612
mg
|
Sugar:
7
g
|
Vitamin A:
35
IU
|
Vitamin C:
3
mg
|
Calcium:
21
mg
|
Iron:
2.1
mg