Easy Spanish Beef and Rice Skillet is a quick hearty skillet meal with tender rice and ground beef simmered in a flavorful tomato sauce.
This easy one-pot Spanish Rice skillet is the perfect Dinner for busy weeknights. For more tasty all-in-one meal recipes, try One Pot Greek Chicken and Rice and Spanish Olives Chicken and Rice skillet.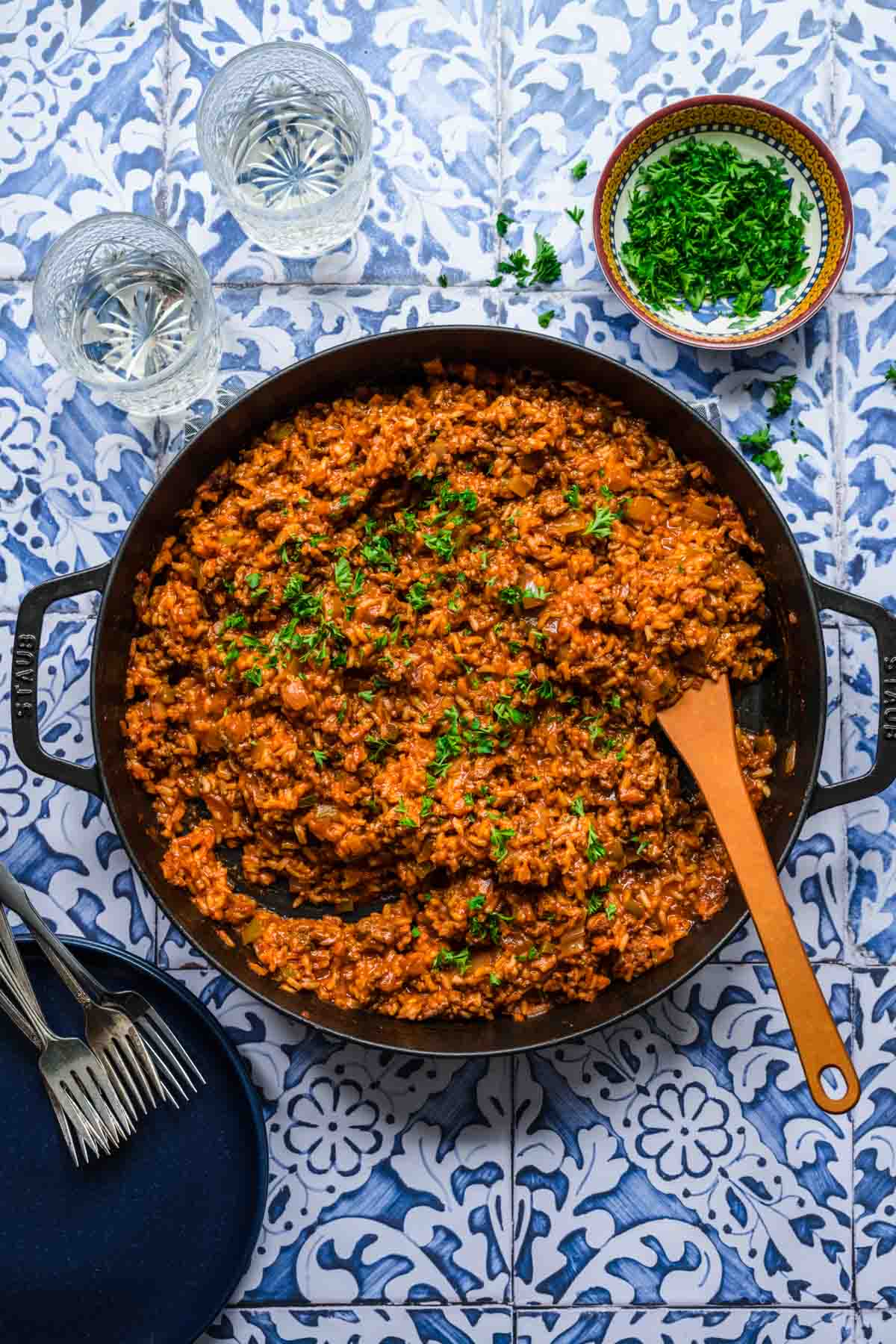 If you are looking for a quick family meal that is full of flavor, you are going to love this delicious beef and rice dinner. It is such a simple recipe with only a handful of ingredients that you probably already have in your kitchen. With inexpensive ingredients and mild spices, it's an economical, family-friendly meal that you'll be whipping up anytime you need a flavorful family favorite fast!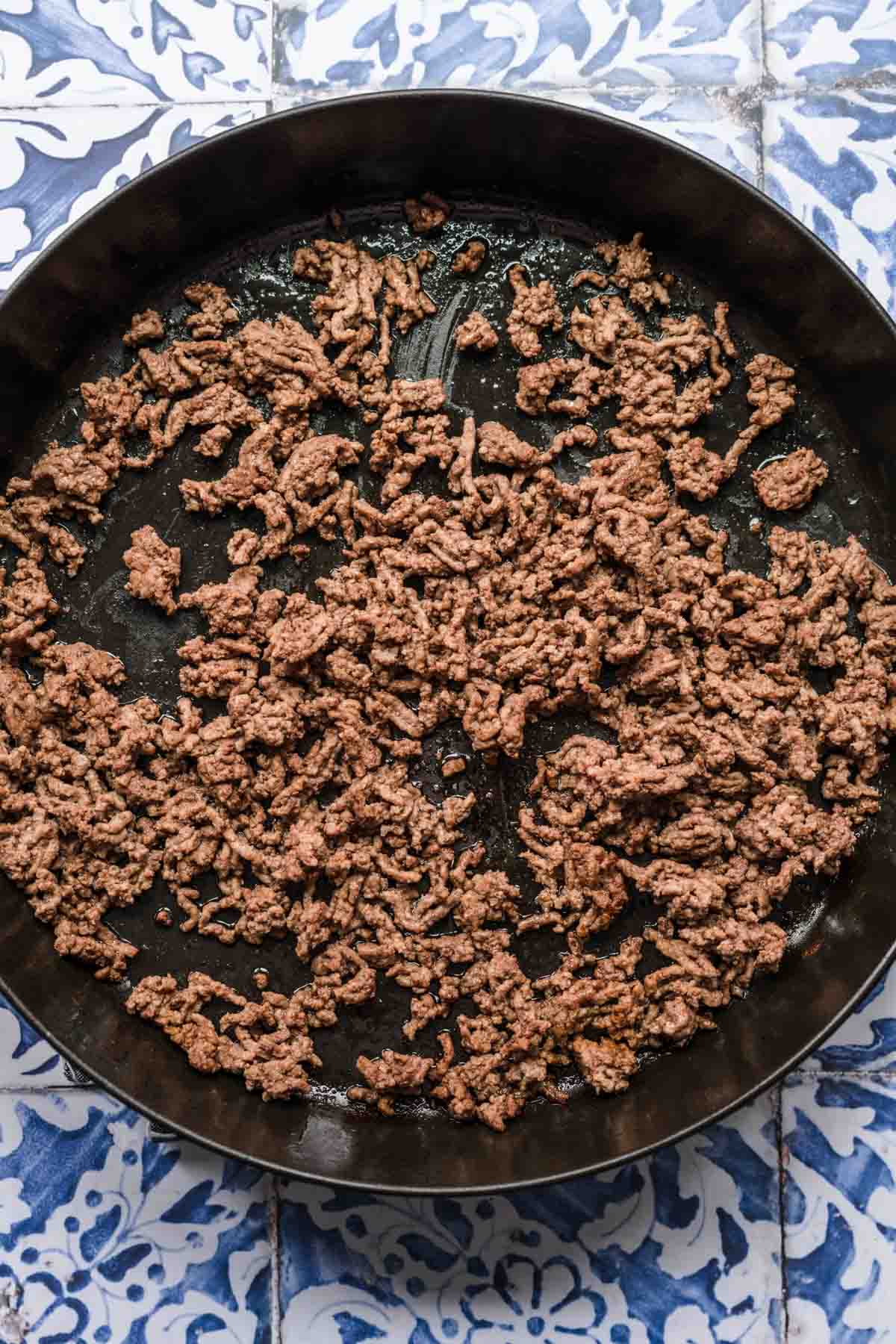 This Spanish Rice and Beef Skillet is a one-pan meal made with super basic ingredients in no time at all. It starts with ground beef and white rice, then you add some onions, bell peppers, and fresh garlic to build some aromatic depth. Some mild chili powder and tomato juice make a simple yet tasty sauce that gets soaked into the rice so it's full of Spanish flavor.
The best part of easy dinners like Spanish Beef and Rice is that it's a complete meal in one pan. All you need is some favorite toppings like sour cream, avocado, Salsa, or Guacamole. You can also crumble some tortilla chips over the top and sprinkle on shredded cheese. The beef and rice mixture would also make delicious burritos either that night or as a way to use up leftovers!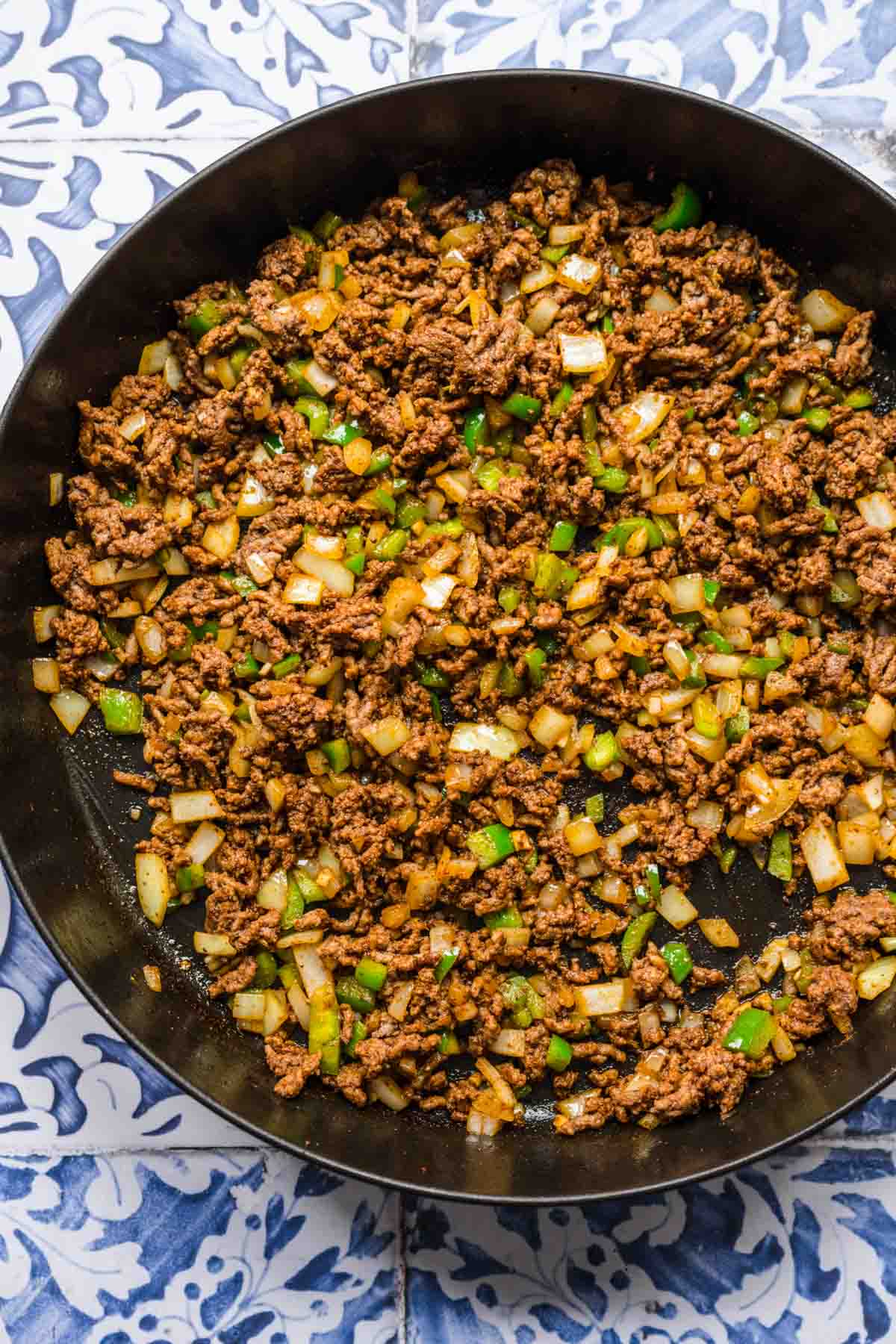 What's the difference between Spanish Rice and Mexican Rice?
Spanish rice typically includes sauteed onions, garlic, and tomatoes cooked with rice and various seasonings like saffron or paprika. Mexican rice, on the other hand, often includes onions, garlic, and tomatoes cooked with rice and is flavored with spices like cumin and chili powder, giving it a more robust and spicy taste compared to Spanish rice.
How to Make Spanish Beef and Rice
Brown Beef: Add the ground beef to a large skillet. Cook the meat over medium heat until it's browned on all sides. Then drain excess grease off the top.
Saute Veggies: Add the onion, bell pepper, garlic, and chili powder. Then cook until the vegetables are tender, using a wooden spoon to stir until they're done.
Cook Rice: Add the tomato juice, uncooked rice, and salt. Stir the ingredients together, and bring the tomato juice to a boil. Then reduce heat. Cover the skillet and continue to simmer the rice dish over low heat until the rice is tender and cooked through.
Delicious Veggie Sides for a Skillet Dinner
FAQs for Spanish Beef and Rice
What meat goes best with Spanish rice?
There are several meats that pair well with Spanish rice. Some popular options include chicken, beef, and shrimp. The choice of meat largely depends on personal preference, but chicken and beef are commonly used in traditional Spanish rice dishes, providing hearty and flavorful protein to complement the flavors of the rice and seasonings.
Why is my rice hard? 
Rice can become hard if it is not cooked long enough or if there is not enough liquid in the pan. It's important to keep the lid on the pan the whole time so the liquid gets absorbed fully and doesn't evaporate. If the rice is still hard after the cooking time, give it a stir, remove from heat and leave covered for another 5-10 minutes.
Is Spanish rice a type of rice?
No, Spanish rice is not a specific type of rice. Instead, it refers to a style of preparing rice that is commonly found in Spanish and Mexican cuisine. Spanish rice is typically seasoned and cooked with various ingredients, such as onions, garlic, and tomatoes, to impart flavor and create a vibrant, savory rice dish.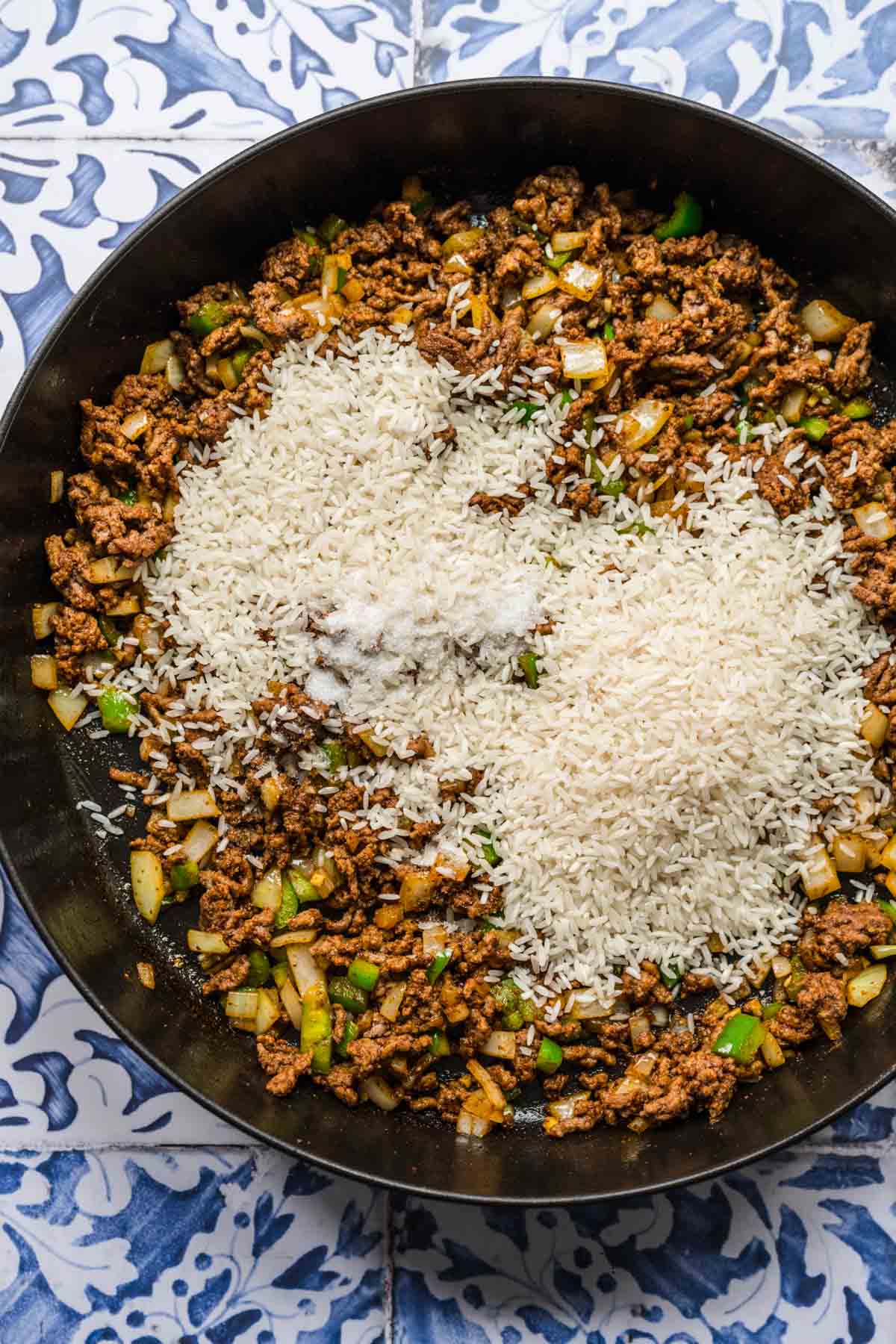 Create a free account to

Save Recipes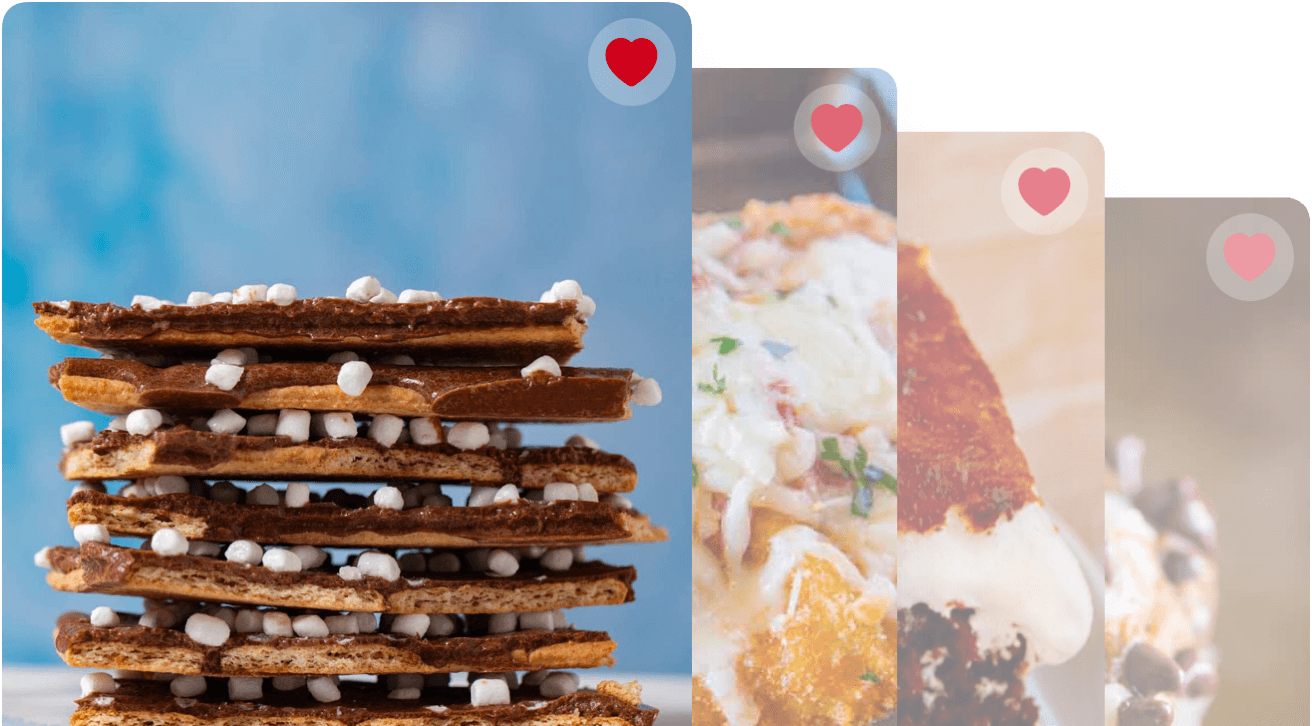 Key Ingredients
Ground Beef: The ground beef is easy to cook, absorbing the seasonings, and blends easily with the rice and Spanish flavors in the sauce for a delicious hearty skillet dinner.
Rice: For this rice dish, you can use any kind of long-grain white rice. It gets cooked in the tomato juice in the same pan as the meat and veggies so it's flavorful and you only need one pan.
Veggies: Along with the beef and rice, this skillet has tender fresh veggies for an all-in-one dinner recipe and to add depth. The green bell pepper and onion have a natural sweetness along with some garden flavor.
Tomato Juice: The tomato juice acts as the primary liquid that the rice absorbs to cook. It makes wonderful, fluffy rice with a bolder flavor than cooking in plain water or chicken broth.
Seasonings: This tasty rice skillet gets delicious Spanish flavor from minced fresh garlic, chili powder, and salt. The chili powder adds a warm, slightly smoky flavor and the fresh garlic is pungent and aromatic.
Can you make Spanish Beef and Rice ahead of time?
Yes, you can make Spanish Beef and Rice ahead of time. You can either refrigerate it for up to 4 days or you can cool it and freeze it for up to 3 months for a quick freezer meal later on. Once the rice and beef skillet is cooked and chilled, store it in a freezer-safe baking dish. You can reheat it from frozen in the oven or thaw first and bake until hot.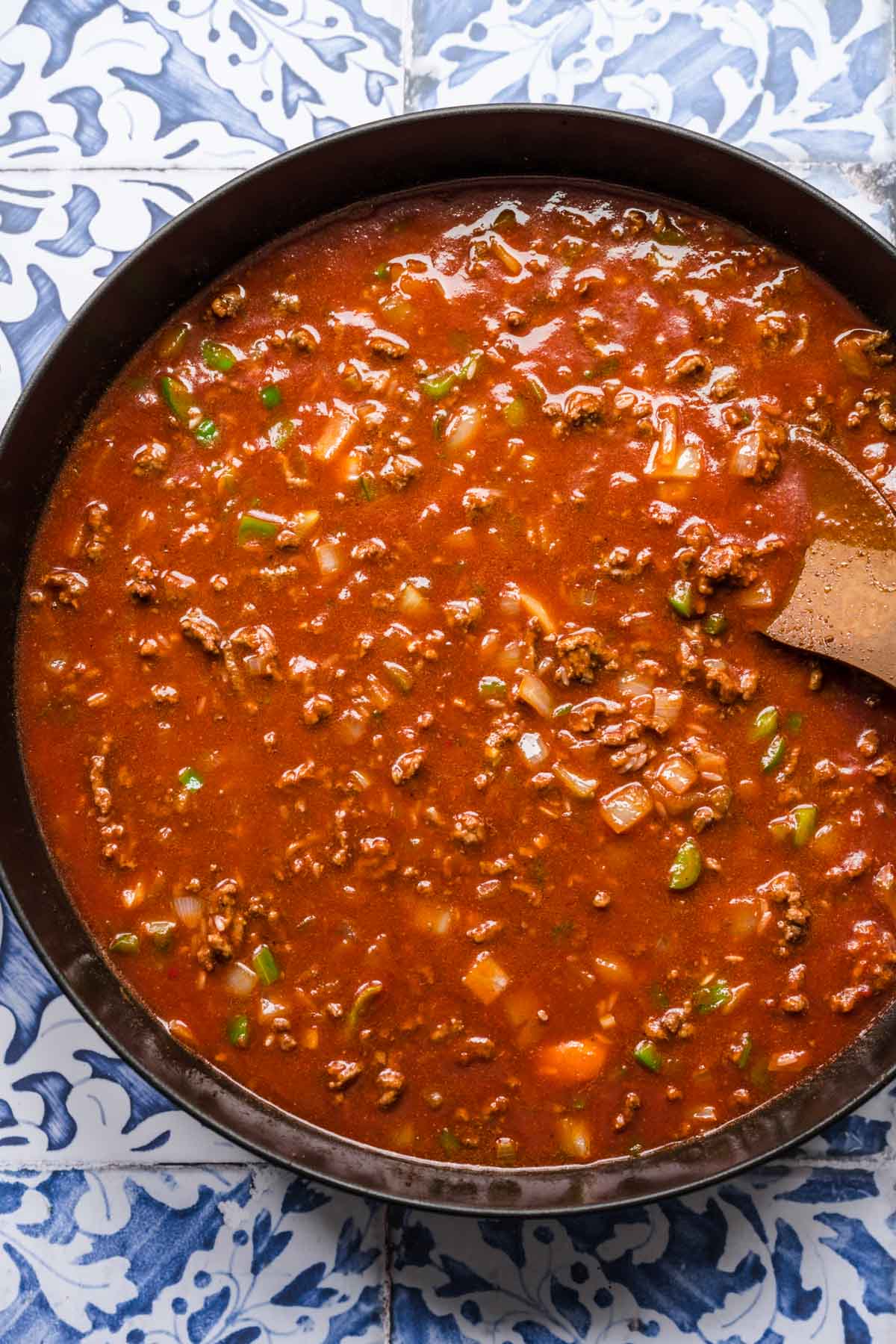 Variations
Cheesy: Add some shredded cheddar cheese for a comforting, melty cheesy rice dish. During the last 5 minutes sprinkle the cheese over beef and rice then cover and continue to cook until the dish is finished and the cheese is bubbly and melted.
Beans: An easy way to make this recipe more filling and protein-packed is by adding in some canned black beans, pinto beans or kidney beans. Drain the canned beans, and add them to the skillet during the last few minutes of cooking.
Vegetables: There are lots of delicious veggies that you can add to this recipe. Try mixing in ½ cup corn kernels, diced tomatoes, zucchini, or red bell pepper.
Seasonings: To add extra flavor to the dish, you can add some cumin, oregano, parsley, paprika, black pepper, or even Taco Seasoning.
Chilies: Give this skillet more of a south-of-the-border taste by adding green chilies. For a spicy heat, add some cayenne pepper or fresh jalapenos.
Healthy: You can make this a healthier skillet by using brown rice and either ground turkey or lean ground beef. The brown rice will take a bit longer to cook and you may need to add up to ½ cup chicken broth or tomato juice.
Slow Cooker Spanish Beef and Rice
Brown the ground beef in a skillet and drain.
Transfer the browned beef to the slow cooker.
Add the chopped onion, green pepper, minced garlic, and chili powder to the slow cooker.
Stir in the tomato juice, uncooked rice, and salt.
Cover the slow cooker and cook on low heat for 4-6 hours or on high heat for 2-3 hours.
Stir occasionally during cooking to ensure even heat distribution.
Once the rice is tender and most of the liquid is absorbed, the Spanish Beef and Rice should be ready to serve.
Oven Baked Spanish Beef and Rice
Preheat the oven to 350 degrees.
Brown the ground beef in a skillet and drain.
Transfer the browned beef to an oven-safe casserole dish or Dutch oven.
Add the chopped onion, green pepper, minced garlic, and chili powder to the dish.
Stir in the tomato juice, uncooked rice, and salt.
Cover the dish with a lid or foil.
Place the dish in the preheated oven and bake for 45-55 minutes or until the rice is tender and most of the liquid is absorbed.
Remove from the oven and let it rest for a few minutes before serving.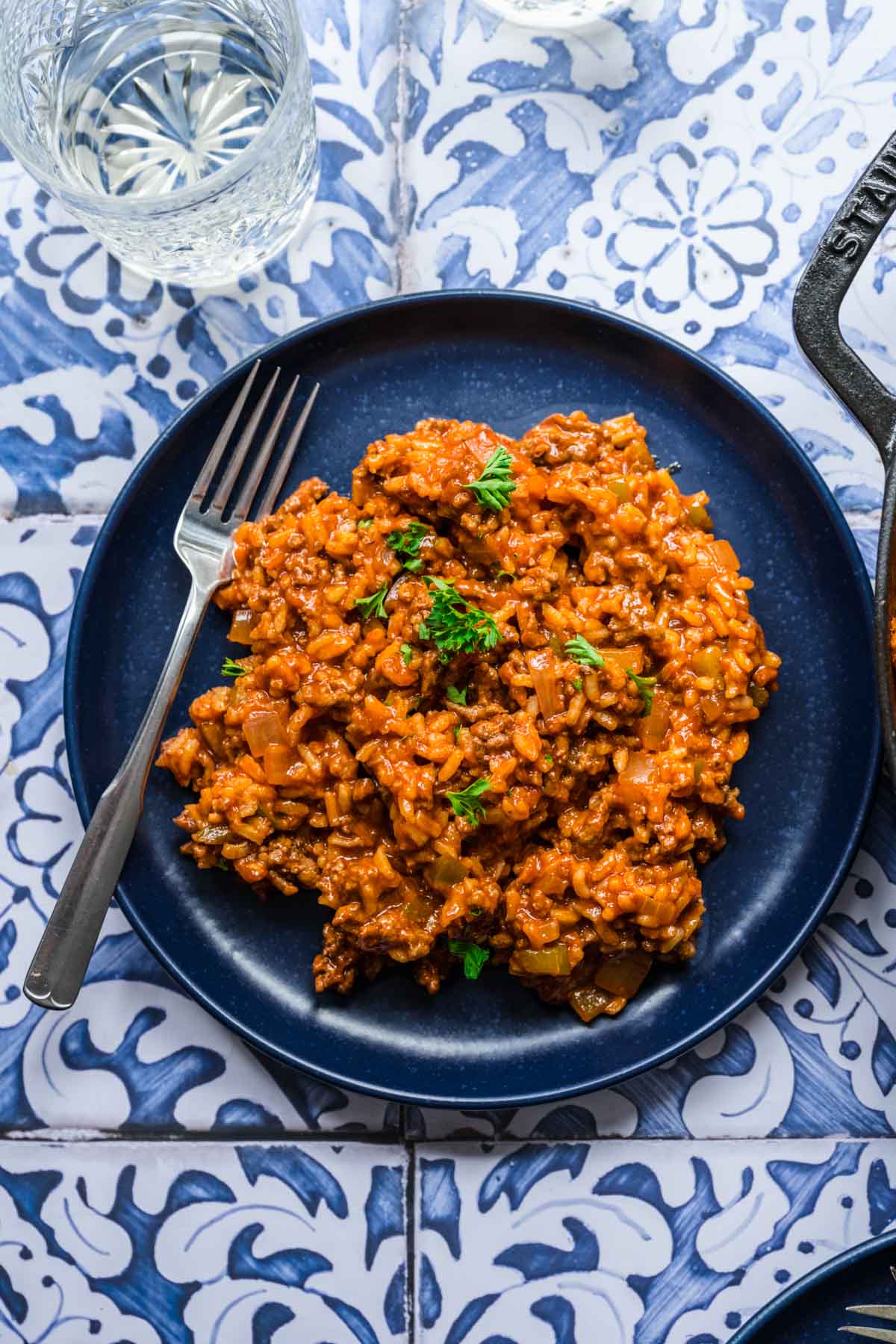 How to Store
Store: Don't leave this Spanish Ground Beef and Rice recipe out at room temperature for more than 2 hours. If there are any leftovers, let them cool then transfer the food to an airtight container. It will stay good in the fridge for 3-4 days.
Reheat: It's best to reheat this delicious Spanish Rice Skillet in a skillet over medium meat, stirring occasionally until it's heated through. You can add a splash of chicken broth if the rice is looking dry.
Freeze: You can also seal the dish in a freezer-safe container to store for up to 3 months. Let it cool completely before storing to prevent freezer burn. Thaw overnight in the fridge before reheating on the stove top.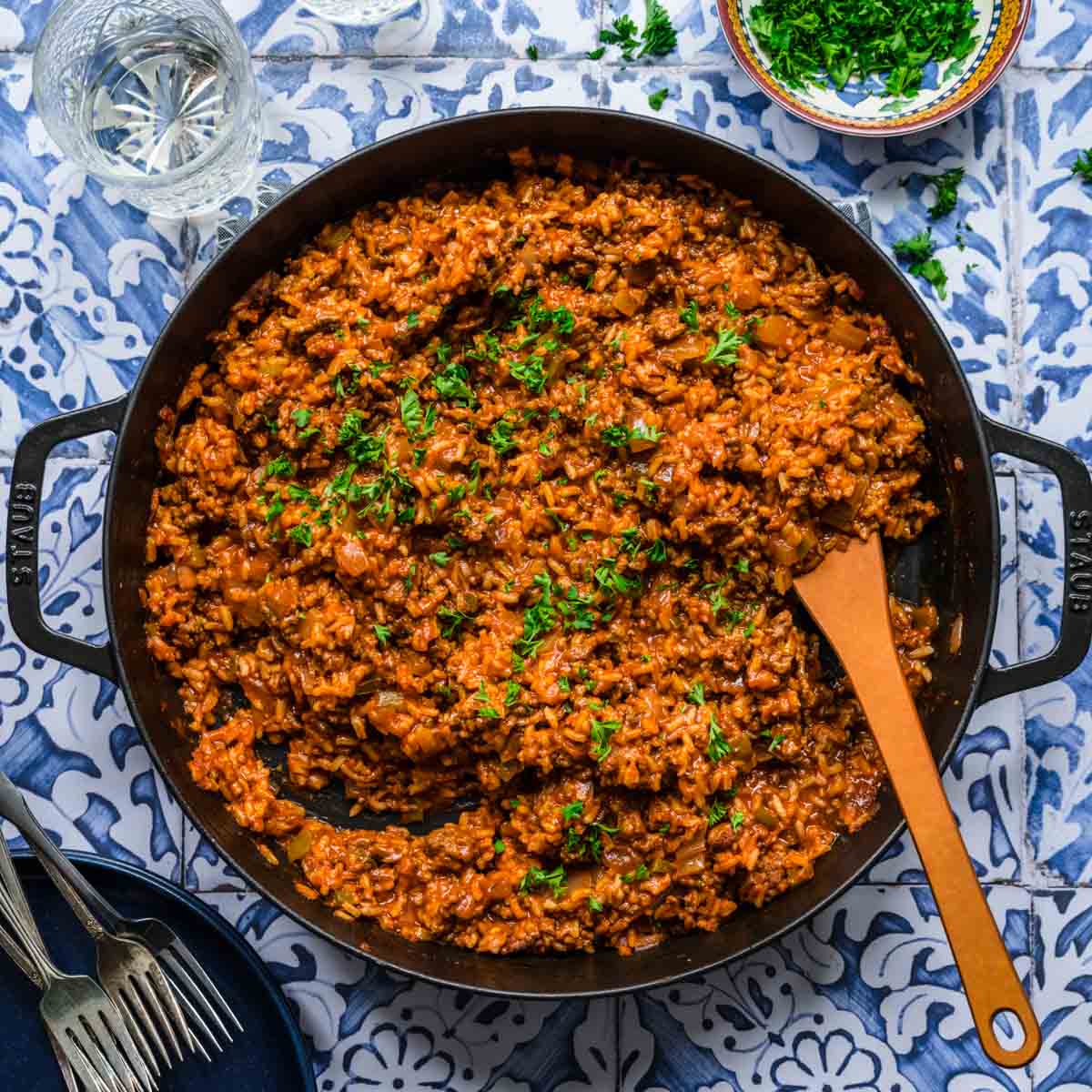 Ingredients
1

pound

ground beef

1

cup

onion

, chopped

1/2

cup

green pepper

, chopped

1

garlic clove

, minced

1

tablespoon

chili powder

32

ounces

tomato juice

1

cup

uncooked long grain rice

1/2

teaspoon

salt
Instructions
In a skillet, brown ground beef; drain.

Stir in the onion, green pepper, garlic, and chili powder.

Cook and stir until the vegetables are tender.

Stir in remaining ingredients; bring to a boil.

Reduce heat; cover and simmer for

20-30 minutes

or until the rice is tender and most of the liquid is absorbed.
Nutrition
Calories:
318
kcal
|
Carbohydrates:
35
g
|
Protein:
18
g
|
Fat:
12
g
|
Saturated Fat:
5
g
|
Polyunsaturated Fat:
1
g
|
Monounsaturated Fat:
5
g
|
Trans Fat:
1
g
|
Cholesterol:
51
mg
|
Sodium:
284
mg
|
Potassium:
693
mg
|
Fiber:
2
g
|
Sugar:
7
g
|
Vitamin A:
1122
IU
|
Vitamin C:
40
mg
|
Calcium:
48
mg
|
Iron:
3
mg