Easy Sweet Potato Muffins are a quick tasty Fall breakfast recipe. Made with brown sugar, and warm spices like cinnamon, nutmeg, and ginger.
Just like Pumpkin Muffins, these Sweet Potato Muffins are a delicious Breakfast Recipe full of cozy spices and wonderful fall flavor. Imagine all the brown sugar sweetness of Sweet Potato Pie in a tender, moist muffin!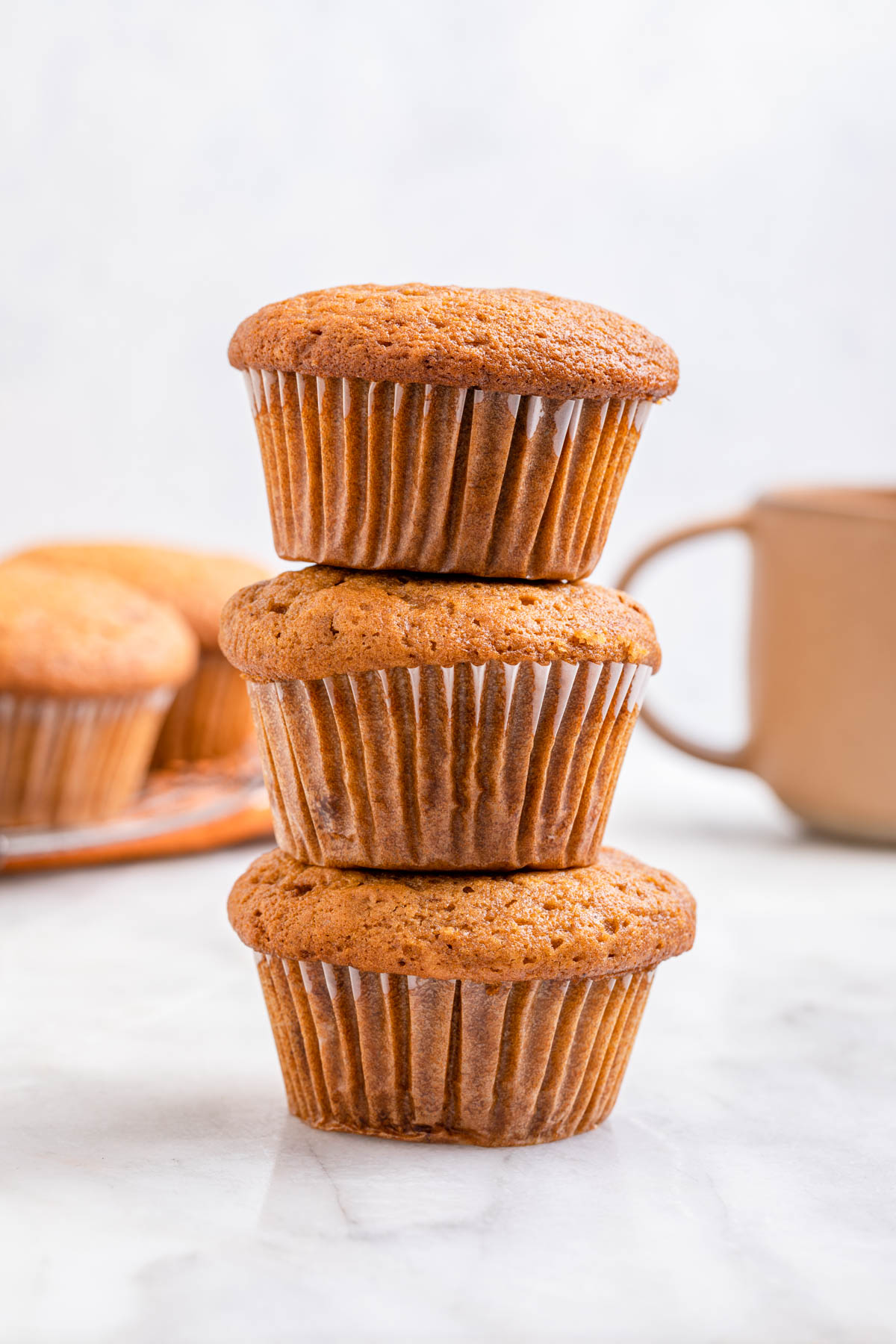 Instead of reaching for the canned pumpkin when you want to make a fall treat, why not give sweet potato a try? Sweet potato is just as flavorful as pumpkin and it makes baked goods, like Sweet Potato Bread and these muffins, super tender and moist. These easy muffins have brown sugar and warm spices added so you get all the natural sweetness from the potatoes plus tons of fall flavor too!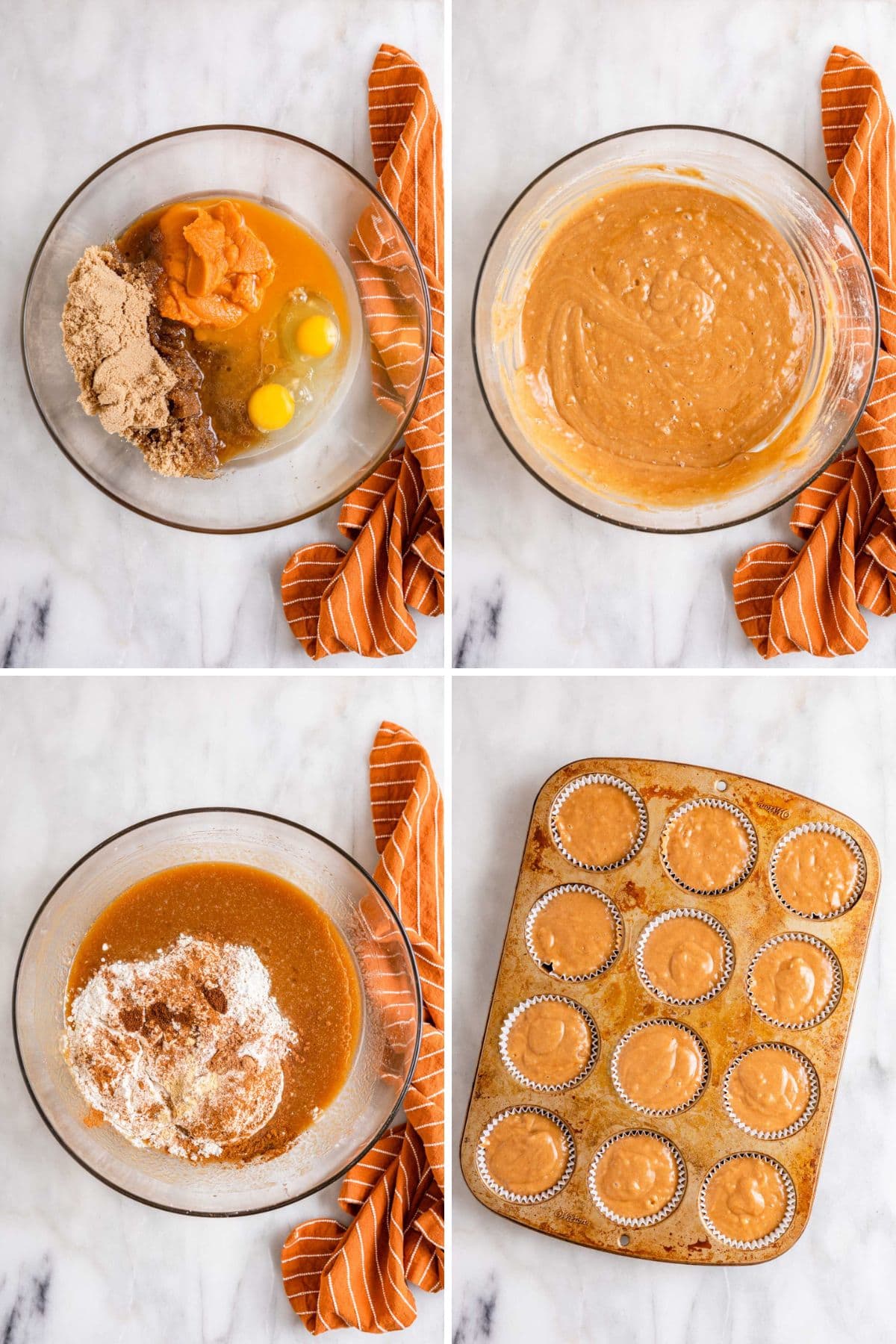 The main ingredient in these amazing muffins is of course sweet potato puree which you can usually find with the canned pumpkin or in the veggie aisle. You could get whole canned potatoes and blend them up or even roast sweet potatoes yourself. Use this easy Baked Sweet Potatoes recipe and peel them before blending until super smooth. Just make sure to drain any excess liquid if you are making your own puree so your muffin batter isn't too wet!
If you are hesitant to incorporate sweet potatoes into baked goods other than pie, there are plenty of reasons you should give it a chance. Firstly, it's delicious! Sweet potatoes add extra moisture, sweetness, and flavor to everything they're baked in. Their distinct and tasty flavor makes for an extra sweet treat without adding in any extra sugar.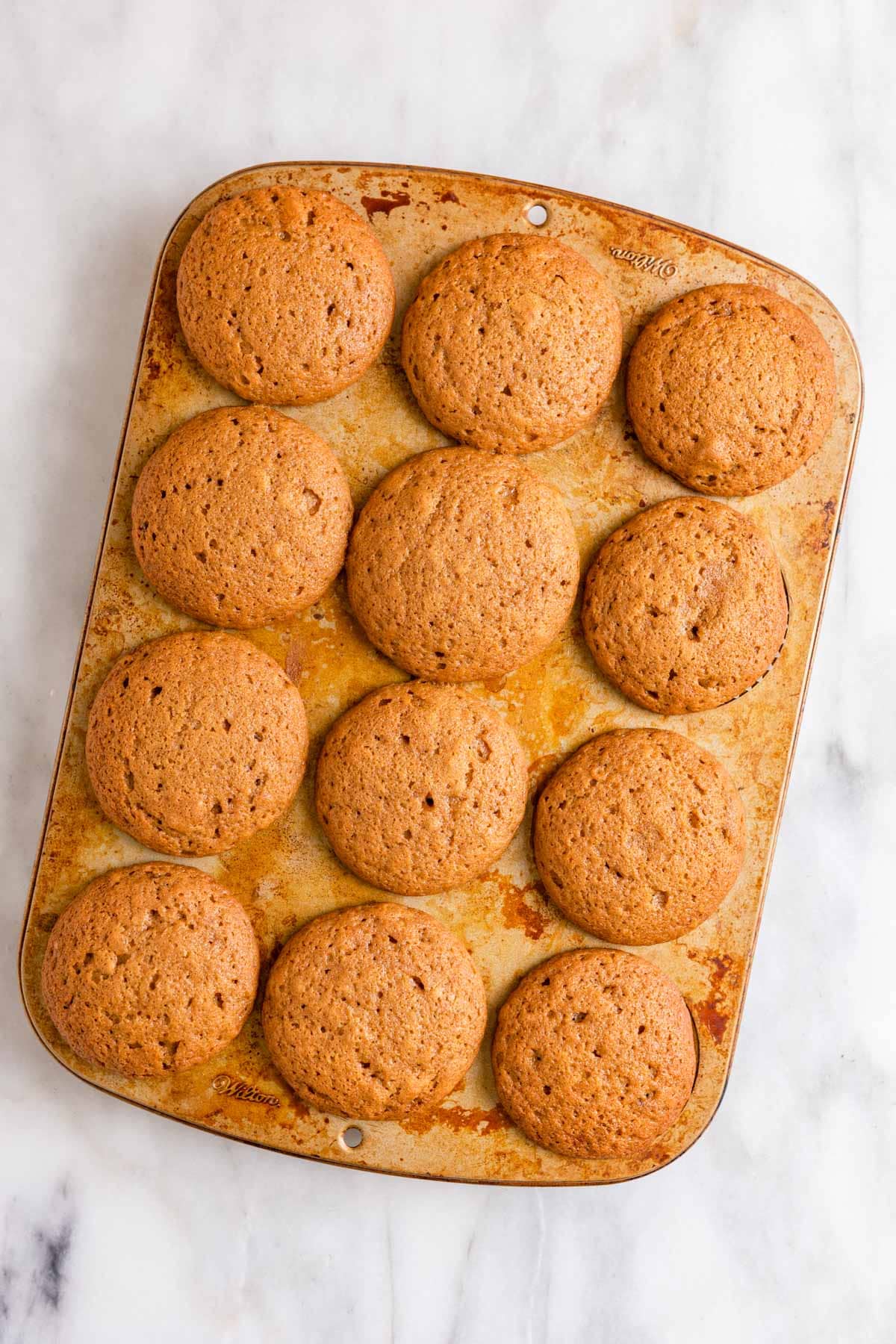 Not only will you be serving your family a delicious breakfast when you make Sweet Potato Muffins, but you'll also be sneaking in some important nutrients. Sweet Potatoes are actually considered a superfood because they are so nutritious. Along with the great taste and fun orange color, the sweet potatoes bring plenty of vitamins and minerals including, B vitamins, vitamin C, iron, and calcium. Sweet Potatoes are also packed with beta-carotene, an important antioxidant.
How to Make Sweet Potato Muffins
Prep: Preheat your oven and line your muffin tin cups with muffin liners. If you are using canned potatoes or fresh mashed potatoes, drain well before starting.
Batter: Whisk the sweet potato puree, eggs, vegetable oil, water, and brown sugar in a large bowl until smooth. Stir in the flour, baking soda, cinnamon, salt, nutmeg, clove, and ginger until just combined.
Bake: Scoop ¼ cup of batter into each liner. Bake the muffins until a toothpick comes out clean with moist crumbs, about 18-20 minutes.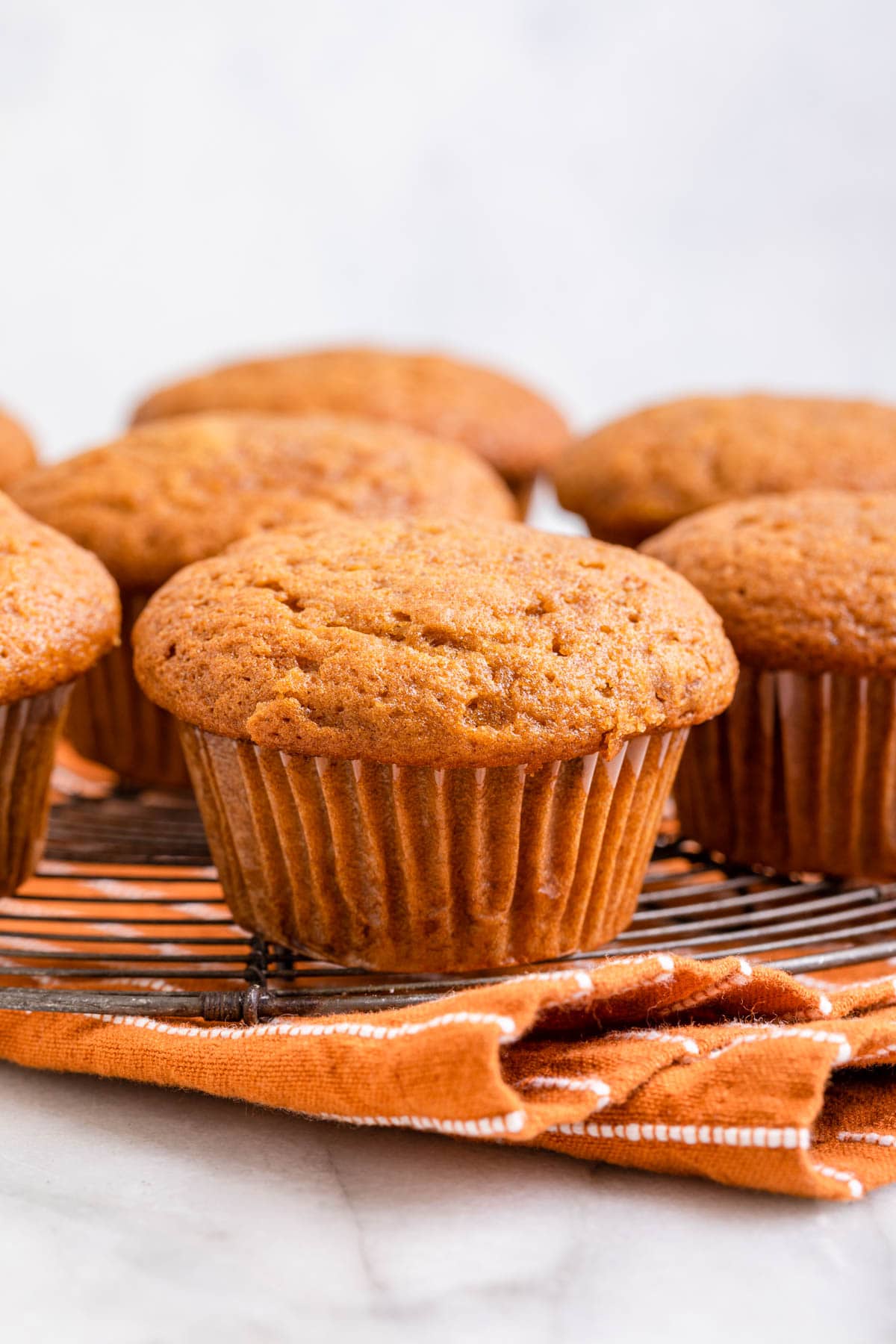 More Amazing Sweet Potato Treats!
FAQs for Sweet Potato Muffins
Are yams and sweet potatoes the same thing?
For the most part, yes because real yams are actually pretty hard unless you are shopping at an international grocery store. The yams sold in major grocery stores are almost always actually white or orange flesh sweet potatoes.
What is the secret to moist muffins?
The secret to having muffins that are moist and tender days after you bake them is using vegetable oil! Butter returns to a solid state as it cools, where the oil stays liquid therefore making your muffins super moist and fresh tasting for longer. 
How can I make fresh sweet potato puree?
If you want to make fresh sweet potato puree, poke whole unpeeled sweet potatoes all over with a fork then roast for 45-50 minutes at 400 degrees. Peel them then blend until smooth in a food processor.
Can I freeze Sweet Potato Muffins?
Yes, these tasty Sweet Potato Muffins are perfect for making a big batch and freezing! Simply cool them, freeze for an hour and then store wrapped in plastic wrap in a freezer bag for up to 6 months.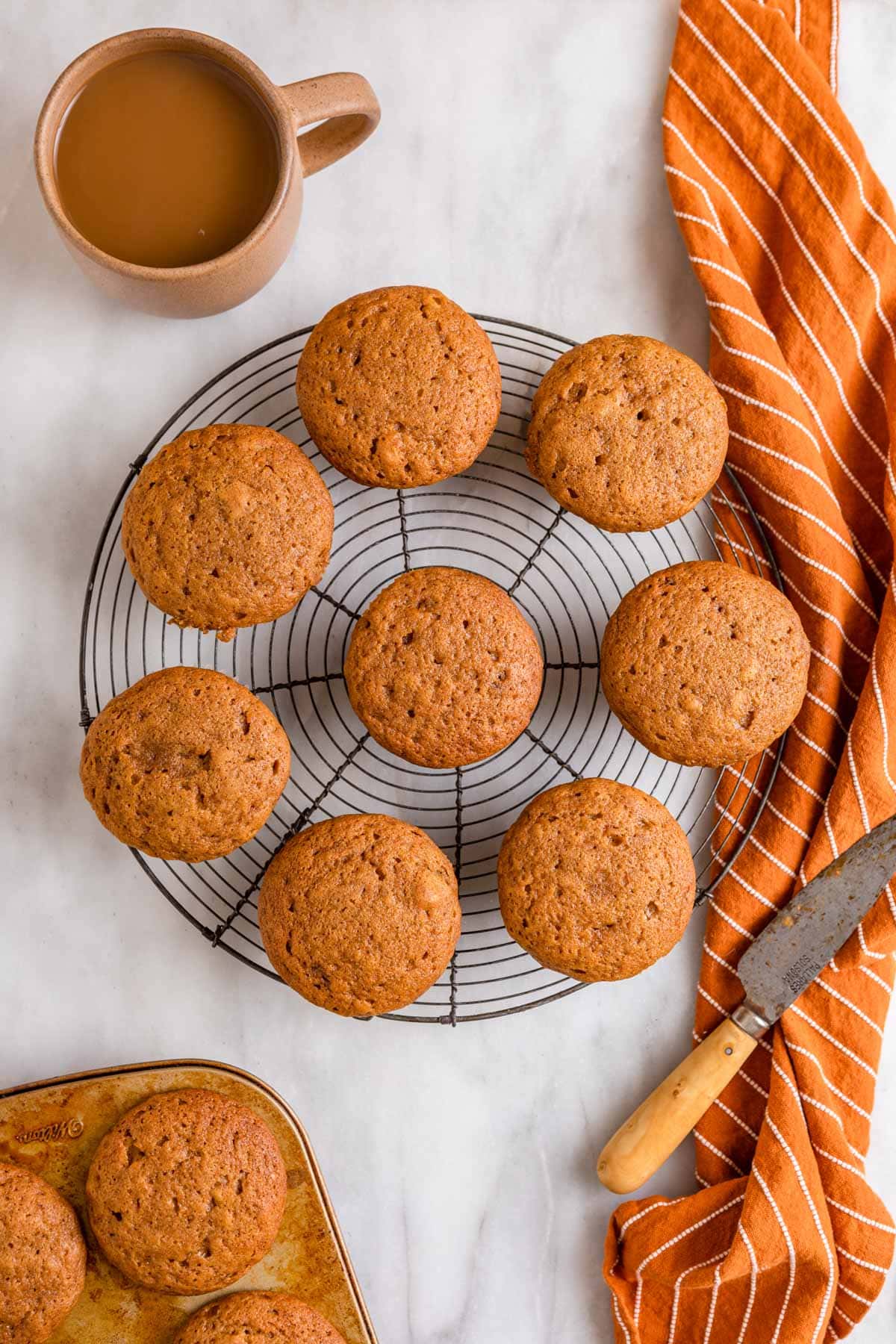 Create a free account to

Save Recipes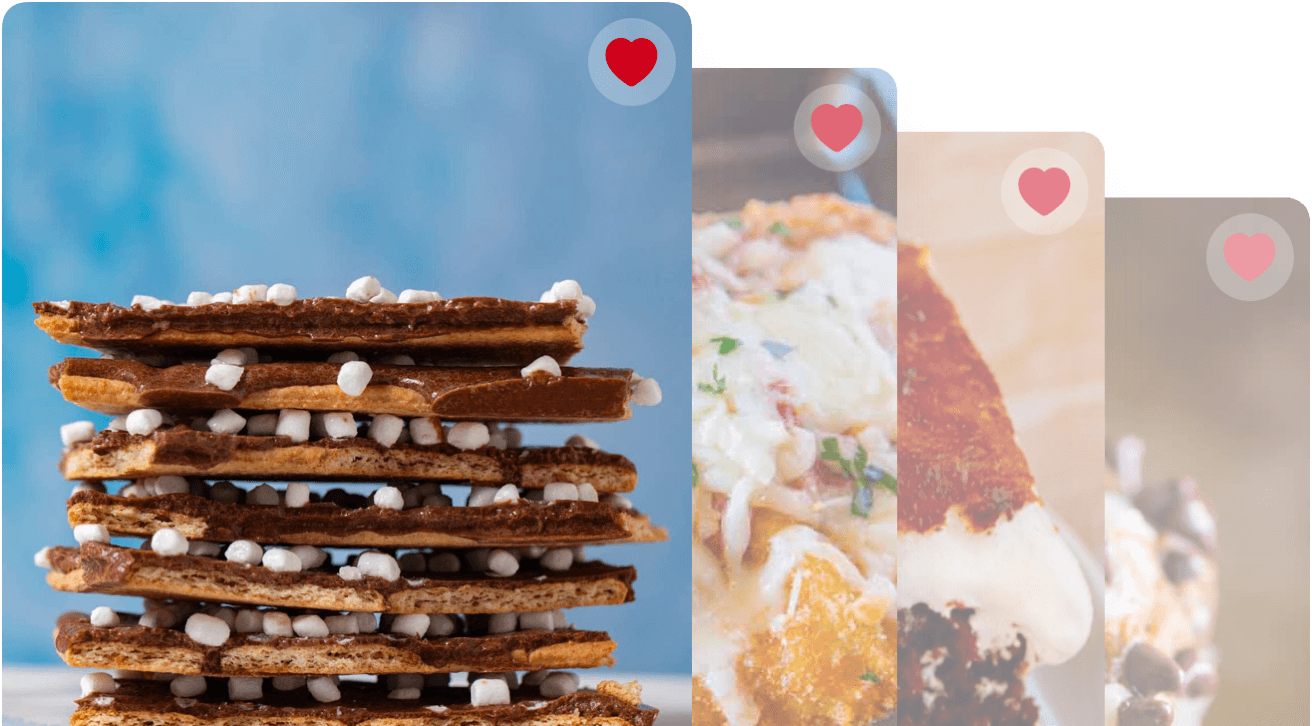 Key Ingredients
Sweet Potato: You can use a can of sweet potato puree, or blend peeled roasted or boiled sweet potatoes. You can also used canned sweet potatoes, just make sure they don't have any sweeteners or flavorings added.
Vegetable Oil: The key to moist muffins for days after they are baked is using vegetable oil! Oil stays in its liquid form at any temperature so your muffins stay soft and tender. You can use melted unsalted butter for a richer flavor, but keep in min
Brown Sugar: You want to use brown sugar instead of granulated sugar to bring out the natural sweetness because it adds an extra layer of earthy, caramel flavor from the molasses. The molasses in the brown sugar also helps give the muffins a moist texture.
Spices: These delicious muffins are filled with cozy spices making them a perfect fall treat! The cinnamon, nutmeg, ginger and clove blend is similar to Pumpkin Pie Spice. If you prefer that pumpkin spice flavor, you can swap it in or you can skip all the extra spices and just use 2 teaspoons ground cinnamon.
Water: Traditional muffin recipes are made with milk, but because sweet potato puree is so heavy and thick, you want to use water for light and fluffy muffins. The cool water also keeps the muffins from being overly rich.
Can Sweet Potato Muffins be made ahead of time?
While you can definitely enjoy your muffins for a few days or even freeze them after they've been baked, you can't really prep muffins in advance. You should bake muffin batter soon after it's prepared or they won't have a light and fluffy texture. If you want to bake them ahead and serve them later, they will keep in the freezer for about 6 months, although they are freshest in the first couple months. Freeze them for an hour, then wrap the individual muffins in plastic wrap before storing in a freezer safe bag. Let them thaw unwrapped at room temperature (or wrapped in the fridge) then serve them warmed up.
Variations
Mini-muffins: To make Sweet Potato Muffins even more adorable and easy to take on the go, try baking them in a mini muffin tin. The mini muffins will bake faster than full-sized, so keep an eye on them in the oven to make sure they don't overcook.
Mix-ins: These muffins would taste even better with your favorite mix-ins too! Try adding some chocolate chips, either semi-sweet or white chocolate chips. For some crunch, why not add some chopped pecans or walnuts. For more sweet, fruity flavor, try them with dried cranberries, raisins, or fresh berries.
Gluten-free: To make Sweet Potato Muffins gluten-free simply replace the all-purpose flour with a gluten-free alternative. Almond flour, arrowroot flour, or buckwheat flour are all great options.
Toppings: For some extra sweetness drizzle the tops of your muffins with a simple vanilla glaze. Mix together 2 cups of powdered sugar, 2 tablespoons of regular milk, and 1 teaspoon vanilla. If it's too thick, add 1/4-½ teaspoon milk until it's thin enough to pour.
Pecan Streusel: Make a delicious brown sugar pecan topping by mixing 1 ½ cups flour, ½ cup light brown sugar, ¼ cup granulated sugar, ¼ teaspoon salt, ¼ teaspoon cinnamon, and 1 cup cold unsalted butter until it forms crumbles. Stir in chopped pecans and sprinkle the brown sugar pecan mixture over the muffins before baking.
Oil: Instead of the vegetable oil in the recipe you can use melted butter, applesauce, or coconut oil. The muffins might not be as light but the different swaps will add new layers of flavor without impacting the overall muffin texture too much.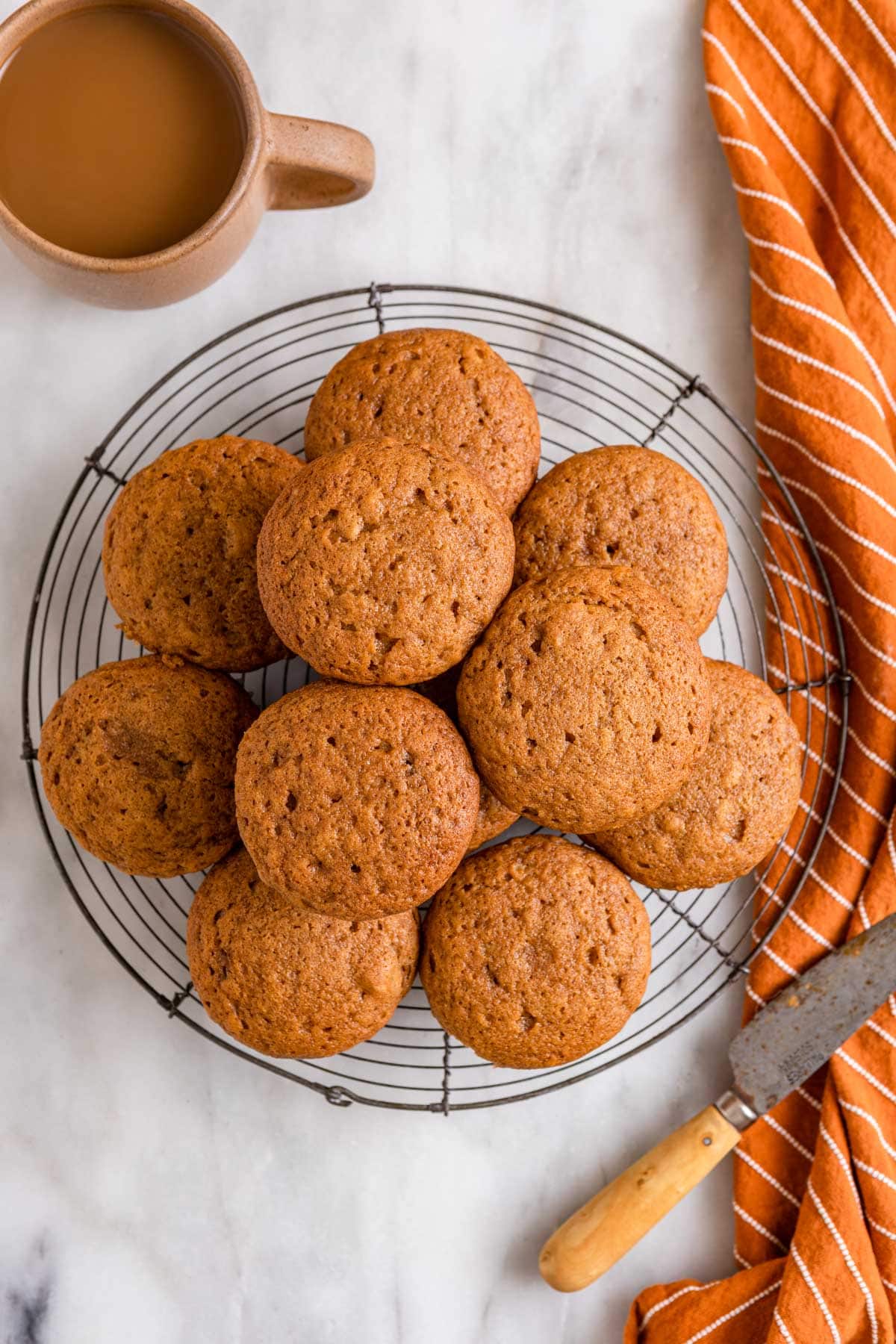 More Tasty Fall Muffin Recipes
How to Store
Serve: After baking, you can keep Sweet Potato Muffins at room temperature for 2 days. Keep them in a ziplock bag or another airtight container. They'll keep best in a dry, cool area of the house.
Store: To keep the muffins fresh longer, store them in the fridge in an airtight container for up to a week. Cool your muffins completely before storing so they don't steam and create too much moisture.
Freeze: To freeze the Sweet Potato Muffins, start by flash freezing them for an hour while still in the muffin tin. Once they're frozen solid you can transfer them to a freezer bag and they won't stick together. They will stay fresh for up to 6 months. Let them thaw out in the fridge before warming and serving.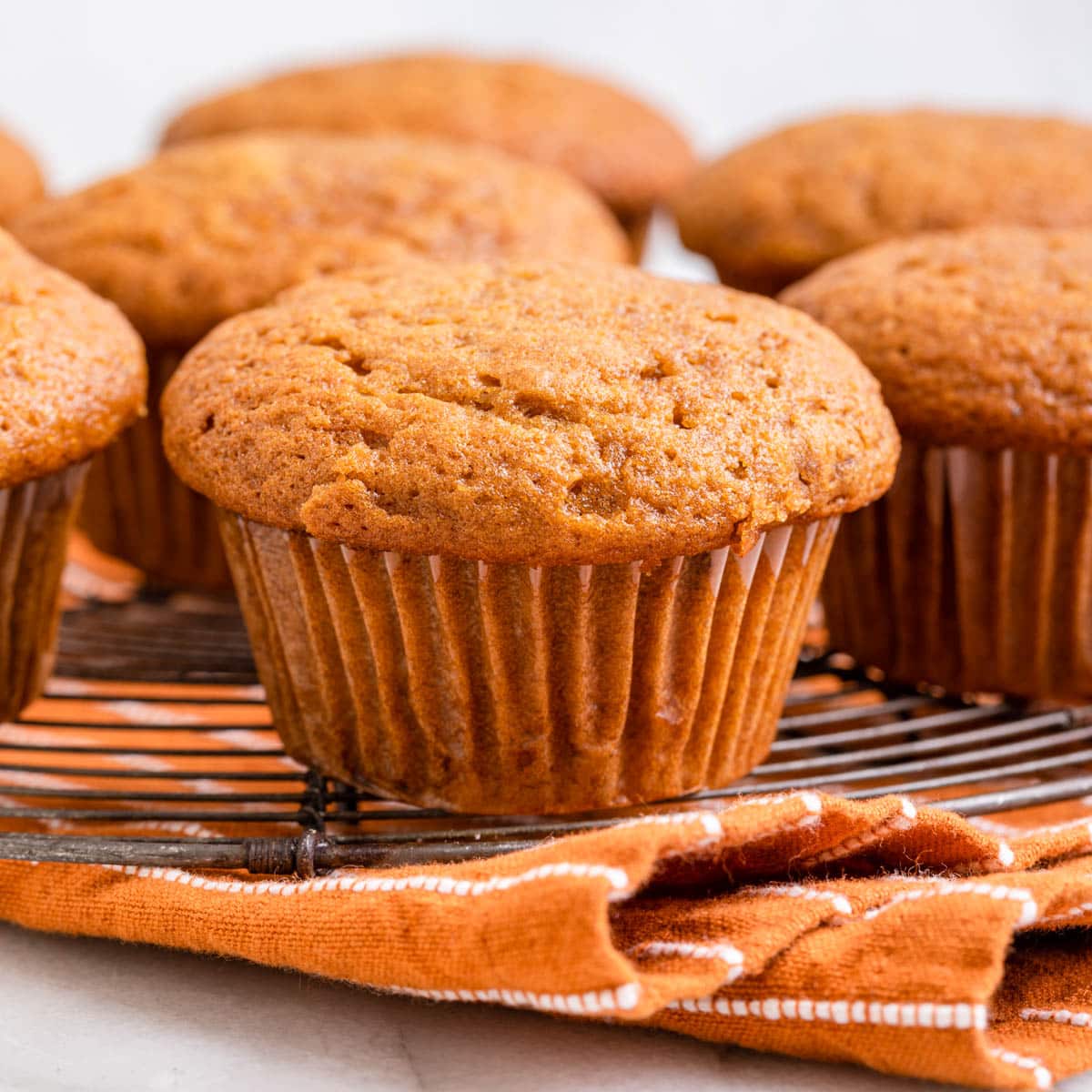 Ingredients
8

ounces

sweet potato puree

2

large

eggs

1/2

cup

vegetable oil

1/3

cup

water

1 1/2

cups

brown sugar

, packed

2

cups

flour

1

teaspoon

baking soda

3/4

teaspoons

salt

1/2

teaspoon

ground cinnamon

1/2

teaspoon

ground nutmeg

1/4

teaspoon

ground cloves

1

pinch

ground ginger
Instructions
Preheat the oven to 350 degrees.

Line the muffin tin with muffin liners.

In a large bowl add the sweet potato puree, eggs, oil, water, and brown sugar and whisk until fully combined.

Add in the flour, baking soda, salt, cinnamon, nutmeg, cloves, and ginger to the bowl and whisk until just combined.

Using a ¼ cup ice cream scoop, scoop the batter into each liner.

Bake for

18-20 minutes

or until a toothpick comes out clean.
Nutrition
Calories:
288
kcal
|
Carbohydrates:
47
g
|
Protein:
4
g
|
Fat:
10
g
|
Saturated Fat:
8
g
|
Cholesterol:
31
mg
|
Sodium:
264
mg
|
Potassium:
160
mg
|
Fiber:
1
g
|
Sugar:
28
g
|
Vitamin A:
3677
IU
|
Vitamin C:
4
mg
|
Calcium:
38
mg
|
Iron:
1
mg