Sweet Potato Crisp is a tasty treat with a gooey, sweetened potato center and oat topping. Perfect for the holidays or to enjoy year-round!
If you like Sweet Potato Pie, then you're sure to love this simple Dessert Recipe. Instead of a pie crust, crisps are made with a sweet oat topping. It's simple to make and you don't have to worry about the pie filling cracking or any other complications. It's an easy, breezy recipe from start to finish!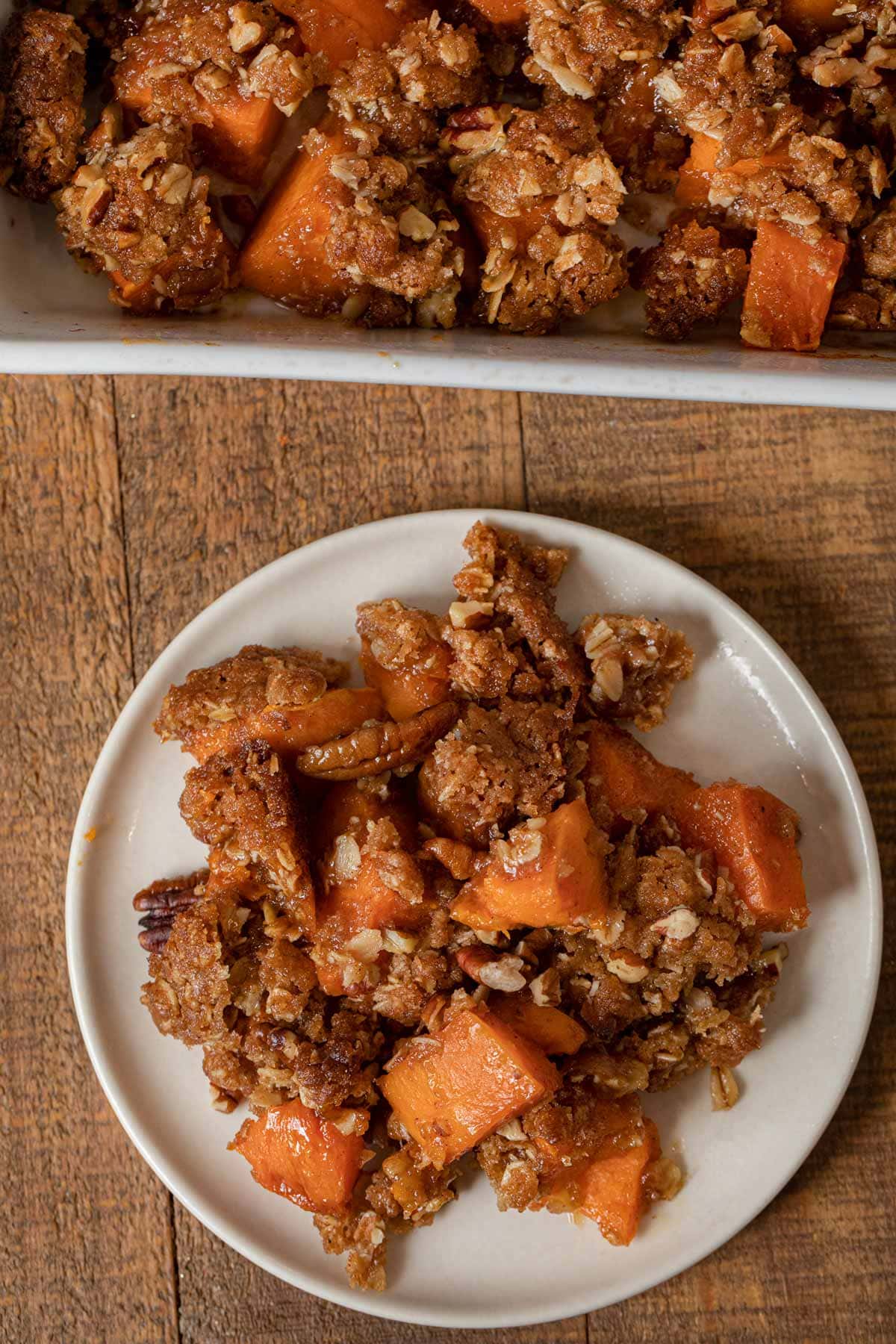 Sweet Potato Crisps are a similar concept to more popular Apple Crisps. They have a similar gooey, warm filling, and crunchy topping. However, sweet potatoes come with their own unique flavor. The potatoes bring a sweet, starchy, and slightly earthy flavor to the recipe that goes great with the warm spices of nutmeg, cinnamon, and ginger.
Delicious crisps are a great combination of textures with the crispy oat topping and tender, sweet center. This recipe gets even more texture from the crunchy pecans in the topping. It's the ultimate combination of flavors and textures.
The directions for this recipe is also wonderfully easy! Although it takes a little over an hour to finish the crisp, you don't have to spend all that time in the kitchen. Most of it is just a matter of leaving the crisp to bake, so you can work on other recipes or relax while the dessert finishes. The smell of sweet potatoes, brown sugar, and warm fall spices will fill your house as it bakes!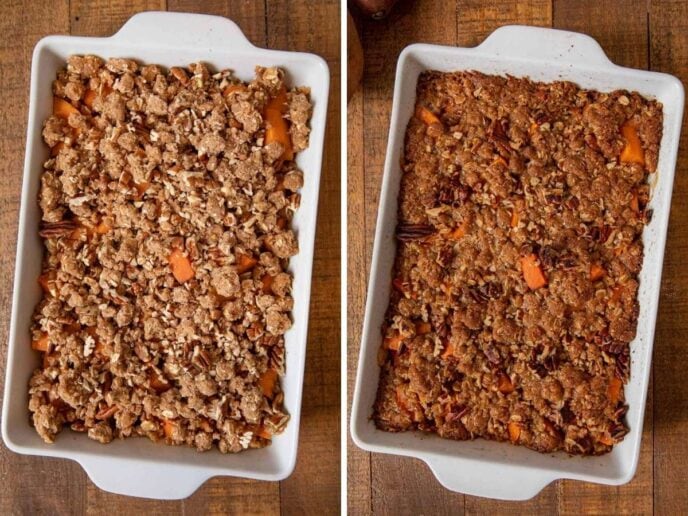 Along with how delicious they are, Sweet Potato Crisps also come with more health benefits than your average crisps. Sweet potatoes are great to add to your diet because of the many essential vitamins and minerals they provide. There is a good amount of magnesium, potassium, protein, fiber, and anti-inflammatory vitamins in servings of sweet potato. They also aren't high in calories for how filling they are. Enjoying this Sweet Potato Crisp is a great way to incorporate healthy ingredients without compromising on how delicious your dessert is.
Crisp recipes are always delicious with a scoop of Ice Cream melting over the top. You can try other toppings to experiment with this dessert. Try adding marshmallows on top like in Candied Sweet Potatoes. Drizzle on maple syrup for some extra sweetness. You could even add a sweetened cream cheese spread for some contrast and tang in the flavors.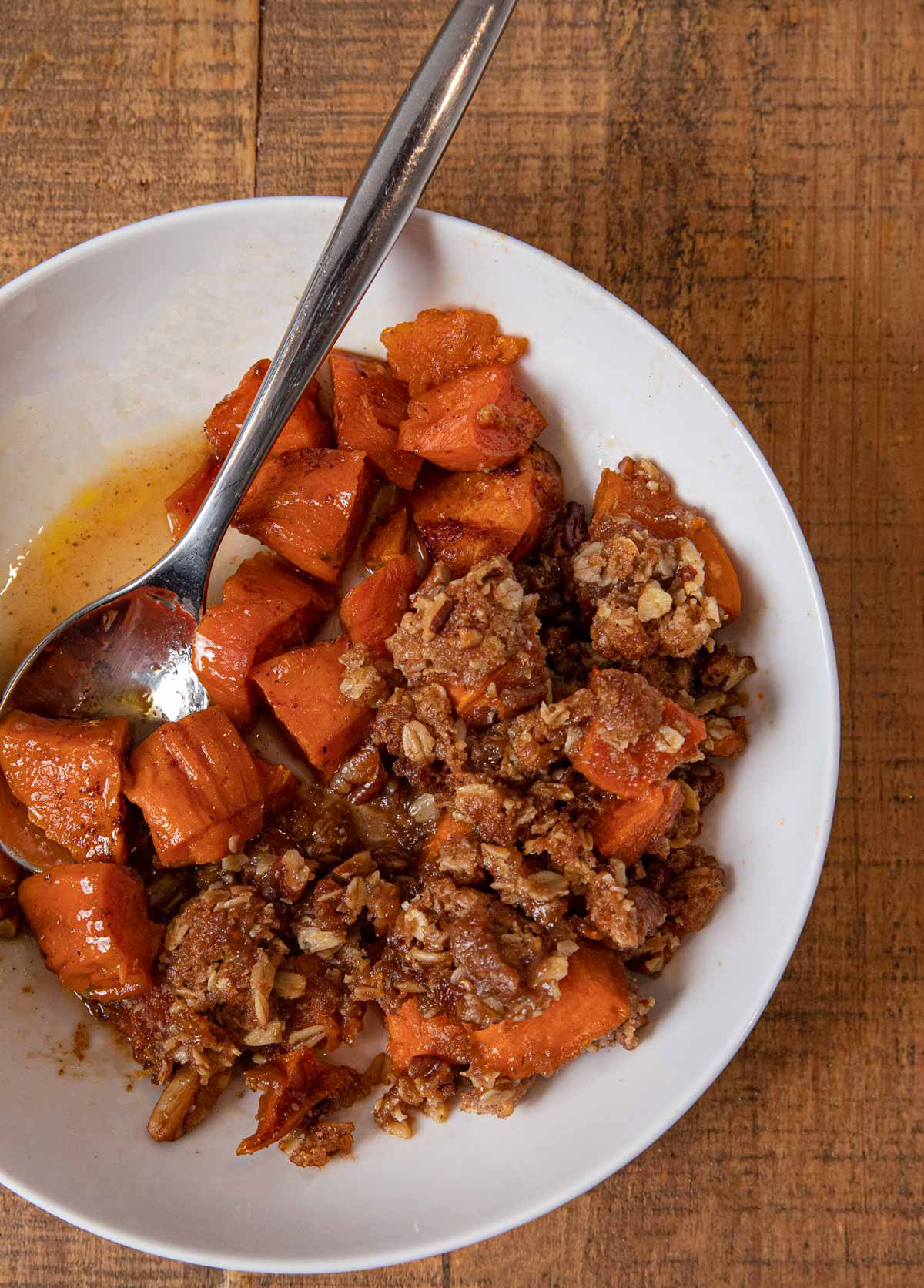 How to Make Sweet Potato Crisp
Prep time: Start by preheating your oven to 375 degrees. If you want easier cleanup, you can also line your baking dish with aluminum foil. Peel the sweet potatoes with a vegetable peeler. Then use a knife to cut them into 1 inch pieces. You could also use a mandolin slicer to cut the potatoes into paper-thin rounds if you prefer that to chunks.
Sweet potato mixture: Melt your butter in a microwave-safe bowl or saucepan. Then add it to a mixing bowl with the brown sugar, 1 teaspoon cinnamon, nutmeg, ginger, and ½ teaspoon salt. Whisk the butter with the spices. Add the sweet potato slices to the baking sheet. Pour the medium bowl of butter and spices over the top and toss the sweet potatoes in it. Once the butter is coating the potatoes spread them out in a single layer on the baking sheet.
Bake: Cover the potatoes in tin foil. Put the pan in the preheated oven and cook the sweet potato mixture for 45-50 minutes.
Oat topping: During the cooking time, follow the instructions to make the oat topping. Add the rolled oats, 4 tablespoons butter, ½ cup all-purpose flour, ½ cup brown sugar, and ¼ teaspoon salt to a medium bowl. Use a fork to mix flour, butter, and other ingredients into coarse crumbs.
Bake: Take the foil off of the baking pan and sprinkle the crumb mixture over the top. Bake for another 20 minutes. The edges and top will be slightly crispy while the inside remains melty and tender.
Sweet Potato Recipes
Frequently Asked Questions
What is the difference between a yam and a sweet potato?
Sweet potatoes and yams are often mixed up. While sweet potatoes do come in a variety of colors including white and purple, a typical sweet potato will be a bright orange inside with a reddish skin. Yams are a firmer, starchier vegetable with a white interior and rough brown exterior.
What is the difference between a cobbler and a crisp?
Both cobblers and crisps refer to baked dishes with a fruit, or in this case, sweet vegetable, filling that has a sweet topping. Cobblers have a topping that is more like a dough or batter, and sometimes even biscuits are used. Crisps are usually topped with a crumbly streusel topping made from brown sugar, butter, flour, and oatmeal. If you leave out the oats, it would be more like a Sweet Potato Crumble.
Why do I need to bake my Sweet Potato Crisp for over an hour?
Sweet potatoes are very firm and starchy, but when fully cooked they become soft, gooey, and even sweeter. By cooking the sweet potatoes slowly with the melted butter, brown sugar, and spices, they'll soften and absorb all the delicious flavors that meld with the sweet potatoes to make the delicious filling. Then you'll need to add the crisp topping for the last 20 minutes so that it does not burn during the rest of the cooking time.
Can I make Vegan Sweet Potato Crisp?
Absolutely! Just replace the butter with your favorite non dairy margarin variety. Just make sure to use and unsalted butter alternative so that you can control the amount of salt that goes into this sweet dessert recipe.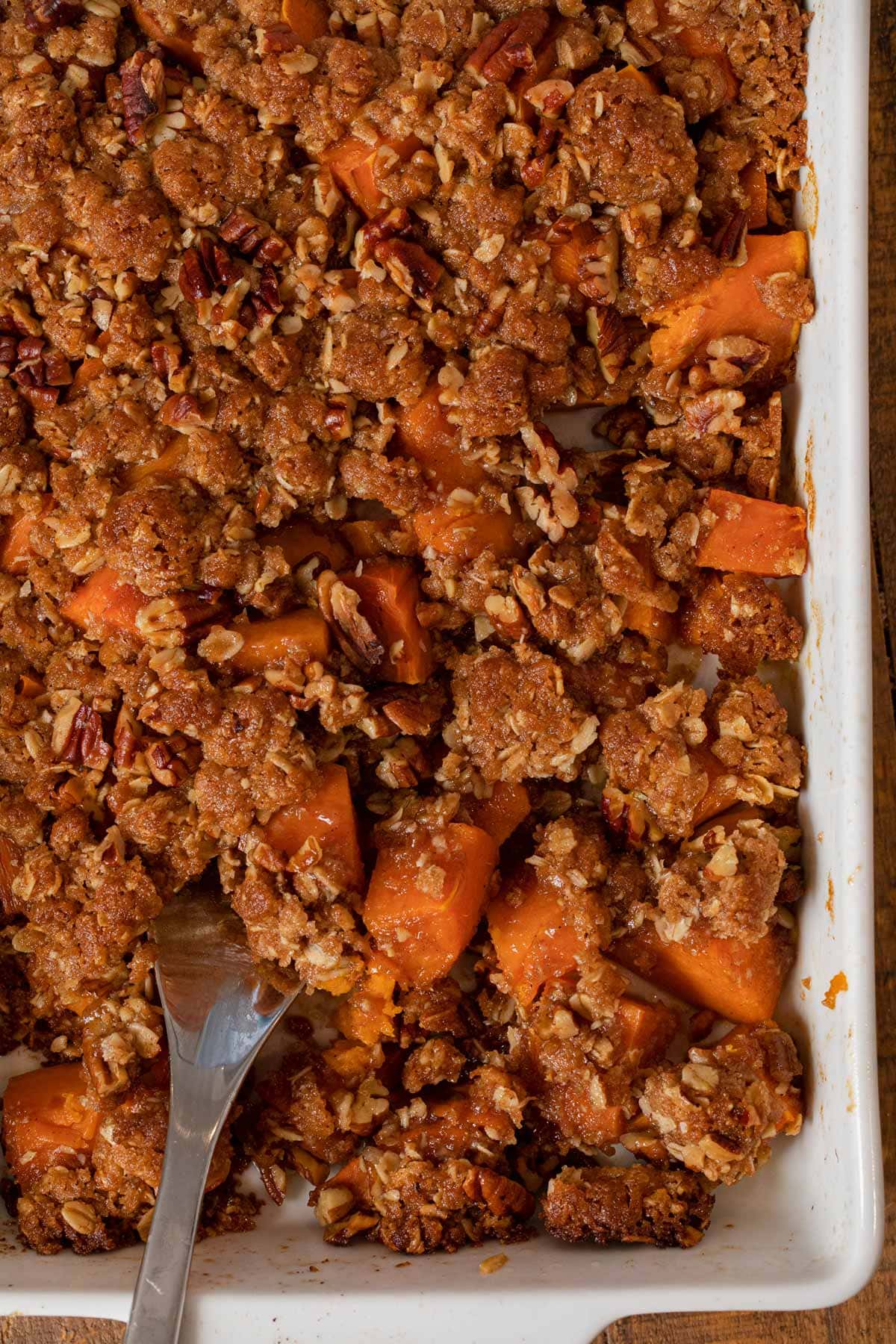 Create a free account to

Save Recipes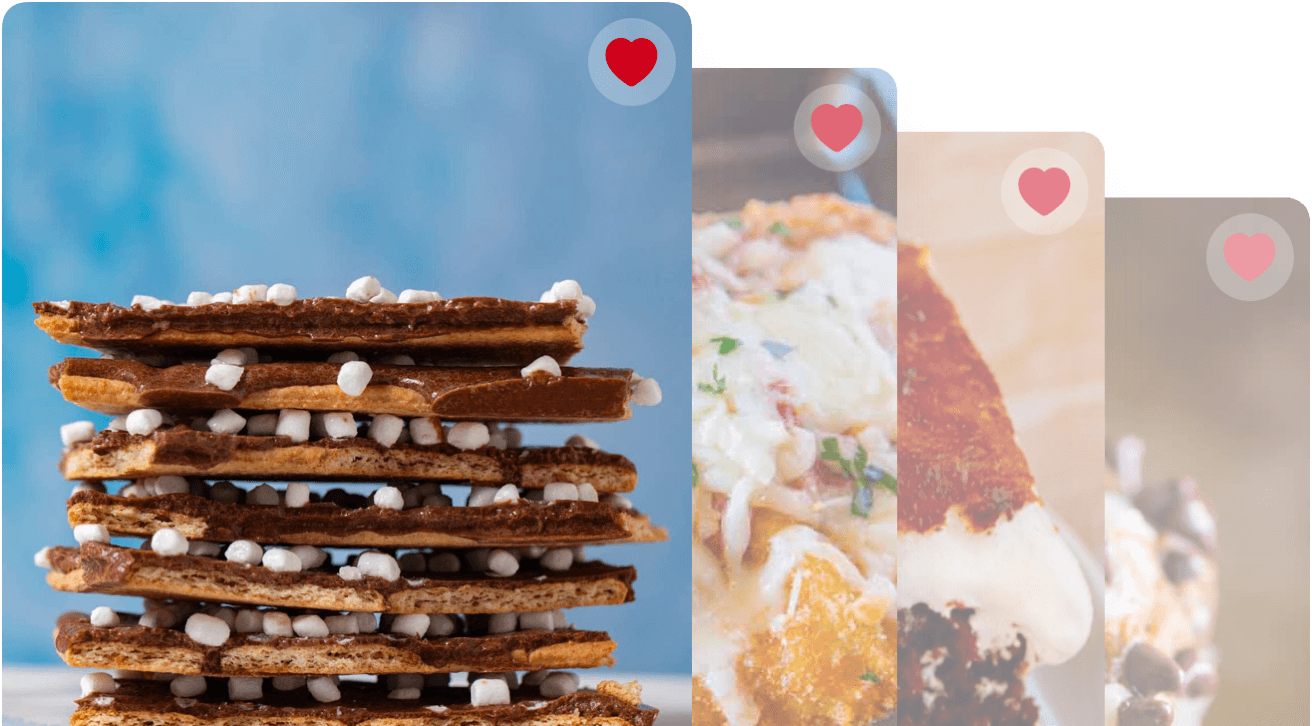 Key Ingredients in Sweet Potato Crisp
Sweet Potatoes: Although available year round, sweet potatoes are typically harvested in late summer and early fall. This makes them perfect for both savory and sweet holiday dishes. For this sweet recipe, look for sweet potatoes with reddish orange skin that is smooth without cracks, and avoid potatoes that look dry or shriveled on the ends.
Spices: Cinnamon, ginger, and nutmeg combine to give your Sweet Potato Crisp a warm, spiced flavor that will fill your home with a delicious aroma while baking.
Oatmeal Pecan Topping: Oats and pecans give your crisp topping a wonderful chewy texture with a bit of crunch. Butter, flour, brown sugar, and a little salt combine to make the crispy topping the perfect complement to the sweet, buttery potatoes underneath.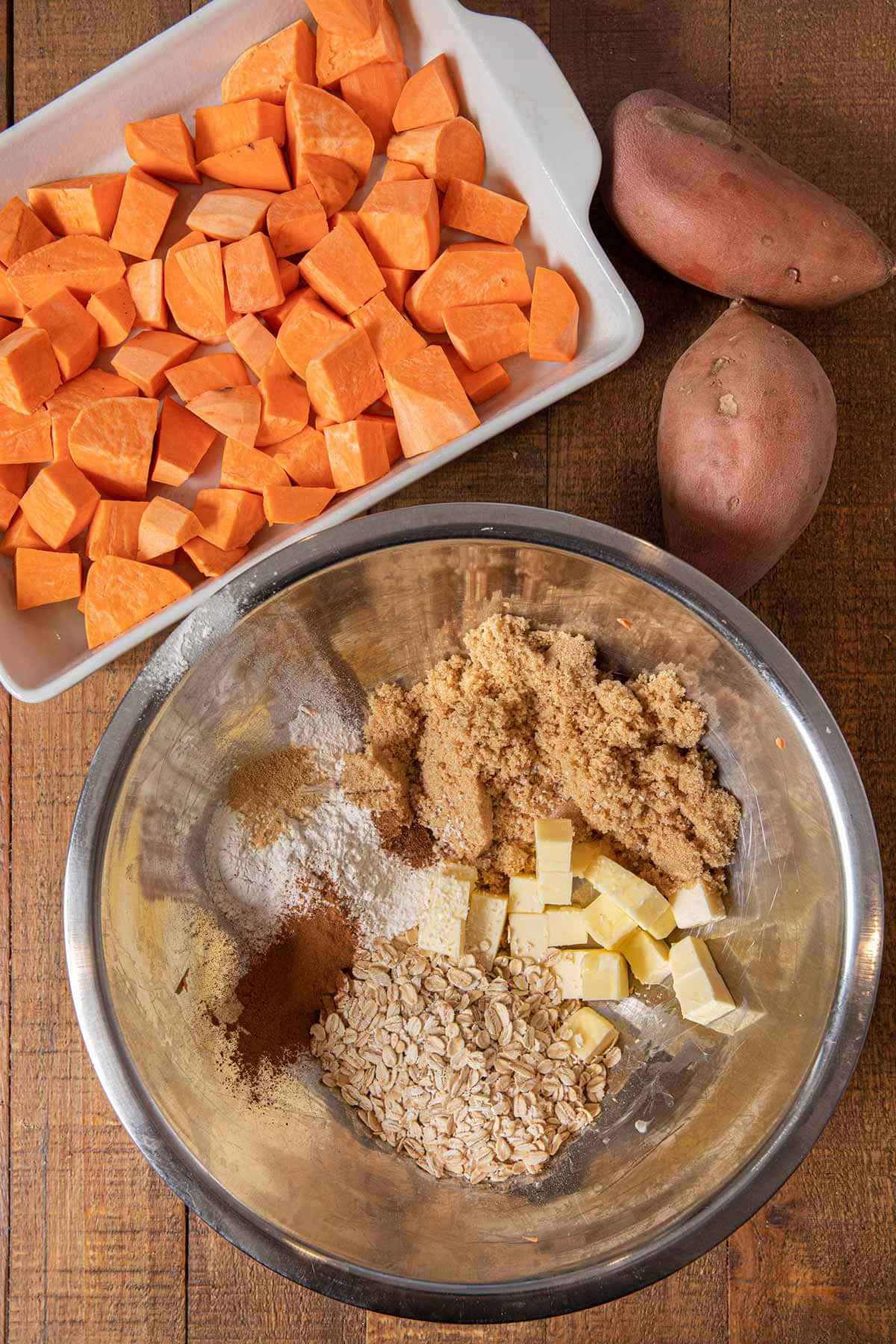 Variations on Sweet Potato Crisp
Cranberry Sweet Potato Crisp: Try adding cranberries to the crisp recipe. Bake the potatoes as usual. Then sprinkle a cup of cranberries over the potatoes before you add the oat topping.
Apple Sweet Potato Crisp: To make a Sweet Potato Crisp with apples, use half sweet potatoes and half apples for the filling.
Sweetener: You can replace the brown sugar in the recipe with other sweeteners like maple syrup, molasses, or honey.
Marshmallow topping: For an easy marshmallow topping to add after the crisp bakes, combine ¾ cup white sugar, 1 tablespoon corn syrup, 2?½ tablespoons butter, and ¼ cup milk in a saucepan. Put it on low heat and stir until dissolved. Once it comes to a boil let it simmer for 5 minutes. Melt half a package of marshmallows with 2 tablespoons of water. Stir the melted marshmallows into the syrup. Remove from the heat and mix in 1 teaspoon vanilla extract.
More Crisps and Crumbles
How to Store Sweet Potato Crisp
Serve: Your Sweet Potato Crisp can stay good at room temperature for up to 2 days. Wait for it to cool, then cover it in aluminum foil or plastic wrap and store it in a dry, cool place.
Store: Once the crisp has cooled, you can also keep it covered in the refrigerator. It will stay good for up to 1 week.
Freeze: Properly sealed, Sweet Potato Crisps can also be frozen for 2 months. Let it thaw in the fridge before reheating it in the oven.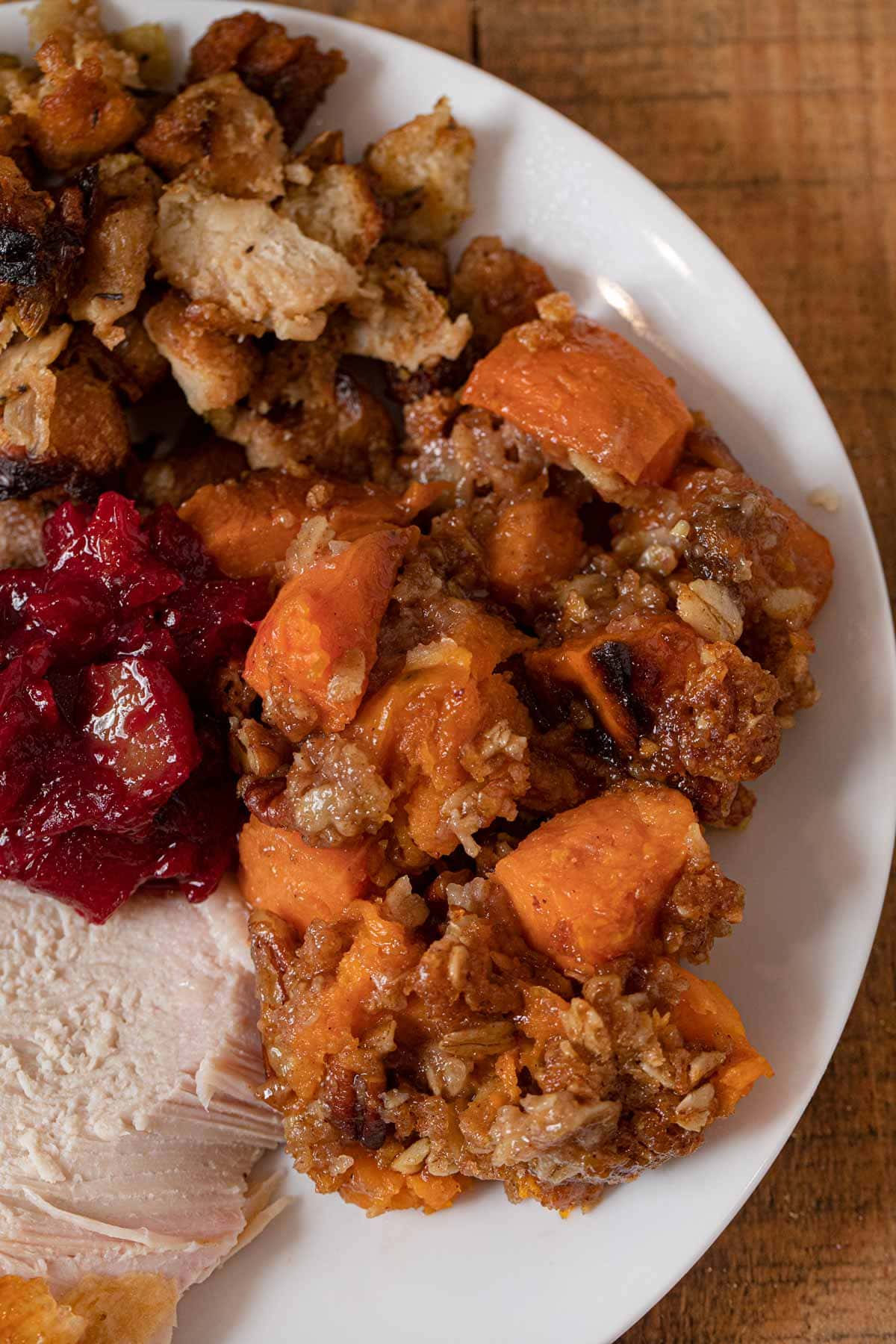 Ingredients
4

pounds

sweet potatoes

, peeled and cut into 1-inch pieces

5

tablespoons

butter

2/3

cup

golden brown sugar

, packed

1

teaspoon

ground cinnamon

1/4

teaspoon

ground nutmeg

1

pinch

ground ginger

1/2

teaspoon

salt
Crisp Topping:
1/2

cup

rolled oats

4

tablespoons

unsalted butter

, diced

1/2

cup

brown sugar

1/2

cup

flour

1/4

teaspoon

salt

1/2

cup

pecans

, chopped
Instructions
Preheat oven to 375 degrees.

Melt the butter in a microwave-safe bowl or in a small saucepan.

Add the 2/3 cup brown sugar, 1 teaspoon cinnamon, nutmeg, ginger, and ½ teaspoon salt into the bowl with the butter and mix.

Add sweet potatoes to the baking pan and toss with melted butter mixture.

Cook covered for

45-50 minutes

.

While the sweet potatoes are cooking add the rolled oats, 4 tablespoons butter, ½ cup brown sugar, flour, and ¼ teaspoon salt to a small bowl and smash with a fork to combine or just combine with your hands into large crumbles.

Take foil off the baking pan, sprinkle the crumb mixture evenly on top, and top with pecans.

Bake for an additional

20 minutes

.
Nutrition
Calories:
417
kcal
|
Carbohydrates:
70
g
|
Protein:
5
g
|
Fat:
14
g
|
Saturated Fat:
7
g
|
Cholesterol:
27
mg
|
Sodium:
332
mg
|
Potassium:
687
mg
|
Fiber:
7
g
|
Sugar:
33
g
|
Vitamin A:
26055
IU
|
Vitamin C:
4
mg
|
Calcium:
86
mg
|
Iron:
2
mg