Texas Roadhouse Chicken Critters (Copycat) are a real deal recipe for tasty chicken tenders soaked in buttermilk, fried golden brown in a seasoned batter!
There's no doubt that some of Texas Roadhouse's best dishes are their fried foods! From Rattlesnake Bites to these Chicken Critters, people love dunk-able finger foods. Find other fried appetizer favorites in this Copycat Recipes catalog.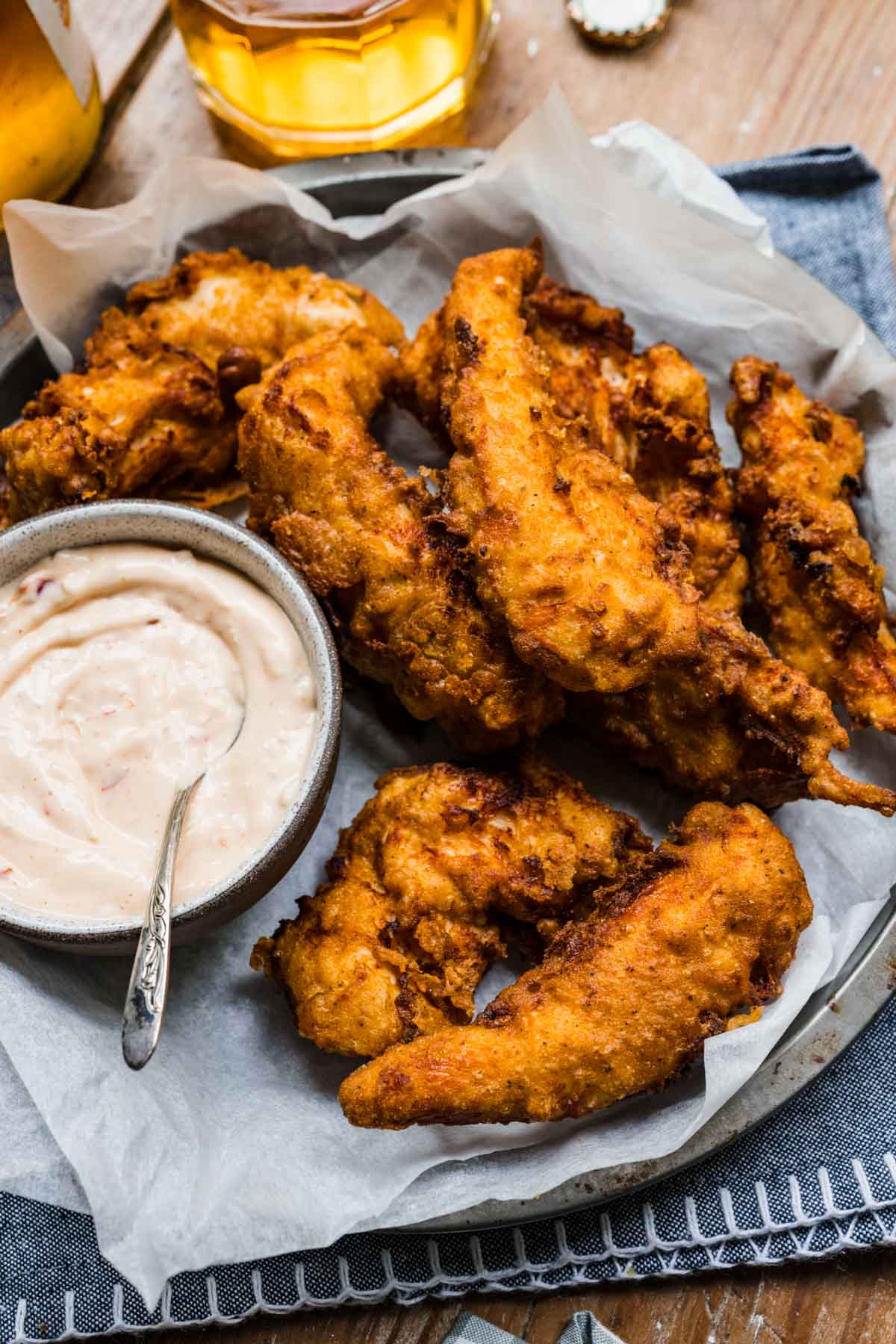 One of the things that really sets Texas Roadhouse apart from a lot of restaurants is that almost every single thing on the menu is made from scratch. That makes it one of the places a lot of people don't mind taking the kids. You know they are getting fresh food made with simple ingredients, even when it's chicken fingers.
Can you relate to having a kid who eats almost exclusively chicken tenders everywhere you go? Texas Roadhouse Chicken Critters are a favorite that folks feel is okay with the kids ordering, with no mystery ingredients or frozen bulk chicken. Simple, fresh ingredients also mean you can easily recreate these Chicken Critters at home.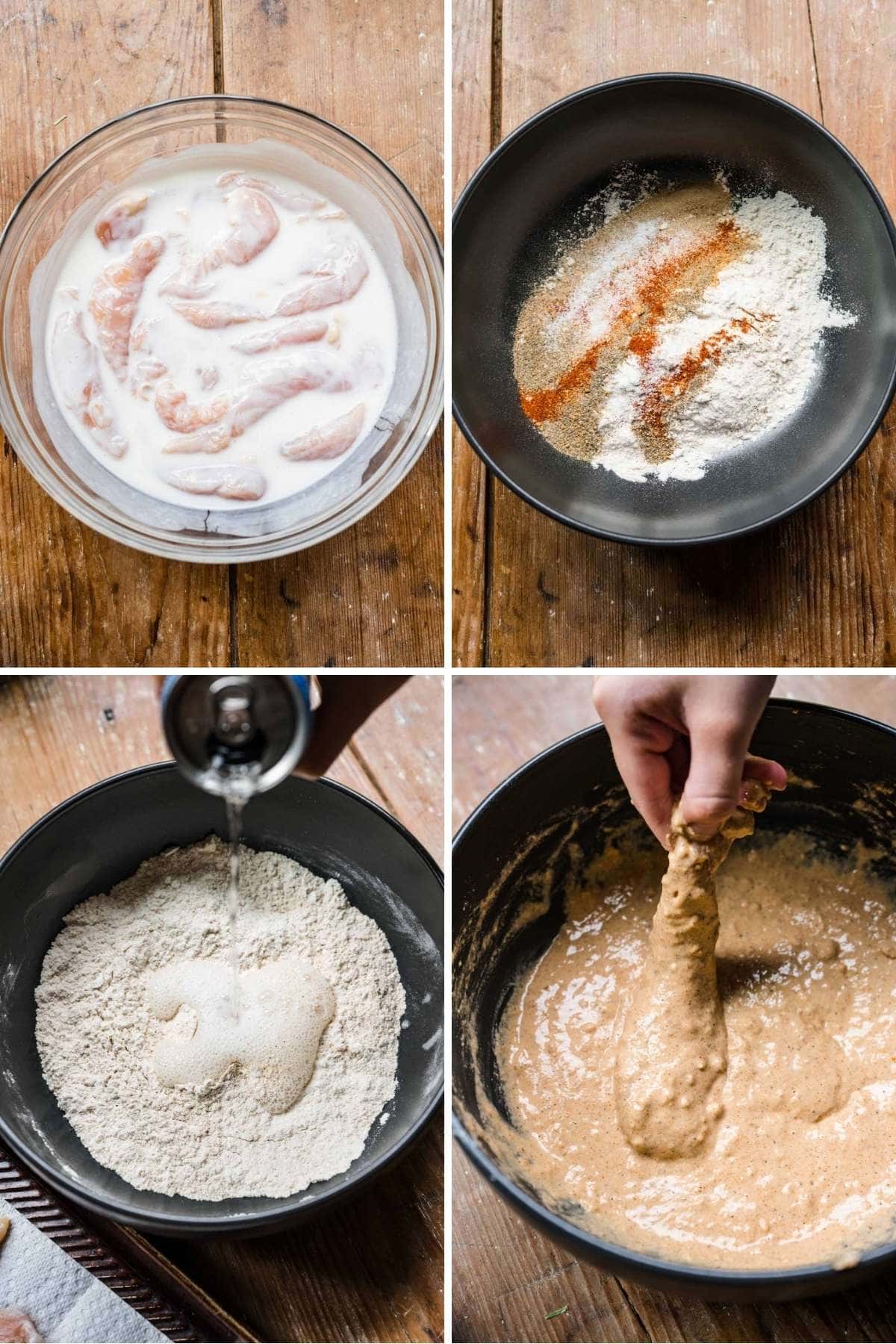 Now if you are a long-time fan of Texas Roadhouse Chicken Critters, rest assured this is the old recipe of their Chicken Critters. I've seen that petition that came out when they switched up the recipe about a year ago. Don't worry, this is the original crispy, flavorful, battered version!
What sets Texas Roadhouse Chicken Critters apart is that they use an airy batter that's kept light with club soda. Soaking in buttermilk tenderizes the chicken and makes it so much more flavorful. If you don't have any buttermilk on hand, there are some substitutes down below.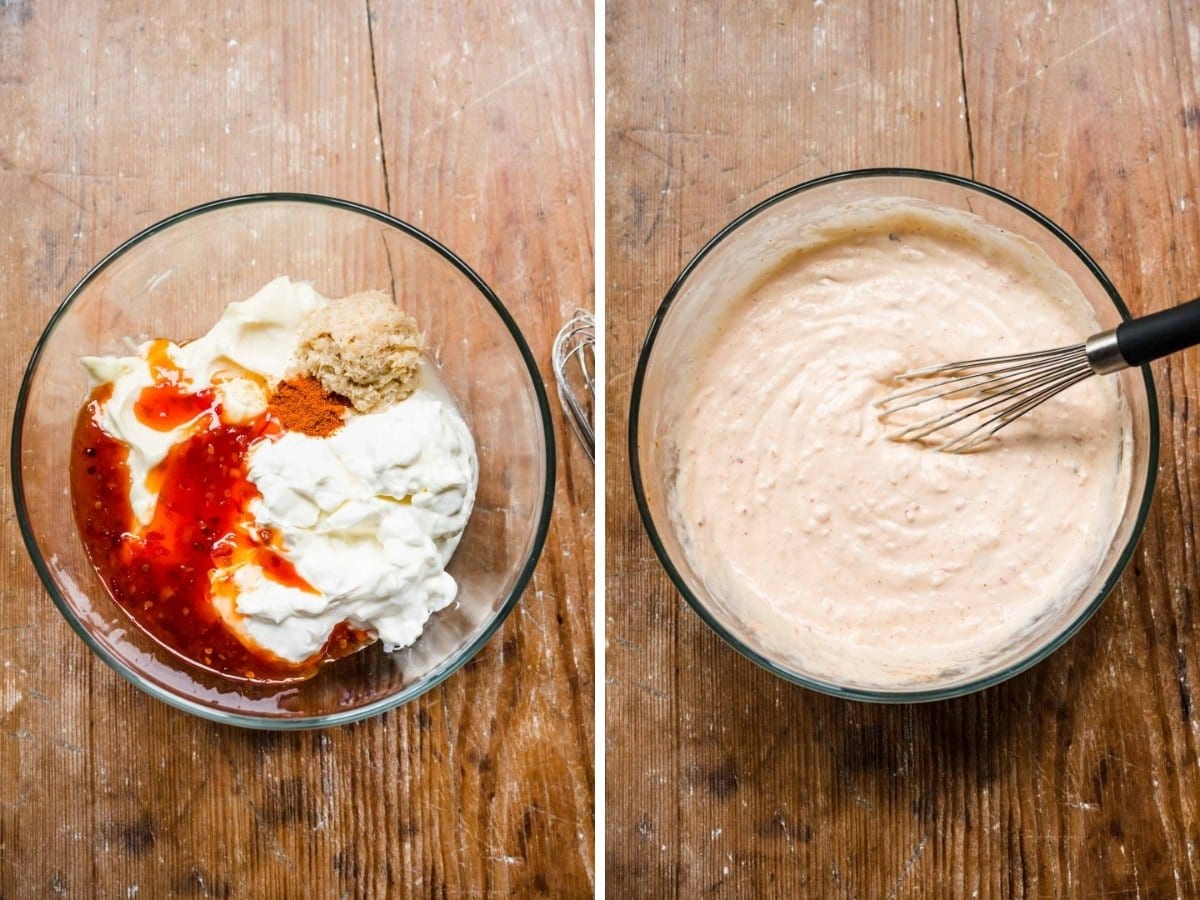 How to Make Texas Roadhouse Chicken Critters
Prep: Use Chicken Tenderloins, or cut a chicken breast into strips. Soak the chicken in buttermilk while you mix the dry ingredients together. Stir club soda into the dry ingredients, then take your chicken out and pat it dry.
Fry: Cover each chicken strip in the batter and cook them in the oil. Drain them on paper towels.
Serve: Sprinkle on some sea salt and they are ready to serve with the dipping sauce of your choice.
Delicious Dipping Sauces
Frequently Asked Questions About Texas Roadhouse Chicken Critters
Why are the Chicken Critters soaked in buttermilk?
Buttermilk has a slight acidity and that really helps make the chicken nice and tender.
What kind of oil should I use when frying Chicken Critters?
Vegetable oil is a great choice when frying chicken tenders. It has a high smoke point, which means it takes a higher temperature for it to start smoking and burning.
Serving Ideas
Serve these Chicken Critters with Twice Baked Sweet Potatoes to copy the tasty sweet potato side option from Texas Roadhouse. To make a loaded version, top with Salted Caramel Sauce and toasted Marshmallows.
These crazy popular Chicken Critters would be an excellent choice for a game day platter, or any other gathering for that matter. Cook them up, keep them warm in an oven on a low setting. Make sure to place them on a pan lined with a rack or some other tool to keep them drained of any oil that might pool underneath them.
It's a great choice to dip these Chicken Critters in homemade sauces like Honey Mustard, Ranch Dressing, or BBQ sauce. A popular favorite store-bought brand of BBQ sauce is Sweet Baby Rays. It is smoky, sweet, and not super expensive!
Chicken Tenderloins vs Chicken Tenders?
Chicken Tenderloins are a more tender cut of the chicken breast, removed from boneless chicken breasts and sold separately at a higher price. You can always substitute chicken breasts, cut into 1 ½ to 2 inch wide strips, aka chicken tenders, to save on the pricey cut of chicken tenderloins.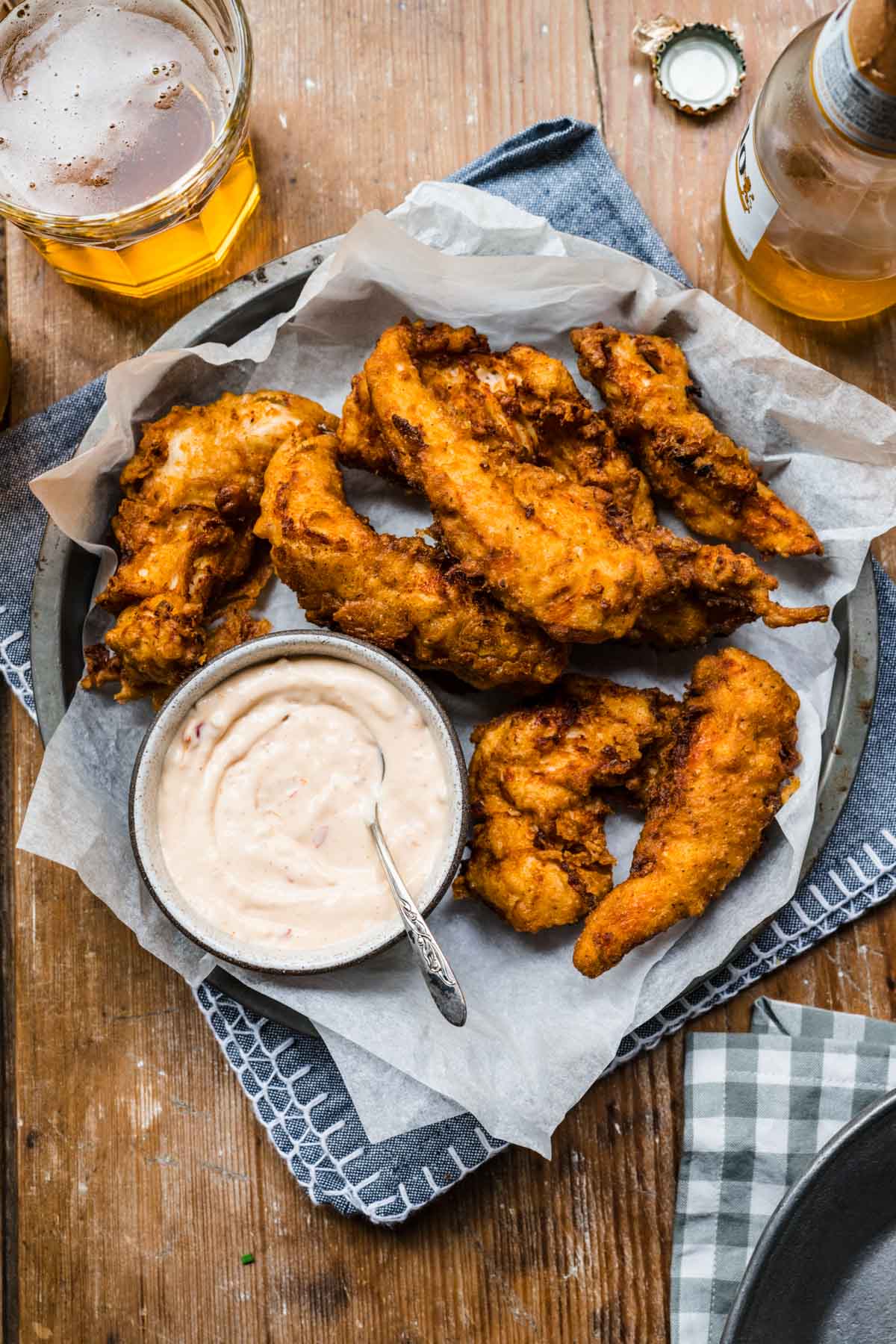 Create a free account to Save Recipes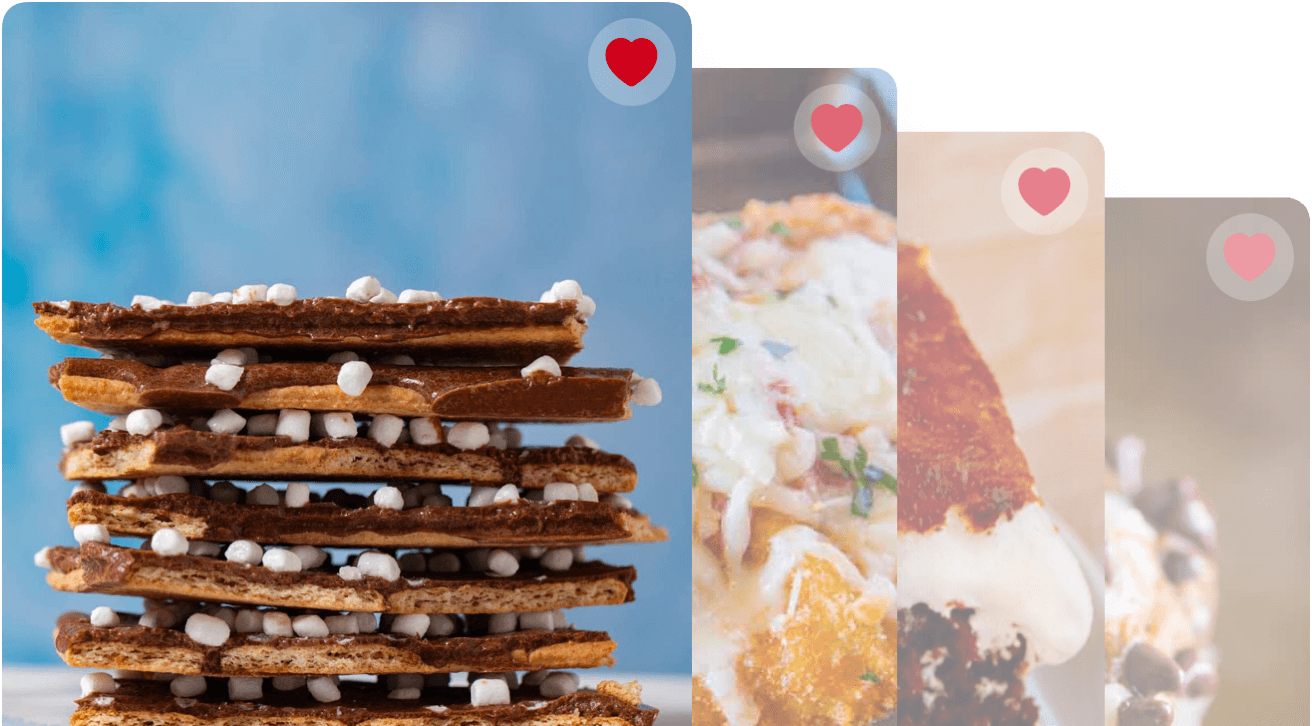 Variations on Texas Roadhouse Chicken Critters
Chicken Critter Basket: For a kid-friendly Chicken Critter Basket, serve with baked Potato Wedges and Green Beans.
Chicken Critter Salad: Turn your Chicken Critters into a Texas Roadhouse's popular salad. Top a bed of mixed green lettuce with shredded jack and cheddar cheese, sliced hard-boiled egg, diced tomatoes, bacon crumbles, and these Chicken Critters.
Seasoning: Use your favorite dry seasoning mix, like Taco Seasoning or Cajun seasoning, instead of the spices in this recipe for different flavors.
Oven Baked: For a healthier recipe, oven bake Texas Roadhouse Chicken Critters. Preheat the oven to 400 degrees and spray a baking sheet with cooking spray. Use panko or regular breadcrumbs instead of flour and leave out the club soda. Spray your breaded chicken with cooking spray or brush with melted butter. Bake for 20-25 minutes.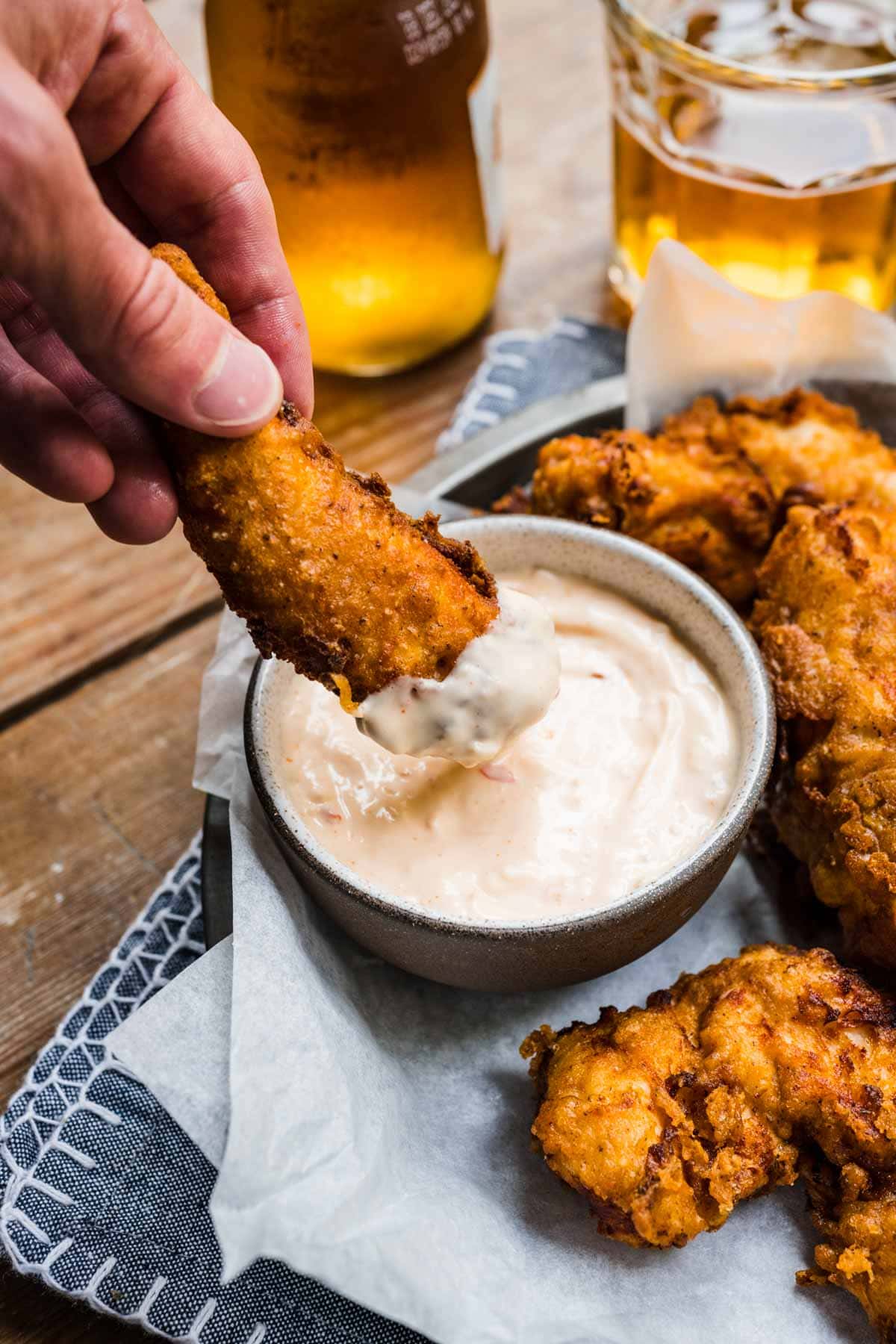 Five Substitutes for Buttermilk
Lemon Juice: Place 1 tablespoon of lemon juice into your measuring cup and fill to the 1 cup line with whole, 2% milk, or even non-dairy milk. Leave at room temperature for at least 10 minutes.
Vinegar: Use white vinegar in the same way as lemon juice. Add 1 tablespoon vinegar and fill with milk to 1 cup and allow to sit for 10 minutes. You can use this method with non-dairy milk too.
Yogurt: For every one cup of buttermilk, substitute a mixture of ¾ cup of plain yogurt and ¼ cup whole or 2% milk. Whisk the milk and yogurt until smooth and thick like buttermilk. You can also thin out yogurt with water until the right consistency.
Sour Cream: Thin sour cream with water, about ¼ cup water to ¾ cup of sour cream. This method can be used with milk, using more or less milk depending on the thickness of your sour cream.
Cream of Tartar: If you have Cream of Tartar on hand from lots of baking, use 1 ¾ teaspoons whisked into a full cup of milk.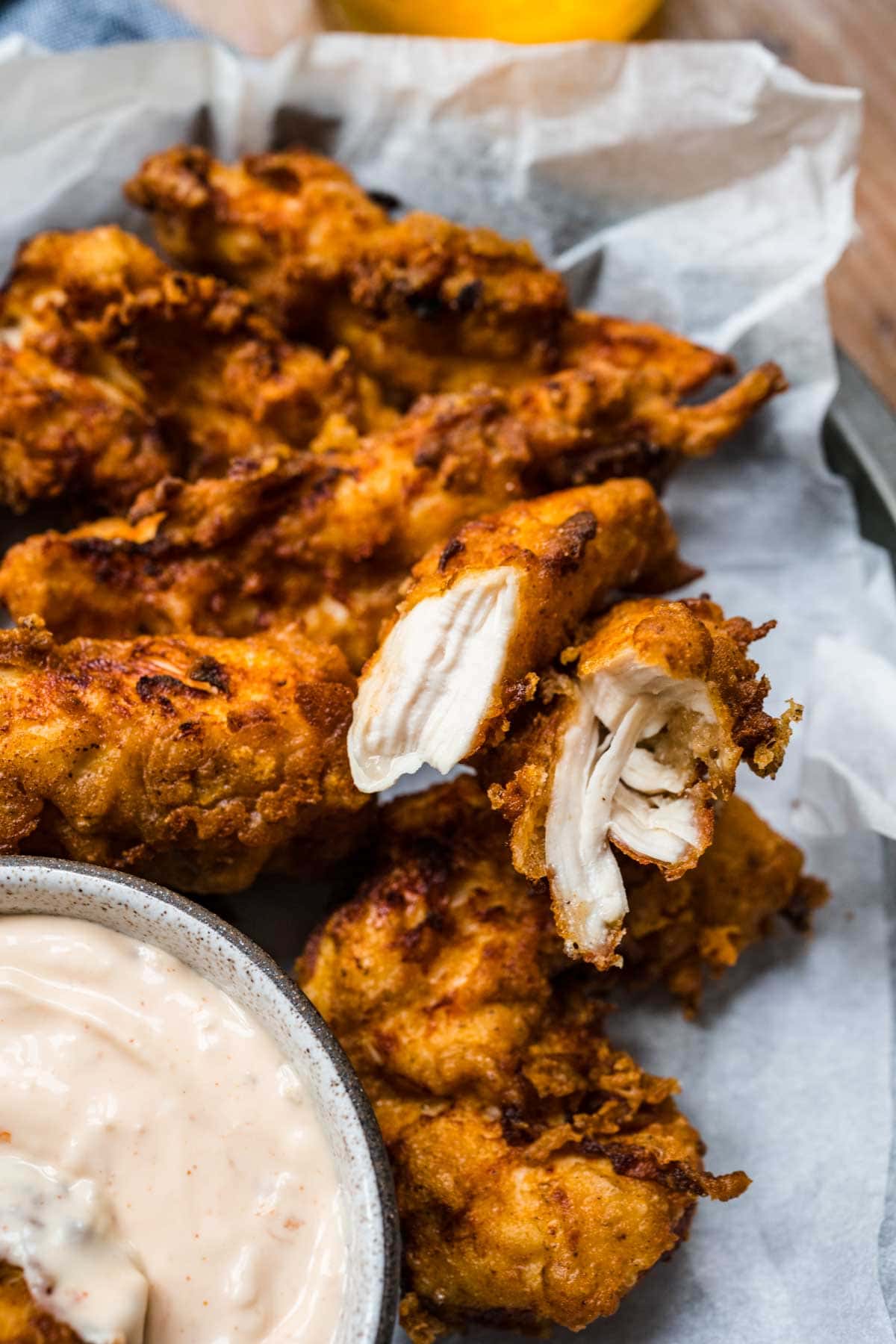 More Tasty Chicken Tenders Recipes
How to Store Texas Roadhouse Chicken Critters
Serve: Chicken Critters are best fresh and they can be kept at room temperature for up to 2 hours.
Store: Cool completely before storing in an airtight container for up to 3 days. For best results, place a paper towel at the bottom to soak up any moisture.
Freeze: Freeze Chicken Critters in a single layer on a baking sheet for 1 hour. Transfer to a freezer bag and keep frozen for up to 3 months.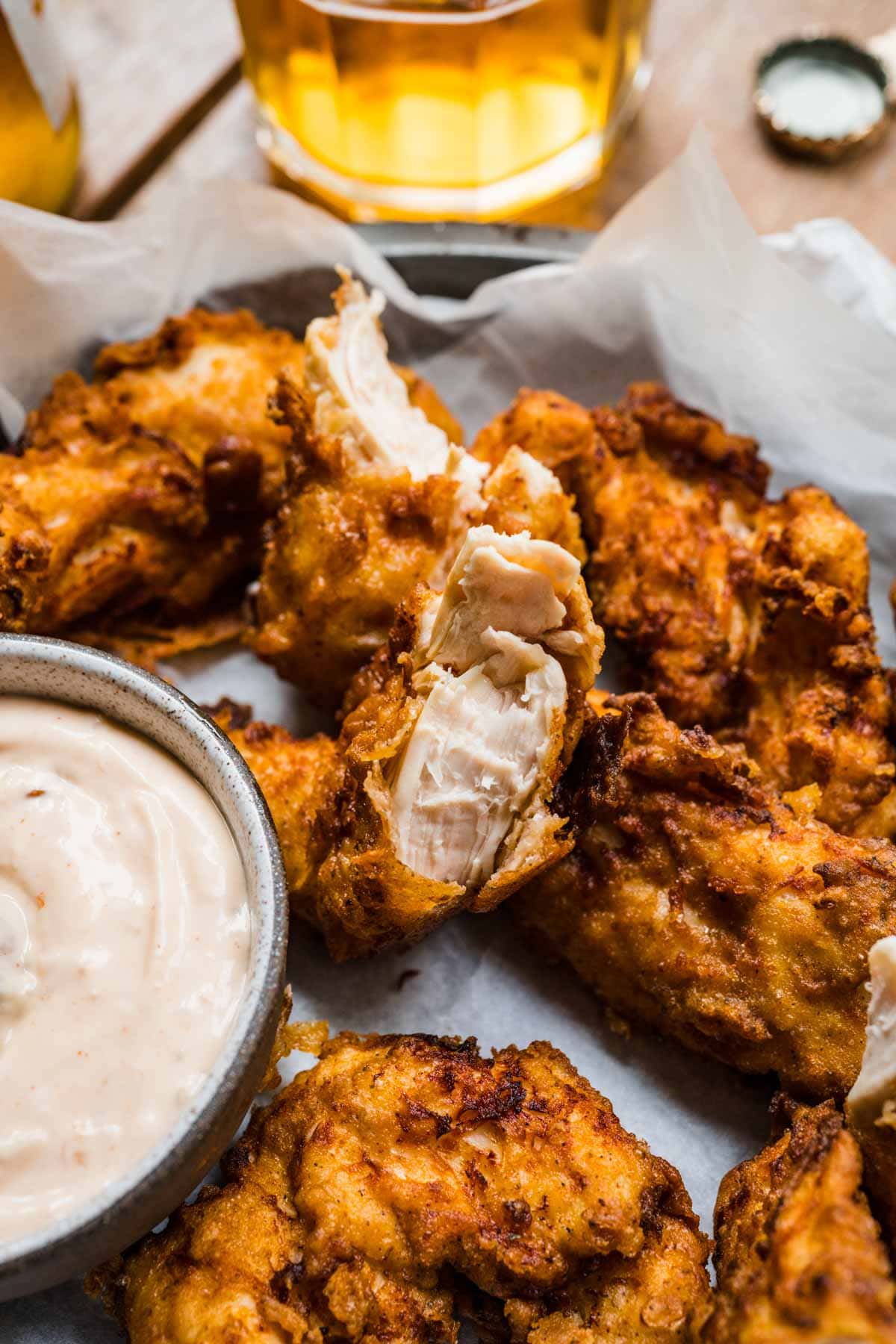 Ingredients
2

pounds

boneless chicken tenderloins

1

cup

buttermilk

1

cup

flour

1

tablespoon

seasoning salt

1/3

teaspoon

cayenne pepper

1/2

tablespoon

black pepper

1/2

tablespoon

white pepper

1/2

cup

club soda

1/2

teaspoon

sea salt

vegetable oil

, for frying
Texas Roadhouse Cajun Horseradish Sauce
1

cup

mayonnaise

1

cup

sour cream

1/4

cup

prepared chili sauce

2

tablespoons

prepared horseradish sauce

1/4

teaspoon

cayenne pepper
Instructions
Soak the chicken strips in buttermilk for about 10 minutes.

Mix the flour, seasoning salt, cayenne pepper, black pepper, and white pepper in a bowl.

Stir the club soda into the dry ingredients until well mixed.

Take the chicken out of the buttermilk and dry it with paper towels.

Heat a pot of oil on medium-high heat.

Cover each chicken strip in the batter, then drop into the oil. Cook each strip for

3-5 minutes

until golden brown.

Place the chicken strips on paper towels to drain excess oil after cooked.

Sprinkle the sea salt over the strips and serve.
Texas Roadhouse Cajun Horseradish Sauce
Mix the mayonnaise, sour cream, chili sauce, horseradish sauce, and cayenne pepper together.

Refrigerate for

2 hours

before serving.
Nutrition
Calories:
454
kcal
|
Carbohydrates:
27
g
|
Protein:
37
g
|
Fat:
21
g
|
Saturated Fat:
7
g
|
Polyunsaturated Fat:
6
g
|
Monounsaturated Fat:
5
g
|
Trans Fat:
1
g
|
Cholesterol:
130
mg
|
Sodium:
2073
mg
|
Potassium:
761
mg
|
Fiber:
1
g
|
Sugar:
7
g
|
Vitamin A:
537
IU
|
Vitamin C:
5
mg
|
Calcium:
109
mg
|
Iron:
2
mg