Caramel Chocolate Bars are made with a chewy oatmeal cookie crust, semisweet chocolate chips, and gooey caramel topping. Ready in 30 minutes!
Layered Cookie Bars like Chocolate Oat Bars and Caramelitas combine chewy oats and melted chocolatey goodness in one delicious sweet and rich bite. These caramel-filled oatmeal cookie bars are a quick and easy Dessert perfect for get-togethers!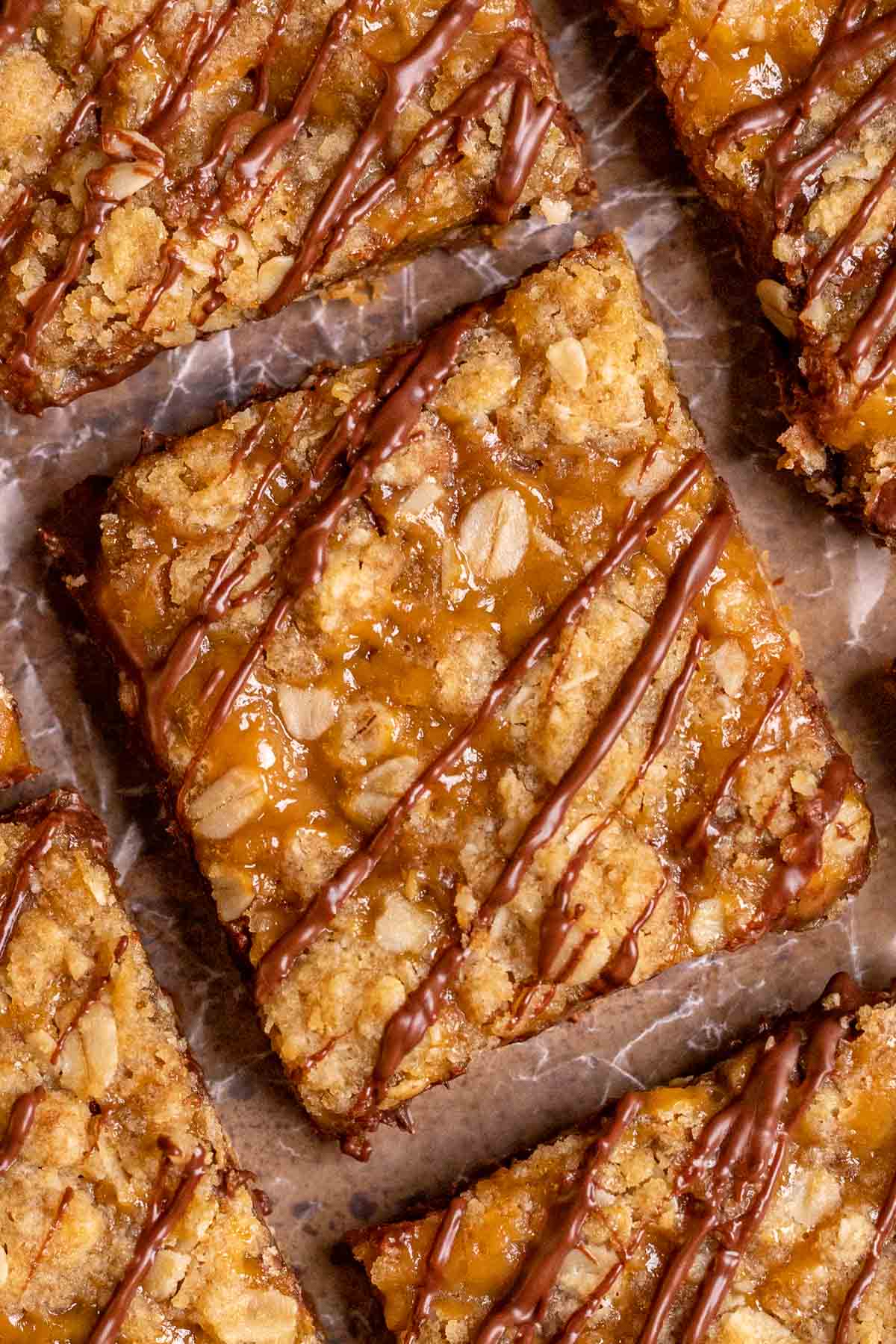 The rich chocolate and caramel flavor make this delicious dessert reminiscent of a classic candy bar, like a Twix. This recipe takes the amazing flavor combinations and bakes them into the perfect Chewy Chocolate Caramel Oat Bars. They are more filling, and the oats even sneak in some fiber for a rich treat with extra nutrients you can feel good about.
The sweet flavors of brown sugar, chocolate chips and soft caramel are balanced by all the buttery goodness in the chewy oat crust. The buttery oatmeal cookie crust is a simple mixture of melted butter, brown sugar, flour and quick oats. The quick oats soak up all the melted butter so the crust stays soft and chewy. The crust mixture pulls double duty as a streusel topping for the cookies too, giving the bars a gooey center and slightly crisp edges on top.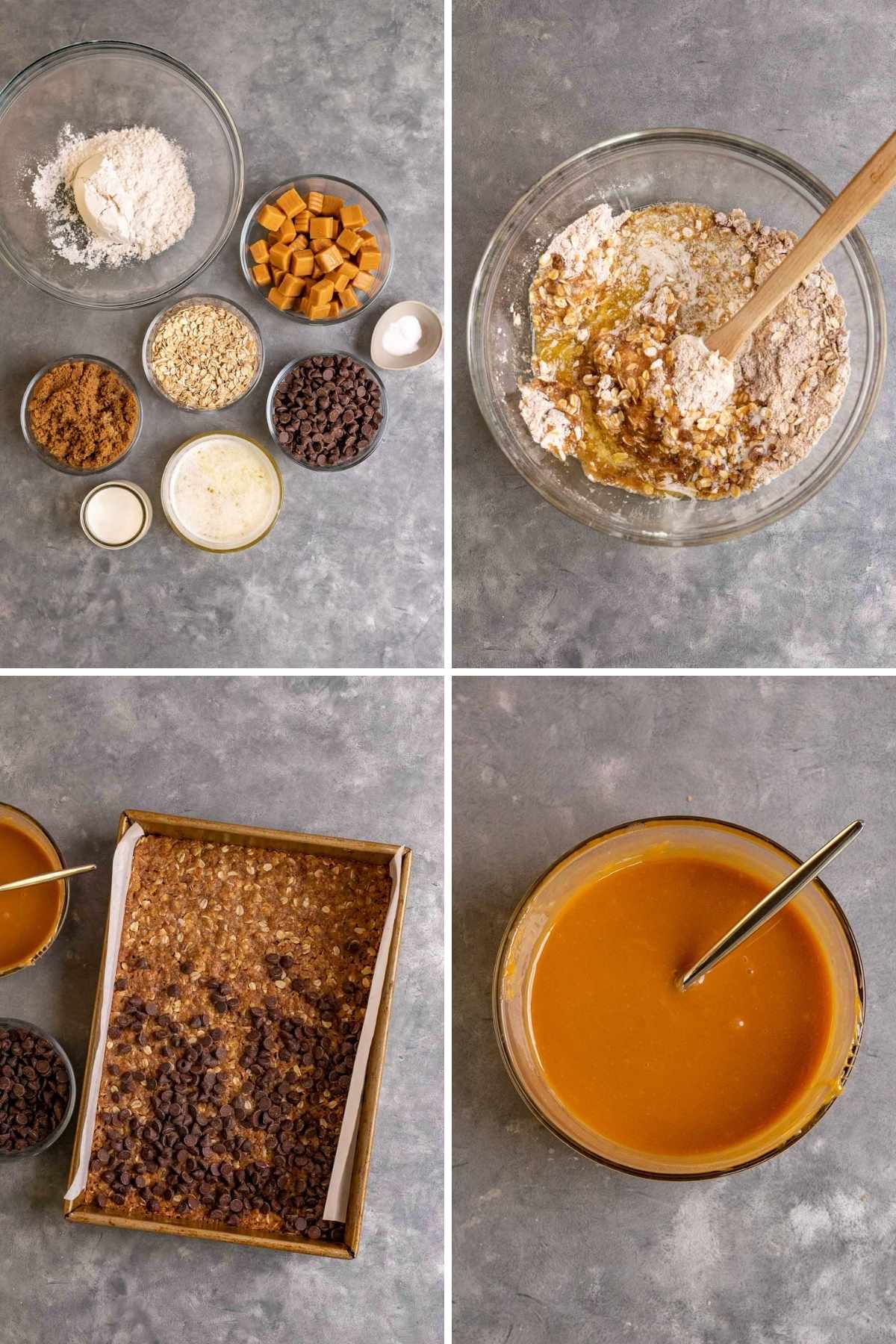 Caramel Chocolate Bars are an easy crowd sized dessert perfect for parties and they are whipped up so fast they can be a quick weeknight treat too. Serve these chocolatey, caramel filled oatmeal bars warm with Vanilla Ice Cream on top for the most amazingly sweet, gooey, chewy, and creamy sundae ever. Take them to the next level of caramel goodness with a drizzle of warm Salted Caramel Sauce!
What is the difference between Chocolate Caramel Bars and Caramelitas?
Both Chocolate Caramel Bars and Caramelitas are layered oatmeal bars that are baked twice, first to set the crust then to cook the oat crumble topping. However, even though they are similar, there are slight adjustments that make a big difference.
Caramel Chocolate Bars have a chewy oatmeal base that is more like a soft granola bar and a soft oatmeal cookie combined. They are much softer and chewier because they are made with melted butter, all brown sugar, and no egg. Caramelitas have a buttery oatmeal cookie crust that is more like an oatmeal shortbread cookie with a crumble topping. They are made with softened butter, a combination of white sugar and brown sugar, and there is an egg for a firmer more traditional cookie dough.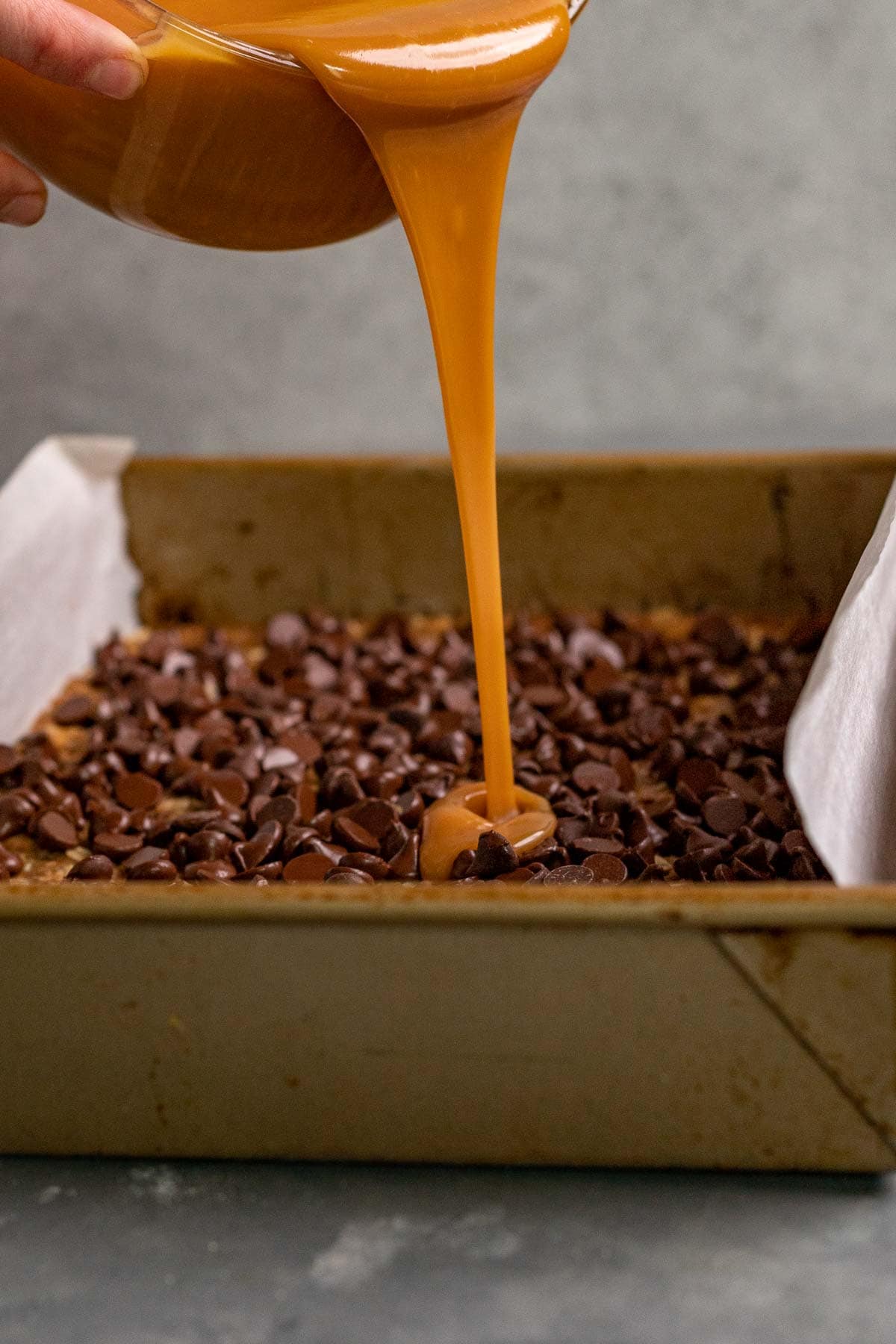 How to Make Caramel Chocolate Bars
Prep time: Turn the oven heat to 350 degrees, and spray a 9×13 inch pan with nonstick cooking spray.
Oat mixture: Add the oats, brown sugar, flour, baking soda, and salt to a medium bowl. Whisk the dry ingredients, then add the melted butter. Stir the dough until combined. Press half of the dough into the prepared baking dish. Pop it in the oven to bake until the crust is a nice golden brown color. Set the rest of the dough to the side.
Caramel layer: Add the soft caramel candies and milk to a heatproof bowl. Then microwave the caramel mixture at 50% power in 30-second increments until the heat melts it. Stir the caramel between each session until smooth.
Assemble: Sprinkle the chocolate chips over the oats. Then pour the caramel layer over the chocolate layer. Use an offset spatula to smooth out the caramel layer before adding the remaining oat mixture over the top.
Baking time: Bake for another 10 minutes, then let the bars cool completely before slicing.
FAQs for Caramel Chocolate Bars
Why use quick oats instead of regular rolled oats for baking?
Quick oats are used in baking because they have a finer texture and cook faster compared to regular rolled oats. Additionally, quick oats absorb liquid more quickly, helping to create a moist and chewy cookie bar.
What is caramel made from?
Caramel is made from heating and melting sugar until it reaches a specific temperature or color. Typically, granulated sugar is the main ingredient in caramel, but sometimes additional ingredients like butter, cream, or milk are added to enhance the flavor and create a smooth and creamy texture.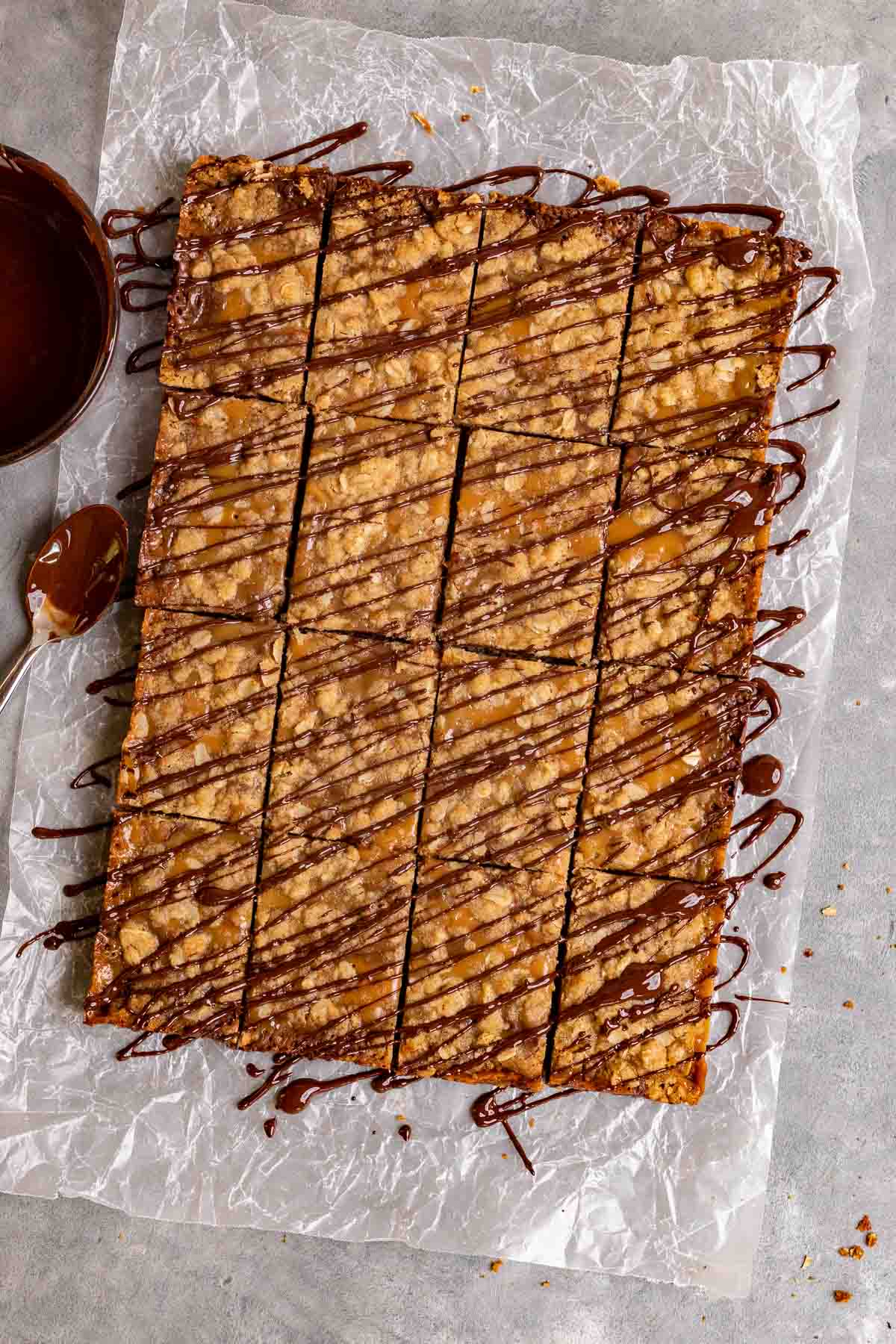 Create a free account to Save Recipes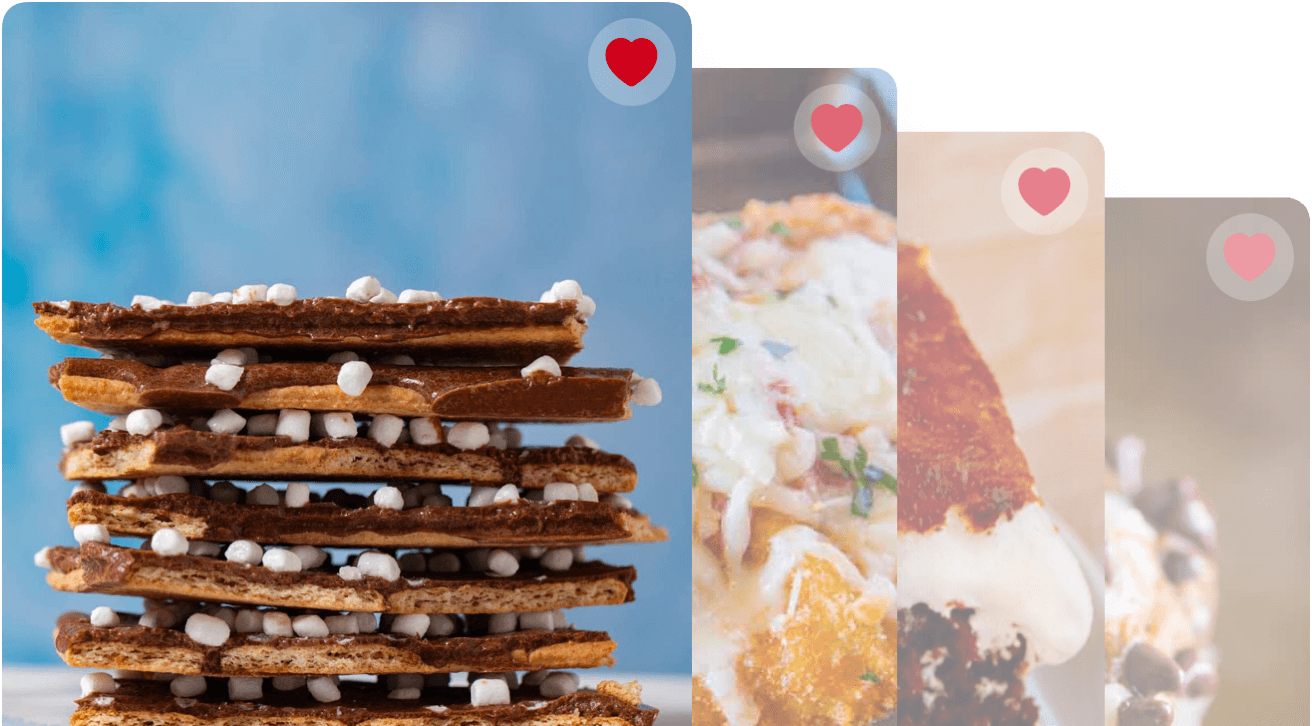 Key Ingredients
Oats: Quick oats give the oatmeal cookie crust a chewy, gooey texture because they absorb more of the melted butter plus they cook quicker than regular rolled oats.
Brown Sugar: Brown sugar adds sweetness and brings more natural caramel flavor. It also helps to create a soft and chewy texture thanks to the sticky molasses.
Flour: All purpose flour makes the bars light and tender and helps form the dough that holds everything together.
Baking Soda: Baking soda is a leavening agent that helps the crust to rise slightly, giving the bars a melt-in-your-mouth lighter texture.
Butter: Melted unsalted butter adds a rich buttery flavor as well as moisture for the bars. Using melted butter makes these cookie bars extra gooey and chewy.
Caramels: Soft, chewy caramels provide a gooey, sweet center to these bars. Make extra to drizzle as a smooth and creamy caramel topping over the bars before serving them.
Milk: Whole milk is combined with the caramels to create a smooth and pourable consistency for the caramel topping. It adds richness and helps to achieve a creamy texture.
Chocolate Chips: Semisweet chocolate chips add bursts of sweet chocolatey goodness throughout the bars. Semi-sweet chocolate adds the perfect amount of sweetness without making your bars too sugary.
Can Caramel Chocolate Bars be made ahead of time?
Yes, Caramel Chocolate Bars can be made ahead of time. After baking and allowing them to cool completely, you can store them in an airtight container at room temperature for a few days. You can also prepare the dough in advance without baking. Simply follow the instructions for preparing the dough, and instead of baking it immediately, cover it tightly and refrigerate it for up to 24 hours. The next day, bake in two layers according to the recipe and prepare the caramel layer fresh before baking.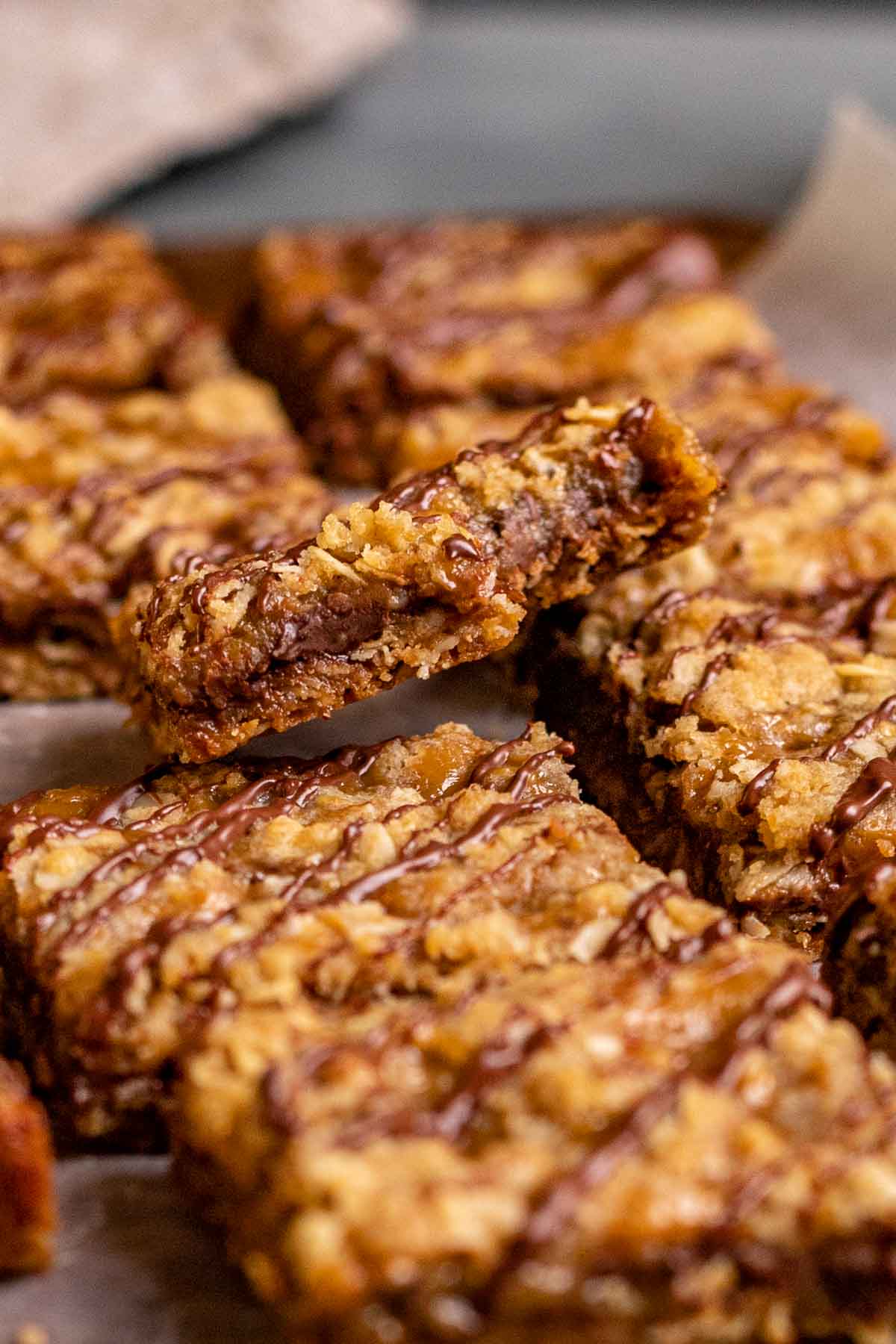 Variations
Pecan: To add some delicious crunch to the recipe, you can make Pecan Caramel Chocolate Bars. Just sprinkle chopped pecans over the top of the caramel layer along with the oat mixture to make the bars into pecan caramel chocolate bars.
More Add-ins: There are plenty of other mix-ins and toppings you can try. Sprinkle some salt flakes or coarse sugar on top for some sparkle and flavor. You could also add coconut flakes, broken pretzel sticks, graham cracker pieces, or peanuts. Any of them would add fun new texture and flavor to the bars.
Chocolate: Experiment with the flavor of these chewy chocolate and caramel bars by using different kinds of chocolate. Instead of semisweet chocolate chips, you could try dark chocolate, milk chocolate, or white chocolate chips.
Shortbread Crust: If you prefer, you can use a shortbread layer instead of the oat mixture. To make the buttery crust, cream 1 cup softened butter and 1 cup sugar. Then mix in 2 egg yolks and ½ teaspoon vanilla extract. Sift in 2 cups flour, 1 teaspoon baking powder, and ¼ teaspoon salt, and mix until just combined. Refrigerate the dough for an hour, then press the shortbread layer into the base of the pan, add the chocolate, caramel, and shortbread topping. Then bake until golden brown.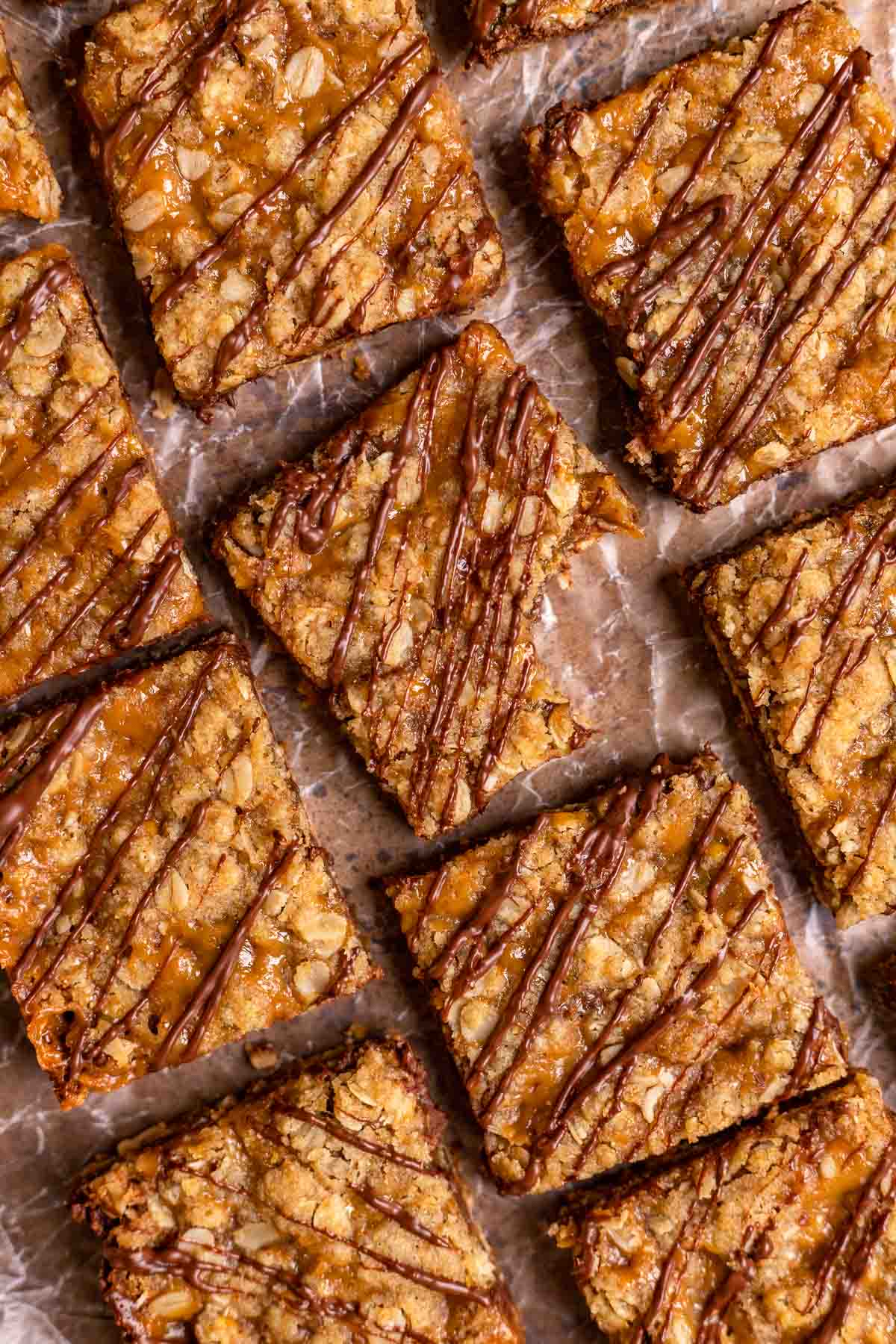 More Chocolate Caramel Treats
How to Store
Serve: You can keep Chocolate Caramel Bars sealed at room temperature for up to 5 days. The recipe will be best kept in a cool place. If it's too warm, store them in the fridge.
Store: Kept in an airtight container, the bars will stay good in the fridge for up to a week. The chilling time will slightly harden the caramel, so bring them back to room temperature before serving.
Freeze: You could also freeze the bars for up to 3 months. Put them in a freezer bag or another sealed container with the layers separated by wax paper or parchment paper. Let them thaw on the counter to serve.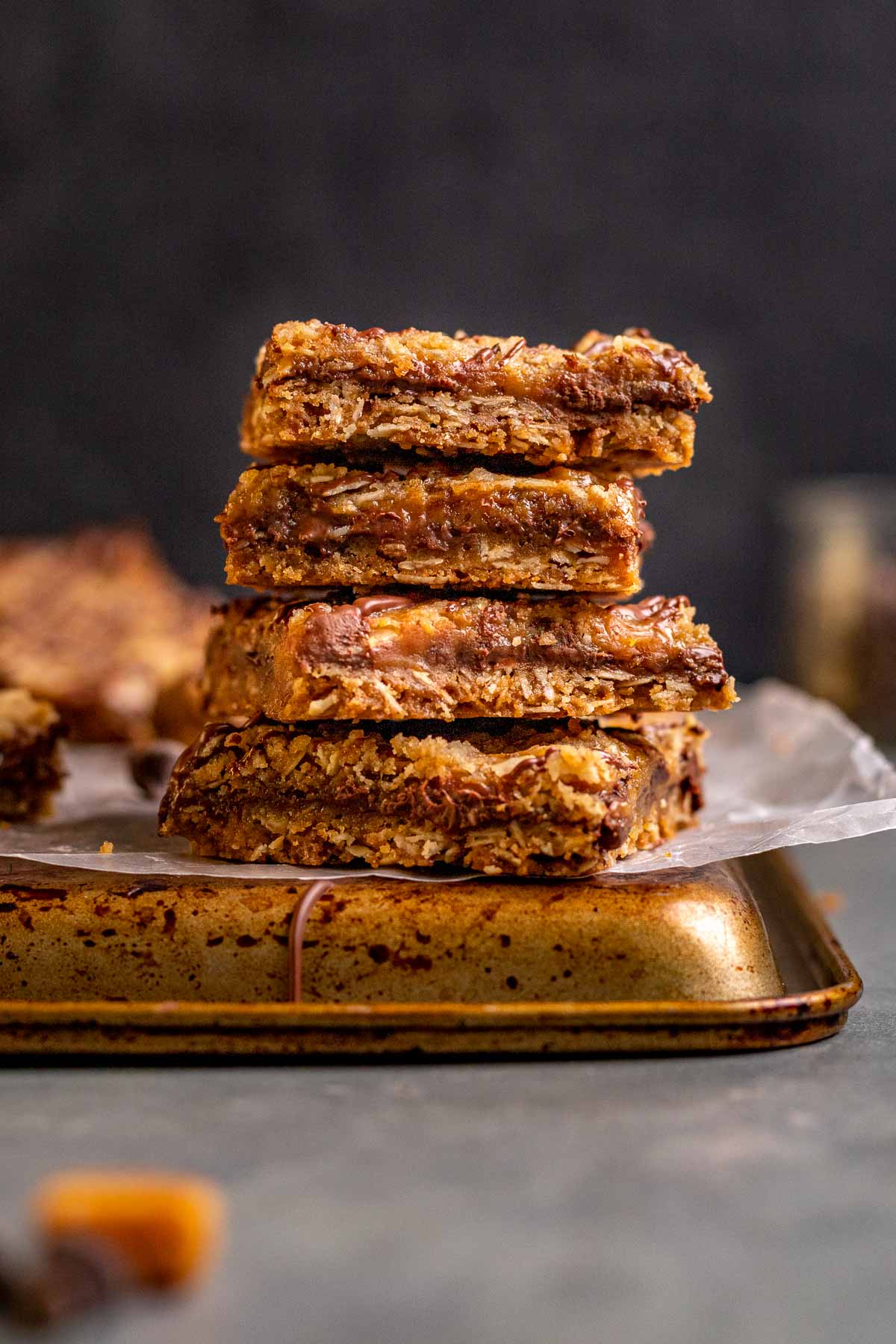 Ingredients
1

cup

quick oats

1

cup

brown sugar

, packed

1

cup

flour

1/2

teaspoon

baking soda

1/4

teaspoon

salt

3/4

cup

unsalted butter

, melted

14

ounces

chewy caramels

1/3

cup

whole milk

1 1/2

cups

semisweet chocolate chips
Instructions
Preheat oven to 350 degrees and spray a 9×13 baking pan with baking spray.

In a large mixing bowl stir together oats, brown sugar, flour, baking soda, and salt until well mixed.

Add in melted butter and stir until combined.

Add half the mixture to the baking pan and bake for

10 minutes

.

Melt caramels and milk in a microwave-safe bowl at 50% power in

30-second

increments until smooth and creamy.

Add chocolate chips to the baking pan evenly.

Pour caramel over the chocolate chips and sprinkle the remaining crumb mixture over the top.

Cool completely before slicing.
Nutrition
Calories:
371
kcal
|
Carbohydrates:
51
g
|
Protein:
4
g
|
Fat:
18
g
|
Saturated Fat:
10
g
|
Trans Fat:
1
g
|
Cholesterol:
26
mg
|
Sodium:
141
mg
|
Potassium:
203
mg
|
Fiber:
2
g
|
Sugar:
36
g
|
Vitamin A:
293
IU
|
Vitamin C:
1
mg
|
Calcium:
68
mg
|
Iron:
2
mg