Classic Tuna Melt made with toasty sourdough bread, creamy tuna salad, tomatoes, and melty cheese is the perfect comfort food for lunch or dinner.
Tuna Melts are an easy comforting Sandwich Recipe that you can make in just 10 minutes. It's a great way to serve Tuna Salad in a melty, warm, grilled sandwich.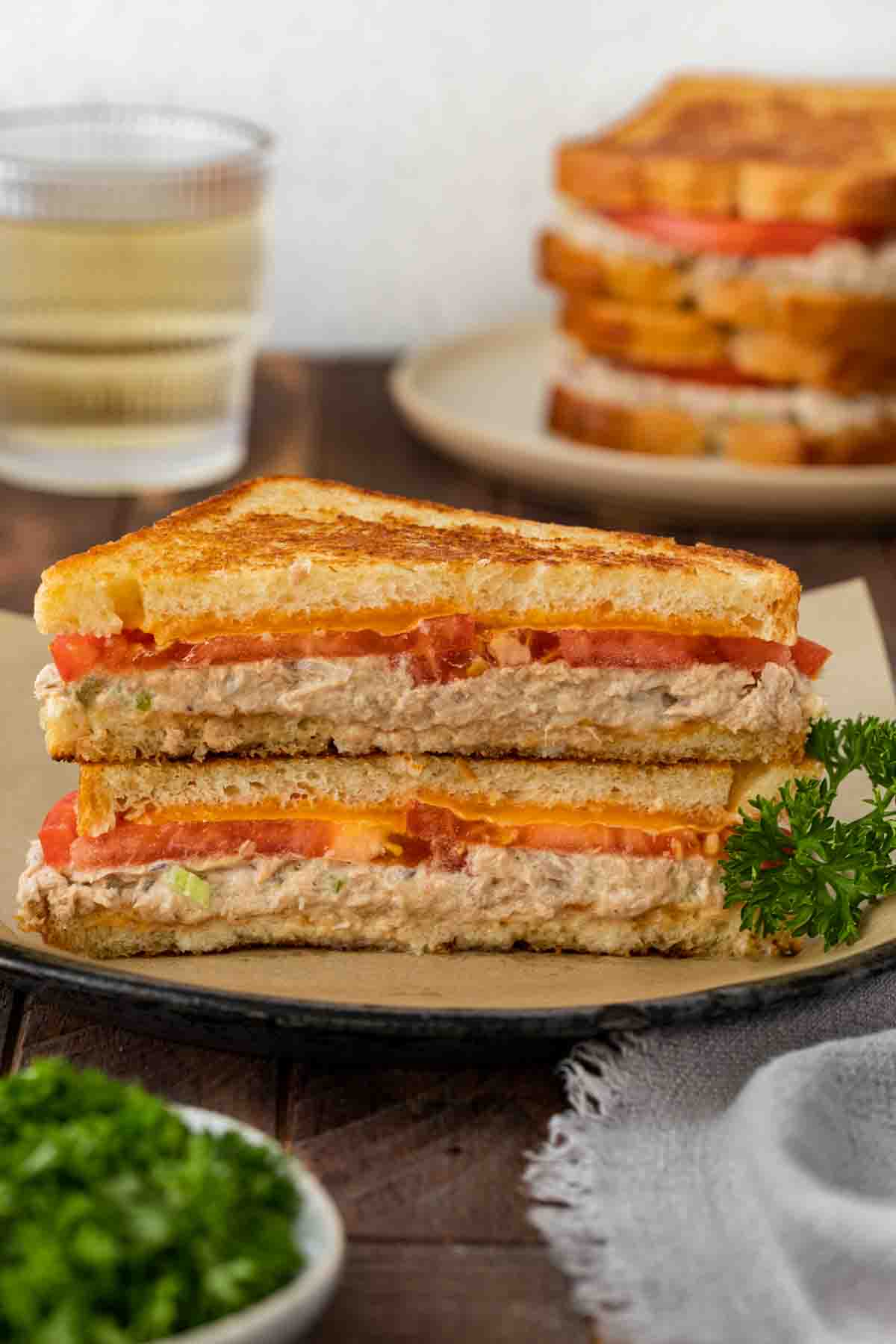 A Classic Tuna Melt is a simple tuna sandwich cooked to melty perfection. If you're a fan of Grilled Cheese, then this warm, grilled sandwich is sure to be a favorite. There's plenty of gooey melted cheese with a slice of cheddar on each side of the tuna salad. It's the perfect combination of melty cheese, creamy tuna, and crunchy, buttery toasted bread.
Classic Tuna Melts are easy to make in just a few minutes, so you can cook some up for lunch or dinner on a busy weeknight. It's a great way to use up leftover tuna salad with only a few other simple ingredients. Just grill them together between two slices of bread and enjoy.
Serve the Tuna Melt up with easy sides like potato chips, Wedge Salad, sliced apples, or Baked Mac and Cheese. It's the perfect simple meal that's sure hit the spot!
More Sandwich Recipes
How to Make the Perfect Tuna Melt
Tuna Salad: Drain the canned tuna. Then, mix together the mayonnaise, lemon juice, tuna, celery, red onion, relish, salt, and pepper in a large mixing bowl.
Bread: Spread each slice of bread with butter on one side. Add 4 of the bread slices to the griddle over medium heat. Make sure the butter is facing down.
Assemble: Add the cheddar cheese, then the tuna mixture, and 2 slices of tomato onto each piece of bread. Top that with another slice of cheese and the top bread. Make sure the butter is facing up.
Cook: Continue cooking for 2 minutes then flip the sandwiches and cook for 4 minutes until golden brown.
Frequently Asked Questions About Classic Tuna Melt
Why are celery, red onion, and relish mixed into the tuna salad?
These elements get chopped up and mixed into the tuna salad in order to provide texture and to distribute the flavors throughout the sandwich so you get a little bit in every bite. They also stay put inside the tuna mix while you eat it. Otherwise, slicing, or topping any of the elements might lead them to fall out of the sandwich once you start biting into it.
Can I leave out some of the vegetables from my Tuna Melt?
If you don't like tomatoes you can leave them out of your Tuna Melt Sandwiches. You could replace them with roasted red pepper, or just omit entirely. As for the vegetables mixed into the tuna salad, you can omit or replace them as needed. Green onion would make a nice flavor substitute for red onion. You could also omit the relish.
What if my Tuna Melt gets soggy when it is cooked?
If your Tuna Melt gets too soggy that probably means you haven't drained the tuna well enough, or used a little bit too much mayonnaise or lemon juice.
What do I do if my cheese isn't melting inside my Tuna Melt?
Try lowering the heat a tiny bit so you can leave your sandwich on the heat for longer. That will allow the cheese to melt before your sandwiches begin to burn.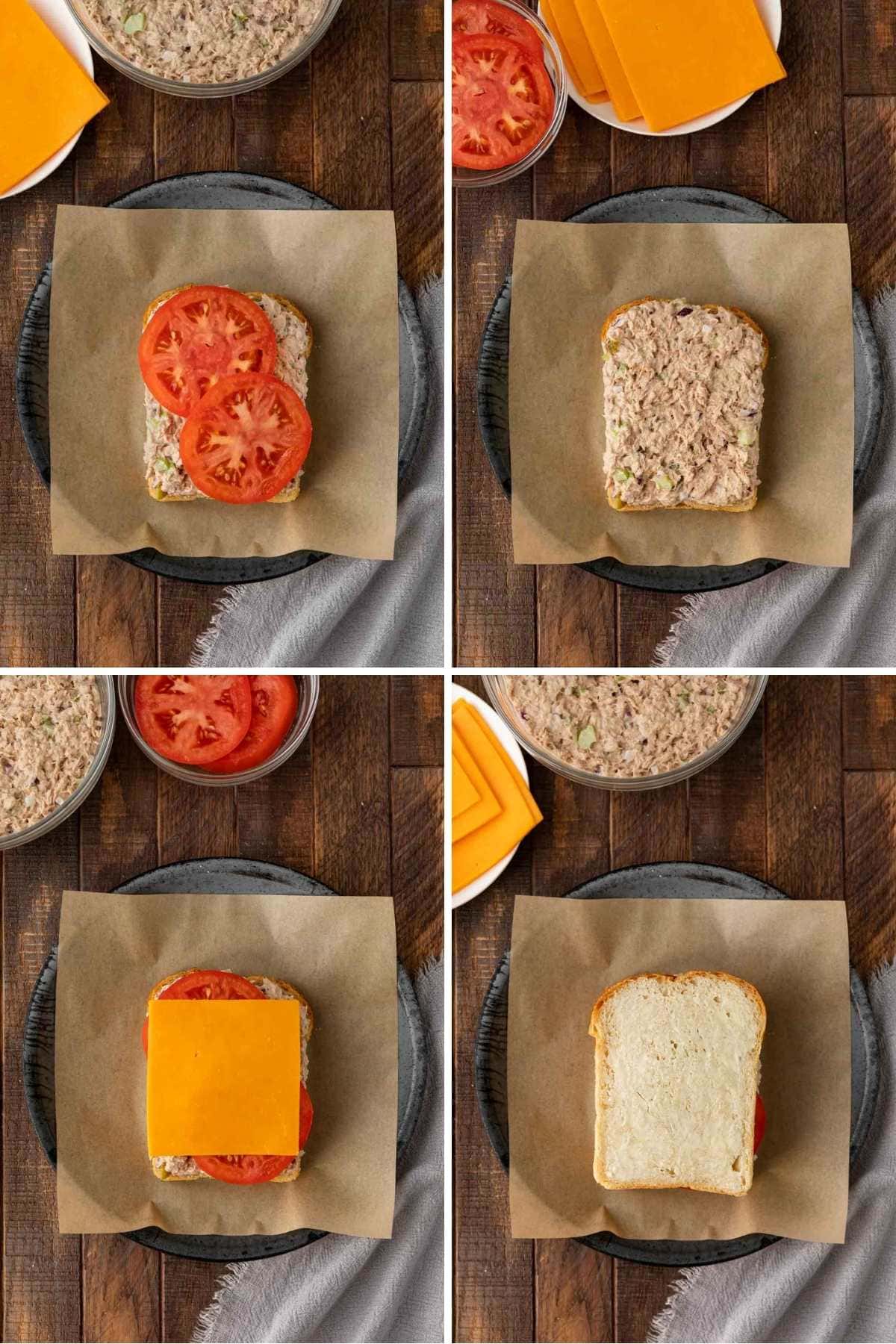 Create a free account to

Save Recipes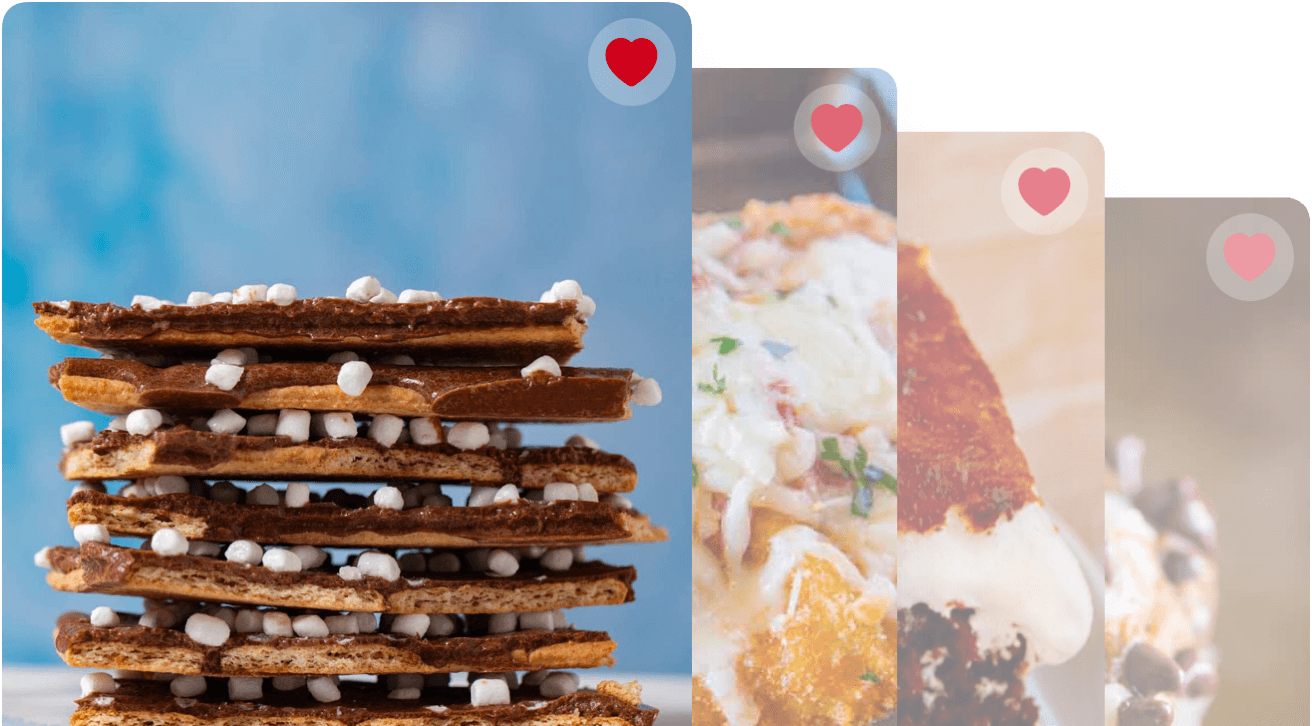 Variations on Classic Tuna Melt
Cheese: You can use different varieties of cheese in your Tuna Melt. Try Swiss cheese, American cheese, provolone, Pepper Jack, or mozzarella. You can use one kind of cheese for both slices of cheese in each sandwich or use two different kinds for each. So, you could keep the cheddar cheese, but also add another variety you like over the top.
Light Tuna Melt: To make a lighter tuna salad for your Tuna melt, use Greek yogurt instead of mayonnaise in the recipe.
Flavor: To change up the flavor of your tuna salad try using pickle relish instead of dill relish. You can also try mixing in different flavors with seasonings like oregano, basil, rosemary, thyme, or red pepper flakes. For a little spice, mix hot sauce into the tuna salad.
Bread: Instead of the sourdough bread slices the recipe calls for, you can use white bread, wheat bread, brioche, or French bread. Instead of slices of bread, you could also try toasting up English muffins.
Kid-Friendly: Tuna Melts are already pretty kid friendly but you can make them even more so by cutting them into 4 triangles once finished, cutting the crusts off the bread before grilling, or leaving the tomatoes off the sandwich. These sandwiches are also very easy to prepare so you can bring the kids over to help you assemble them before cooking.
More Fun Sandwich Recipes
Can Classic Tuna Melt Be Made Ahead?
You can mix your tuna salad ahead of time to make these Sandwiches come together even faster on the day you want to eat them. However, you're going to want to slice the tomato fresh before assembling. You'll also want to prepare your bread with the butter spread fresh before grilling.
How to Store Classic Tuna Melts
Serve: Don't leave your Tuna Melts at room temperature for more than 2 hours.
Store: If you have leftover sandwiches separate the tuna salad from the bread slices. You can store the tuna in an airtight container in the fridge for 3-5 days, then just use fresh bread and veggies to make the sandwich.
Freeze: Unfortunately, the mayo in the Tuna Salad means that it won't freeze well. If you haven't used it after 5 days, it's better just to throw it out.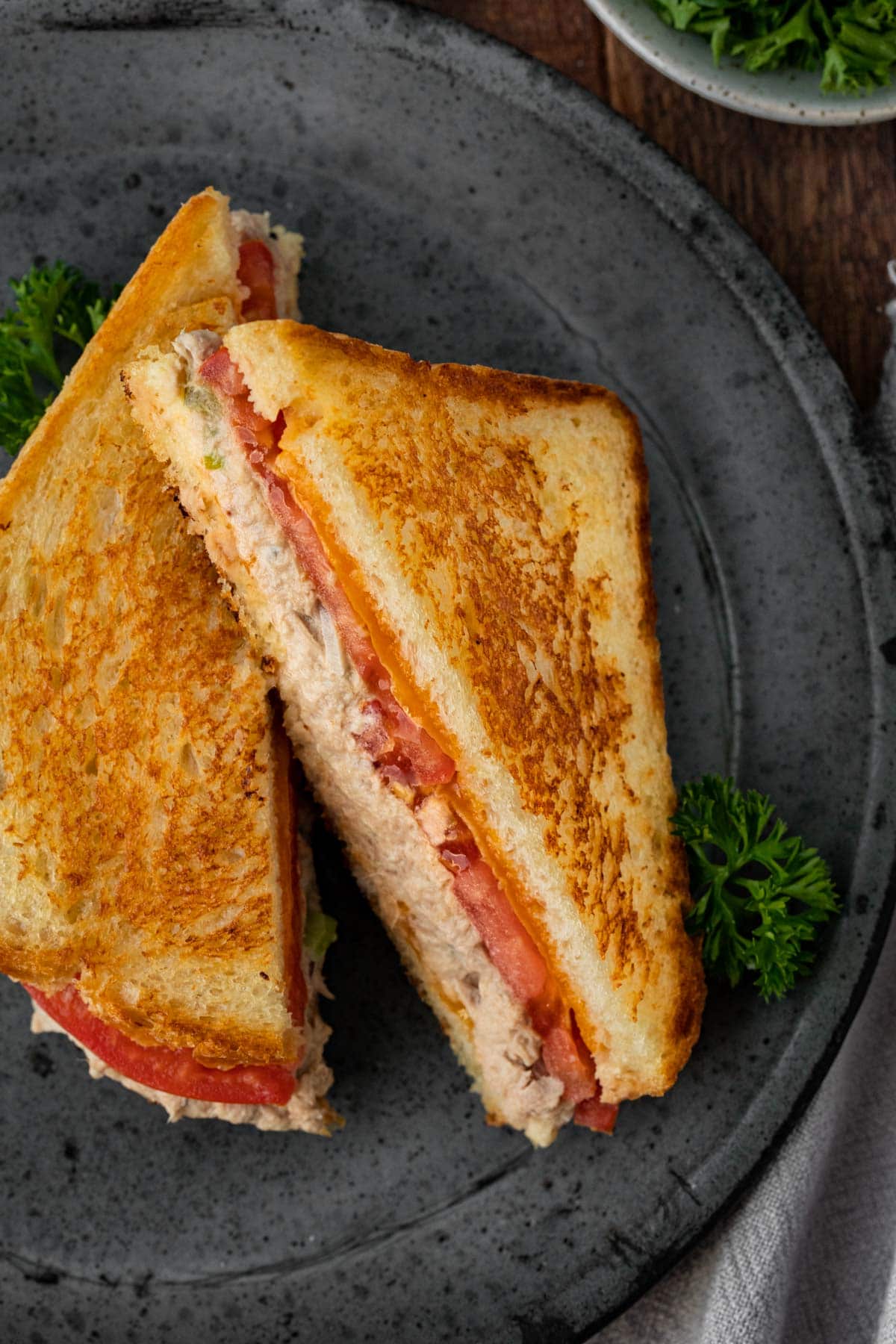 Ingredients
1/3

cup

mayonnaise

2

tablespoons

lemon juice

12

ounces

canned tuna

, drained well

1/4

cup

celery

, minced

1/4

cup

red onion

, minced

1

tablespoon

dill relish

, not sweet

1/2

teaspoon

kosher salt

1/4

teaspoon

coarse ground black pepper

8

slices

sourdough bread

4

tablespoons

butter

8

slices

tomato

8

slices

cheddar cheese
Instructions
In a large bowl mix the mayonnaise, lemon juice, tuna, celery, red onion, relish, salt, and pepper until well mixed.

Spread sourdough bread with butter on one side.

Add 4 slices bread, butter side down, onto a griddle or in a large skillet on medium heat.

Add 4 slices of cheddar cheese, then the tuna, and 2 slices of tomato on each piece of bread.

Top with remaining cheese slices and the other 4 slices of bread, buttered side facing up (away from the sandwich).

Cook for an additional

2 minutes

, then carefully flip the sandwich and cook

4 minutes

on the other side.
Nutrition
Calories:
728
kcal
|
Carbohydrates:
74
g
|
Protein:
39
g
|
Fat:
31
g
|
Saturated Fat:
10
g
|
Polyunsaturated Fat:
7
g
|
Monounsaturated Fat:
10
g
|
Trans Fat:
0.01
g
|
Cholesterol:
68
mg
|
Sodium:
1805
mg
|
Potassium:
509
mg
|
Fiber:
4
g
|
Sugar:
9
g
|
Vitamin A:
1389
IU
|
Vitamin C:
11
mg
|
Calcium:
339
mg
|
Iron:
7
mg