This traditional coleslaw recipe is an easy side dish made with shredded cabbage mix and creamy dressing – ready in 5 minutes!
Cole Slaw is the quintessential Summer Side Dish for your backyard barbecue. Other summer essentials include the best Milk Boiled Corn, Crispy Sweet Potato Fries, and the yummiest BBQ Chicken Pasta Salad ever!

Easy Cole Slaw, also known as Coleslaw, made in just 5 minutes with the perfect homemade dressing, is the ultimate side dish for summer because it gets even better the next day. Perfect for cookouts and planning ahead!
This classic Cole Slaw recipe is an easy barbecue side dish. Instead of spending a lot of money on grocery store Cole Slaw that could have been sitting there a week, you can make it at home with ingredients you can control!
If you speak to the head of deli department in your local grocery store, they'll likely tell you that Cole Slaw comes in either pre-made or in two parts, mix and dressing. This is a way to have fresh Cole Slaw without the added preservatives you'll find in packaged Cole Slaw dressings.
This recipe is loved so much that there are multiple creamy coleslaws on the site! One is KFC Coleslaw (Copycat) and the second is a personal favorite and unique cole slaw, Tony Roma's Coleslaw made with a teaspoon celery seeds.
How to Make Easy Cole Slaw
Making your own Coleslaw from scratch can be as easy as pouring and mixing! And all the ingredients are pantry staples which means you'll likely have the already at home! If not, you can easily find the ingredients in your local grocery store.
Step One – Sauce: First, combine all the sauce ingredients in a bowl.
Step Two – Slaw: Mix the cabbage mixture into the sauce and voilá, cole slaw!
Note: While this is technically ready to eat, we suggest letting it rest in the refrigerator for a few hours to really let the flavors set into the cabbage.
More Delicious Cabbage Recipes
3 Ingredient side dish ready in 20 minutes!
Frequently Asked Questions
Should I buy pre-shredded cabbage mix?
The time required for chopping plus the leftovers of the cabbage make it an easy swap. In addition to that, sometimes buying the vegetables whole can costs almost twice as much as buying the pre-shredded bag. This recipe shouldn't take you more than a few minutes to put together the morning of your bbq, or the night before.
Why do I have to let Cole Slaw sit before serving?
While this recipe takes only five minutes to put together, one of the most important things about Cole Slaw is letting it sit so that the dressing can soften the crunch of the cabbage. We recommend 2-4 hours. Even better if you can do it the night before. It's a great dish to make ahead of time. 
Where does Cole Slaw come from?
Cole Slaw is a dish that comes from the Netherlands. Its first presentation showed up in a cookbook there in 1770.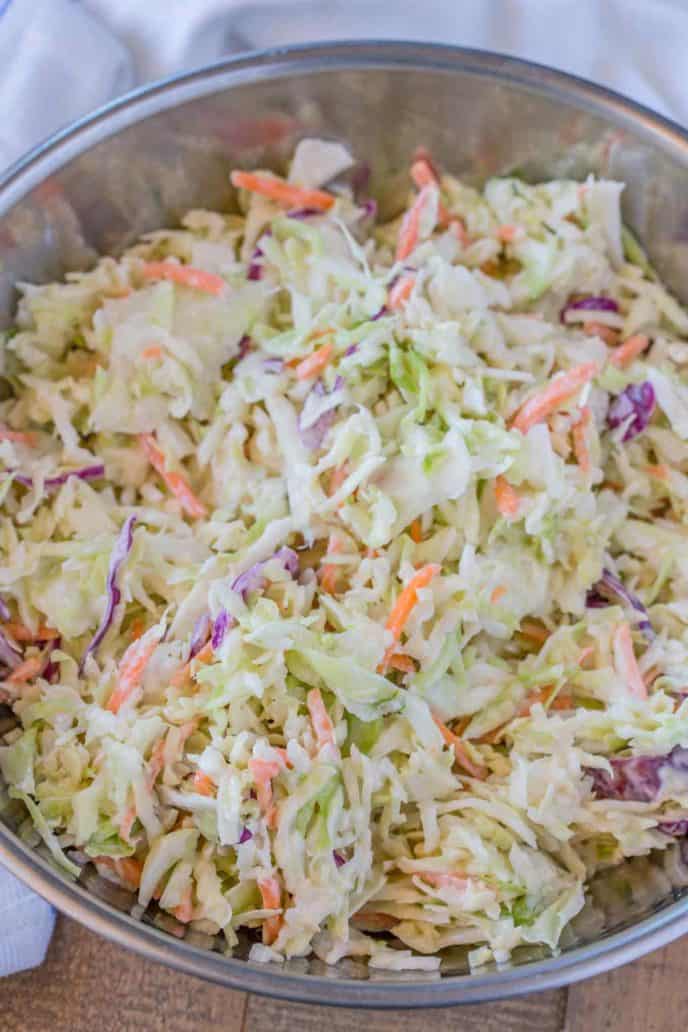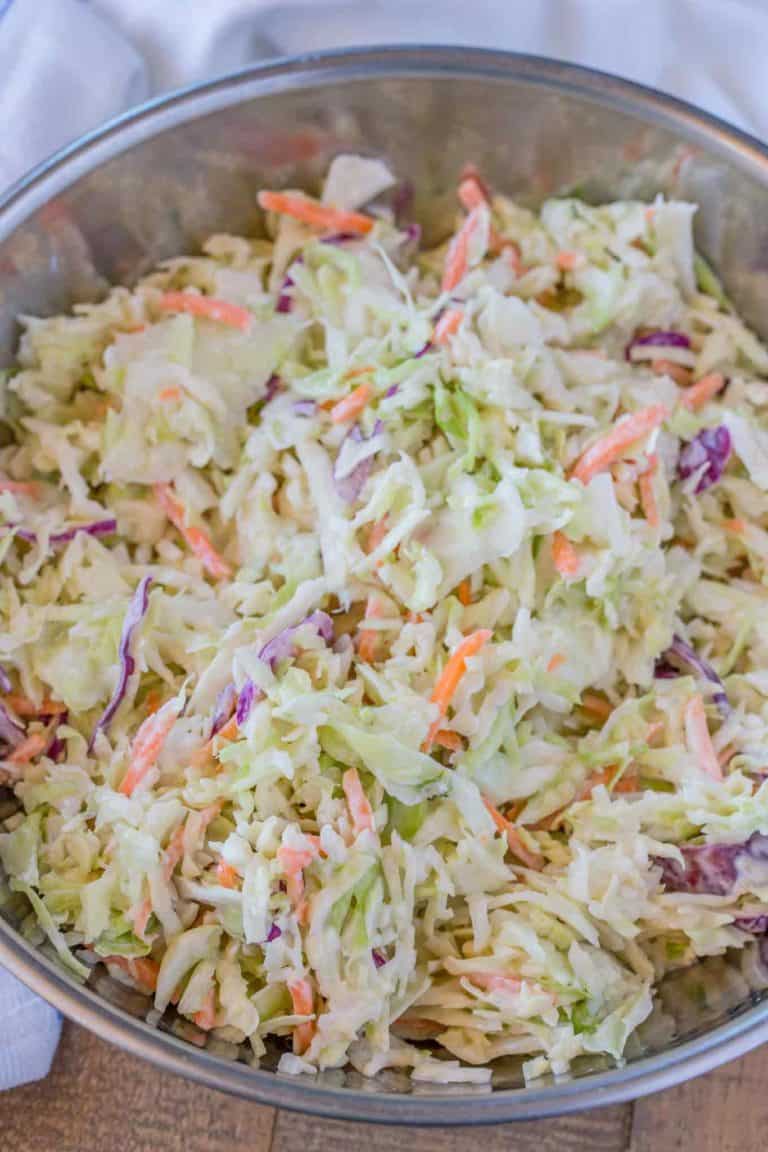 Create a free account to Save Recipes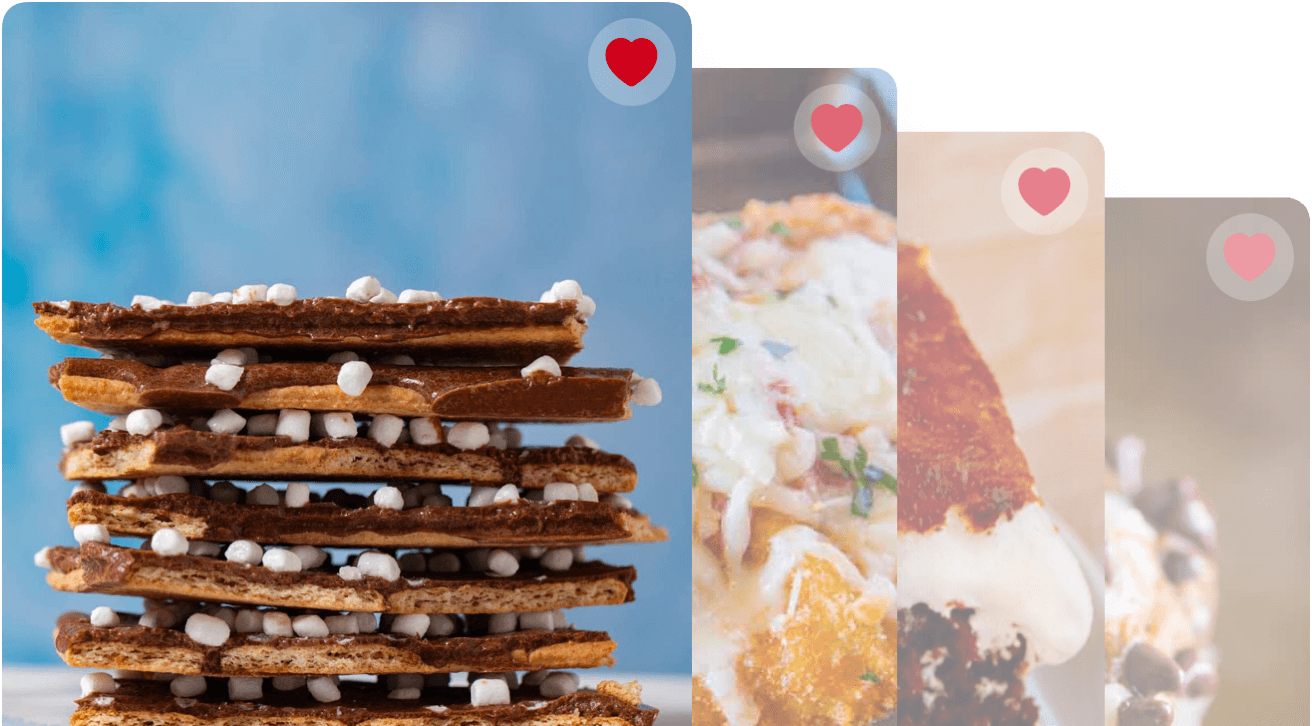 Key Ingredients in Cole Slaw
Homemade Cole Slaw is made with just a few basic ingredients you probably already have! Check it out!
Cabbage: We are using a pre-shredded cabbage mix in our recipe here. You can make your own using green cabbage, purple cabbage, and carrots. See below for the instructions on how to do this.
Mayonnaise: This recipe calls for regular mayo. Some people prefer using Miracle Whip over mayo in this recipe which is fine.
Vinegar: While the tablespoon vinegar used in this recipe is regular white vinegar since it is a bit stronger than others, you can used distilled white vinegar or apple cider vinegar if you prefer.
Sugar: You can use white sugar or brown sugar. We are using white sugar in this recipe. Granulated sugar should be used with caution since the larger crunchy sugar crystals will need to dissolve really well before adding in the cabbage.
Lemon Juice: We only use fresh squeezed lemon juice as it has the best flavor. The pre-bottled lemon juice can be used in a pinch, as can lime juice.
Can Cole Slaw be Made Ahead of Time?
The beautiful thing with Cole Slaw is that you can make it in advance! While it is still really yummy as soon as it is mixed together, making your Cole Slaw a day or two earlier and keeping it in the fridge will help bring all the flavors together and help them get into the cabbage mixture. Make sure it is sealed in an airtight container.
How to Make your own Cabbage Mixture for Cole Slaw
If you want to use your own mix for the coleslaw, follow these instructions.
Green Cabbage: Cut up a full head of green cabbage into 4 large quarters using a sharp 8 inch chef's knife. (There are a couple of branded DTD Knives left in stock – my personal favorites. Get one before they're gone!) Taking care, thinly slice each of the quartered cabbage pieces. Discard the thick root part. One head of cabbage should make about 8 cups of shredded cabbage.
Red Cabbage: Next, shred enough red cabbage to make 1 cup shredded red cabbage, about a 1/4th of a red cabbage head.
Carrots: Lastly, using the julienne setting on your kitchen mandolin (or or one of the sharp chef knives mentioned before) slice 4 carrots into short, thin strips.
Variations and Substitutions on Cole Slaw Ingredients
Cabbage mix, mayo, lemon juice, and a touch of sugar are the basis for a good Cole Slaw. You can add or substitute other ingredients to make it your own!
Fresh Herbs: Adding a few teaspoons of fresh mint chopped and diced green onion or sliced white onion will give this recipe a fun and herby kick!
Mustard: Some people have found that adding a bit of mustard seeds or a tablespoon or two of dijon mustard to the mix really adds a wonderful depth of flavor.
Mayo vs Miracle Whip: Mayo is really creamy while Miracle Whip is a bit sweeter. You can substitute Miracle Whip without issue if you prefer.
Vinegar: You can use dill pickle juice as a really nice substitute for vinegar. If you have absolutely no other options, just use extra lemon juice.
Sugar: Stevia is a good sweetner substitute, as is dark brown sugar.
Salt: Celery salt is an incredible way to give this dish more flavor without overpowering the tastebuds.
More Great Summer Side Dishes
How to Store Cole Slaw
Serve: For best results, make sure to refrigerate at least 4 hours before serving, serve chilled, and don't leave it out longer than 2 hours.
Store: Cole Slaw can be refrigerated in an airtight container for up to 1 week. If it starts to break down, add more coleslaw mix to keep it fresh longer.
Freeze: Coleslaw doesn't freeze well, so just throw it out and make a fresh batch when needed.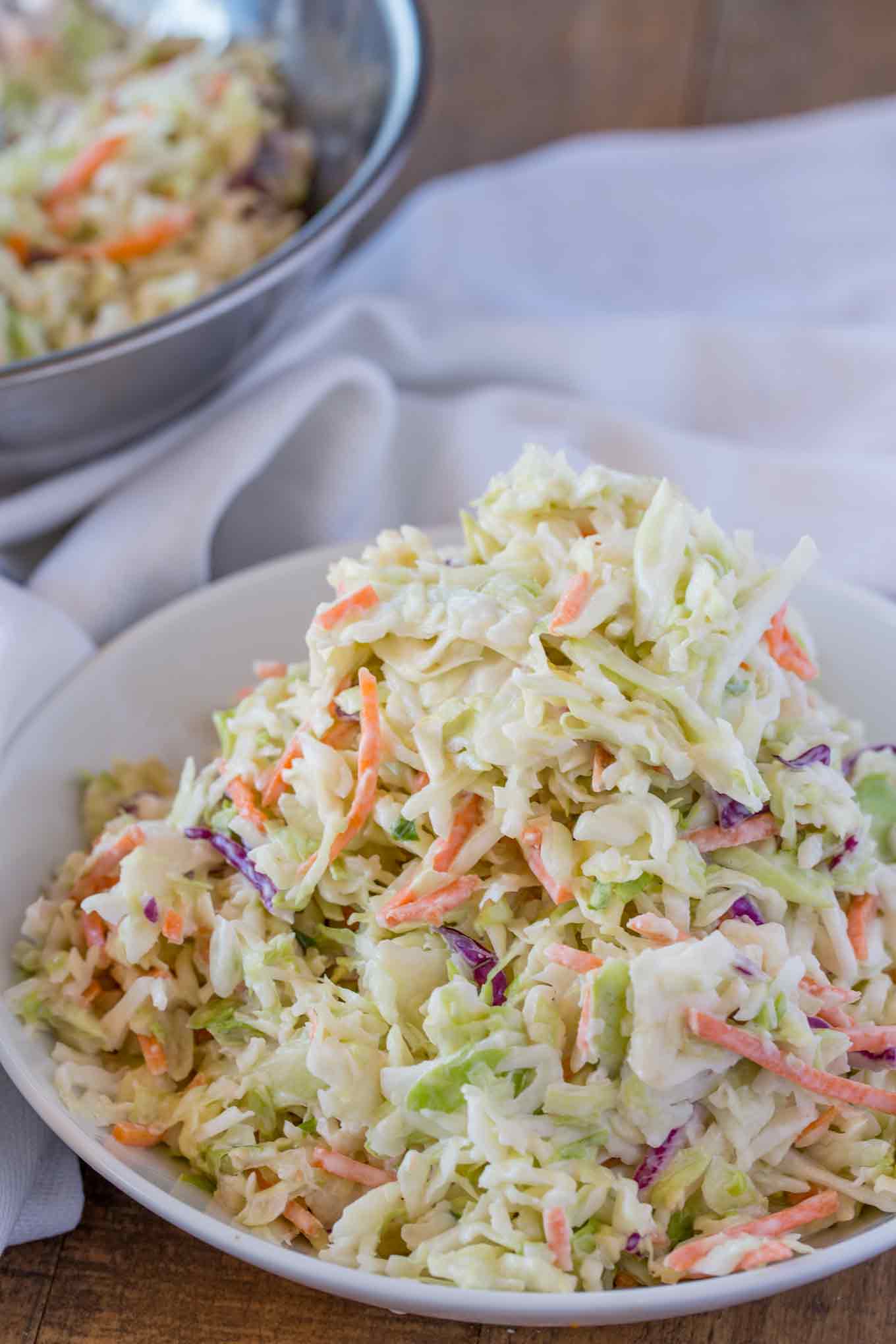 Ingredients
14

ounce

coleslaw mix

with red cabbage and carrots*

1/2

cup

mayonnaise

2

tablespoons

sugar

1 1/2

tablespoons

lemon juice

1

tablespoon

white vinegar

1/4

teaspoon

kosher salt

1/2

teaspoon

coarse ground black pepper
Instructions
Add the mayonnaise, sugar, lemon juice, white vinegar, salt, and pepper to a large mixing bowl and whisk together until fully combined.

Add in the coleslaw mix and stir well to combine.

Refrigerate for at least

2 hours

before serving.
Notes
* If you want to use your own mix for the coleslaw, use 8 cups shredded cabbage, 1 cup shredded red cabbage, and 4 julienned carrots.
Nutrition
Calories:
120
kcal
|
Carbohydrates:
6
g
|
Fat:
10
g
|
Saturated Fat:
1
g
|
Cholesterol:
5
mg
|
Sodium:
170
mg
|
Potassium:
84
mg
|
Fiber:
1
g
|
Sugar:
4
g
|
Vitamin A:
60
IU
|
Vitamin C:
19.2
mg
|
Calcium:
20
mg
|
Iron:
0.3
mg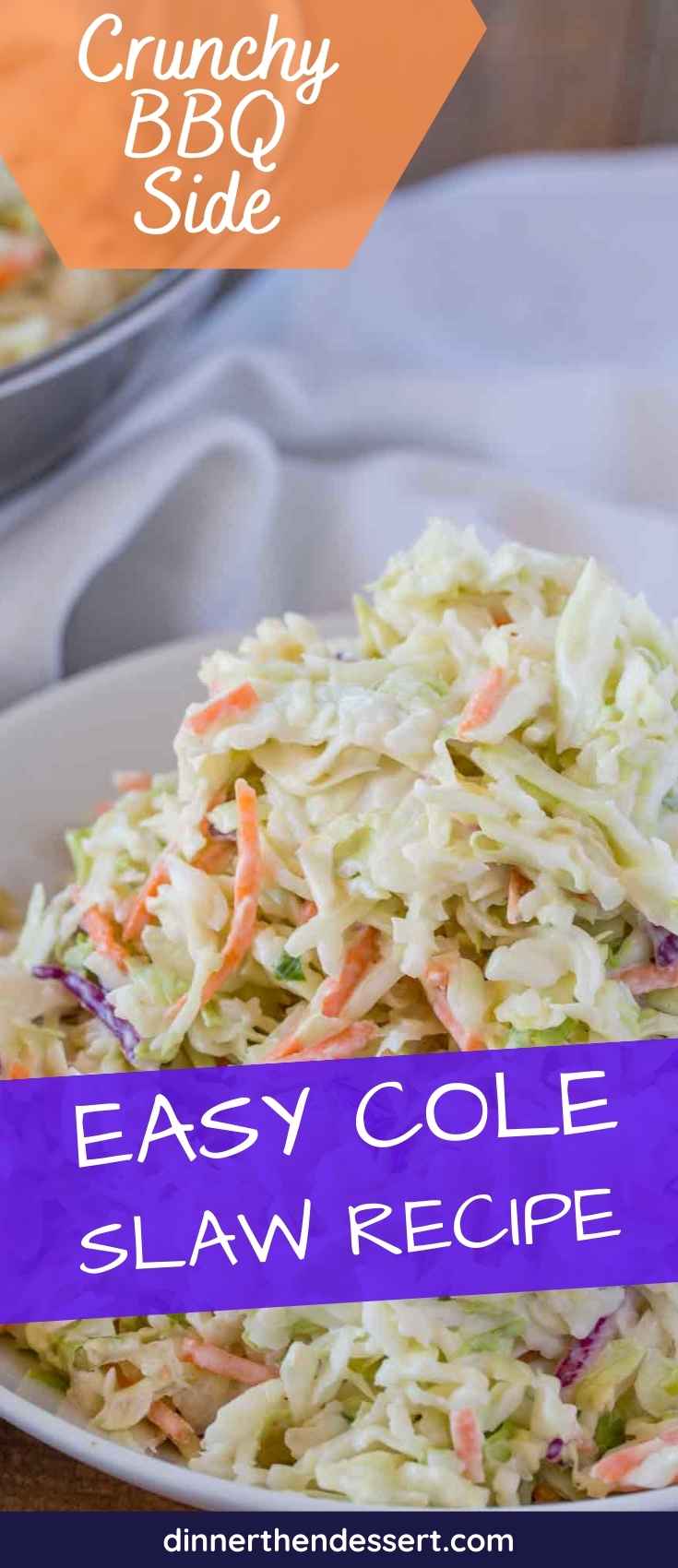 Photos used in a previous version of this post: