Easy Lemon Bars have a buttery shortbread crust, a tangy lemon curd filling and just 5 ingredients in the whole bakery worthy recipe!
We love all the fun fruit flavored desserts (hello beautiful Fruit Salads!) as spring comes rushing in including Lemon Cookies, Strawberry Shortcake and Mixed Berry Pie.
 Lemon Bars Recipe (Lemon Squares)
Classic Lemon Bars (you may know them as lemon squares) are a great recipe made with a quick and easy shortbread crust, a lemony lemon curd style filling that is not cooked on the stovetop before baking and the hardest part of this recipe? Waiting for it to set up before you enjoy the tangy dessert before everyone else knows how delicious they are.
This Lemon Bars recipe is from a bakery who has been making them for 50 years in Los Angeles, California. And if you're looking for a creamier more crumbly version you HAVE to try my Creamy Lemon Crumb Bars too.
How to make Shortbread
The shortbread crust in this easy lemon bars recipe is made entirely in the food processor by pulsing together all-purpose flour, sugar and butter cubes for 20 seconds until the dough is in large chunks.
You don't have to touch it at all, just turn the dough out onto the pan and press it into an even layer with a spatula and bake it off.
The best thing about these *truly* Easy Lemon Bars is that the crust, which most people would normally say is the toughest part to make, is made in 20 seconds completely in a food processor.
Easy Lemon Filling
The Lemon Flavor of the Lemon Bars comes from a mixture of lemon juice, lemon zest, sugar, eggs (not just egg yolks like in lemon curd, we are using the entire eggs) and a small amount of all-purpose flour to thicken the mixture as it bakes.
This filling would also work as a double layer cheesecake topping. Bake the cheesecake layer first for 30 minutes in a 9 x 13 pan (with deep edges) using my New York Cheesecake recipe, then top with this lemon filling and bake an additional 30 minutes.
How to perfectly slice lemon bars:
Line your baking pan with parchment paper both ways with at least 3 inches overhanging on all sides so the edges can be picked up by the corners and when the recipe is done and chilled freeze it for at least an hour to firm it up more. This will allow the whole pan to lift out without breaking.
Be sure to run a knife along the outside of the parchment paper first before trying to lift the paper out.
To garnish the lemon bars simply dust them with powdered sugar. You can also help keep the lemon squares moist by pressing the sides of each piece into powdered sugar to keep them from drying out before storing them in an airtight container.
How to zest a lemon:
To zest a lemon grate the rind using a microplane to remove just the yellow layer of the lemon skin from the lemon. Do not remove any of white layer of the lemon, the pith, as this is where the bitterness of the lemon comes from.
Easy ways to zest a lemon without a microplane include using a box grater (use the smallest side) or use a vegetable peeler and a paring knife to cut it into very thin slices. Be sure to not include any of the white pith of the lemon.
How to juice a lemon:
To get the most juice out of a lemon cut it in half horizontally (not through the stem) and stick a fork into each half, hold firmly in your palm and twist the fork to juice easily.
You can also microwave for 5 seconds before squeezing to make easier.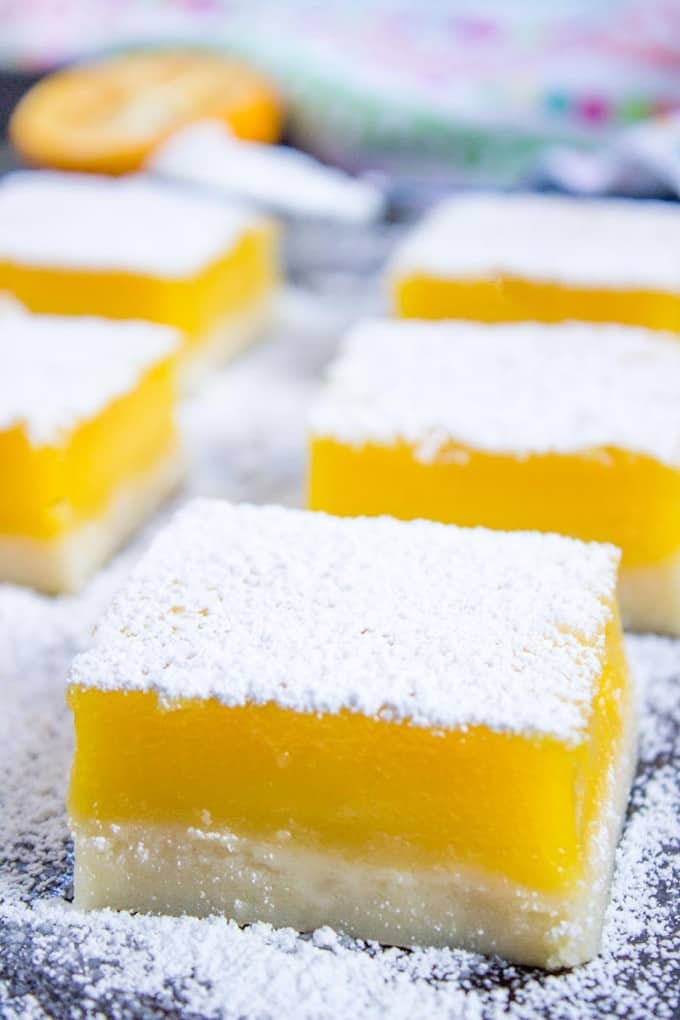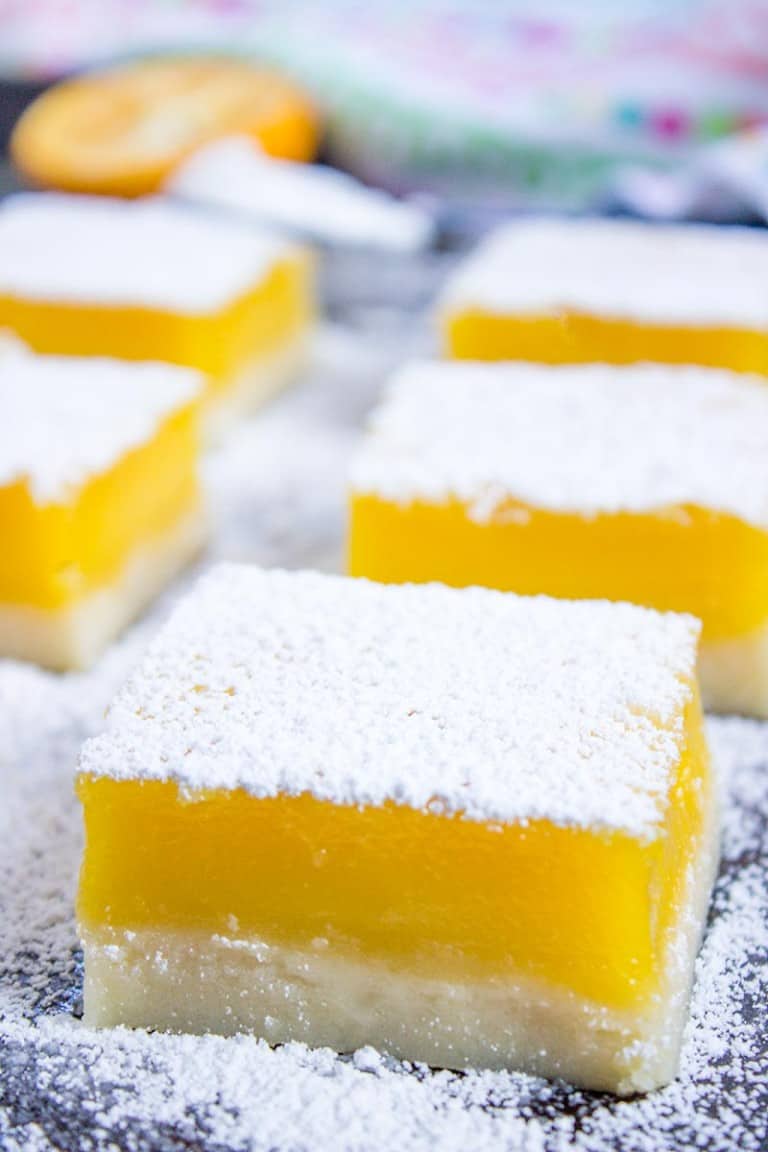 Create a free account to Save Recipes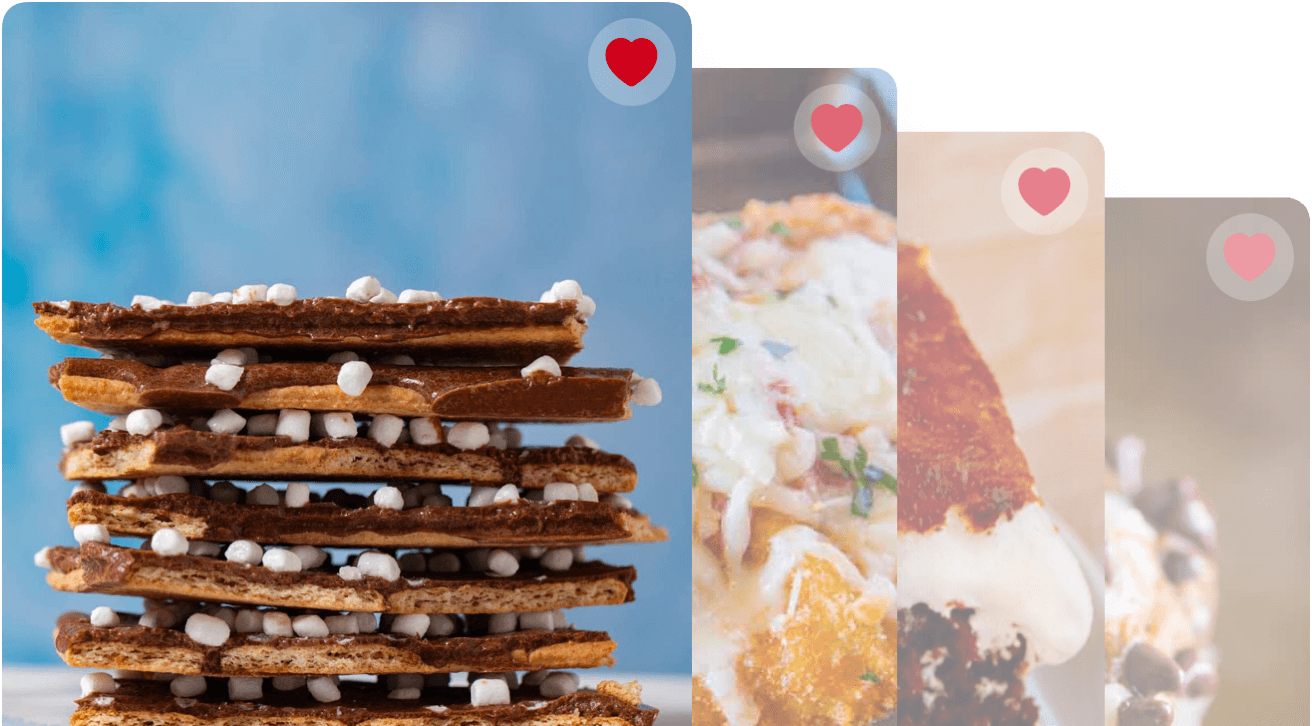 No-Bake Lemon Bars
To make no-bake lemon bars bake the shortbread crust as directed and top the crust with a box of lemon pudding mix, 8 ounces cool whip (or use my homemade cool whip) and ½ cup of milk and let firm in freezer until desired firmness because it would melt at room temperature.
No-bake Shortbread Crust: 2 cups shortbread cookie crumbs mixed with 6 tablespoons melted butter and pressed into the bottom of an 8×8 baking pan.
Fun flavors for baked Lemon Bars:
Lime Lemon Bars: Swap out ¼ cup lemon juice for lime juice and add zest of 1 lime to the mixture.
Orange Lemon Bars: Swap out ¼ cup orange juice for lime juice and add 1 teaspoon orange zest to the mixture.
Meyer Lemon Bars: Swap out traditional lemons for Meyer lemons and reduce sugar by 2 tablespoons.
Lemon-Blueberry Bars: Add in 2 cups of blueberries tossed with flour to the filling mixture and cook an additional 10 minutes.
Strawberry Lemon Bars: Add in 2 cups of strawberries tossed with flour to the filling mixture and cook an additional 10 minutes.
Fruit Jam Lemon Bars: Berry, orange, pineapple or any flavor jam you like. Just little spoonfuls after adding the lemon layer dotted throughout. Easiest hack ever and I normally do it when I've got ⅓ of a bottle left and need the refrigerator door space.
Poppy Lemon Bars: Add 1 tablespoon poppy seeds to the lemon mixture and to the shortbread base for an awesome lemon poppy bar.
White Chocolate Lemon Bars: Add melted white chocolate onto the shortbread base after it comes out of the oven and before the lemon layer.
Other Bar Recipes:
Any other lemon desserts you would like to see on the site? Let me know in the comments below!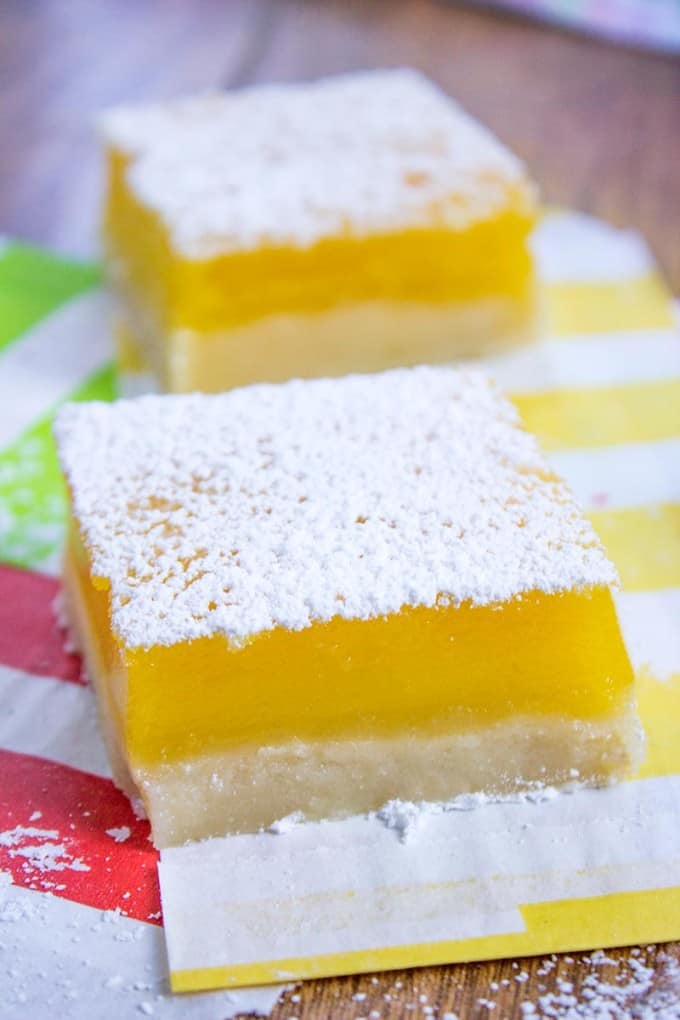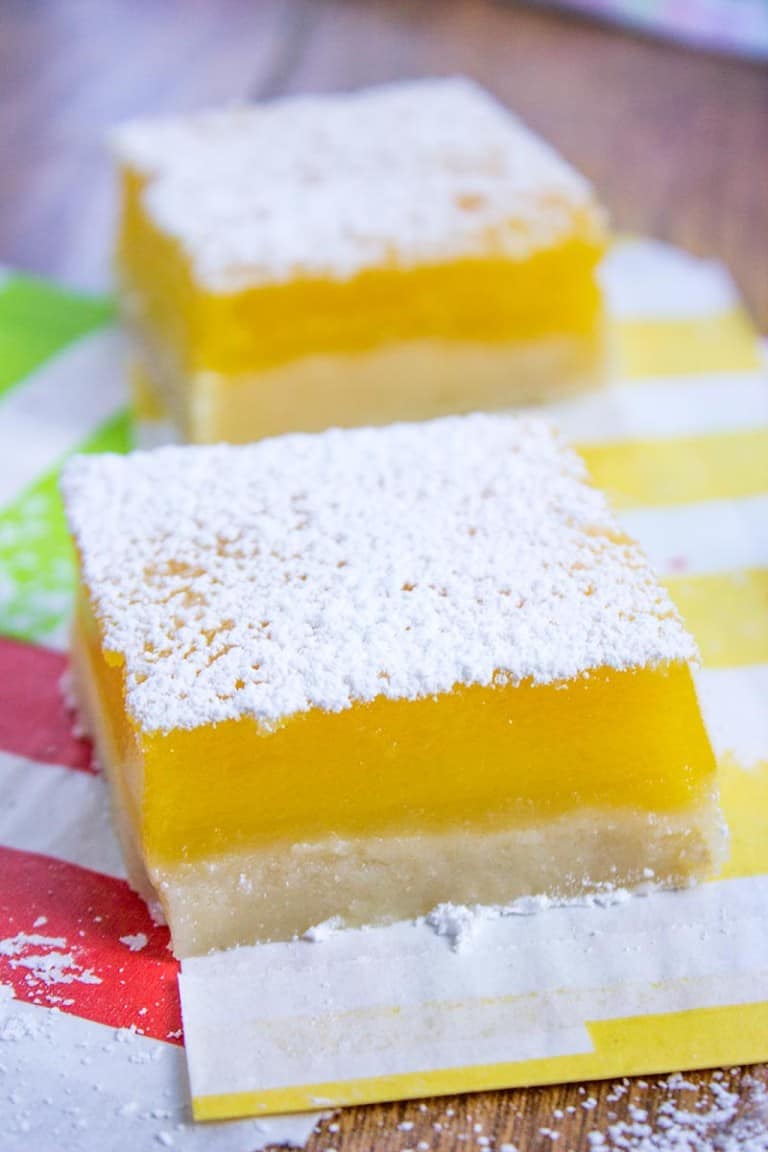 Ingredients
For the crust:
12

tablespoons

unsalted butter

, frozen and cut in small pieces

6

tablespoons

sugar

1 1/2

cups

flour
For the filling:
1 1/2

cups

sugar

1/4

cup

flour

4

large

eggs

3/4

cup

lemon juice

1

tablespoon

lemon zest
Instructions
Preheat oven to 350 degrees and line baking pan both ways with parchment paper with overhang.

Add the butter, sugar and flour to a food processor or blender and let process for

20-30 seconds

or until the dough comes together into a ball then press into an 8x8 inch pan and bake for

22-25 minutes

.

Combine the 1 ½ cups sugar, ¼ cup flour, 4 eggs, lemon juice and zest in a large bowl and whisk well and let sit for

15 minutes

while crust bakes, whisk just before pouring onto crust and then bake the crust with the filling for

30-35 minutes

(remove before it starts to brown).
Nutrition
Calories:
237
kcal
|
Carbohydrates:
34
g
|
Protein:
3
g
|
Fat:
10
g
|
Saturated Fat:
5
g
|
Cholesterol:
75
mg
|
Sodium:
21
mg
|
Potassium:
46
mg
|
Sugar:
23
g
|
Vitamin A:
340
IU
|
Vitamin C:
5
mg
|
Calcium:
13
mg
|
Iron:
0.9
mg