This Mexican Hot Chocolate recipe is a comforting drink with rich chocolate flavor, creamy texture, warm cinnamon flavor, and a bit of heat.
From Homemade Hot Cocoa Mix to Peppermint Hot Chocolate to Hot Cocoa Bombs, there are so many ways to make a warm, creamy chocolate Drink! This classic Mexican version has a delicious cinnamon cocoa flavor and a fiery kick!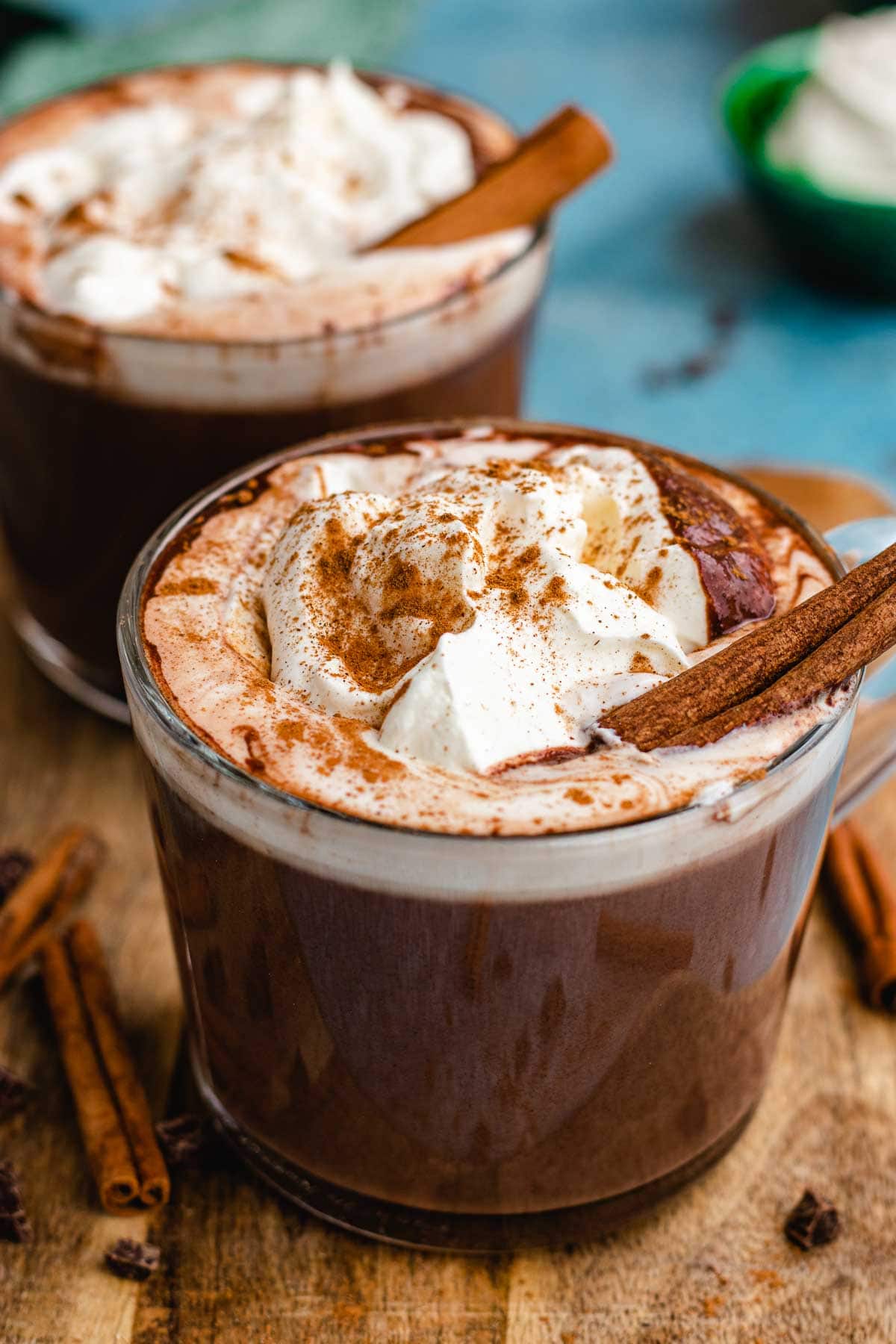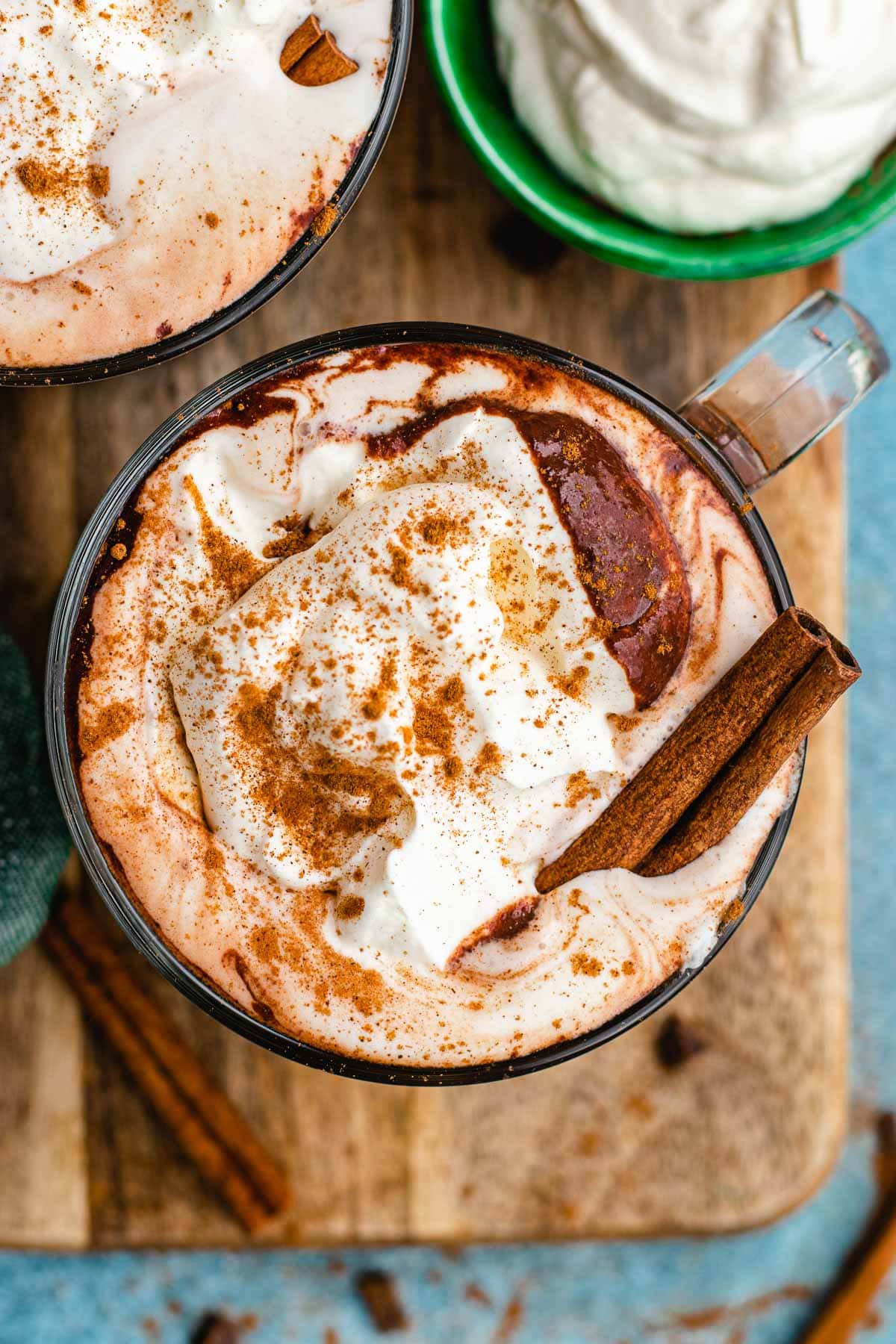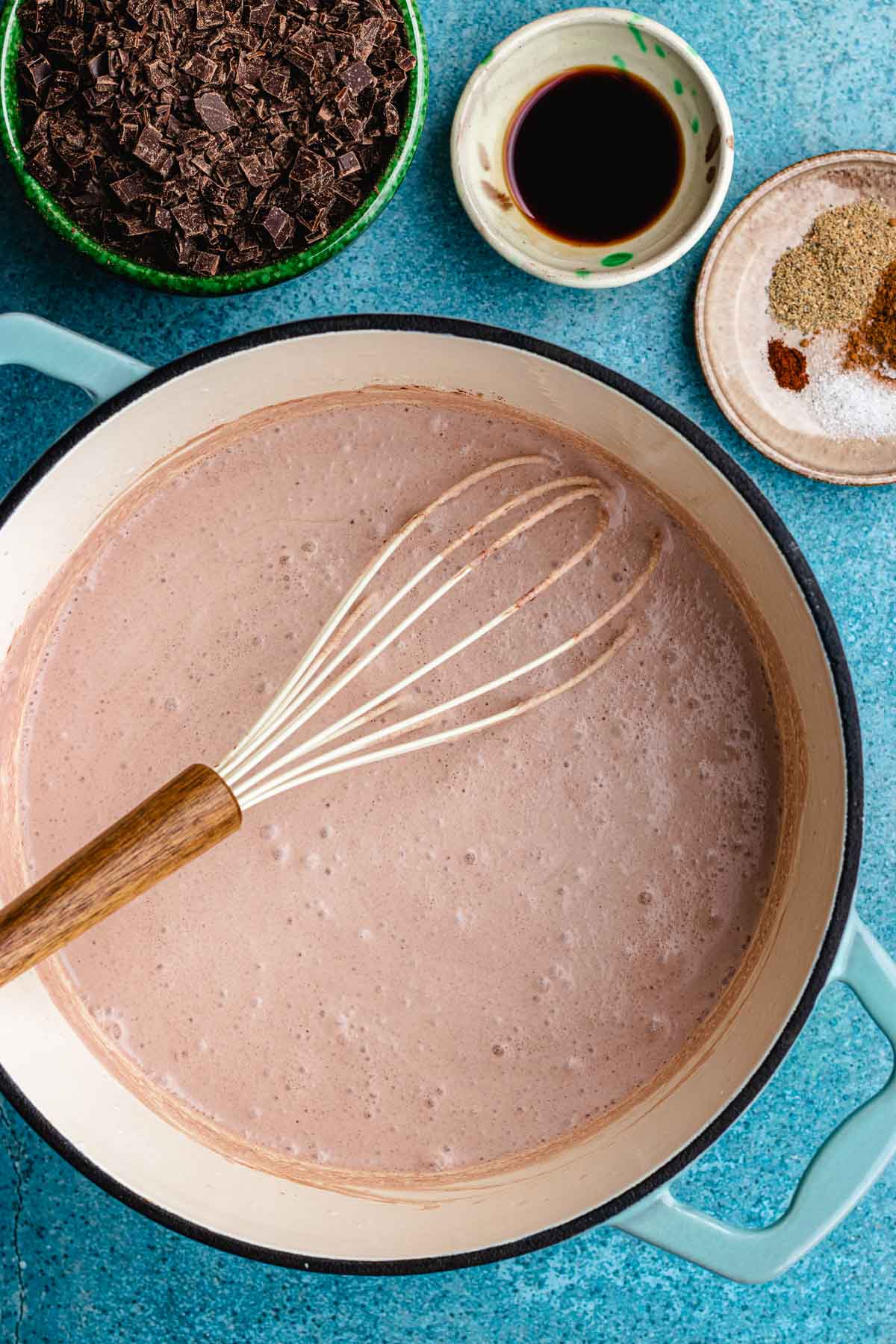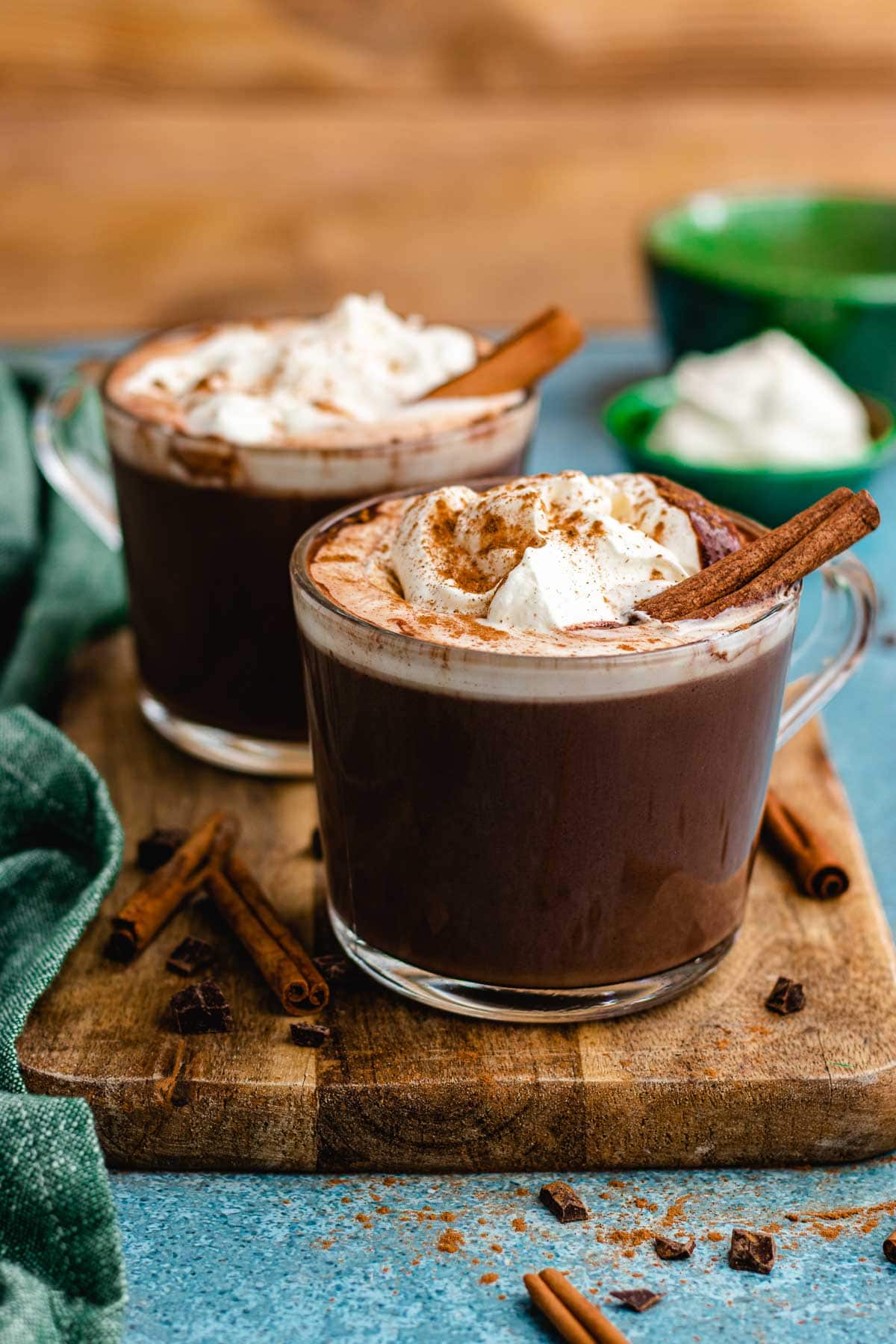 About Our Mexican Hot Chocolate Recipe
Warm, comforting, and uniquely spiced, Mexican Hot Chocolate is a delightful drink that's perfect for a cozy evening at home. There's something undeniably heartwarming about preparing and savoring this traditional drink. It's a sweet, creamy elixir that can transport you, one sip at a time, to the vibrant streets of Mexico, regardless of where you might be enjoying it.
If you've never made homemade cocoa before, you are going to be wowed by how easy it is to make and how it is so much more flavorful than any store bought hot chocolate mix. There is simply nothing like the depth of chocolate flavor and smooth, creamy consistency from the mixture of cream and milk. This Mexican version of classic hot chocolate combines the richness of cocoa with the complexity of traditional Mexican spices.
This delicious Mexican Hot Chocolate recipe starts with classic ingredients for homemade hot chocolate which are milk, heavy cream, cocoa powder, vanilla extract, salt, and chocolate chips. The special flavor comes from a blend of cinnamon, nutmeg, and cayenne pepper. The warm spices add an earthy depth to the rich, sweet drink and the cayenne adds a smoky peppery heat that goes perfectly with chocolate.
Mexican Hot Chocolate is perfect for cold winter nights or to serve as a dessert at a Mexican-themed dinner party. You can get really authentic and serve fresh, hot Churros to dip in this spicy rich chocolate drink. Then since you are going all out, skip the canned stuff and make Homemade Whipped Cream to top it all off!
"What is the difference between Mexican Hot Chocolate and Hot Cocoa?"
Mexican Hot Chocolate is a traditional drink originating from Mexico, characterized by its rich chocolate flavor and distinct spices. It is typically made from Mexican chocolate tablets which are dissolved in hot milk or water. Unlike regular hot chocolate, it has a unique blend of spices such as cinnamon, nutmeg, and sometimes even a pinch of cayenne pepper for heat. This creates a drink that is simultaneously sweet, creamy, rich, and spicy.
"Can Mexican Hot Chocolate be made ahead of time?"
Absolutely! Mexican Hot Chocolate can be made ahead of time, which can be great when entertaining. Simply make the cocoa, let it cool, and then store it in the refrigerator in an airtight container for up to 4 days. When ready to serve, reheat it gently on the stovetop. You can even serve it chilled over ice for a refreshing twist! It can also be stored in the freezer for up to 3 months, however, it may lose some of its flavor so add a bit more cocoa powder or spices as needed.
Mexican Hot Chocolate Ingredients
3 cups milk: Whole milk provides a creamy, rich base that enhances the chocolate flavor while also balancing out the heavy cream so the cocoa isn't too heavy or rich.
1 cup heavy cream

: Heavy cream gives the hot chocolate an extra layer of indulgence, balances the bitterness of the cocoa powder, tames the heat of the cayenne, and gives it a velvety smooth texture.

3 tablespoons cocoa powder

: Unsweetened cocoa powder has a slight bitterness that counters the sweetness of the chocolate chips, contributing to a more complex, deep chocolate flavor.

2 cups semi-sweet chocolate chips

: The chocolate chips melt into the hot milk and cream, providing a rich chocolate flavor while sweetening the cocoa without needing to add sugar. Semi-sweet chocolate has the perfect amount of sugar without being overly sweet.

⅛ teaspoon kosher salt

: While it might seem unusual to add salt to a sweet drink, a pinch of salt can enhance the sweetness of chocolate.

2 teaspoons vanilla

: The vanilla brings out the natural flavors in the chocolate and balances the spices, plus it has a subtle sweetness.

Spices

: Cinnamon adds warmth and a distinctive fragrant note to the hot chocolate. Nutmeg contributes an earthy sweetness and a hint of nuttiness to the hot chocolate. Both offer a gentle, sweet spice flavor that pairs really well with chocolate.

Cayenne

: Cayenne pepper is what gives Mexican Hot Chocolate its signature spicy kick. The heat from the spice contrasts beautifully with the sweetness of the chocolate and the richness of the cream.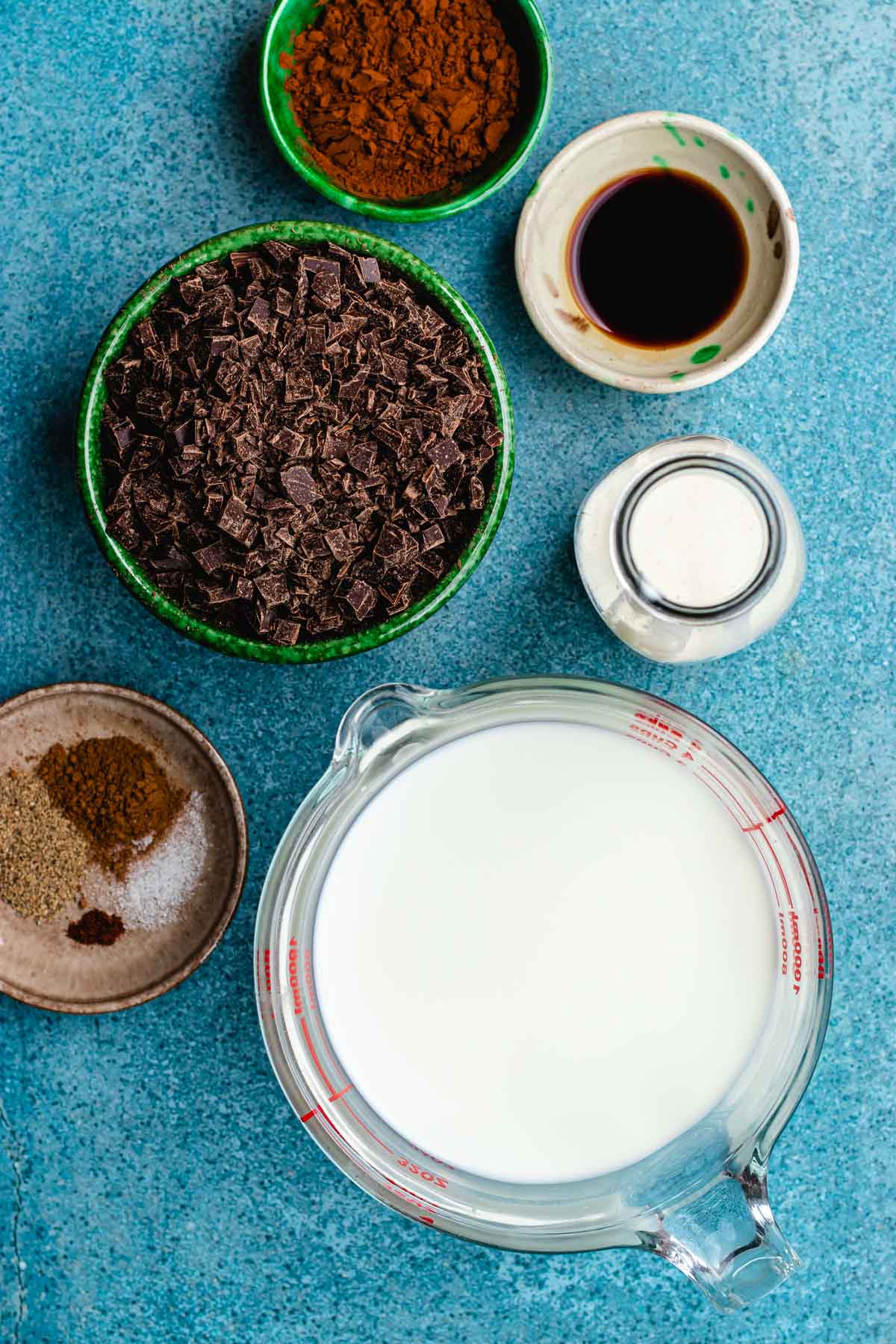 Kitchen Tools & Equipment
Saucepan: Use a large saucepan to heat up your ingredients and melt the chocolate.
Whisk: Combine your ingredients using a whisk to ensure you get all the little lumps and clumps of chocolate mixed into your Hot Cocoa.
Thermometer: If you have a candy thermometer that would be really handy to watch the temperature of your Hot Chocolate. Any other type of kitchen thermometer will work as well, just use it by inserting it into the middle of your liquid, rather than touching the hot bottom of the pot.
Ladle: A ladle is the easiest to cleanly transfer your Hot Chocolate into mugs. You'll ladle one or two scoopfuls depending on the size of your mugs.
Mugs: Take out your favorite mugs to enjoy your delicious Mexican Hot Cocoa.
How to Make Mexican Hot Chocolate
Time needed: 15 minutes.
Milk Mixture

Combine the milk, cream, and cocoa powder in a large saucepan. Whisk everything until smooth.

Simmer

Bring the milk mixture to 180 degrees over medium heat. Do not let it begin to boil. If you don't have a thermometer, remove the pan from heat as soon as it's too hot to taste from a spoon.

Chocolate Chips

Turn off the heat. If you are using an induction stove top, remove the pan from the burner so it doesn't continue to cook. Whisk the in chocolate chips into the hot mixture.

Flavor

Add salt, vanilla extract, cinnamon, nutmeg and cayenne pepper into the milk until smooth and fully combined.

Serve

Ladle the mixture into large mugs. Garnish each cup with a whole cinnamon stick, whipped cream, and a little dusting of cinnamon.
Nutritional Facts
What to Pair With Mexican Hot Chocolate
There are so many wonderful choices to serve with your Mexican Hot Chocolate, whether as an accompaniment for dessert, or to dip into your Hot Chocolate.
How to Store Mexican Hot Chocolate
Store: Leftover Mexican Hot Chocolate can be stored in the refrigerator for up to 4 days. Ensure it is cooled completely before transferring to an airtight container.
Reheat

: You want to reheat it slowly, over medium heat on the stove top, stirring occasionally, careful not to bring it to a rapid boil. Hot Chocolate can also be reheated in the slow cooker or microwave.
Freeze: While it's best enjoyed fresh, Mexican Hot Chocolate can also be frozen for up to 3 months. Let it cool completely, pour into a freezer-safe container, leaving some room at the top for expansion. To defrost, leave it in the refrigerator overnight, then reheat as instructed above.
Alternative Mexican Hot Chocolate Cooking Techniques
Try making Mexican Hot Chocolate in your slow cooker instead following these easy steps.
Milk Mixture: In your slow cooker, whisk the milk, heavy cream, and cocoa powder very well until it's smooth.
Chocolate and Seasonings

: Stir in the chocolate chips, salt, vanilla, cinnamon, nutmeg, and cayenne pepper. Again, the spices won't fully absorb, you just want it pretty evenly distributed.

Heat

: Cover the slow cooker and cook on low for 1-2 hours. Stir the cocoa every half hour to ensure the chocolate chips melt smoothly.

Serve:

Once the chocolate is fully melted, and the mixture is hot, whisk well a final time and serve right away.
FAQs for Mexican Hot Chocolate
What does Mexican Hot Chocolate taste like?
Mexican Hot Chocolate has a rich, velvety taste with a blend of deep chocolate flavors, warm fragrant cinnamon and nutmeg, and a subtle but fiery chili pepper finish. The overall flavor profile is indulgent and comforting, with a slightly spicy undertone that leaves a lingering warmth.
What is different about Mexican chocolate?
Mexican chocolate is traditionally grainier than its counterparts due to the raw cane sugar being added in granulated form instead of being fully integrated during the manufacturing process. It is also typically infused with cinnamon and other spices, offering a unique flavor profile that's rich, subtly sweet, and warmly spiced.
Is Mexican Hot Chocolate the same as Champurrado?
While both are traditional Mexican drinks, Champurrado is a thicker drink made with masa harina (corn flour), piloncillo (raw cane sugar), cinnamon, and chocolate. Mexican Hot Chocolate is more like a traditional hot chocolate but with warm spices like nutmeg, cinnamon and chili powder.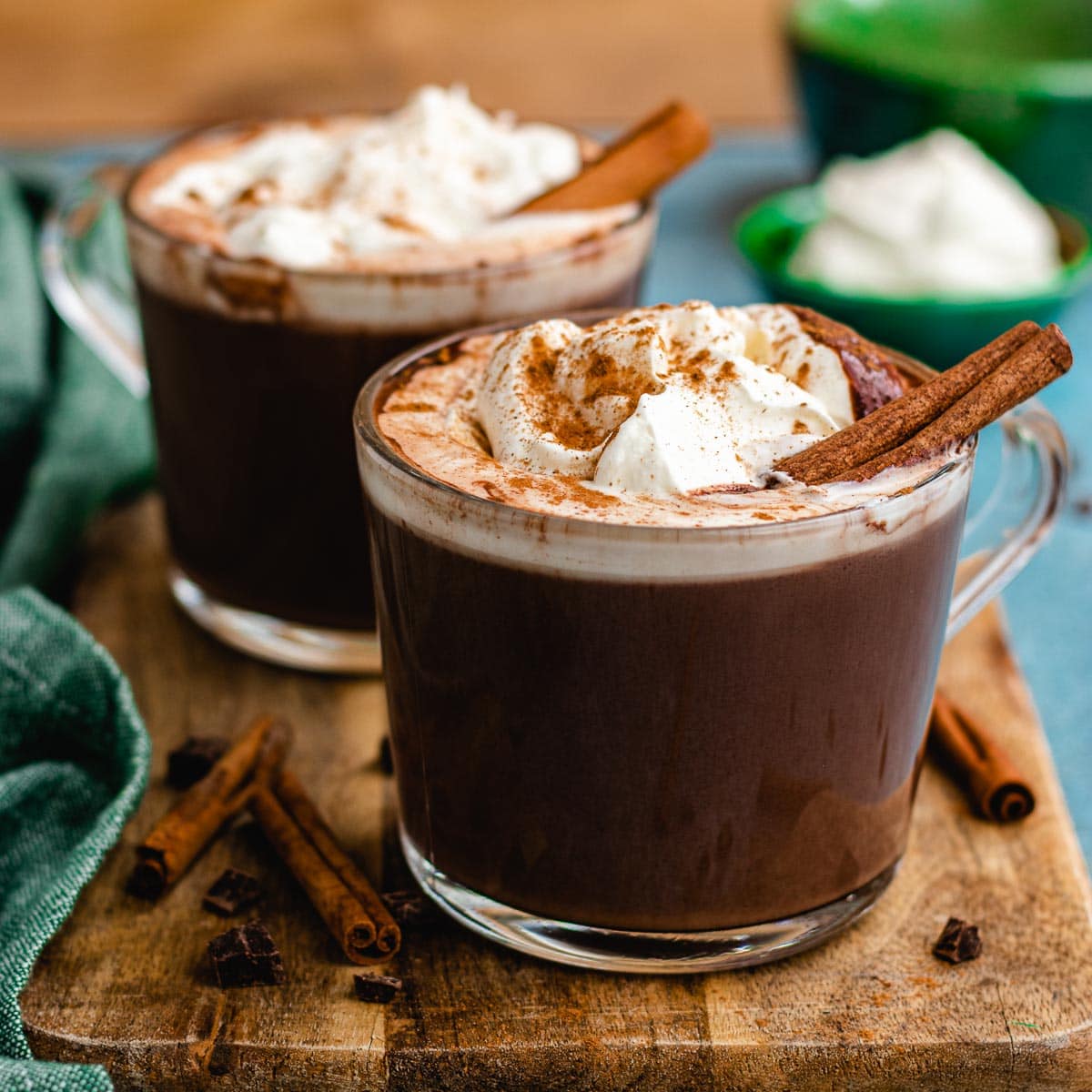 Recipe Card


Ingredients
3

cups

whole milk

1

cup

heavy cream

3

tablespoons

unsweetened cocoa powder

2

cups

semi-sweet chocolate chips

1/8

teaspoon

kosher salt

2

teaspoons

vanilla extract

1/2

teaspoon

ground cinnamon

1/4

teaspoon

ground nutmeg

1

pinch

cayenne pepper
Instructions
Add the milk, heavy cream, and cocoa powder to a large pot and whisk well until smooth.

Cook to 180 degrees in a saucepan over medium heat measuring with a thermometer.

If you don't have a thermometer you need to stop well before it comes to a boil, stir well and stop as soon as it's too hot to sample a spoonful.

Turn off the heat and whisk in the chocolate chips, salt, vanilla extract, cinnamon, nutmeg and cayenne pepper.

Serve with cinnamon sticks, a dollop of whipped cream and a dusting of cinnamon.
Nutrition
Calories:
567
kcal
|
Carbohydrates:
40
g
|
Protein:
9
g
|
Fat:
42
g
|
Saturated Fat:
25
g
|
Polyunsaturated Fat:
2
g
|
Monounsaturated Fat:
11
g
|
Trans Fat:
0.05
g
|
Cholesterol:
63
mg
|
Sodium:
112
mg
|
Potassium:
604
mg
|
Fiber:
6
g
|
Sugar:
29
g
|
Vitamin A:
819
IU
|
Vitamin C:
0.3
mg
|
Calcium:
222
mg
|
Iron:
4
mg
Mexican Hot Chocolate Variations
Vegan: Replace the whole milk with plant-based alternatives like almond milk, coconut milk, or oat milk, and use vegan-friendly chocolate. Coconut cream is a good plant based alternative to heavy cream.
Mocha: Add this cocoa to your morning coffee instead of creamer or you can add a shot of espresso for a tasty mocha. Serve chilled leftovers over ice with espresso or Cold Brew for a tasty iced latte.
Spices: You can add a smoky element with chili powder, or add other warm and slightly sweet spices like allspice, cardamom, mace, cloves, or star anise.
Caramel: Serve a hot cup of Mexican Hot Chocolate with a drizzle of Salted Caramel Sauce over the whipped cream. You can also swap ½ cup of caramel baking chips, to add some tasty caramel flavor.
Related Recipes