Peanut Butter Marshmallow Cereal Bars are an easy after school snack with Cheerios, creamy peanut butter, and marshmallows in 15 minutes!
These Marshmallow Peanut Butter Treats are a Delicious Dessert or fun school snack. Similar to Rice Krispies Treats, it's a no-bake dessert made with a cold cereal base.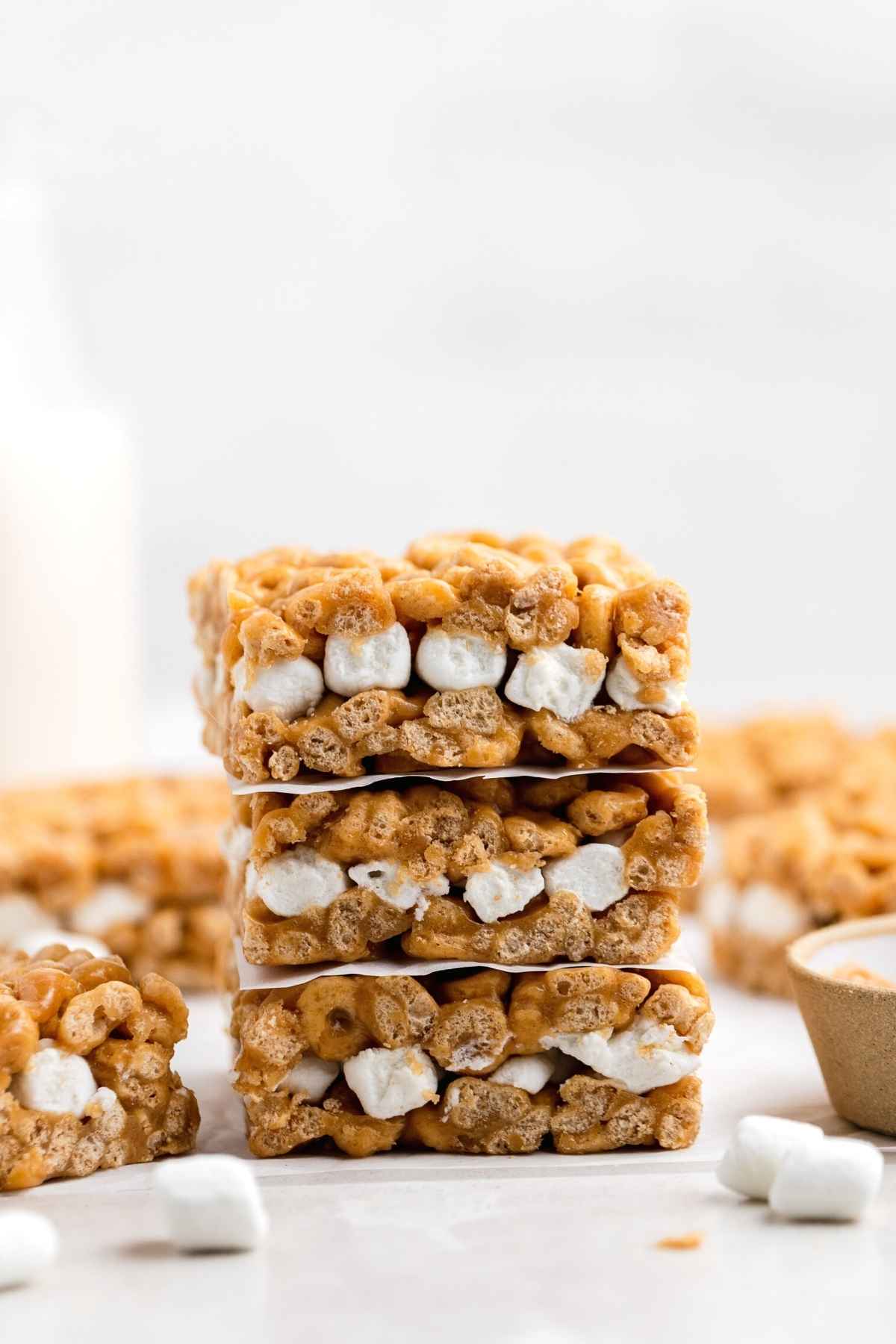 These peanut butter treats are a yummy family-friendly recipe that both kids and adults will love. The Cheerios are mixed with a delicious peanut butter sauce with a rich, sweet and salty taste. Then it's all put in a baking dish with mini marshmallows at the center.
Cereal bars are a great dessert option, especially in the summer when you might not want to turn the oven on. Instead of having to bake the dessert, all you have to do is give the cereal mixture time to set and then slice them into squares. For more cereal bar recipes try out Crunchyberry Cereal Bars, Fruit Loop Cereal Bars, and S'mores Cereal Bars. You can bring them to a potluck, bake sale, or pack them up in school lunches.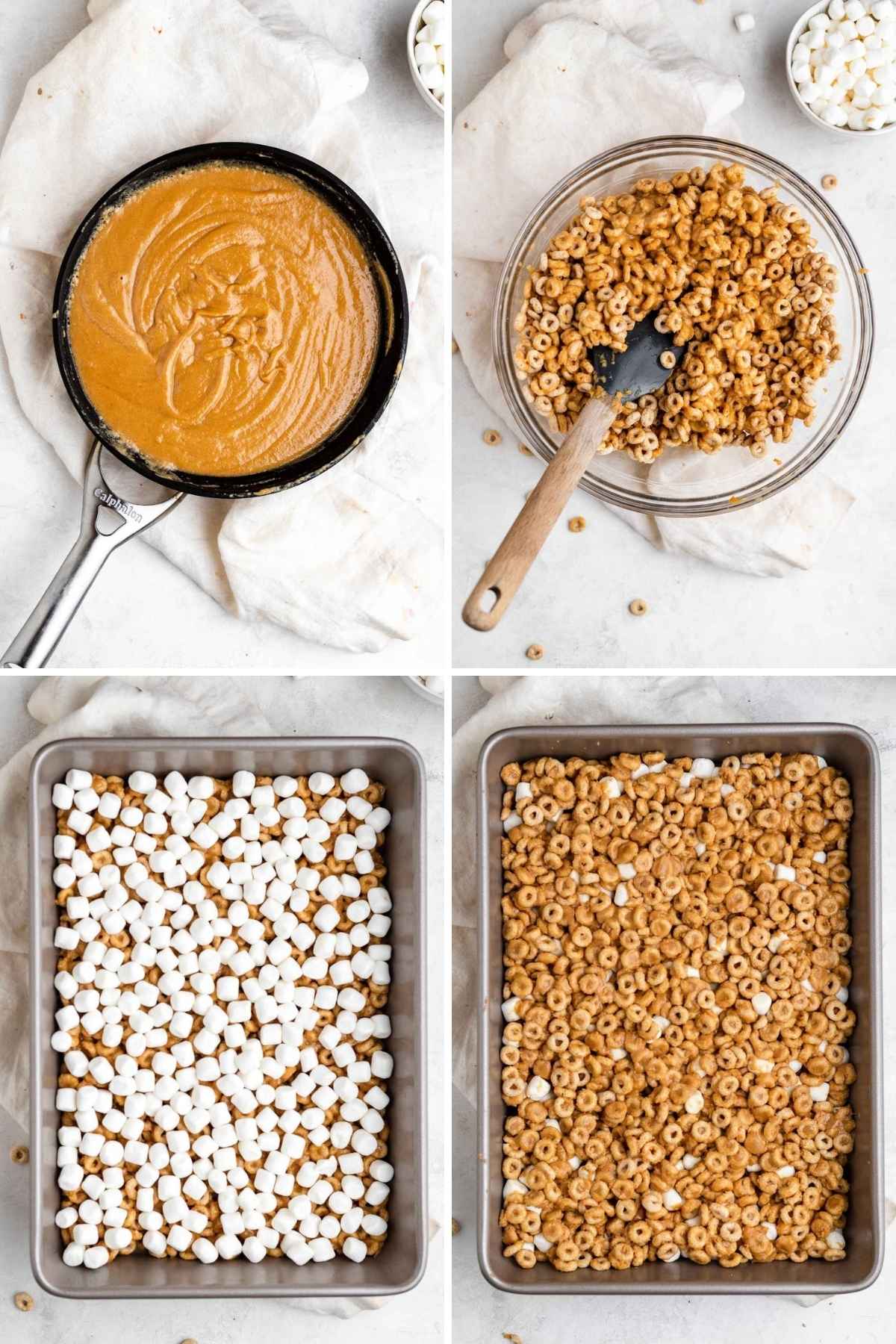 Make-Ahead Cereal Bars
Peanut Butter Marshmallow Cereal Bars can stay good in the freezer for up to 6 months. If you make the bars in advance, let them chill, and cut them into squares before putting them in an airtight container. Make sure to separate the bars with parchment paper or wax paper so that they don't get stuck together in the freezer.
Another great option is to make the recipe into two 8-inch square pans, instead of one larger pan. Then you can enjoy one of the batches right away, and cover the other to keep it in the freezer and serve later.
Peanut Butter Recipes
Tips for Making Peanut Butter Marshmallow Cereal Bars
Prep: Start by spraying a 9×13 inch baking dish with a coating of baking spray.
Peanut butter mixture: Add the peanut butter, corn syrup, and sugar to a saucepan over medium heat. Mix until they are well combined. A silicone spoon or wooden mixing spoon will work well for this. Once it's dissolved, remove the mixture from heat. You could also heat them in a microwavable bowl instead of on the stovetop.
Cereal mixture: Add the Cheerios to a large glass bowl and pour the peanut butter mixture over the top. Mix until well coated.
Assemble: Press half of the Cheerio mixture into the prepared baking dish, then sprinkle the mini marshmallows on top. Add the remaining Cheerios to the top of the marshmallow mixture and press down gently.
Cool: Allow the bars to cool completely before cutting them into squares.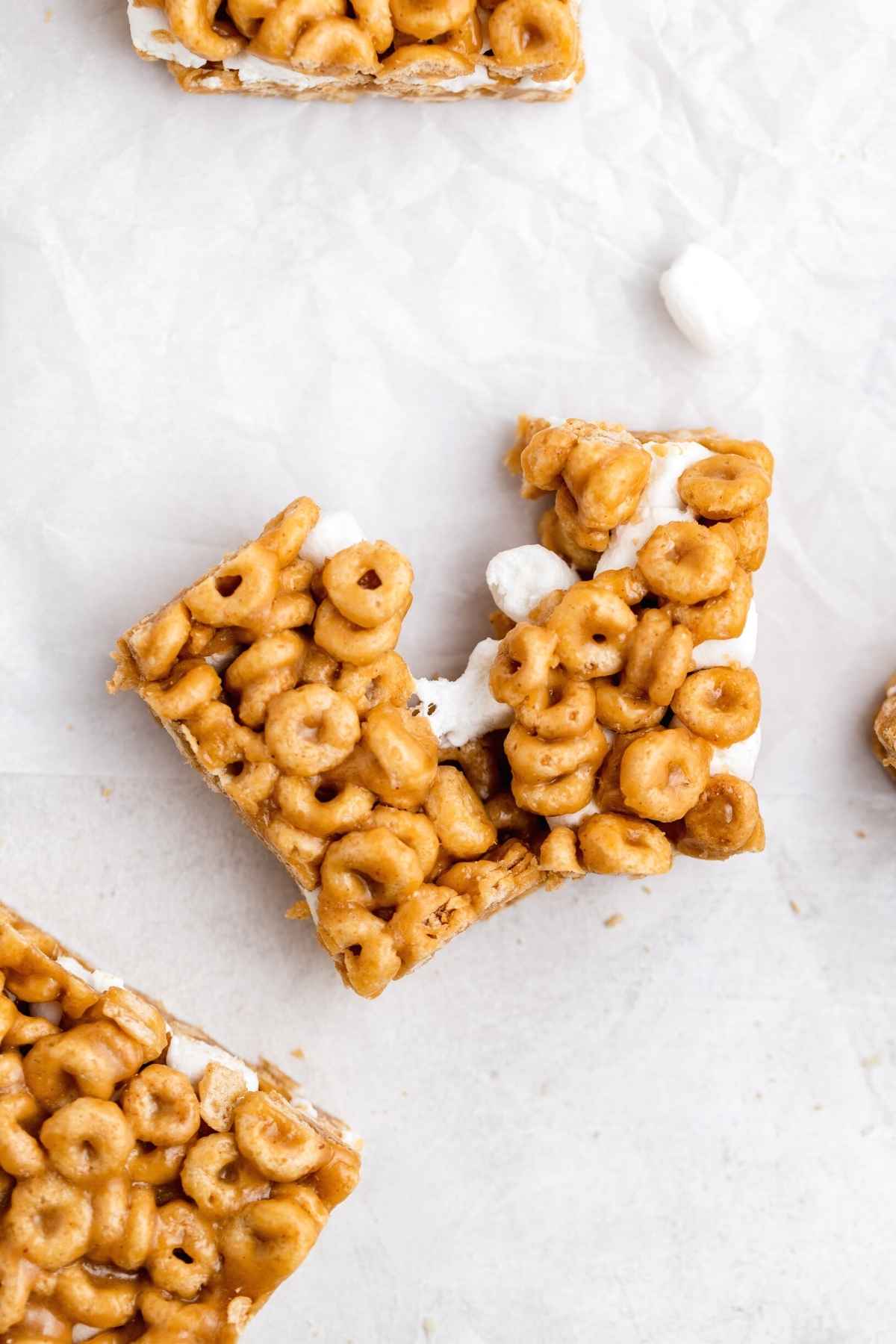 Create a free account to

Save Recipes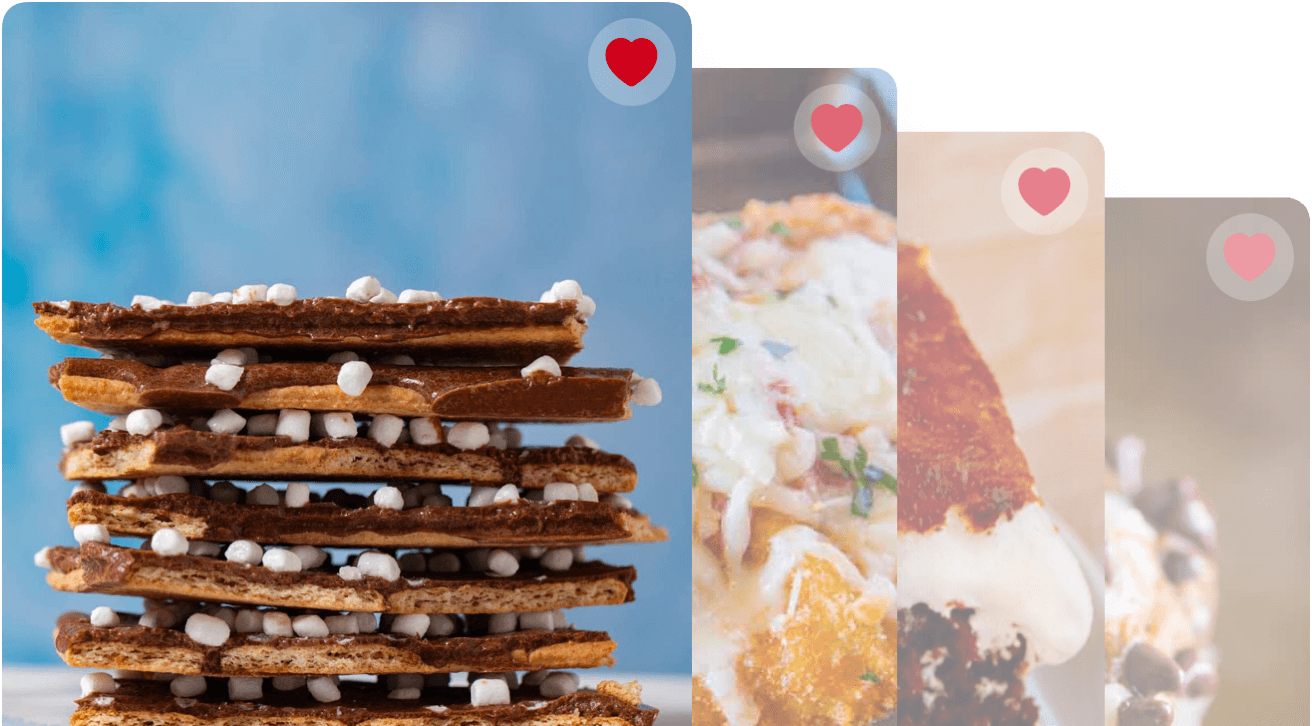 Variations on Peanut Butter Marshmallow Cereal Bars
Cornflakes or Chex: You can change up the cereal base of this recipe with cornflakes or Chex. Mix the cereals with the peanut butter mixture just like you would Cheerios, and combine it with the marshmallows according to the recipe.
Peanut butter Cap'n Crunch: You could also use Cap'n Crunch as the cereal. It's best to use regular captain crunch, instead of berry crunch because the berries won't taste good with the peanut butter mixture.
Chocolate peanut butter bars: For a delicious chocolate topping, melt chocolate chips in the microwave and then drizzle the chocolate over the top. Let the topping set completely before slicing and serving.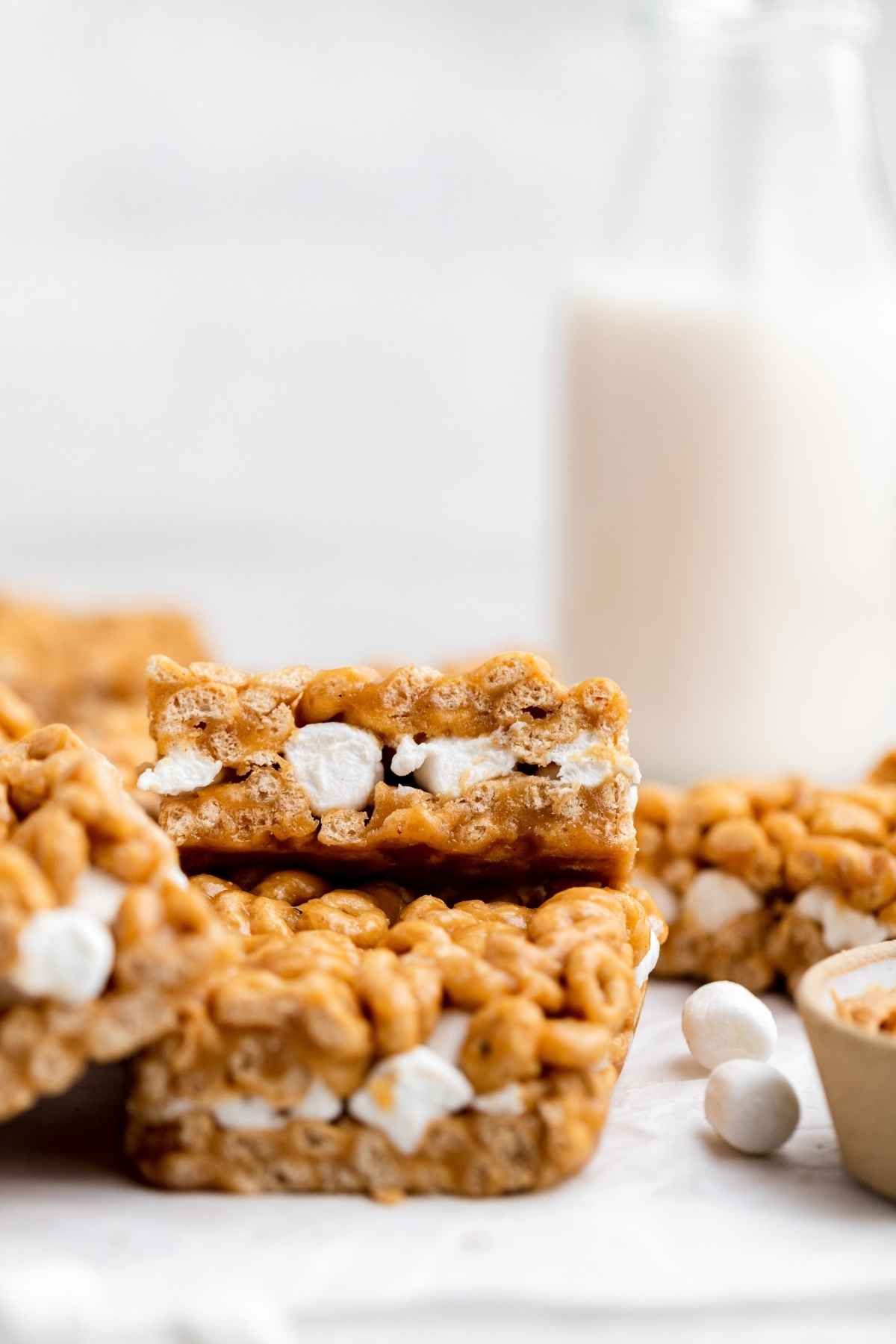 More Cookie Bars
How to Store Peanut Butter Marshmallow Cereal Bars
Serve: You can keep the cereal bars at room temperature for up to 4 days. Cover the dish in plastic wrap to keep them fresh.
Store: Put the squares in an airtight container to store in the fridge for up to 1 week.
Freeze: To keep the bars for up to 6 months put them in a freezer bag or sealed plastic container with non-stick tin foil or wax paper between the layers to store in the freezer.


Instructions
Spray a 9x13 pan with vegetable oil spray.

To a medium saucepan add the peanut butter, corn syrup, and sugar on medium heat.

Mix well until just dissolved, then remove from heat.

In a large bowl mix Cheerios and peanut butter mixture.

Working quickly, gently press half of the Cheerios mixture into baking pan.

Top with mini marshmallows.

Add the remaining Cheerios mixture to the top and press down.

Cool completely before slicing.
Nutrition
Calories:
223
kcal
|
Carbohydrates:
47
g
|
Protein:
3
g
|
Fat:
4
g
|
Saturated Fat:
1
g
|
Sodium:
134
mg
|
Potassium:
71
mg
|
Fiber:
1
g
|
Sugar:
36
g
|
Vitamin A:
188
IU
|
Vitamin C:
2
mg
|
Calcium:
7
mg
|
Iron:
3
mg