Peanut Butter Swirl Brownies are wonderfully tender and fudgy with melty chocolate chunks and marbled peanut butter swirled on top.
This is the perfect Dessert Recipe for any chocolate and peanut butter lovers. It takes our classic Homemade Brownie Recipe and adds delicious, creamy, salty peanut butter to the chocolate base.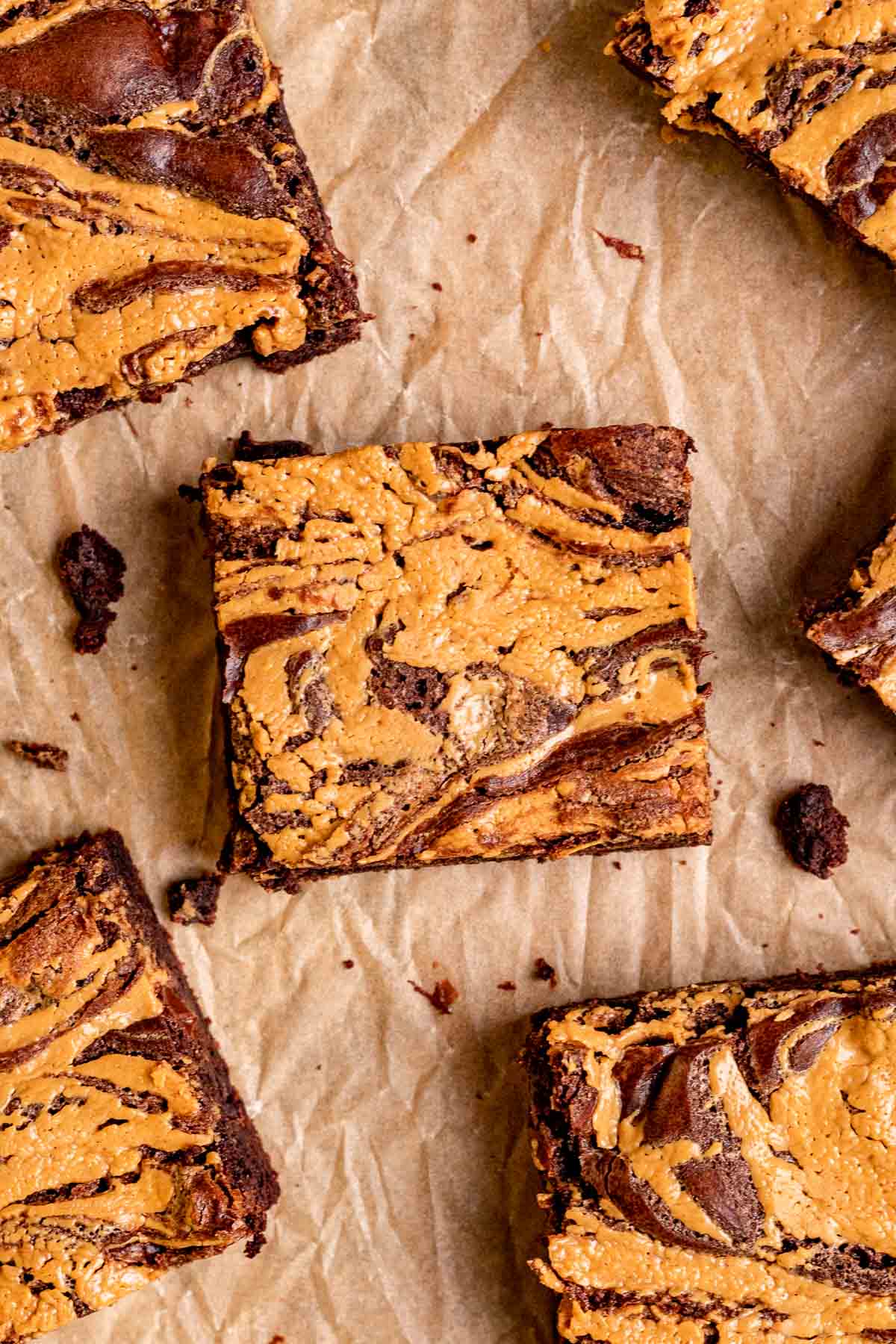 PEANUT BUTTER SWIRL BROWNIES
Peanut Butter Swirl Brownies are a guaranteed hit. They are perfect for bringing to a party, bake sale, or serving for family dessert night. The gooey brownie recipe uses the classic flavor combination of chocolate and peanut butter to make a crowd-pleasing, sweet and salty dessert in under an hour.
When it comes to dessert combos, peanut butter and chocolate are always favorite flavors. That's why we have so many recipes. From Chocolate Peanut Butter Bark to Chocolate Peanut Butter Cheese Ball, to these Peanut Butter Swirl Brownies, we just can't get enough of the creamy peanut butter and chocolate flavors!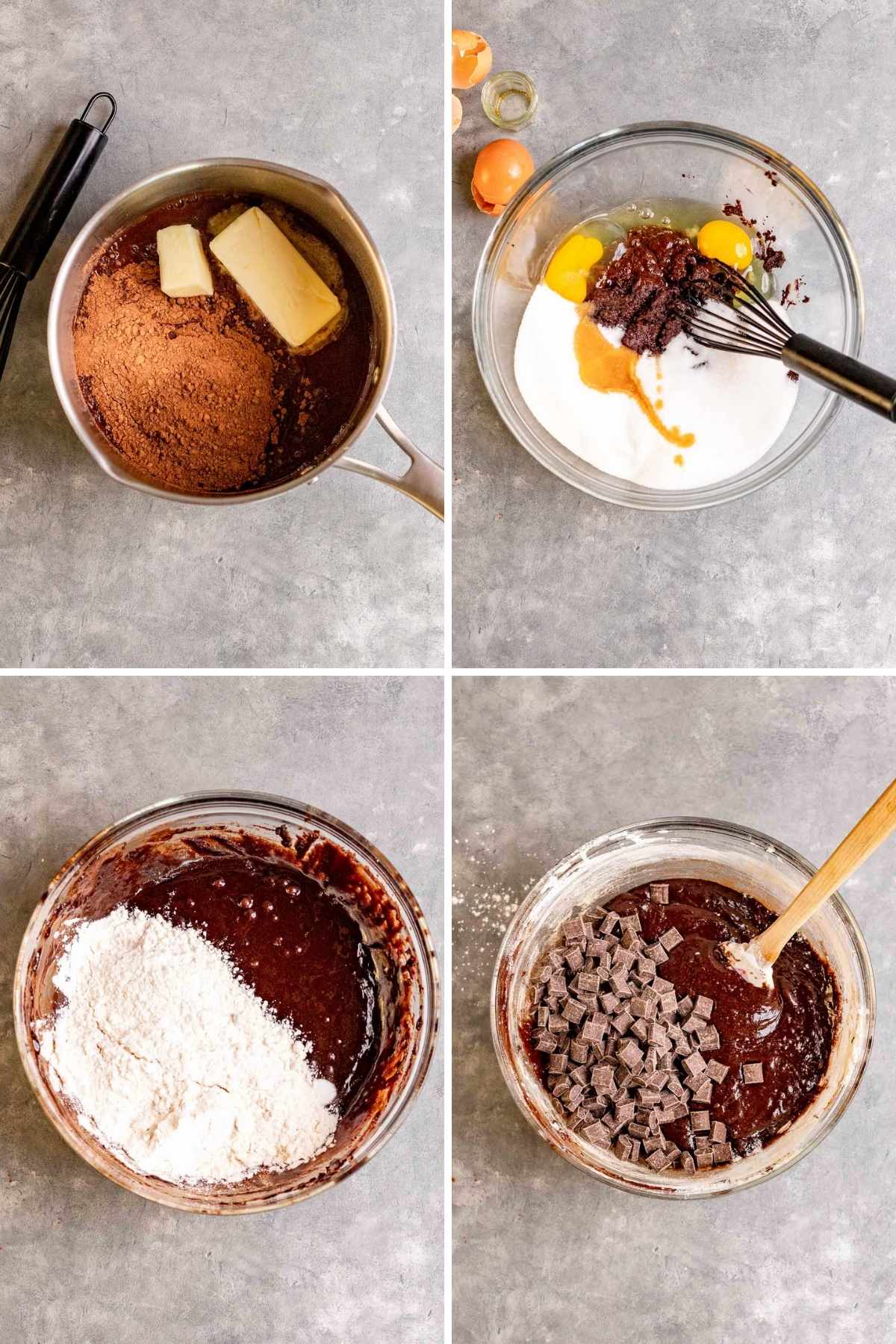 Peanut Butter Swirl Brownies are perfect for when you are craving something sweet and chocolatey but don't have a lot of time or patience for baking. The gooey brownie batter is super simple, and for the peanut butter topping, all you have to do is microwave creamy peanut butter until it's slightly melted. Then just pop the Peanut Butter Swirl Brownies in the oven. When they're done you will have amazing brownies that you can top off with Vanilla Ice Cream for the ultimate brownie decadence.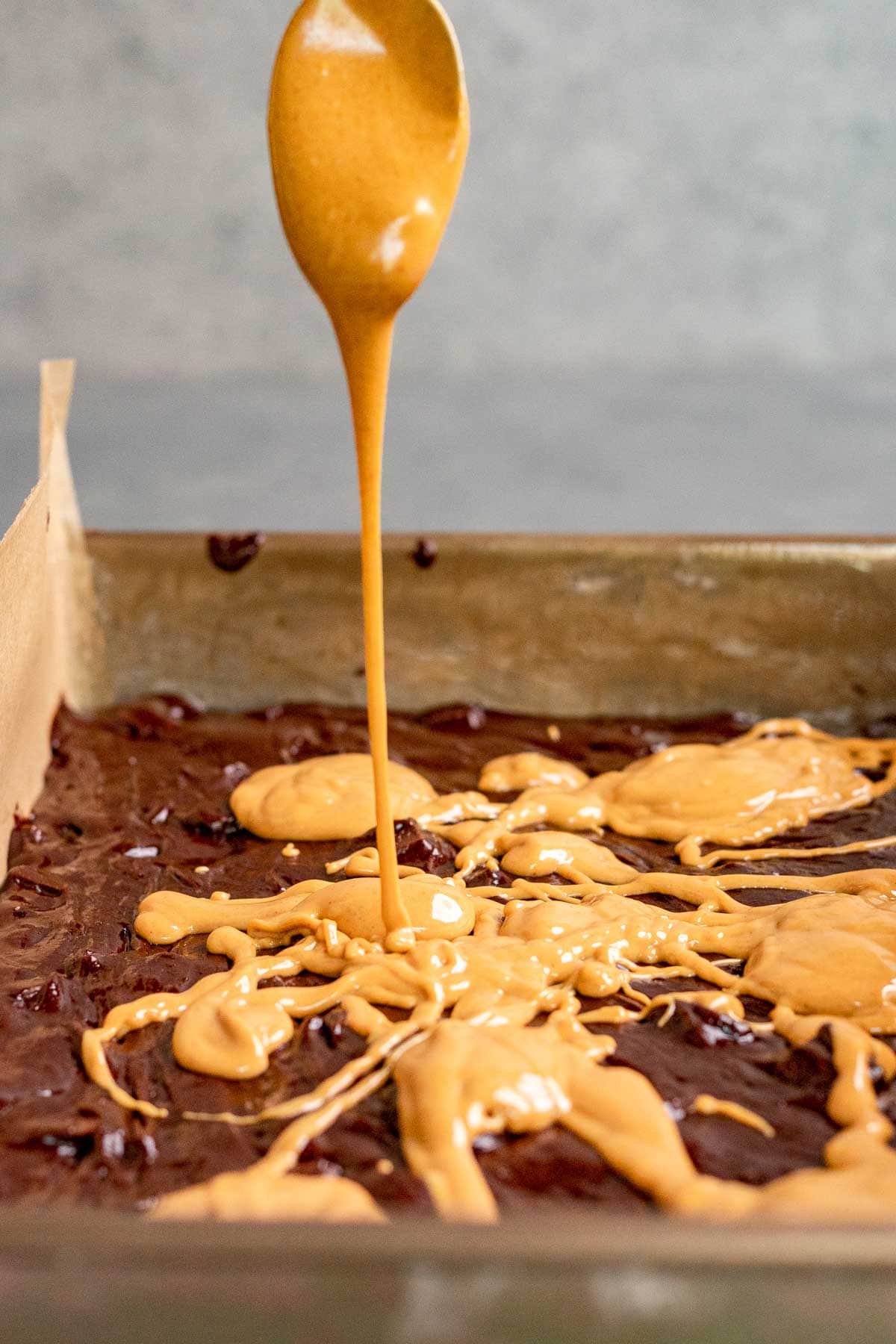 MORE BROWNIE RECIPES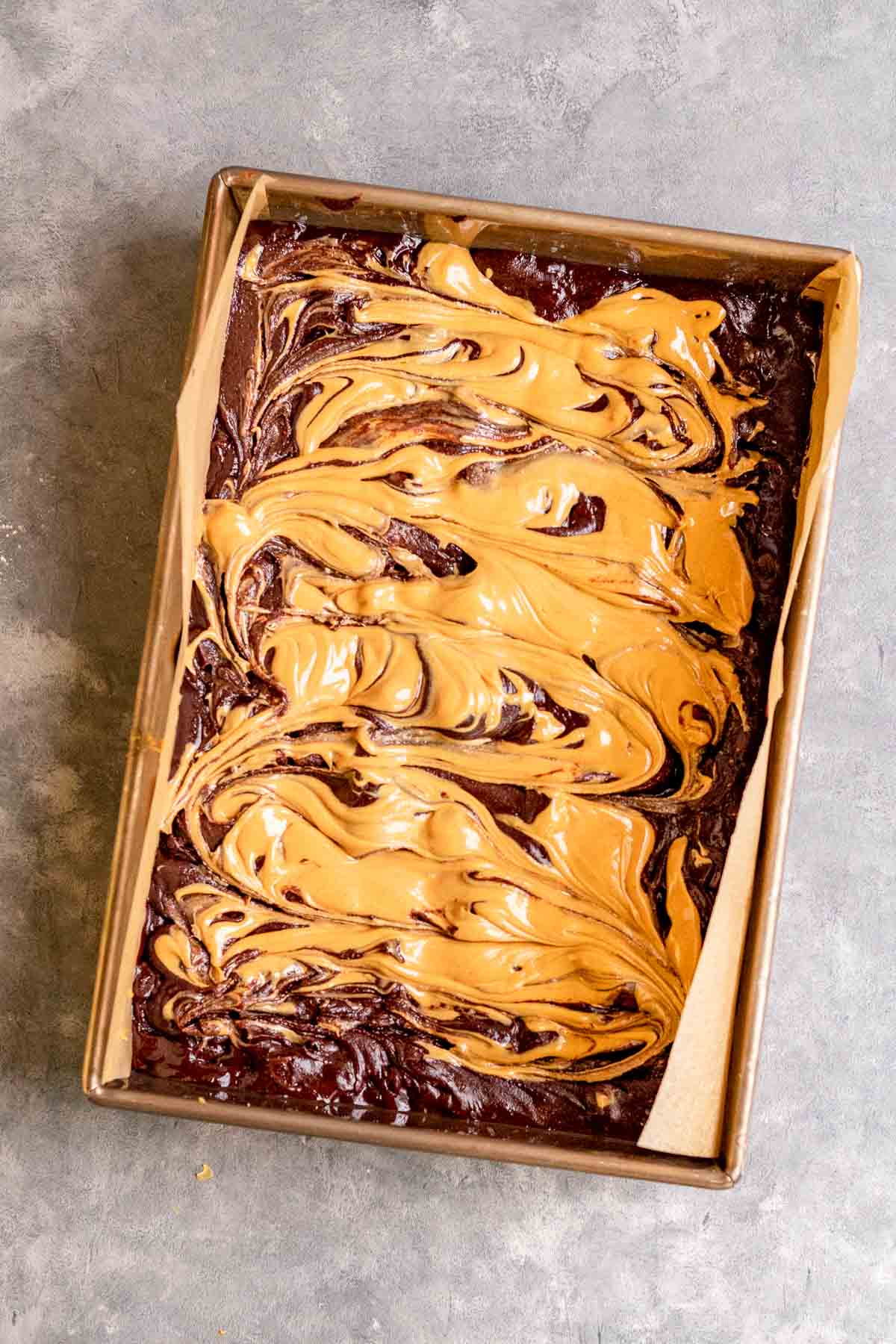 BAKING TIPS
Prep time: Start by preheating the oven to 350 degrees and prepping your baking dish with non-stick cooking spray. If you don't have cooking spray, you can also line the dish with parchment paper to stop the brownies from sticking.
Chocolate brownie batter: Bring a pot of water to a boil. Once it's boiling turn off the heat, and add the butter and cocoa powder. Whisk until the butter is melted and the chocolate mixture is well blended. Then pour it into a large mixing bowl. Add the granulated sugar, eggs, and vanilla, and mix until creamy. Next, add the flour, baking soda, and salt to the brownie mixture. Stir until just combined, being careful not to over-mix the ingredients. Finish by stirring in the chocolate chunks, then spoon chocolate batter into the prepared pan.
Peanut butter: Add the smooth peanut butter to a medium microwave-safe bowl. Microwave for 30 seconds at 50% power to soften the peanut butter. Then stir. If the peanut butter is still thick, you can microwave again to loosen it. You don't want to do much more than 1 minute of total microwave time. Scoop spoonfuls of softened peanut butter from the medium bowl onto the brownie batter. Use a butter knife to swirl the peanut butter so it marbles on top.
Bake time: Bake for 35-40 minutes. To check if they're done, you can stick a toothpick in the center of the brownies. If it comes out with moist crumbs, then the bake time is done. Let the Peanut Butter Swirl Brownies Cool completely before slicing into squares.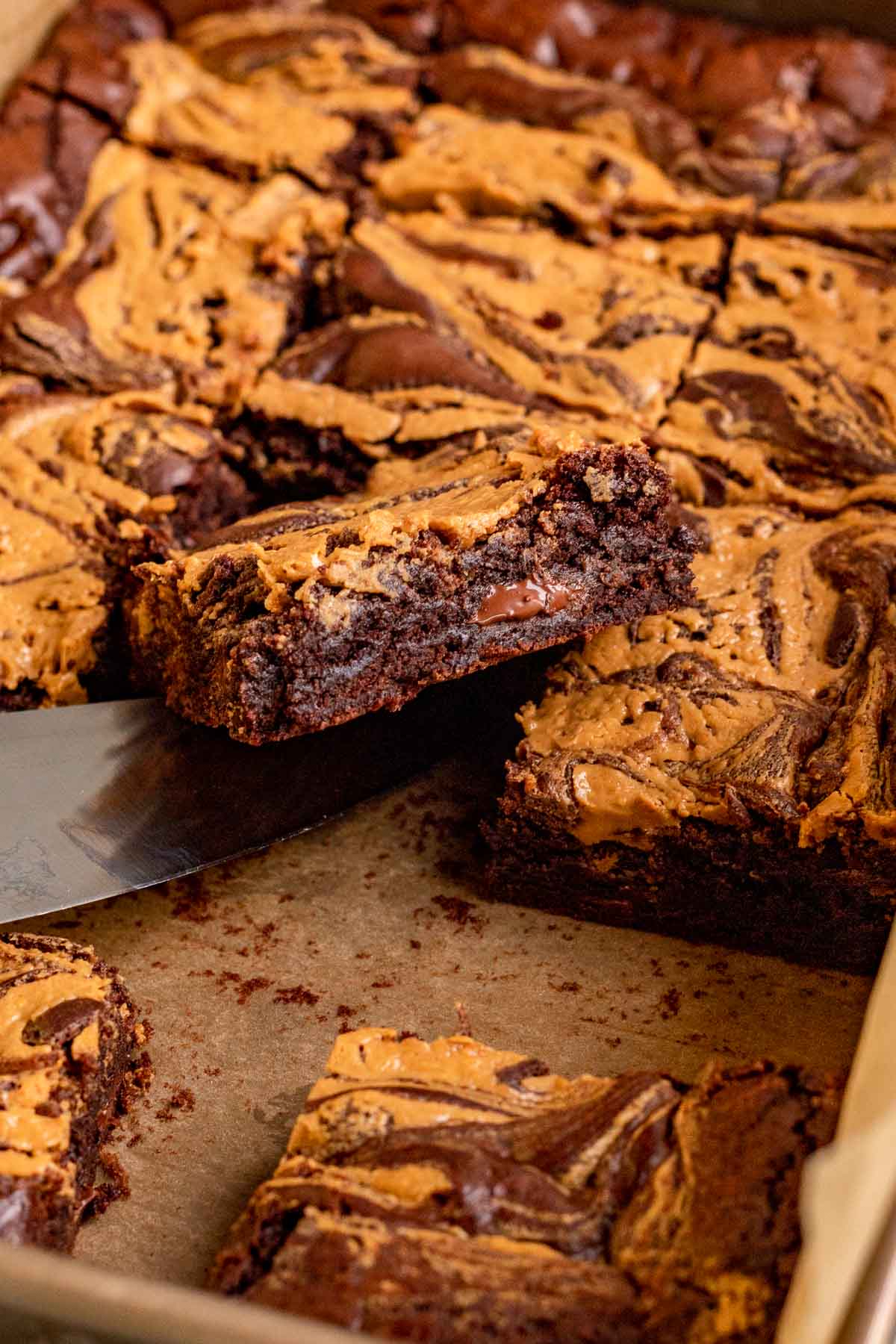 Create a free account to Save Recipes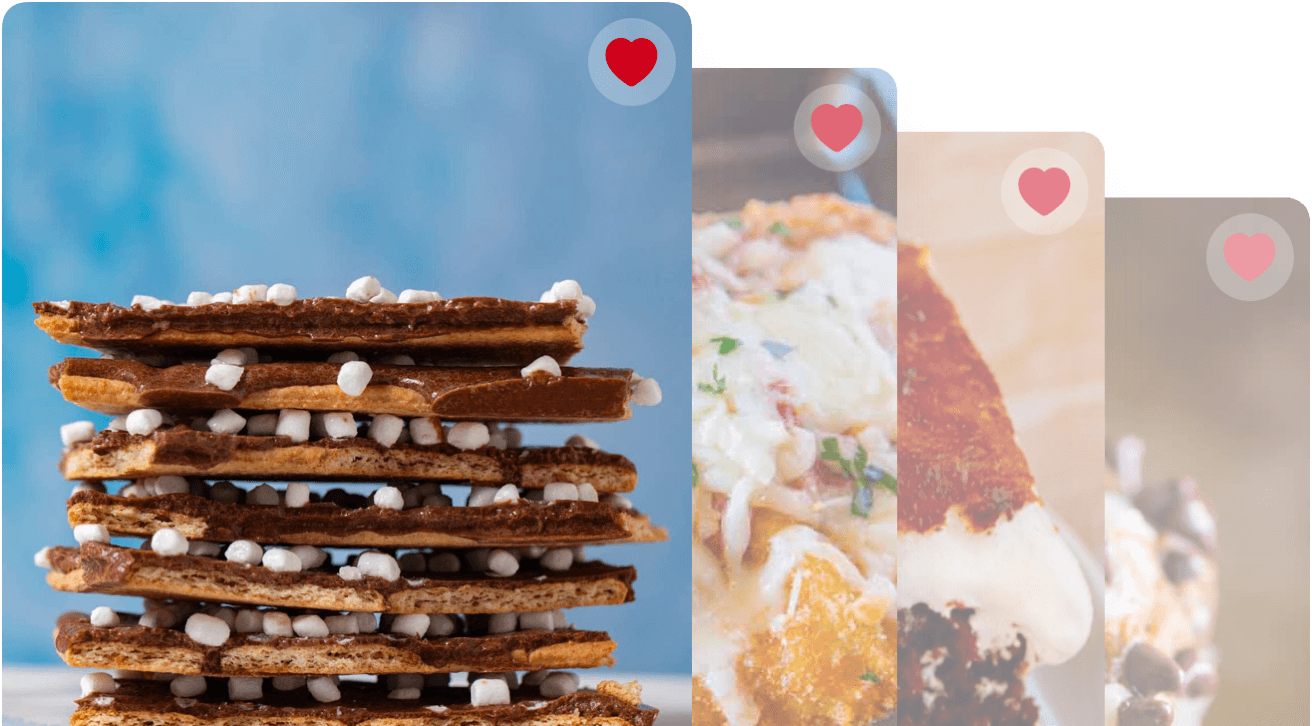 VARIATIONS
Sweeteners: If you don't want to use regular white sugar in your baking, you can use a sugar substitute like coconut sugar, honey, or Stevia.
Gluten-free: To make gluten-free brownies, just replace the white flour with almond flour, coconut flour, chickpea flour, or your favorite gluten-free substitute. You shouldn't need to change anything else, since most store-bought peanut butter is gluten-free.
Crunchy peanut butter swirl brownies: If you want some extra texture in your brownies, you can replace the creamy peanut butter with crunchy peanut butter. You could also mix chopped peanuts into the peanut butter.
Reese's brownies: For fun peanut butter and chocolate add-ins, you can mix peanut butter cups into the brownie batter. Either use mini peanut butter cups or cut regular-sized ones into fourths.
Espresso coffee powder: To enhance the chocolate flavor and make the brownies even richer, you can mix 1-2 teaspoons espresso powder into the batter.
Salted brownies: Add flaked sea salt over the top of the brownies before serving. The coarse sea salt will add a beautiful sparkling touch to the brownies, and play up the sweet and salty contrast in the recipe.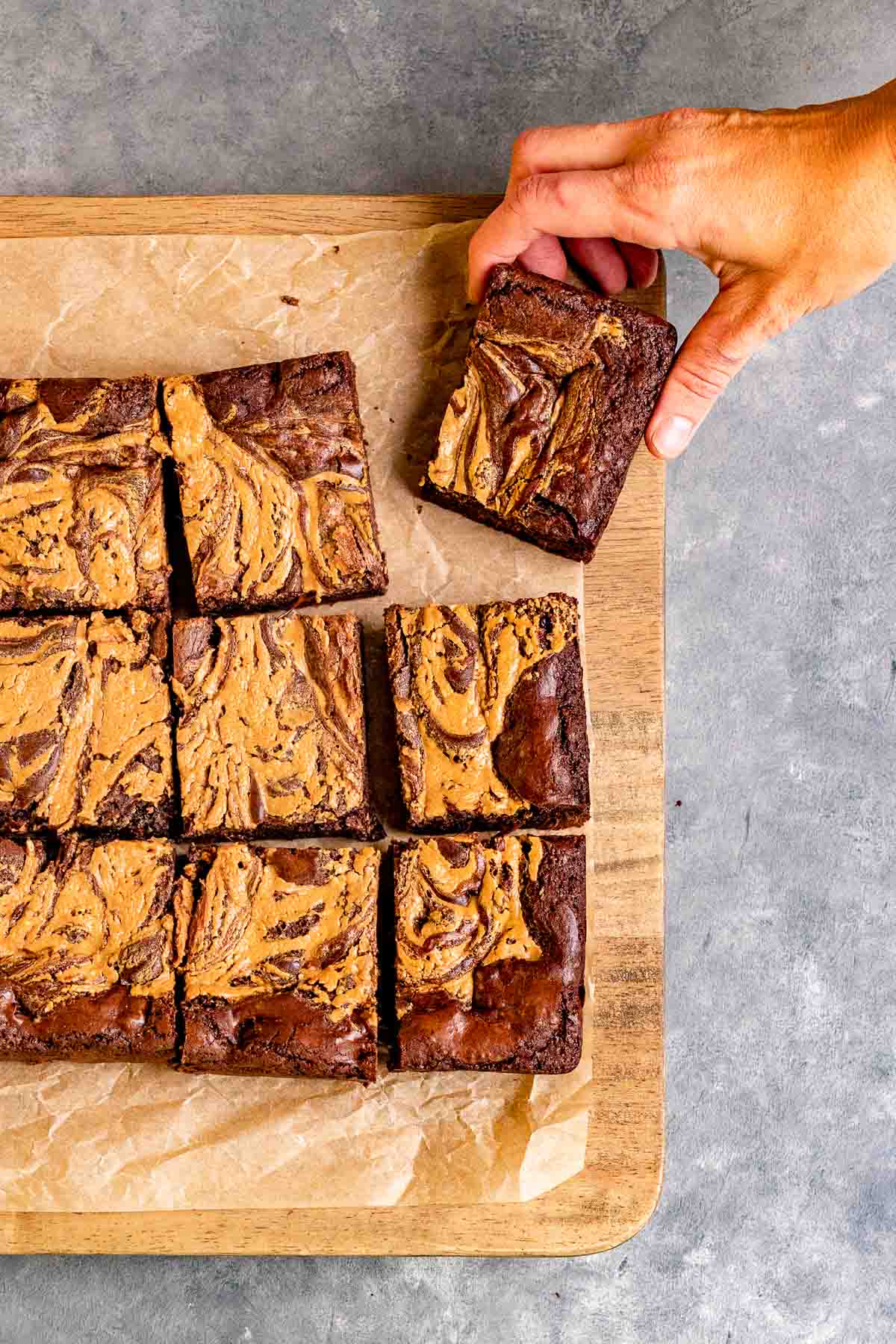 MORE PEANUT BUTTER DESSERTS
HOW TO STORE
Serve: If you have any leftover Peanut Butter Brownies, cover them in plastic wrap or aluminum foil, and they will stay good for 3 days at room temperature.
Store: You can also seal and refrigerate the brownies. They'll keep well with 1 week of refrigeration time.
Freeze: For long-term storage, put the brownies in a freezer bag or another airtight container with the layers separated by parchment paper. They will stay good for 6 months.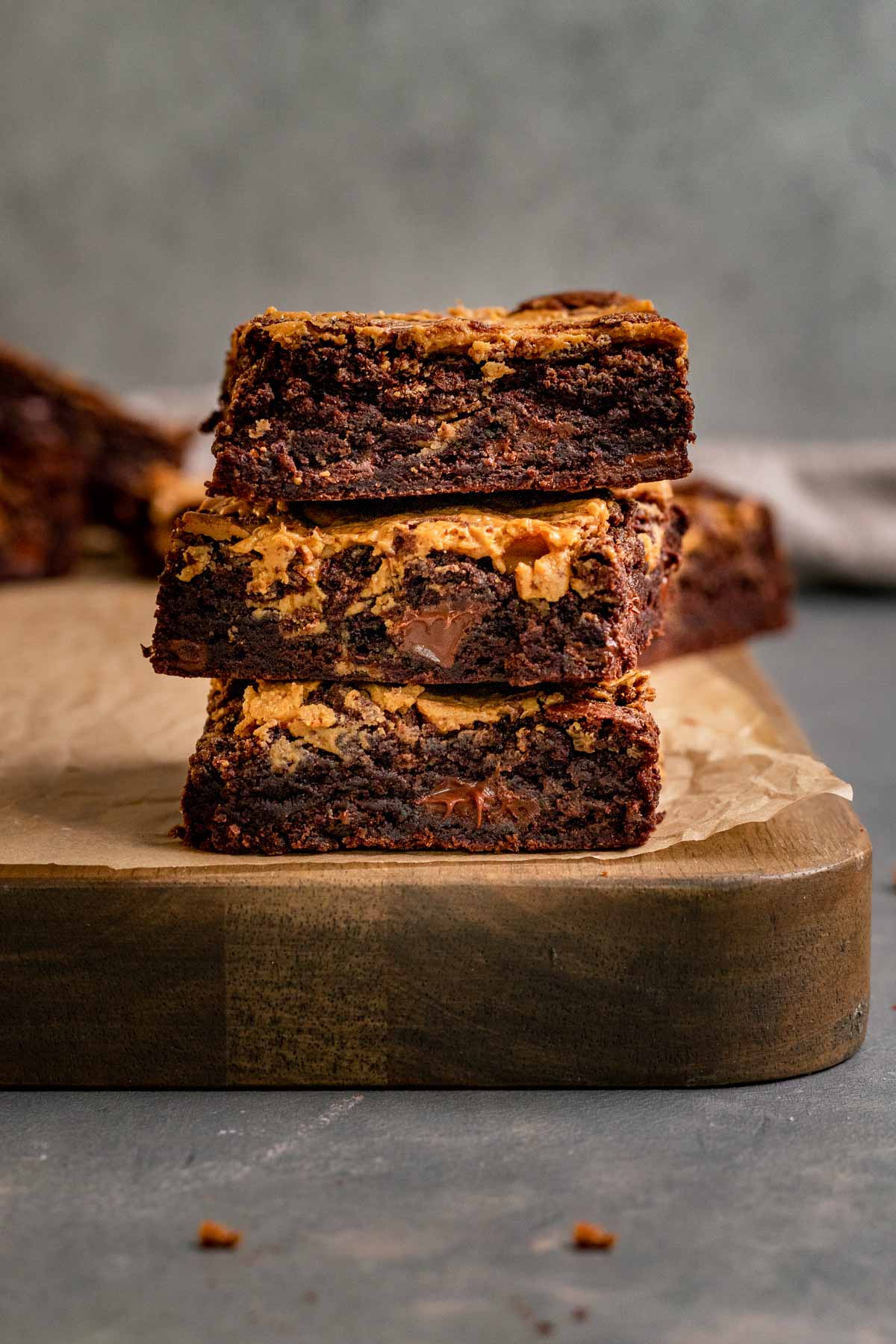 Ingredients
1/2

cup

water

2/3

cup

unsalted butter

3/4

cup

unsweetened cocoa powder

2

cups

sugar

2

large

eggs

1

teaspoon

vanilla extract

1 1/2

cups

flour

1/2

teaspoon

baking soda

1/4

teaspoon

salt

12

ounces

semi-sweet chocolate chunks

3/4

cup

creamy peanut butter
Instructions
Preheat oven to 350 degrees and spray a 9x13 baking dish with baking spray.

To a saucepan bring water to a boil.

Turn off the heat, add in the butter and cocoa powder.

Whisk until completely blended.

Pour mixture into a large mixing bowl.

Whisk in the sugar, eggs, and vanilla extract until creamy.

Add flour, baking soda, and salt until just combined.

Stir in chocolate chunks.

Pour into baking dish and spread evenly.

Add peanut butter to a microwave-safe bowl and microwave for

30 seconds

on half power.

Stir well.

Drop spoonfuls of peanut butter over the batter.

Swirl with a knife.

Cool completely before slicing.
Nutrition
Calories:
420
kcal
|
Carbohydrates:
50
g
|
Protein:
7
g
|
Fat:
23
g
|
Saturated Fat:
11
g
|
Trans Fat:
1
g
|
Cholesterol:
45
mg
|
Sodium:
140
mg
|
Potassium:
285
mg
|
Fiber:
4
g
|
Sugar:
34
g
|
Vitamin A:
281
IU
|
Calcium:
32
mg
|
Iron:
3
mg