Raisin Filled Cookies are delicious old-fashioned buttery cookies folded around a gooey, sweet filling made with raisins and brown sugar.
Classic Cookie Recipes like Amish Sugar Cookies, Oatmeal Raisin Cookies, and these old-fashioned Raisin Filled Cookies are family favorites that are enjoyed all year round and never go out of style.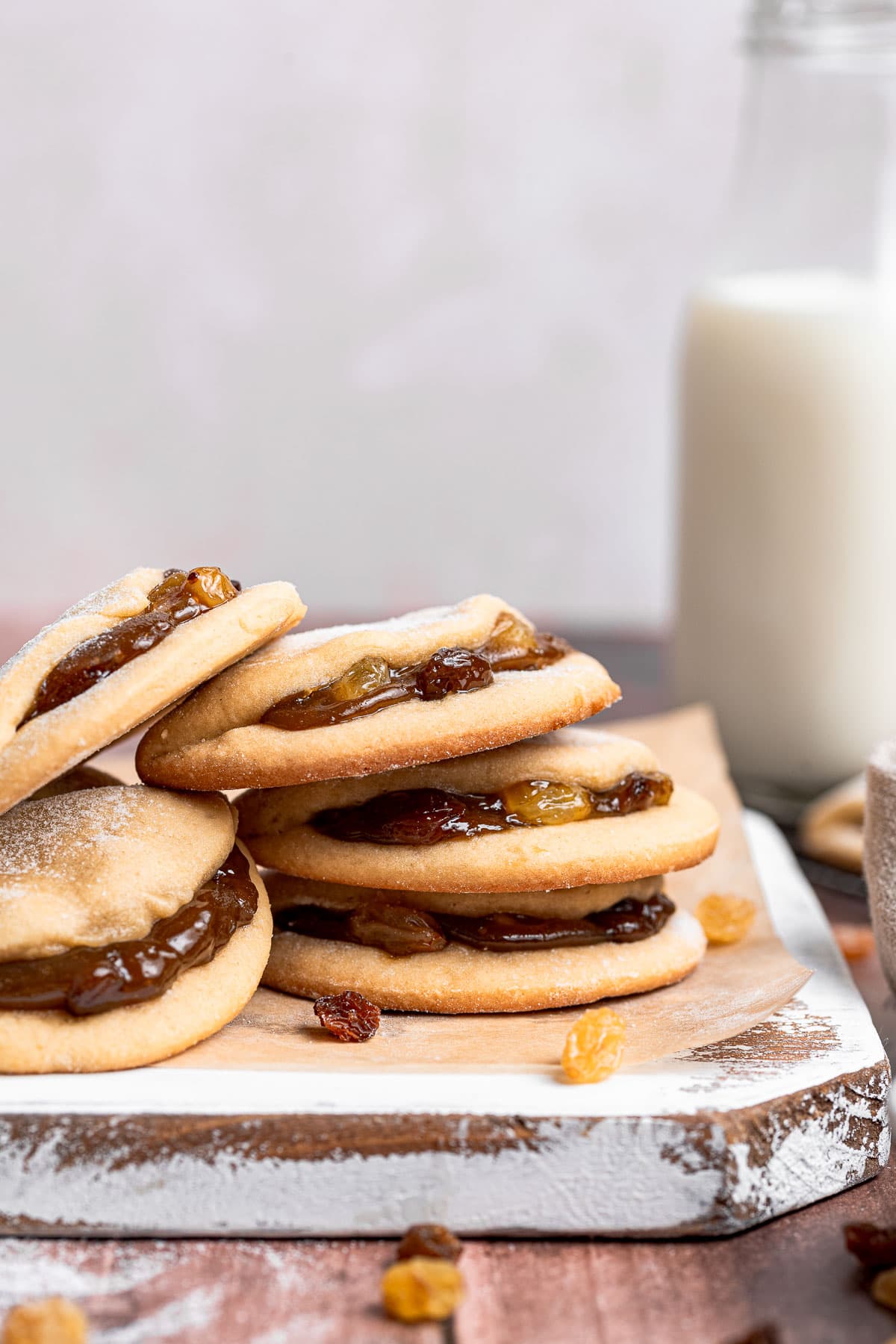 While it can be fun to experiment making fancy cookies with trendy flavor combinations or complicated baking techniques sometimes it's nice to go back to the basics. Classic recipes, like Chocolate Chip Cookies or Oatmeal Cookies, might not have all the bells and whistles of trending recipes, but they are still a delightful treat full of tasty flavors and fond memories.
These Raisin Filled Cookies are old fashioned Amish cookies you won't find in a lot of modern cookbooks. But just skip back a few decades and they were sure to be bookmarked in more than one checkered cookbook as a favorite recipe. They have a buttery cookie outside that is melt-in-your-mouth delicious folded around a slightly tart, sweet brown sugar and raisin mixture inside.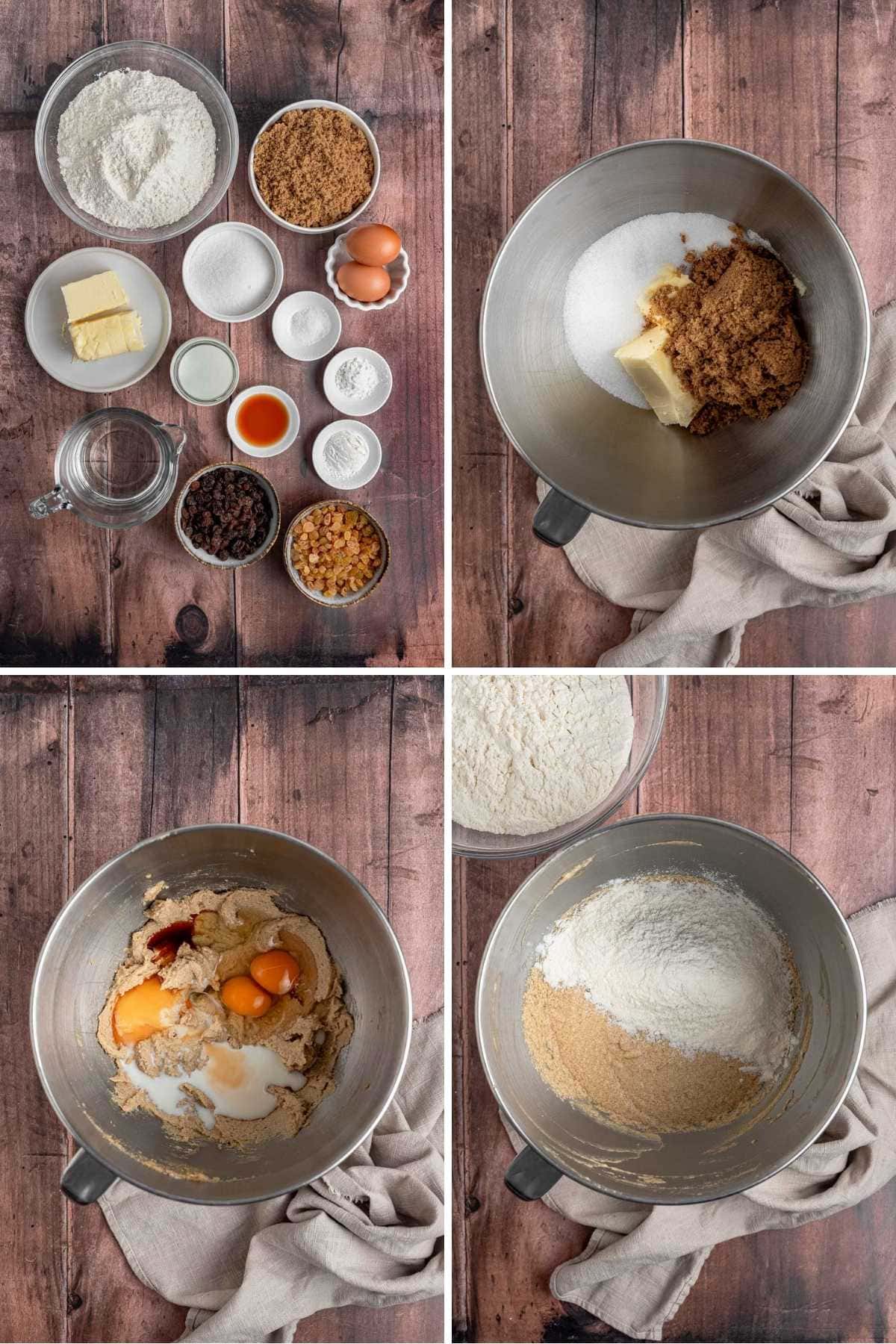 These cookies are great for treat swaps during the holidays but you can enjoy them all year long with a nice hot cup of tea. While the classic recipe is always a hit, you can always give them a little twist without losing the nostalgia with the Variations section below. Enjoy these amazing old-fashioned Raisin Filled Cookies warm from the oven for a sweet, delicious
What are Raisin Filled Cookies?
Raisin Filled Cookies are a classic Amish cookie recipe that may have been the inspiration for Fig Newtons. They have a soft, buttery sugar cookie outside that is folded around a sweet raisin paste made with both golden raisins and regular raisins. The raisins are cooked in a thick brown sugar syrup and can either be pureed into a smooth paste or left mostly whole like in this cookie recipe. While this recipe is individual circles of dough folded like pockets, it is often sandwiched between two large pieces of dough that are then cut into small bars.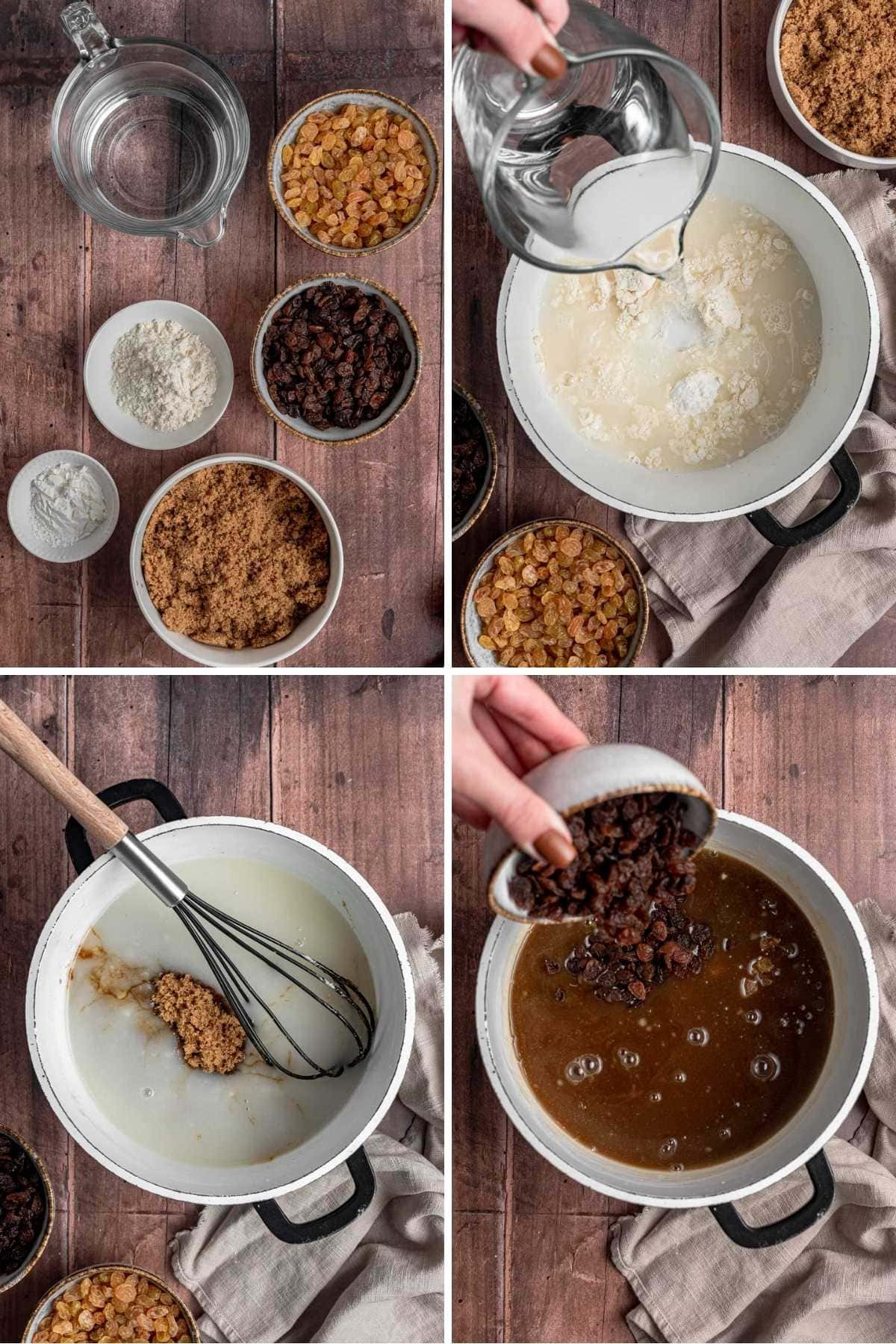 How to Make Raisin Filled Cookies
Dough: Cream the butter and sugars together in a stand mixer, then add the eggs, vanilla, and milk. Gradually mix in the dry ingredients.
Chill: Cover the dough and allow it to cool in the refrigerator for three hours. Don't skip this step, or your cookies will spread.
Filling: Mix cornstarch, flour, and water in a cold saucepan. Bring to a boil on medium heat, then add the brown sugar and raisins. Simmer for 3 minutes, then remove from heat and allow to cool.
Shape: Roll out the dough on a floured surface and cut into 3-inch rounds. Place the rounds on a prepared greased cookie sheet, then place a teaspoon of the raisin mixture in the middle, and fold the circle over the raisin mixture.
Bake: Bake the cookies for 8 minutes, or until they are lightly golden around the edges. Let cool for about 10 minutes before serving because the filling will be really hot.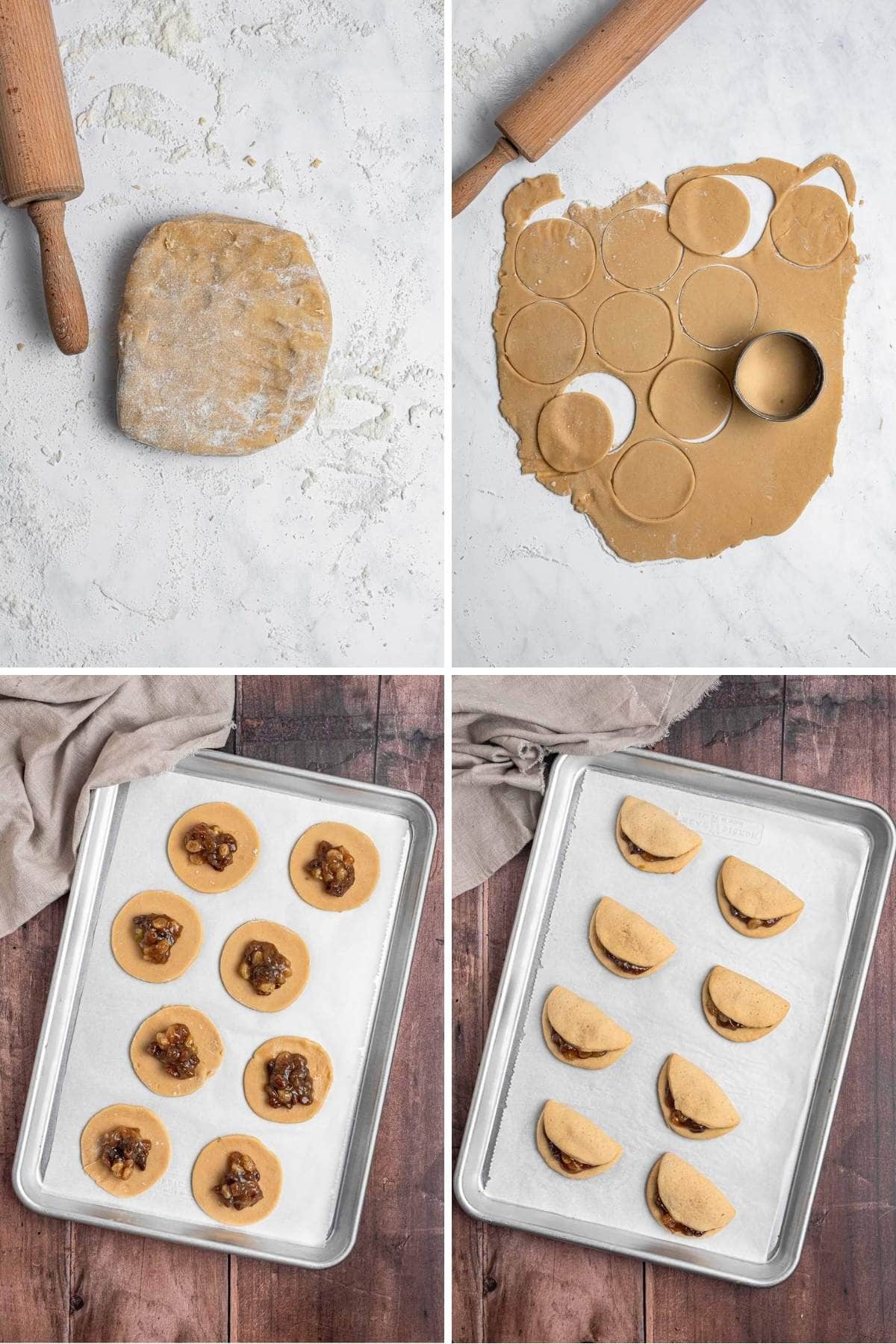 More Old Fashioned Cookie Recipes
FAQs for Raisin Filled Cookies
Which ingredient makes cookies moist and tender?
To ensure moist, tender cookies, you want to use butter, but the trick is to make sure your dough is chilled so it melts slowly. Egg yolks also have a good amount of rich fat that not only adds moisture but keeps the cookies from drying out or spreading for a soft, chewy cookie.
How to make chewy vs crunchy cookies?
If you prefer a chewy cookie, you want to use moisture-adding ingredients like brown sugar, eggs, and butter, but you also want cold cookie dough. The butter needs to melt slowly as the cookies bake otherwise they will spread and your cookies will be crunchy. If you want a crunchier cookie, you can bring the dough to room temperature or replace one egg with a ¼ cup of milk and use only white sugar.
Can I make these cookies with other dried fruits?
You can definitely swap out the raisins with other dried fruit or do half raisins and half other dried fruit. You would want to use dried fruits like apricots, currants, plums, cranberries or cherries. Keep in mind some fruits are sweeter than others so make sure to taste and adjust the sugar.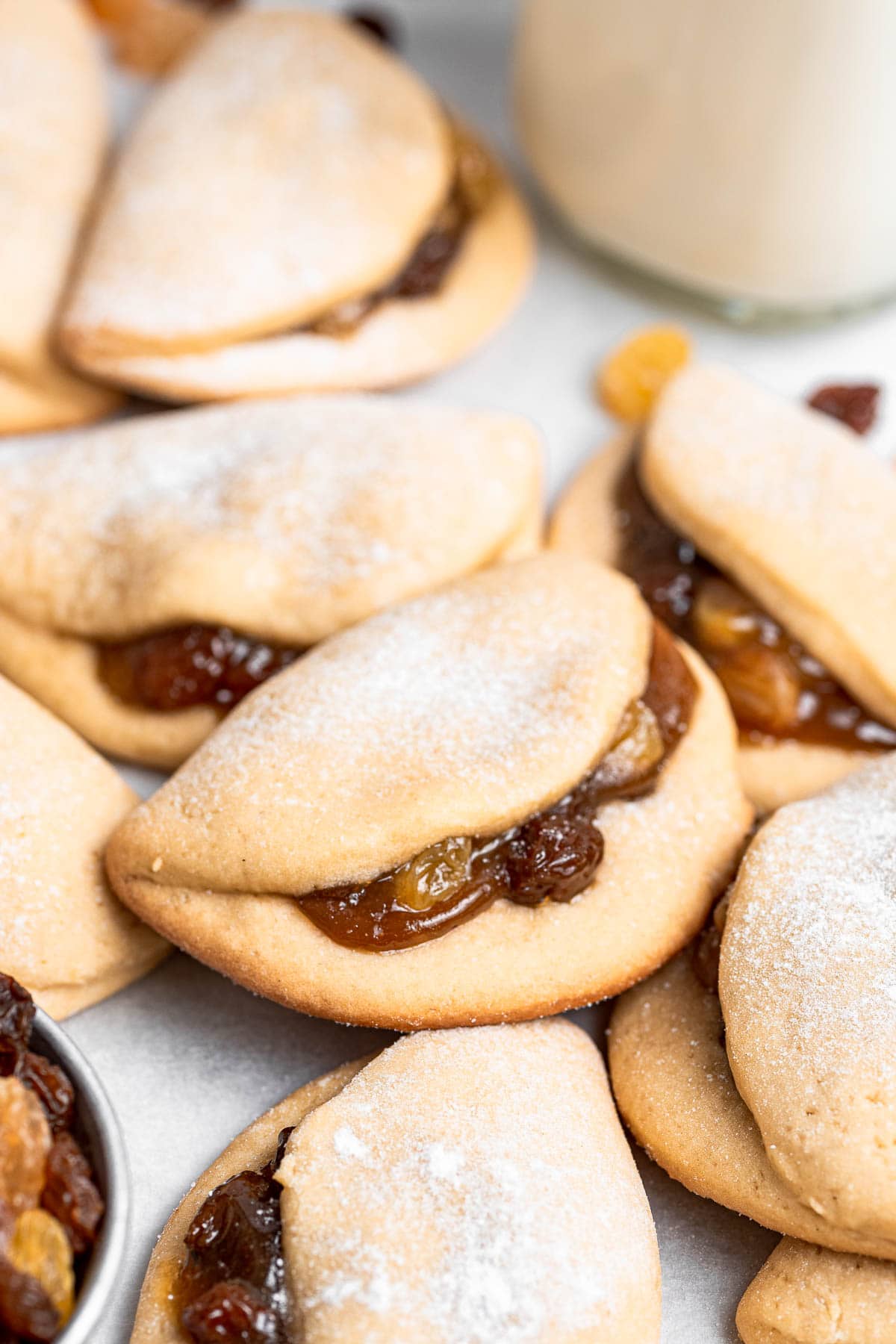 Create a free account to

Save Recipes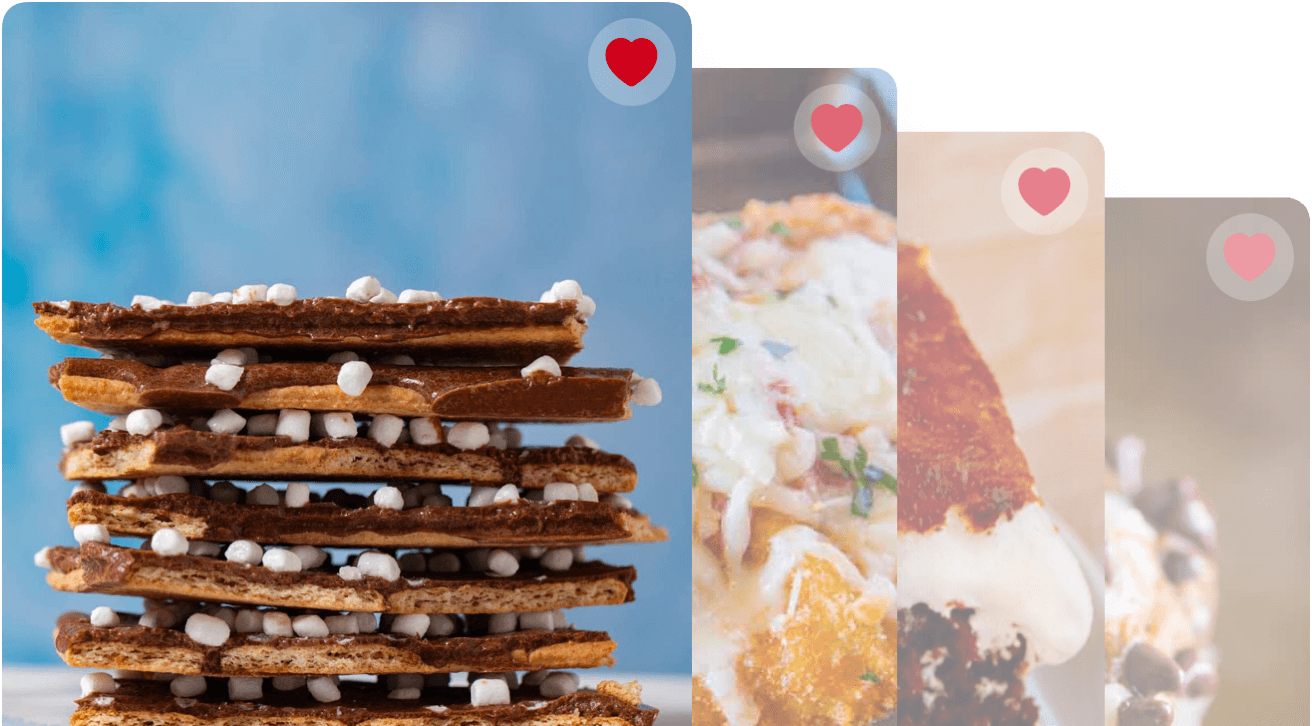 Key Ingredients
Dough: The buttery cookie dough is like a cross between a sugar cookie and a shortbread cookie. It bakes up soft and chewy thanks to the blend of brown sugar and white sugar. Also, there is plenty of eggs and butter in the dough so they are super moist and tender.
Raisins: The combination of golden raisins and regular raisins makes a sweet and tangy filling that also looks pretty too! You can always use just one raisin if that's easier. Just make sure to get plain raisins that are not coated in any additional sweeteners.
Brown Sugar: You use brown sugar in both the dough and and to make the rich, sweet raisin syrup. It melts down and the molasses gives the filling a warm caramel flavor plus it helps thicken it up as it cools.
Syrup: To thicken the delicious raisin syrup, you use a cornstarch and flour slurry in the beginning. You want cook the flour cornstarch mixture first so it not only gets super thick but it cooks off that raw flour flavor. The thickener is important to keep the filling from melting and spreading as the cookies bake.
Can you make Raisin Filled Cookies ahead of time?
These are great cookies to make a double batch and freeze because they keep so well. You can either freeze them after they are done baking or you can freeze the dough and raisin filling separately to bake later. Both baked and raw cookies will keep in the freezer for up to 3 months in an airtight container.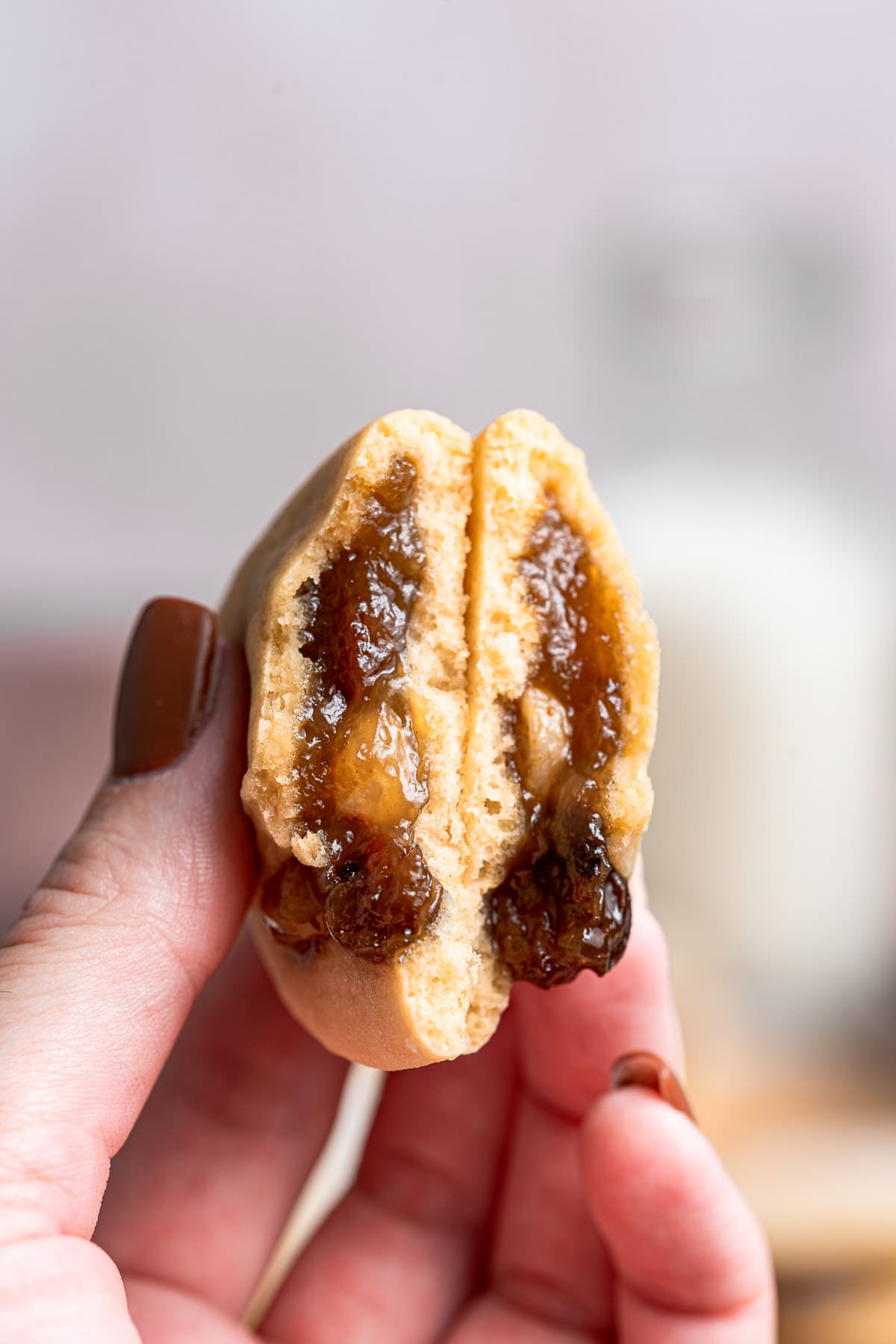 Variations
Nuts: Grind up walnuts and add them to your raisin mixture for a delicious, rich texture.
Fruit: Use dried apricots or dates in these cookies instead of the raisins, or substitute half of the raisins with the other dried fruit for a nice blend.
Cookie Bars: Divide your cookie dough into 2 parts. Spread a base layer of dough in an 8×8 pan and top with your raisin filling. Roll out the remaining cookie dough into a square and place it over the filling. Bake for 25-35 minutes.
Raisin Paste: You can make Raisin Paste (recipe below) for a smoother, thicker filling plus you can make it ahead! When ready to bake, bring the paste to room temperature or warm in the microwave (so it's easy to stir) and mix in brown sugar and flour.
Homemade Raisin Paste
You can also use this recipe to make other dried fruit pastes like apricot, fig, or date.
Ingredients: ¾ cups golden raisins, ¾ cups raisins, 2 cups water
Boil water in a saucepan.
Place raisins in a glass bowl.
Pour boiling water over them and wait 10 minutes to reconstruct the raisins.
Reserve ¼ cup raisin water and drain. Transfer into a food processor.
Process until you have a thick paste. Begin adding water, one tablespoon at a time, until you have a smooth peanut butter-like consistency.
Store in an airtight container for up to 3 weeks in the fridge or freeze for up to 3 months.
More Filled Cookie Recipes
How to Store
Serve: You can keep these Raisin Filled Cookies at room temperature for about a week in a sealed container. Let them cool for at least 10 minutes before serving so the cookies don't break and the filling isn't so hot.
Store: You can also store these cookies in the fridge for about 2 weeks, just keep them in a sealed container. Let them come to room temperature before serving.
Freeze: Once the cookies are baked, you can keep them for about 3 months in the freezer. Freeze them in a single layer for an hour before storing in a freezer safe bag. Thaw them at room temperature to serve.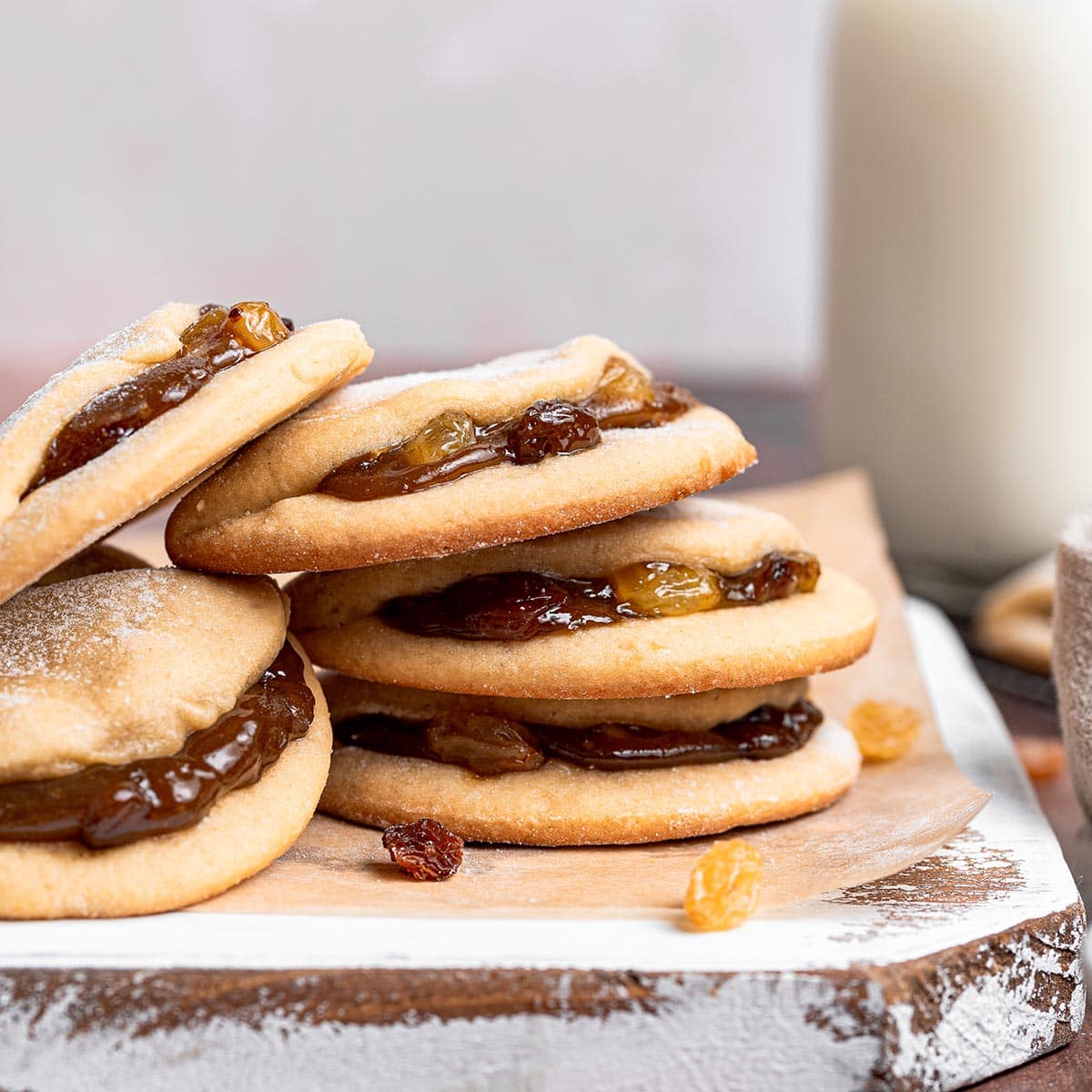 Ingredients
3 1/2

cups

flour

2

teaspoons

baking powder

1

teaspoon

salt

2/3

cup

butter

, softened

2

eggs

1/3

cup

milk

1

teaspoon

vanilla

3/4

cup

sugar

1 3/4

cups

brown sugar

, divided

3/4

cup

raisins

3/4

cup

golden raisins

1

tablespoon

cornstarch

3

tablespoons

flour

2

cups

water
Instructions
For the Dough:
Sift together the flour, baking powder, and salt.

In stand mixer, cream sugar, butter, and ¾ cup brown sugar together.

Add in the eggs, vanilla, and milk. Gradually mix in the flour mixture.

Cover the dough and allow to cool in the refrigerator for

3 hours

.
For the Filling:
Mix cornstarch, flour, and water in a cold saucepan.

Once mixed, place the saucepan on medium heat and bring to a boil.

Add in remaining 1 cup brown sugar and stir until smooth.

Pour in raisins, and cook for

3 minutes

or until thickened.

Remove from heat and allow to cool.
Bake the Cookies:
Preheat oven to 350 degrees.

Line baking sheets with parchment paper and lightly grease the paper.

Roll out the dough on a floured surface until it is about ⅛ inch thick.

Cut the dough into circles around 3 inches across.

Place the circles on the baking sheet, place a teaspoon of the raisin mixture in the middle, and fold the circle over the raisin mixture.

Bake the cookies for

8 minutes

.
Nutrition
Calories:
157
kcal
|
Carbohydrates:
30
g
|
Protein:
2
g
|
Fat:
4
g
|
Saturated Fat:
1
g
|
Polyunsaturated Fat:
1
g
|
Monounsaturated Fat:
2
g
|
Trans Fat:
1
g
|
Cholesterol:
9
mg
|
Sodium:
137
mg
|
Potassium:
84
mg
|
Fiber:
1
g
|
Sugar:
16
g
|
Vitamin A:
168
IU
|
Vitamin C:
1
mg
|
Calcium:
32
mg
|
Iron:
1
mg