Reese's Pieces Cookies are a soft, chewy peanut butter cookies recipe made with chunky peanut butter and loaded with Reese's Pieces candies!
The only thing better than Peanut Butter Cookies is stuffing them with peanut butter candies, just like Peanut Butter Cup Cookies or these delicious Cookies with Reese's Pieces!

Reese's Pieces Cookies are the most perfect peanut butter cookies recipe you'll ever make. The chewy cookie texture, crunchy peanut butter, and colorful peanut butter candies all come together in a heavenly bite. They are packed with delicious peanut butter flavor and bits of sweet crunch from the candy coating and peanut bits.
One of the best things about Reese's Pieces Cookies is that they are incredibly easy to make. All you need is some basic cookie dough ingredient plus a jar of peanut butter and a bag of Reese's candy. You could use a hand mixer and it's all made in one bowl. The hardest part is waiting for the dough to chill before you get to bake and eat these amazing peanut buttery cookies!
These chewy Reese's Pieces Cookies are a fun twist on a classic cookie recipe. The fall colored candies are perfect for Halloween and Thanksgiving dessert trays. If you are a peanut butter lover, go all out with a cookie sundae with some fresh baked cookies, Vanilla Ice Cream, and a drizzle of melted peanut butter? The cookie dough freezes well too so you can shape cookie dough balls and whenever you are getting a peanut butter craving, pop a couple in the oven and in minutes you'll have a warm, delicious cookie!
What are Reese's Pieces Cookies?
Reese's Pieces Cookies are a delightful twist on classic peanut butter cookies. They have a soft and chewy texture, thanks to the combination of butter, chunky peanut butter, and brown sugar. What sets them apart is the addition of Reese's Pieces candies, which add a colorful and crunchy burst of flavor to every bite. Reese's Pieces candies are small, round candies with a hard candy shell and a creamy peanut butter center. As the cookies bake, candy center melts so you get bursts of creamy, melty peanut buttery goodness.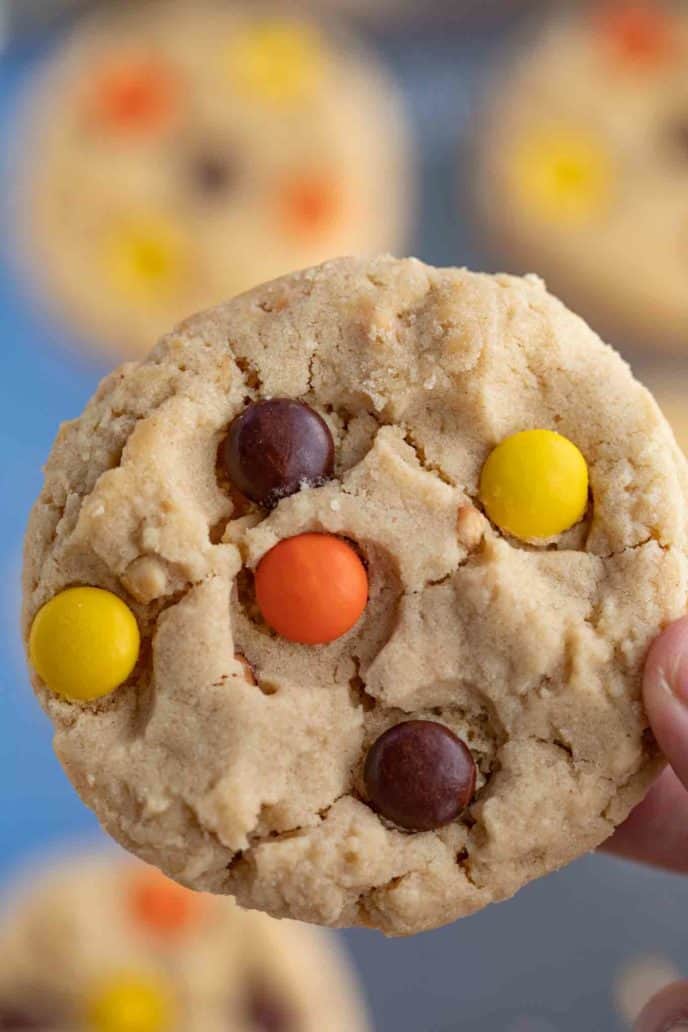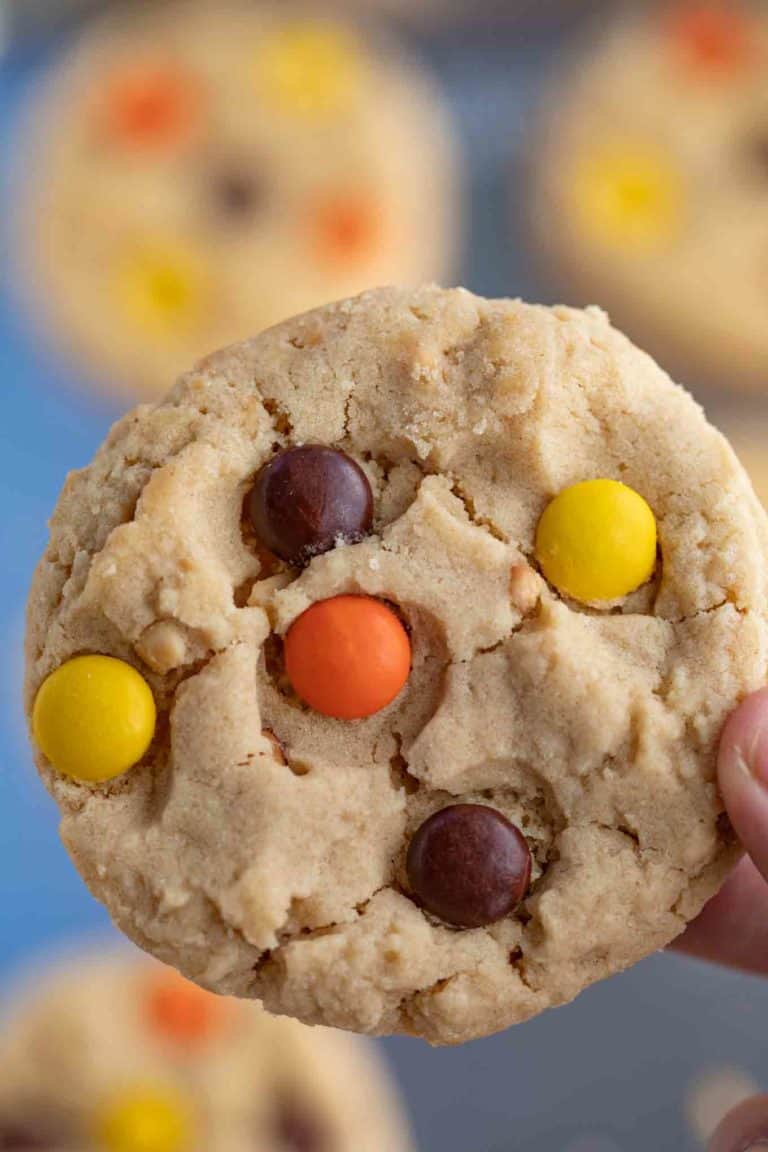 How to Make Reese's Cookies
Cream: Beat the butter, peanut butter, and sugars until light and fluffy. Add the eggs in one at a time until combined.
Dough: On low speed, mix in the vanilla, flour, baking soda and salt until the flour is just combined. Stir in the candy pieces by hand.
Chill: Cover the dough and chill in the refrigerator for at least an hour, up to 2 days. Preheat the oven to 350 degrees.
Bake: Scoop cookie dough onto a baking sheet and press the remaining candies into the dough. Bake 10-12 minutes, until the edges are just set.
More Delicious Peanut Butter Cookies
FAQs for Reese's Cookies
How can I make my cookies more crispy?
You can make these cookies less chewy and more crunchy by adding a couple minutes to the cooking time. Watch them closely to make sure they don't burn and if they start getting too dark around the edges, pull them out. They will get crispier as they cool down too.
How can I prevent the cookies from spreading too much?
The key to keeping your cookies from spreading is to chill the dough for at least an hour before scooping and baking, and to not handle the dough too much. You want cold dough so the butter melts slowly and the cookies hold their shape.
Why does my cookie come out crumbly?
A crumbly cookie texture is often a result of using too much flour in the dough or over-mixing the ingredients. It's important to measure the flour accurately and mix the dough just until the flour is just combined, meaning there are no more streaks.
What is in the middle of Reese's Pieces candies?
The center of Reese's Pieces candies is made of a creamy peanut butter mixture. It is similar in flavor to Reese's peanut butter cups, but it is smoother and more sugary.
Is there chocolate in Reese's Pieces?
No, unlike Peanut Butter Cups and Peanut Butter M&Ms, Reese's Pieces candies are not made with any chocolate. They only have the candy shell and the peanut butter filling, were the M&Ms have a thin layer of chocolate between the candy coating and filling.

Create a free account to

Save Recipes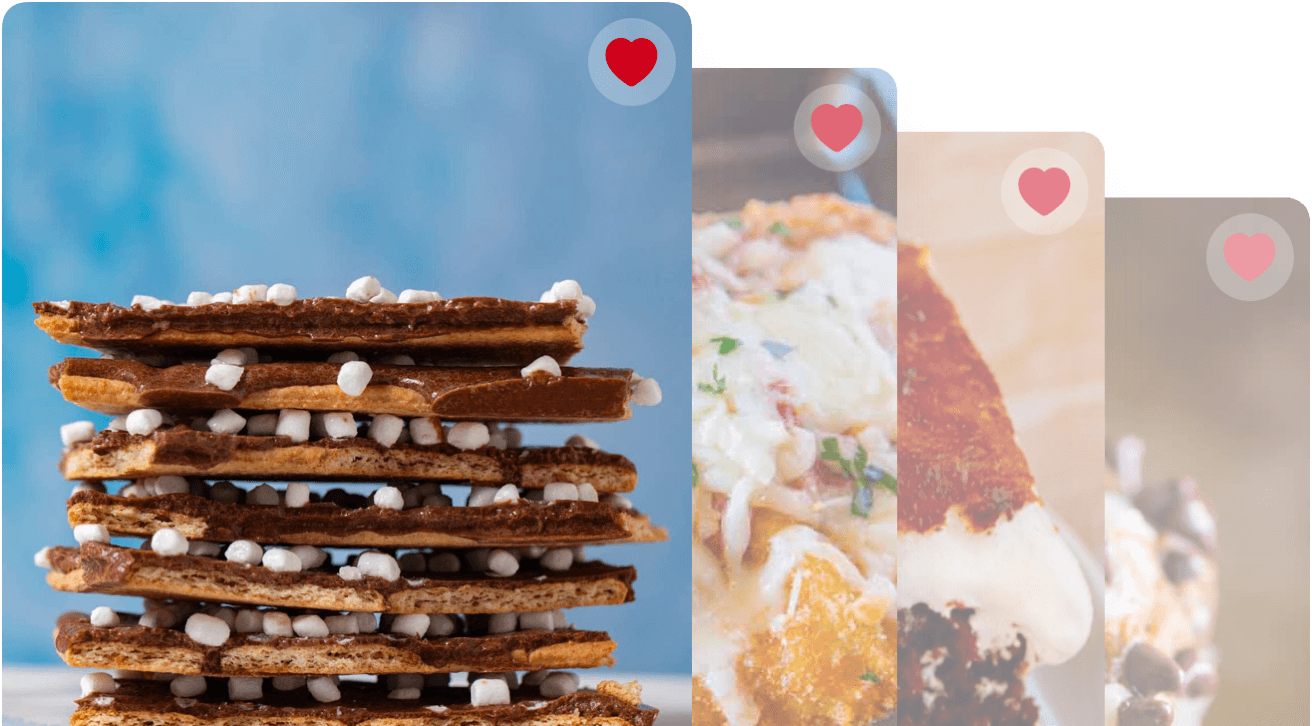 Key Ingredients
Peanut Butter: Normally you bake with creamy peanut butter but the chunky peanut butter adds a delightful texture to the cookies, with small peanut pieces scattered throughout. However, the other baking rule still applies – don't use natural peanut butter because the oils separate and won't bake right.
Reese's Pieces: The candy-coated shell adds a delightful crunch, while the peanut butter center melts slightly as they bake super creamy sweetness. The bright colors give these cookies some whimsy too!
Butter: These cookies get a full cup of butter so they are super soft, rich, and moist. The most important thing for soft cookies that don't spread is to keep the butter as cold as possible. Use a spoon to avoid the heat from your hands warming up the butter as you form the cookies.
Sugar: Brown sugar, with its molasses content, brings a subtle caramel-like flavor and moisture to the cookies. It contributes to their soft and chewy texture. The combination of brown sugar and white sugar provides a perfect balance of sweetness, resulting in a deliciously addictive treat.
Vanilla: These cookies have a good amount of vanilla in them to add some depth and contrast to all the peanut butter flavor. It adds a sweet, creamy warmth that makes the peanut butter taste even more delicious.
Eggs: Eggs play a crucial role in binding the ingredients together and contribute to the cookies' moistness and richness. The eggs help create a tender crumb and ensure that the cookies hold their shape while baking.
Baking Soda: Baking soda acts as a leavening agent in the recipe, helping the cookies rise and giving them a slightly airy texture that melts in your mouth.
Can Reese's Peanut Butter Cookies be made ahead of time?
Yes, Reese's Pieces Cookies can be made ahead of time. You can prepare the dough in advance and refrigerate it for up to 48 hours before baking. If you prefer freshly baked cookies, you can also scoop the dough into balls, freeze them on a baking sheet, and then transfer them to a freezer bag. When ready to bake, pop the dough balls onto a baking sheet and follow the baking instructions, adding a couple minutes if needed.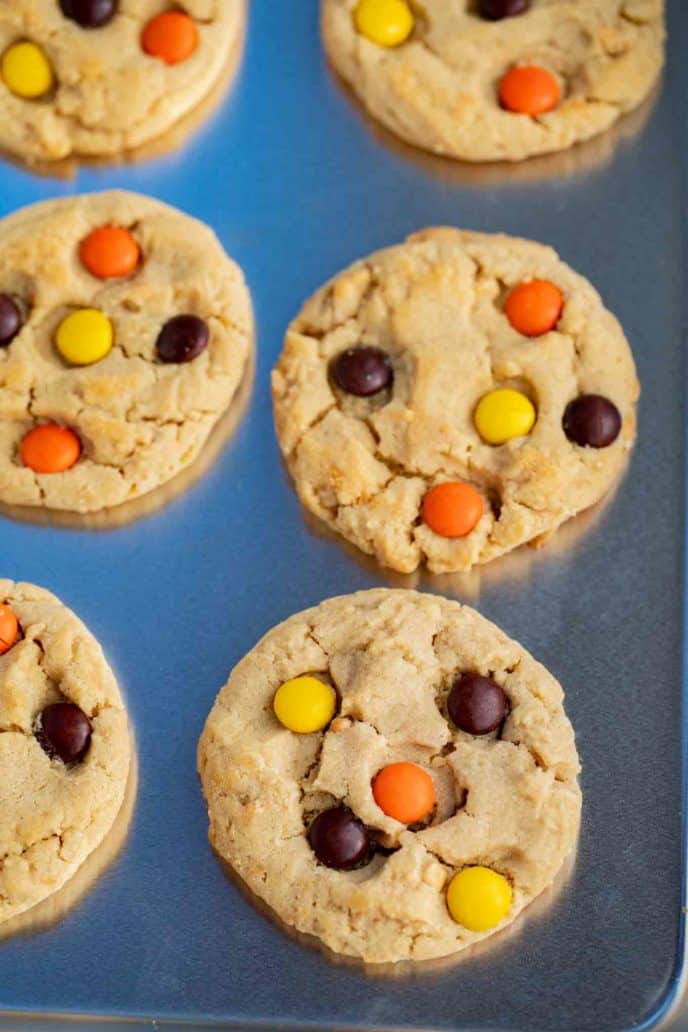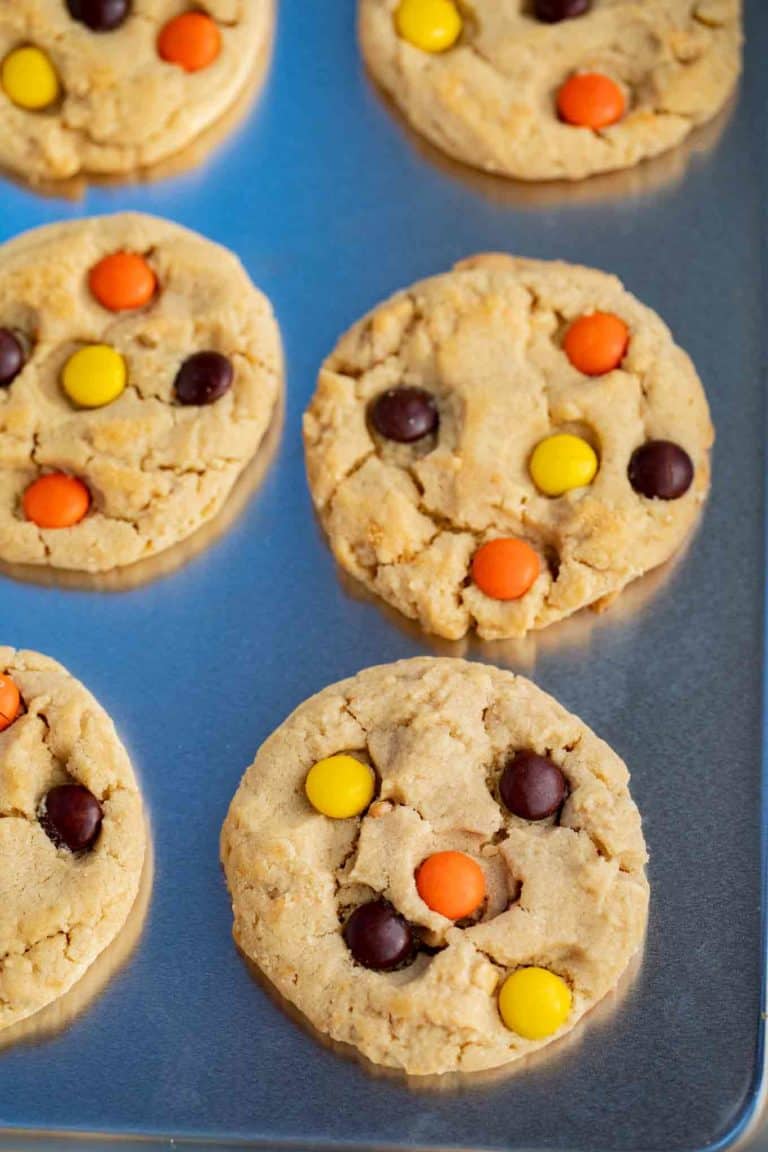 Variations
Chocolate Reese's Pieces Cookies: Replace ½ cup of flour with unsweetened cocoa powder and half the candy pieces with chocolate chips for a delicious chocolate peanut butter combination.
Caramel: Drizzle Salted Caramel Sauce over the baked cookies and add a pinch of sea salt over the dough before baking for a sweet and salty combination. You could also add some caramel chips to the dough for more caramel flavor.
Oatmeal: To make this an Oatmeal Reese's Cookies, reduce the flour to 2 cups and add a cup of quick cooking oats and 2 teaspoons of cinnamon.
Candy: You can use other candy instead of Reese's Pieces with this recipe. Try peanut butter chips, mini Reese's peanut butter cups or even homemade Peanut Butter Cups that you've chopped into smaller pieces. Try this recipe with peanut M&Ms for a crunchy peanut flavor.
More Amazing Peanut Butter Desserts
How to Store
Serve: Keep these Reese's Cookies in an airtight container at room temperature for about 2 weeks. A hack to keep them fresh longer is to store them with a piece of bread in the container to absorb excess moisture.
Store: To store Reese's Pieces Cookies in the fridge, allow them to cool completely and then transfer them to an airtight container. You can warm them back up in the microwave in 20 second bursts or bring them to room temp so they are soft again.
Freeze: You can freeze the cookies in a freezer-safe container or resealable bag for up to 3 months. To keep them from sticking, freeze on a baking sheet and once they are solid, transfer to the container.


Ingredients
1

cup

unsalted butter

1

cup

chunky peanut butter

1

cup

packed brown sugar

1/2

cup

white sugar

2

large

eggs

2

teaspoons

vanilla extract

2 1/2

cups

flour

1 1/2

teaspoons

baking soda

1/2

teaspoon

salt

1 1/2

cups

Reese's Pieces Candies

, divided
Instructions
To your stand mixer add the butter, peanut butter, brown sugar and sugar and beat until light and fluffy before adding in the eggs one at a time.

Add in the vanilla, flour, baking soda and salt until just barely combined on low speed then fold in 1 cup of the Reese's pieces with a wooden spoon.

Refrigerate the dough for an hour then scoop 2 tablespoon sized cookie dough balls and press in the remaining half cup of Reese's candies into the top of the dough balls and bake at 350 degrees for

10-12 minutes

.
Nutrition
Calories:
173
kcal
|
Carbohydrates:
23
g
|
Protein:
2
g
|
Fat:
8
g
|
Saturated Fat:
5
g
|
Cholesterol:
37
mg
|
Sodium:
153
mg
|
Potassium:
34
mg
|
Sugar:
13
g
|
Vitamin A:
260
IU
|
Calcium:
14
mg
|
Iron:
0.8
mg