Roasted Potato Salad with Dijon Vinaigrette is the perfect summery side dish to you BBQ menu with just five ingredients!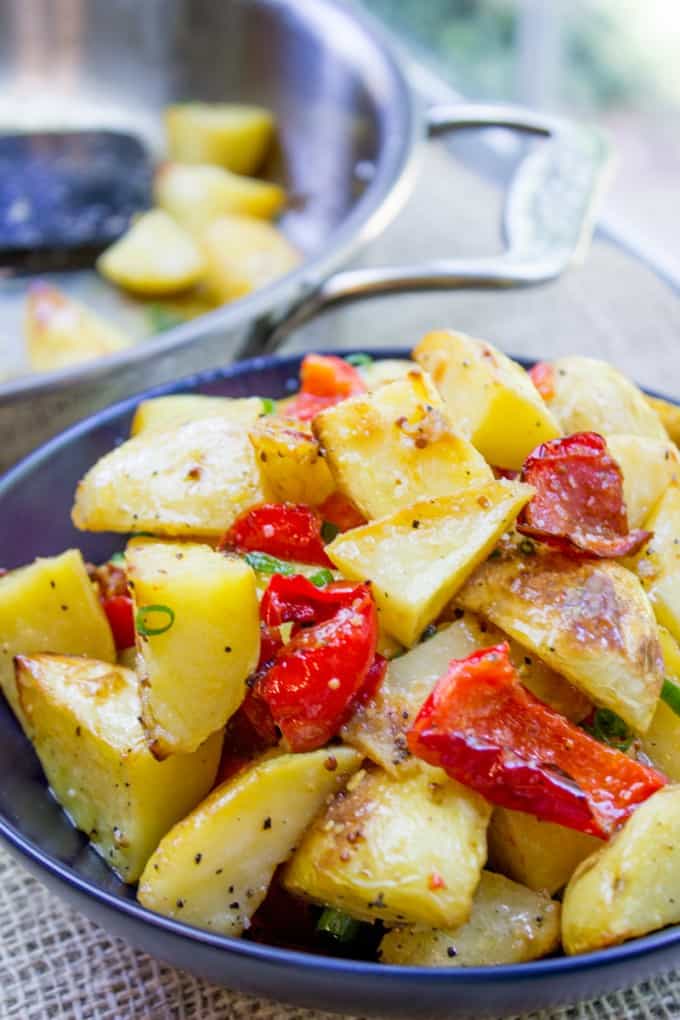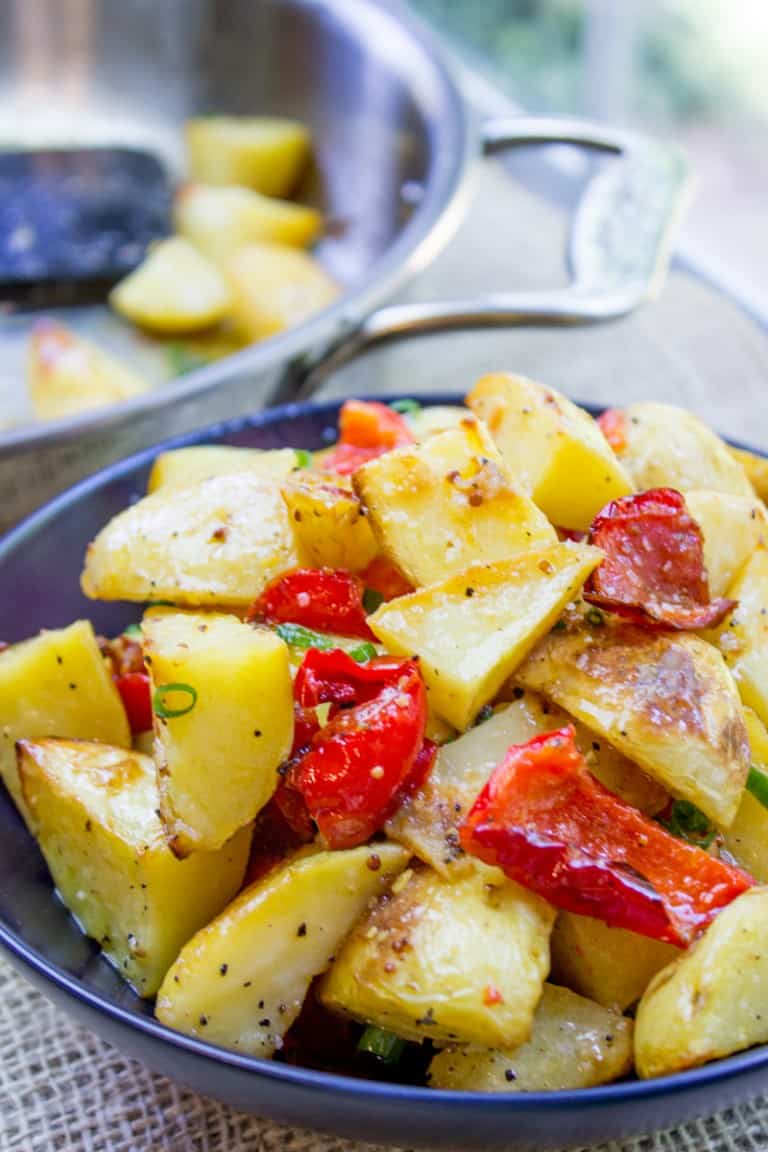 Roasted Potato Salad with Dijon Vinaigrette has been a dish I've been making and bringing to potlucks, picnics and bbqs for years! Why you ask? Well, it is incredibly easy to make and it contains no mayo! Also a huge thanks to All Clad, who sponsored the giveaway below for the All-Clad d5 pan! Yup, I am totally giving away the exact same pan you see in the pictures and guess what… it is AWESOME.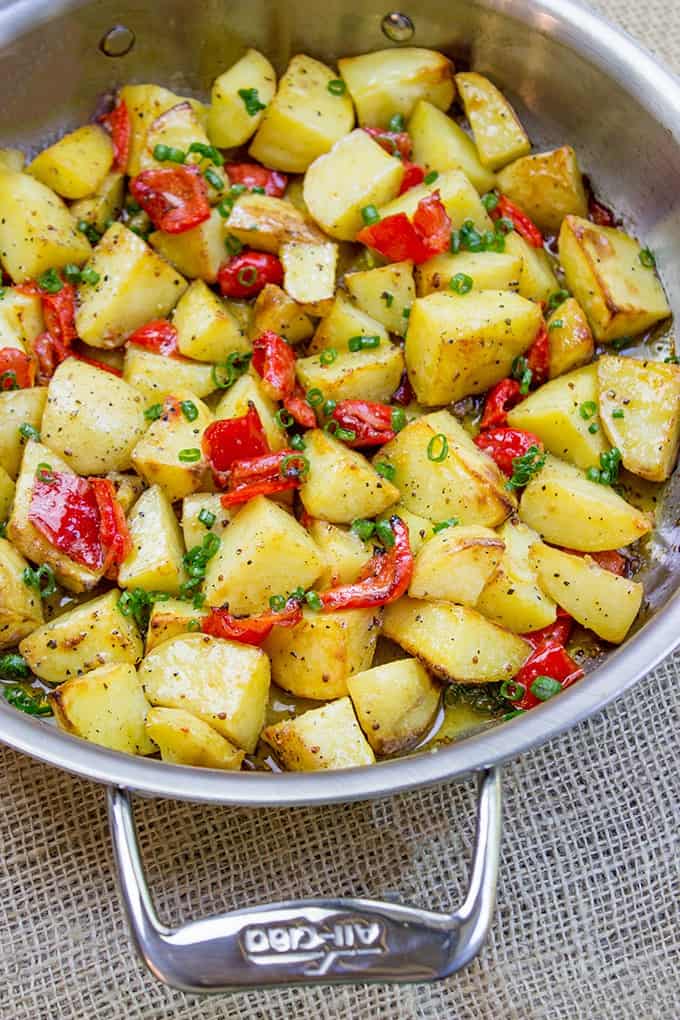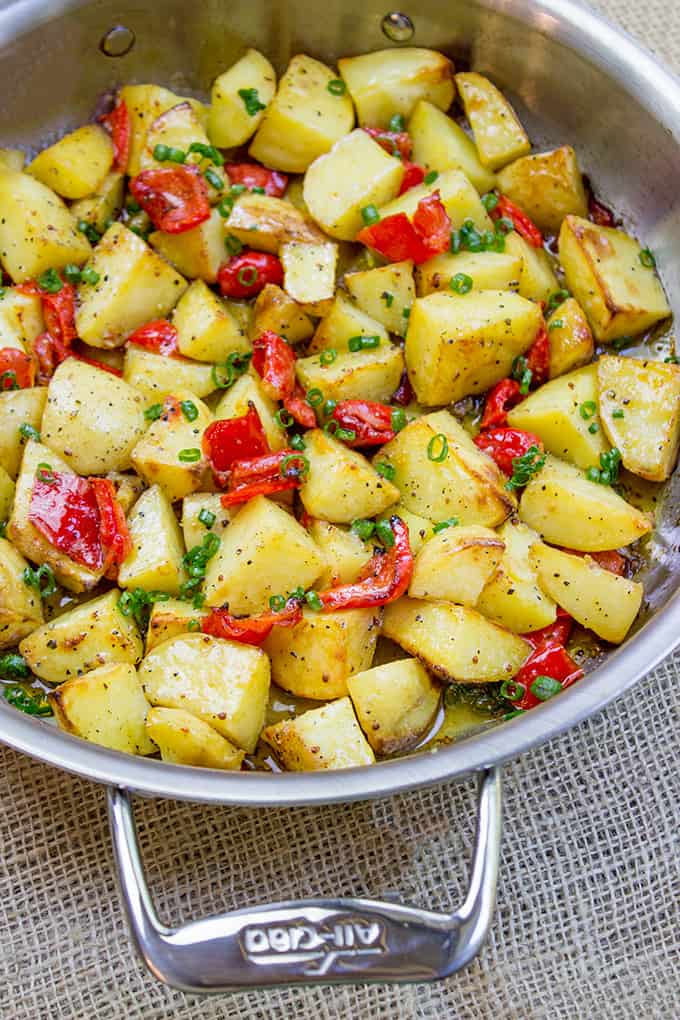 There is nothing worse than enjoying a hot summer day out and lining up to fill up your plate with delicious food only to see a totally warmed by the sun mayo filled potato salad. I used to eat them thinking, "psh, what could really happen?" – Trust me, don't do it. It isn't pleasant if you end up on the bad side of that potato salad. Instead I started making this Roasted Potato Salad with Dijon Vinaigrette (hello delicious crispy skin) with a tart and tangy dijon vinaigrette.
This Roasted Potato Salad with Dijon Vinaigrette is a take on my absolute FAVORITE potato salad, my Yukon Gold and Green Onion Potato Salad with Bacon Vinaigrette except this one takes 25% the time to make and has 25% the amount of ingredients. I know, I know, but bacon right? You can add bacon to this salad if you'd like, but the flavors are just awesome the way they are and all your vegetarian friends won't give you the side eye because you added bacon to a side dish (true fact, most vegetarians live and die by side dishes at BBQs).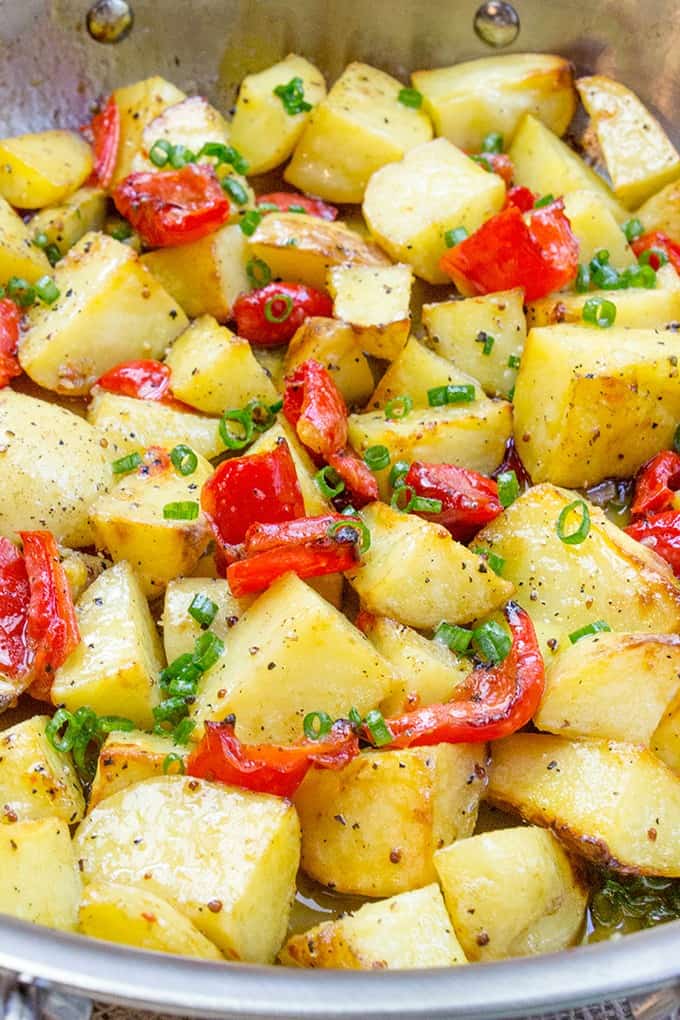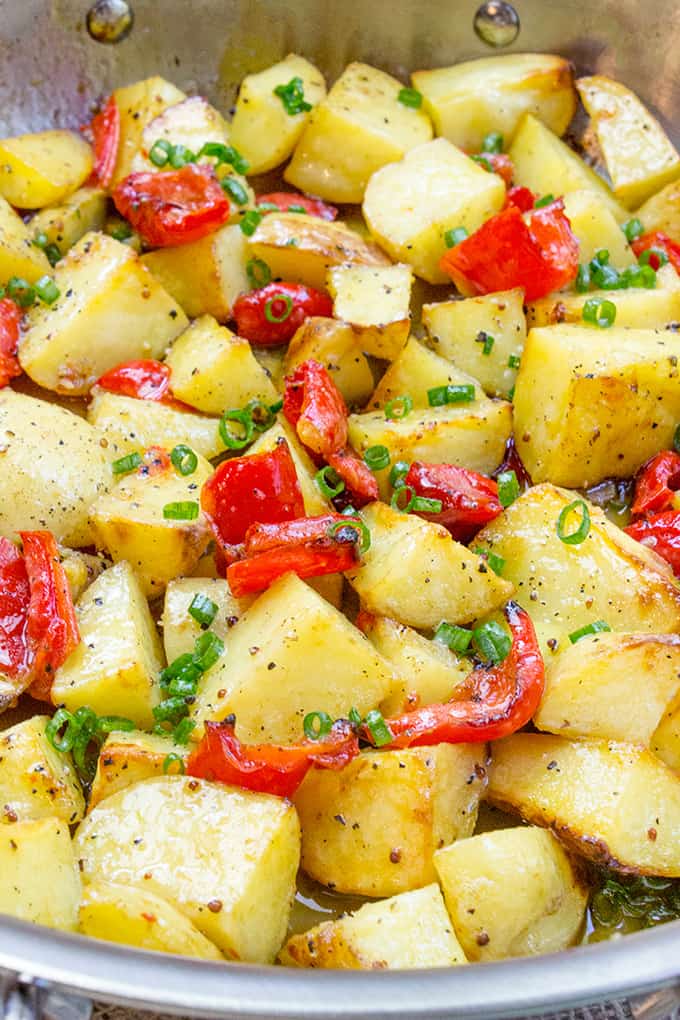 As a kid I remember going to Williams-Sonoma and just staring at the shiny cookware sets of All-Clad. I remember the small catalogs they used to send before they were full sized and I would use a pen and circle everything I wanted from the catalog (my mom thought I was a bit batty I am sure…what five year old squeals with delight for cookware store catalog right?). There's something so romantic in my head about knowing my set of All-Clad will get passed down to whichever one of my kids cares most about cooking.
This pan, even though it is my newest addition to the collection has rapidly become one one of my favorite pieces because of its wide, flat cooking surface and lid. Oh yes, lids are huge in my world – I can't tell you how many times I've burned my arm maneuvering sheets of foil on pans in the oven (In fact I even had a burn from my oven rack on my arm in wedding photos!).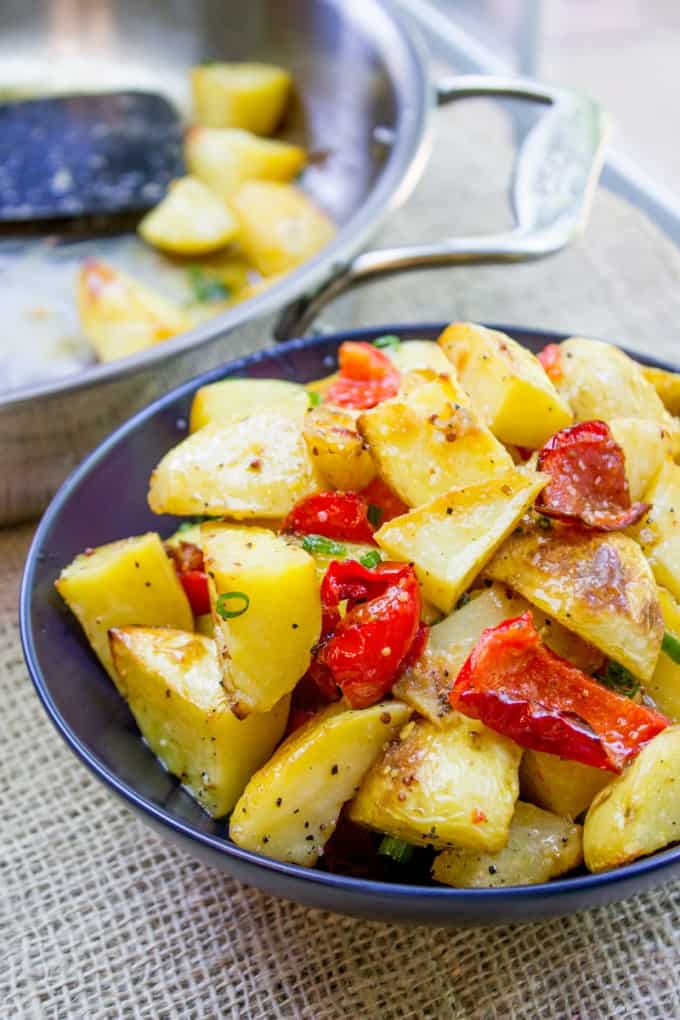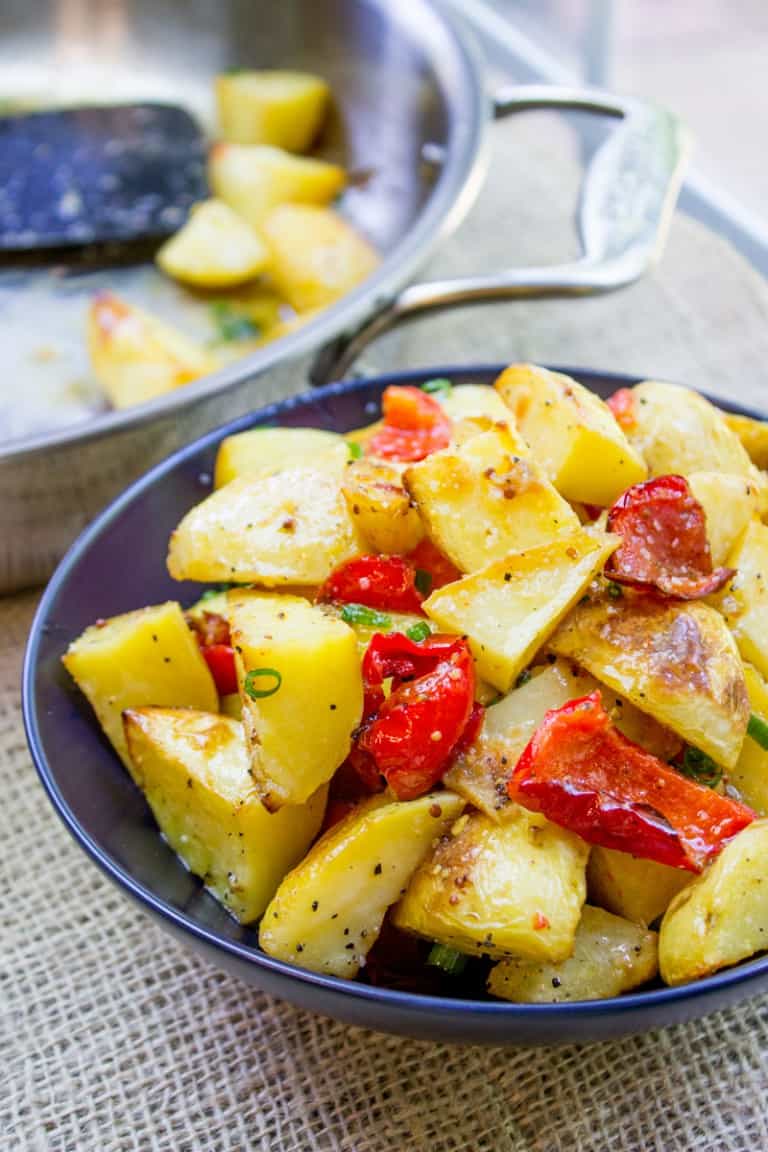 My whole set of pans is of the d5 variety which means it has five alternating layers of responsive aluminum and durable heat-diffusing stainless steel on a regular cooktop or an induction one. It heats slowly and evenly, which means perfectly browned meats throughout, from the center all the way to the edges. Oh and added bonus? Two looped handles on the sides instead of a long handle means you can store this easier too!
And today is your lucky day because All-Clad is giving one of these 4Qt. Stainless Steel All-In-One Pans just in time for Memorial Day week!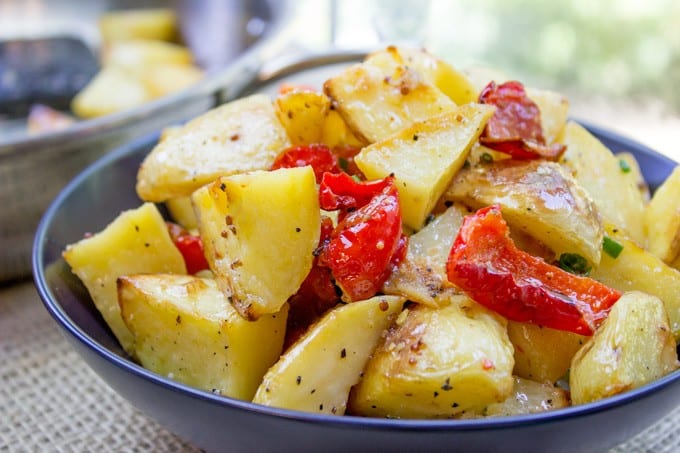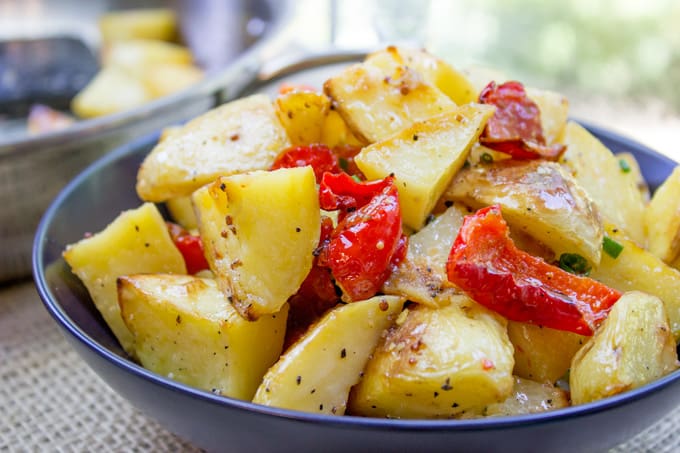 Ingredients
2

pounds

Yukon potatoes

, scrubbed clean and cut into 2" chunks

1

bell pepper

, cut into 1" chunks

4

tablespoons

extra-virgin olive oil

, divided

3/4

teaspoon

kosher salt

, divided

3/4

teaspoon

freshly ground black pepper

, divided

1 1/2

tablespoons

apple cider vinegar

2

teaspoons

coarse ground Dijon mustard

(basically a cross between whole grain and regular dijon)

green onions or parsley

, to garnish (optional)
Instructions
Preheat the oven to 400 degrees.

Combine potatoes, bell peppers, 2 tablespoons oil, ½ teaspoon salt and ½ teaspoon black pepper in a pan and stir to coat.

Bake

30 minutes

or until browned (I check the pan half-way through the cooking process to turn the potatoes for even browning.)

Add remaining 2 tablespoons oil, ¼ teaspoon salt, ¼ teaspoon pepper, apple cider vinegar and Dijon mustard in a small bowl, stirring well with a whisk.

When the potatoes come out of the oven, pour over the dressing and stir to combine (I use a spatula to mix from the bottom of the pan up so I don't damage the delicious crispy potatoes.

Add green onions or parsley to garnish.)
Nutrition
Calories:
134
kcal
|
Carbohydrates:
15
g
|
Protein:
3
g
|
Fat:
7
g
|
Saturated Fat:
1
g
|
Sodium:
244
mg
|
Potassium:
500
mg
|
Fiber:
3
g
|
Sugar:
1
g
|
Vitamin A:
465
IU
|
Vitamin C:
31.9
mg
|
Calcium:
34
mg
|
Iron:
3.8
mg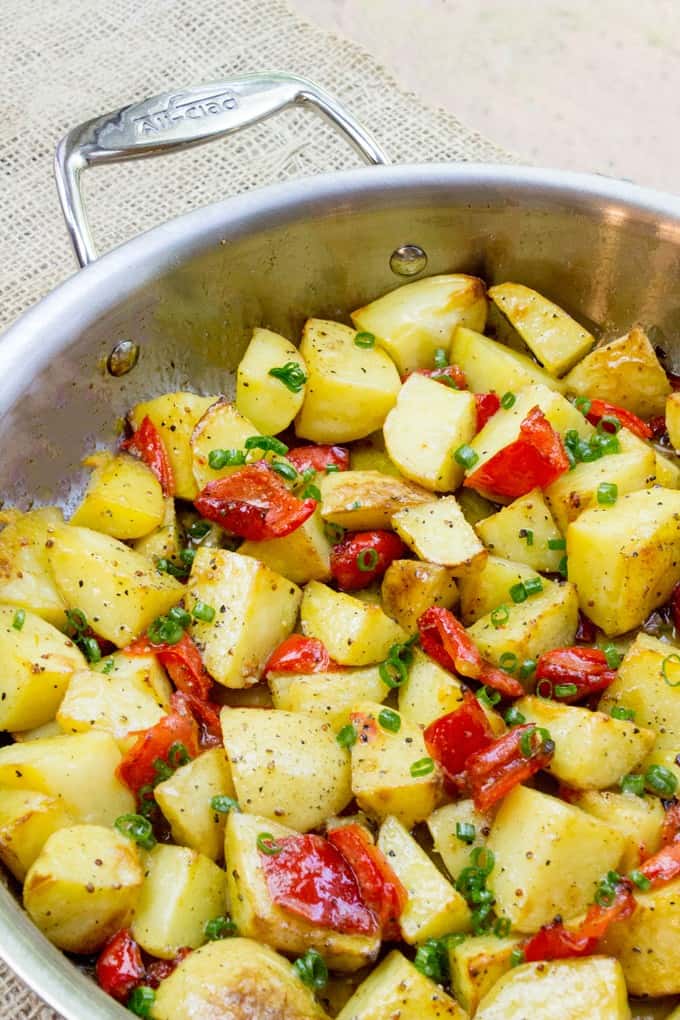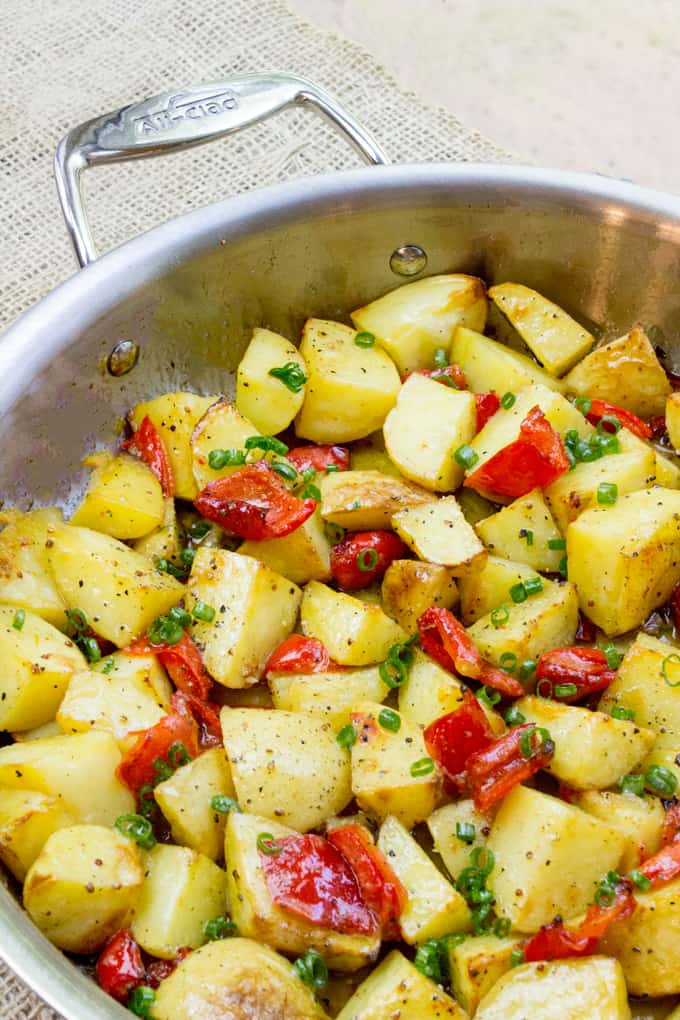 Thanks again to All-Clad for providing me with an awesome pan and for giving one away. No other compensation was provided, but with my love for All-Clad I couldn't resist the pan and getting to give one away to you guys!