BBQ Bacon Oven Roasted Corn on the cob is a crispy, delicious sweet and savory side dish to take to your next BBQ that will blow your guests away and it's so easy! 
I'm not lying when I say that bacon makes everything better. From Bacon Wrapped Hot Dog, Bacon Wrapped Pork Medallions and Bacon Wrapped Chicken Tenders to Green Beans, there is nothing that isn't enhanced by bacon, the candy of meats.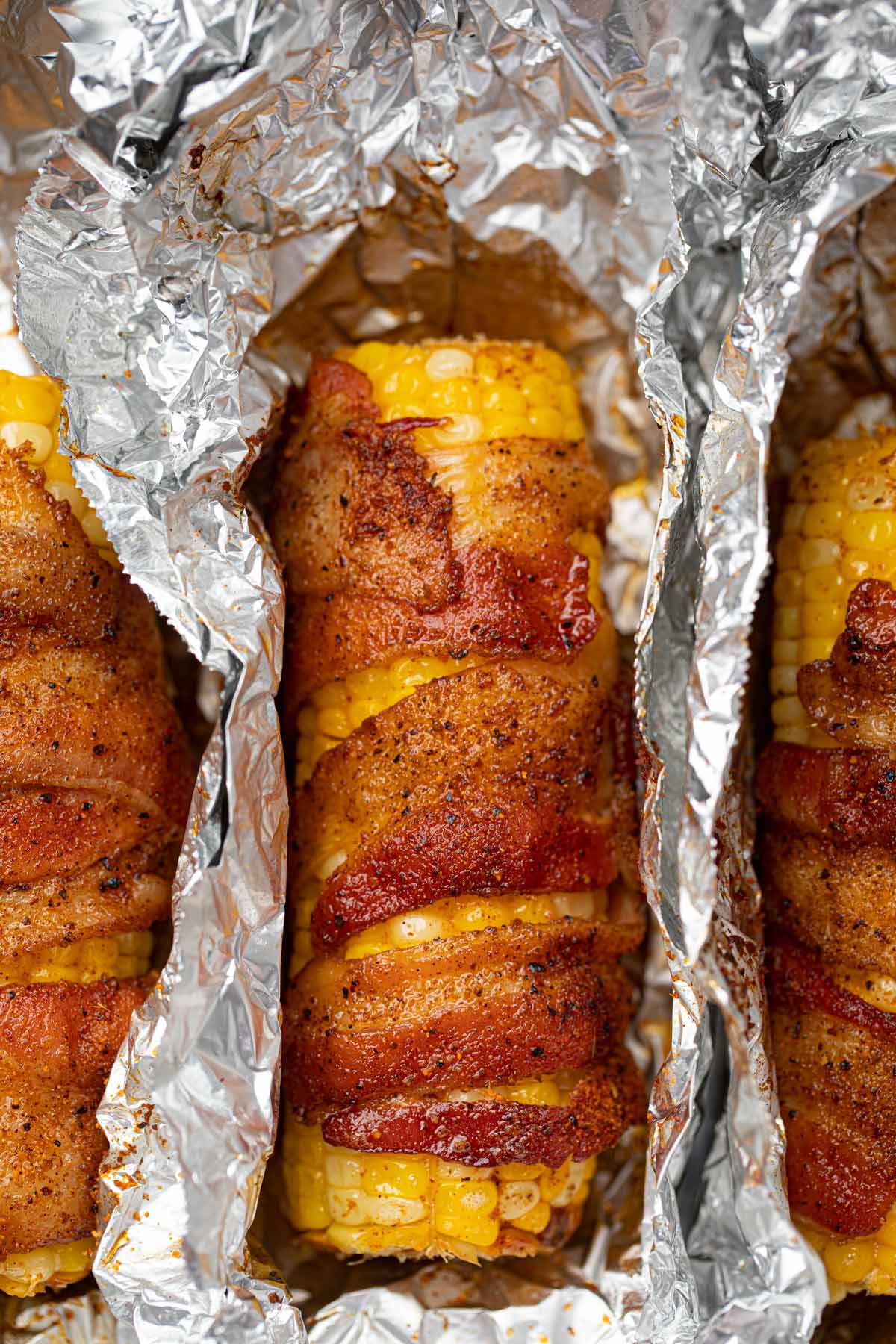 BBQ BACON OVEN ROASTED CORN
If you're headed to a summer BBQ and are wondering what side dish to bring, you should definitely try out this recipe. The crispy bacon seals moisture into the ears of corn and the BBQ dry rub gives it a rich, summery flavor that you don't need gallons of butter to get.
With that in mind, you should try out my recipe for bacon wrapped corn on the cob at your next summer party.
Bacon goes all the way back to China in 1500 B.C.E. and it's been a favorite for dozens of cultures ever since. Adding bacon to corn came from the much more modern American take on BBQ, and since its invention it has been a favorite of tailgate parties and summer get-togethers.
Important Note: When making this recipe, use standard bacon.
Don't use center cut, thin cut, thick cut or anything other than regular bacon.
I used Hormel, but any "regular" cut bacon will work.
Using thick cut bacon won't "stick" around the corn.
Using thin cut will be too thin and see through by the time it finishes cooking.
Center cut isn't long enough of a cut of bacon.
HOW TO MAKE BBQ Bacon Oven Roasted Corn
Wrap each ear of corn with two slices of bacon.
Make sure that the bacon is wrapped tightly enough to not fall off, but you don't have to go nuts.
Sprinkle the BBQ dry rub onto the the corn and wrap each ear with aluminum foil.
Set the corn in a single layer on the baking sheet.
Put the sheet into the oven and roast for about 20 minutes.
Then remove the aluminum foil and roast until the bacon is crispy.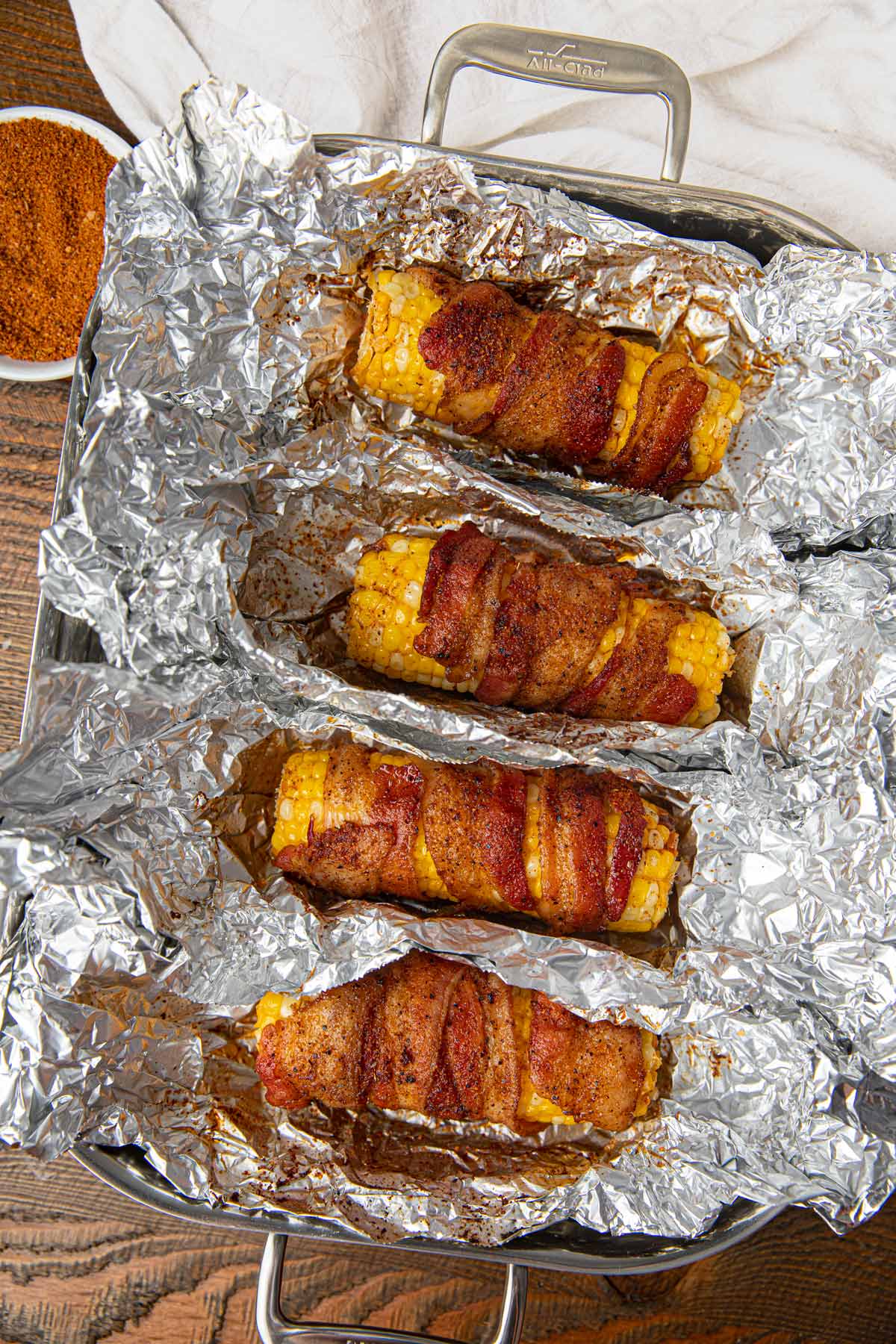 VARIATIONS
Jalapeño: add a row of jalapeño slices onto the corn when you bake it to infuse it with flavor, or add them afterwards to keep the pepper hot.
Spices: try adding some black pepper, red pepper flakes, Italian seasoning, chili powder, brown sugar or paprika to the corn before wrapping it in bacon and baking it to give it a bolder, heartier taste.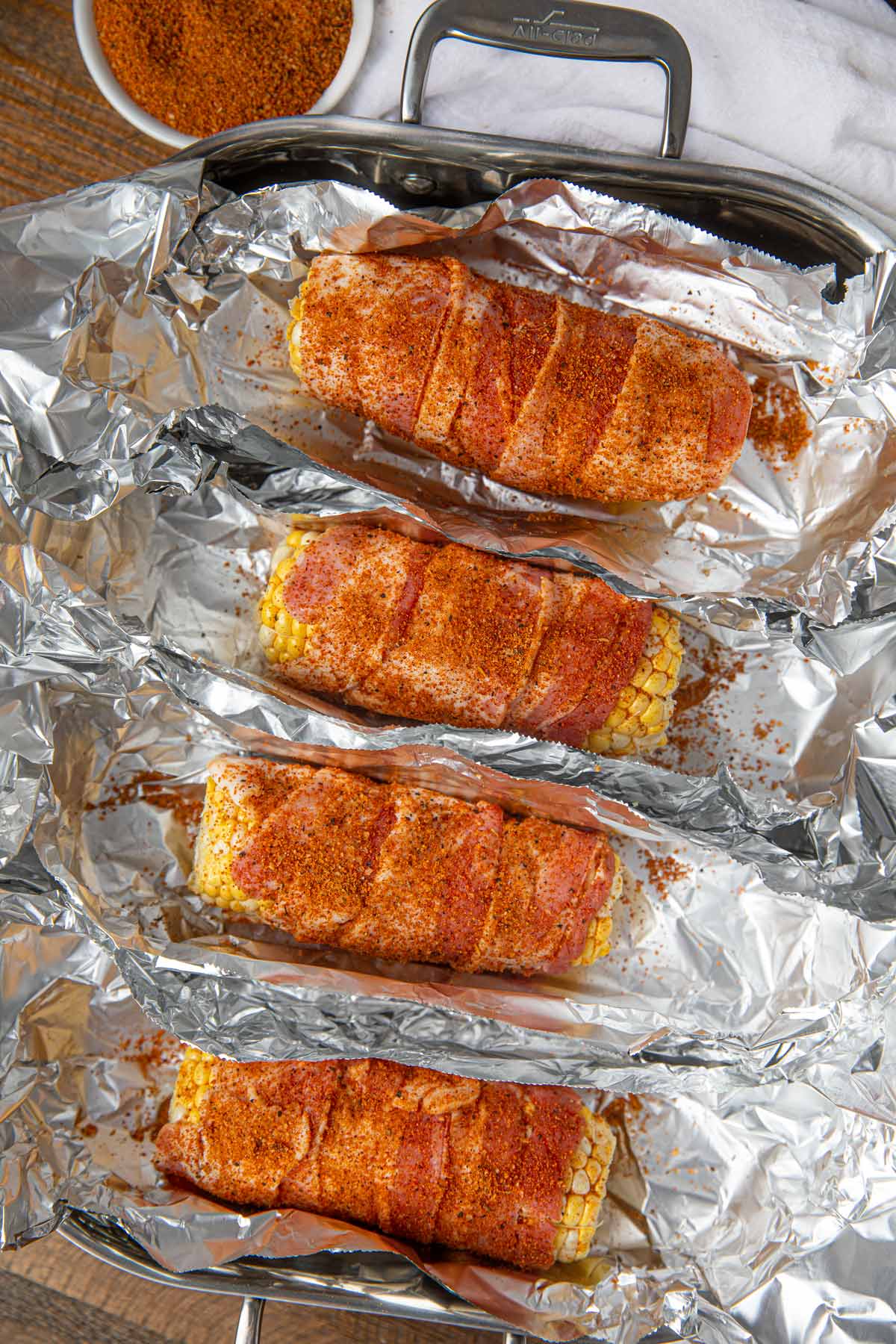 Create a free account to Save Recipes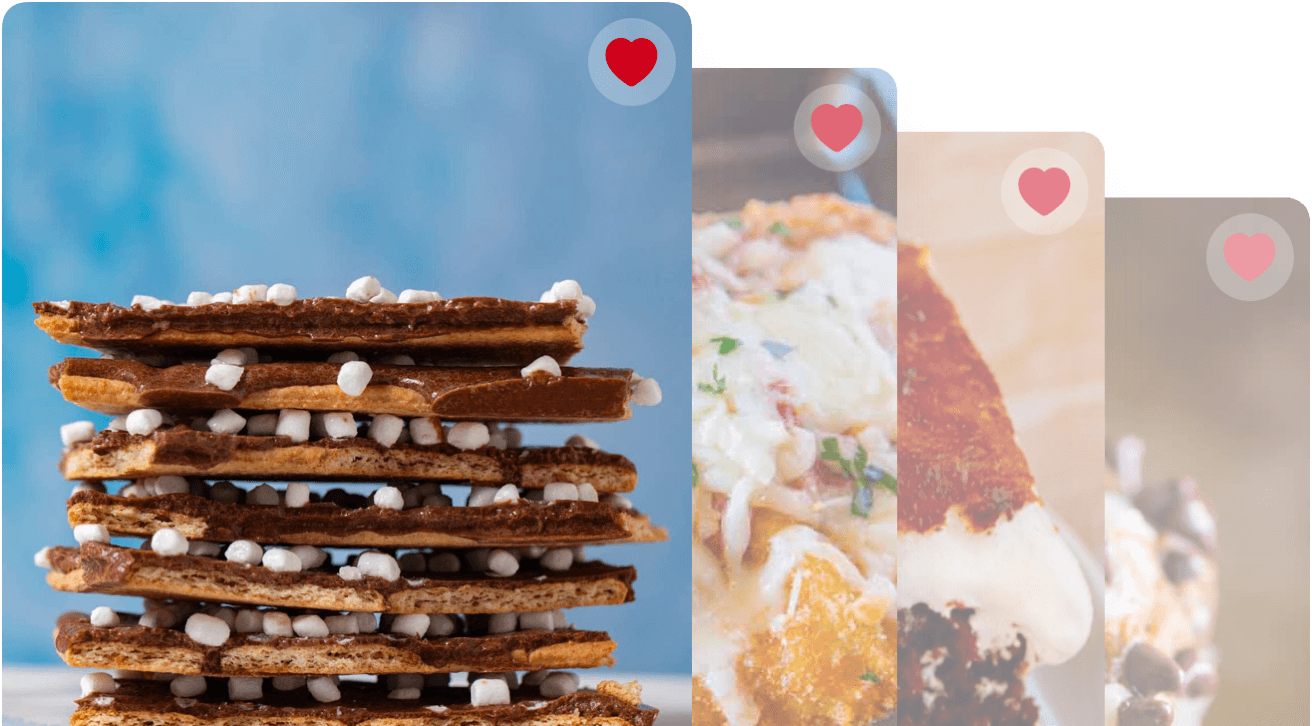 SERVE WITH
Slow Cooker BBQ Ribs: you haven't tasted ribs like these ones before. Not only are they tender and loaded with flavor, they are so easy to make you'll wonder why you ever bothered with a grill. All you have to do is mix the ingredients together and set up the slow cooker while you go live your life. Dinner will be finished and waiting for you when you get back.
Grilled Pork Tenderloin: this is the perfect way to cook pork, especially if you're grilling on the barbecue. It turns out rich and juicy and doesn't try out the way that a lot of meats do over an open flame. This recipe also goes with just about everything so you you're set for the next potluck or BBQ you go to.
Pulled Pork: Nothing screams summer more than pulled pork (which is also made in the oven!).
More easy summer side dishes:
How to Store BBQ Bacon Oven Roasted Corn:
Serve: you shouldn't leave your bacon wrapped corn on the cob out at room temperature for longer than 2 hours.
Store: your leftovers should be good for about 3 days in the fridge.
Freeze: you can freeze cooked bacon for up to 4 months. I would recommend heating up your leftovers and enjoying them well before then to get the best flavor.
Bacon Safe Cooking Temperatures:
The USDA's official website says that bacon is safe to eat when it reaches 145 degrees F (62.7 degrees C.)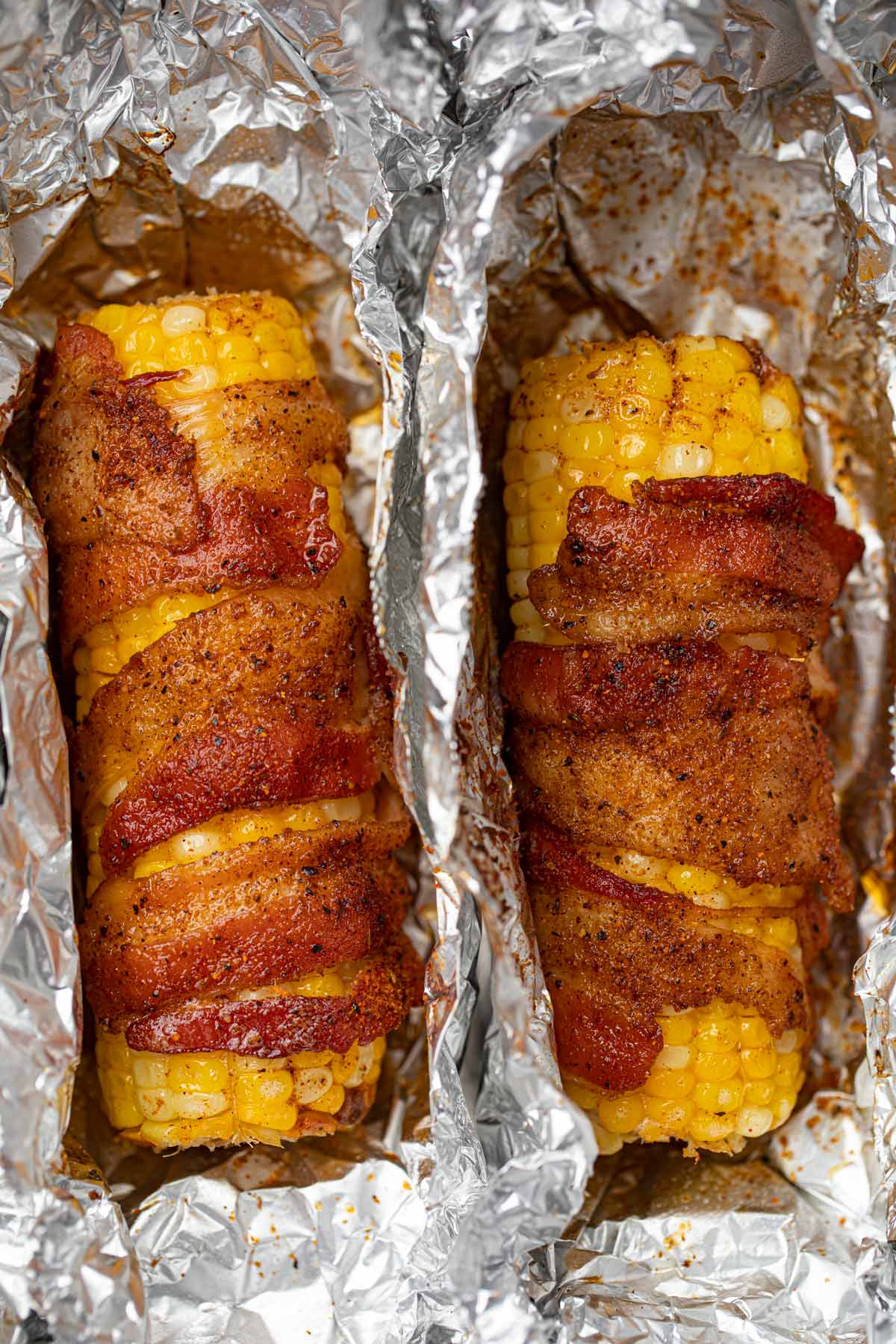 Ingredients
4

ears corn

8

slices

bacon

4

tablespoons

BBQ seasoning rub
Instructions
Preheat oven to 375 degrees.

Wrap each ear of corn with two slices of bacon.

Sprinkle one tablespoon of seasoning over each piece of corn.

Wrap each ear with a 12x12 sheet of foil.

Roast for

18-20 minutes

, unwrap then roast an additional

5 minutes

until bacon is crisp.
Nutrition
Calories:
306
kcal
|
Carbohydrates:
27
g
|
Protein:
10
g
|
Fat:
20
g
|
Saturated Fat:
7
g
|
Cholesterol:
29
mg
|
Sodium:
309
mg
|
Potassium:
431
mg
|
Fiber:
3
g
|
Sugar:
6
g
|
Vitamin A:
575
IU
|
Vitamin C:
7.9
mg
|
Calcium:
147
mg
|
Iron:
5.9
mg