You'll be party-ready with this Snickers Cheeseball made with cream cheese, mini chocolate chips, and caramel sauce. Guaranteed to turn any hangry Grinch into a happy elf!
We all know one of the best things about going to parties is the food! Cheeseballs are such a party classic and when they are turned into dessert dips, like Chocolate Peanut Butter Cheeseballs, they are a bigger hit! These Dessert Recipes are so easy to switch up, it's easy to see why they are a party staple.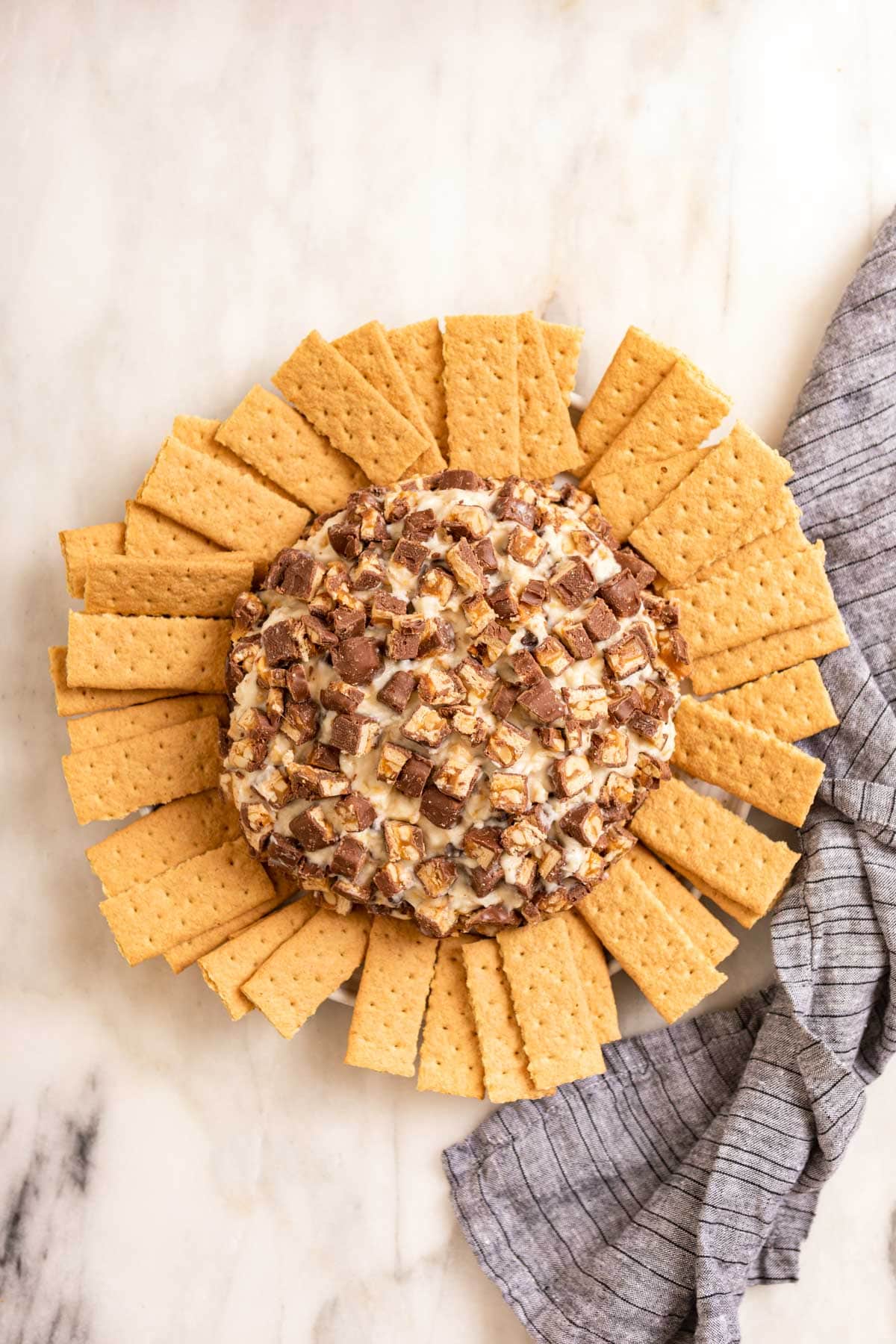 Snickers Cheeseball is definitely on the sweeter side of cheeseball recipes and is more of a yummy dessert dip. It's a great way to use up any of those leftover fun-size Snickers from Halloween, although who are we kidding? We never have that many leftover candy bars in our house.
The chopped Snickers on top are definitely eye-catching but wait until you take your first scoop. The base is made with only a few ingredients and has the creaminess of cheesecake and has pockets of delicious caramel and chocolate sauces with chopped peanuts.
It's not only the perfect dessert cheeseball for the upcoming holiday parties but because it's an easy no-bake recipe, you'll want to bring it to all of your game day get-togethers or potlucks. Just remember to keep it chilled when taking this party snack to tailgating parties.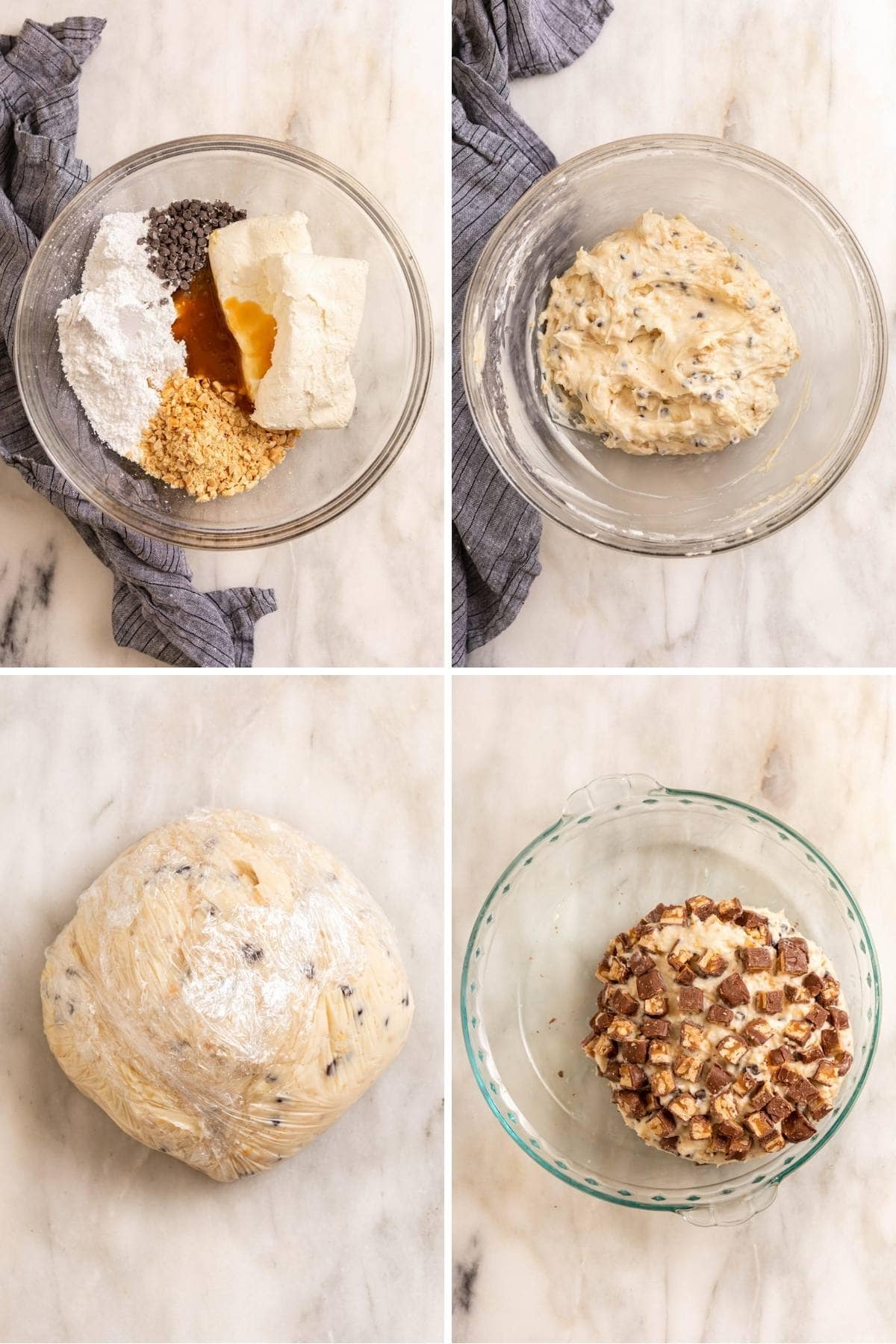 If you love the idea of a candy cheeseball, but Snickers isn't your thing, you can certainly switch up the candy bar theme. I've got some suggestions down below but the key is to pick out the flavors and ingredients that make you love a certain candy bar. Then mix them in with your cream cheese base and cover with pieces of your chocolate bar (or other favorite candy) and voila!
How to Make a Snickers Cheeseball
Whisk together cream cheese, powdered sugar, vanilla extract, caramel sauce, mini chocolate chips and peanuts.
Transfer mixture to plastic wrap and shape into a ball, then fold up sides and cover with plastic wrap.
Refrigerate until slightly firm, 1 hour.
Unwrap and place on serving platter, then press chopped Snickers all over.
Let soften 20 minutes before serving, and serve with graham crackers.
More Tasty Holiday Snack Recipes
Frequently Asked Questions
Do I have to refrigerate a cheeseball before serving?
Refrigerating the cheeseball for at least an hour allows it to set and retain its shape when serving. Especially since you need to let the cream cheese soften to prepare it, you'll definitely not want to skip this step. It also gives time for all the flavors to meld together.
What should I serve with a dessert cheeseball?
Graham crackers make a perfect pair with sweet cheeseballs like this Snickers Cheeseball, because they have a mild flavor. You can also use a savory dipper like pretzels, or sliced tart apples. Get creative with your dippers by using vanilla wafers, mini chocolate chip cookies, animal crackers, or stroopwafels.

Create a free account to

Save Recipes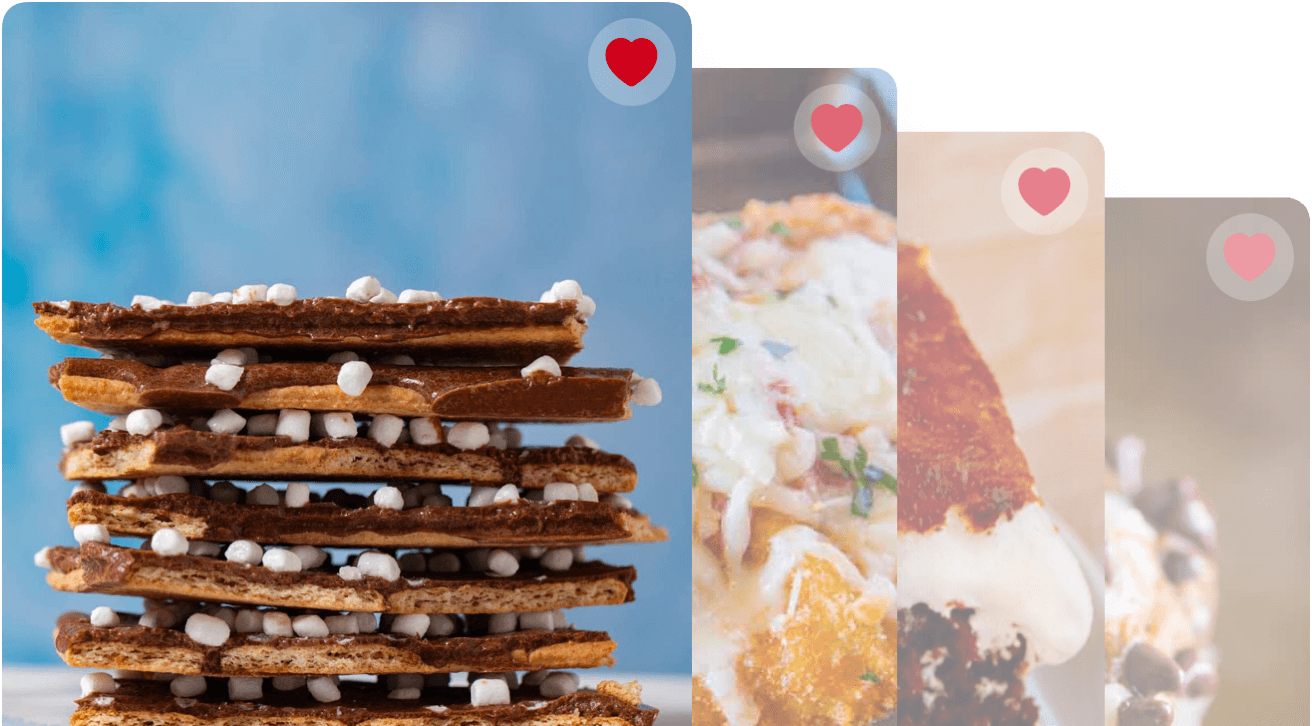 Key Ingredients in Snickers Cheeseball
Cream Cheese: The mild, slightly sweet flavor of cream cheese is perfect for both sweet and savory recipes. Use a good quality, full fat cream cheese for the best flavor and texture.
Snickers Candy: You can use full size or mini snickers bars, because you will be chopping them into small chunks. Refrigerate the bars for about 30 minutes before chopping to make it easier to cut. This is a great way to use up leftover fun size Snickers from Halloween at an upcoming holiday party.
Chocolate Chips: You can't have a candy bar themed dessert without chocolate! Mini chocolate chips will better mix into the cream cheese than regular size. They also will be easier to scoop onto the graham cracker for serving.
Caramel Sauce: The caramel sauce gives this chocolatey peanut dessert a distinctive Snickers flavor. You can buy any ice cream topping sauce or make your own easy Homemade Salted Caramel Sauce. Use leftovers on ice cream, waffles, or as a dip for apples.
Peanuts: The crunchy roasted peanuts also help make this dessert cheeseball taste just like your favorite Snickers candy bar. It also helps to balance the sweeter flavors of the other ingredients.
Tips for Making a Cheeseball
If this is your first time making a cheeseball, here are a couple of tips that will help.
First, you'll want to start with softened cream cheese. It allows for easier mixing and prevents it from getting lumps. I recommend pulling the cream cheese out of the refrigerator and letting it sit at room temperature for an hour before making this recipe.
Second, make sure not to rush the refrigeration time to firm the cream cheeseball up. It's important that it has at least an hour, preferably more, so that it's guaranteed to hold its shape when ready to serve.
Can Snickers Cheeseball be Made Ahead of Time?
Having this delicious dessert made ahead of time can be a real lifesaver on the day of your party. Prepare the cheeseball following the instructions below, wrap it tightly in plastic wrap and keep refrigerated up to 6 days before your event. On the day of the party, simply remove the cheeseball from the refrigerator, press chopped Snickers all over it, and serve.
Variations on Snickers Cheeseball
Candy Bars: You can customize your cheeseball by using any of your favorite candy bars for this recipe. You could make a Reese's Cheeseball by leaving out the caramel sauce and adding peanut butter to your cream cheese. For a Twix Cheeseball, swap the peanuts for chopped up shortbread cookie pieces.
Add-Ins: Add in your leftover holiday baking goodies, like crumbled Brownies, Peanut Butter Cookies, or even Edible Cookie Dough pieces.
Toppings: For a s'mores twist add chocolate chips and marshmallows. If you run out of Snickers pieces, sprinkle chopped pecans or toffee on top before serving.
Serve With: The possibilities are endless when it comes to what to serve with a dessert cheeseball. I love giving my guests at least a few options to choose from like pretzels, graham crackers, vanilla wafers, and apple slices.
Gluten-Free: Snickers candy bars are gluten free, but you need to check the labels for the chocolate and caramel sauces. Though they are made from naturally gluten-free products, some brands have added ingredients that have gluten. Make sure to serve alongside gluten-free dipping options.
More Fun Dessert Recipes
How to Store Snickers Cheeseball
Serve: Don't leave your Snickers Cheeseball out at room temperature for longer than 2 hours.
Store: You can keep your cheeseball in the refrigerator for up to 4 days. Just make sure to wrap it in plastic wrap or place it in an airtight container.
Freeze: As long as you keep your Snickers Cheeseball in an airtight container or freezer-safe storage bag, it will stay good for up to 1 month in the freezer.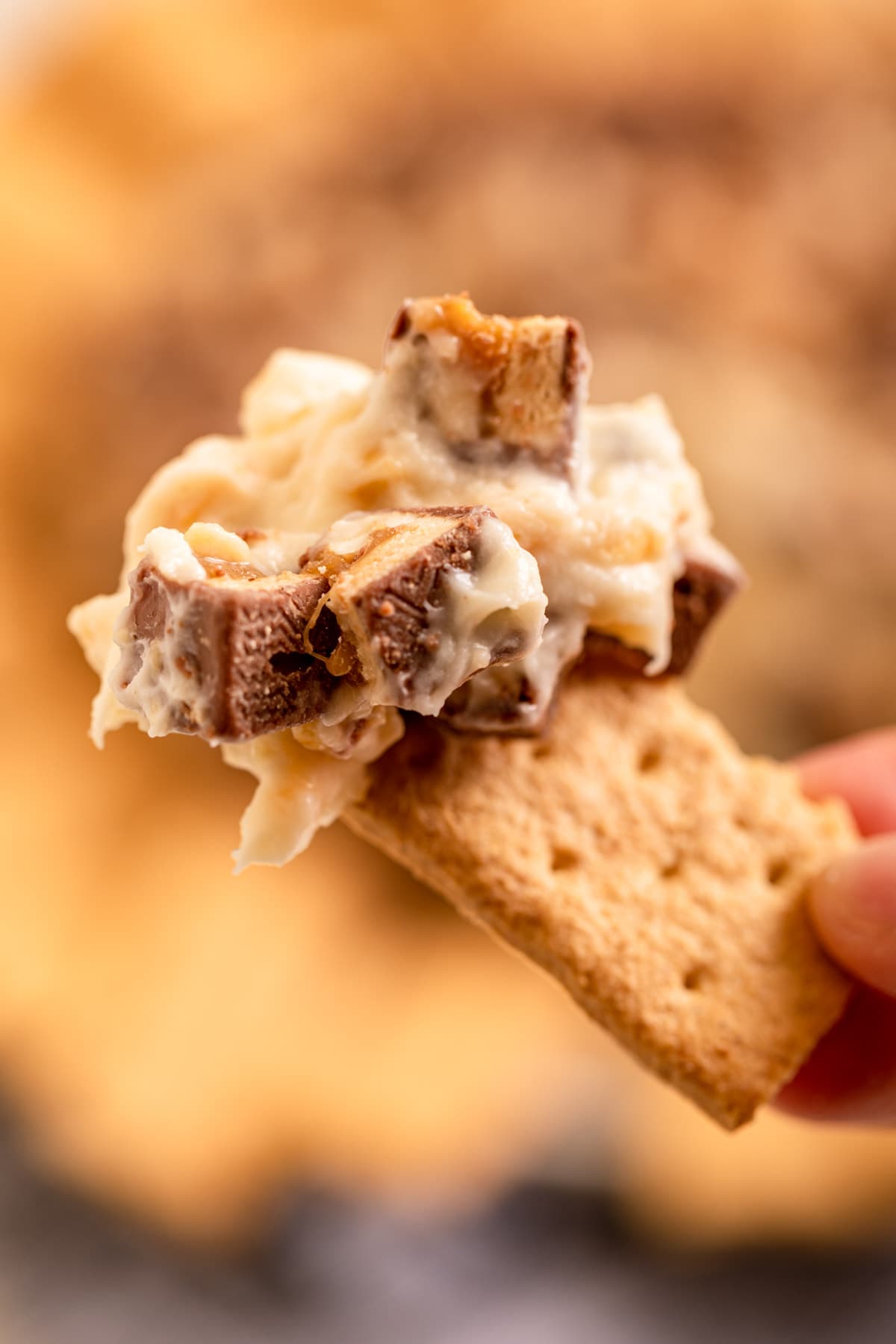 Ingredients
16

ounces

cream cheese

, softened

2

cups

powdered sugar

1

teaspoon

vanilla extract

1/4

cup

caramel sauce

1/2

cup

mini semi-sweet chocolate chips

1/2

cup

roasted peanuts

, finely chopped

2

cups

Snickers

, finely chopped
Instructions
In a large bowl whisk together cream cheese, powdered sugar, vanilla extract, caramel sauce, mini chocolate chips and peanuts.

Transfer mixture to plastic wrap and shape into a ball.

Fold up sides and cover with plastic wrap.

Refrigerate until slightly firm, 1 hour.

Unwrap and place on serving platter.

Press chopped Snickers all over.

Let soften

20 minutes

before serving, if necessary.

Serve with graham crackers.
Nutrition
Calories:
382
kcal
|
Carbohydrates:
48
g
|
Protein:
7
g
|
Fat:
19
g
|
Saturated Fat:
8
g
|
Polyunsaturated Fat:
2
g
|
Monounsaturated Fat:
6
g
|
Trans Fat:
1
g
|
Cholesterol:
24
mg
|
Sodium:
282
mg
|
Potassium:
282
mg
|
Fiber:
2
g
|
Sugar:
38
g
|
Vitamin A:
258
IU
|
Vitamin C:
1
mg
|
Calcium:
94
mg
|
Iron:
1
mg