Easy Taco Pie recipe for a quick family friendly dinner with classic taco flavors! Hearty cheesy beef taco meat mixture baked in a pie crust.
From Taco Casserole to Taco Soup to Taco Pasta, who doesn't love to combine comfort food classics with delicious Beef Tacos? This easy twist on a pot pie is full of classic taco flavors and is sure to be a new family favorite Dinner.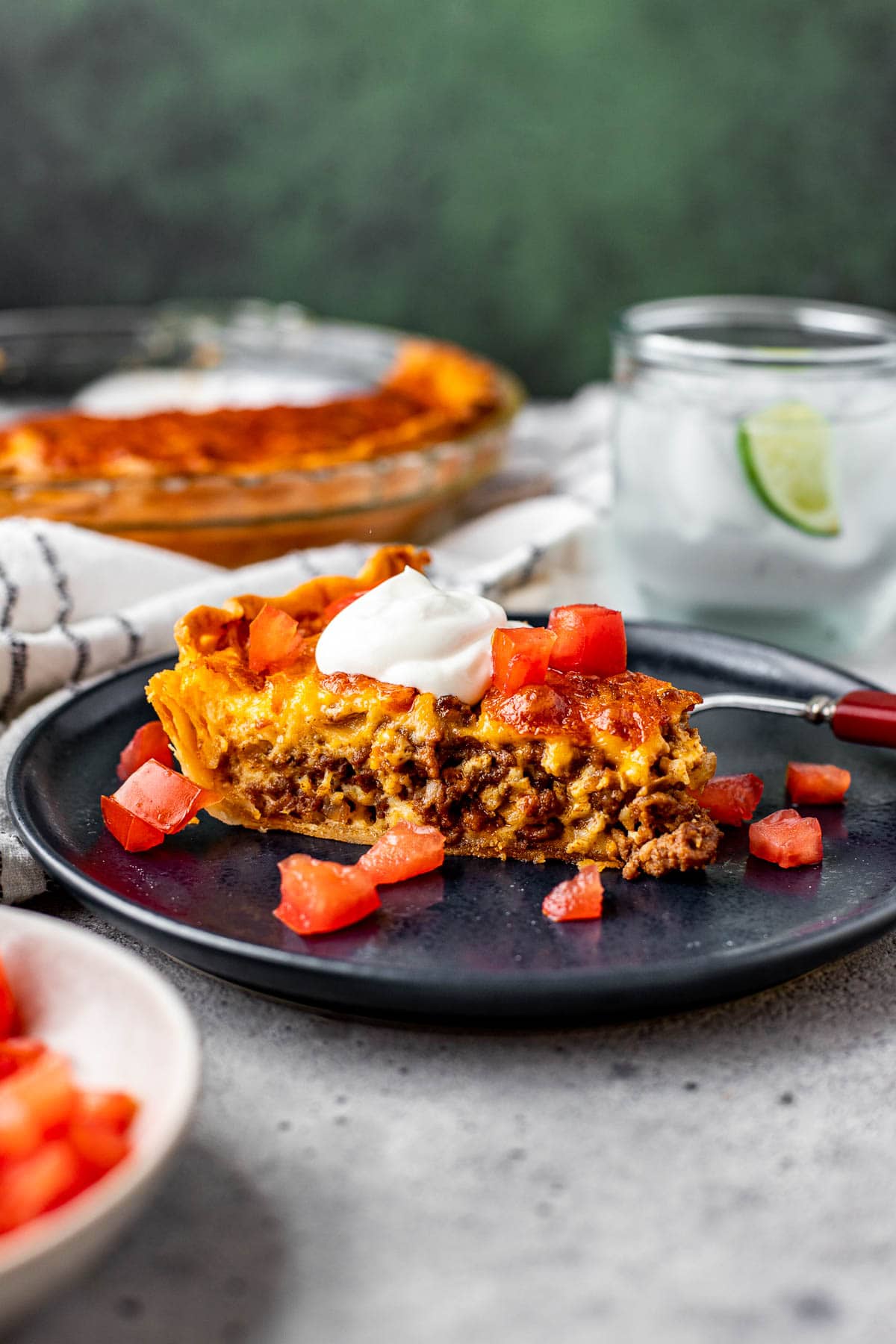 Taco Pie is a delightful, tasty fusion of classic taco flavors and the comforting warmth of a baked pie. It's an easy-to-make, crowd-pleasing meal that's perfect for busy weeknights, special occasions, or even a casual potluck. Instead of the same old ground beef tacos, try serving up this fun twist on your next Taco Tuesday.
This Taco Pie recipe is simple to make and has all the flavors your family loves, making it an excellent addition to your weekly dinner rotation. It's a budget friendly meal too! The basic taco meat and cheese filling is loaded into a pre-made pie crust and then it gets covered with a rich biscuit mixture. There's just enough biscuit mix to make the filling slightly creamy and held together without being overly thick. It's hearty, flavorful, and sure to be a new family favorite dinner!
Taco Pie goes great with all your favorite taco toppings like diced tomatoes, sour cream, avocado slices, and fresh cilantro. It's a filling dish all on its own but you can serve it with classic taco sides like Refried Beans and Spanish Rice. Keep the taco theme going by serving it with a big Taco Salad or Slow Cooker Taco Soup.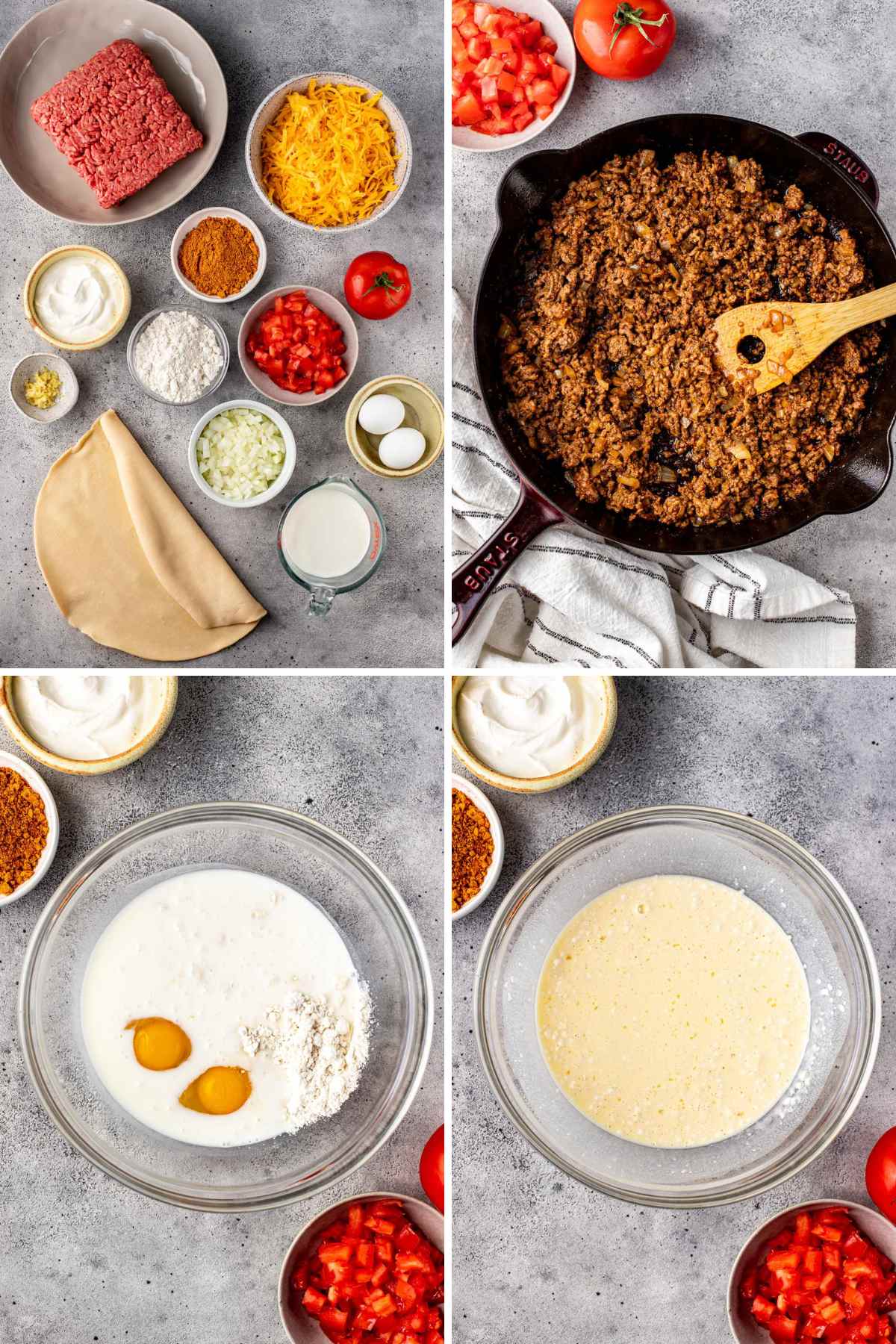 What is Taco Pie?
Taco Pie is a delicious, one-dish meal that combines the bold flavors of a taco with the comforting texture of a pie. It a recipe that first appeared on the back of Bisquik Baking Mix boxes and called Impossible Pie because it was impossibly easy to make. There are a few versions including one that layers tortillas in addition to the filling. This recipe uses a pie crust to hold in the meaty filling and the bisquick mixture.
What is the difference between Taco Pie and Tamale Pie?
While both Taco Pie and Tamale Pie share similarities in their ingredients and flavors, they are distinct dishes. Taco Pie features a traditional pie crust with a taco-seasoned biscuit mix and ground beef filling, while Tamale Pie often includes corn, olives, or beans in a chili-like filling. Additionally, Tamale Pie is usually topped with a thick cornbread layer.
How to Make Taco Pie
Prep: Preheat your oven. Grease a pie plate with baking spray then roll the pie crust into the plate. Flute the edges of the crust using your knuckles or pinch with fingers, careful not to handle too much.
Beef: Heat a large skillet over medium high heat and add the ground beef, onion, garlic and taco seasoning to the pan. Brown meat, stirring occasionally until meat is cooked and onions are translucent.
Layer: Drain the beef mixture and add to the pie crust. Top the meat with an even layer of shredded cheese. Whisk the milk, Bisquick mix and eggs then pour over the beef and cheese filling.
Bake: Cover the pie filling with the remaining shredded cheddar cheese. Bake in the middle of the oven until the filling is set and golden brown. Serve topped with sour cream, chopped tomatoes, and other favorite taco toppings.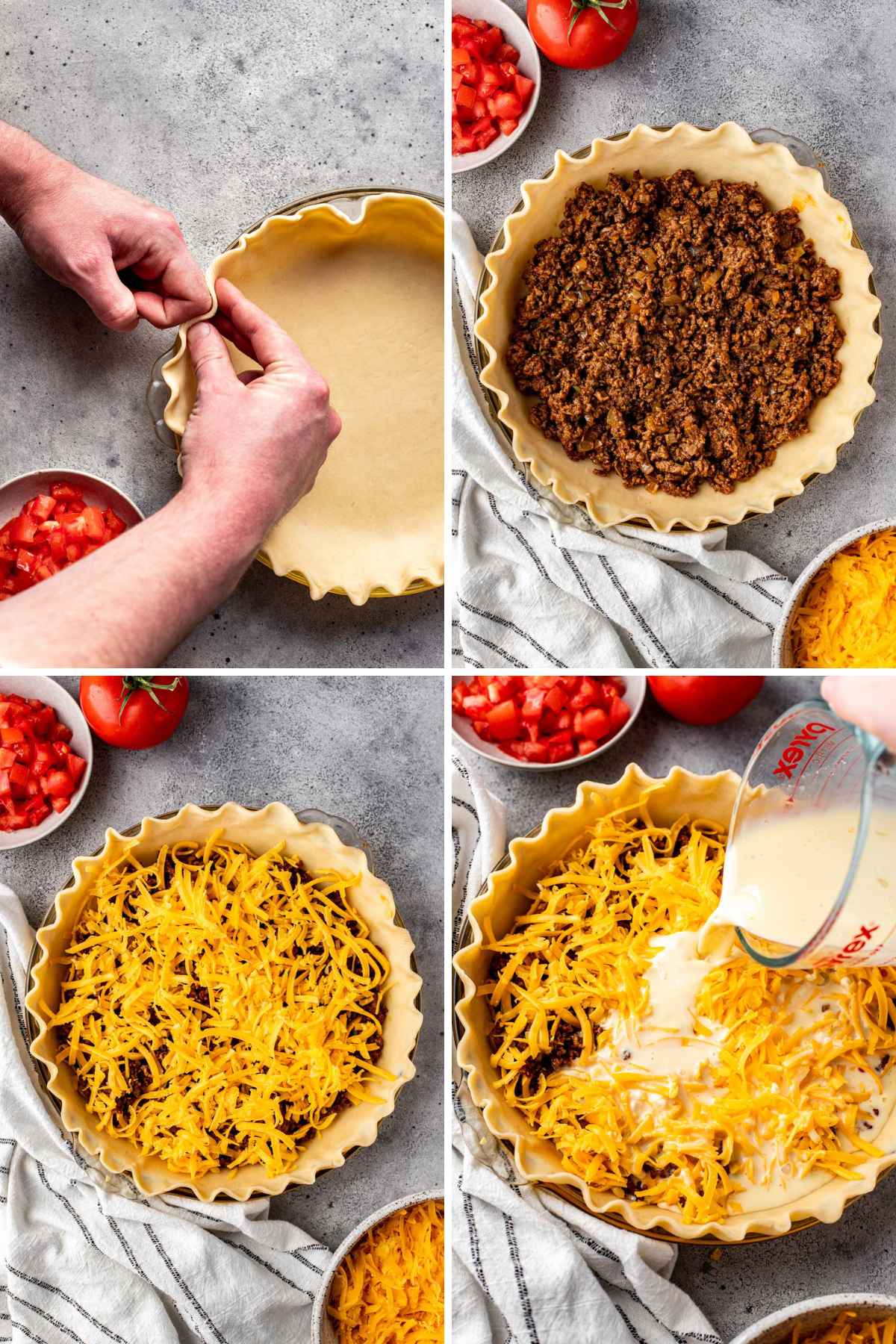 FAQs for Taco Pie
What is Bisquick Impossible Pie?
Bisquick Impossible Pie is a type of pie that uses a mixture of Bisquick baking mix, milk, and eggs to create a unique, crustless pie with a somewhat quiche-like texture. The name "Impossible Pie" comes from the seemingly impossible way the ingredients magically separate into distinct layers during baking, with the denser filling ingredients sinking to the bottom and the lighter Bisquick mixture forming a soft, crust-like layer on top. 
 Can Taco Pie be made with tortillas?
Yes, Taco Pie can be made with tortillas instead of a traditional pie crust. You can layer flour tortillas or corn tortillas in a pie dish, alternating between layers of tortillas and the seasoned meat mixture and cheese. Pour the Bisquick mixture over everything and bake as usual.
What is Bisquick baking mix?
Bisquick baking mix is a pre-made, versatile dry mix that contains flour, shortening, salt, and leavening agents like baking powder. It is designed to save time and effort when making a variety of baked goods, such as pancakes, waffles, biscuits, and even savory dishes like casseroles and pies. The mix eliminates the need to measure and combine multiple dry ingredients, making it a convenient staple for many home cooks.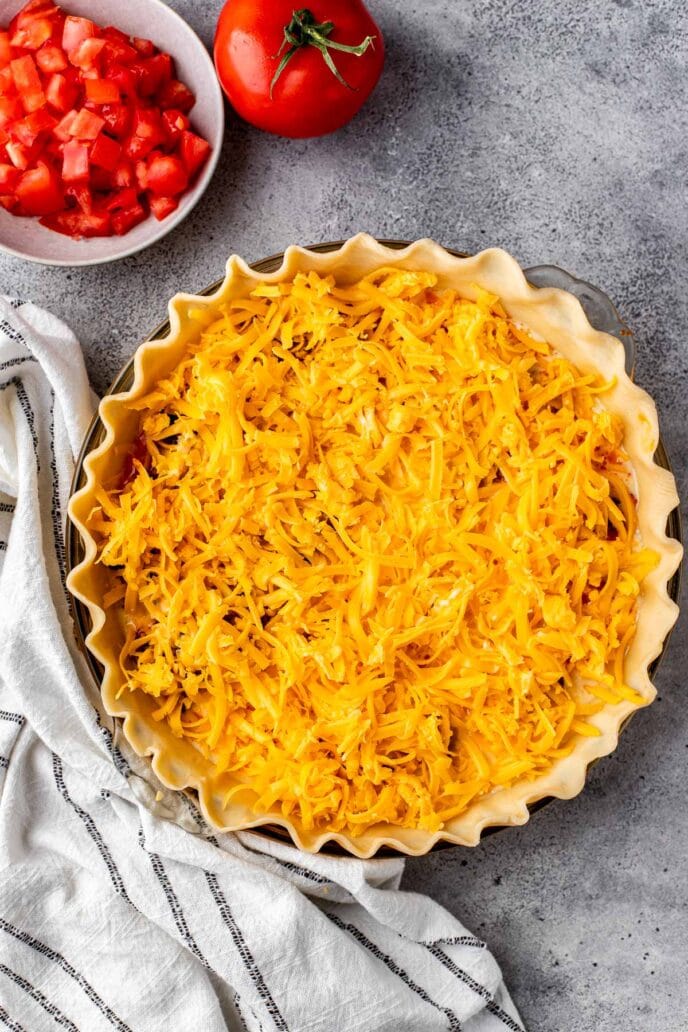 Create a free account to

Save Recipes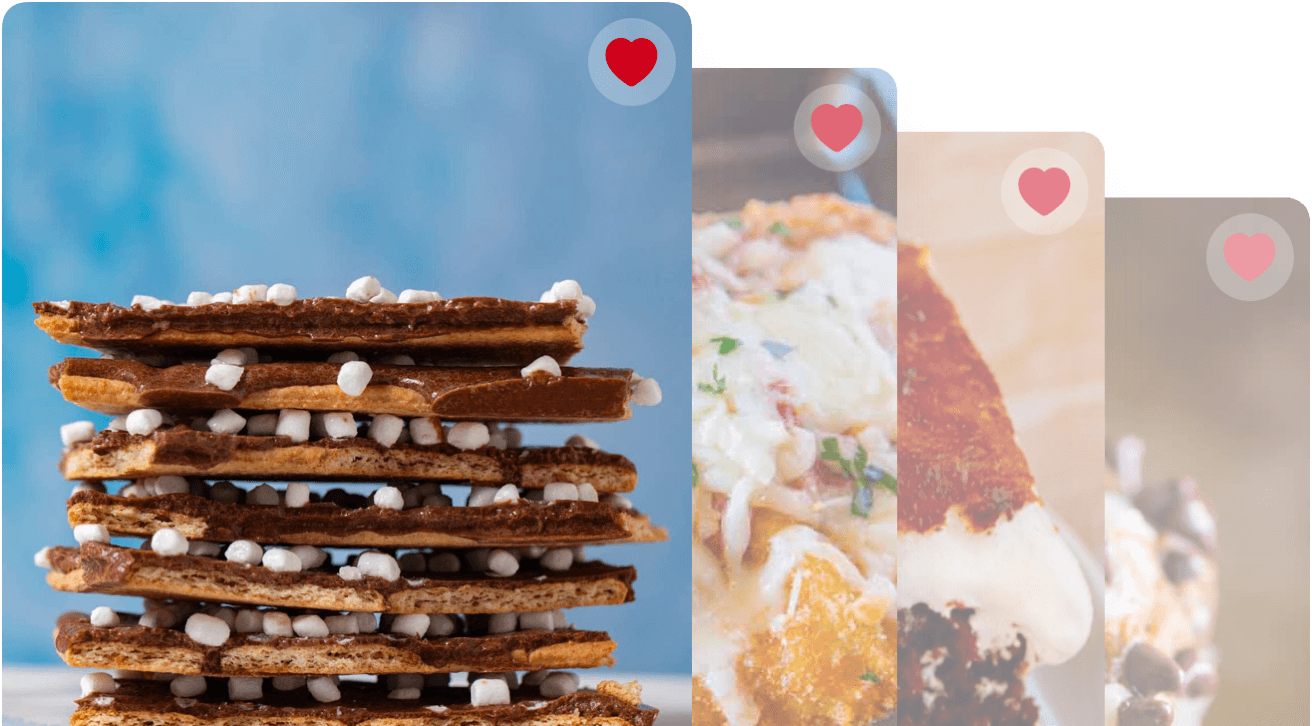 Key Ingredients
Pie Crust: The buttery pie crust takes the place of taco shells and holds in all the flavorful taco filling to make this dish easy to serve in hearty slices. You can use a store bought pie crust or make your own Homemade Pie Crust.
Beef: Ground beef with an 85/15 meat to fat ratio is a great choice because it is very flavorful without being overly greasy or fatty. Aromatics like yellow onion and fresh garlic are an easy way to add an extra depth of savory flavor to your taco meat.
Seasoning: Taco seasoning adds bold flavor to this dish and gives it that classic taco taste. You can use store bought mix or make your own Taco Seasoning from scratch with a blend of spices like chili powder, cumin, paprika, garlic powder, and onion powder.
Cheese: Cheddar cheese is a popular cheese for more Americanized versions of Mexican dishes like tacos and burritos. You can swap it with other cheeses that easily melt like mozzarella cheese, Colby jack cheese, or a Mexican blend.
Bisquick: This premade biscuit mix adds a fluffy, creamy texture to the taco pie filling and helps hold everything together. If you want you can easily make your own Homemade Bisquick Mix with some common pantry staples!
Can Taco Pie be made ahead of time?
Yes, Taco Pie can be made ahead of time to make meal planning even easier. Prepare the pie up to the point of adding the Bisquick batter, then cover and refrigerate for up to 24 hours. When you're ready to bake, simply prepare the batter, pour it over the pie, and bake as directed. Keep in mind that your Taco Pie may require a few extra minutes of baking time since it will be cold when it goes into the oven.
Variations
Vegetarian: Replace the ground beef with a combination of black beans and pinto beans, and add sauteed vegetables such as bell peppers, zucchini, and mushrooms. You can also use a plant-based meat substitute, like crumbled tempeh or a meatless ground product, to mimic the texture of ground beef.
Spicy: To turn up the heat, use spicy taco seasoning or add a diced jalapeno or Serrano pepper to the meat mixture. You can also incorporate a spicy cheese like Pepper Jack or sprinkle crushed red pepper flakes on top before baking.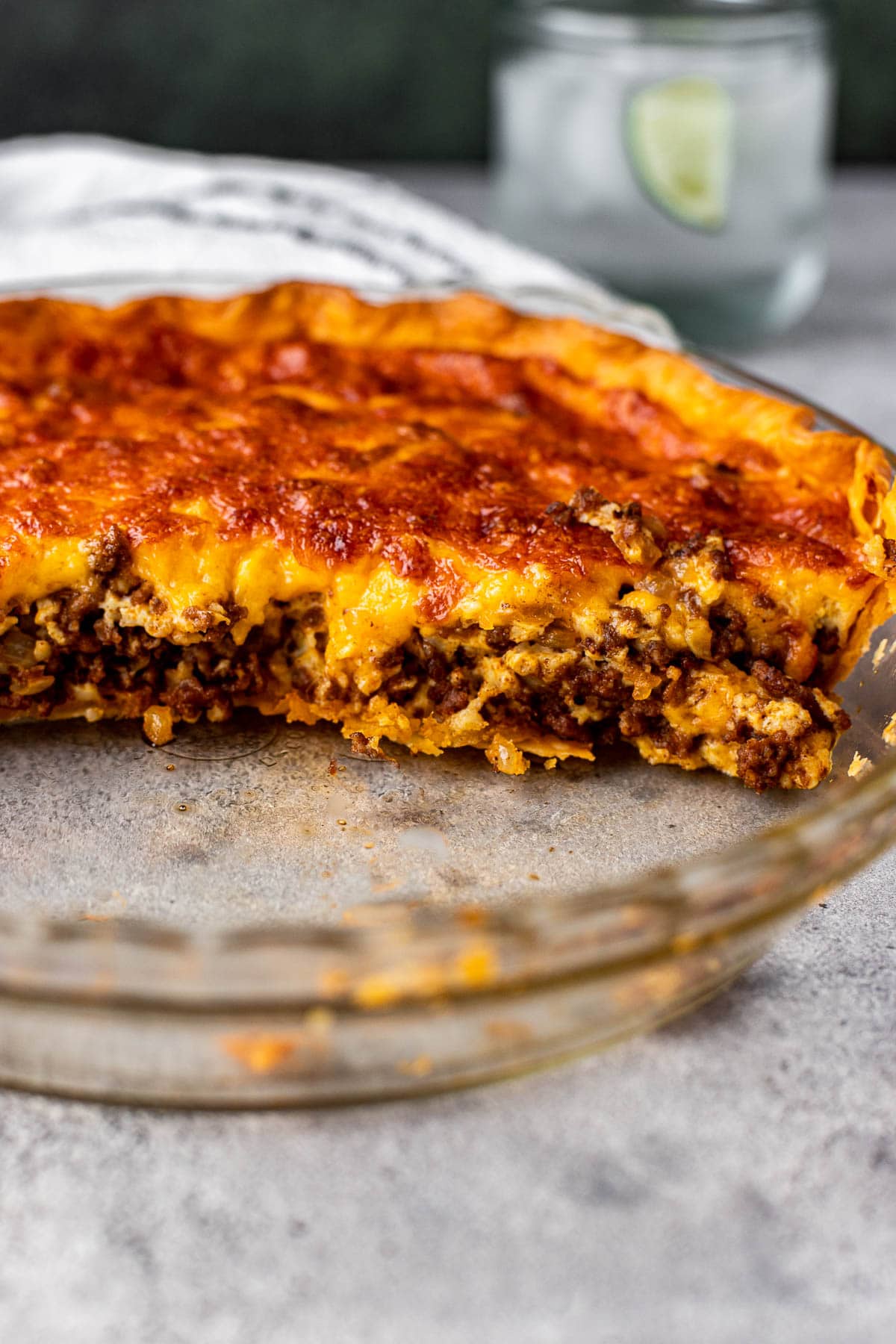 Chicken: Substitute the ground beef with shredded cooked chicken, like store-bought or homemade Rotisserie Chicken. For added flavor, consider using a spicy or smoky seasoning blend, such as chipotle or adobo, when seasoning the chicken.
Taco Supreme: Load up the Taco Pie with shredded lettuce, sliced black olives, diced avocado, chopped green onions, and a drizzle of hot sauce like a Taco Supreme.
Breakfast: Transform Taco Pie into a delicious breakfast dish by using cooked and crumbled breakfast sausage, or add bacon to the mixture. You can also incorporate veggies like spinach, diced bell peppers, and mushrooms, and serve with fresh Salsa.
More Taco Inspired Recipes
How to Store
Store: To store leftover Taco Pie, allow it to cool to room temperature before covering the pie plate tightly with plastic wrap or aluminum foil. Store it in the refrigerator for up to 3-4 days.
Reheat: You can reheat individual slices in the microwave or heat the entire pie in a preheated oven for 15-20 minutes, until warmed through.
Freeze: Taco Pie can also be frozen for up to 3 months. To freeze, let the pie cool completely, then wrap the dish tightly in plastic wrap and aluminum foil. When you're ready to enjoy it, thaw the pie in the refrigerator overnight and reheat as instructed above.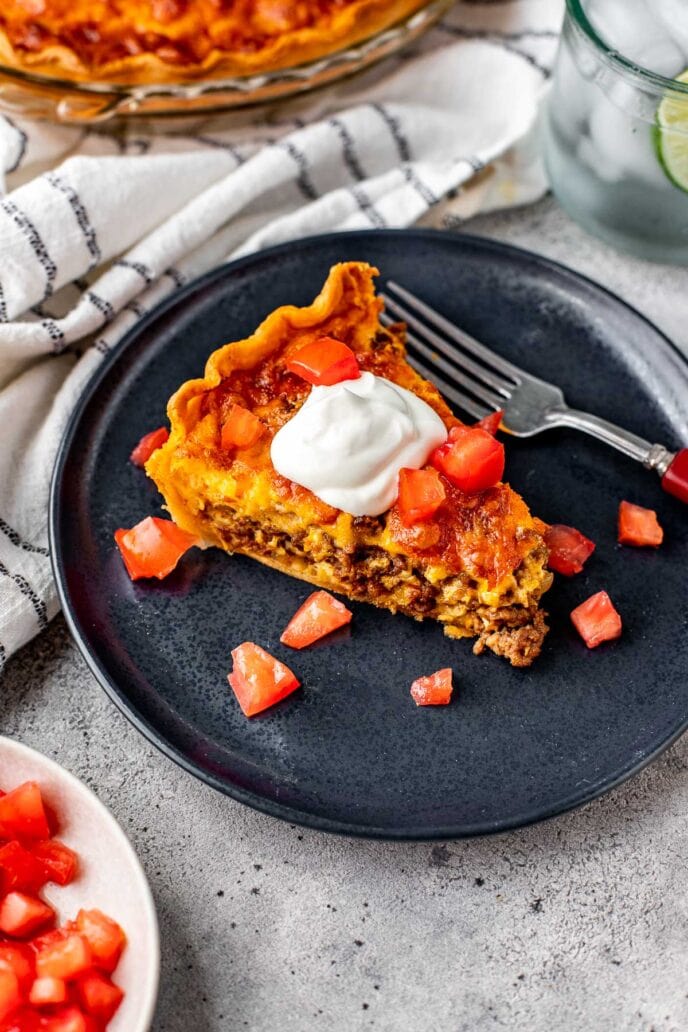 Ingredients
1

pie crust

, (Recipe)

1

pound

ground beef

, (85/15)

1/2

yellow onion

, diced

2

cloves

garlic

, minced

3

tablespoons

Taco Seasoning

, (Recipe) about 1 packet

2

cups

cheddar cheese

, shredded (divided)

1

cup

whole milk

1/2

cup

Bisquick baking mix

2

large eggs

1/2

cup

sour cream

2

vine tomatoes

, diced
Instructions
Preheat oven to 400 degrees and spray a 9-inch deep pie dish with baking spray.

Roll the pie crust into the plate and flute the edges of the pie using your knuckles.

In a large skillet on medium high heat add the ground beef, onion, garlic, and taco seasoning.

Cook, stirring occasionally, for

6-8 minutes

until browned well.

Drain any excess grease, then pour meat mixture into the pie plate.

Top with shredded cheese.

In a mixing bowl whisk together milk, Bisquick, and eggs until well combined.

Pour over beef and cheese mixture.

Top with remaining cheddar cheese

Bake for

40 minutes

or until golden brown.

Serve topped with sour cream and chopped tomatoes.
Nutrition
Calories:
587
kcal
|
Carbohydrates:
27
g
|
Protein:
30
g
|
Fat:
40
g
|
Saturated Fat:
18
g
|
Polyunsaturated Fat:
2
g
|
Monounsaturated Fat:
14
g
|
Trans Fat:
1
g
|
Cholesterol:
160
mg
|
Sodium:
685
mg
|
Potassium:
516
mg
|
Fiber:
2
g
|
Sugar:
6
g
|
Vitamin A:
1102
IU
|
Vitamin C:
7
mg
|
Calcium:
387
mg
|
Iron:
3
mg