Easy Guacamole recipe for the perfect dip for tortilla chips with fresh avocados, tomatoes, cilantro, lime, and red onion ready in 5 minutes.
Homemade Guacamole makes an amazing Appetizer to serve along with your favorite chips. Or, you can enjoy it as a topping with classic your Mexican entrees like Ground Beef Tacos or Carne Asada.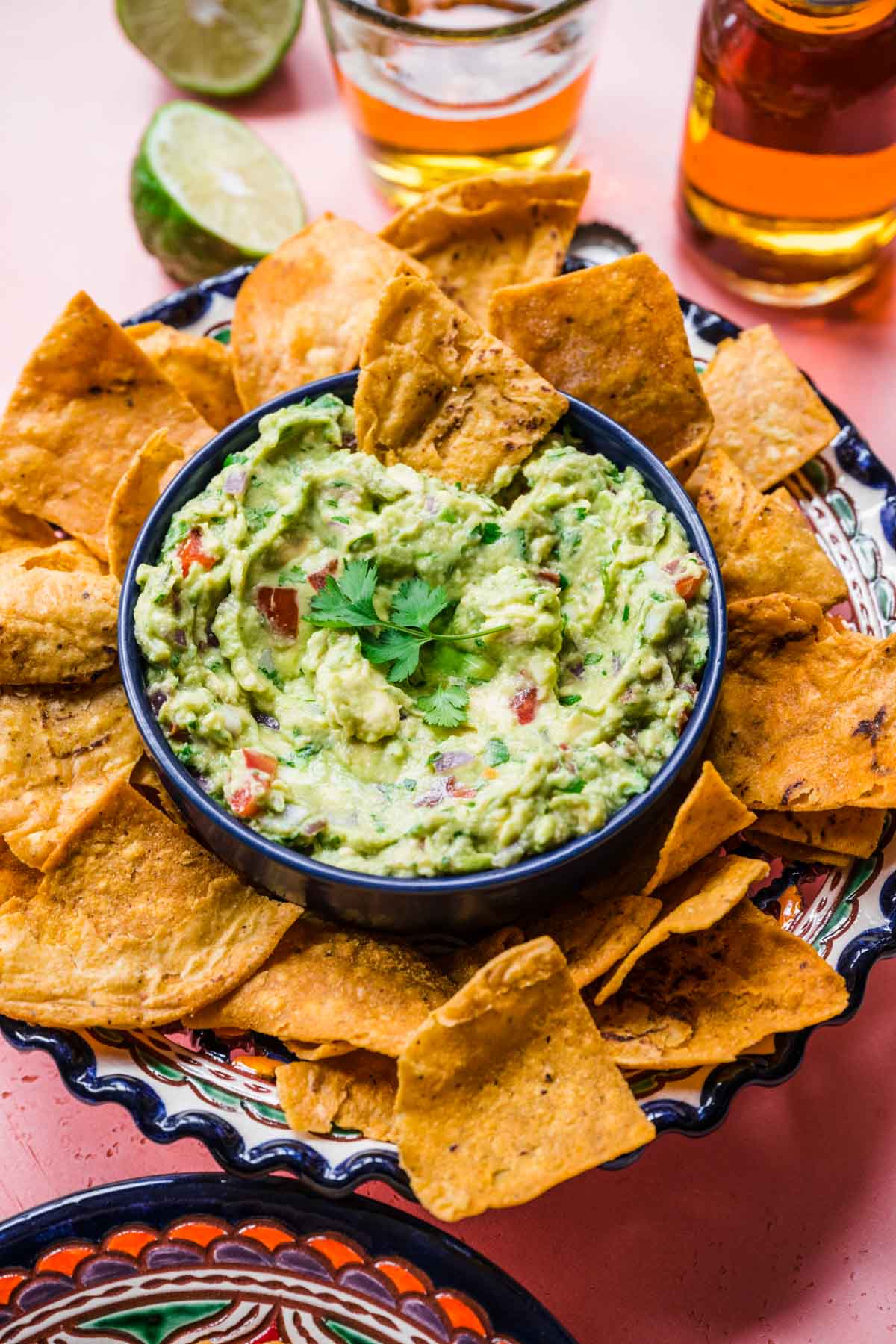 When it comes to fresh dips, Guacamole is one of the easiest recipes you'll ever make. Just combine the avocados, tomatoes, lime juice, cilantro, and a few extra seasonings to make the perfect creamy, cool chip dip. It's ready to enjoy in 5 minutes so you can quickly whip up extra so your party bowl never runs low.
While this easy Guacamole tastes great served with crunchy chips, you can get more creative with your dippers. Try enjoying this avocado dip with crackers, Pita Chips, or crisp veggies like celery, baby carrots, or bell peppers. Instead of using it as a dip or with traditional Mexican recipes, try it as a topping for Baked Potato and salads. Swap the guacamole for cheese on your Hamburger or to make a Grilled Cheese more hearty and delicious. There's really no end to the delicious ways you can enjoy this delicious, easy Guacamole!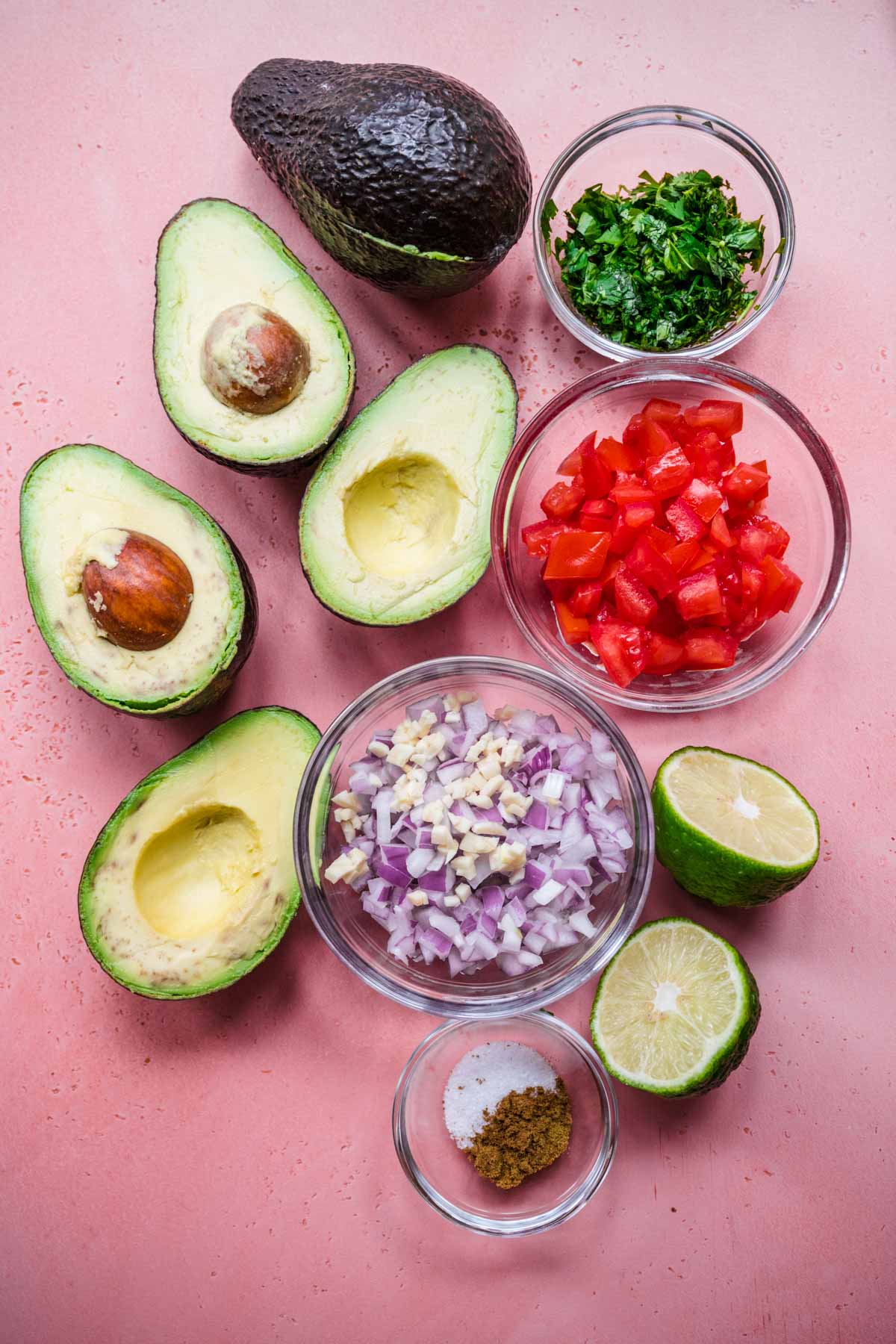 What is Guacamole?
Guacamole is a popular dip made from ripe avocados that originated in Mexico. It is typically made by mashing avocados and mixing them with citrus juice, various veggies such as onion, tomatoes, and spices. Guacamole has a creamy texture and a tangy, slightly sweet taste that pairs perfectly with chips, tacos, and other Mexican dishes.
What's the difference between Smashed Avocado and Guacamole?
Smashed avocado and guacamole are similar, but not exactly the same. Smashed avocado is simply mashed avocado with a pinch of salt and pepper, and is often the topping on toast. Whereas guacamole usually includes additional veggies and seasonings, and is used as a dip or topping for savory entrees.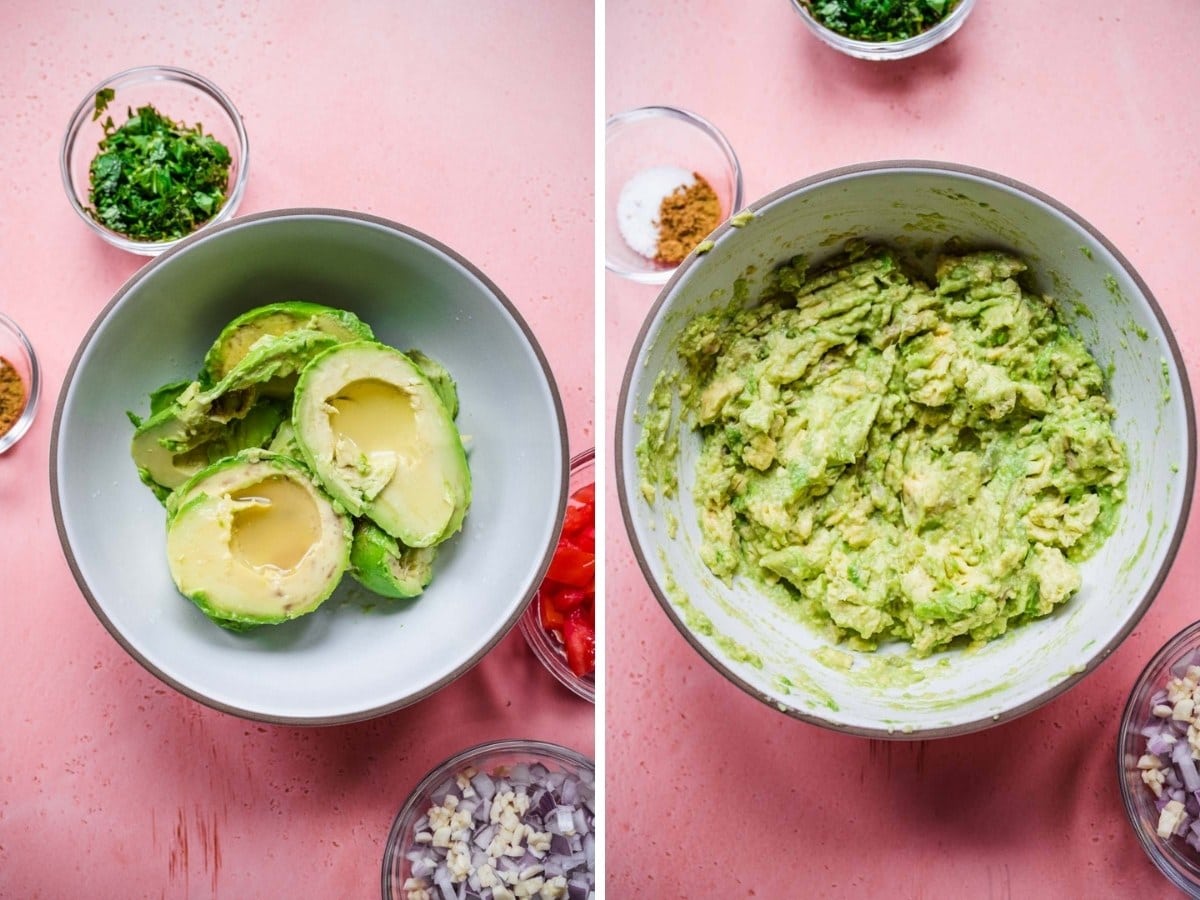 Why should you make Homemade Guacamole?
There are several reasons why you should make homemade guacamole. First and foremost, making it at home is the freshest option, and more flavorful than store-bought versions. Additionally, making your own guacamole allows you to customize the flavoring by adjusting the seasoning and other mix-ins to your liking. Fresh made guacamole is also typically healthier than store-bought versions, because preservatives like oil and salt can add to the calories and sodium.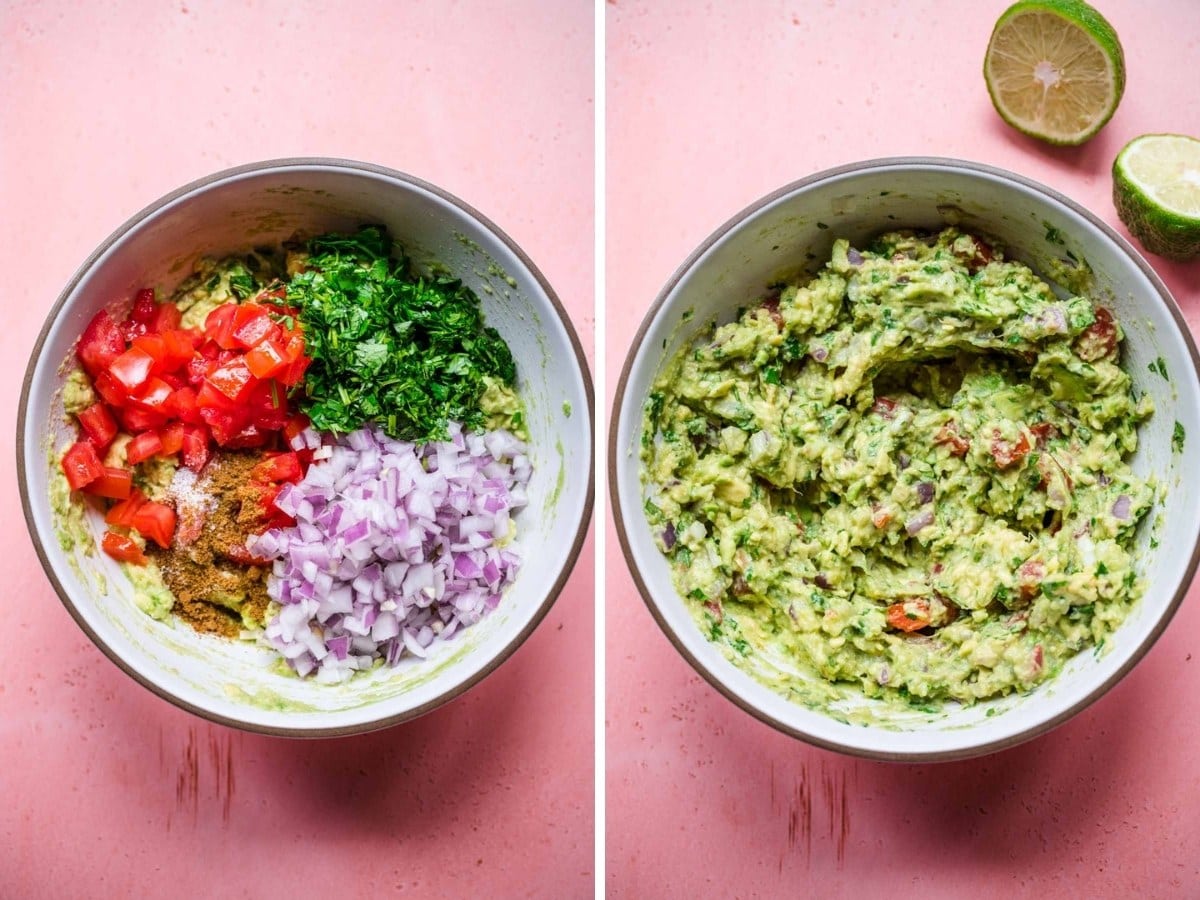 How to Make Guacamole
Slice Avocados: Slice avocado lengthwise until your knife hits the pit, then slice the other side to meet your original cut. Twist both halves of your avocado so it comes apart. The pit should still be in one side. Use your knife to carefully hit the pit and remove it. It's important to use a sharp knife for this. Then you can slice the flesh of the avocado into a checkerboard pattern and turn the peel inside out to remove the avocado.
Vegetables: After slicing the avocados, you can dice ripe tomatoes and red onion and add them to the bowl. Slice them into as big or as small of chunks as you want to give the guacamole the consistency you prefer.
Combine: Add the lime, salt, cumin, cilantro, and garlic to bowl with the diced tomatoes, avocado, and onion. Use a fork to mash the mixture until the avocados are mashed into a creamy texture with chunks and combined with the other ingredients. Serve or chill immediately.
Tasty Mexican Dinner Recipes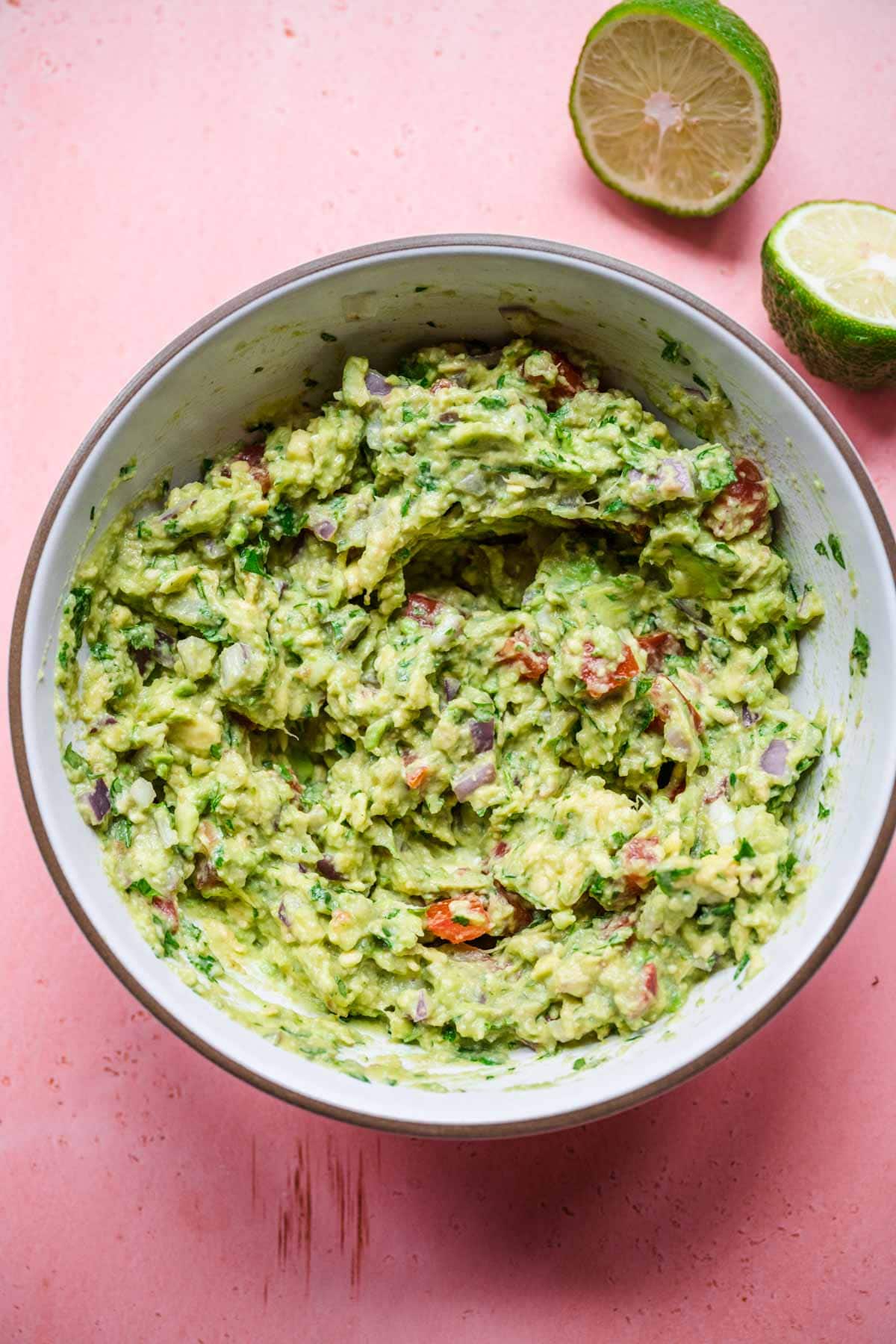 FAQs for Guacamole
Is avocado and guacamole the same thing?
Guacamole is typically made by mashing ripe avocados and mixing them with other ingredients such as lime juice, salt, onions, tomatoes, and spices. While mashed avocado can be similar to guacamole, an avocado doesn't have to be served mashed up and can just be slices of the fruit as a topping or eaten on its own.
Which avocado is best for guacamole?
Ripe Hass avocados are most commonly used for making guacamole, as they have a creamy texture and a rich, nutty flavor. It doesn't matter if you get large or small avocados, as it's a myth that the size affects flavor or ripeness.
How do you know if an avocado is good?
To choose a ripe avocado without brown spots inside, the area where the stem would be should be green. You may have to remove the stem piece to see this spot. You also want to avoid overly squishy avocados or areas that feel hollow or filled with air as you gently squeeze the fruit.
Is guacamole actually healthy? 
Guacamole can be a healthy addition to your diet when consumed in moderation. Avocados, the primary ingredient in guacamole, are a good source of heart-healthy monounsaturated fats, fiber, and vitamins. However, it's important to keep in mind that guacamole can also be high in calories and sodium depending on the ingredients used, so portion control is key.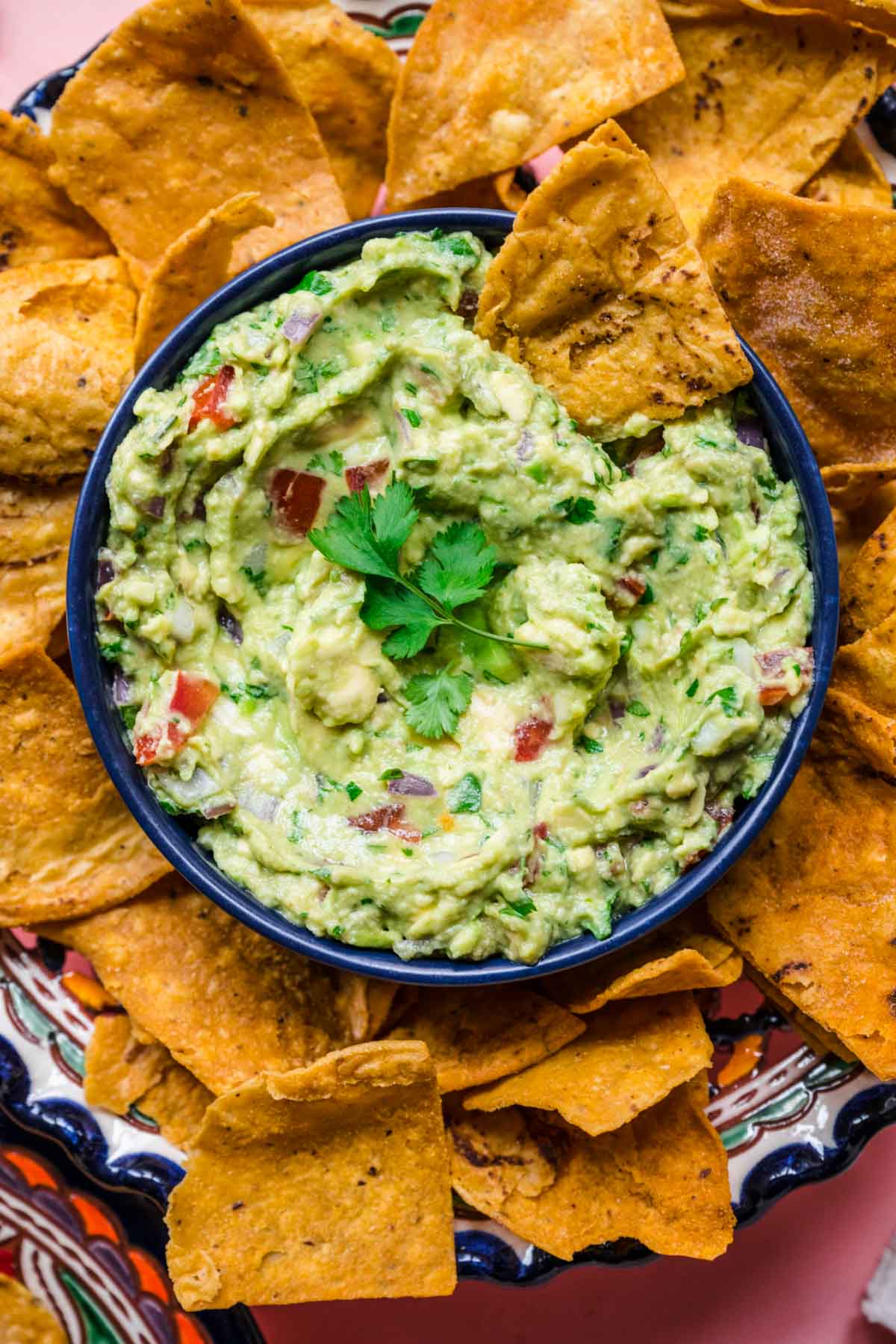 Create a free account to

Save Recipes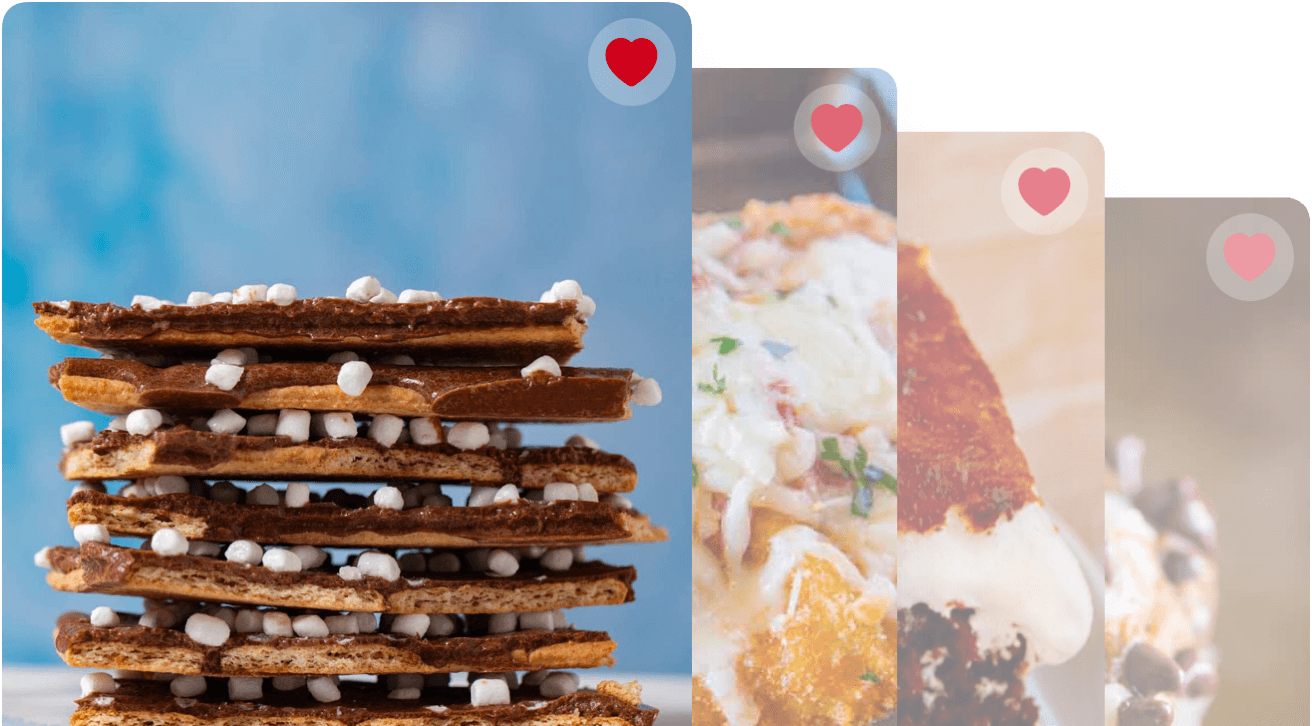 Key Ingredients
Avocados: The base of any traditional guacamole is ripe, mashed avocados. To make sure you're using ripe avocados check that the skin is dark green with a bumpy texture. It should also yield a little to applied pressure, and the little spot under the stem should be green in color.
Tomatoes: Along with the creamy avocado, there are sweet and tangy tomatoes to balance out the creaminess of the avocado. You want to use a meaty tomato that is firm and doesn't have too much juice in it so your guac doesn't get watered down. Roma, grape, plum, and beefsteak tomatoes are all good options for guacamole.
Onion: The most common onion you will find in guacamole is red onion because it's got a slight spiciness while being pungent and flavorful. These onions are also very crispy so they add a nice texture to the creamy, soft dip.
Seasonings: This recipe stays true to the authentic flavors of Mexican cuisine, using fresh minced garlic, cilantro leaves, and lime, along with dried cumin and salt. These simple seasonings balance out all the flavors and ingredients like lime and cilantro add a pop of brightness. Plus the lime juice naturally preserves the avocado to prevent browning.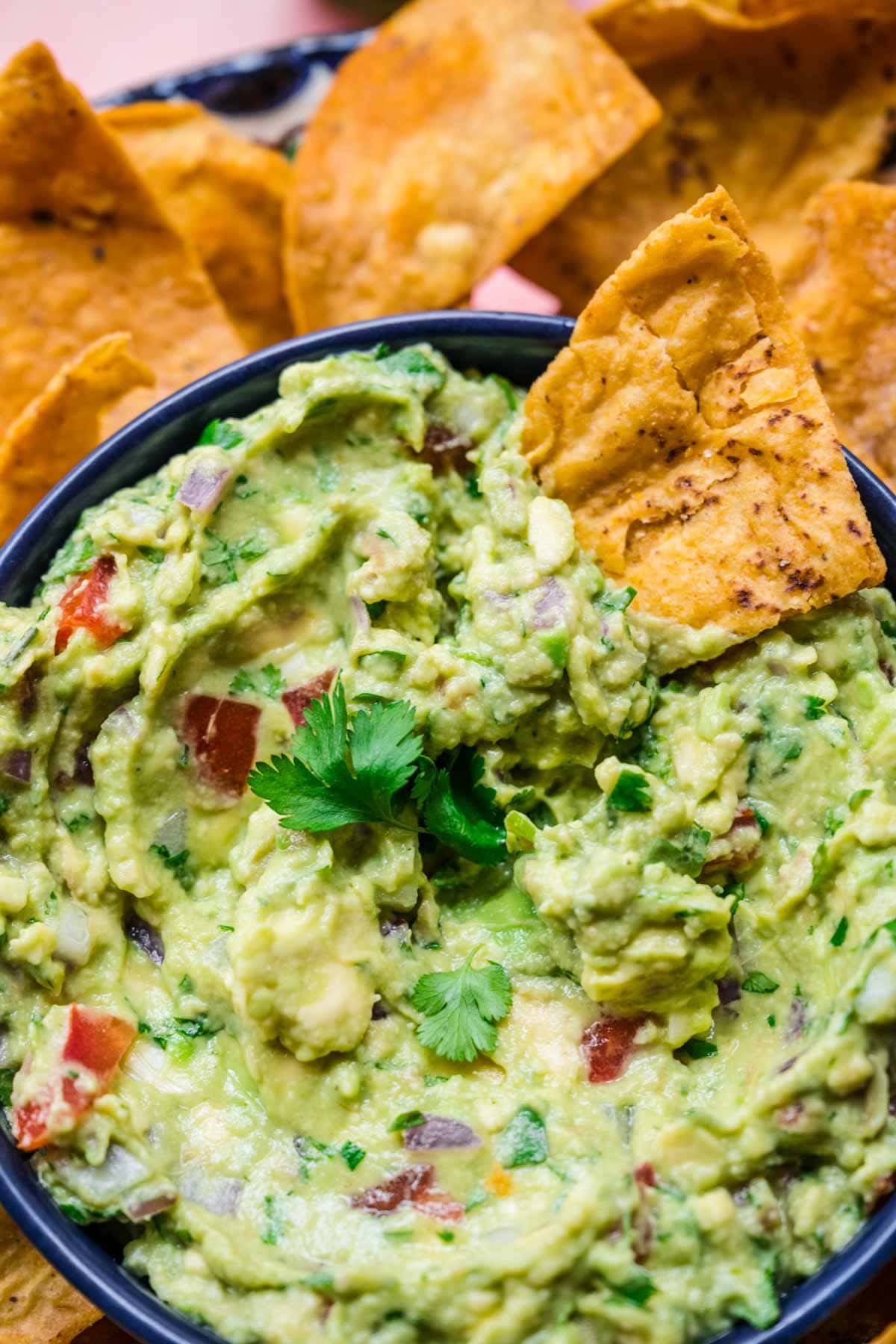 Variations
Veggies: There are all kinds of fresh vegetables that you could try mixing into this Guacamole recipe. You can use yellow or white onion to replace the red onion. Or, add fresh ingredients like bell peppers, chopped spinach, or kale leaves for a veggie guac. For a healthier dip, you can substitute half the avocado with smashed green peas that have been cooked and chilled.
Lemon: If you prefer lemony flavor, you can replace the lime in the recipe with a lemon. It still gives a citrusy flavor, but it's slightly less bitter than lime juice. For more lemon or lime flavor, you can add the lime zest or lemon zest along with the juice.
Spicy: If you want to add a kick of heat to this recipe, there are lots of spicy ingredients you can try. One easy way is chopping up a fresh jalapeno pepper into small pieces. Mix the jalapeno pepper in with the other veggies. Spices like black pepper, red pepper flakes, cayenne pepper, or serrano peppers would add varying levels of spiciness too.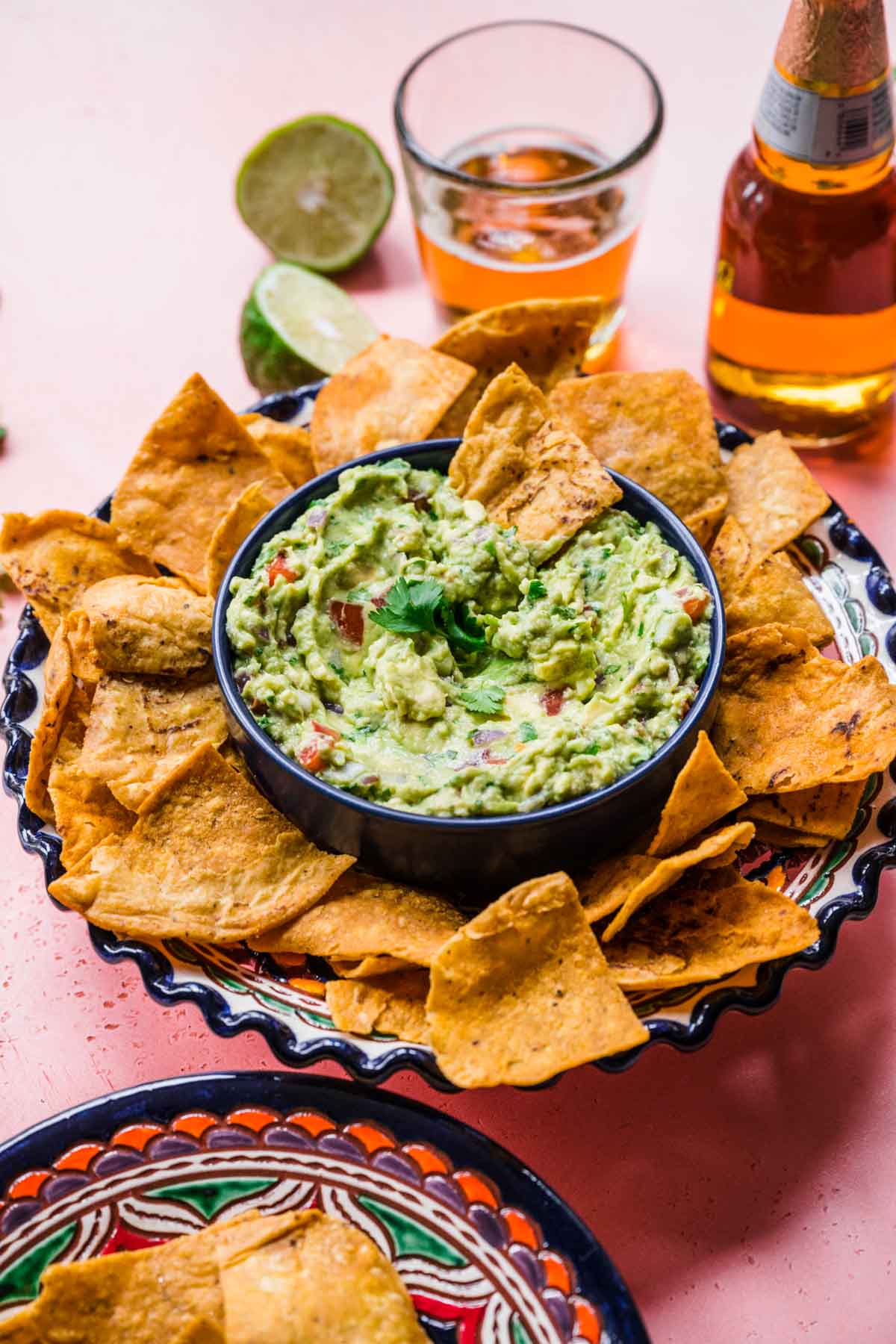 The Ultimate Party Dip Recipes
How to Store
Serve: After preparing Guacamole, you shouldn't leave it at room temperature for more than 2 hours and it's best to keep it covered and chilled unless serving.
Store: To keep leftovers, transfer the Guacamole to an airtight container. It will stay good in the fridge for 3-5 days. However, avocados begin to brown once they are sliced, so a common guacamole preservation hack is to pour a thin layer of lemon juice over the top before adding the lid. This will create a barrier from the air and stop any excessive browning, and it just adds more fresh citrus flavor!
Freeze: It's not recommended to freeze guacamole because the textures will not be the same once the dip has defrosted.


Ingredients
3

large

avocados

, peeled and pitted

1

lime

, juiced

1

teaspoon

kosher salt

1/2

teaspoon

cumin

1/2

cup

red onion

, chopped

1/4

cup

cilantro

, chopped

1

vine tomato

, diced and deseeded

1

clove

garlic

, minced
Instructions
Mash the avocados with the lime juice, salt, and cumin, leaving them chunky.

Add in the onions, cilantro, tomatoes, and garlic, and mix until well combined.
Nutrition
Calories:
175
kcal
|
Carbohydrates:
12
g
|
Protein:
2
g
|
Fat:
15
g
|
Saturated Fat:
2
g
|
Polyunsaturated Fat:
2
g
|
Monounsaturated Fat:
10
g
|
Sodium:
397
mg
|
Potassium:
575
mg
|
Fiber:
8
g
|
Sugar:
2
g
|
Vitamin A:
370
IU
|
Vitamin C:
17
mg
|
Calcium:
24
mg
|
Iron:
1
mg