Ultimate Cranberry Sauce is the perfect side dish to serve along with your Thanksgiving meal made with sweet, sour fruit, sugar, and spices.
Cranberry Sauce is one of those classic Holiday Dishes that Thanksgiving just isn't complete without. Put the homemade Cranberry Sauce out on your holiday table next to the Roast Turkey for the perfect side dish.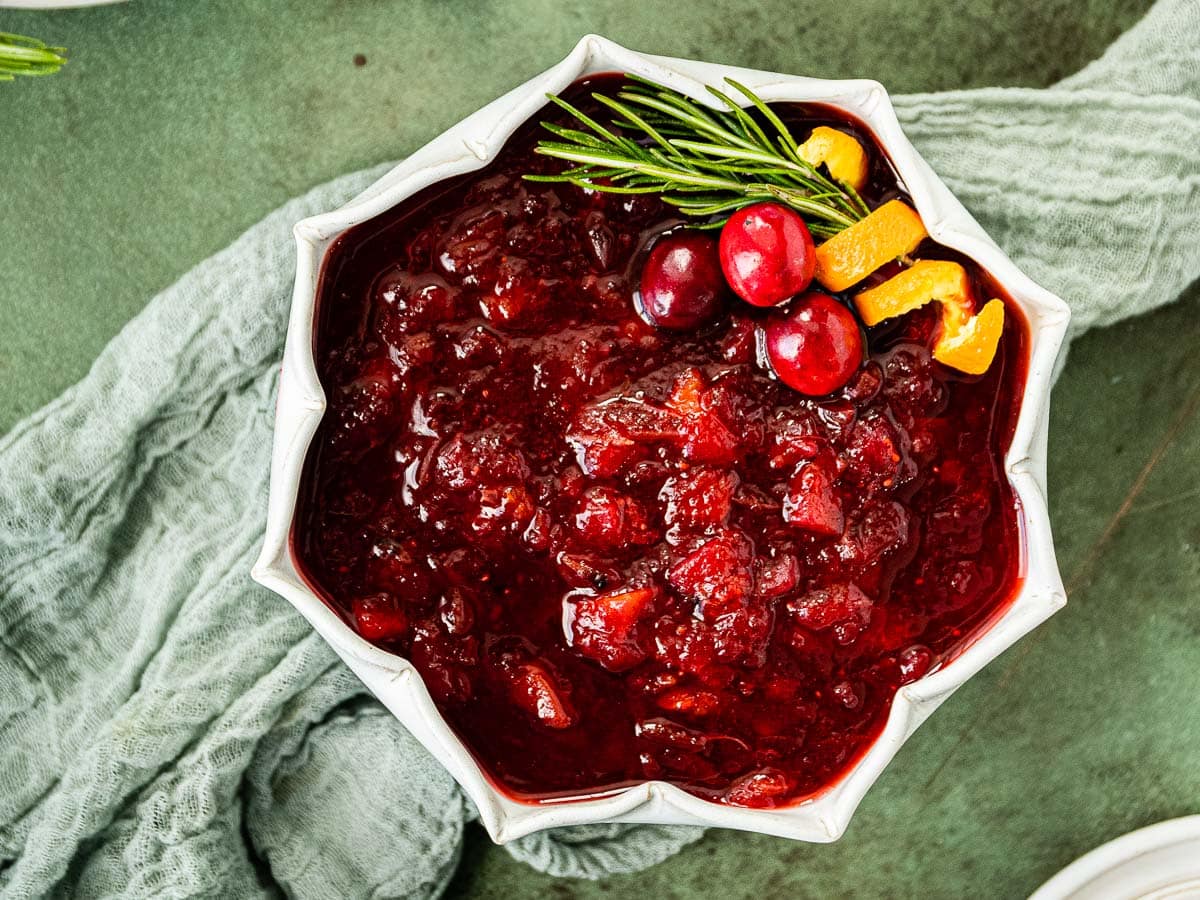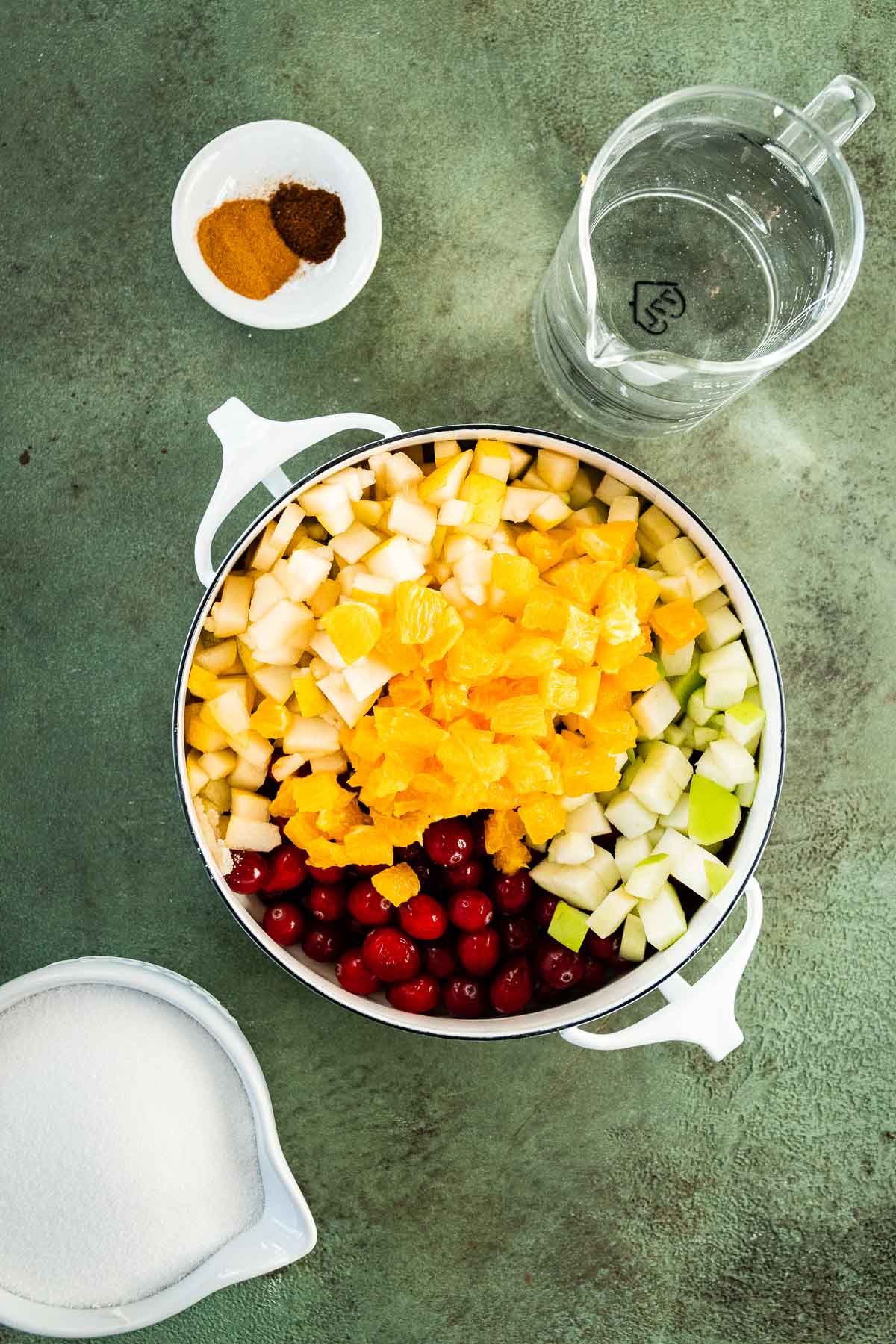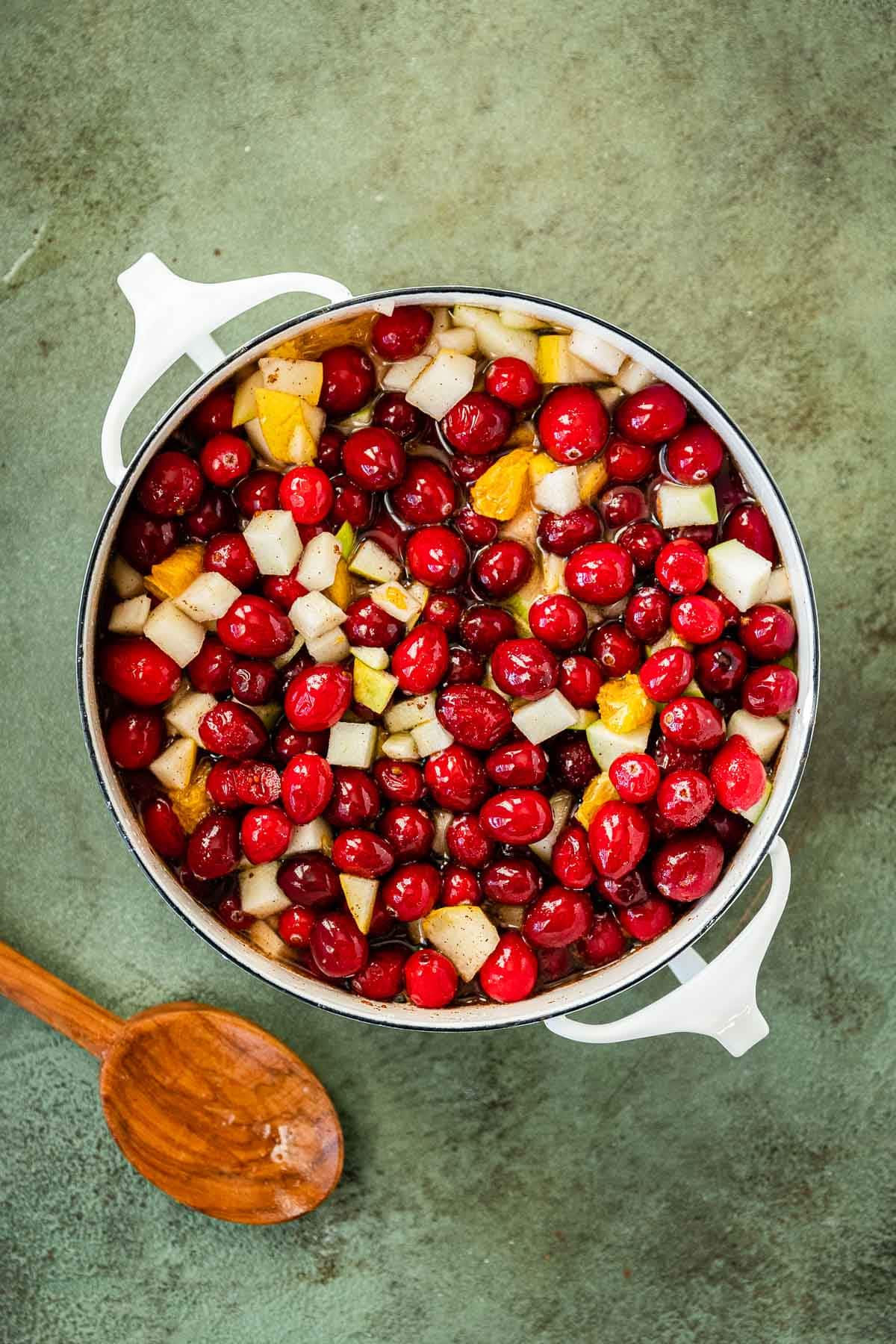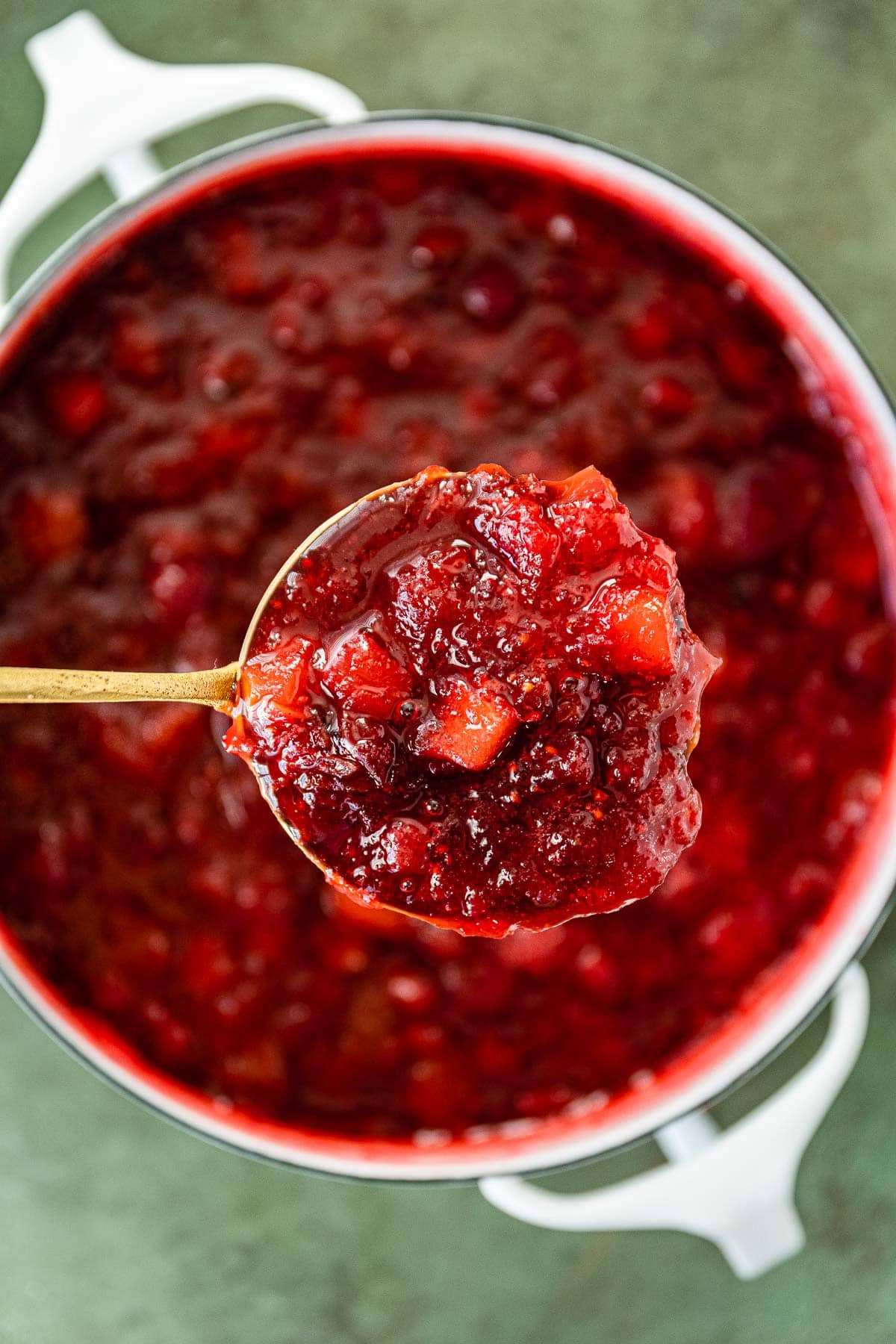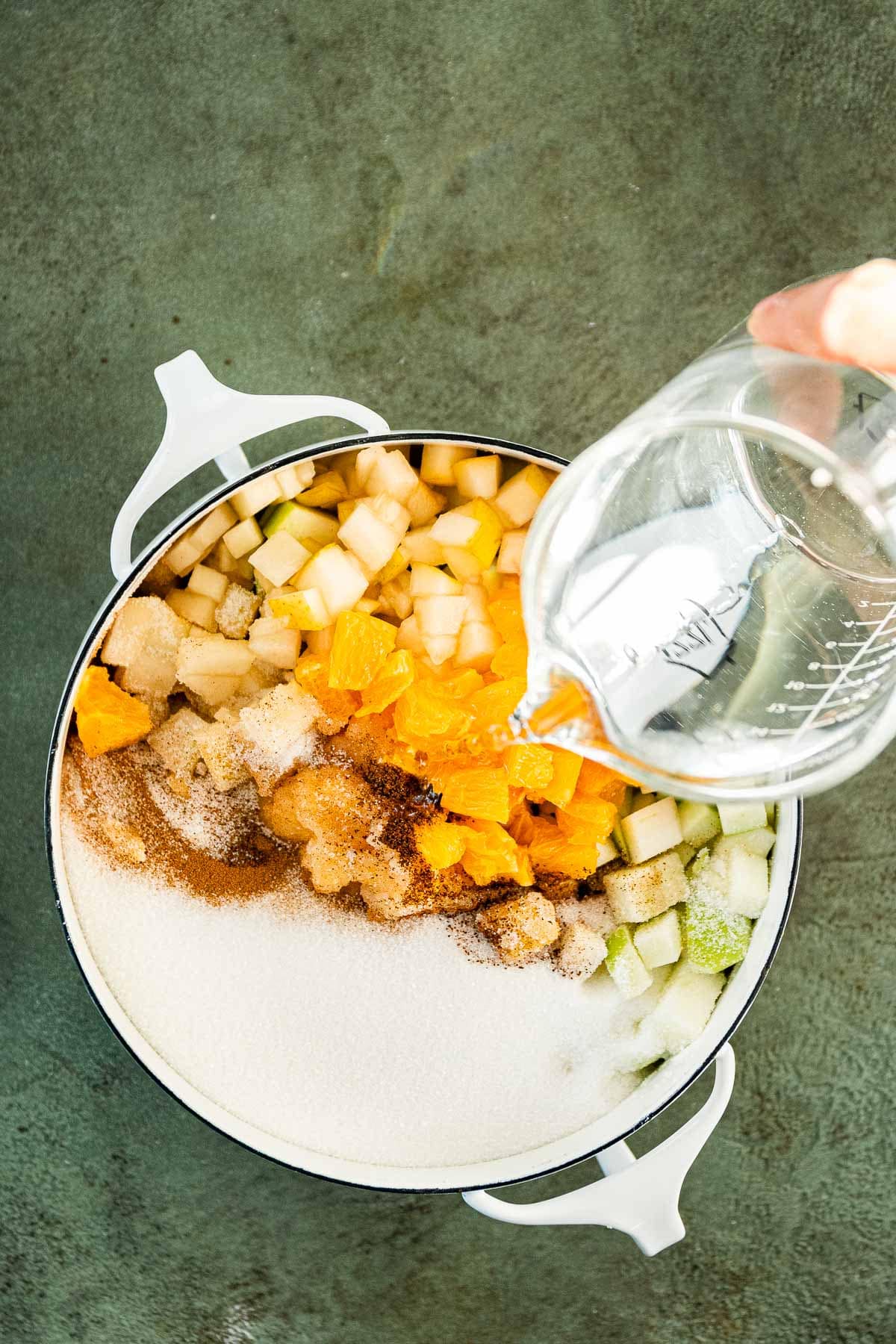 Table of Contents
About our Ultimate Cranberry Sauce Recipe
The homemade cranberry sauce is so good, even if you're not a cranberry sauce fan you will love it. It is super easy to make on the stovetop in just over a half hour so it doesn't add too much work to your busy holiday meal prep. This isn't your grandma's basic cranberry sauce, it's packed with fresh fruit, clove and cinnamon flavor, and tart berries for the ultimate cranberry side dish!
This cranberry sauce recipe is packed with flavor but made with fairly simple ingredients. It starts of course with fresh cranberries but then it gets a blend of fresh fruit added. Normally you might see orange-flavored cranberry sauce but since this is the ULTIMATE Cranberry Sauce Recipe, it has apple and pear for delicious bits of fruit along with the berries. It also has warm holiday spices to balance out the fruity cranberry sauce.
Can Cranberry Sauce be Made in Advance?
Even though this fruity cranberry sauce comes together in around 30 minutes, you can also make it a day or two ahead of time. Simply let it cool completely after it has finished and store in an airtight container. When you are ready to serve it, give it a good stir to make sure all the bits of fruit are evenly distributed and serve with your meal.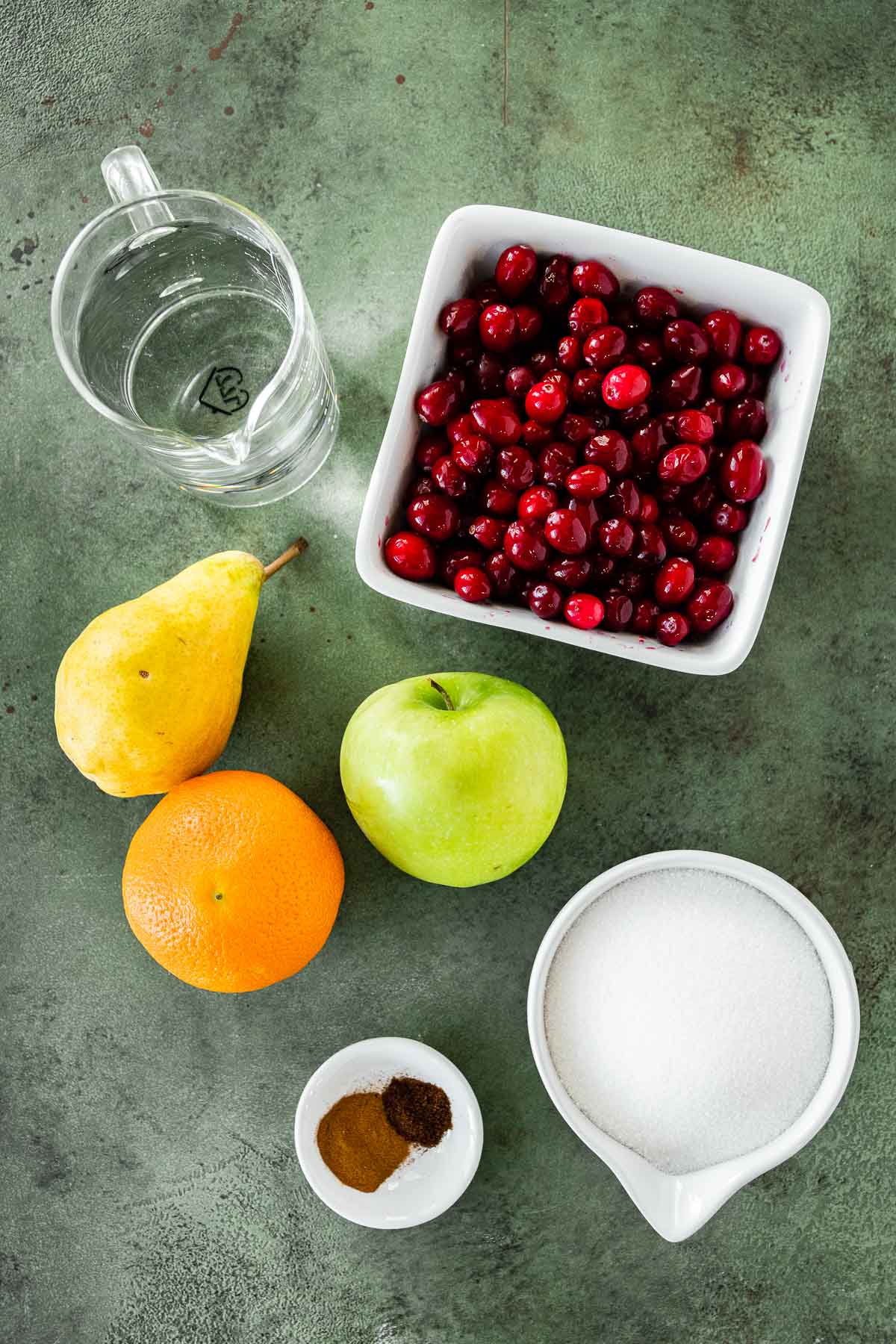 Ultimate Cranberry Sauce Ingredients
Cranberries: This homemade cranberry sauce recipe turns seasonal fresh cranberries into an addictive condiment that blows canned cranberry sauce out of the water. Frozen cranberries can be used to but really there is nothing like the flavor of fresh cranberry sauce.
Fruit: We used an apple, pear, and orange for some extra fruit flavor. The orange flavor is especially great because the citrus tastes wonderful with the tart cranberries. Plus as it cooks the orange juice provides more liquid to the Ultimate Cranberry Sauce.
Spices: Cinnamon and clove are classic warm holiday spices that add the perfect balance to this tart and sweet cranberry sauce recipe! For bolder clove and cinnamon taste, add a stick of cinnamon and some whole cloves to the mixture while it's cooking, then fish them out before mashing the fruit.
Sugar: 1 ¼ cup granulated sugar might seem like a lot but cranberries are naturally bitter plus you are adding tart green apple and zesty orange so it will get balanced out. For a reduced-sugar cranberry sauce, you can swap in stevia or other substitute and drop the amount to ¾ cup because they taste much sweeter than sugar.
How to Make Ultimate Cranberry Sauce
Time needed: 35 minutes.
Prepare the Fruit

Start by rinsing the cranberries and sort through them to remove any stones or twigs. Before you peel the orange, you can zest it and add that zest to the mixture for more flavor. Peel the orange, core the apple and pear, then chop all the fruit into small even pieces.

Cook the Sauce

Add fruit, 2 cups water, 1 ¼ cups white sugar, ½ teaspoon cinnamon, and ¼ teaspoons cloves to a medium saucepan. Stir the ingredients well to combine. Then cook over medium-low heat for 30-35 minutes, stirring the cranberry mixture occasionally throughout the cooking time.

Mash and Cool

Once the sauce has reduced and slightly thickened, use a potato masher to slightly mash the mixture until it's at your desired consistency. Keep in mind it will thicken more as it cools. Transfer the sauce to your serving bowl and allow it to cool to room temperature. Cover the bowl and store in the fridge until you are ready to serve it.
Nutritional Facts
Nutrition Facts
Ultimate Cranberry Sauce
Amount Per Serving
Calories 173
Calories from Fat 9
% Daily Value*
Fat 1g2%
Sodium 5mg0%
Potassium 117mg3%
Carbohydrates 45g15%
Protein 1g2%
Vitamin A 81IU2%
Vitamin C 16mg19%
Calcium 17mg2%
Iron 1mg6%
* Percent Daily Values are based on a 2000 calorie diet.
Ultimate Cranberry Sauce Tips & Tricks
Make your Cranberry Sauce Ahead of Time

We all know how busy the day you are serving your Thanksgiving Feast can be! The last thing you want is to have forgotten to make the sauce up until the last minute. Not only does rushing to make it add stress, but it won't have time to fully develop the flavors and thickness that make it so amazing.

Don't Overcook the Sauce

If you end up with super thick cranberry sauce, you've probably cooked it too long trying to thicken it on the stove before cooling. Fruit and berries have natural pectin that releases during the cooking process and as it cools down, that is where the real thickening happens. So, you want to cook your sauce under your desired consistency because it will thicken up as it cools.
What to Pair With Ultimate Cranberry Sauce
Holiday Sides: This delicious cranberry sauce will fit right in with all your favorite holiday sides like Mashed Potatoes, Green Bean Casserole and Stuffing.
Turkey: Of course, the main way we love to eat cranberry sauce is piled on a juicy piece of Roast Turkey during a holiday dinner. But it also goes great with other turkey dishes like Turkey Burgers, Turkey Pot Pie, or Turkey Meatloaf.
How to Store Ultimate Cranberry Sauce
Serve: Make sure to let the recipe completely cool before you serve it. Don't leave Ultimate Cranberry Sauce at room temperature for more than 2 hours. If you have leftovers, transfer the cranberry sauce to an airtight container. It will stay good in the fridge for up to 2 weeks.
Freeze: As long as it's carefully sealed in an airtight container, you can also put the Cranberry Sauce in the freezer for 1-2 months. Place a piece of plastic wrap between the lid and sauce and let it cool completely before storing to prevent freezer burn.
Ideas to Serve Ultimate Cranberry Sauce
Turkey Sandwiches: If you have leftover cranberry sauce and turkey after the holiday season, you can make the Ultimate Leftover Turkey Sandwiches! Add mayo, lettuce, and plenty of this amazing sauce to your sandwich bread then load it up with leftover turkey.
Glaze: This delicious sauce doesn't have to just be a condiment or side dish during the holidays. It makes a fantastic glaze for Beef Meatloaf or Grilled Pork Chops. You could even use it in a Cranberry Meatballs recipe.
FAQ for Ultimate Cranberry Sauce
What takes the bitterness out of cranberry sauce?
Since cranberries are naturally bitter, you need to add some sweetness to balance them out so you don't get a bitter sauce. Adding regular sugar, or sweeteners like syrup, helps cut the bitterness as well as adding fruit juices or whole fruit like in this Ultimate Cranberry Sauce recipe.
Can you use frozen cranberries for Cranberry Sauce?
Luckily, you can use frozen cranberries to make a perfect cranberry sauce! There's no need to defrost the berries either. Just rinse them in cold water and make the recipe for cranberry sauce as usual. The only thing to keep in mind is that the cooking time will be slightly longer.
Recipe Card


Ingredients
12

ounces

fresh cranberries

1

orange

, peeled and chopped

1

pear

, cored and chopped

1

green apple

, cored and chopped

2

cups

water

1 1/4

cups

sugar

1/2

teaspoon

cinnamon

1/4

teaspoon

cloves
Instructions
Add all the ingredients to a large sauce pan.

Stir well and cook on medium-low for

30-35 minutes

.

Mash slightly and let cool completely.

Refrigerate before serving.
Nutrition
Calories:
173
kcal
|
Carbohydrates:
45
g
|
Protein:
1
g
|
Fat:
1
g
|
Saturated Fat:
1
g
|
Polyunsaturated Fat:
1
g
|
Monounsaturated Fat:
1
g
|
Sodium:
5
mg
|
Potassium:
117
mg
|
Fiber:
4
g
|
Sugar:
39
g
|
Vitamin A:
81
IU
|
Vitamin C:
16
mg
|
Calcium:
17
mg
|
Iron:
1
mg
Ultimate Cranberry Sauce Variations
Fruit: You can try adding other kinds of berries to cook along with the cranberries. Cherries, or raspberries would make wonderful sweet additions to the Ultimate Cranberry sauce recipe.
Flavorings: You can try adding spices like fresh ginger, or nutmeg to make extra-flavorful cranberry sauce. If you'd prefer a little more orange flavor, grate the orange and add the zest before you peel and chop it.
Brown Sugar: If you prefer a darker, richer flavor, you can use brown sugar instead of white sugar. It'll contrast more with the bright cranberry flavor and give a richer sweetness.
Cranberry Walnut Sauce: You can always add a little bit of crunch to the sauce with chopped walnuts. Mix them in when you're mashing the cranberry sauce. Sprinkle a few extra walnuts on top of the sauce before serving.
Related Recipes
More Cranberry Condiment Recipes