Zucchini Brownies are the ultimate fudgy, gooey, brownie with sneaky veggies. The zucchini adds extra nutrition, but you'd never guess they're even there!
If you've tried our recipe for Chocolate Zucchini Bread, then you already know just how moist and rich zucchini and chocolate recipes turn out. These Chocolate Zucchini Brownies are the perfect Dessert Recipe to get a little extra nutrition in your diet while still enjoying a delicious sweet.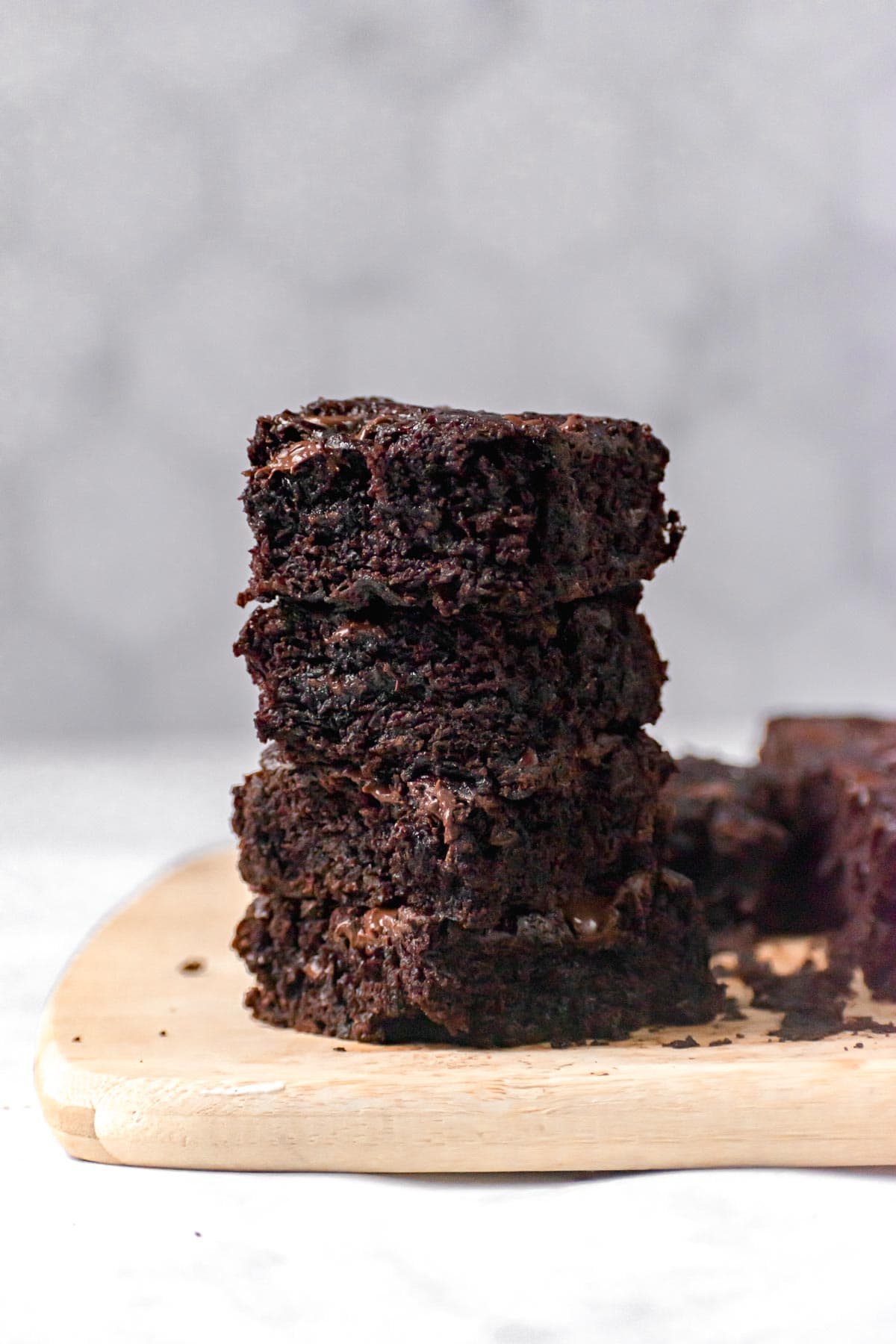 ZUCCHINI BROWNIES
Chocolate Chip Zucchini Brownies just might become your new favorite brownie recipe! The fudgy brownies are easy to make and very similar to our regular Brownie Recipe. The only big difference is of course adding in grated zucchini. Adding a vegetable to brownies may sound strange if you haven't tried it before, but you'll be surprised to find it only makes the Zucchini Brownie recipe even tastier!
WHY BAKE WITH ZUCCHINI?
Baking with zucchini is a great way to sneak some vegetables into your favorite desserts. Zucchini recipes are rich in vitamins C and K, antioxidants, fiber, and many other important nutrients. Adding zucchini doesn't just make for healthy brownies. The baked goods also get added texture and moisture from the zucchini. In fact, healthy Zucchini Brownies might just be the most perfectly moist and fudgy brownies you will ever try!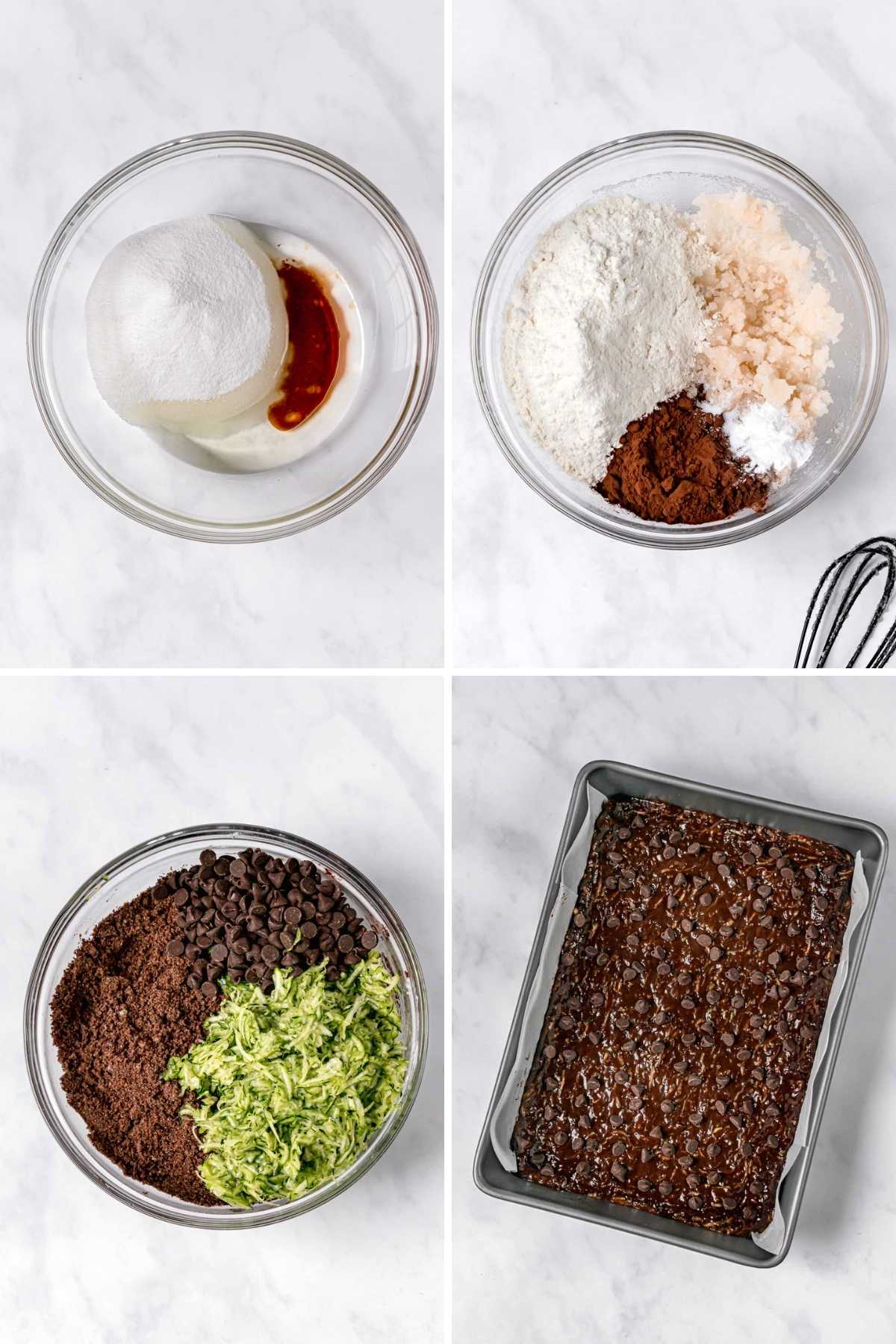 Zucchinis also don't have a strong flavor, so they are ideal to mix into other recipes. While you're enjoying fudgy Zucchini Brownies, you won't taste the zucchini. You might hardly believe there are vegetables in the sweet, chocolatey treat.
MORE BROWNIE RECIPES
TIPS FOR MAKING MOIST CHOCOLATE BROWNIES
There's simply nothing better than perfectly moist, warm brownies, and there are a few tricks to make sure your brownies turn out perfect every time!
Make sure you prep your baking pan with cooking spray. Otherwise the brownie batter will bake to the bottom and you'll lose half the delicious treat to the dish.
Whisk together the sugar and oil well enough. Making sure that the wet ingredients are nice and smooth is an important piece to the recipe.
Sift together your dry ingredients. It can be tempting to skip this step and just dump the ingredients together. However, sifting the flour and other ingredients takes out any clumps and aerates them. This makes sure you get fudgy, gooey brownies instead of more cakey brownies.
Don't over-mix the wet and dry ingredients. Once they are just combined fold in the grated zucchini and chocolate chips, then bake.
Keep your eyes on the brownies during the baking time. You'll know they're done when the top looks shiny and if you see the first signs of cracking. It's important not to over-bake them so take them out right when the baking time is finished.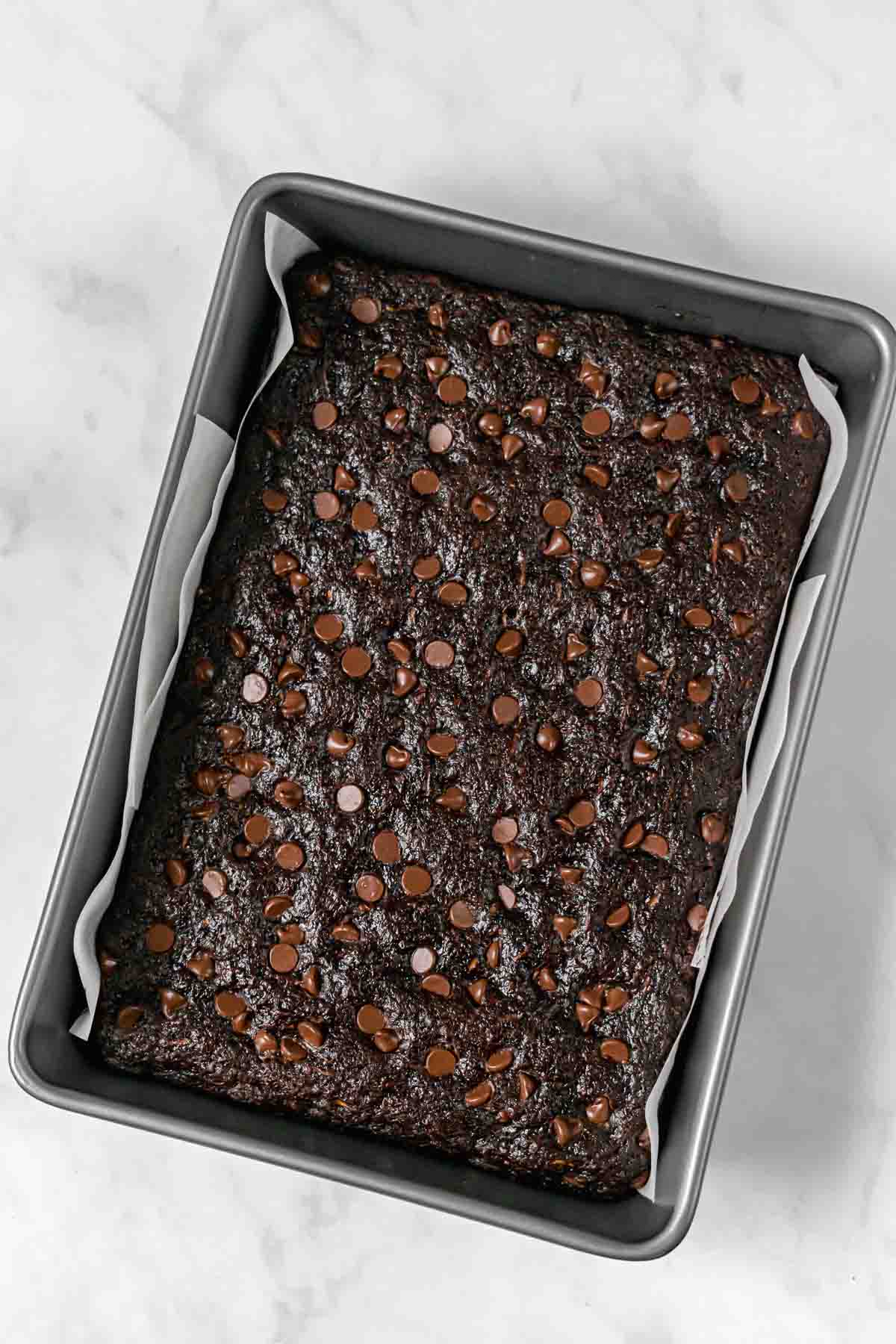 Create a free account to Save Recipes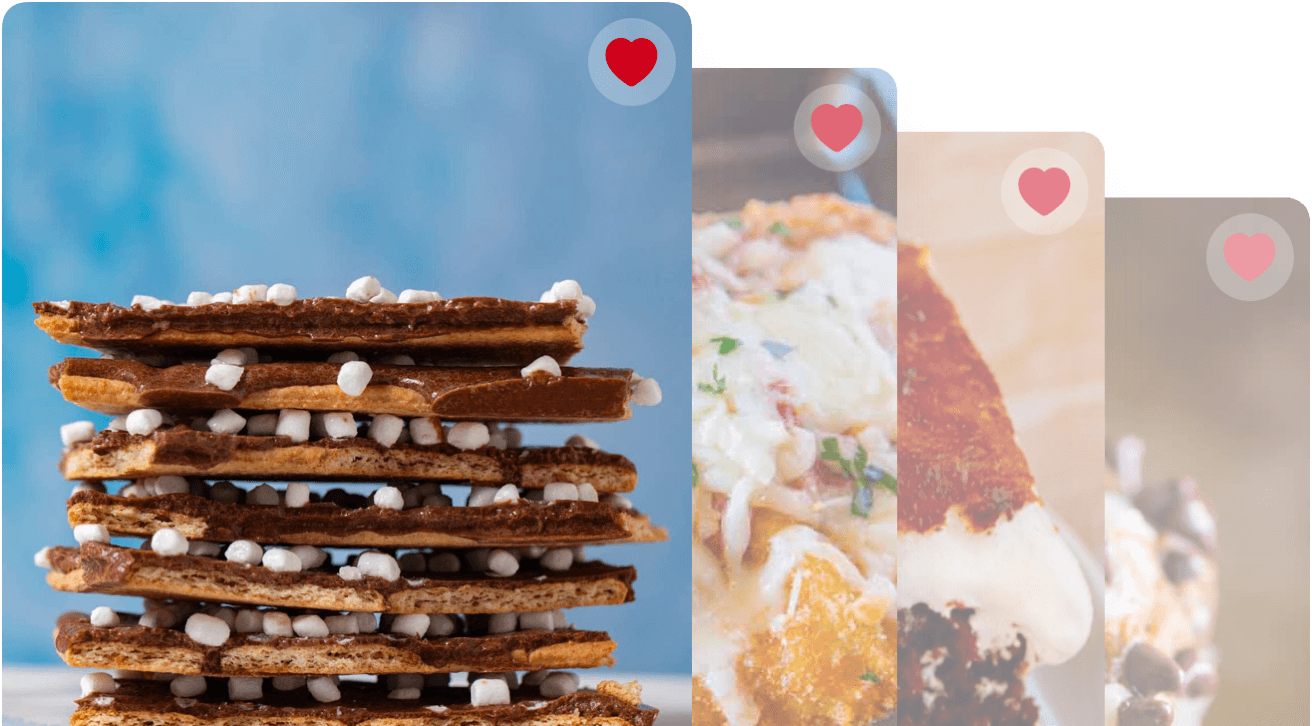 VARIATIONS ON ZUCCHINI BROWNIES
Peanut Butter: To make Peanut Butter Zucchini Brownies try adding a layer of fluffy peanut butter frosting to the top of the brownies once they've cooled. Mix together 1 ½ cup of unsalted butter and 1 ½ cup of creamy peanut butter with a stand mixer, then slowly add 6 cups powdered sugar and ½ milk, alternating and beginning and ending with the sugar.
Chocolate frosting: Try adding even more chocolate goodness to your Chocolate Chip Zucchini Brownies with Chocolate Frosting. You can make a rich chocolate frosting with simple pantry ingredients like

1 1/2

cups

unsalted butter,

1

cup

unsweetened cocoa powder,

6

cups

powdered sugar,

2/3

cups

milk, and

1

tablespoon

vanilla.

Mix-ins: You can replace the cup of regular chocolate chips with 1 cup mini chocolate chips, milk chocolate chips, or white chocolate chips. For some extra crunch add a cup of nuts. Pecans, walnuts, or almonds would work nicely.
Ingredient substitutes: For healthy brownies, you can substitute some of the ingredients in the recipe for different more nutritious options. To replace the regular granulated sugar, you could use coconut sugar, honey or maple syrup. You could also substitute the all-purpose flour for wheat flour or gluten-free options like coconut flour, almond flour, or oat flour.
Vegan Zucchini Brownies: This recipe is already fairly vegan friendly. There are no eggs or milk so you don't have to make a lot of substitutes for vegan zucchini brownies. All you have to do is take the chocolate chips from the recipe, or use dairy-free chocolate to make vegan zucchini brownies.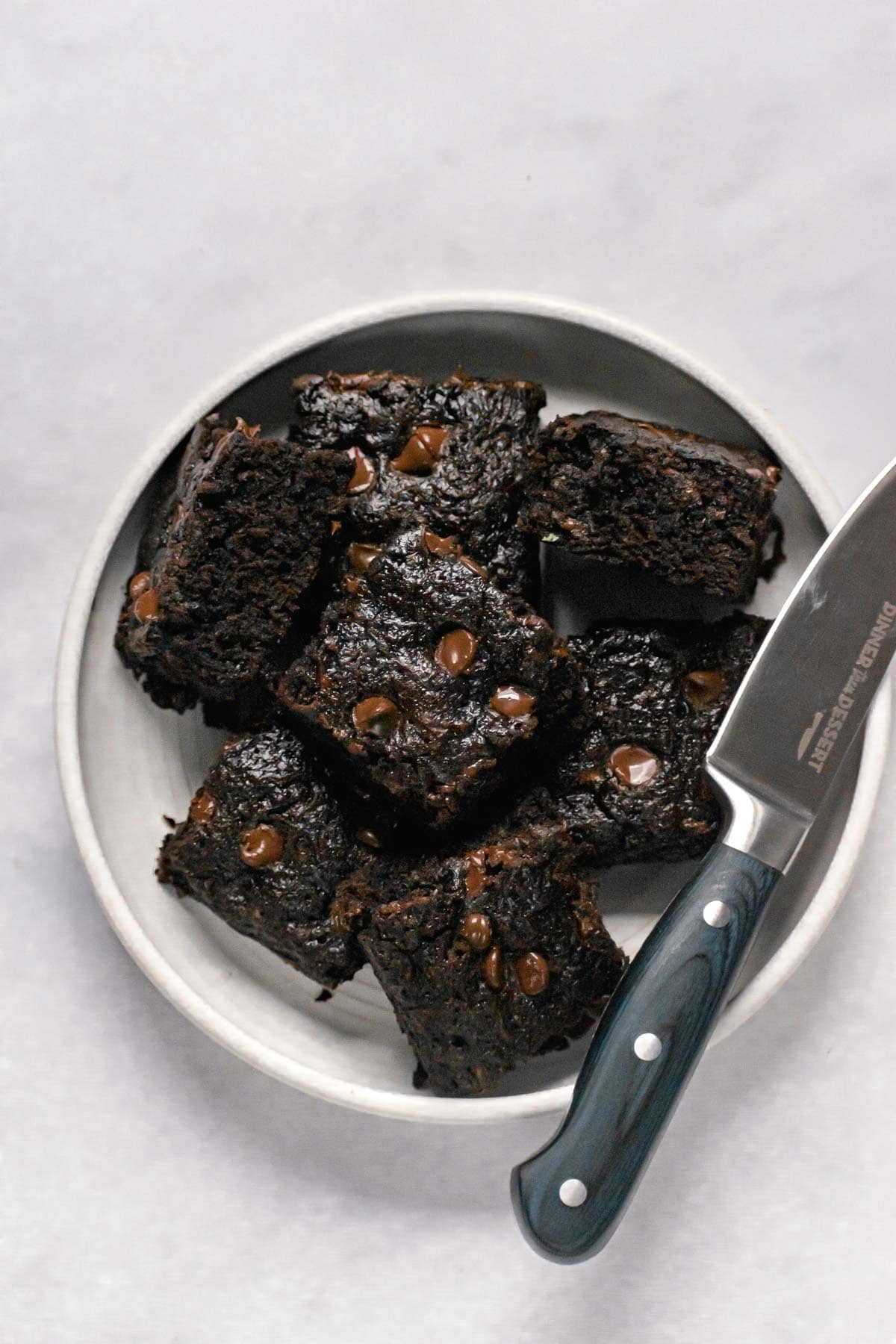 MORE CHOCOLATE RECIPES
HOW TO STORE ZUCCHINI BROWNIES
Serve: Brownies can stay good at room temperature for up to 2 days. To increase the shelf life in the pantry, cover the dish in plastic wrap or store the brownies in an airtight container.
Store: The Zucchini Brownie recipe can also be kept covered in the fridge for up to 3 days. Keeping them in the fridge will maintain the moisture nicely and you can enjoy them chilled.
Freeze: To freeze the brownies, put the squares in a ziplock bag and separate each layer with parchment paper so that they don't stick together. They'll be good in the freezer for 3 months.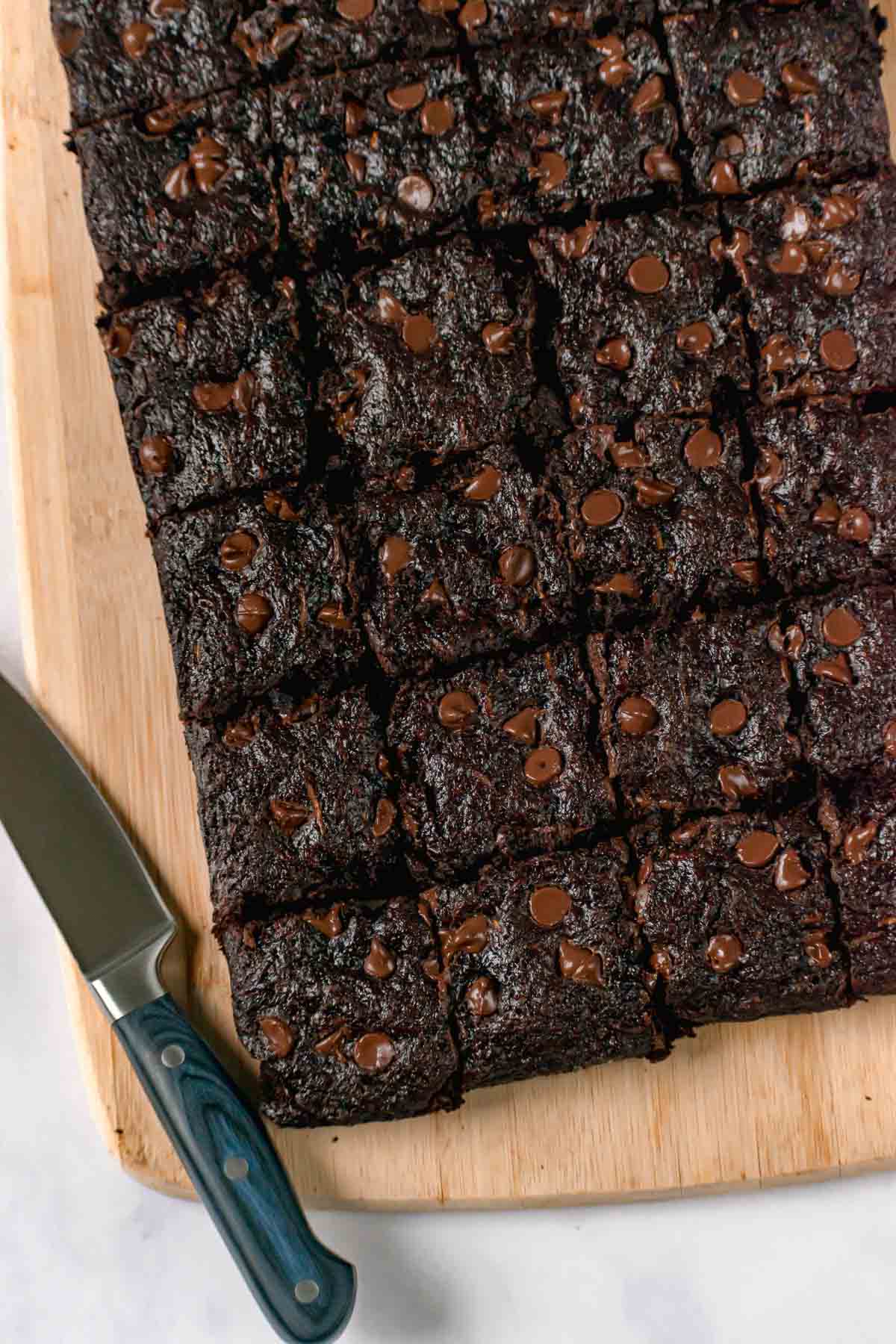 Ingredients
1/2

cup

vegetable oil

1 1/2

cups

sugar

2

teaspoons

vanilla extract

2

cups

flour

1/2

cup

unsweetened cocoa powder

1 1/2

teaspoons

baking soda

1

teaspoon

salt

2

cups

shredded zucchini

1

cup

semi-sweet chocolate chips

, divided
Instructions
Preheat oven to 350 degrees and spray a 9x13 inch baking pan with baking spray.

In a large mixing bowl whisk together vegetable oil, sugar, and vanilla extract until smooth.

Sift flour, cocoa powder, baking soda, and salt and whisk it into the mixing bowl until just combined.

Stir in zucchini and ½ cup chocolate chips.

Press mixture into a baking dish and top with remaining chocolate chips.
Nutrition
Calories:
264
kcal
|
Carbohydrates:
39
g
|
Protein:
3
g
|
Fat:
12
g
|
Saturated Fat:
8
g
|
Cholesterol:
1
mg
|
Sodium:
251
mg
|
Potassium:
162
mg
|
Fiber:
2
g
|
Sugar:
23
g
|
Vitamin A:
37
IU
|
Vitamin C:
3
mg
|
Calcium:
15
mg
|
Iron:
2
mg