Balsamic Chicken is perfectly juicy and flavorful. Marinated in balsamic, brown sugar, and mustard, then served with balsamic pan sauce.
A baked chicken recipe makes an easy Weeknight Dinner that's still impressive enough to serve for a special occasion. Baked Lemon Chicken, Honey Mustard Chicken and this balsamic chicken recipe are all tasty, simple meals.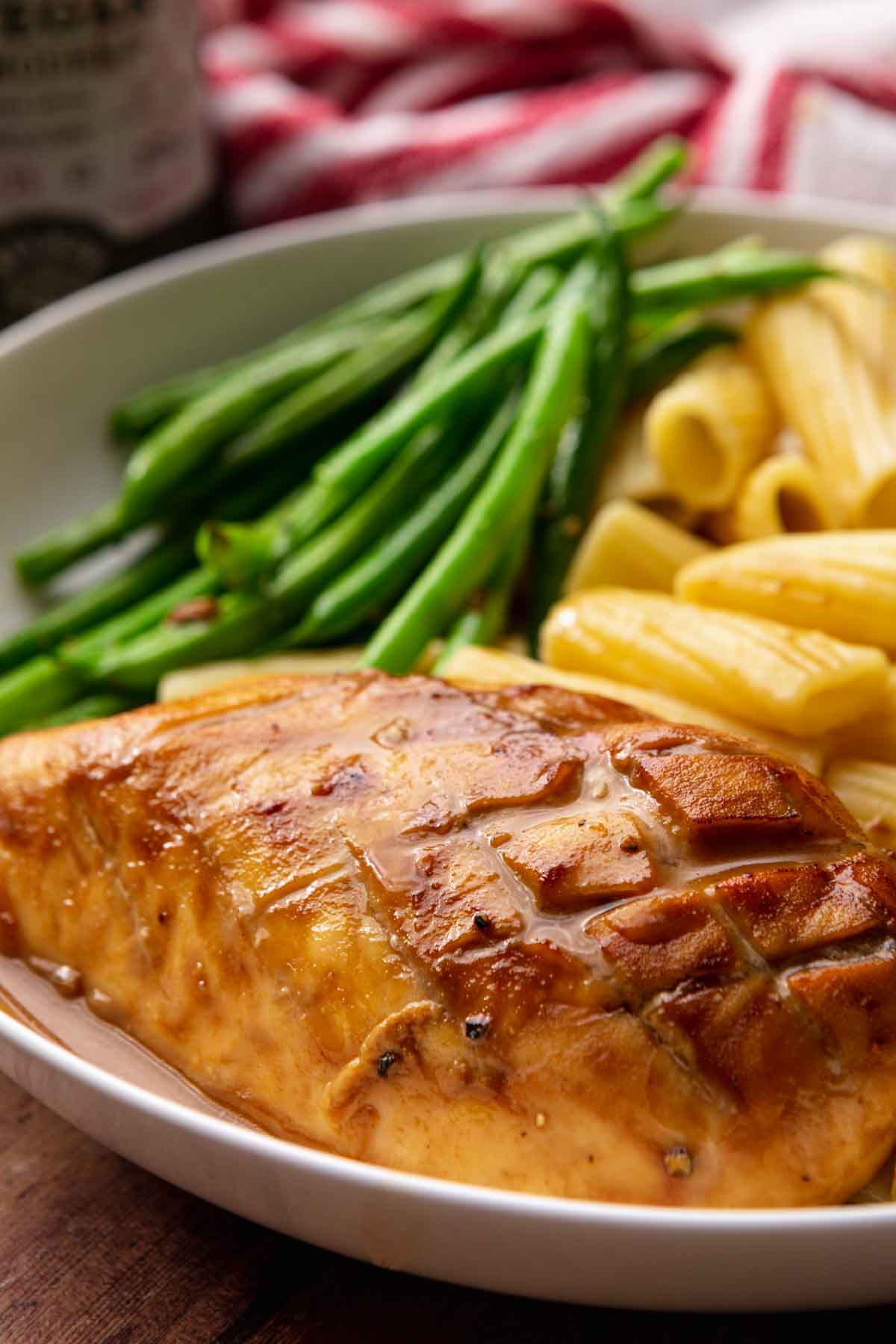 You're sure to love how easily this Baked Balsamic Chicken dinner comes together. Make sure to prep the Balsamic Chicken a little bit in advance so that it has time to soak up flavor from the balsamic marinade. You can do this two hours in advance, but you can start prepping the chicken breasts the night before so the breasts can soak up all the flavor boosters in the delicious sauce.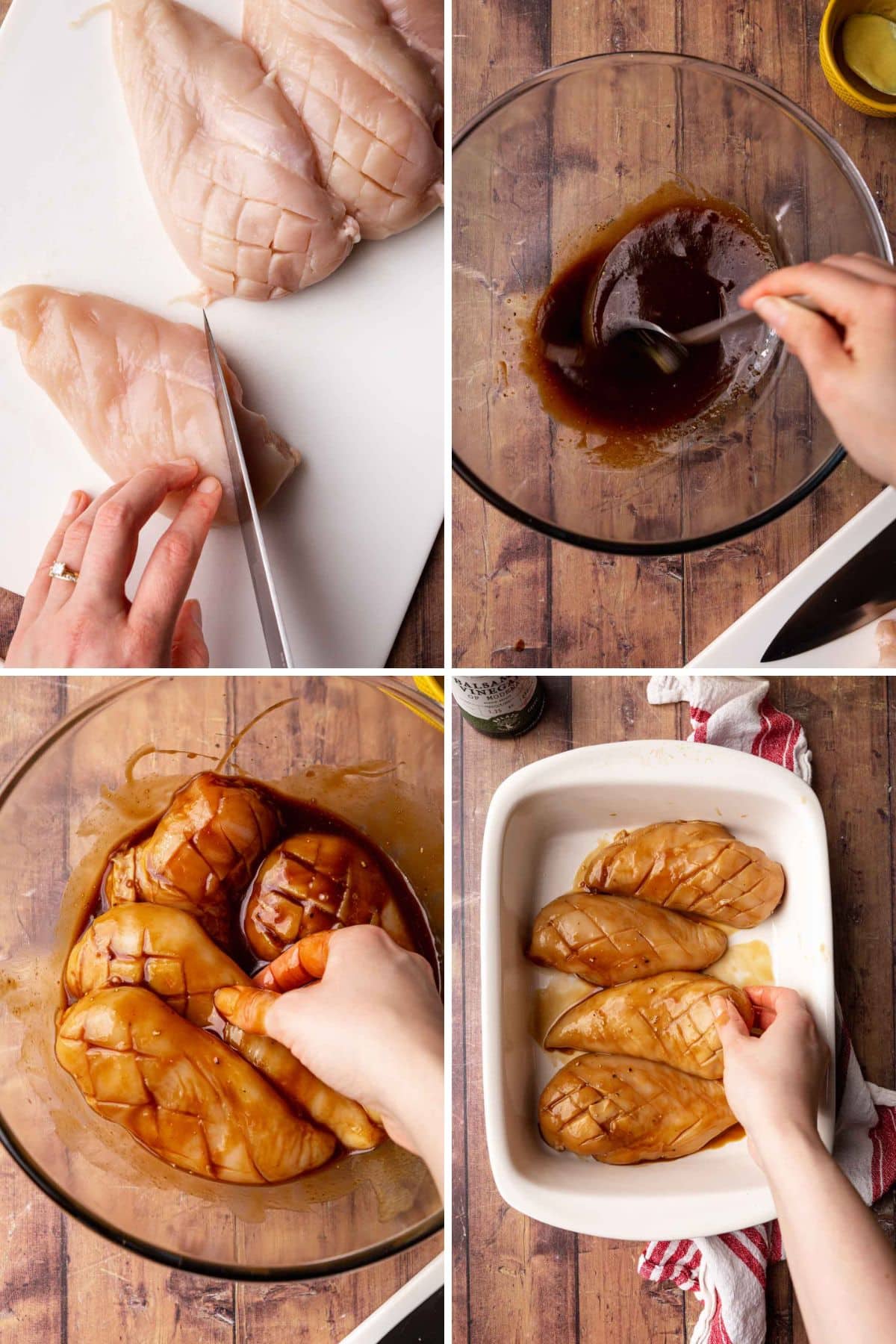 After marinating, all you have to do is bake the chicken until crispy and juicy. While cooking the chicken breast recipe, you'll add white wine to the leftover marinade and cook it into a sweet and savory balsamic sauce to pour over the chicken. Turning the marinade ingredients into a balsamic pan sauce means no waste and deeper flavor profile.
This Balsamic Chicken Breast recipe is such an easy start to any weeknight meal. You can just enjoy the 30-minute chicken dinner with easy sides like Roasted Green Beans, Mashed Potatoes, or Brown Rice. Soft Dinner Rolls make a great side too so you can soak up the extra sauce to get every drop of flavor. Slice up leftover Balsamic Chicken and serve it over a fresh salad or turn leftover chicken into sandwiches. You can even make it in the slow cooker to make it even easier.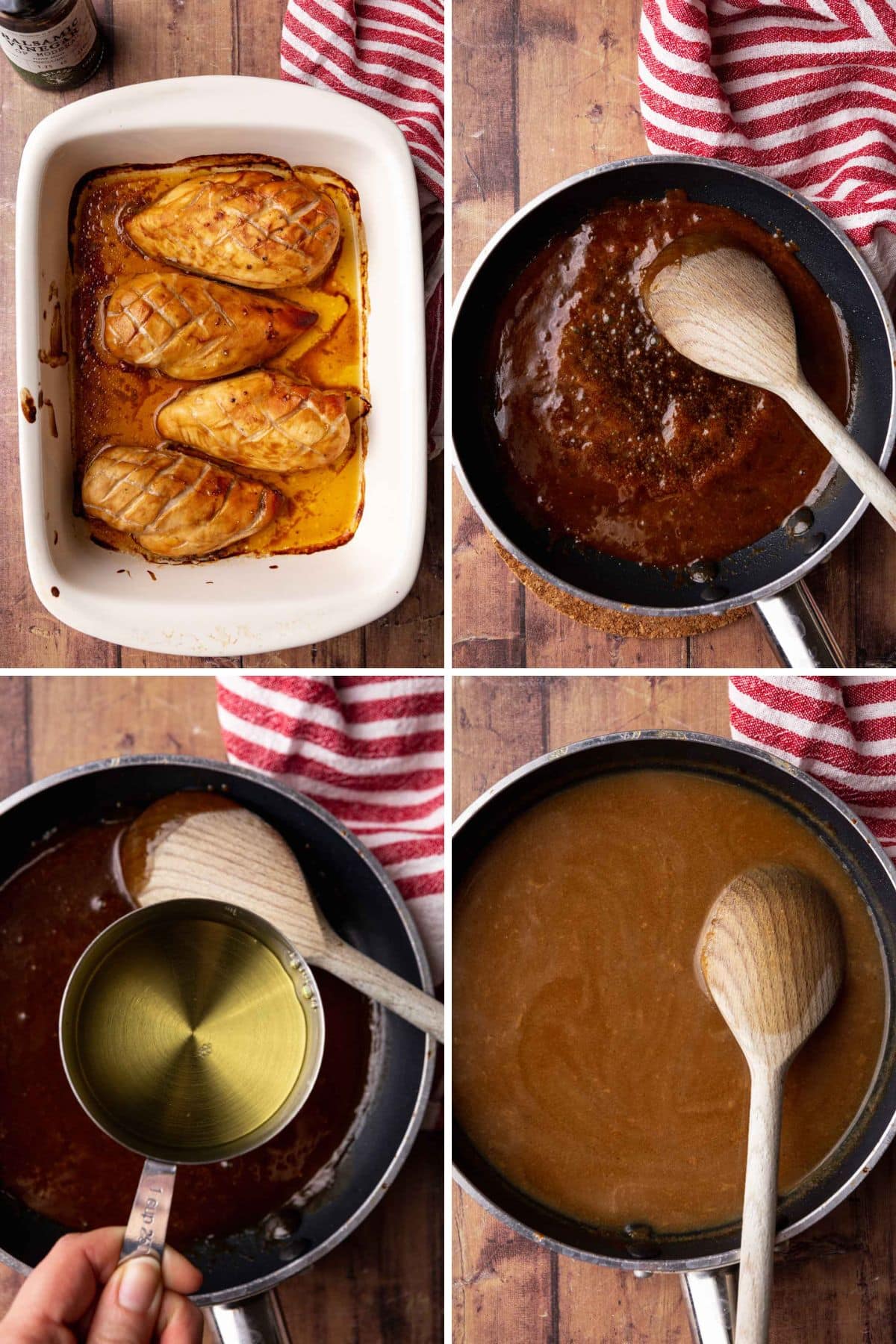 How to Make Balsamic Chicken
Prep Time: To start, score the boneless chicken breasts in an x pattern about ¼ inch deep on the smooth side of each piece of chicken.
Marinade: In a large mixing bowl whisk the balsamic vinegar, brown sugar, vegetable oil, dijon mustard, kosher salt, and black pepper. Continue to whisk until the marinade ingredients are well combined. Place the raw chicken in marinade. Then turn to coat so that the chicken is covered in the sauce. Cover the mixing bowl in plastic wrap and refrigerate for at least 2 hours, but preferably overnight.
Cook Time: Preheat the oven to 400 degrees, and spray a 9×13 inch baking dish with vegetable oil. Remove the chicken from the mixing bowl, and let any excess marinade drip off. Add the balsamic-marinated chicken to the baking dish. Leave the dish uncovered during the bake time, and put the dish in the preheated oven. It should take 25-30 minutes of cooking time to cook the chicken through and browned on the outside.
Balsamic Sauce: While you're cooking the chicken, add the leftover balsamic marinade to a medium saucepan and put it over medium heat. Bring the balsamic sauce ingredients to a simmer. Add in white wine and let the sauce reduce by half for 10-12 minutes. Then pour the rich glaze over the Balsamic Chicken before serving.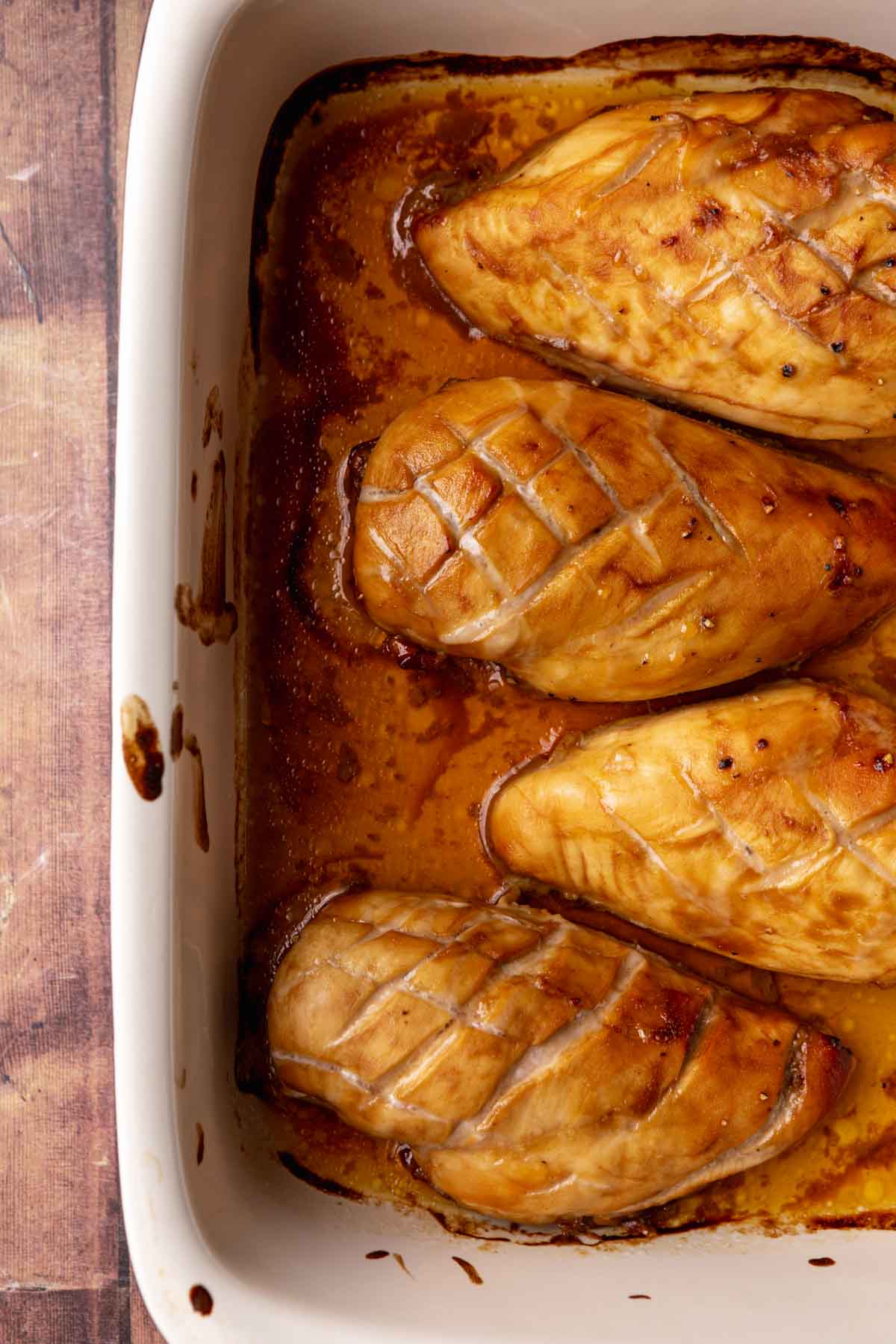 Easy Weeknight Dinner Side Dishes
FAQs for Balsamic Chicken
What is balsamic glaze?
Balsamic glaze is a reduction of balsamic vinegar until it has thickened until it's almost like a syrup consistency. Reducing the vinegar helps cut some of the vinegar tang and bring out the natural sweetness. You can also add sweeteners like honey or brown sugar to enhance the sweetness.
How do I know if the chicken is done?
You can tell that chicken is cooked through when the internal temperature has reached 165 degrees. You can tell fairly easily by cutting one chicken breast in half to make sure it's not pink at the center. But, to be extra safe, use a kitchen thermometer to check the internal temperature.
Do you have to use boneless chicken?
The amazing marinade would taste great with bone-in chicken like Chicken Legs, Rotisserie Chicken, or Chicken Thighs. Pour the marinade over chicken pieces you prefer just like usual, just keep in mind the cooking time will vary so you should use a recipe for baking those cuts of chicken.
How long can you leave chicken in marinade?
You can leave chicken in marinade for up to 48 hours, but really it's best to take your chicken from marinade after a day. If you over-marinate chicken, it will start to break down and not have a great texture.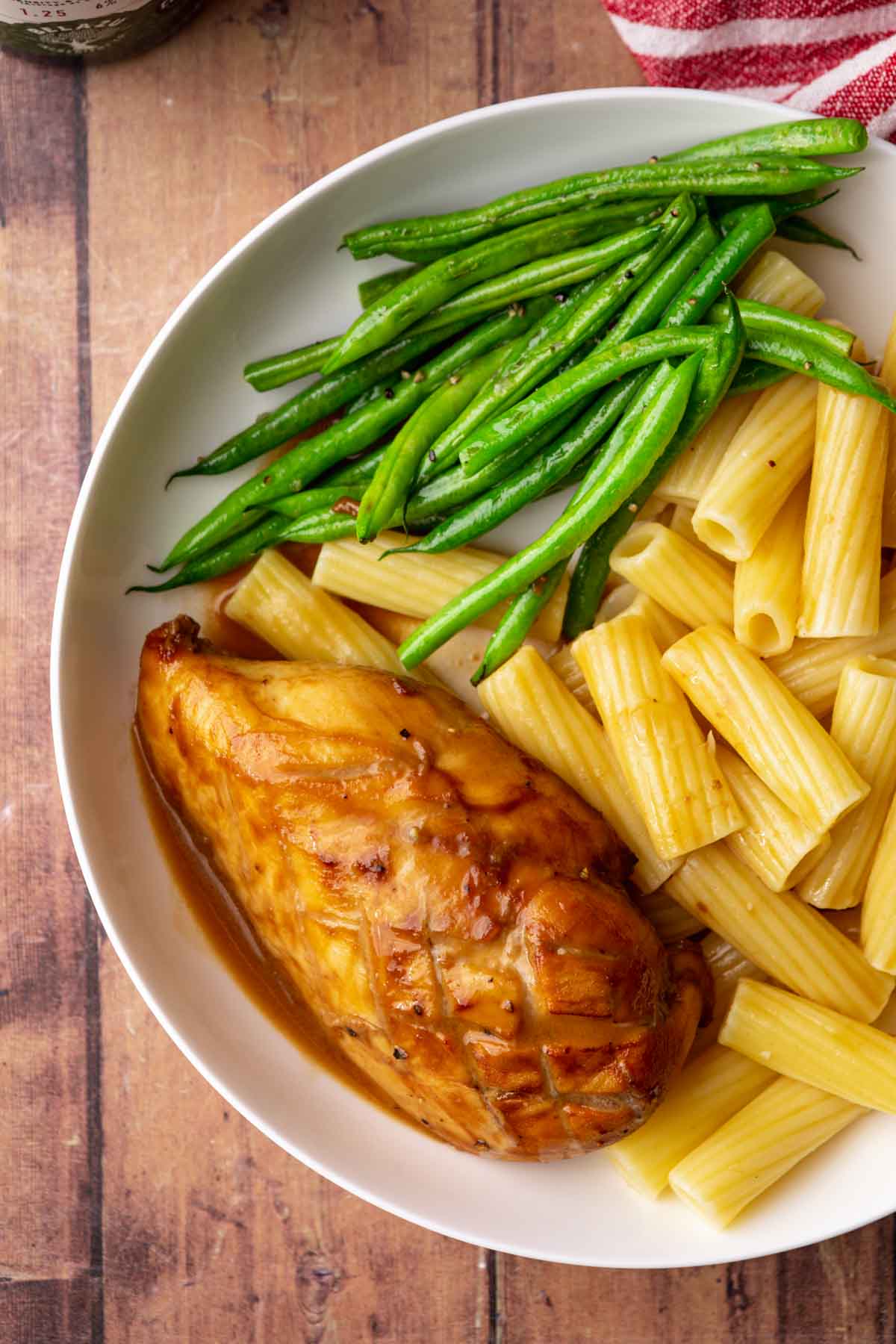 Create a free account to Save Recipes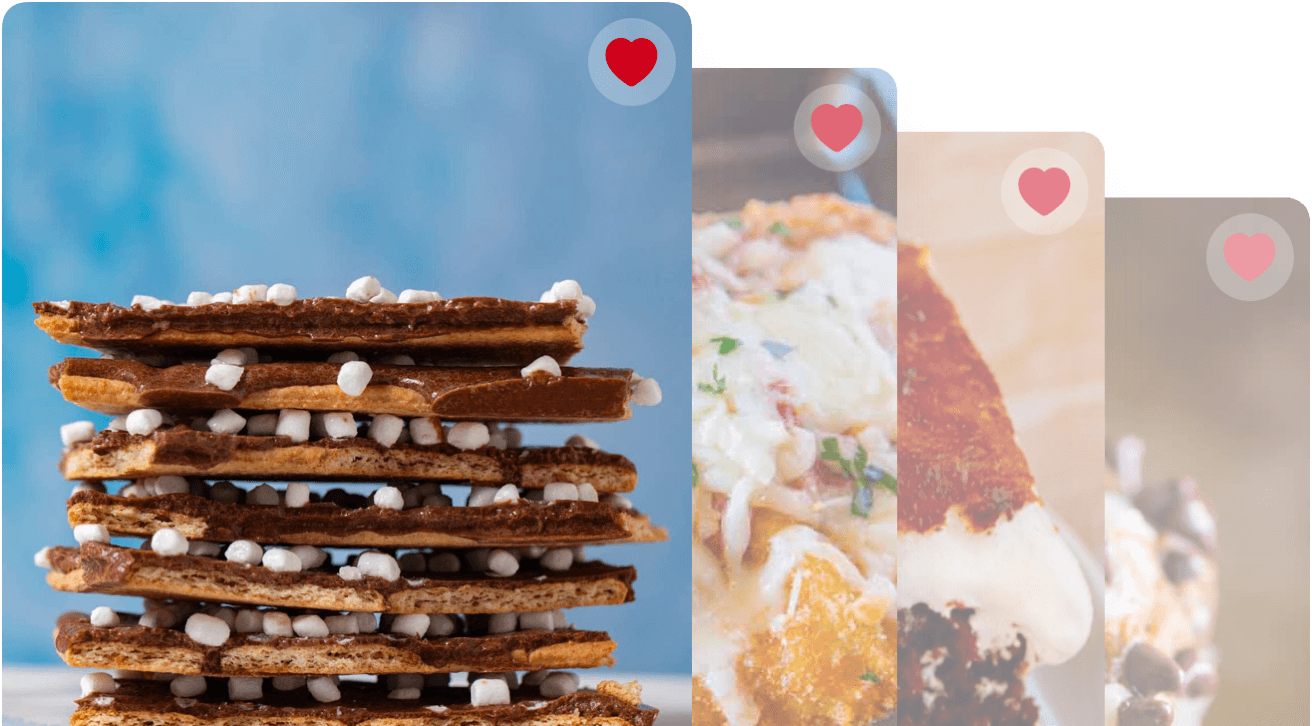 Key Ingredients
Chicken Breasts: You'll need 4 boneless, skinless chicken breasts for this recipe. Make sure you score them before putting them in the marinade. That way, the delicious juices from the balsamic marinade seep all the way to the center of the meat.
Balsamic Vinegar: Balsamic vinegar can be a little expensive, but it adds a lot of flavor, and you can use it in all kinds of recipes. Beyond this recipe, you can add balsamic vinegar to salad dressings, use it for more meat glazes, and toss vegetables in it.
Dijon Mustard: Dijon mustard is made with white wine and wine vinegar so it really compliments the other balsamic sauce ingredients.
Brown Sugar: Adding a little brown sugar to the balsamic sauce ingredients adds a wonderful rich flavor to the otherwise savory ingredients.
White Wine: Add a cup of white wine to the marinade ingredients. This helps take it from a meat marinade to an elegant and complexly flavored sauce to top off your chicken.
Can you make Balsamic Chicken ahead of time?
You definitely need to plan at least a couple hours to marinate the chicken, but you can marinate the meat for up to 48 hours. However, once you remove the chicken from marinade, it will need to be cooked right away or the chicken will dry out so you can't really make the sauce ahead. Keep in mind that it's possible to over-marinate chicken so don't leave it in the sauce for more than 48 hours.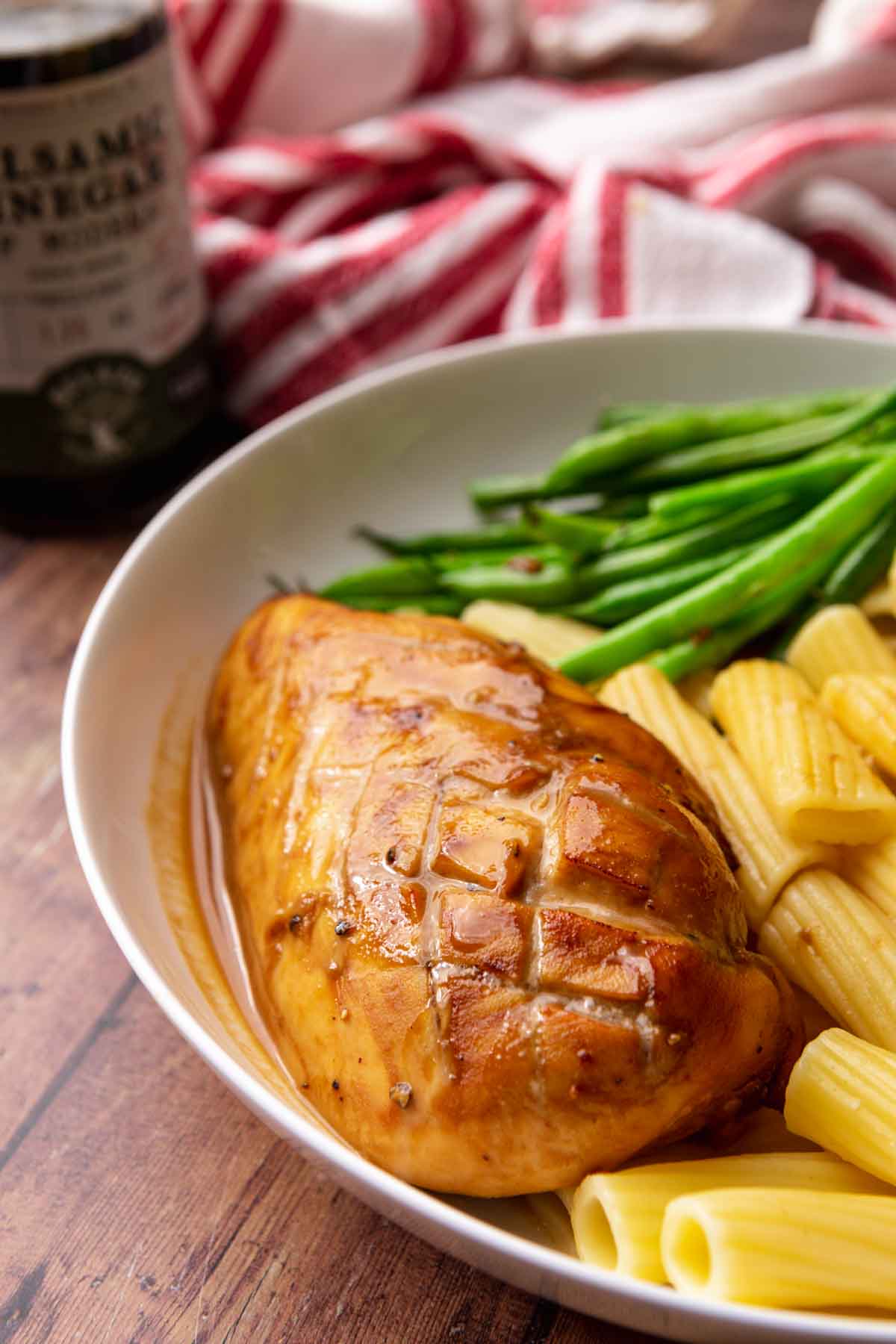 Variations
Flavor Additions: There are lots of flavor boosters that you can add to your marinade by just adding a few ingredients to the original recipe. Try mixing minced garlic cloves, Italian seasoning, or lemon juice for an even more flavorful marinade.
Herbs: Add fresh herbs to your balsamic sauce ingredients for a fresher flavor profile. Fresh rosemary sprigs, fresh basil leaves, or fresh thyme sprigs would bring an amazing flavor.
Mediterranean: Bring out Greek flavors by adding kalamata olives to the baked chicken. Serve the baked olives over each piece of chicken with a sprinkle of feta cheese.
Mozzarella Balsamic Chicken: You could also add creamy mozzarella cheese to this recipe. Using fresh mozzarella and fresh tomatoes makes this chicken dish reminiscent of Caprese Salad. Add a slice of mozzarella and a thin slice of tomato over each cooked chicken breast. Then drizzle balsamic vinegar sauce on top.
Chicken Thighs: Another change you can make is using boneless, skinless chicken thighs instead of chicken breasts. Remember that chicken thighs take a little longer to cook than chicken breasts. So, you'll need to add a few minutes of cooking time to finish the skinless chicken thighs.
Slow Cooker Balsamic Chicken
Score the chicken and prepare the marinade as usual.
Place the chicken breasts in the bottom of the slow cooker and pour marinade over chicken.
Cover and cook on low for 5-6 hours or high for 3-4 hours until chicken is cooked through.
Remove the chicken breast from the cooker and pour the sauce in the cooker into a pan.
Prepare the delicious sauce on stove top according to the recipe card,.
Serve the Slow Cooker Balsamic Chicken with your favorite roasted veggies and potatoes or rice.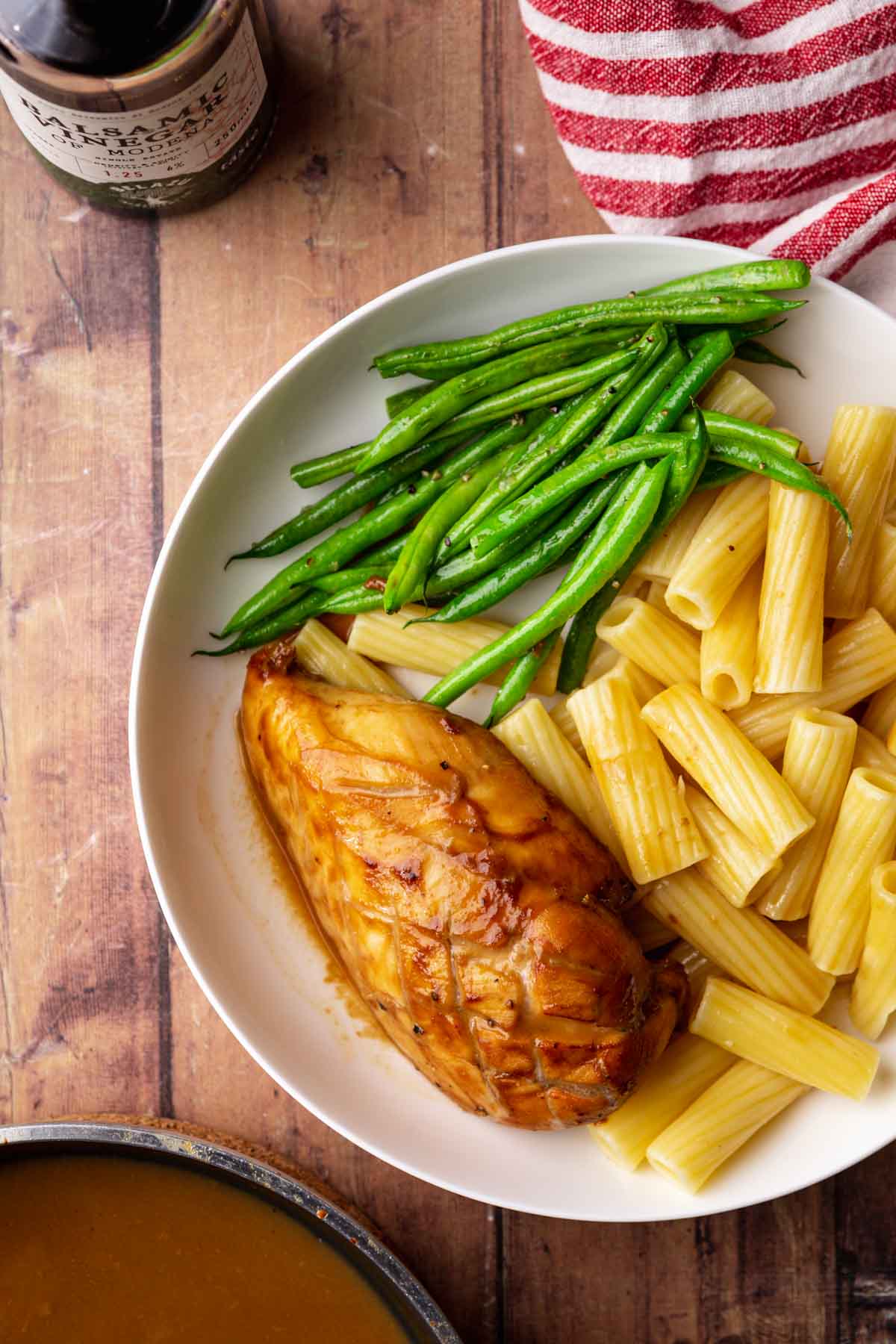 More Baked Chicken Recipes
How to Store
Store: Don't leave Balsamic Chicken at room temperature for more than a couple hours after baking. Store leftover chicken in an airtight container it in the fridge for 3-4 days.
Reheat: To keep your chicken from drying out, it's best to reheat leftover chicken in any extra sauce on the stove top over medium low heat.
Freeze: To freeze chicken, make sure you let the breasts cool completely. Then seal them in a freezer bag or another airtight container. It can stay good frozen for 4-6 months.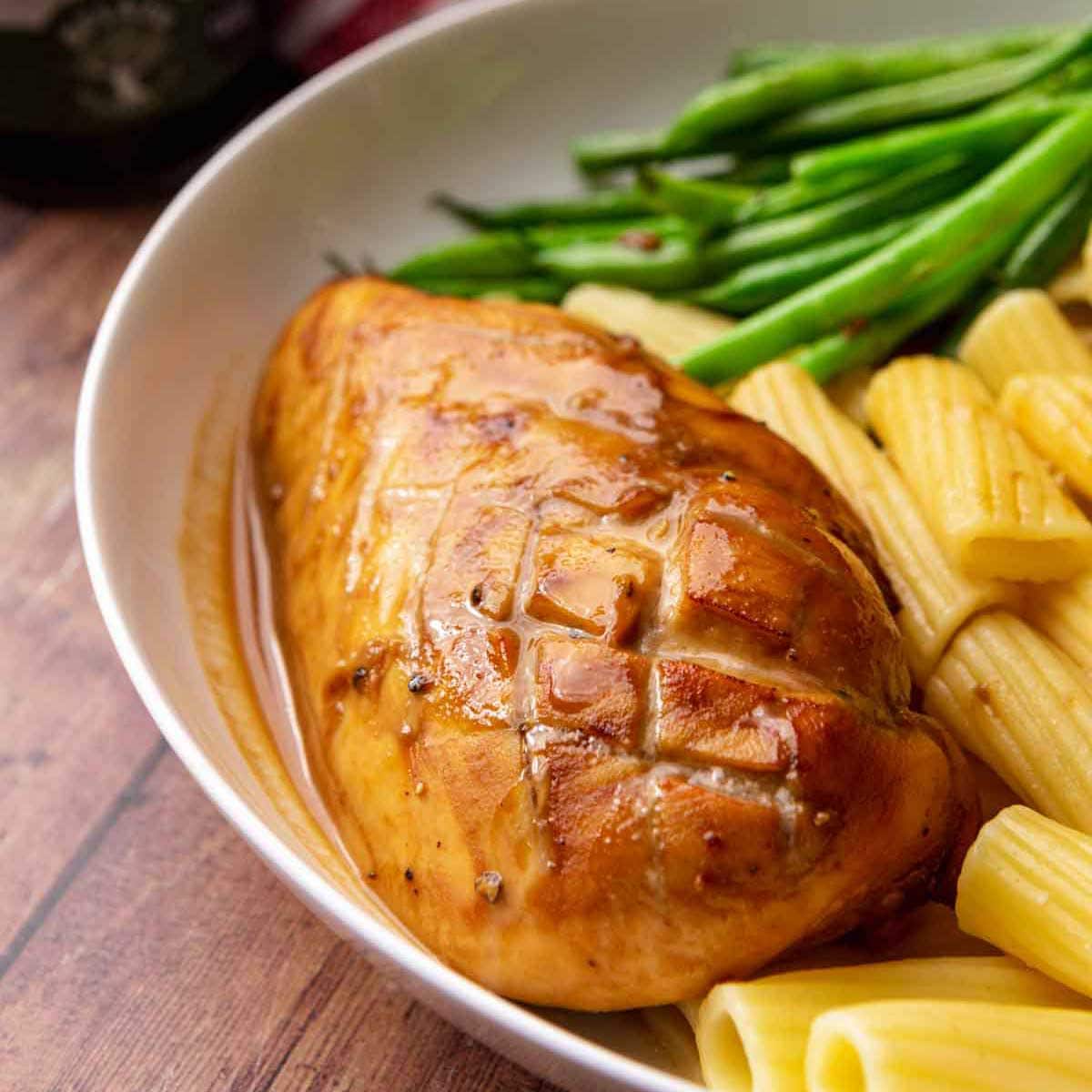 Ingredients
4

chicken breasts

, boneless and skinless

3

tablespoons

balsamic vinegar

3

tablespoons

brown sugar

1

tablespoons

vegetable oil

1

tablespoon

dijon mustard

1

teaspoon

kosher salt

1/2

teaspoon

coarse ground black pepper

1

cup

white wine
Instructions
Score the chicken in an x pattern about ¼ inch deep on the smooth side of the chicken breasts.

To a large bowl or ziplock bag with the balsamic vinegar, brown sugar, vegetable oil, dijon mustard, salt and black pepper.

Whisk well then add in the chicken pieces and turn to coat.

Cover with plastic wrap and refrigerate overnight or for at least

2 hours

.

Pre-heat the oven to 400 degrees and spray a 9×13 baking dish with vegetable oil spray.

Remove chicken from the marinade, let excess drip off the chicken.

Add cut side up to your baking dish, do not crowd the dish or the chicken will steam.

Cook for

25-30 minutes

until browned and cooked through.

While the chicken is cooking add the marinade to a medium saucepan on medium heat.

Bring to a simmer, add in the white wine then let the sauce reduce by half, about

10-12 minutes

.

Serve over the balsamic chicken when it comes out of the oven.
Nutrition
Calories:
385
kcal
|
Carbohydrates:
13
g
|
Protein:
48
g
|
Fat:
9
g
|
Saturated Fat:
2
g
|
Polyunsaturated Fat:
3
g
|
Monounsaturated Fat:
3
g
|
Trans Fat:
1
g
|
Cholesterol:
145
mg
|
Sodium:
894
mg
|
Potassium:
913
mg
|
Fiber:
1
g
|
Sugar:
11
g
|
Vitamin A:
72
IU
|
Vitamin C:
3
mg
|
Calcium:
31
mg
|
Iron:
1
mg