Cranberry Bars are a Christmas coffee shop treat that you can easily make all year round. Buttery brown sugar cake bar recipe with fresh cranberry filling.
As easy as Lemon Crumb Bars with all the delicious fresh cranberry flavor of Cranberry Muffins, this bar is sure to become a new favorite winter treat! These Christmas-inspired Baked Good Recipes are enjoyable any time of day!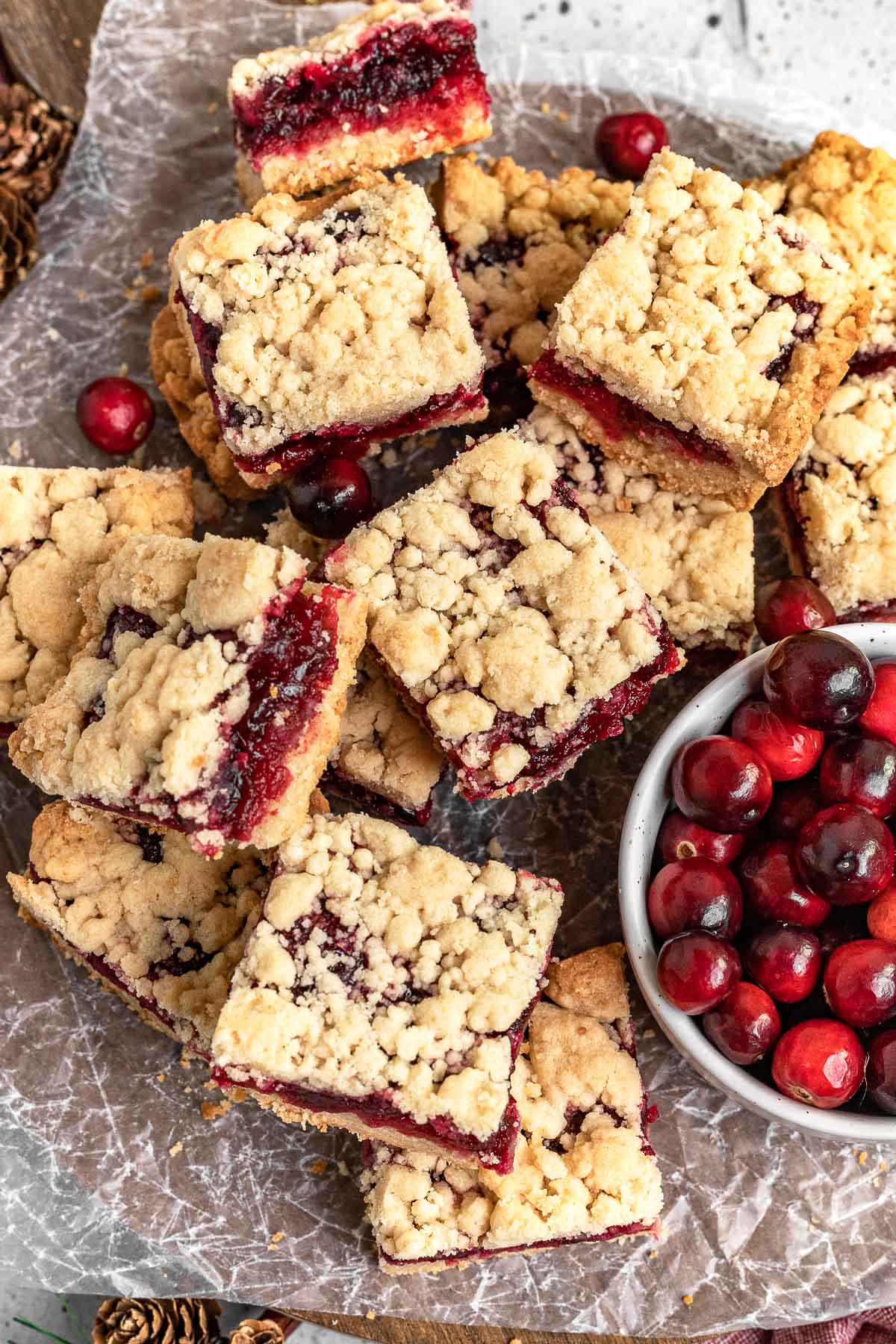 For a few wonderful fall and winter months, kitchens, coffee shops, and bakeries everywhere are filled with delicious holiday treats made with fresh cranberries. Buttery baked goods bursting with tart cranberries like Orange Cranberry Muffins, Cranberry Bread, and these shortbread Cranberry Bars.
If you typically only use fresh cranberries when making cranberry sauce, you are about to have your mind blown! Cranberries are tart like raspberries but with a bursting sweetness like blueberries. You can use fresh cranberries in most of your favorite baked good recipes.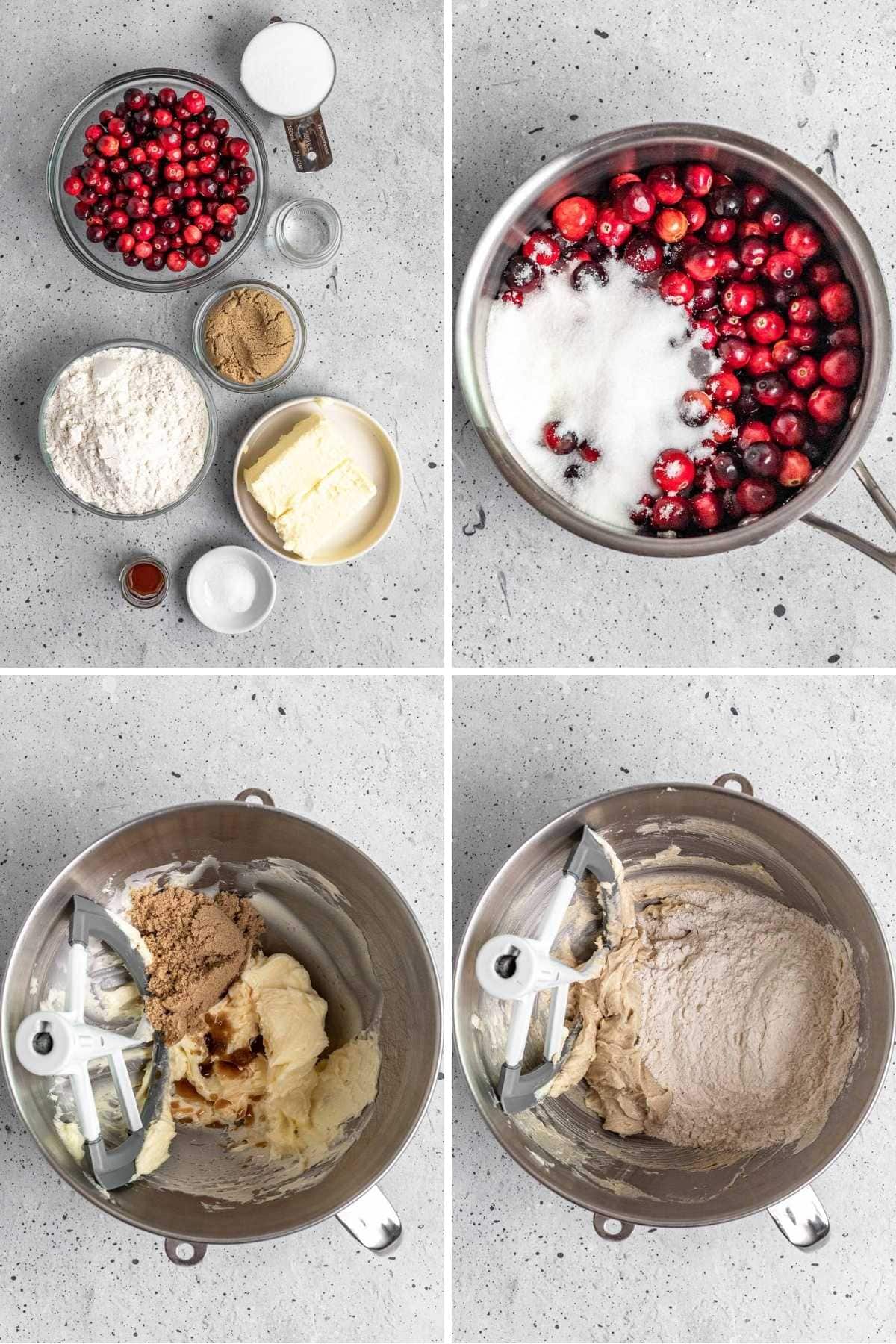 The cranberry filling in these Cranberry Bars gets sweetness from the sugar but the tart cranberries keep it from being too sweet. As the Cranberry Bars rest, the filling soaks into the buttery shortbread crust making it soft and moist. These bars are even better a day or two after they are made!
Despite the longer recipe card, Cranberry Bars are actually very easy to make. This recipe is broken into three parts: crust, filling, crumble. Since the shortbread dough is both the crust and the crumble topping, mixed in one large bowl, cleanup is easy too. What more can you ask for?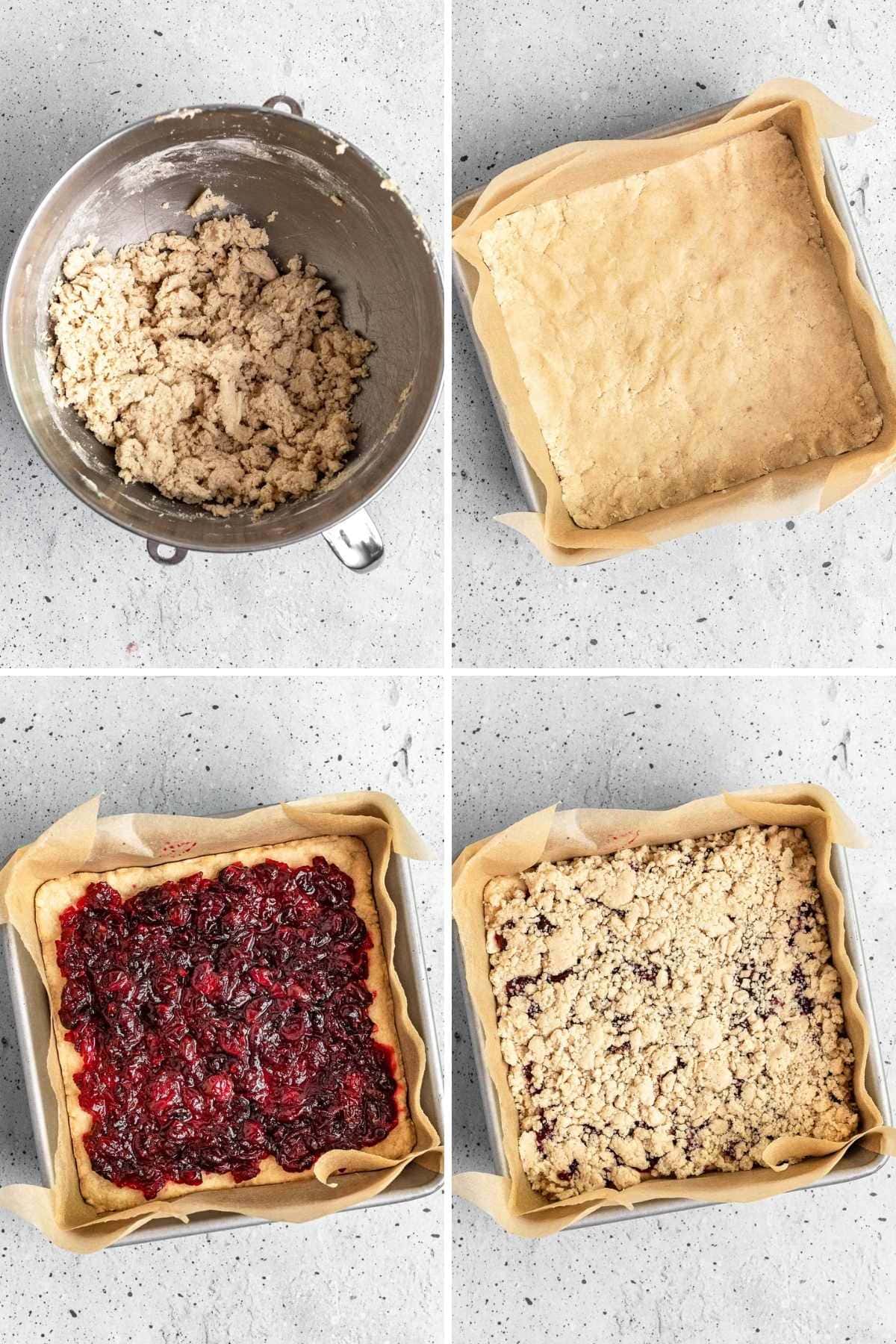 While these Cranberry Bars are very different from Starbucks Cranberry Bliss Bars, they are just as addicting and go just as good with a hot cup of coffee or tea. They make a great breakfast on the go, or top them with some Vanilla Ice Cream for a Christmas dessert. The versatility here is endless. They're also popular among kids and adults alike.
Easy Holiday Breakfasts to Try
Frequently Asked Questions About Cranberry Bars
How should I cut my Cranberry Bars?
You can cut your Cranberry Bars into squares for some nice, easy, classic bars. You can also cut them into long rectangular bars, or into triangles for fun. It is totally up to you and how you want to serve them. Whatever shape you choose, they will still taste delicious.
How do I know when Cranberry Bars are done baking?
The bars will begin to brown on the top when they are done. Watch closely for that golden brown color near the end of your baking time and give it a few more minutes if it isn't brown yet.
Can I use leftover cranberry sauce to make Cranberry Bars?
Many people love to make their own cranberry sauce for the holidays. However, the amount of water in the recipe for cranberry sauce is more than the cranberry filling in these Cranberry Bars. The resulting texture will leave your Bars a bit too wet, so using leftover cranberry sauce is not recommended.
Why are cranberries used so often during the holiday season?
This really comes down to a very simple answer. Cranberries are in peak season between October and December. This aligns perfectly with the Thanksgiving holiday, Christmas, and New Years celebrations, so we see them pop up in lots of holiday recipes.
Tips for Making Cranberry Bars
Substitute frozen cranberries in this recipe. Cooking them in the filling eliminates the need to thaw.
Since fresh cranberries only come in the fall, grab a few extra bags and throw them in the freezer. Frozen cranberries last for almost a whole year! They will be ready whenever the craving for Bars arrives.
These Cranberry Bars are so delicious on their own but why not top them with an orange glaze, Buttercream Frosting, or melted white chocolate?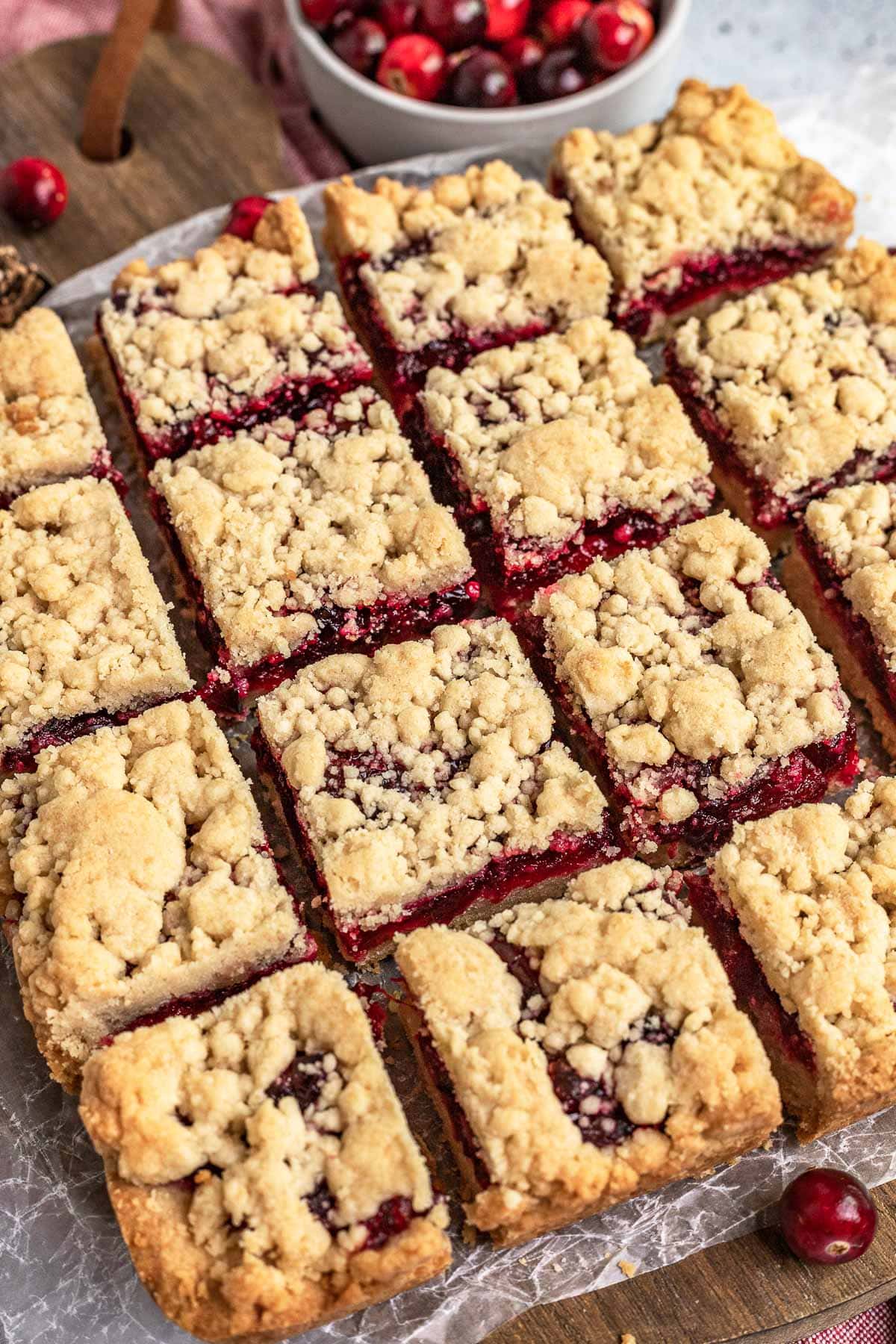 Create a free account to Save Recipes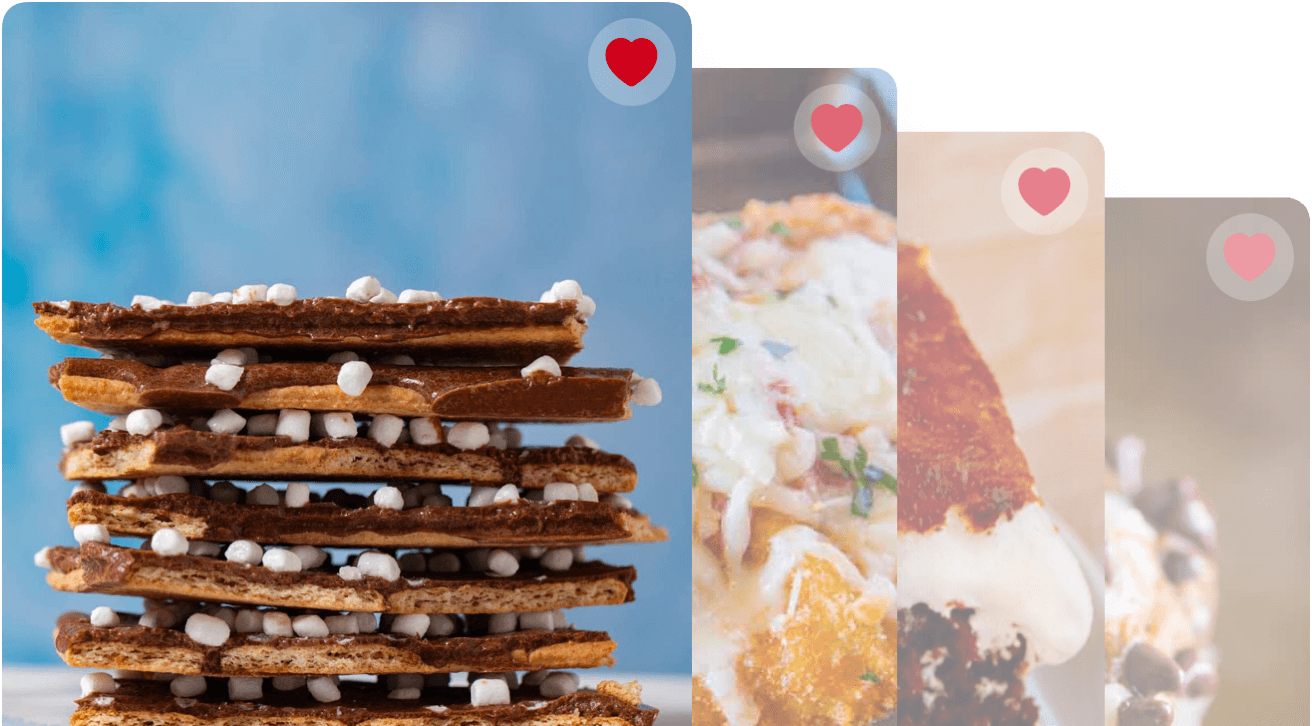 Variations on Cranberry Bars
Cream Cheese Frosting: Top Cranberry Bars with Cream Cheese Frosting after they bake and cool down to room temperature. The Frosting adds a nice creaminess, along with the slight tang from the cream cheese that pairs nicely with the cranberries.
White Chocolate: Melt white chocolate and drizzle over cooked bars or mix in a handful of white chocolate chips to your batter. Either way, the white chocolate will look beautiful with the red of the cranberries, and add a classic flavor pairing everyone will love.
Blueberry Bars: Use fresh blueberries, or raspberries, for a sweeter bar recipe instead of fresh cranberries. Additionally, some lemon juice and lemon zest would taste yummy with blueberry!
Orange Cranberry Bars: Bring out the tart cranberry flavor by adding 2 tablespoons of orange juice and 1 tablespoon of orange zest to both the batter and the cranberry mixture. Orange and Cranberry is a classic flavor combination that works well all year long, especially for the holidays!
Nuts: Finely chop pecans, walnuts, or almonds to add to the crumble topping. Grind almonds to add to your shortbread dough. The nutty flavor, plus the texture of the crunch brings a nice twist to these bars.
Keto: For the low-carb readers, this recipe is a little more complicated to adjust but to make Keto Cranberry Bars, use the ingredients below for Keto Shortbread, and substitute monk fruit sugar (or your preferred low carb sugar) in the cranberry filling.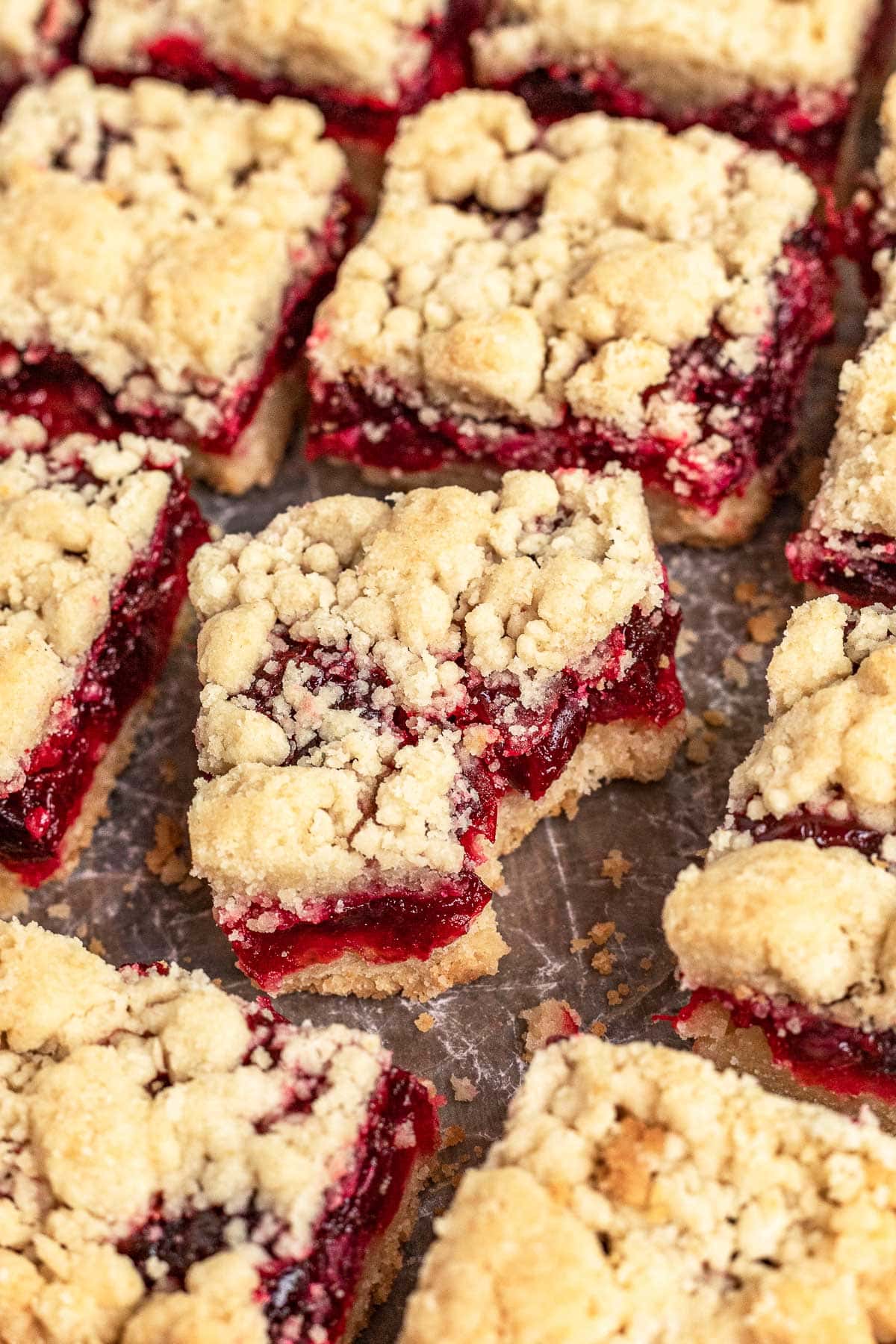 Keto Shortbread Substitute (Low Carb)
To make a Keto Shortbread Dough, combine 6 tablespoons melted butter, 2 cups superfine almond flour, ½ cup Stevia or monk fruit granulated sweetener, and ½ teaspoon almond extract. Use 2/3 of the dough for the crust, and bake for 5 minutes. For more flavor and texture add ground pecans and cinnamon to crumble, bake with filling and crumble for 30 minutes.
How to Make Cranberry Bar Muffins
To make these easier for potlucks or bake sales, bake them into muffins. First, line a 12-cup muffin tin and divide 2/3 of the shortbread dough between the cups. Then bake for about 12-15 minutes. Next, spread cranberry filling evenly on each baked crust and top with crumble. Lastly, bake for an additional 20-25 minutes or until golden brown. These individual Cranberry Bar Muffins make things very convenient in a crowd, or on the go!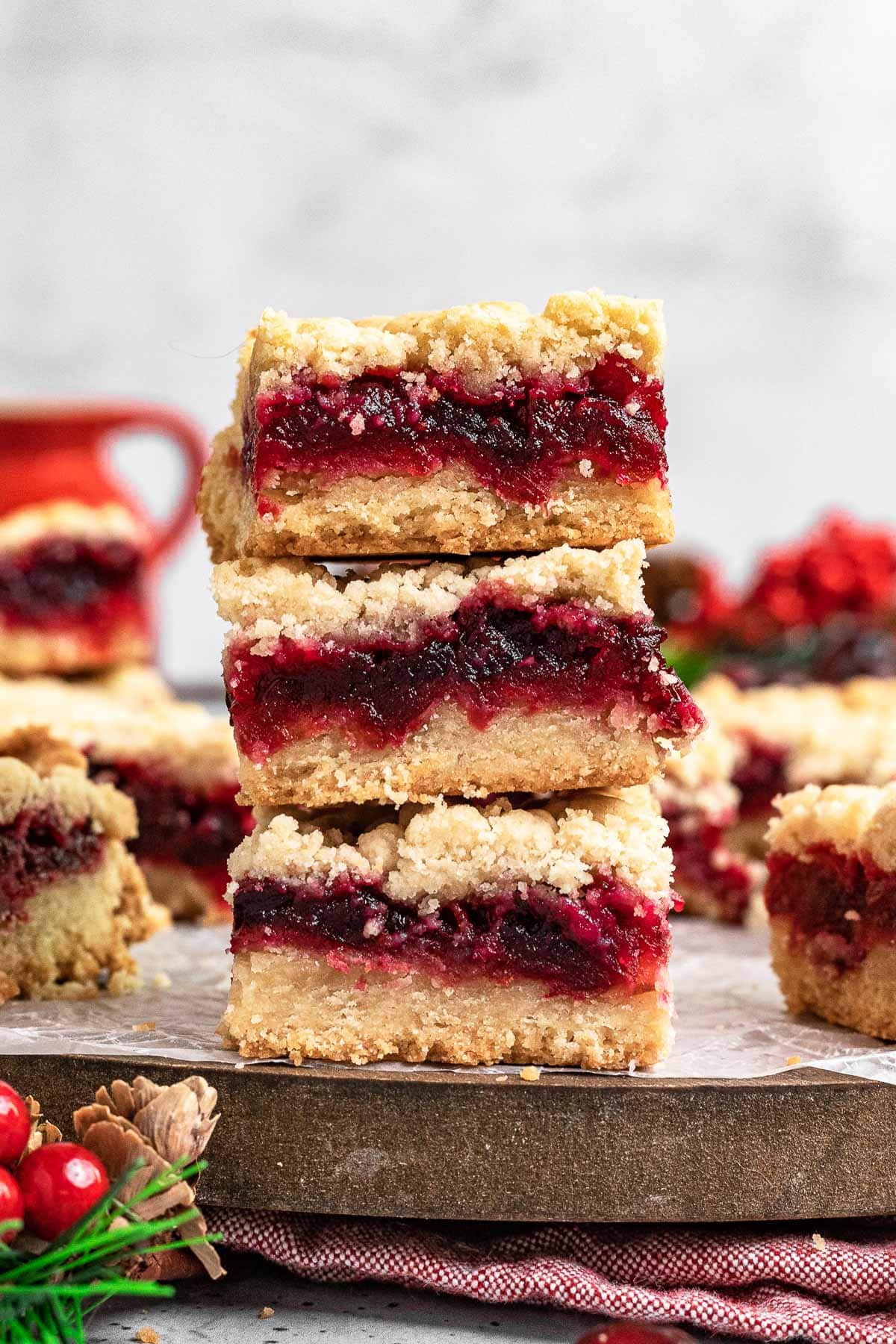 More Delicious Breakfast Recipes
How to Store Cranberry Bars
Serve: These Cranberry Bars are okay at room temperature for up 3 days, stored in a cool dry place.
Store: Keep in an airtight container for up to 1 week. Use parchment if stacking to keep moisture from collecting and bars sticking together.
Freeze: Cool completely before freezing. Freeze in a single layer or with parchment between layers for up to 3 months in a sealed container.


Ingredients
Cranberry Filling:
8

ounces

fresh cranberries

, washed (2 ¼ cups)

2/3

cup

sugar

3

tablespoons

water
Shortbread Bars:
2

cups

flour

1/2

teaspoon

kosher salt

1

cup

butter

, room temperature

1/3

cup

light brown sugar

1

teaspoon

vanilla extract
Instructions
Preheat the oven to 350 degrees F.

In a saucepan over medium heat, combine the cranberries, sugar, and water.

Cook, stirring occasionally until all of the cranberries have popped, and the mixture is thick, about

15 minutes

.

Remove from heat, and set aside to cool.

In a separate bowl sift the salt and the flour, and set aside.

In a large mixing bowl, beat the butter until smooth.

Add the sugar and vanilla extract and beat, on medium-low speed, until creamy and smooth.

Add the flour mixture and beat just until incorporated and you have clumps of batter (not a solid ball of dough).

Oil a square 8×8 pan and evenly press about two-thirds of the shortbread onto the bottom of the pan.

Lightly prick with the tines of a fork. Bake the shortbread about

17 – 18 minutes

or until lightly brown.

Remove from oven and evenly spread the cranberry filling over the shortbread base, leaving a ¼ inch border.

Using your fingers, crumble the remaining shortbread dough over the top of the cranberry filling.

Lightly press the crumbled dough into the filling.

Bake for

25 – 30 minutes

, or until golden brown on top.

Remove from oven and place on a wire rack While still warm, cut into 16 squares.

Allow to cool completely in pan.
Nutrition
Calories:
215
kcal
|
Carbohydrates:
26
g
|
Protein:
2
g
|
Fat:
12
g
|
Saturated Fat:
7
g
|
Polyunsaturated Fat:
1
g
|
Monounsaturated Fat:
3
g
|
Trans Fat:
1
g
|
Cholesterol:
31
mg
|
Sodium:
166
mg
|
Potassium:
38
mg
|
Fiber:
1
g
|
Sugar:
13
g
|
Vitamin A:
363
IU
|
Vitamin C:
2
mg
|
Calcium:
11
mg
|
Iron:
1
mg