Hash Brown Egg Cups are easy, quick breakfast bites! Scrambled eggs with shredded cheese and bacon in a crispy tater tot potato crust baked in a muffin tin.
A hearty Breakfast Casserole makes cooking Breakfast for a crowd easy-peasy. These tasty egg cups are just easy and make a great breakfast on the go!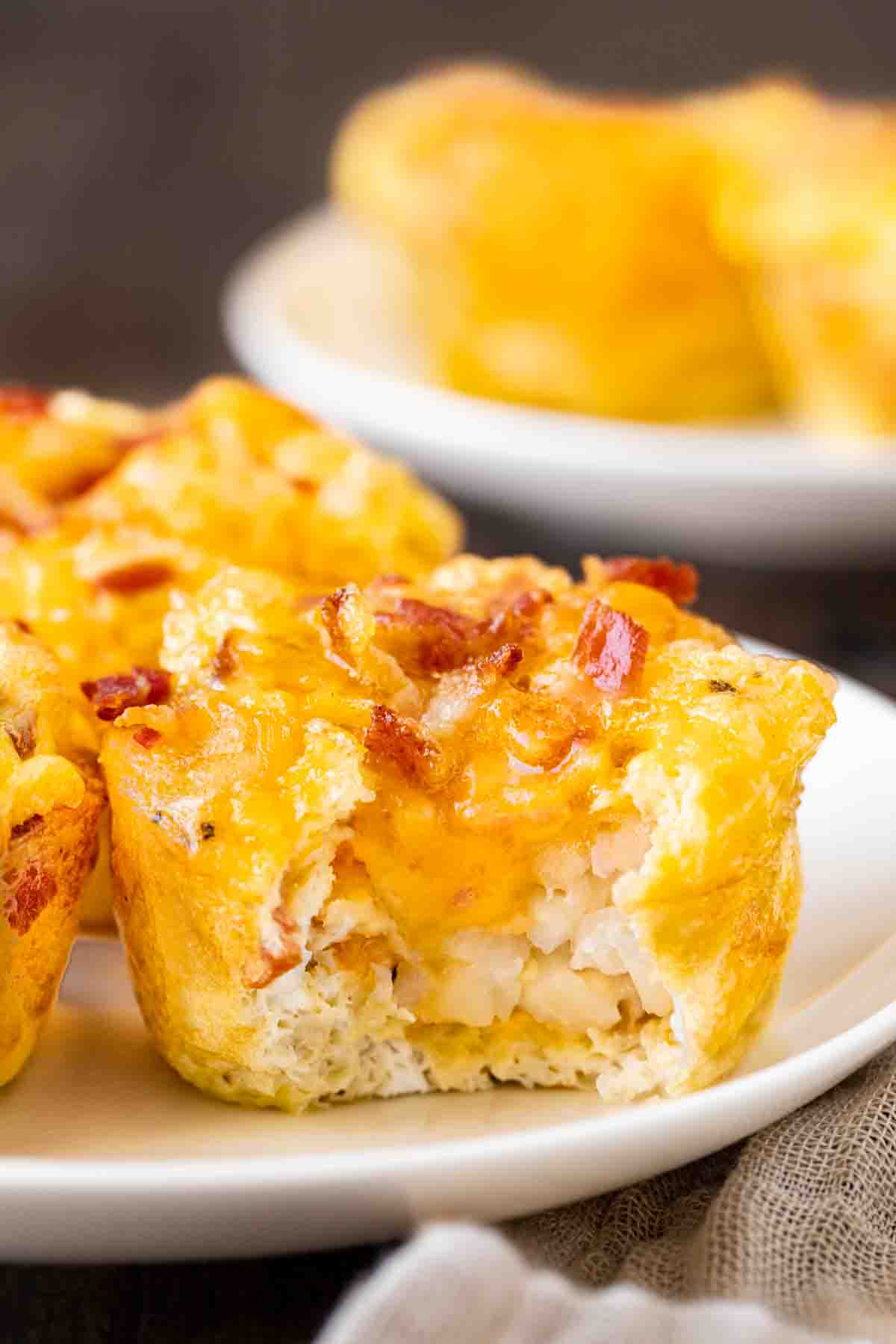 If you are looking for a meal prep breakfast that is easy and quick to make, you can't get much better than this Hash Brown Breakfast Cups recipe. With just 4 ingredients and very little prep work, you can have breakfast ready for the week in just 30 minutes. Skip the bacon strips and they are even quicker with almost no clean-up!
Unlike a lot of Breakfast Egg Cup recipes, this simple recipe uses half the eggs for a healthier, lighter breakfast bite. You can make them even healthier by using all egg whites in the egg mixture or replacing an egg or two with the same equivalent of egg whites. Also, unlike many egg cup recipes, the add-ins are sprinkle on top instead of mixed with the eggs. This makes it easy to make an assortment of flavors, like half bacon and half veggie cups.
The secret to making these Cheesy Egg Cups so easy is using tater tots instead of shredded hash browns. Tater tots are already fried so they get crispy without having to bake them first before topping them with the eggs, cheese, and bacon. Frozen tater tots are also usually seasoned so you don't have to worry about bland potatoes, these cups are packed with salty, delicious fried potato flavor!
These baked Egg Cups can be made ahead of time and kept for almost a week in the refrigerator or freeze them for months for a quick, hearty grab and go breakfast. Hash Brown Egg Cups are a great post-holiday breakfast too. You can use up holiday leftovers like Baked Ham and Roasted Broccoli in your Egg Cup fillings. Grab an extra bag of frozen tots to make Tater Tot Waffles to serve with your Hash Brown Egg Cups.
How to Make Hash Brown Egg Cups
Prep: Preheat the oven and grease a muffin tray, or line with paper cups.
Crust: Press a few tots into the bottom of the cup into an even, flat layer.
Eggs: Beat the eggs with the seasonings until smooth. Pour over crust.
Top: Sprinkle cheese shreds and bacon evenly over the tops of each cup.
Bake: Bake for 15-18 minutes, or until egg is cooked and set.
More Bacon, Egg & Cheese Breakfast Recipes
FAQs for
Hash Brown

Egg Cups

Why are my egg cups rubbery?

Egg cups can become rubbery if they are overcooked. Overcooking causes the proteins in the eggs to denature and form a tough texture, which can result in rubbery egg cups. To avoid this, be sure to keep a close eye on the cooking time and remove the egg cups from the oven as soon as they are set and lightly golden on top.

How do you keep egg cups from sticking to the muffin tin?

To prevent egg cups from sticking to the muffin tin, it is important to thoroughly grease the tin with cooking spray or butter before adding the ingredients. Another option is to line the muffin cups with parchment paper or silicone cupcake liners for easy removal.

What is the difference between Hash Brown Potatoes and Tater Tots?

Hash brown potatoes and tater tots are both made from grated potatoes, but the main difference is in their texture and shape. Hash brown potatoes are typically fried into a flat, crispy patty, while tater tots are cylindrical in shape and have a crispy exterior and soft interior. 

How do I know when the egg cups are fully cooked?

The egg cups are fully cooked when the eggs are set and the cheese is melted and golden brown. You can test this by gently pressing the center of the cup. If it feels firm and the cheese is melted, they are done.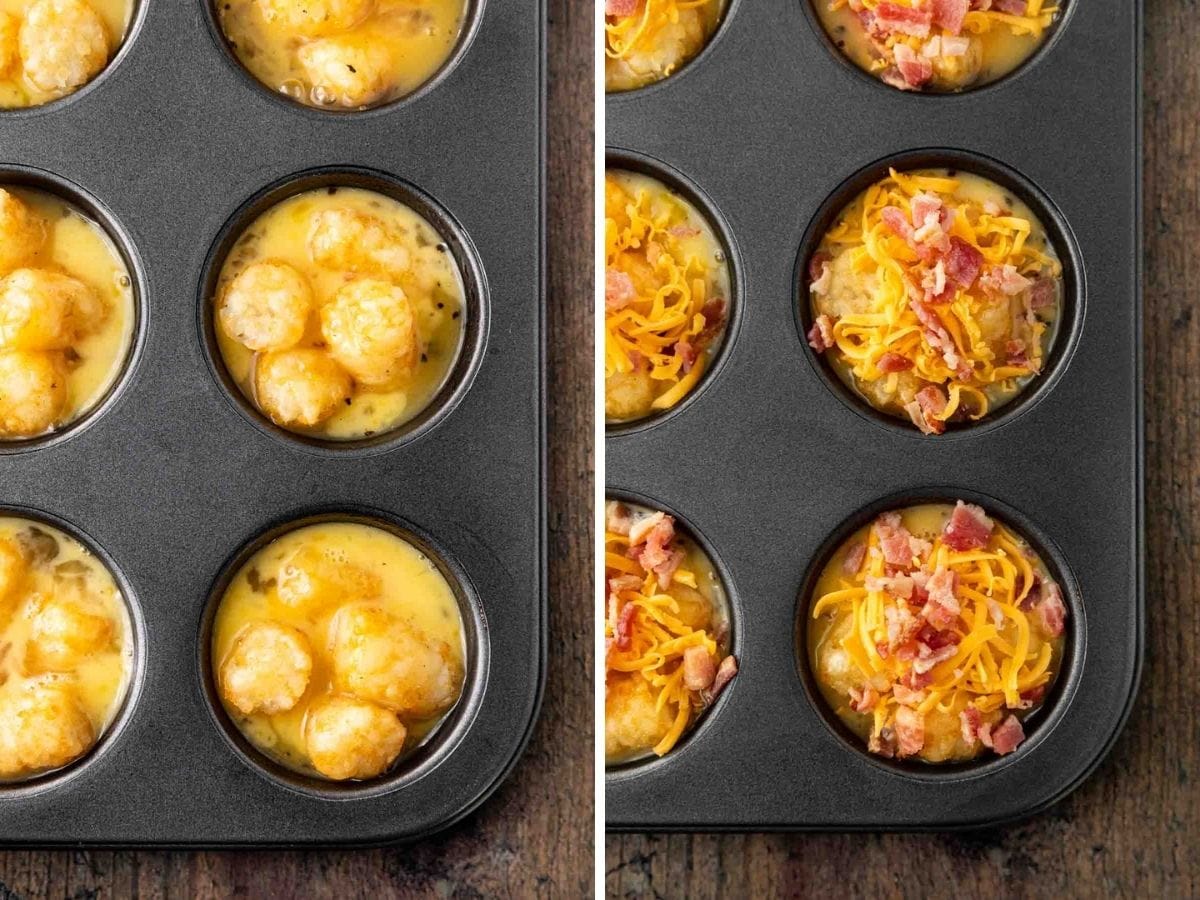 Create a free account to Save Recipes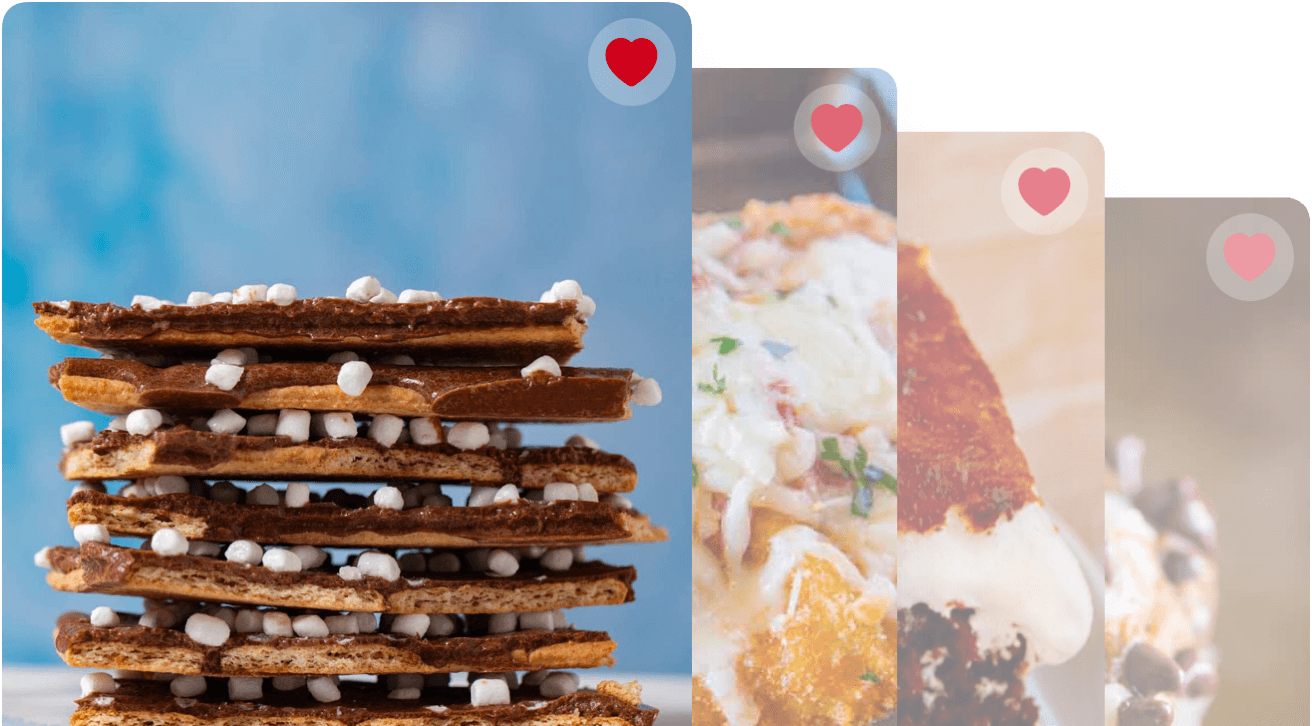 Key Ingredients
Tater Tots: Frozen tots are a convenient, affordable way to make the base of these cups, and let's be honest these little crispy potatoes are always a hit. To create a crispier texture, consider lightly pan-frying the tater tots for a few minutes before using.
Eggs: Whole eggs are the main source of protein and hold everything in the filling together. The rich yolk makes them extra light and moist. For a fluffier texture, you can beat the eggs before mixing in the salt and pepper.
Cheese: Gooey, melty cheese adds flavor and richness to these tasty breakfast bites. You can use any kind of cheddar, or switch it up with whatever cheese you have on hand.
Bacon: Bacon is a classic breakfast protein to add to scrambles, omelets, and these tasty egg cups. The smoky and salty flavor is like no other, and is an easy way to make any savory dish that much better! Consider cooking it beforehand, up to 2 days, to make this recipe that much easier.
Can these be made ahead of time?
Yes, these Hash Brown Egg Cups can be prepped ahead of time. Simply prepare assemble them and store in the refrigerator for up to 24 hours before baking. You could also freeze the baked cups for a grab and heat breakfast. Allow the egg cups to cool completely, then individually wrap them in plastic wrap or aluminum foil and place in a freezer-safe container. They can be frozen for up to 4 months. To reheat, unwrap the egg cups and pop them in the microwave until warmed through.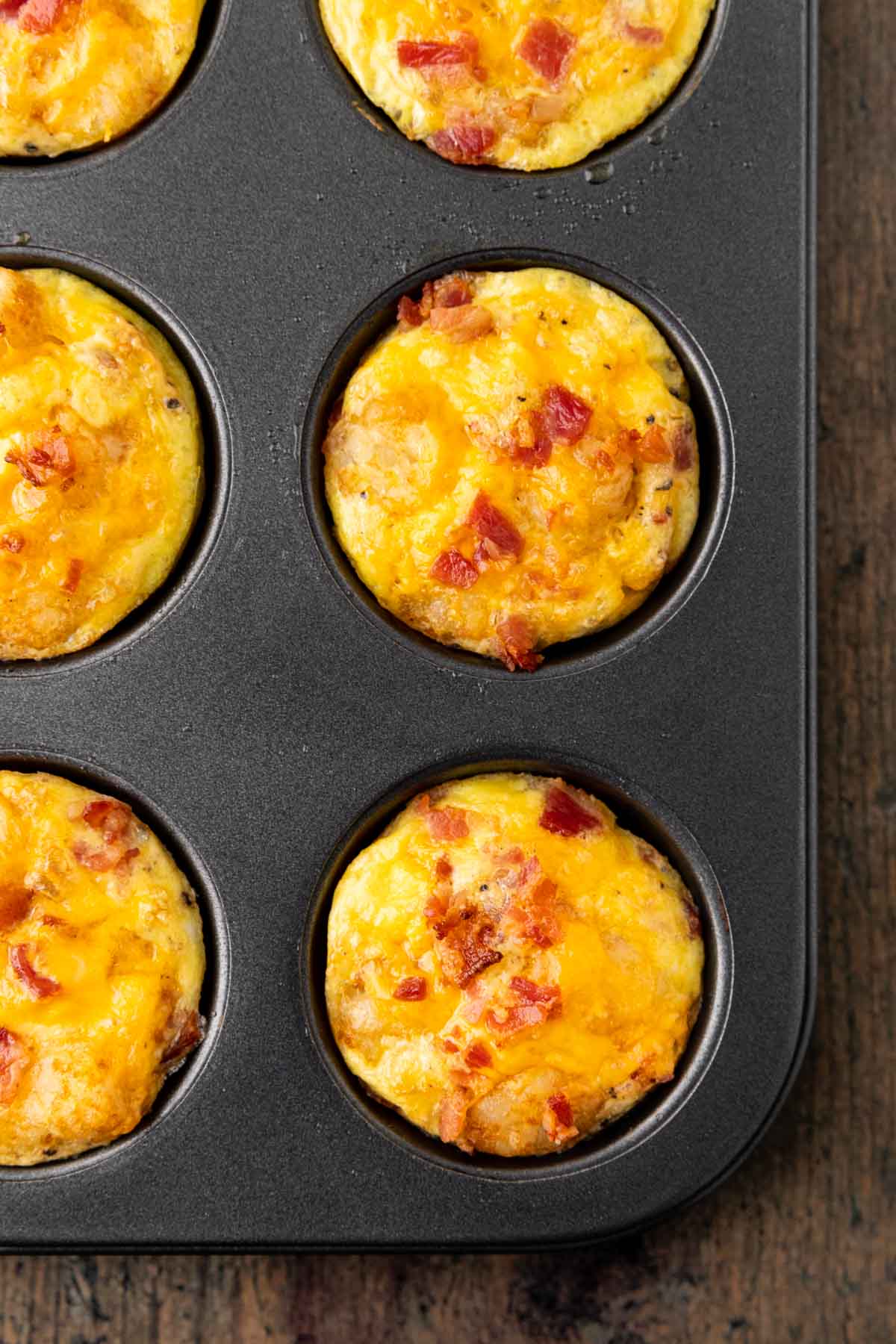 Variations
Sweet Potatoes: Make a sweet potato crust with sweet potato tots or grate a fresh sweet potato hash using the hash brown instructions below. Be sure to season with salt and pepper before baking for flavor.
Homemade Hash Brown Potatoes: For homemade hash brown potatoes, grate 2-3 large russet potatoes and soak shreds in cold water for 30 minutes. Once soaked, season shredded potatoes and bake in muffin cups for 15 minutes before adding the filling.
Cheese: Use other shredded cheese instead of cheddar like Monterey jack cheese, pepper jack cheese, mozzarella, or smoked gouda. You could also use goat cheese, feta cheese, or Parmesan cheese.
Whole Eggs: Sprinkle the tater tot crusts with cooked bacon, then crack a whole egg in each cup. Top with cheese and bake until whites are set and the yolk is to your preference.
Taco: Season the eggs with Taco Seasoning, swap the bacon for chorizo or ground beef, and add some diced green chiles for Taco Egg Cups. Top with avocado!
Florentine: Use chopped spinach and diced tomatoes instead of the meat and swap in a creamier cheese like Monterey Jack, for Florentine Egg Cups.
Italian: Instead of bacon, use Italian sausage crumbles and use Parmesan cheese and Mozzarella cheese instead of cheddar. Add diced mushrooms and drizzle with Pesto Sauce before baking.
Low Carb: Make Low Carb Egg Cups with cauliflower instead of potato crusts. Pulse cauliflower florets until they look like rice kernels. Steam in microwave for 6-8 minutes, then press mixture into muffin cups. Bake for 15-20 minutes, then fill with egg mixture and bake as usual.
Savory Breakfast Recipes for a Crowd
How to Store
Serve: Hash Brown Egg Cups are best warm and can be kept at room temperature for up to 2 hours. You can keep them warm, covered with foil, in the oven for about an hour.
Store: Cool Egg Cups before storing in an airtight container in the refrigerator for up to 4 days. Wrap in a paper towel, sprinkled with water, and microwave in 30-second bursts until hot.
Freeze: Freeze Egg Cups on a baking sheet for one hour before storing them in a plastic bag so they don't stick together. You can also wrap each Egg Cup in foil before storing. Keep frozen for up to 4 months and reheat from frozen or thaw first.


Ingredients
48

tater tots

, thawed

5

large eggs

1/2

teaspoon

kosher salt

1/4

teaspoon

coarse black pepper

1/2

cup

shredded cheddar cheese

4

slices

bacon

, cooked and crumbled
Instructions
Preheat oven to 400 degrees and spray a 12-cup muffin tin with baking spray.

Add 4 tater tots to each muffin cup.

Mix the eggs with the salt and pepper in a small bowl for

2-3 seconds

.

Pour into the muffin cups.

Top with cheddar cheese and bacon.
Nutrition
Calories:
131
kcal
|
Carbohydrates:
10
g
|
Protein:
6
g
|
Fat:
8
g
|
Saturated Fat:
2
g
|
Polyunsaturated Fat:
2
g
|
Monounsaturated Fat:
3
g
|
Trans Fat:
1
g
|
Cholesterol:
77
mg
|
Sodium:
425
mg
|
Potassium:
143
mg
|
Fiber:
1
g
|
Sugar:
1
g
|
Vitamin A:
148
IU
|
Vitamin C:
3
mg
|
Calcium:
49
mg
|
Iron:
1
mg