Fresh Lemon Pie recipe is a refreshing dessert with a creamy filling full of lemon flavor! Sour cream lemon pie in a graham cracker crust.
It's no wonder that Lemon Meringue Pie and Key Lime Pie are some of the most popular Fruit Pie Recipes. The cool, creamy filling and tons of fresh flavors from real fruit make the perfect Summer Dessert!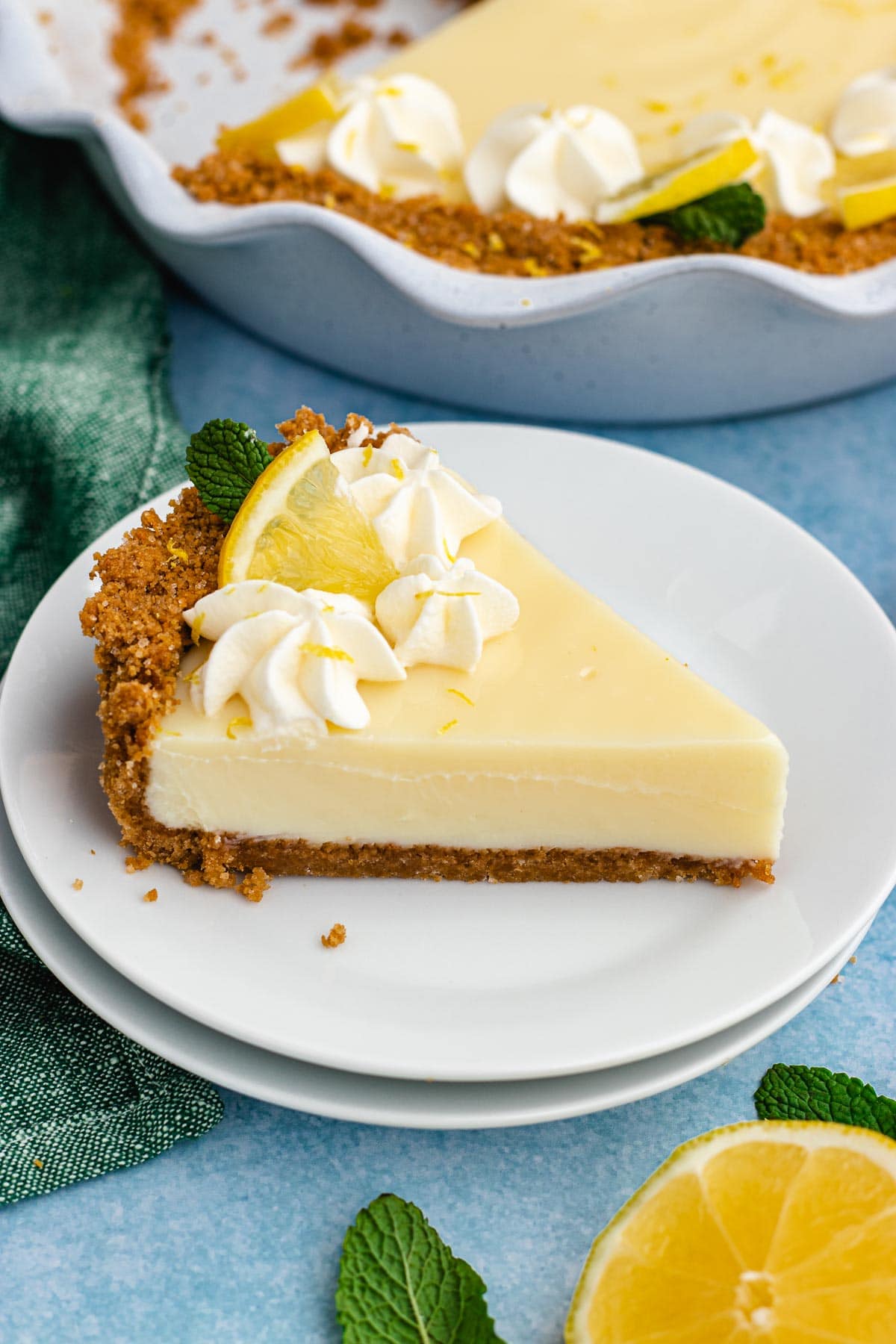 If you are looking for a refreshing and easy-to-make dessert, then Lemon Pie is the perfect recipe for you. This delicious dessert is a tart and creamy treat with just the right amount of sweetness. One of the best things about this creamy Lemon Pie recipe is that it requires only a few ingredients and cooking beforehand. Even if you are not an experienced baker, you can easily make this dessert with just a few simple steps.
This lemony cream pie has the same creamy, dreamy texture as a custard pie with far less work. Unlike popular custard pies, there's no whisking egg yolks into hot cream or worrying about making a custard correctly. Instead it's just mix everything in a bowl, pour it into a partially baked crust, bake for a couple minutes then chill to set!
The sweet Graham Cracker Crust, creamy lemon filling, and fluffy Whipped Cream topping make this dessert irresistible. Whether you are hosting a summer barbecue, a family gathering, or just looking for a sweet treat, Lemon Pie is a crowd-pleaser that will leave your taste buds wanting more.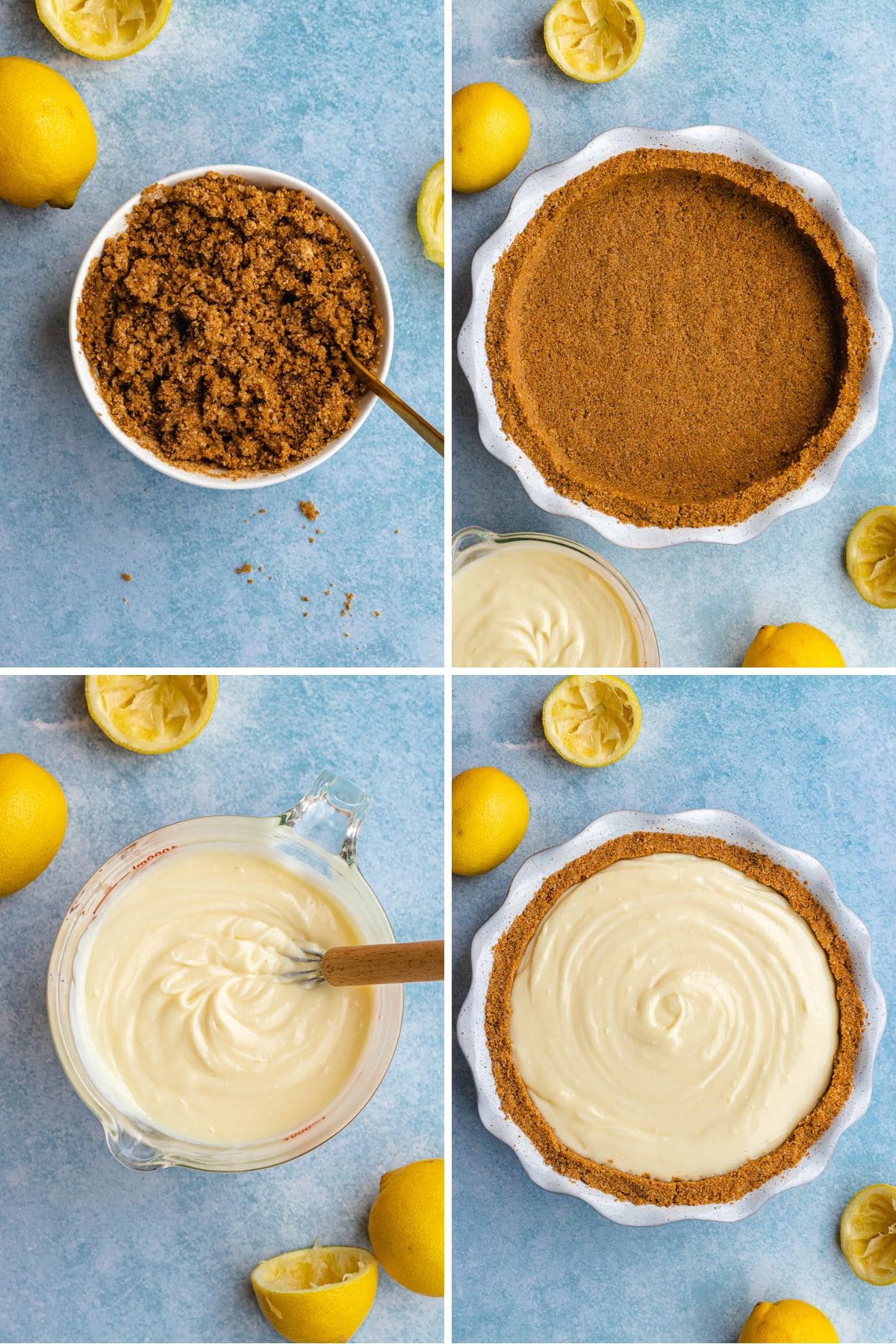 What is Lemon Pie?
Lemon Pie is a dessert that is made with a crust, lemon filling, and whipped cream. The crust can be made with graham crackers, pastry dough, or even shortbread. The filling is made with sweetened condensed milk, sour cream, lemon juice, and sometimes lemon zest. This filling is creamy, tangy, and has a refreshing lemon flavor. The whipped cream is usually added on top of the pie, and it provides a light and fluffy texture that complements the tartness of the lemon filling.
What is the difference between Lemon Pie and Lemon Meringue Pie?
While both pies have a lemon filling and whipped topping, the preparation and ingredients quite different. Lemon Meringue Pie has a meringue topping made with egg whites and sugar, while Lemon Pie has a whipped cream topping. Additionally, Lemon Meringue Pie has an egg yolk custard filling, while Lemon Pie has thick filling made without eggs, instead using sour cream and condensed milk. Overall, both pies are delicious with a bold lemon flavor, but they have distinct differences.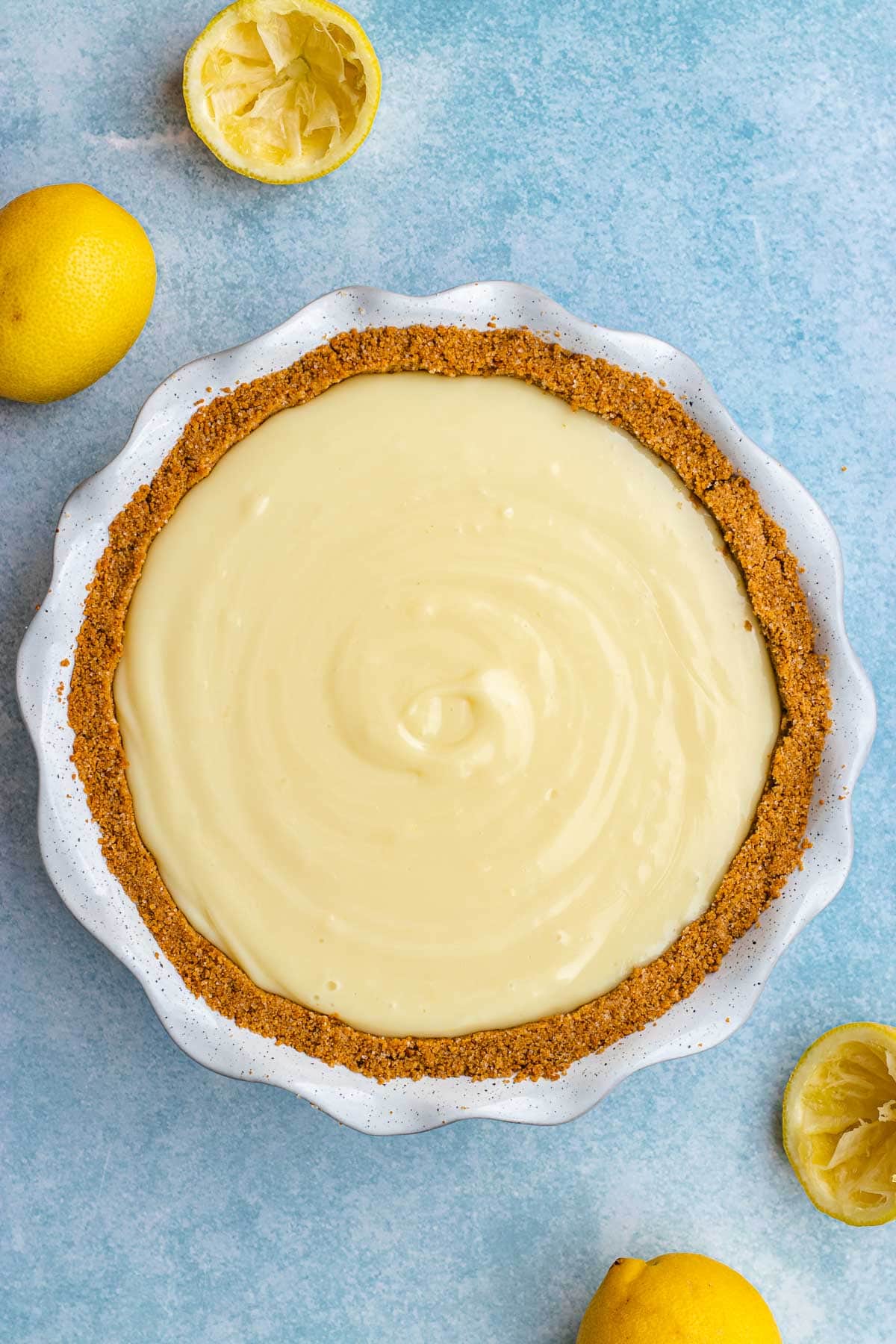 How to Make Lemon Pie
Crust: Preheat your oven. Combine the graham cracker crumbs with the butter and sugar until they have a wet sand consistency. Press the crust mixture into an 8-inch pie dish. Bake for 7 minutes.
Filling: While the crust is baking, combine the condensed milk, sour cream, and lemon juice in a large bowl. Whisk until completely smooth. Pour the filling into the baked crust.
Bake: Return the filled crust to the oven and bake for an additional 5-8 minutes. You are looking for tiny bubbles just beginning to form. Keep an eye on it because you don't want to let the pie brown at all.
Serve: Cool the pie for a bit, then refrigerate uncovered for at least 2 hours, or until the filling is completely set. Pipe whipped cream around the edge of the set pie and serve. Keep the pie chilled when not serving.
More Creamy Lemon Desserts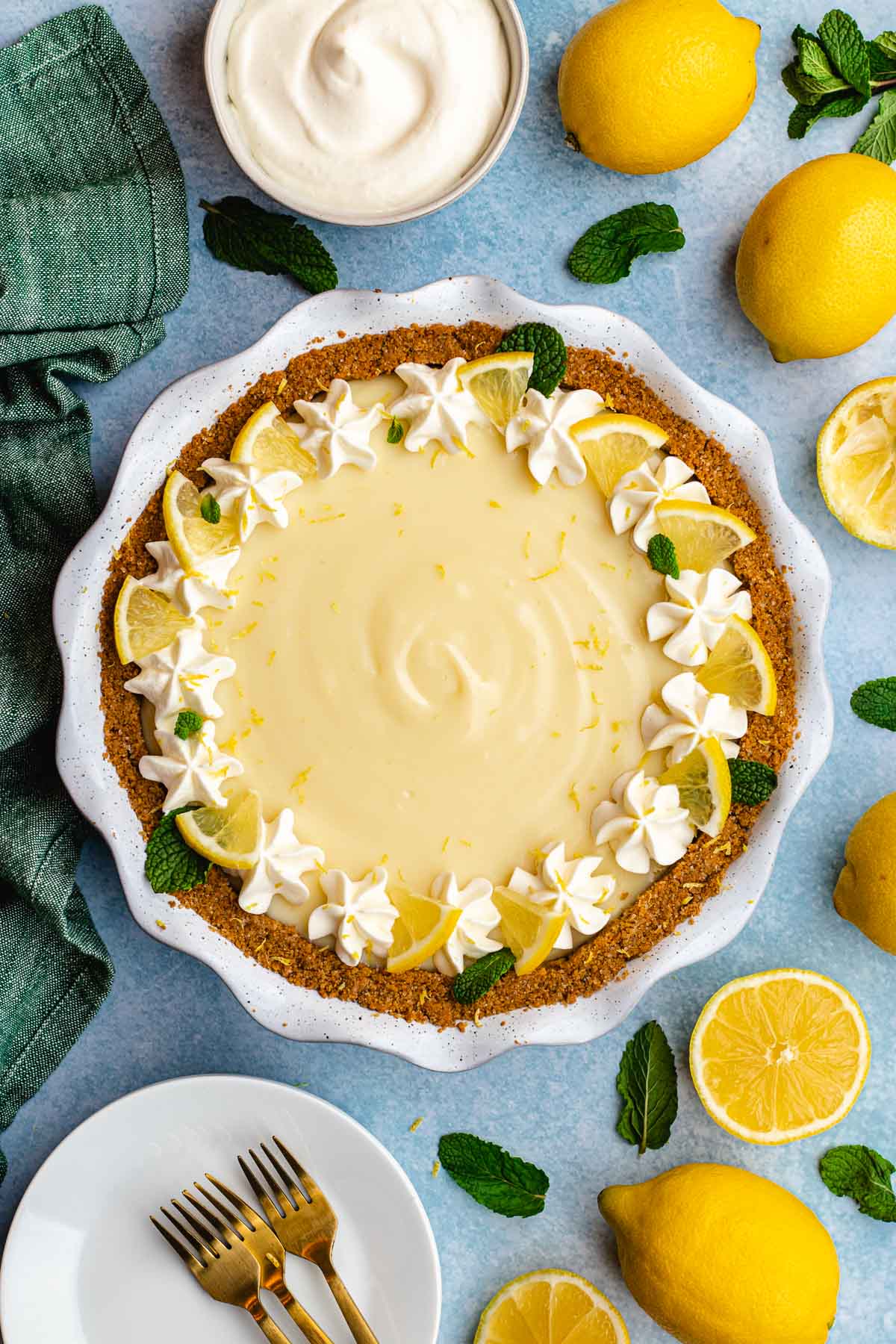 FAQs for Lemon Pie
How many lemons do I need to make ¾ cup lemon juice?
The number of lemons you will need to make ¾ cup of lemon juice depends on the size and juiciness of the lemons. On average, one lemon yields about ¼ to ⅓ cup of juice, so you will need approximately 2 to 3 lemons to make ¾ cup of lemon juice. It's always best to have a few extra lemons on hand just in case you need more juice.
Why did my lemon pie come out watery?
If your Lemon Pie came out watery, it may be due to overbaking, underbaking, or not using enough sweetened condensed milk or sour cream in the filling. Additionally, if the lemon juice used was not fresh, it may not have enough acid to thicken the filling properly.
Is lemon pie filling the same as lemon curd?
Lemon pie filling and lemon curd are not the same, although they have similar ingredients. Lemon pie filling usually contains sweetened condensed milk and sour cream, while lemon curd is a custard filling made with butter, eggs, sugar, and lemon juice, and has a thicker consistency.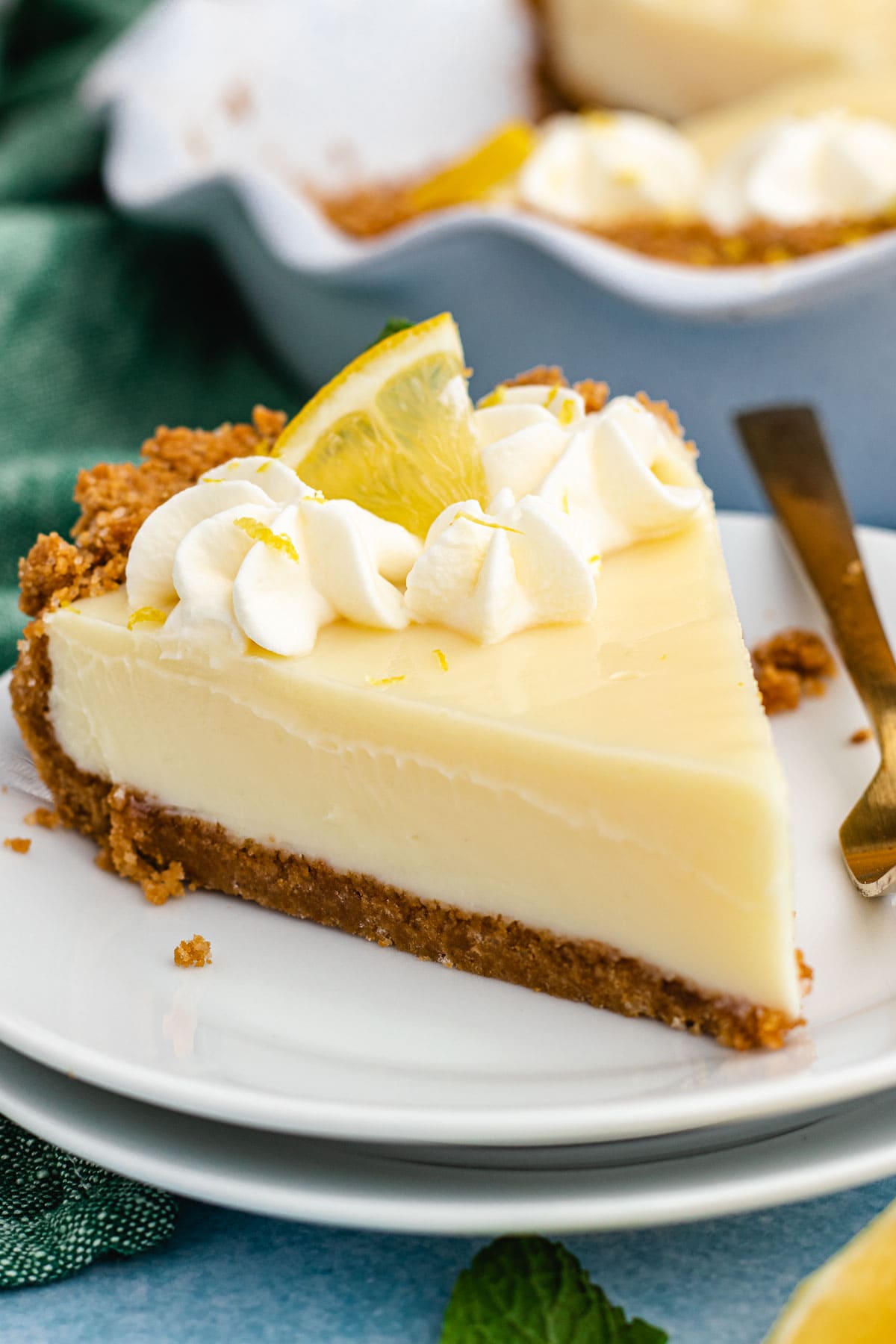 Create a free account to

Save Recipes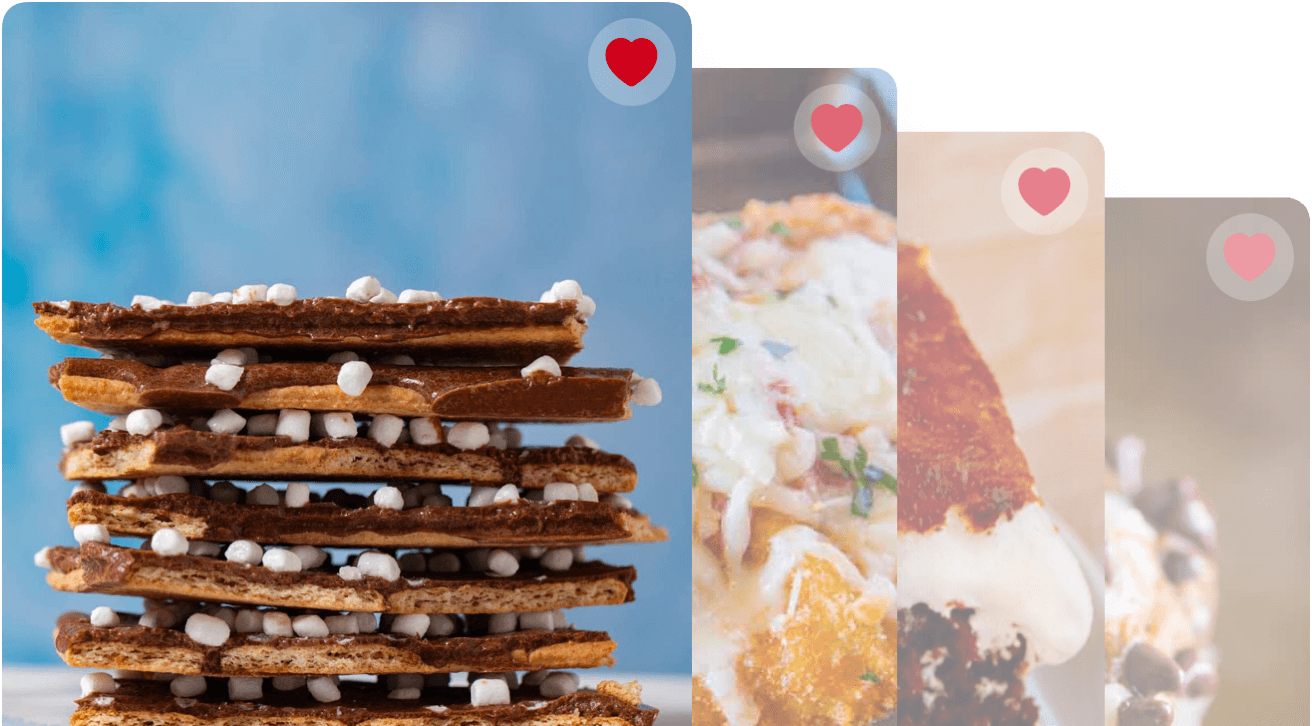 Key Ingredients
Graham Cracker Crust: The crust is a simple graham cracker crust made with crushed graham crackers, butter, and sugar. Unlike a pastry crust, it doesn't technically need to be baked but baking it does help it hold the creamy filling without crumbling.
Condensed Milk: Sweetened condensed milk is a key ingredient in the filling and provides a creamy texture. The sticky sweet milk thickens the filling and adds the perfect amount of sugar without making the pie too sweet.
Sour Cream: Sour cream adds a tangy flavor and extra creaminess to the filling. It reacts to the acid in the lemon juice which causes the mixture to firm up and set as it chills.
Lemon Juice: Almost a full cup of fresh lemon juice not only gives this creamy Lemon Pie intense lemon flavor, it's key to helping the hot filling set. The heat causes the acids in the lemon and sour cream to come together and stay together to set the pie.
Whipped Cream: Whipped cream is the final touch to the pie and provides a light and fluffy sweetness that complements the tangy lemon filling. You can make your own whipped cream (recipe below Variations) or use store-bought whipped topping.
Can Lemon Pie be made ahead of time?
Yes, Lemon Pie can be made ahead of time. You can make the pie up to 24 hours in advance, but make sure to add the whipped cream just before serving. If you add the whipped cream too early, it will start to deflate and lose its texture. If you do want to make it fully assembled in advance, consider a Stabilized Whipped Cream which will hold up better.
Variations
Lemon Blueberry: Blueberries and lemon are a classic combination! Mix blueberries into the filling for a burst of fruity flavor. Top your chilled pie with a thick layer of Blueberry Jam then cover with whipped cream a layered Blueberry Lemon Pie. Raspberries are another popular berry to pair with lemon flavor.
Coconut: Add shredded coconut to the crust and filling for a tropical twist. Use unsweetened coconut so the pie isn't too sweet. Sprinkle some shreds on top before baking so you get toasted coconut flavor and crunch too!
Lemon Cheesecake: Beat a softened block of cream cheese into the filling until smooth and bake as usual. It will have a similar creamy texture and tangy flavor of cheesecake with a fraction of the work!
French Lemon Tart: Make an easy variation on a classic French dessert by using a tart pan and a regular Pie Crust. Bake the pie crust in the pan with pie weights for 15-20 minutes, or until just golden and almost baked. Fill with lemon filling and finish baking and chilling as usual.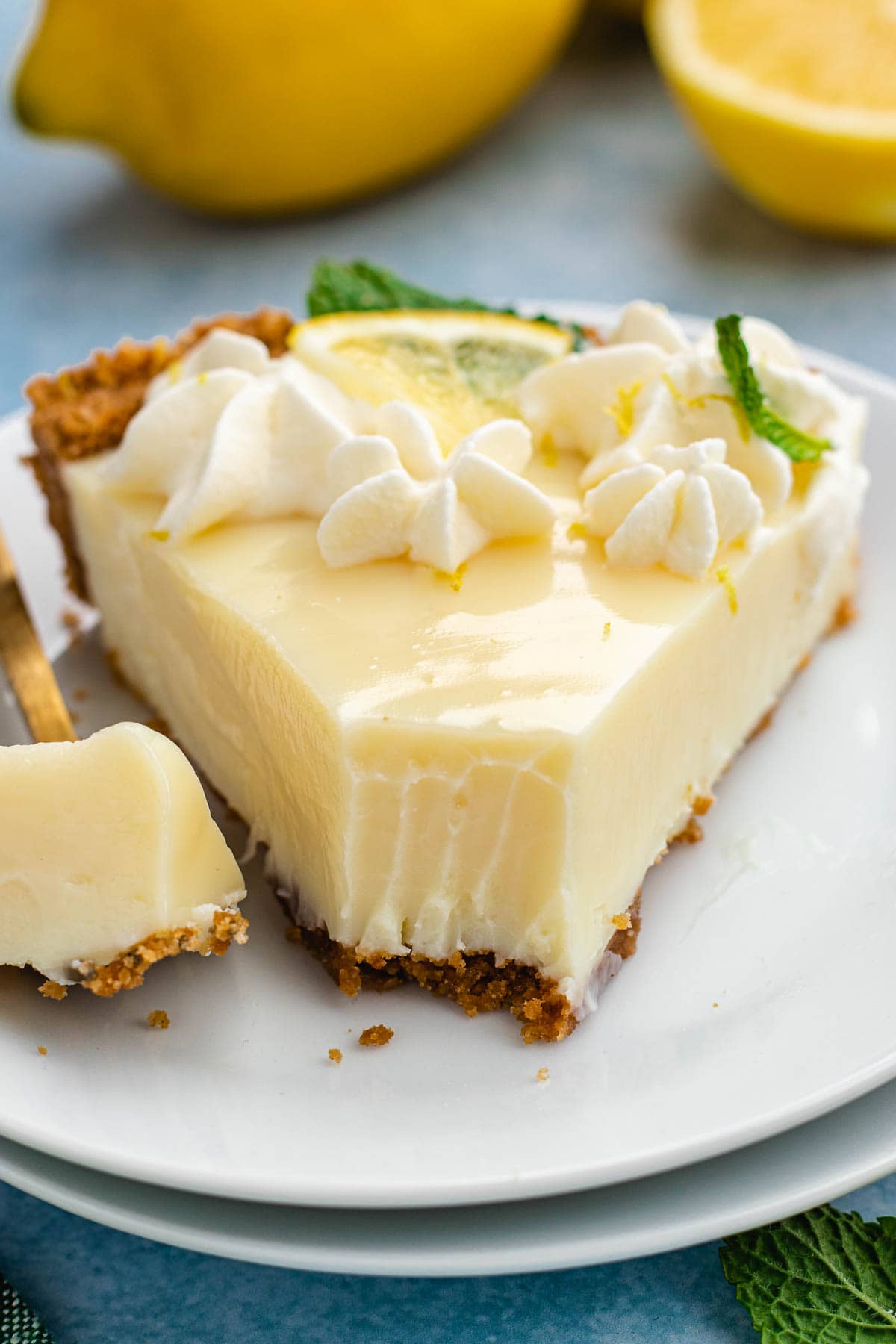 Homemade Whipped Cream
Ingredients: 2 cups cold heavy whipping cream, 4 tablespoons powdered sugar, and 1 teaspoon vanilla
Place a stand mixer bowl in the freezer for at least 30 minutes before starting this recipe.
Place ice cold stand mixer bowl in stand mixer and add the heavy whipping cream, powdered sugar and vanilla to the bowl.
Whisk, or beat with the whisk attachment on high, for about 1 minute or until stiff peaks form.
Be careful not to over beat or you will make sweetened butter.
Serve or chill immediately.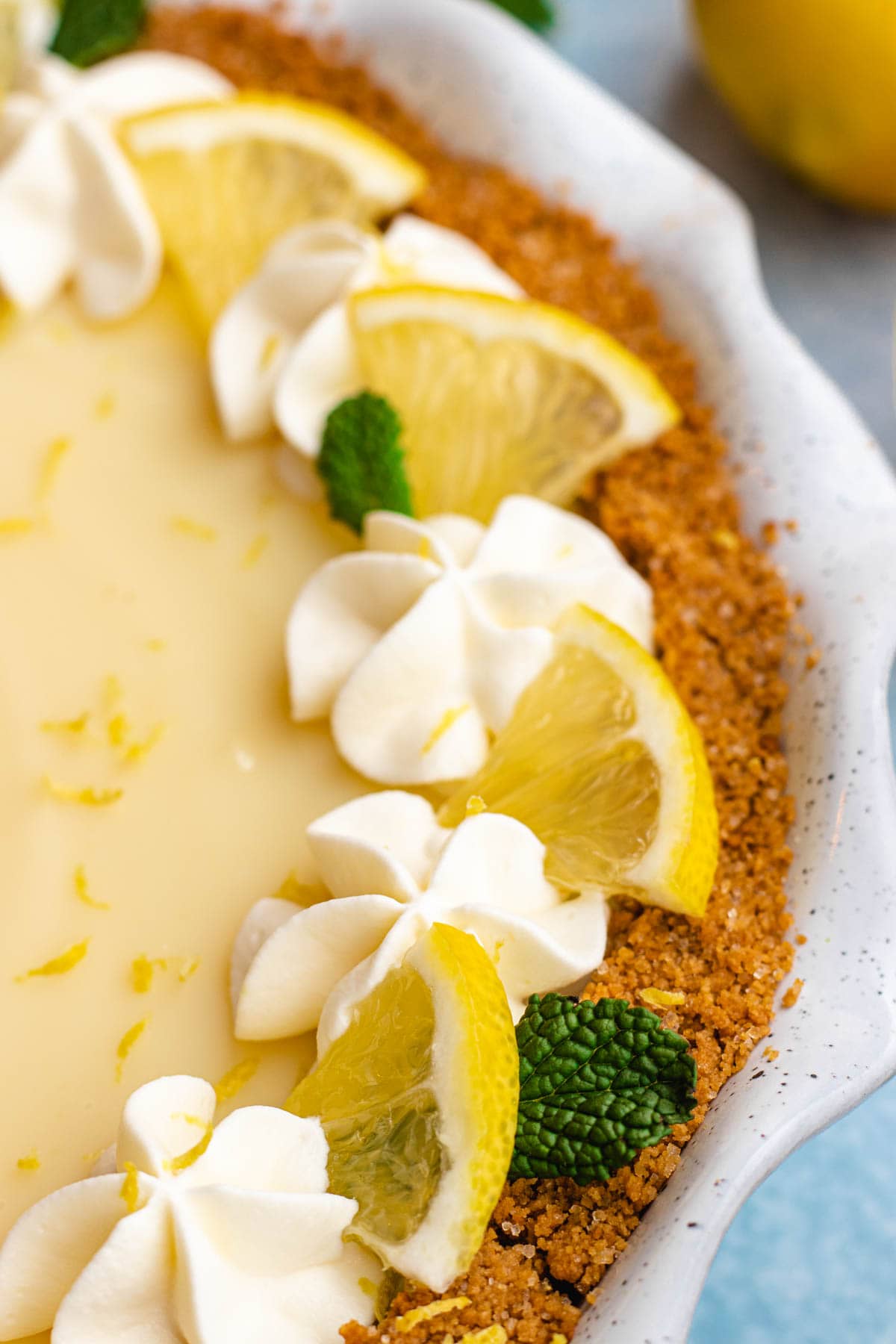 More Refreshing Summer Desserts
How to Store
Store: Leftover Lemon Pie can be stored in the refrigerator for up to 3 days. Make sure to wrap it tightly with plastic wrap to prevent drying out. When you're ready to serve, add fresh whipped cream on top of the pie.
Freeze: To prevent ice crystals, gently press plastic wrap against the pie surface and use two layers of wrap. Lemon Pie can be frozen for up to 2 months. When you're ready to serve, thaw the pie in the refrigerator overnight or at room temperature until softened.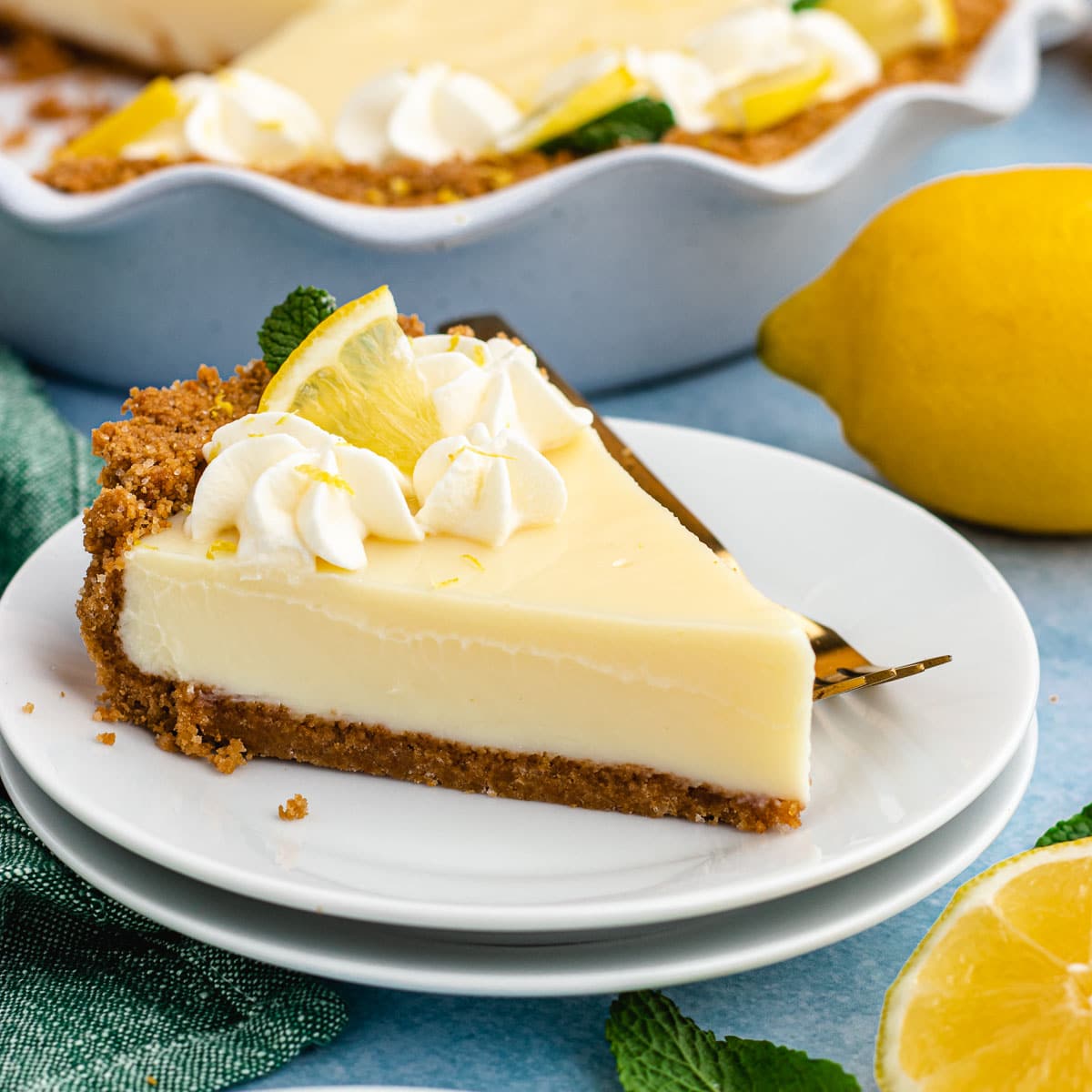 Ingredients
1 1/2

cups

graham cracker crumbs

, (one packet from a box of 3 packets)

1/3

cup

sugar

6

tablespoons

unsalted butter

, (melted)

3

cups

sweetened condensed milk

1/2

cup

sour cream

3/4

cup

lemon juice

2

cups

whipped cream
Instructions
Preheat the oven to 375 degrees.

Mix graham cracker crumbs, sugar and butter well. Press mixture into an 8 inch pie plate.

Bake for

7 minutes

. While the crust is baking, make the filling.

In a bowl, combine condensed milk, sour cream, lemon juice and add to the crust.

Put it back in the oven for

5 to 8 minutes

until you start to see the smallest of bubbles forming.

Do not let the pie brown.

Cool and refrigerate for

2 hours

before serving.

Top with whipped cream and serve.
Nutrition
Calories:
492
kcal
|
Carbohydrates:
69
g
|
Protein:
9
g
|
Fat:
21
g
|
Saturated Fat:
12
g
|
Polyunsaturated Fat:
1
g
|
Monounsaturated Fat:
6
g
|
Trans Fat:
0.3
g
|
Cholesterol:
65
mg
|
Sodium:
205
mg
|
Potassium:
416
mg
|
Fiber:
0.5
g
|
Sugar:
61
g
|
Vitamin A:
610
IU
|
Vitamin C:
10
mg
|
Calcium:
298
mg
|
Iron:
1
mg