Oreo Scones are the ultimate cookies and cream scone recipe! Soft buttery scones made with Oreo Cookies crumbs, loaded with Oreos and white chocolate chips.
From Oreo Cheesecake to Oreo Chunk Cookies to Oreo Bread, if you've got a package of these delicious vanilla creme chocolate sandwich cookies, the Dessert possibilities are endless!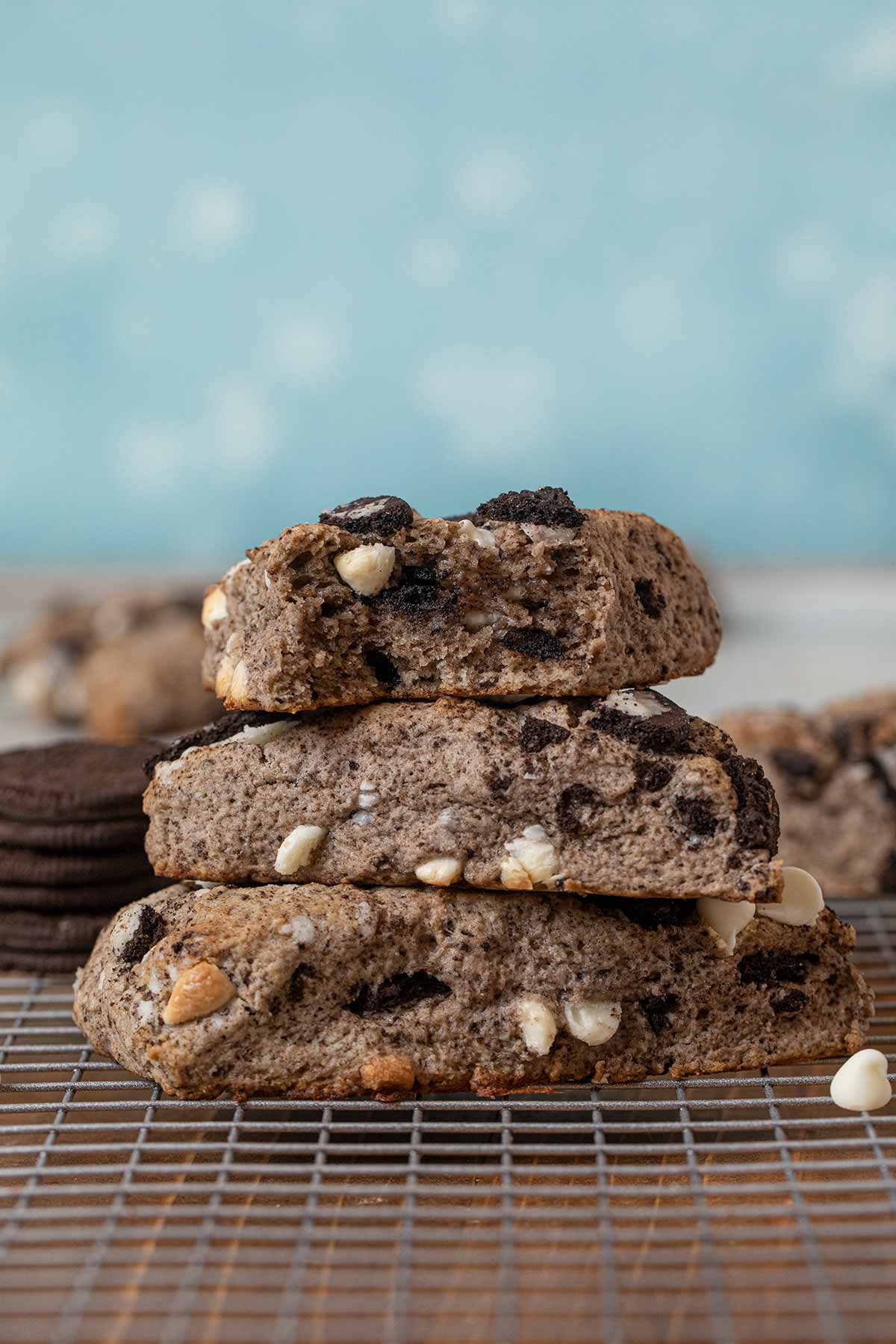 OREO SCONES
Scones are a coffee shop favorite that don't get nearly enough attention, usually hidden behind jumbo muffins or Cinnamon Rolls. This delicious and fun scones recipe is for the cookies and cream lovers out there! Fans of Oreos won't be able to get enough of the sweet and melt in your mouth goodness. If you've got leftover Oreo cookies, try one of these other amazing Oreo Recipes too!
Just like regular buttery vanilla scones, these Oreo Scones start with just a few pantry ingredients. For extra creamy "vanilla creme" flavor, this recipe uses white chocolate chips along with the Oreo cookie chunks. Make them extra chocolatey by adding Oreo cookie crumbs with the flour or make them golden brown with just the cookie pieces.
You'll love how quick and easy these tasty, crumbly sweet Oreo Scones are to make! For scones, you want everything to be cold so use frozen butter and don't bring the other chilled ingredients to room temperature. This recipe for Oreo Scones uses a food processor so everything comes together quickly and there's no need to refrigerate the scone dough before baking.
Oreo Cookie Scones are are sweet and crumbly, perfect for with a cup of Hot Cocoa or coffee in the morning. Enjoy them warm from the oven or pop them in the microwave the next day so the Oreos and chocolate get all melty again. Top warm scones with Vanilla Ice Cream like you would a brownie or cookie sundae. For extra Oreo flavor (you know you can't get enough!), serve Oreo Scones with some delicious homemade Oreo Cookie Butter.
MORE BREAKFAST PASTRIES
Tips for Making Oreo Scones
Don't over-mix or over-work the scone dough. When you add the sour cream egg mixture to the butter-flour mixture, use the pulse feature. To mix by hand, use a pastry cutter like you would a pie crust or work gently with your hands.
You can use a circle pastry cutter to make your scones round instead of wedges. Instead of forming into the the large ball, slightly pat in to a large rectangle and use a 3 inch biscuit cutter to shape round scones.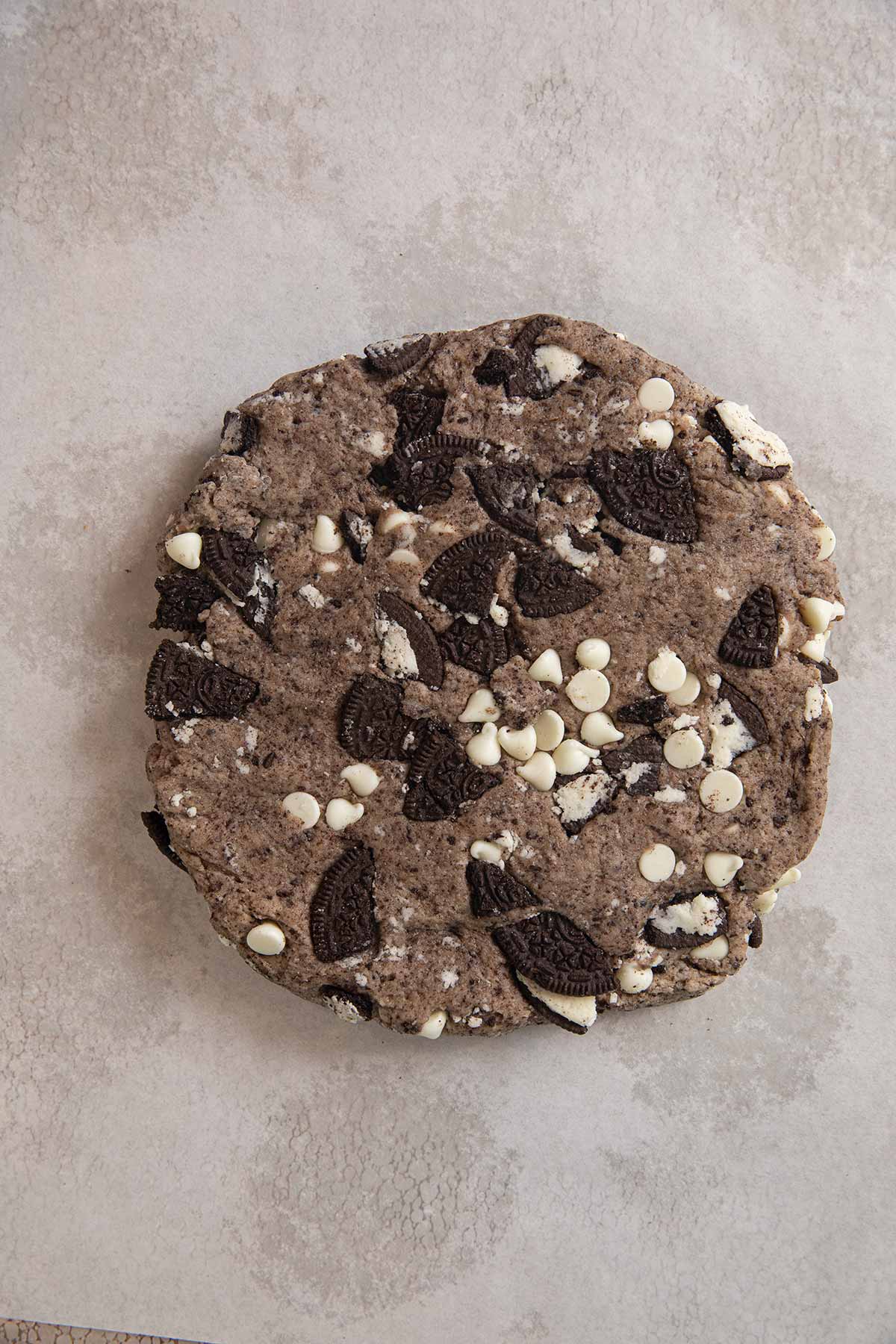 Add a layer of white chocolate on the bottom of your finished scones. Dip the bottom half the scones in melted chocolate chips and allow to set up on parchment paper before serving.
Brush the tops of your scones with heavy cream or a beaten egg (or egg whites) to add texture to the crust. An egg wash will give your scones a shinier appearance with less of a crunch and heavy cream gives a matte, crispy crust. Add a sprinkle of coarse sanding sugar for extra sweet crunch!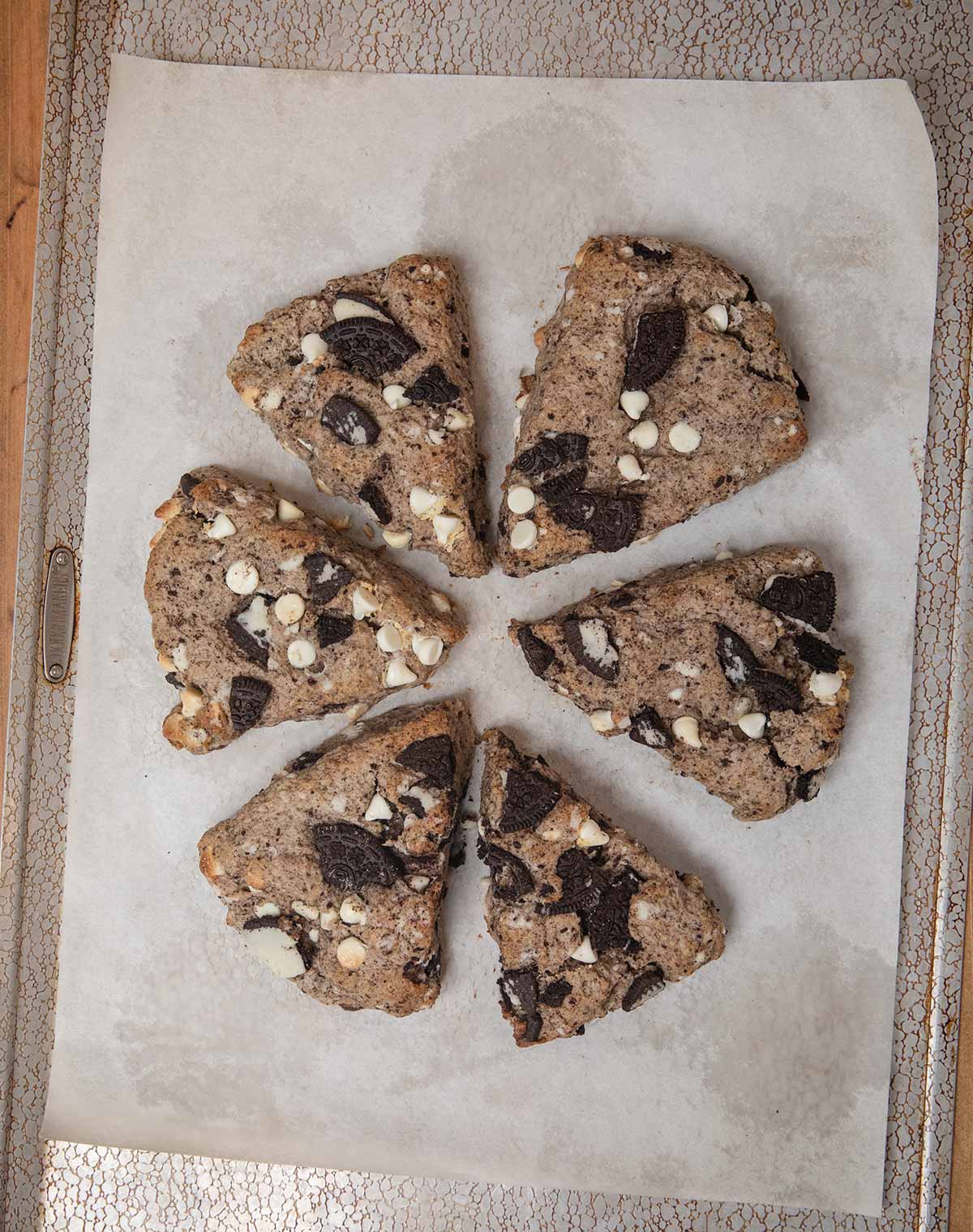 Create a free account to Save Recipes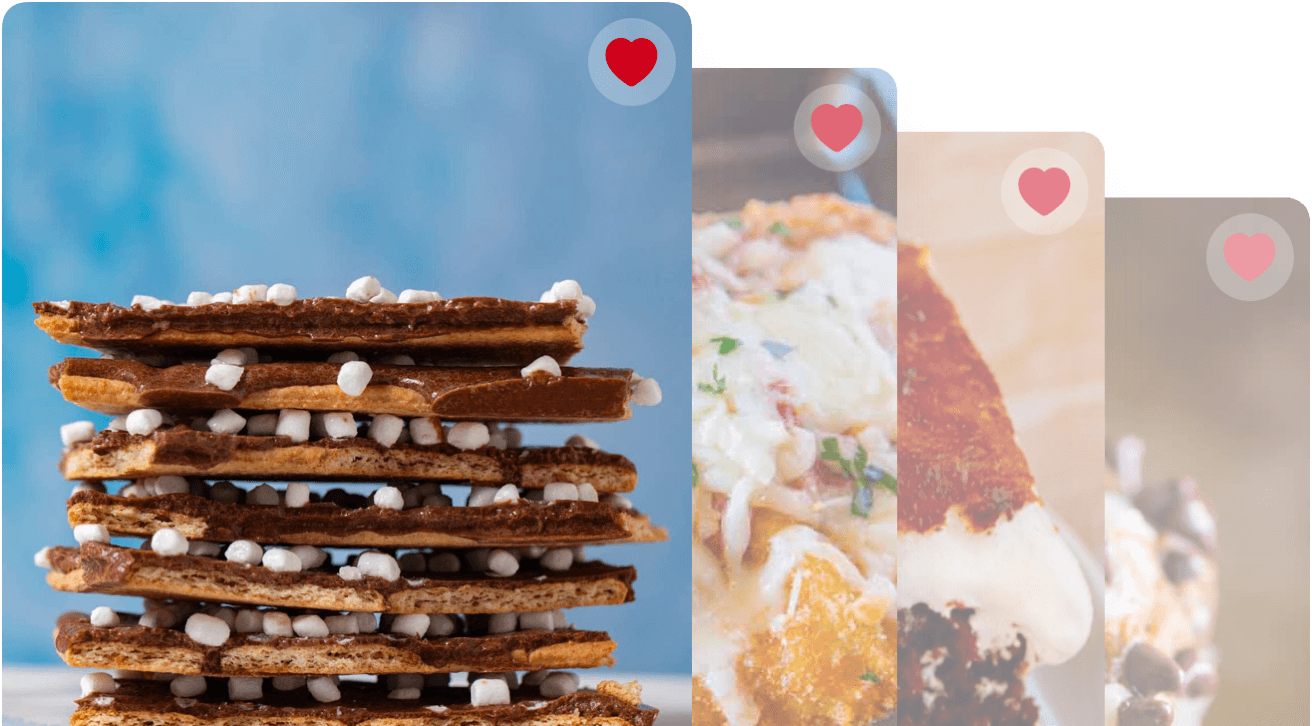 VARIATIONS ON OREO SCONES
Cookies: You can use any flavor of Oreos cookies, or use mini Oreos cookies instead of cutting the cookie pieces into quarters. Instead of Oreos, you could also use other crunchy cookies like Vanilla Wafers, Nutter Butters, Frosted Animal Circus Cookies.
Mint: Make Mint Cookies and Cream Scones by adding a teaspoon mint extract and a couple drops of green food coloring. Use flavored mint Oreos for extra mint flavor. You could use peppermint extract and crushed candy canes for the Christmas too!
Vanilla: For Vanilla Cookies and Cream, use Golden Oreos and add 1 teaspoon vanilla extract. For chewier, extra vanilla flavored scones, add 1 small package instant vanilla pudding mix with the dry ingredients.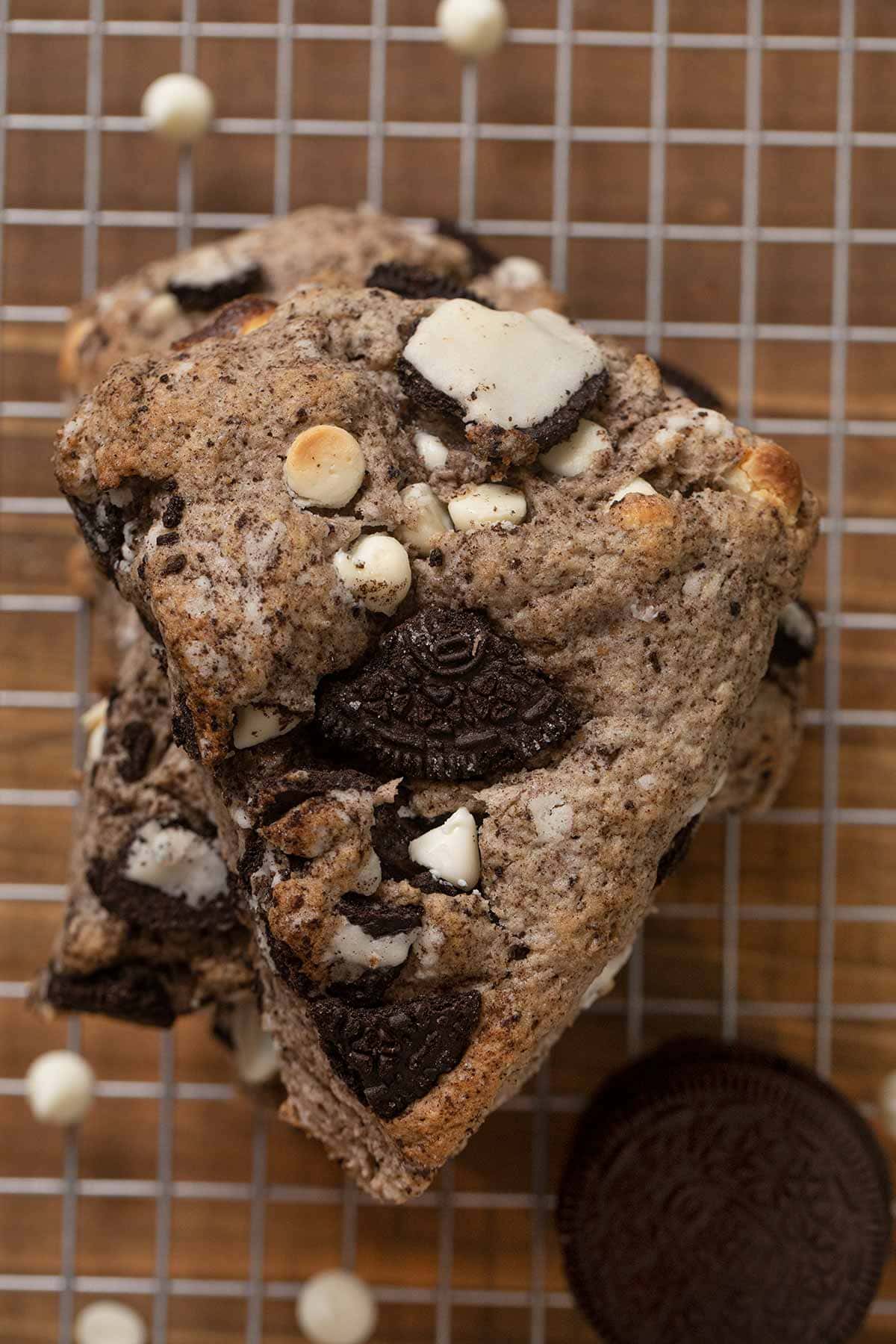 Chocolate Chips: Double the chocolate flavor with semi-sweet chocolate chips or dark chocolate chips. You can replace the white chocolate chips completely or just do half and half.
Nuts: Add up to ¼ cup chopped nuts, like peanuts or pecans, to the batter for a little extra crunch. You could also add a fresh fruity burst with chopped dried fruit or freeze dried berries.
Sour Cream: You can substitute heavy cream, buttermilk, half and half, or whole milk for the sour cream. Try a full fat greek yogurt or regular yogurt, either plain or vanilla flavor.
MORE DELICIOUS OREO RECIPES
HOW TO STORE OREO SCONES
Serve: Oreo Scones are best served slightly warmed and can be kept room temperature for up to 4 days. Keep covered tightly or in an airtight container in a cool, dry place.
Store: Once Oreo Scones are cooled, store them in an airtight container and refrigerate up to 2 weeks. Bring to room temperature or warm to serve.
Freeze: Wrap individual Oreo Scones tightly in plastic wrap and store in a freezer safe bag. Freeze Oreo Scones for up to 3 months and thaw at room temperature for at least an hour before warming to serve.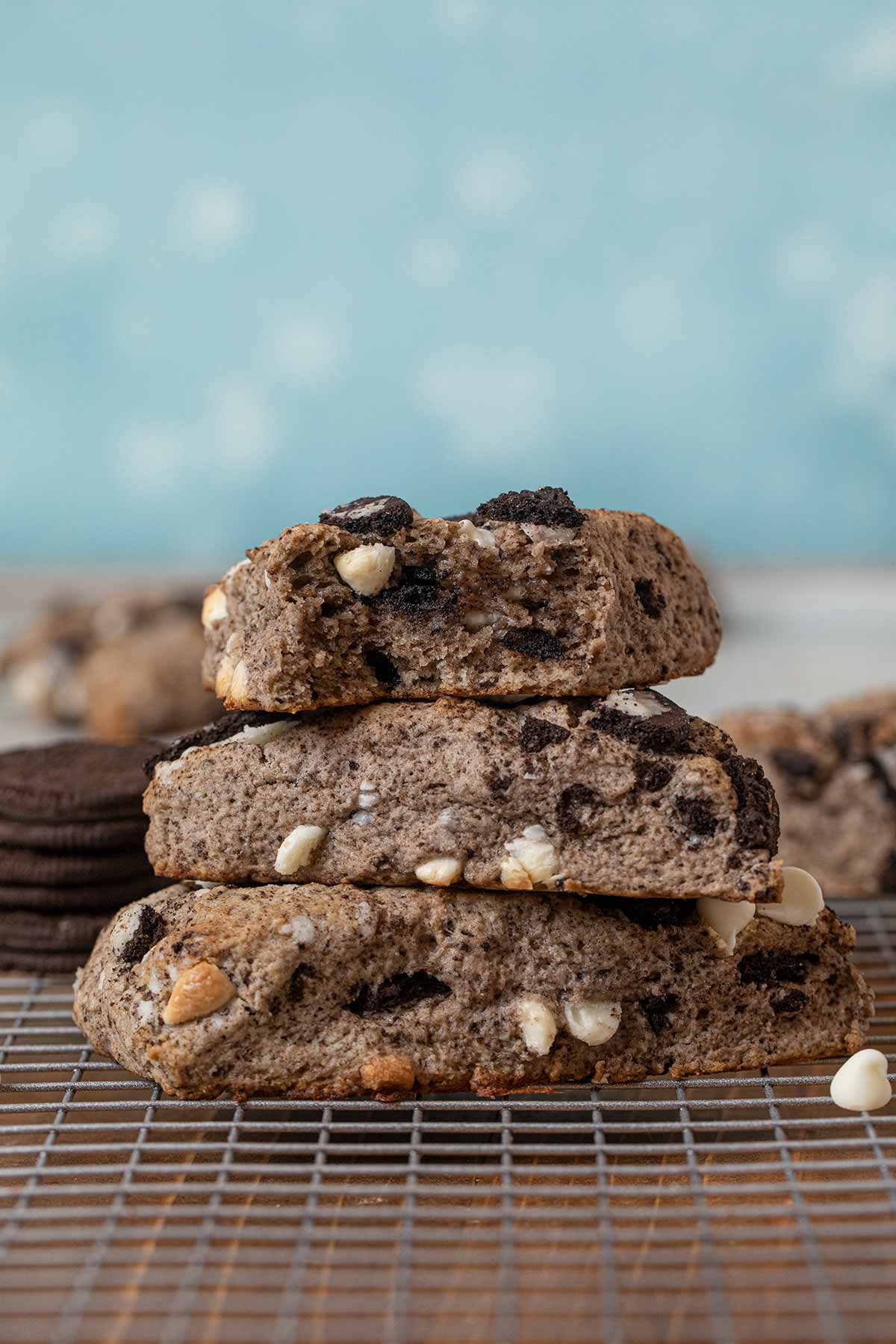 Ingredients
Instructions
Preheat oven to 375 degrees and line a baking sheet with parchment paper.

To a large food processor add the flour, sugar, baking powder, baking soda and salt.

Pulse 10 times to combine evenly.

In a medium bowl whisk together sour cream and egg until smooth.

Add to food processor with butter and crushed oreos and pulse until dough forms into a large ball.

Note: Do not run the food processor, you need to use the pulse function.

Remove mixture to a cutting board and fold in the Oreo quarters and white chocolate chips.

Pat into an 8" circle about 1" thick.

Cut into 6 or 8 wedges depending on your preferences.

Place onto the parchment paper.

Bake for

18-20 minutes

, then let cool for 5 minutes before removing with spatula.
Notes
Note: Do not run the food processor, you need to use the pulse function.
Nutrition
Calories:
526
kcal
|
Carbohydrates:
67
g
|
Protein:
7
g
|
Fat:
26
g
|
Saturated Fat:
14
g
|
Cholesterol:
60
mg
|
Sodium:
391
mg
|
Potassium:
228
mg
|
Fiber:
2
g
|
Sugar:
31
g
|
Vitamin A:
469
IU
|
Vitamin C:
1
mg
|
Calcium:
80
mg
|
Iron:
5
mg