Peanut Butter Chocolate Brookies are the perfect chocolate peanut butter bite!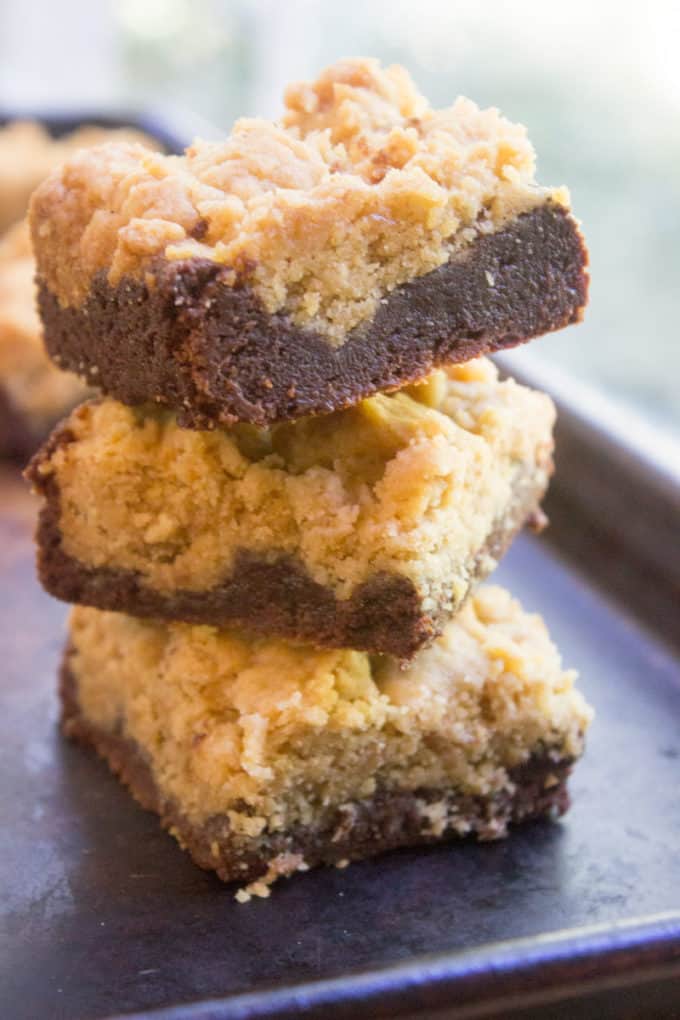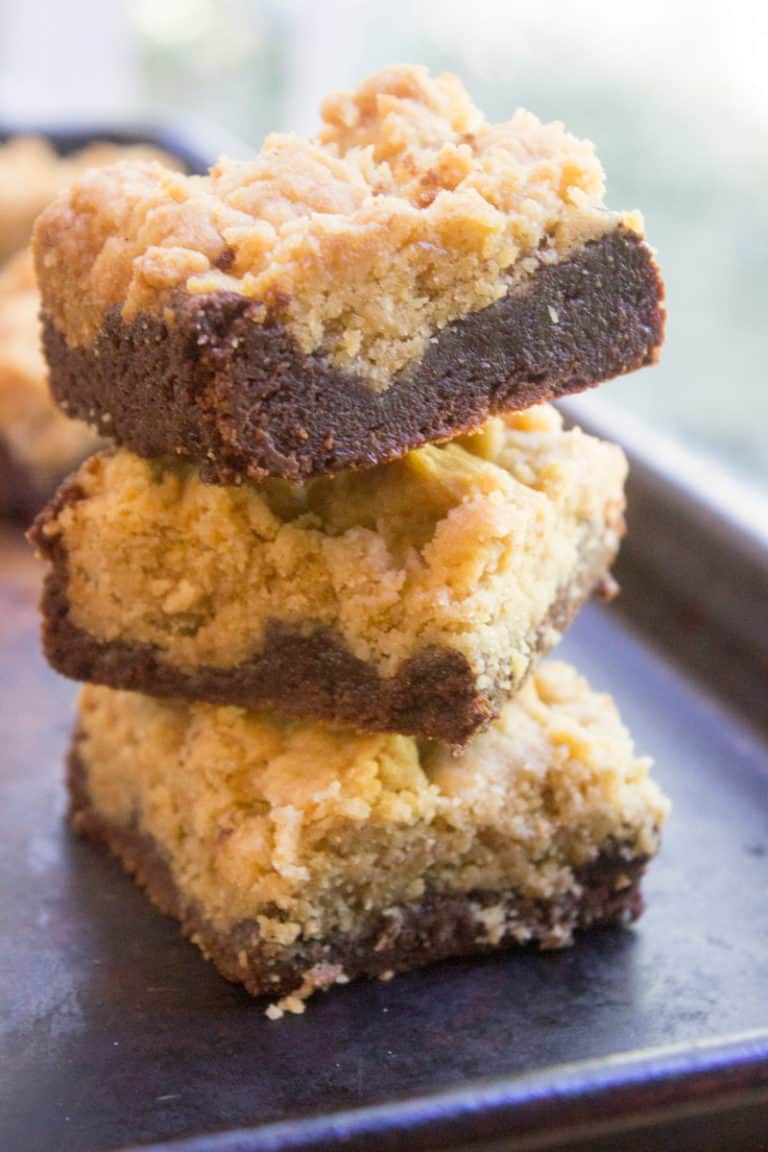 Peanut Butter Chocolate Brookies were part of a marathon baking day I had a week or so ago. We had decided we wanted to deliver some baked goods to our local firefighters and you know me, I pretty much can't do anything in small quantities.
I made these Peanut Butter Chocolate Brookies, Cookie Dough Brownies, Triple Chocolate Hazelnuts Marshmallow Crunch Bars and homemade Twix (Chocolate, Caramel and Shortbread) Bars. Those last two recipes are coming soon!
Yes, I know. I'm a little excessive.
I knew something I made had to have peanut butter in it, if I have learned anything about sending treats out to friends, family and coworkers, it is that peanut butter and chocolate make for the ultimate combination!
Finally before sitting down with my giant file of brownie recipes I had to narrow down exactly what I should make. You may think I am a bit crazy here, but my personal recipe files contain over 35,000 recipes I've collected over the years (And about 2000 that I've personally created or edited heavily) so deciding to make sweets was just the beginning.
Here is what I figured about fire fighters and what they would appreciate. From my extensive research (read: I watch Chicago Fire a lot) I surmised they do their own cooking and dishes. Originally I thought about making some pies or perhaps a giant cake, but then I realized this meant they'd have to do dishes. I'm not about to create extra work for them!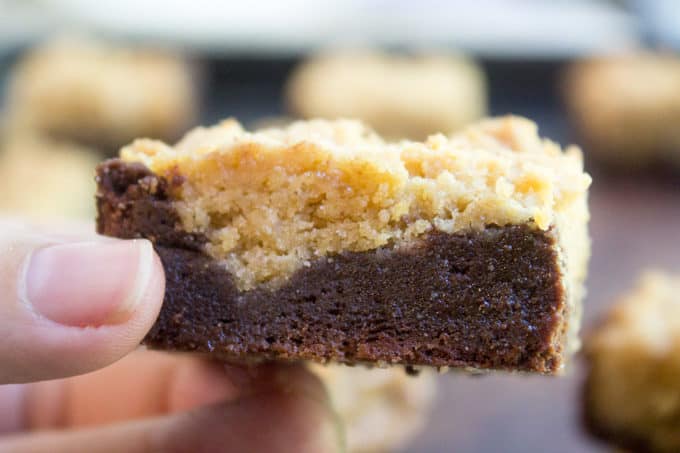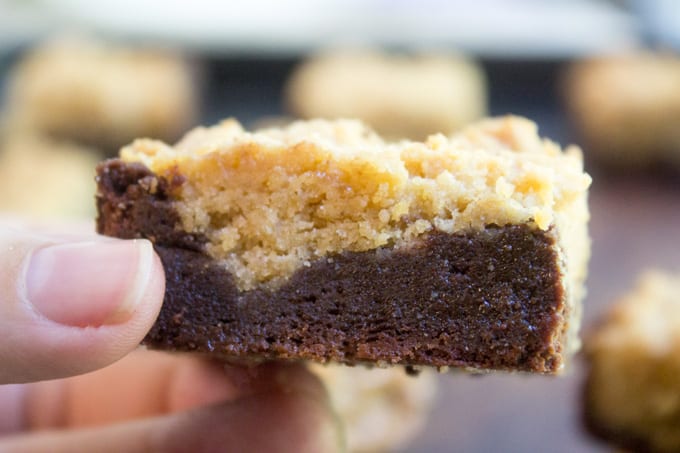 Enter the cookies and brownies section of my recipe files. I debated about it for a while and decided brownies > cookies. Why? They are way more substantial, stay fresh longer and one can be enough. I have never met a cookie I only wanted one of (That may not be true, my husband isn't the greatest baker and I bet he could make a cookie I would only want one of. Ha!).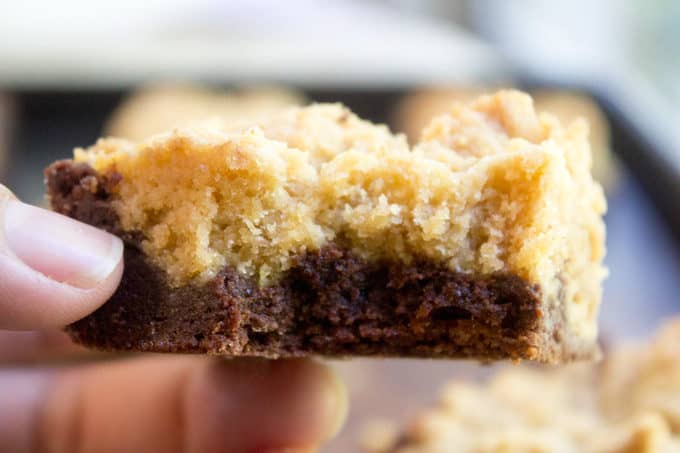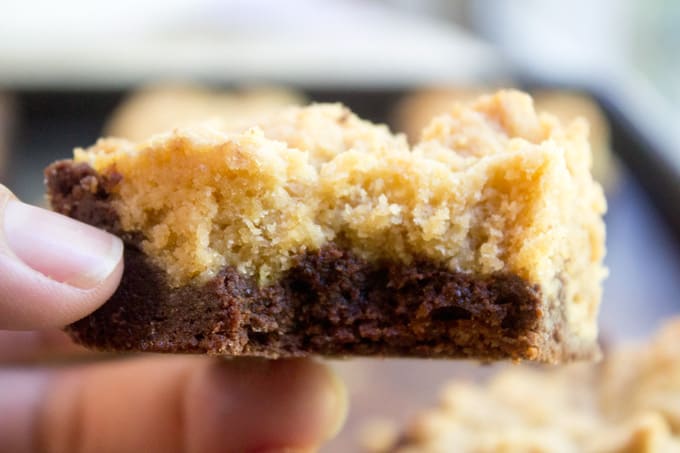 So these brownies, now to actually get to the recipe, are really quite easy. The ingredient list can seem daunting but I was left with a single dirty glass bowl (I melted my butter in this bowl too to prevent an extra dirty dish), a whisk, a spatula and measuring spoons/cups. No stand mixer, no extra bowls.
Yes, I even made the separate layers in the same bowl! Look, you're baking both layers together anyway (so no contamination issues here), and if you you use a spatula to clean out your bowl of 95% of the batter your peanut butter layer will NOT suffer for it.
The little things that help when you're baking four ultimate, indulgent brownie and bar recipes in one afternoon with two kids running in circles around you!
Looking for more brookie recipes?
Mint Chocolate Chip Brookies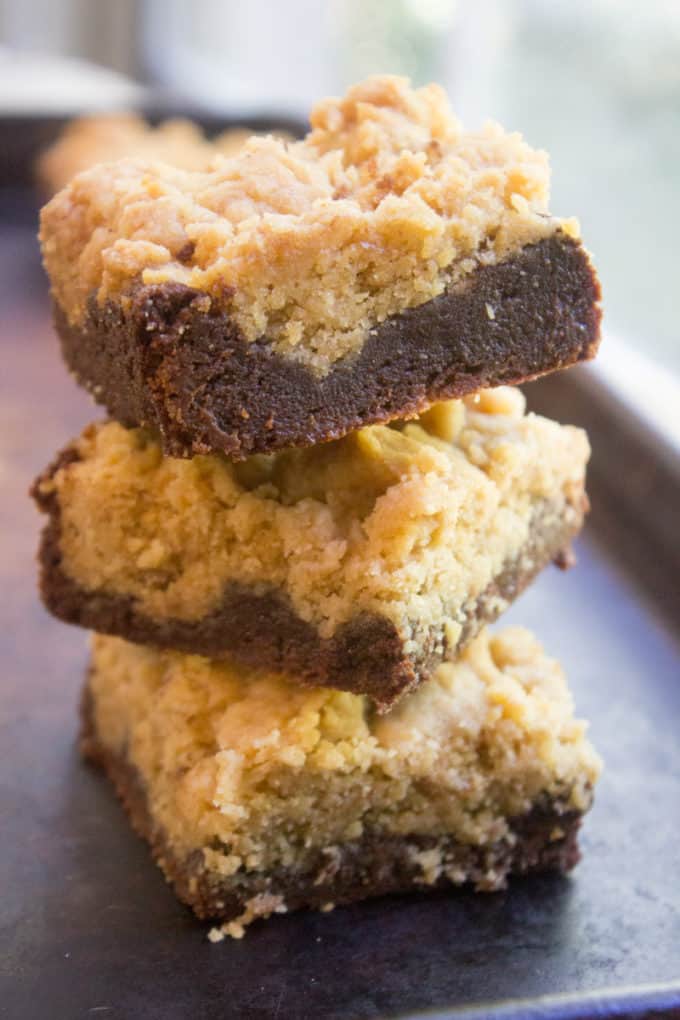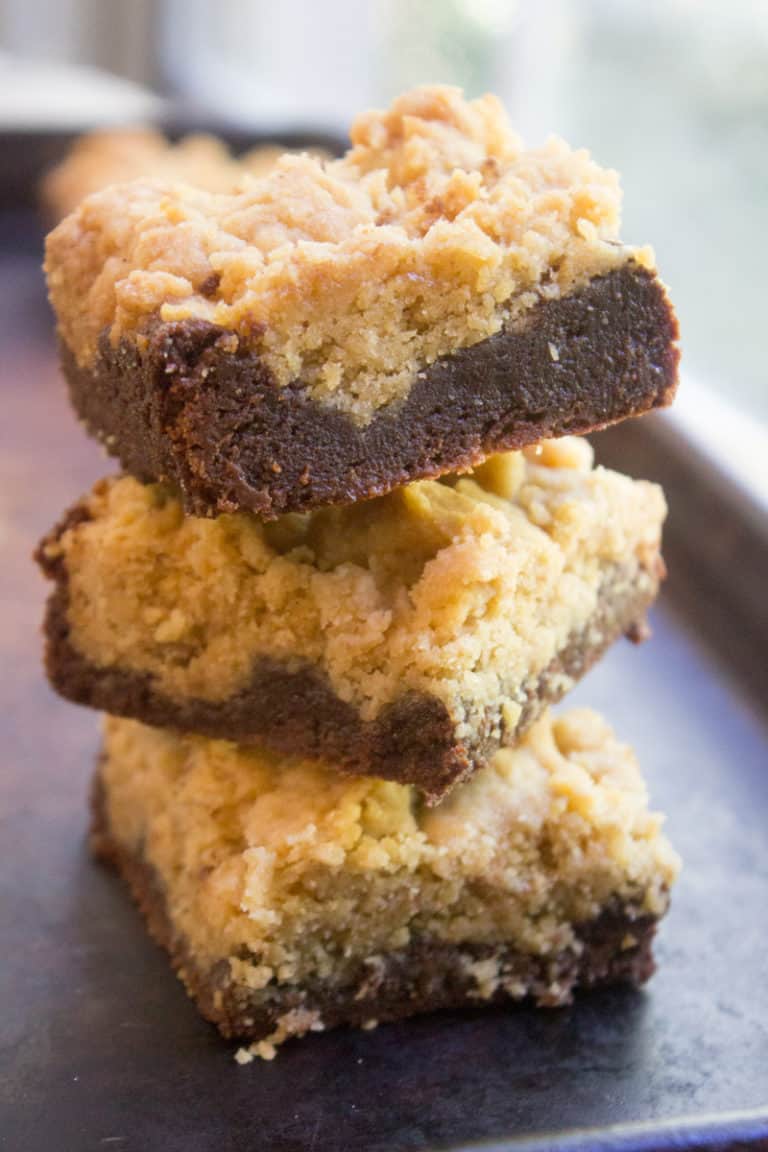 Tools used in this Cookie Dough Brownies recipe:
9×13 Baking Pan – The straight edges and even cooking of this pan is ideal for bars and brownies.
Dark Chocolate Chips – My favorite dark chocolate chips, I keep them on hand in volume! More and more stores carry the brand now too, so when mine has a sale I buy 3 or 4 bags of every flavor. (Sometimes I can even get them for LESS than Nestle)
Unsweetened Cocoa Powder – This cocoa powder gives an amazing, dark, rich chocolate flavor. I also highly recommend the Trader Joe's Brand of cocoa powder.


Ingredients
Brownie Layer:
3/4

cup

unsalted butter

, melted

2 1/4

cups

white sugar

2

teaspoons

vanilla extract

3

eggs

3/4

cup

unsweetened cocoa powder

3/4

teaspoon

salt

1 1/4

cups

all-purpose flour

3/4

cup

dark chocolate chips
Peanut Butter Cookie Layer:
Instructions
Preheat oven to 350 degrees.

Grease or use baking spray on a 9x13 inch baking pan.

In a large bowl add melted butter (let it cool for just a minute or so), sugar, eggs, and vanilla and whisk together until well combined.

Add the cocoa powder and salt to the bowl and mix well.

Add in the flour and chocolate chips and mix until just combined.

Using a spatula, pour into the bottom of your pan and spread. (I scrape out as much as I can so I can just reuse the bowl for the peanut butter layer - yes laziness, but also they are going to be stacked on top of one another anyway, why create more mess?)

Make the second layer while the first layer is cooking.

Add the vegetable oil, sugar, egg, vanilla and peanut butter to a bowl and whisk well for about a minute.

Add the flour, baking soda and salt and whisk until combined.

Using a large spoon or your hands, drop chunks of peanut butter cookie dough gently over the brownie layer.

Bake for

25-30 minutes

, until the dough is just set and not very jiggly.

Cool completely before cutting.
Nutrition
Calories:
254
kcal
|
Carbohydrates:
34
g
|
Protein:
3
g
|
Fat:
12
g
|
Saturated Fat:
7
g
|
Cholesterol:
37
mg
|
Sodium:
159
mg
|
Potassium:
107
mg
|
Fiber:
1
g
|
Sugar:
22
g
|
Vitamin A:
170
IU
|
Calcium:
24
mg
|
Iron:
1.1
mg