Slow Cooker Dr. Pepper Pulled Pork is sweet and spicy with brown sugar, maraschino cherries and candied jalapenos. Perfect for dinners or in sandwiches and so easy!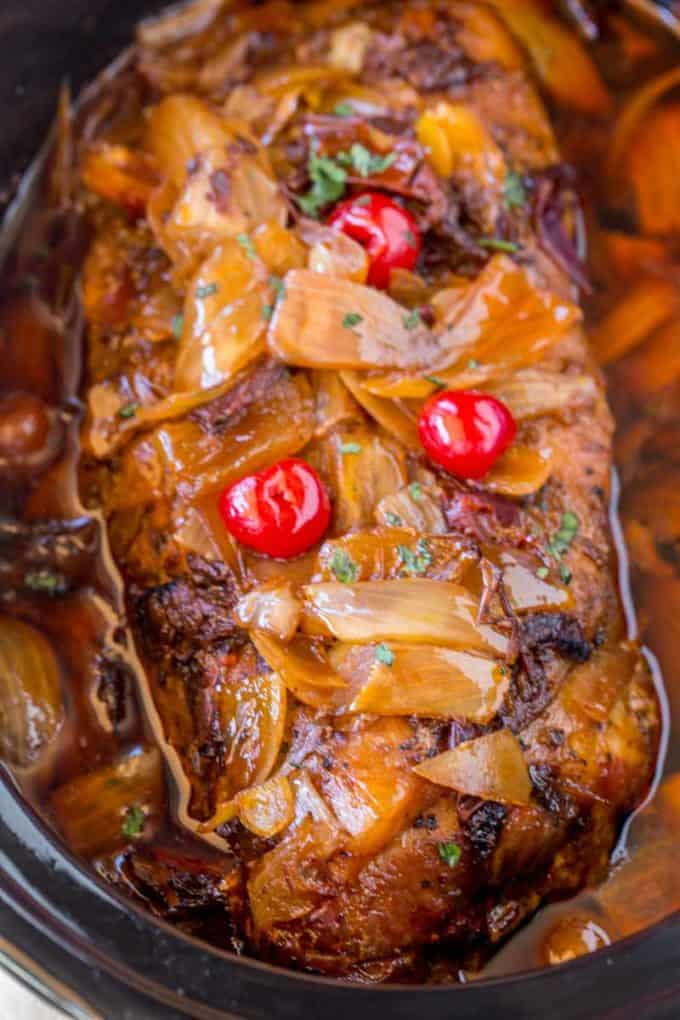 Slow Cooker Dr. Pepper Pulled Pork is a take on one of the first recipes I ever made for the blog, Spicy Cherry Pop Roasted Pork which was of couse based on a recipe from The Pioneer Woman. One of the great things about this recipe is the spicy cherry flavors and the idea Ree had to use Dr. Pepper instead of the classic Cola roasted meat is genius.
Slow Cooker Dr. Pepper Pulled Pork is an easy recipe to make, but it does include ingredients I wouldn't normally use, mainly maraschino cherries and Cherry Dr. Pepper. I use them here because though I don't use processed foods as a general rule, this recipe is delightful! If you'd like to skip these items you can swap beef broth for the soda and cherry preserves for the maraschino cherries (it will taste different of course, but still carry similar flavor profiles).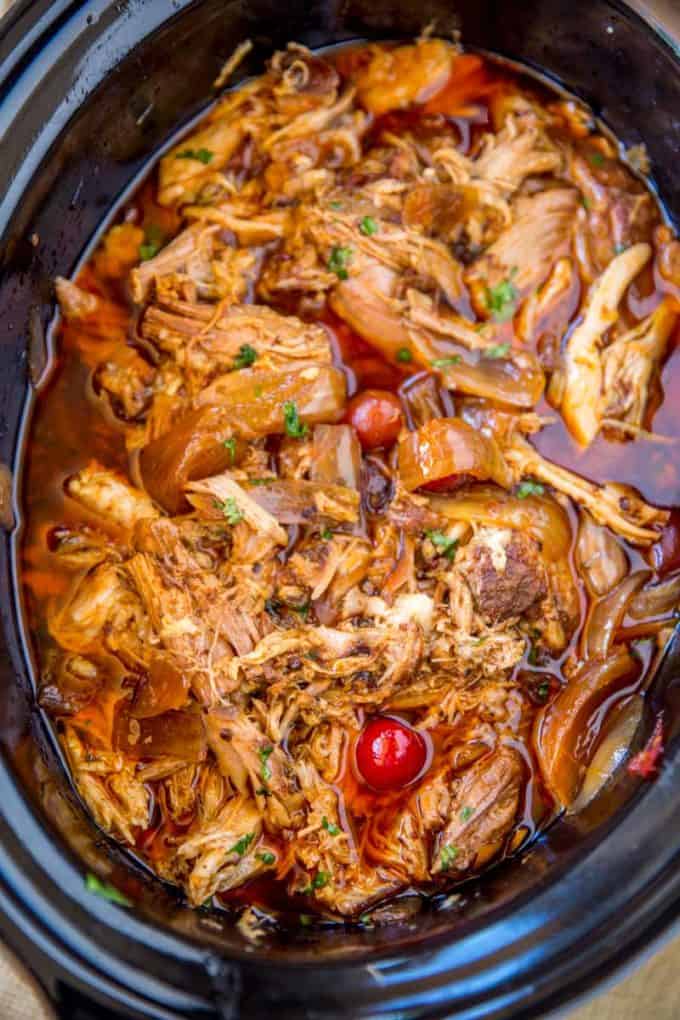 Ways to enjoy this Slow Cooker Dr. Pepper Pulled Pork:
Serve is like you would a pot roast with a side of mashed potatoes and vegetables.
Serve it in tacos or burritos like you would a Chipotle Barbacoa filling.
Serve it in a sandwich like pictured below. Bonus points if you dip it in the liquid!
Make it into a burrito bowl served with rice, a nice easy slaw and beans.
Top it on nachos or cheesy fries for a great gameday snack.
Serve it in little sliders, topped with cheddar cheese and the rolls brushed with butter and cayenne for a little kick.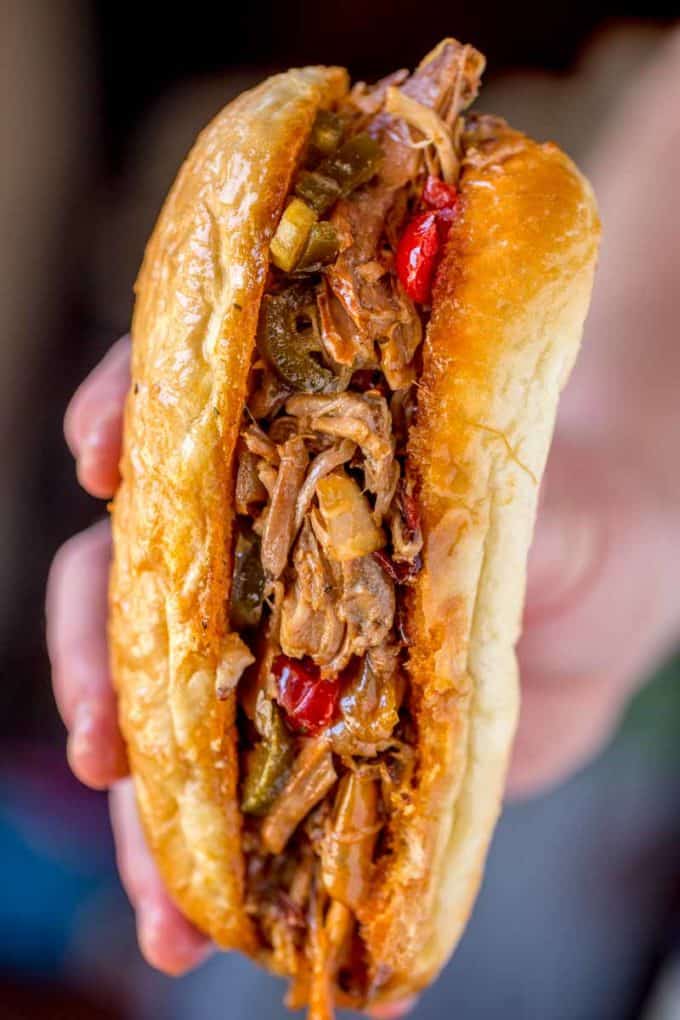 Looking for more Slow Cooker Pork Recipes?
Can I make this dish in the oven?
Yes, absolutely, I actually did that in the original version which appeared on the blog, Spicy Cherry Pop Roasted Pork
Can I make this dish in the smoker?
I don't typically recommend making dishes which require liquid ingredients in the smoker. You could of course cook the roast in the smoker, then finish it in the oven with the rest of the ingredients.
Tools used in the making of this Slow Cooker Dr. Pepper Pulled Pork:
Cherry Dr. Pepper: Fruitier than the original Dr. Pepper I like the extra burst of cherry flavor.
Maraschino Cherries: This adds sweetness, color and a burst of flavor, they're a lot of fun in this recipe.
Hot & Sweet Jalapenos: I chose these for the sandwich because the main flavors here are sweet and heat and I didn't want the bitterness of plain pickled jalapenos in the recipe. You can of course omit them altogether too as the adobo peppers are adding most of the heat.
Adobo Peppers: This is where almost all the heat in the recipe is coming from and some smokiness too. These peppers are SPICY, so if you love spice use half a can, if you can tolerate it okay use a ¼ of the can and if you hate spice, just stick to the jalapenos for the mildest kick of all.
Slow Cooker: Love this slow cooker and how programmable it is, it has been a workhorse for me… until…
My New Slow Cooker: This recipe was made in this slow cooker. For larger roasts I also brown the meat in the insert and not lose a bunch of the flavor by transferring the meat and leaving the browned bits behind. If you're thinking of a new slow cooker, consider it if your budget is open.


Instructions
Put all the ingredients into the slow cooker together, go in order of the list and cover the pork carefully with each item in order.

Cover and cook on low for

8 hours

.

If you'd like to serve with the leftover liquids, strain the fat first.
Nutrition
Serving:
4
g
|
Calories:
172
kcal
|
Carbohydrates:
11
g
|
Protein:
17
g
|
Fat:
6
g
|
Saturated Fat:
2
g
|
Cholesterol:
57
mg
|
Sodium:
293
mg
|
Potassium:
310
mg
|
Fiber:
1
g
|
Sugar:
9
g
|
Vitamin A:
320
IU
|
Vitamin C:
1.5
mg
|
Calcium:
23
mg
|
Iron:
1.3
mg