Slow Cooker Sesame Chicken is an easy recipe for Asian takeout. Chicken in a sweet and savory sauce with honey, sesame oil, and soy sauce.
Sesame Chicken is a fabulous recipe when you are craving easy Chinese takeout made at home. This Slow Cooker version is just as delicious with a fraction of the work. If you love this dish, make sure to try Slow Cooker Mongolian Chicken too!
Recreating Asian food at home is a great way to have your favorite take-out dish with fewer calories, less time, and way less money. This crockpot recipe has all the sticky honey goodness of the original recipe for Sesame chicken but is healthier since there is no frying. Plus, you mix everything in the slow cooker, so there's almost no mess to clean up!
Slow Cooker Sesame Chicken is so easy to make with sauce ingredients you definitely have on hand. The most exotic ingredient is sesame oil which is a must-have for your seasonings cabinet. Sesame oil can be a little pricey but the best part of sesame oil is a little goes a long way. A bottle of sesame oil will last you a year, even if homemade Chinese food is on your weekly menu rotation.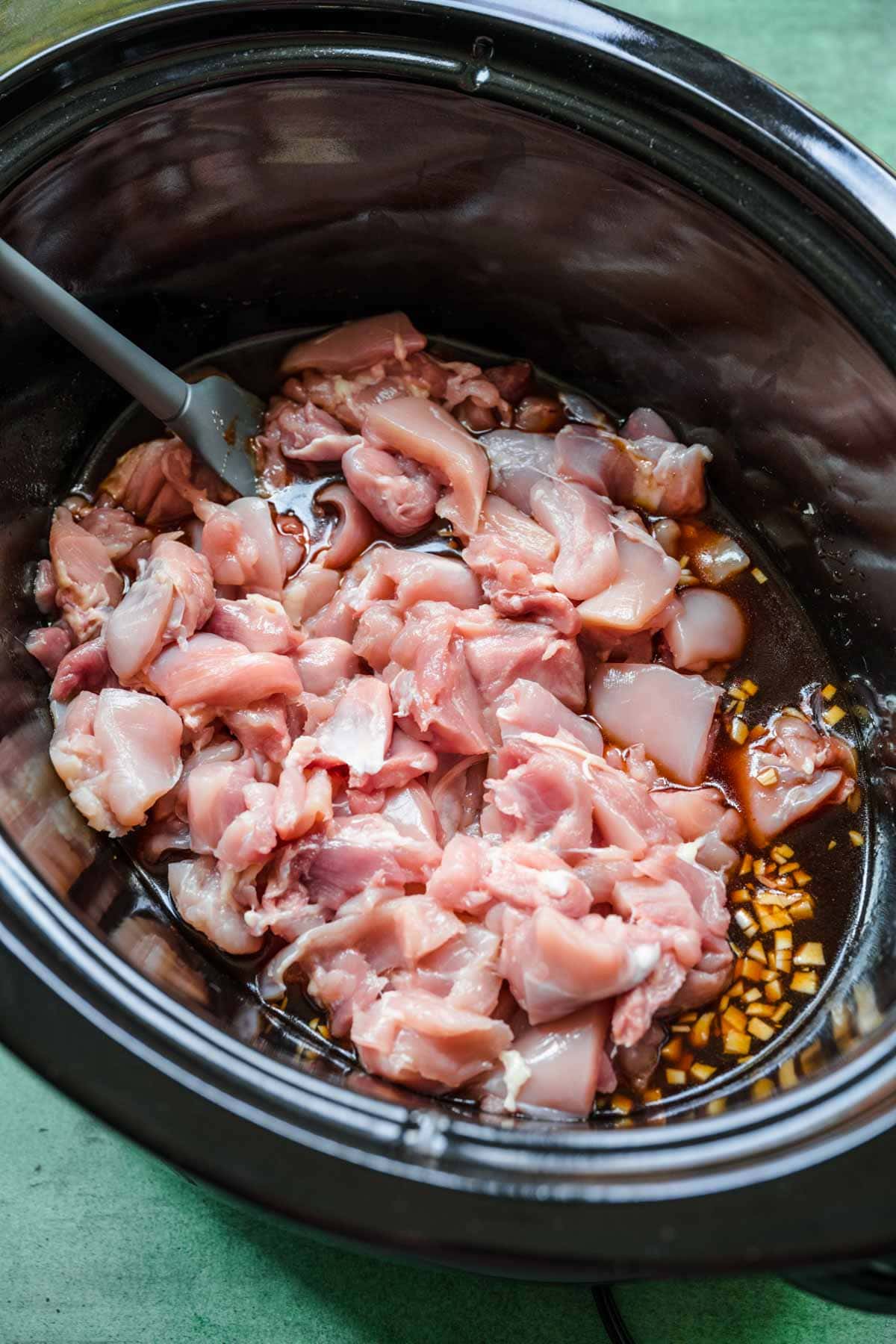 Balance the extra sweet sauce and serve the chicken with a light side dish like Brown Rice or White Rice and Roasted Broccoli for an easy and quick family-friendly meal. You can meal prep healthy lunch bowls by dividing cooked rice into small bowls, adding Steamed Broccoli and Veggies, and topping with Sesame Chicken. Garnish Slow Cooker Sesame Chicken with more diced green onions, crushed red pepper flakes, and sesame seeds.
Make this no-fuss dish even easier with whole boneless chicken thighs instead of bite-size pieces. Nestle the chicken in the sauce and cook as usual. Once cooked, remove the chicken and carefully shred the chicken with two forks. Dissolve cornstarch in water before adding to the sauce with shredded chicken and green onions, and cook additional 30 minutes. Serve shredded Sesame Chicken in lettuce wraps!
What is Sesame Chicken?
This slow cooker recipe is an easier way to make Sesame Chicken, a American-Chinese chicken dish. The dish is breaded chicken pieces that are deep fried in oil, then tossed in a sweet and sticky sauce. The sauce is made with sesame oil and sesame seeds, along with sugary ingredients like brown sugar or honey so it is sweet with lots of sesame flavor. It also has garlic and some tangy ingredients like vinegar or ketchup. The rich and sweet flavors make it a well-loved favorite takeout dish.
How to Make Slow Cooker Sesame Chicken
Sauce: Combine the soy sauce, honey, ketchup, sesame oil, Sriracha, and garlic in the slow cooker. Whisk until the sauce ingredients are combined.
Cook: Stir in the chicken pieces until they are well coated. Cover with the lid and cook on low for 4 hours, until the meat is cooked through.
Thicken: Whisk the water and cornstarch in a bowl until the cornstarch is completely dissolved and mixed in. Stir the slurry into the sauce along with the green onions. Cook another 30 minutes on high, or until the sauce has thickened. Serve with more green onions and sesame seeds.
Delicious Chinese Takeout Side Dishes
FAQs for Sesame Chicken
What's the best cut of chicken to use?
The best chicken cuts for slow cooking are chicken thighs because they stay moist and juicy over the long cooking time. The boneless chicken in this recipe also makes it easy to serve and eat because it's already in bite-size pieces.
How healthy is Sesame Chicken?
For the most part, Sesame Chicken probably wouldn't be considered "healthy" because it is deep fried chicken in a very sweet sauce and there aren't any veggies. However, this slow cooker recipe for Sesame Chicken is a bit healthier because it's not fried chicken. Add some veggies and brown rice to make this a healthier dinner!
What is the difference between General Tso's Chicken and Sesame Chicken?
Sesame Chicken and General Tso's Chicken are very similar dishes of wok-fried breaded chicken in a sticky sweet sauce. However, Sesame Chicken has more sesame flavor, thanks to the sesame oil, and it is much sweeter with honey added. General Tso's Chicken is a spicy dish made with hoisin sauce so it's got more of a tangy, sweet flavor plus plenty of heat.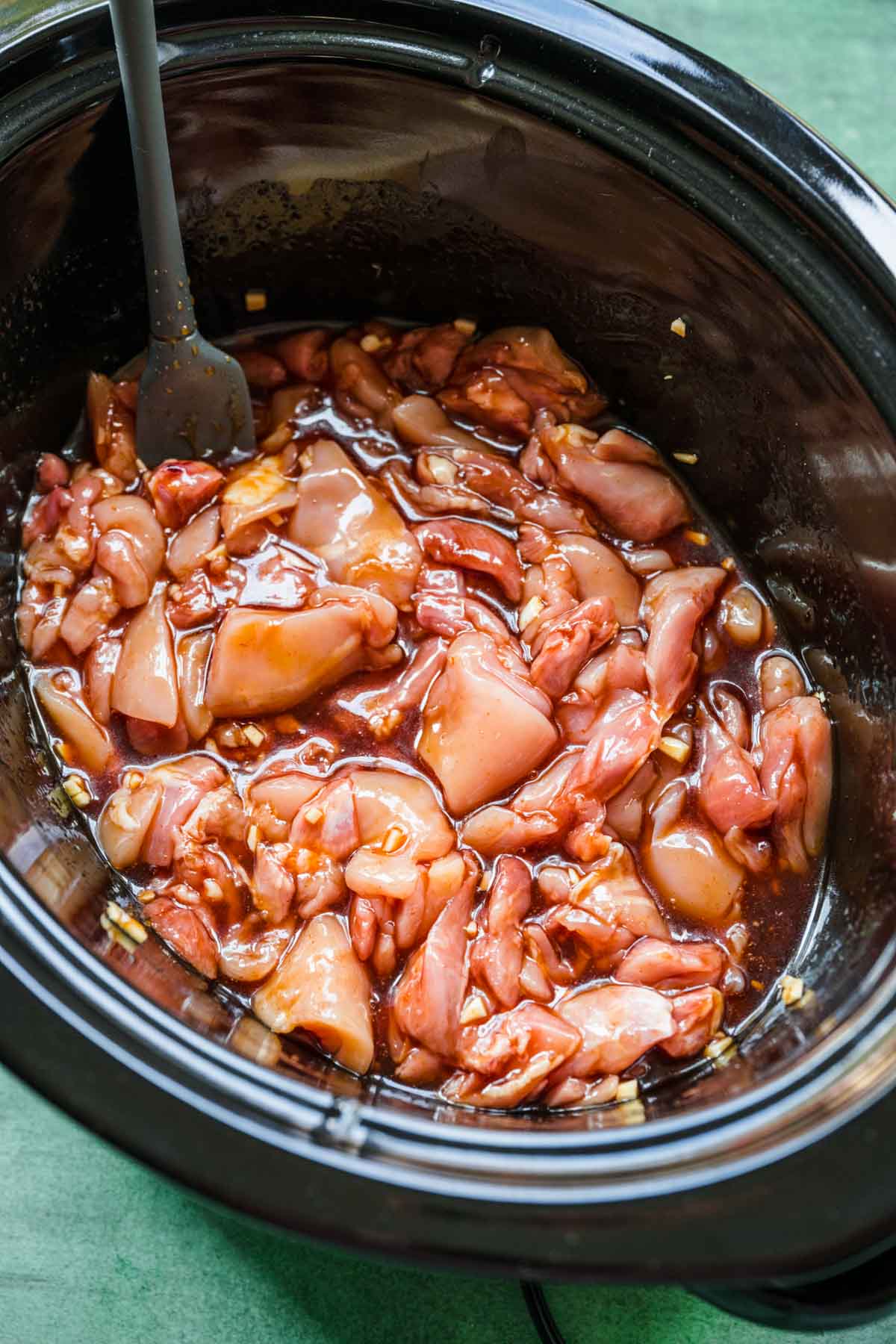 Create a free account to

Save Recipes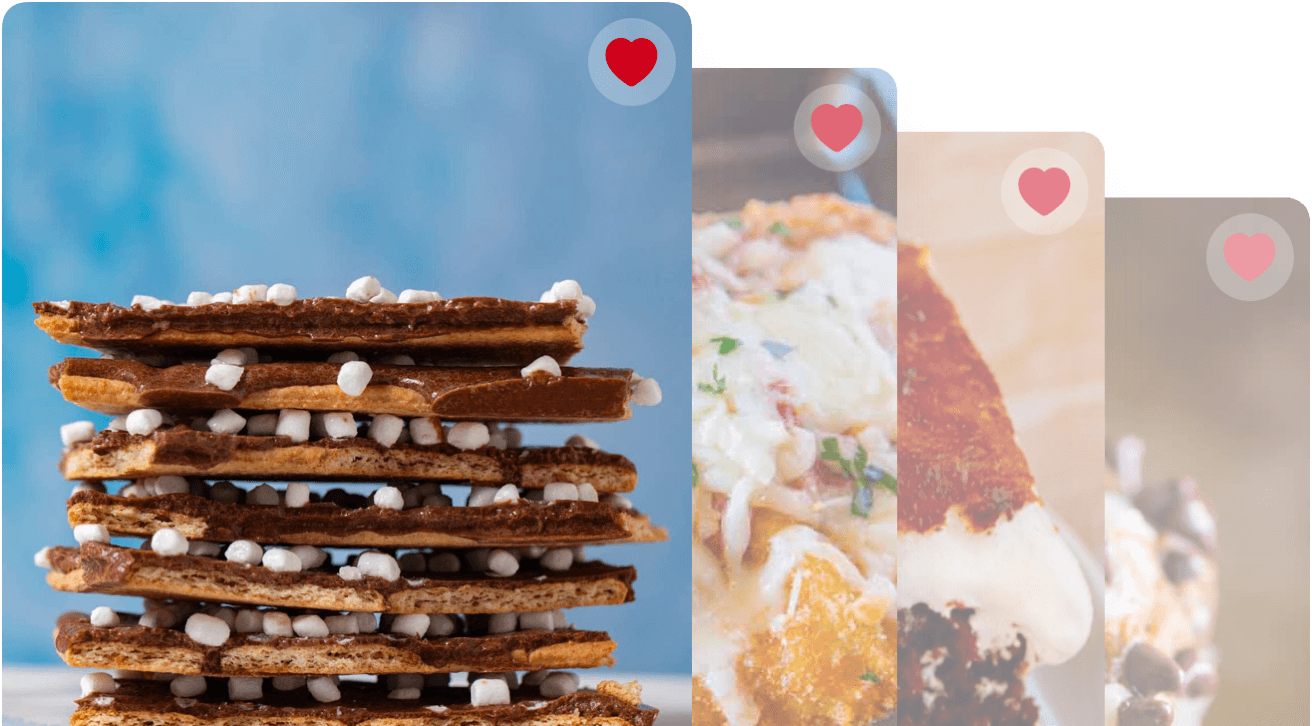 Key Ingredients
Chicken: Boneless chicken thighs are great for slow cooking since they stay nice and juicy plus they cook all the way through quicker versus bone-in chicken. If you do want to make this with bone-in thighs you can, just either sear the skin or remove it entirely. You could also make this with boneless chicken breasts.
Sauce: The deliciously sweet sauce is made with soy sauce, honey, ketchup, garlic, and sesame oil plus some Sriracha to make it a little spicy. If you prefer it mild, just leave the Sriracha out. The sesame oil is what gives this chicken its signature nutty flavor but it is really strong so don't add too much. The soy sauce adds some saltiness and umami, while the ketchup adds tang and a little extra sweetness.
Cornstarch: Some cornstarch at the end is what helps thicken the sauce so it sticks to the chicken and gets kind of syrupy in consistency. Dissolving it into water first helps it distribute evenly so it doesn't clump up.
Can Slow Cooker Sesame Chicken be made ahead of time?
You can definitely prep this chicken recipe ahead of time, either the night before or it can be a freezer meal. For the freezer meal, there are instructions below. For the night before, just add the chicken and sauce ingredients to a large bowl and cover. Then the in the morning, dump everything in the crockpot and cook as usual.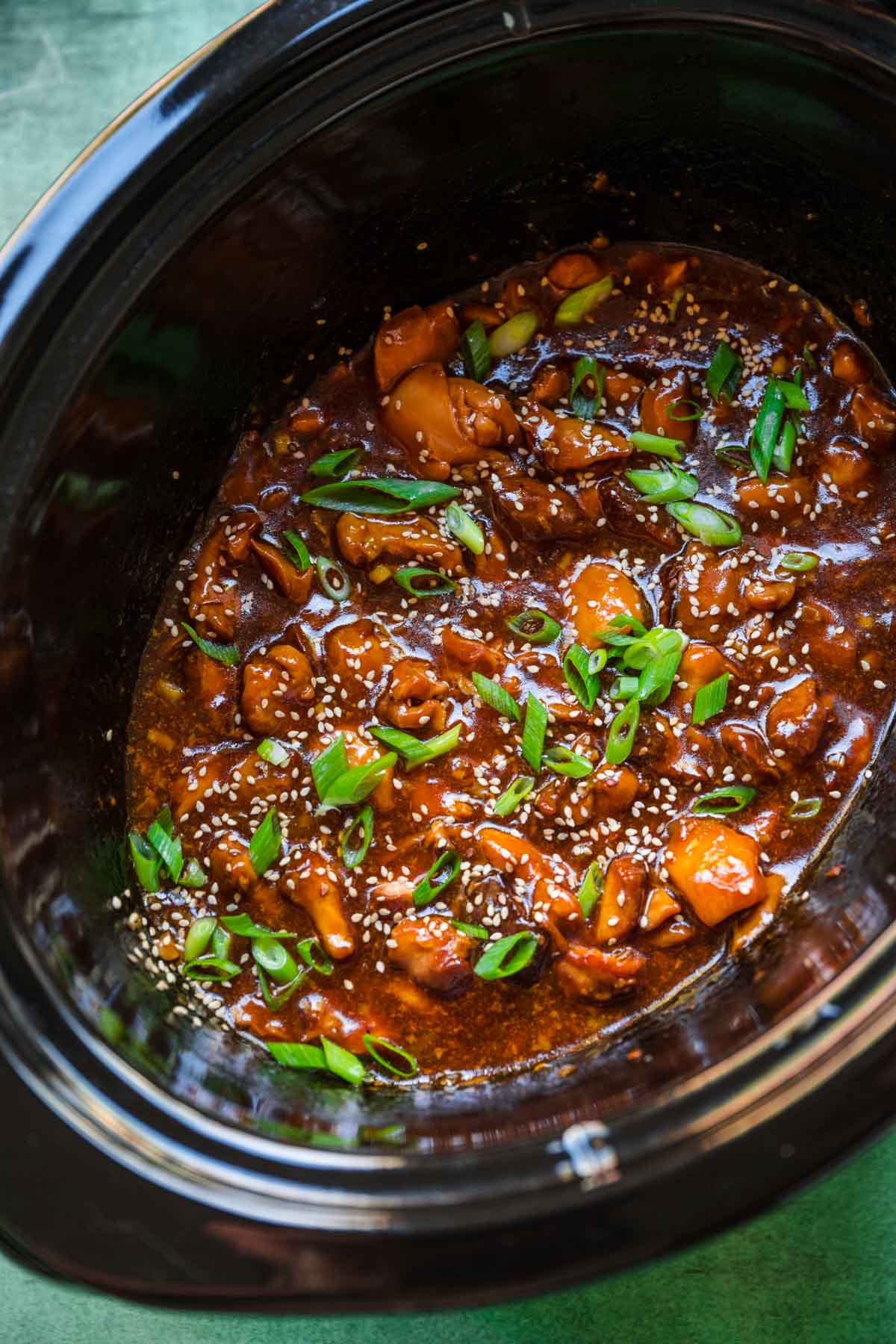 Variations
Meat: You can absolutely swap boneless chicken breasts for chicken thighs. You could also use bone-in chicken breasts, or swap chicken for pork or beef stew meat.
Sauce: Add seasonings like Barbecue Sauce, chili sauce, oyster sauce, rice vinegar, sesame seeds, tomato paste, minced garlic, garlic powder, minced onion, or grated ginger.
Spicy: If you want a spicier Sesame sauce, add crushed red pepper flakes, cayenne pepper, fresh hot chilies, another favorite hot sauce, or up the sriracha to a full tablespoon of hot sauce.
Veggies: Cook veggies with your chicken for a quicker meal. Use stir-fry veggies like red bell peppers, green bell peppers, broccoli florets, snow peas, diced onion, or zucchini. Add softer veggies, like bell peppers and zucchini, during the last hour of cooking.
Meal Prep Slow Cooker Sesame Chicken for a Freezer Meal
Slow Cooker Sesame Chicken is an excellent meal prep chicken recipe for quick freezer meals.
Double the recipe card serving size to make a double batch.
Mix the sauce ingredients in a large mixing bowl and pour half into the slow cooker.
Add half the chicken pieces to the slow cooker and mix half the uncooked meat into the bowl with sauce.
Pour chicken and sauce from the bowl into a gallon freezer bag. Freeze for up to 3 months.
To cook, run bag under water until separates from contents.
Place frozen chicken and sauce in the crock pot and cook covered on low for 5-6 hours.
Add cornstarch slurry and green onions and cook additional 30 minutes on high.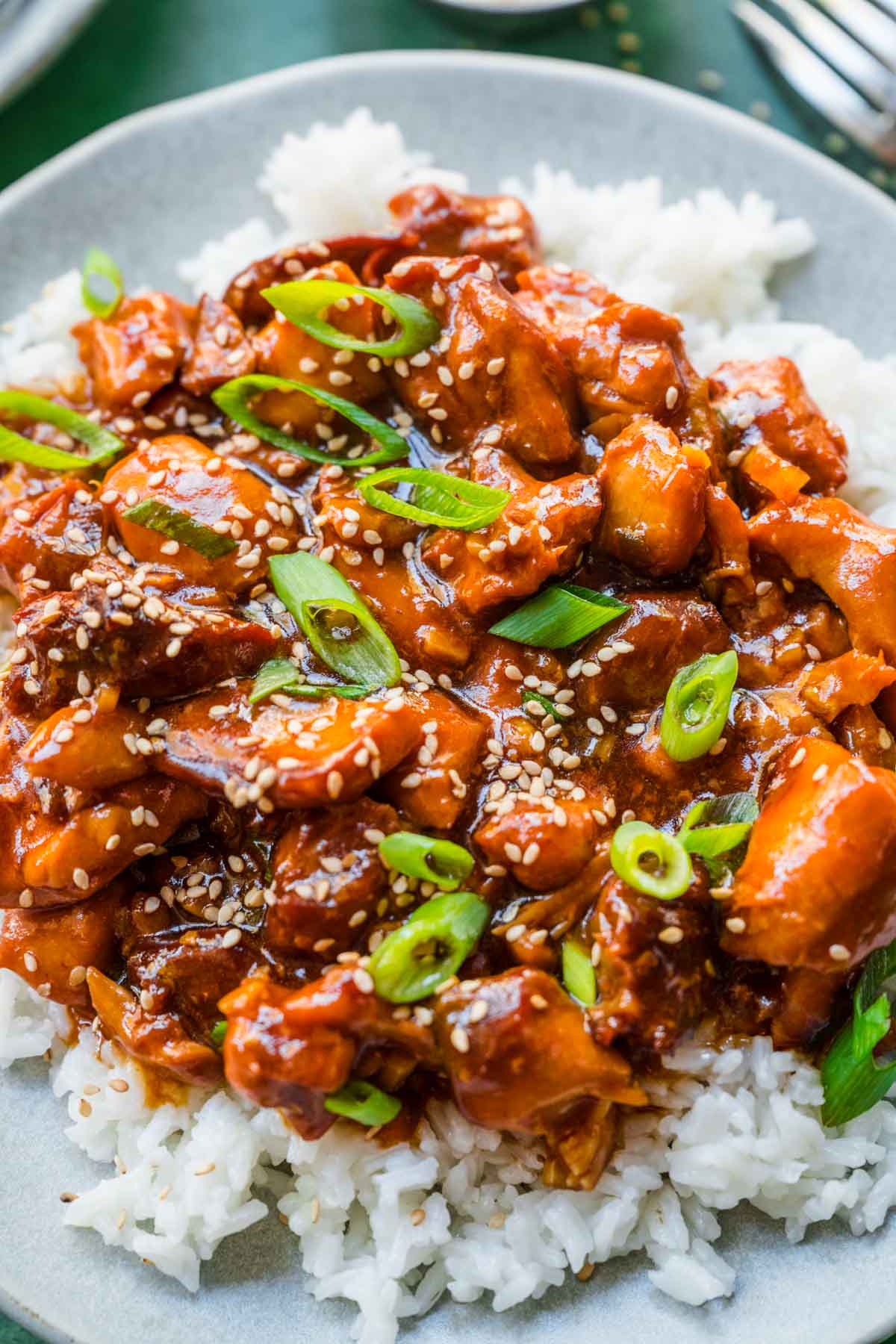 More Slow Cooker Asian Dishes
How to Store
Serve: Slow Cooker Sesame Chicken can be kept covered on warm setting for up to 4 hours, stirring occasionally. Keep at room temperature for no more than 2 hours before storing.
Store: Cool Sesame Chicken to room temperature before storing in an airtight container for up to 4 days. Reheat portions in an oven-safe bowl in the microwave or oven on low heat.
Freeze: Freeze cooked Sesame Chicken for up to 3 months in a sealed container and thaw before reheating. If you reheat from frozen, the chicken texture will be off. You can cook the uncooked meal from frozen.


Ingredients
1/4

cup

low sodium soy sauce

1/3

cup

honey

2

tablespoons

ketchup

1

tablespoon

sesame oil

2

teaspoons

Sriracha

3

cloves

garlic

, minced

2

pounds

skinless chicken thighs

, cut into 1-inch chunks

2

tablespoons

water

2

tablespoons

cornstarch

1/2

cup

green onions

, thinly sliced
Instructions
To your slow cooker add the soy sauce, honey, ketchup, sesame oil, Sriracha, and garlic, and whisk well.

Add in chicken chunks and mix well.

Mix water and cornstarch and add to slow cooker with green onions, stirring in gently.

Cook on high for

30 minutes

.
Nutrition
Calories:
252
kcal
|
Carbohydrates:
19
g
|
Protein:
29
g
|
Fat:
6
g
|
Saturated Fat:
2
g
|
Polyunsaturated Fat:
1
g
|
Monounsaturated Fat:
2
g
|
Trans Fat:
1
g
|
Cholesterol:
144
mg
|
Sodium:
173
mg
|
Potassium:
411
mg
|
Fiber:
1
g
|
Sugar:
16
g
|
Vitamin A:
122
IU
|
Vitamin C:
3
mg
|
Calcium:
24
mg
|
Iron:
1
mg