S'mores Ice Cream is the perfect summertime treat! Easy, rich chocolate homemade ice cream recipe with chocolate chips, marshmallows, and graham crackers.
Homemade Vanilla Ice Cream and Chocolate Ice Cream are the ultimate classic Frozen Treat Recipes perfect for the summer months.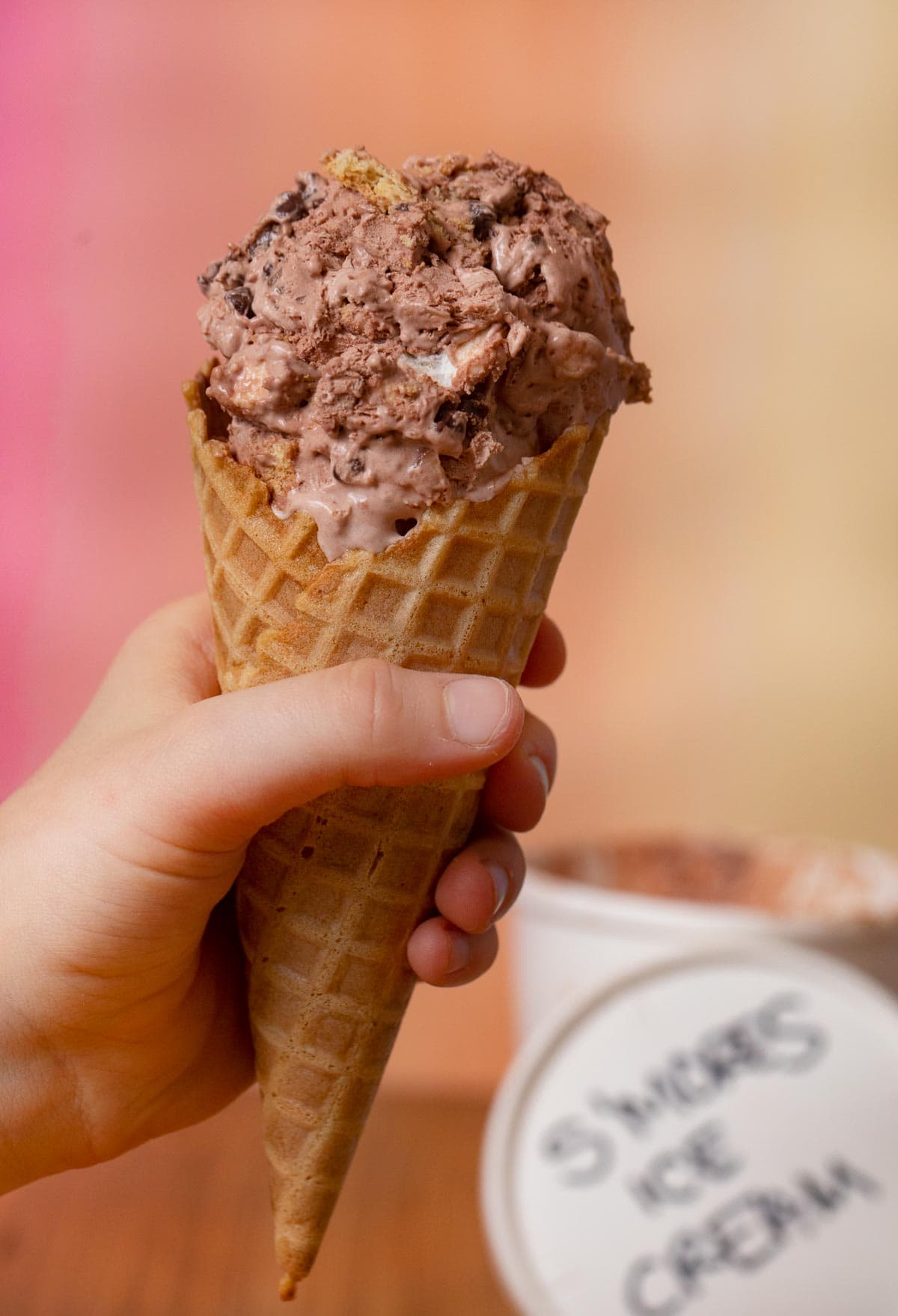 S'MORES ICE CREAM
Starting with our go-to easy trusty ice cream base, an ice cream maker, a bit of patience, and your favorite mix-ins, you can make virtually any flavor ice cream your heart desires! Normally we eat s'mores around the campfire but this chilly sweet summer treat can be enjoyed anytime and anywhere. Make a big batch of this S'mores Ice Cream for all your backyard barbecues, potlucks, and parties.
This homemade S'mores Ice Cream recipe starts with a custard base for a creamy texture and rich, decadent flavor. Ice cream custard can seem intimidating but if you follow the key tips, you'll have velvety delicious ice cream every time.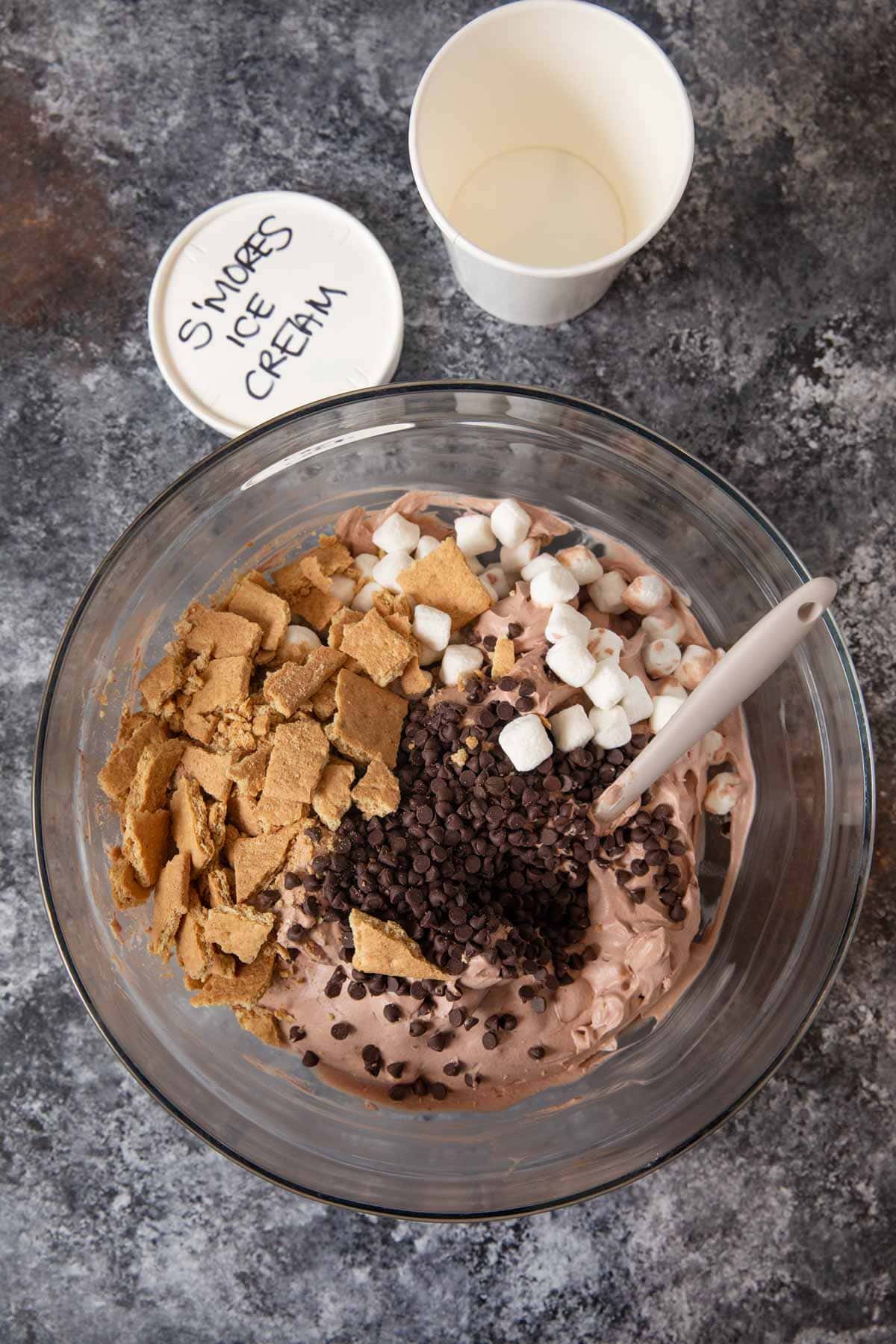 For the ultimate summer indulgence, you can make this ice cream with our S'mores Bark that's been chopped into bite-size pieces. With a little planning ahead, you could also make your own Homemade Marshmallows and cookies like Gingersnaps for the tastiest ice cream ever!
If you don't have an ice cream maker, that's perfectly okay! There are two no-churn ice cream methods at the bottom of this post, after the variations sections. They take a little more hands-on work than an ice cream maker but the shaken method is a fun activity for kids to do in the summer!
MORE TASTY EASY FROZEN TREATS!
Tips for Homemade Ice Cream
A cold

ice cream base

and bowl before churning will ensure a

creamy texture

. Make sure you start with a frozen

ice cream machine

bowl and chill the custard completely before adding the mix-ins,

heavy cream

, and vanilla.
You need to temper the

egg yolks

before adding them to the hot pan or they will scramble. To temper, you add a small amount of the

warm milk mixture

to the yolks while whisking so they get warmer without cooking. Then you add the warm yolk/milk mixture back to the pan to fully cook.
Make Ice Cream Base Ahead
You can make the chocolate ice cream base up to a week in advance. Prepare the chocolate custard, chilling and then adding the heavy cream and vanilla extract. Transfer to an airtight container and keep chilled in the refrigerator for up to one week.When you are ready to make your S'mores Ice Cream, fold in the graham crackers, mini marshmallows, and chocolate chips and add to your ice cream maker.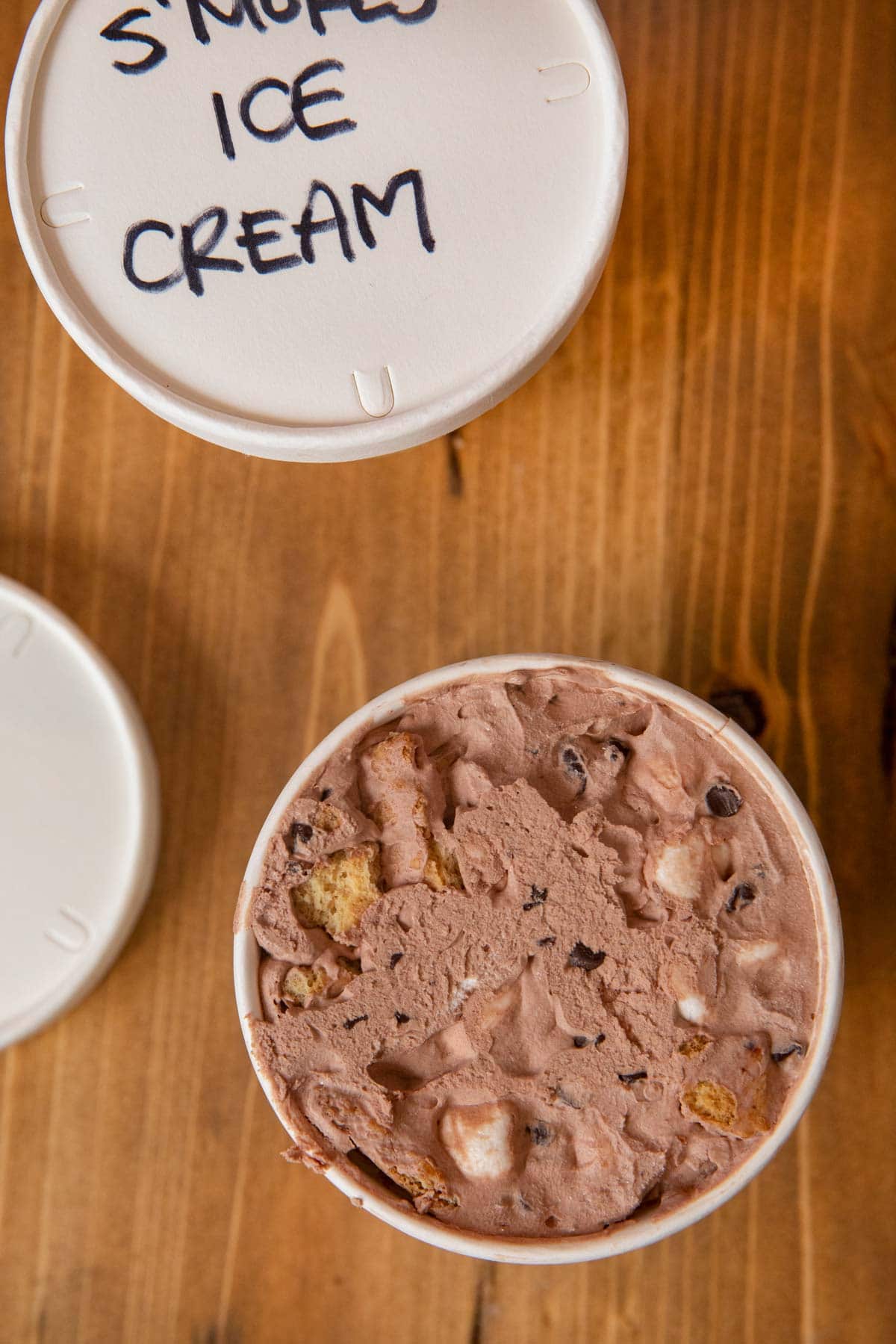 Create a free account to

Save Recipes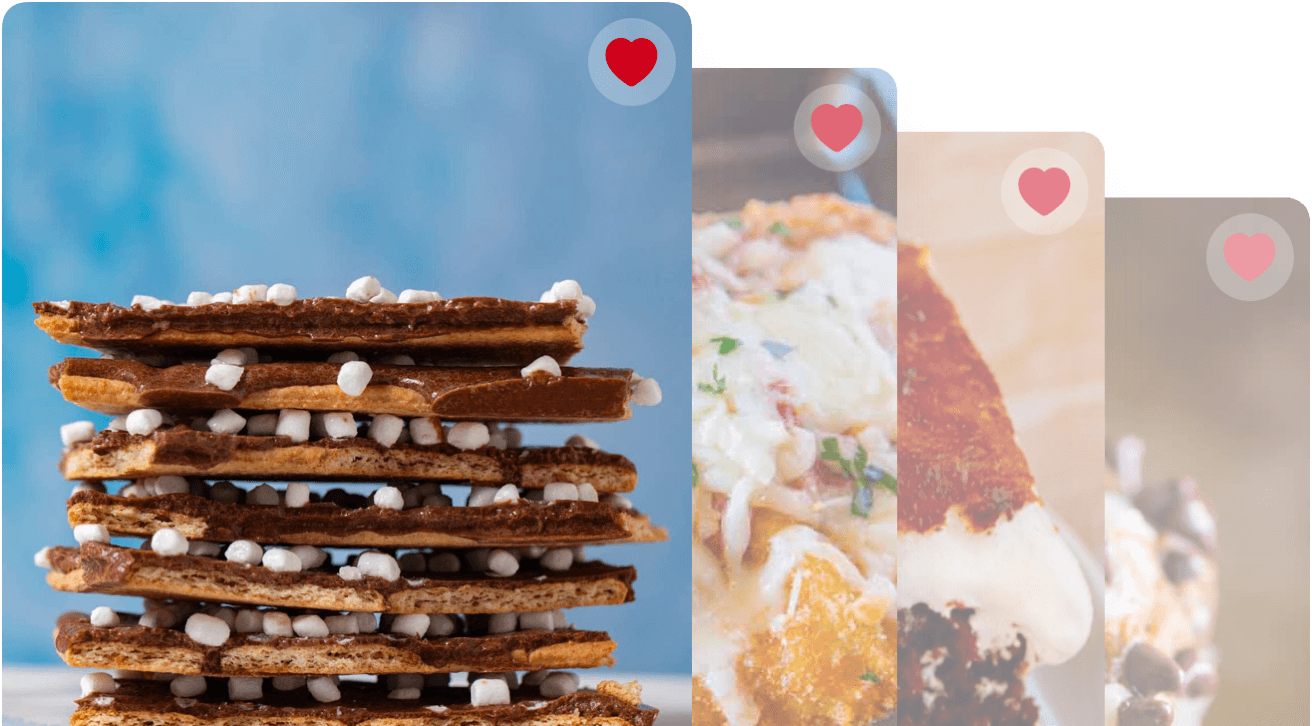 VARIATIONS FOR THIS RECIPE
Toasted Marshmallows: Add campfire flair with

toasty marshmallows

by broiling the

mini marshmallows

on a

baking sheet

before adding them to the

ice cream base

. It only takes about 30-60 seconds, flipping halfway through and watching them so they don't burn.

Marshmallow Ice Cream

: Instead of

chocolate ice cream

, make a marshmallow

vanilla ice cream

base. Reduce to ½ cup sugar, omit the

cocoa powder

, and stir in ½ cup

mini marshmallows

instead of the chocolate chips to the

custard base

.
Sauce Swirls: Add a

marshmallow cream

swirl, Hot Fudge swirl, or Salted Caramel Sauce swirl to your S'mores

Ice Cream

. To make swirls in the ice cream, start with a small

layer of ice

cream in your container, and add alternate dollops of

sauce between layers

of ice cream. It will create ribbons as you scoop!
Mix-Ins: Other mix-ins you can add are chopped nuts, mallow bits, graham cracker cereal, chopped cookies, candy, dark chocolate chips, or milk

chocolate pieces

.
No-Churn Ice Cream with Electric Mixer
Items needed: Large metal

mixing bowl

frozen overnight and electric mixer with beater attachments.
Prepare

chocolate ice cream

base including adding

heavy cream

and vanilla. Pour into frozen bowl and freeze for 30 minutes.
Using electric mixer, beat

ice cream mixture

on high speed for 2-3 minutes and return to freezer.
Continue to beat and freeze

ice cream mixture

every 30 minutes, until it begins to firm.
Stir in the

mini marshmallows

, chocolate chips, and graham crackers, then freeze for 30 minutes.
Beat one last time and then return to freezer for at least 4 hours before serving.
Shaken Ice Cream
Items needed: Large

container

with a secure lid, gallon size zipper plastic bag, rock salt, and enough ice cubes to fill container around filled bag.
Prepare the

chocolate ice cream

base up and chill for 4 hours, then whisk in

heavy cream

and vanilla.
Transfer chocolate custard mixture to gallon size plastic bag and seal well.
Add

ice cream

mix bag to

container

and fill container with ice around the bag. Top with ¼ cup rock salt and secure lid tightly.
Shake or roll container for at least 10 minutes, until

ice cream texture

has a

firmer consistency

.
Stir in marshmallows, chocolate chips, and graham crackers and transfer

ice cream

to air tight container.
Freeze for at least 4 hours or overnight before serving.
MORE DELICIOUS S'MORES RECIPES
HOW TO STORE ICE CREAM
Serve: Once the

ice cream finishes

churning, transfer it to an

airtight container

to freeze. A bread pan loaf pan or metal bowl are best to keep it cold. Freeze for at least 3 hours to fully harden before serving.
Freeze: Homemade S'mores

Ice Cream

is best within 1 month of making. Keep ice cream in an

airtight container

in the back of the freezer. Place

plastic wrap

or

parchment paper

into the top of the ice cream before covering with a lid to keep ice crystals from forming.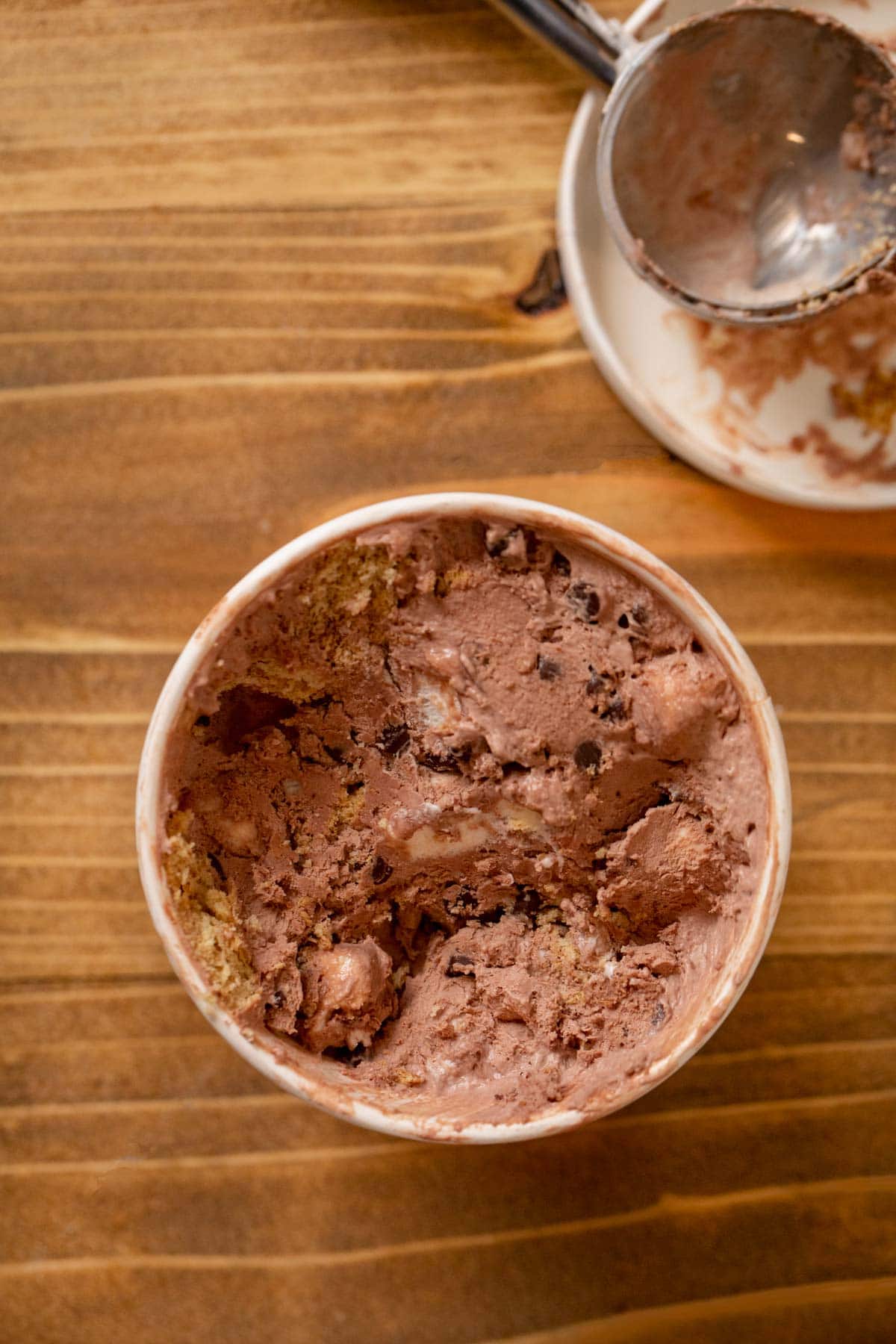 Ingredients
8

large

egg yolks

, lightly beaten

3/4

cup

sugar

, divided

1

cup

milk

1/4

teaspoon

salt

2

tablespoons

unsweetened cocoa powder

1/3

cup

semisweet chocolate chips

2

cups

heavy cream

1

teaspoon

vanilla extract

1

cup

mini marshmallows

1/2

cup

chocolate chips

1

cup

graham crackers

, coarsely crushed
Instructions
In a medium bowl whisk egg yolks and ¼ cup sugar well.

In a medium saucepan add the sugar, milk, salt, and cocoa powder on medium heat.

Whisk non-stop and bring to a simmer, then reduce heat to low.

Add ½ cup chocolate mixture in a very slow thin stream to the egg yolks while whisking quickly (do not stop whisking).

Pour the egg/chocolate mixture back into the pot slowly while whisking constantly.

Cook until mixture is thickened, about

8-10 minutes

(do not let boil, or milk will taste scalded).

Turn off heat and whisk in chocolate until smooth.

Let cool completely, then refrigerate (covered) for

2 hours

.

Whisk heavy cream and vanilla extract into the chocolate mixture.

Mix in mini marshmallows, chocolate chips, and graham crackers.

Add mixture to your ice cream maker (per machine instructions) then freeze for at least

3 hours

to harden before serving.
Nutrition
Calories:
347
kcal
|
Carbohydrates:
32
g
|
Protein:
5
g
|
Fat:
23
g
|
Saturated Fat:
13
g
|
Trans Fat:
1
g
|
Cholesterol:
187
mg
|
Sodium:
137
mg
|
Potassium:
128
mg
|
Fiber:
1
g
|
Sugar:
24
g
|
Vitamin A:
814
IU
|
Vitamin C:
1
mg
|
Calcium:
85
mg
|
Iron:
1
mg