jump to recipe
S'mores Cookies
This post may contain affiliate links. Read my disclosure policy here.
S'mores Cookies made with graham cracker crumbs, chocolate chips and mini cereal marshmallows are a huge hit for the summer with no marshmallow mess!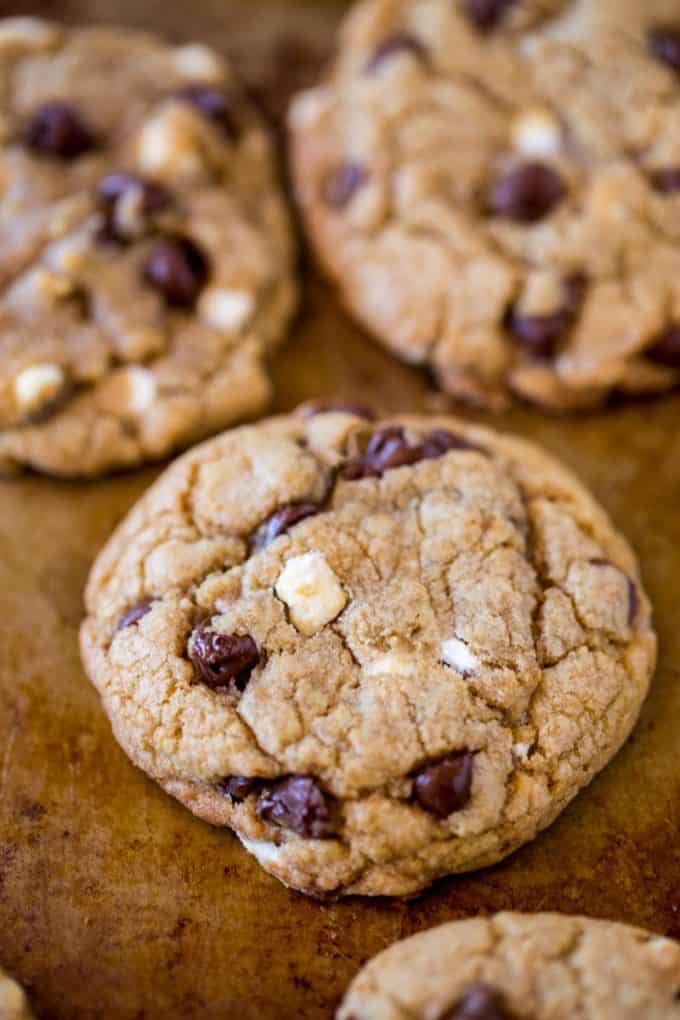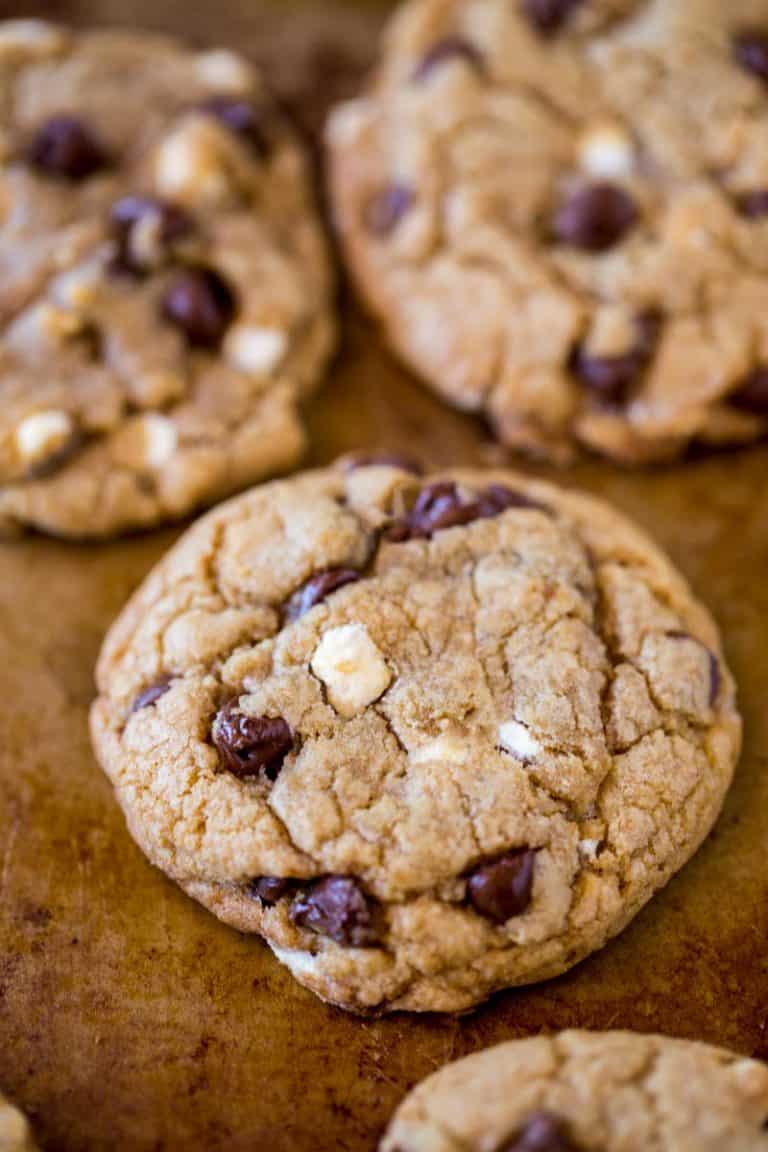 S'mores Cookies that actually taste like S'mores, not a chocolate chip cookie with marshmallows. These cookies are the brainchild of Hayley Parker of The Domestic Rebel. She just released her second cookbook called Two in One Desserts, a cookbook that takes two classic desserts and brings them together to make a new awesome dessert mashup.
This isn't a sponsored post, this is just me super excited about my friend's new cookbook and helping her promote it. So…. you should go out and buy it immediately. I'll wait.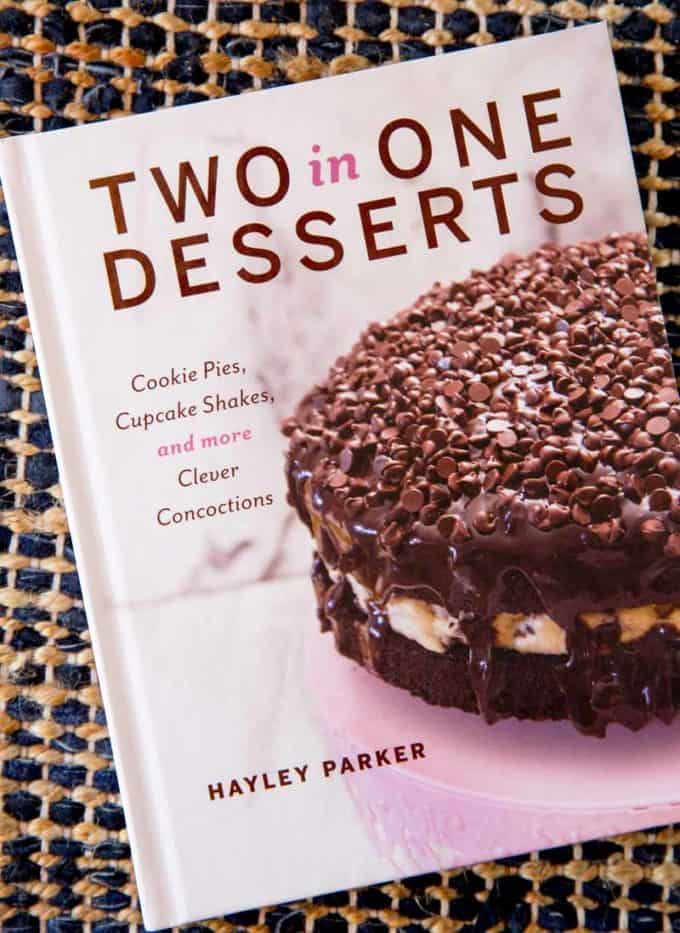 There are some great recipes in the book including French Silk Pie Brownies which look AMAZING. The recipes are a fun way to play with your desserts including Berry Cobbler Pie and Molten Lava Cake Cookies which are both next on my list!
These S'mores Cookies are a fun summer cookie but they'd also be an unexpectedly awesome addition to your Christmas Cookie rotation. One bit of these S'mores Cookies and December will feel like a nice warm summer day.
Some people like to make these S'mores Cookies with graham crackers, like actual chunks of graham crackers in the cookies. While this can look pretty the graham cracker can actually get pretty dry in the oven and won't have a moist flavor. These S'mores Cookies without graham crackers are actually made instead with graham cracker crumbs which have moisture added in by the wet ingredients in the dough.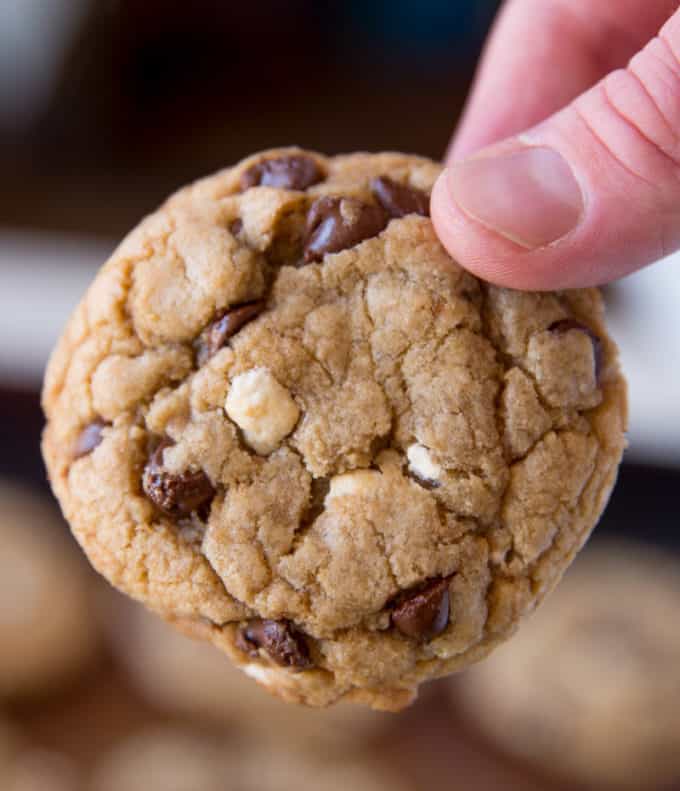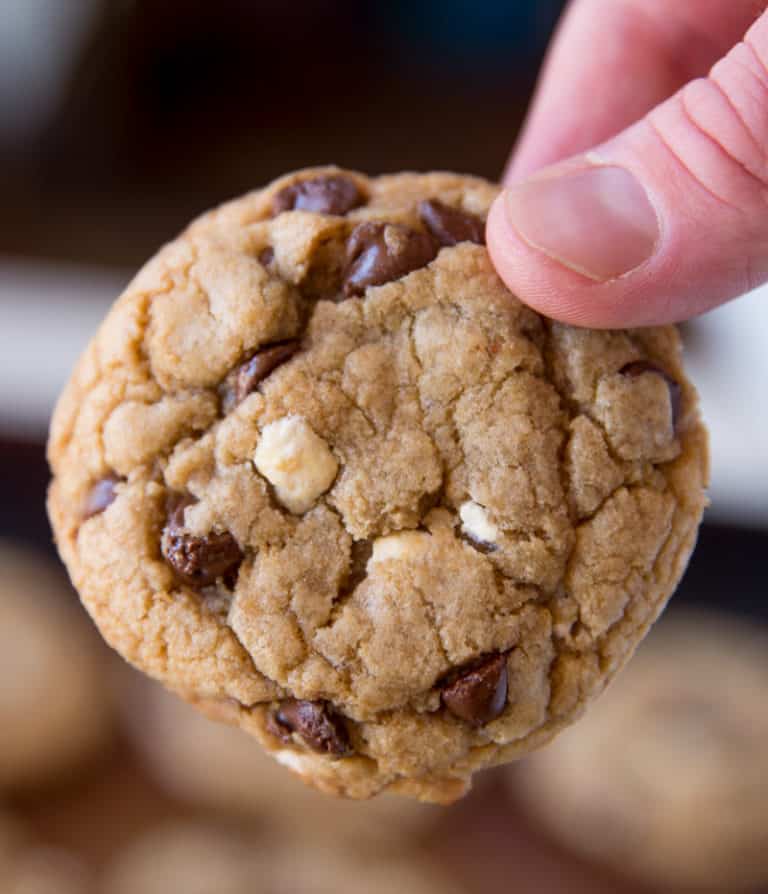 Looking for more Cookie Recipes?
Looking for more S'mores Recipes?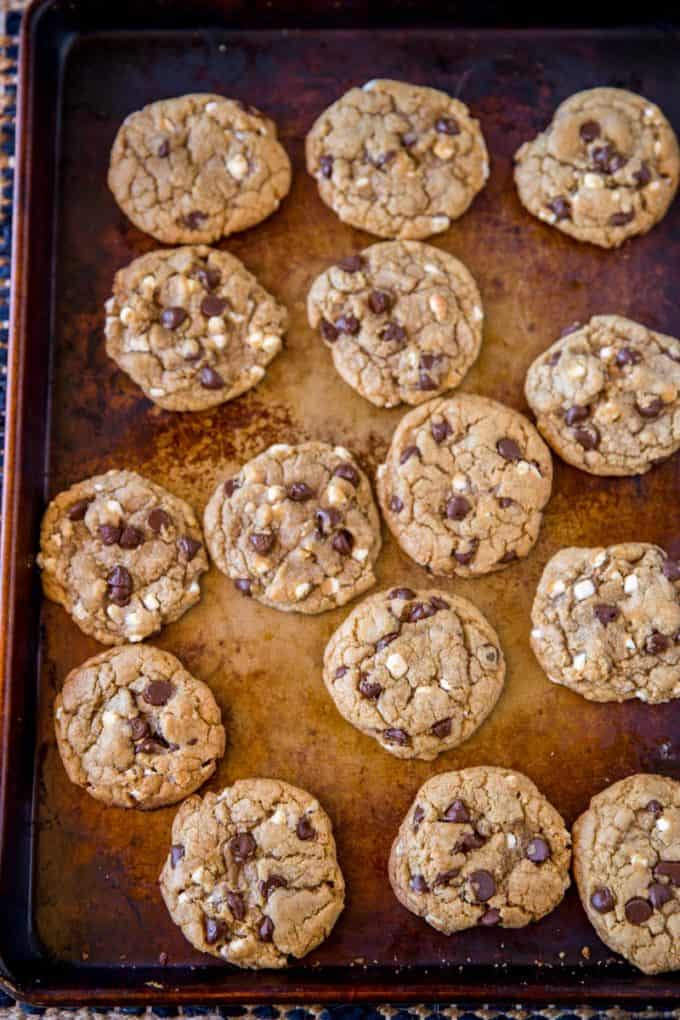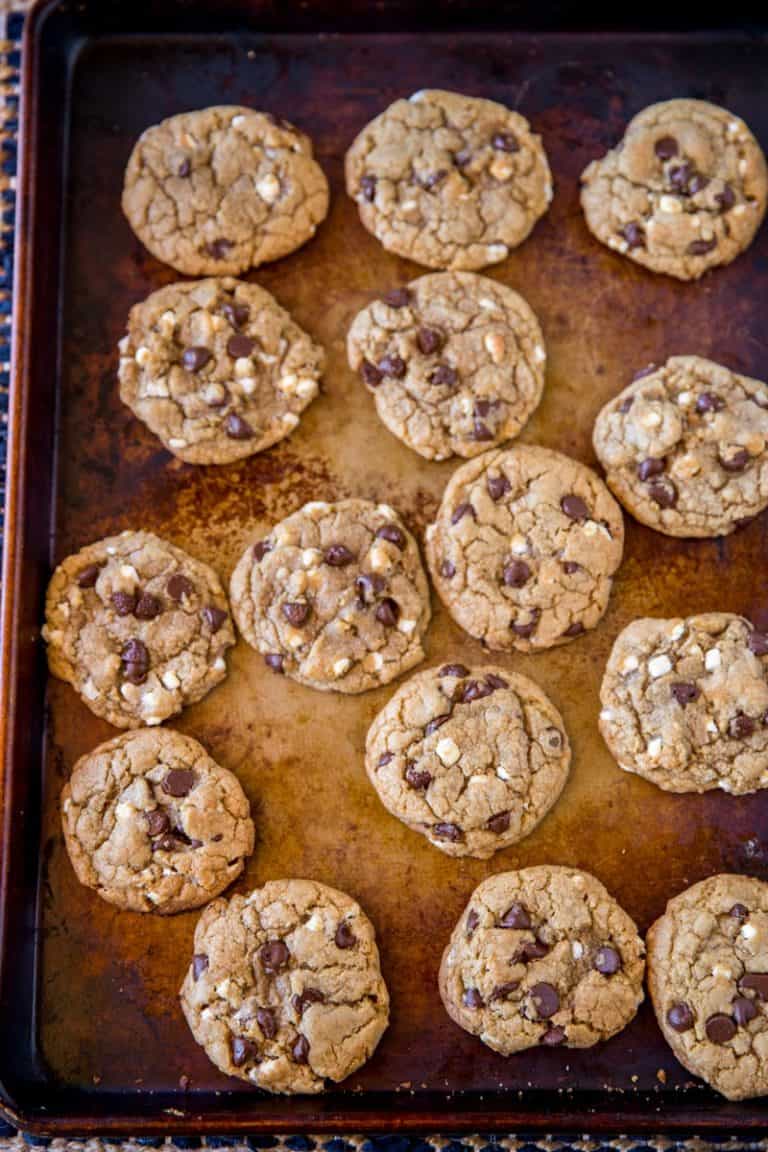 MY OTHER RECIPES
Tools used in the making of these S'mores Cookies:
Silpat: Helps keep the cooking on the bottom of these cookies gentle and preserve the light color of the cookies.
Stand Mixer: When creaming butter and sugar a stand mixer is a huge help in the kitchen, you want to see a visual change in the color of the butter and a stand mixer will get you there in no time.
Ice Cream Scoop: This will ensure your cookies are the perfect size and easy to scoop. I use this scoop for all larger cookies and muffins/cupcakes.
Cereal Marshmallow Bits: Perfect for these cookies or for your hot cocoa.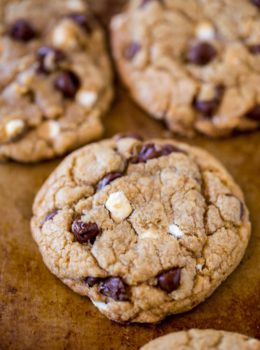 S'mores Cookies
S'mores Cookies made with graham cracker crumbs, chocolate chips and mini cereal marshmallows are a huge hit for the summer with no marshmallow mess!
Ingredients:
12 tablespoons unsalted butter, at room temperature
1 cup brown sugar
1/2 cup granulated sugar
1 large egg
1 large egg yolk
1 tbsp pure vanilla extract
1 tsp baking soda
2 tsp corn starch
1 tsp salt
2 cups all-purpose flour
1 cup graham cracker crumbs, finely ground
3/4 cup semisweet chocolate chips
3/4 cup marshmallow bits
Directions:
In your stand mixer cream the butter, brown sugar, and sugar together until fluffy and lightened.
Add in the eggs and vanilla and beat until fluffy.
Add in the baking soda, corn starch, salt, flour, and graham cracker crumbs until a thick but soft dough forms.
Add in the chocolate chips and marshmallow bits and beat for 5-10 seconds until combined.
Remove the beater from the bowl, add saran wrap and let chill in the refrigerator for 2 hours.
Preheat the oven to 350 degrees.
Using a silpat scoop the dough in tablespoon sized balls.
Bake for 8-10 minutes (the middles may look slightly wet still).
Let cool before removing from cookie sheet.
All images and text ©
Made this recipe?
Show me what you made on Instagram or Facebook and tag me at @DinnerthenDessert or hashtag it at #dinnerthendessert.
Dinner, then Dessert, Inc. owns the copyright on all images and text and does not allow for its original recipes and pictures to be reproduced anywhere other than at this site unless authorization is given. If you enjoyed the recipe and would like to publish it on your own site, please re-write it in your own words, and link back to my site and recipe page. Read my disclosure and copyright policy. This post may contain affiliate links.