Apple Pie Cheesecake is a delicious combo of creamy cheesecake filling and traditional apple pie topping all wrapped in a lattice pie crust!
During the holiday baking season, there are plenty of Dessert Recipes. to choose from for your special dinners. This combo of Apple Pie and homemade Cheesecake means your guests don't have to pick just one decadent dessert to indulge in!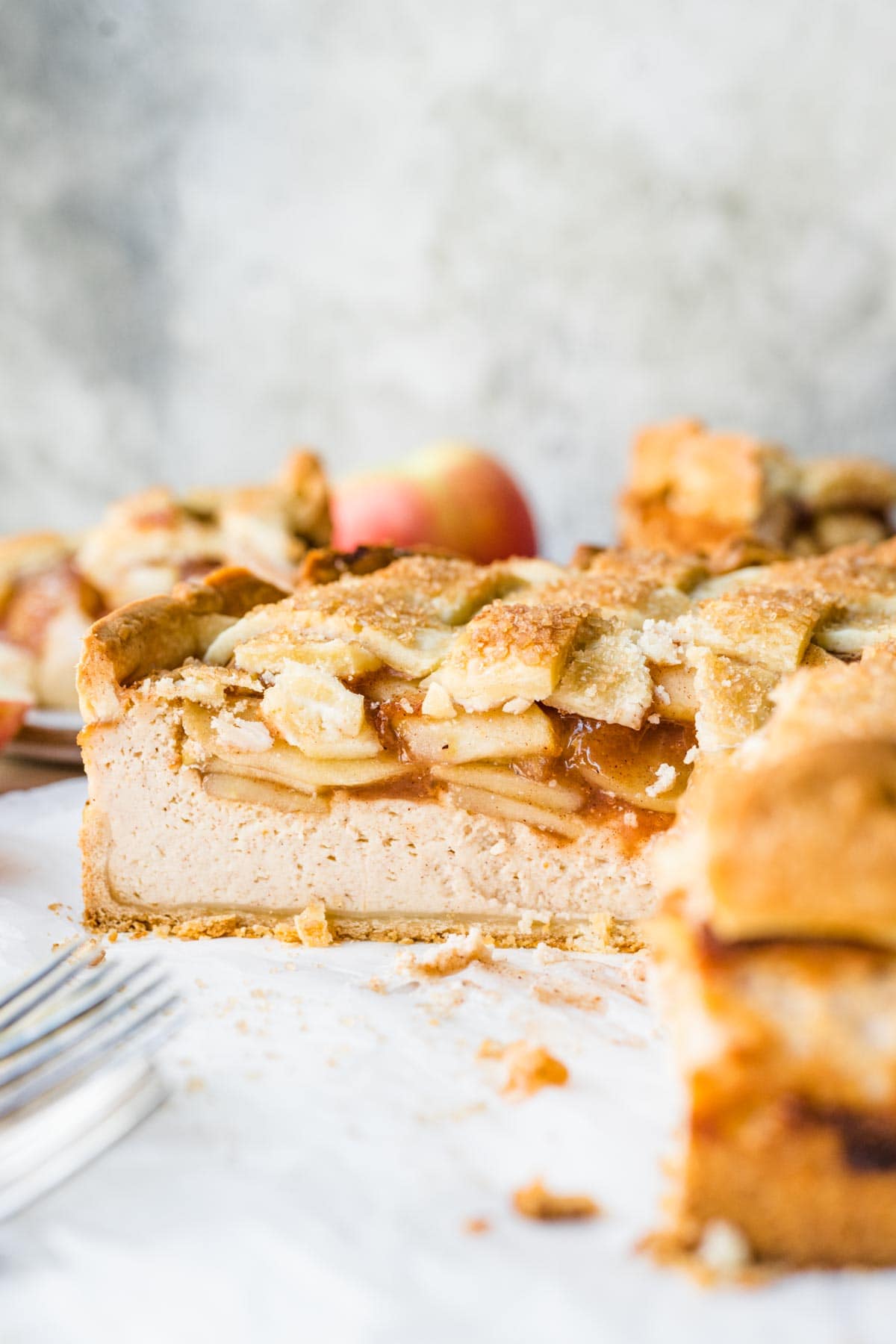 Apple Pie Cheesecake is a combination of two favorite recipes in one delicious dessert. A buttery pie crust is filled with a cinnamon cheesecake batter that is baked until set. The creamy cheesecake gets topped with cinnamon-spiced apples and a classic lattice top crust and baked once more until the crust is golden and flaky. This decadent dessert does take quite a bit of extra time and work, so it's the perfect choice for the holiday season when you've set aside plenty of baking time.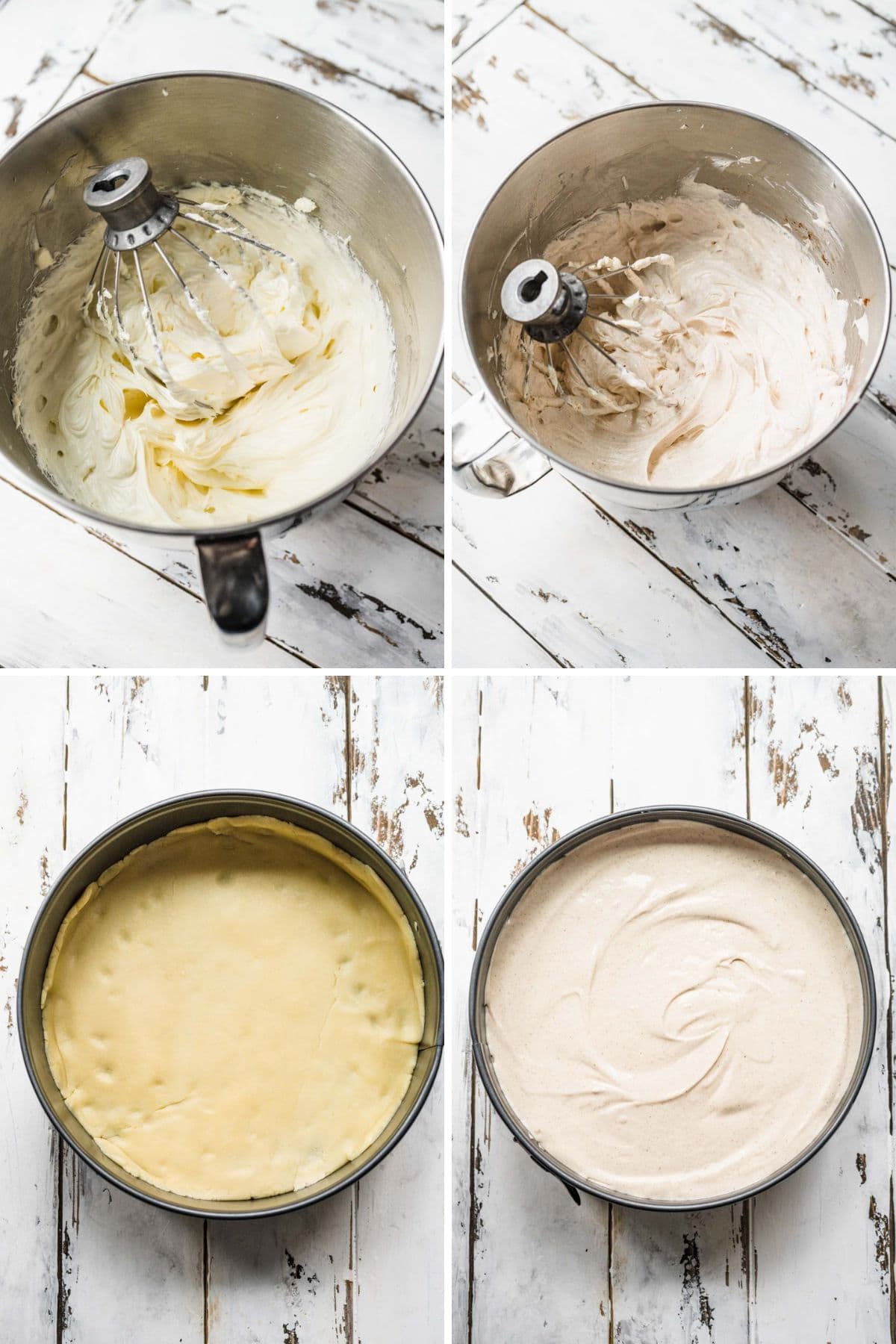 This amazing apple cheesecake pie starts with a Flaky Pie Crust just like a traditional apple pie. While you can absolutely make your own crust, a store-bought crust is a great way to save a little additional time. The cream cheese mixture and apple layer are homemade and there's lots of bake time and cooling time, so saving 15-20 minutes (plus chilling time) is always welcome in peak baking season.
Apple Cheesecake is the perfect dessert for using up pie and cheesecake ingredients from other holiday recipes. The homemade cinnamon-spiced Apple Pie Filling comes together with just a couple apples and you don't need as much cream cheese to make the creamy cheesecake layer. No matter when you want to make this amazing dessert, the ingredients are easy to find.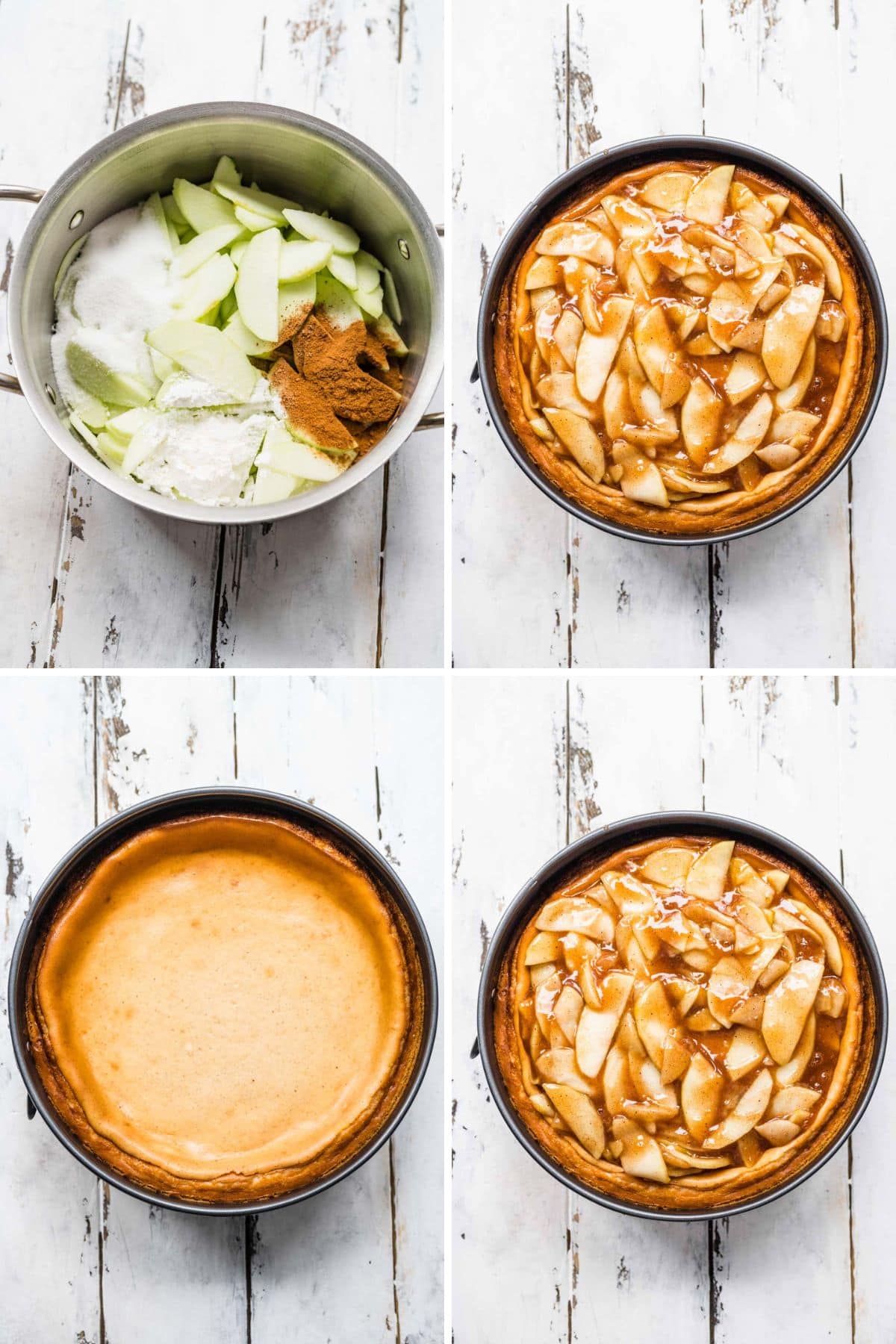 You'll only need to try one bite to be hooked on the wonderful combination of apple pie and cinnamon cheesecake. The flavorful apple pie filling makes the perfect topping for the velvety cheesecake. Plus the cinnamon and nutmeg in the cheesecake batter adds a delicious warmth to the tangy flavor of the original recipe. Just like a traditional pie, serve your Apple Cheesecake Pie with a scoop of Vanilla Ice Cream or dollop of Whipped Cream.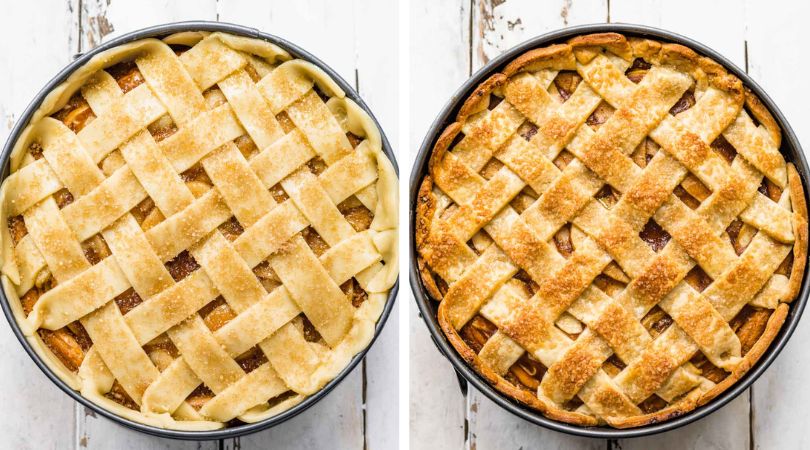 How to Make Apple Pie Cheesecake
Prep Time: Start by preheating the oven and lining the bottom of a 9-inch springform pan with the first pie crust.
Cheesecake Filling: Next, add the softened cream cheese and sugar to your stand mixer. Beat cream cheese with sugar at medium-high speed until the mixture is light and fluffy. Then you can add the sour cream, vanilla, cinnamon, and nutmeg. Combine each egg into the mixture individually, before adding the next.
Baking Time: Pour the cream cheese mixture into the prepared 9-inch pie dish. Then bake for 55-60 minutes. The baked crust should be a light golden brown color, and the middle of the cheesecake shouldn't be jiggly when it's done. If the center is still jiggling do a couple of minutes of additional baking. Then let the cheesecake cool while you do the next steps.
Pie Filling: To make the homemade apple pie filling add the apples, water, sugar, cinnamon, nutmeg, and cornstarch to a large saucepan. Stir well and cook for 6-8 minutes until softened and thick. Let the mixture cool, and preheat the oven again, this time to 425 degrees.
Crust: Pour the apple mixture over the cheesecake and spread evenly. then cut the second crust into 1/2? thick strips to make the lattice top. Lay them over the top, overlapping in a lattice pattern.
Bake: Brush the top of the crust strips with egg wash, and sprinkle on the sanding sugar. Bake uncovered for 25-30 minutes. Let the cheesecake pie cool completely before slicing and serving with ice cream or whipped topping.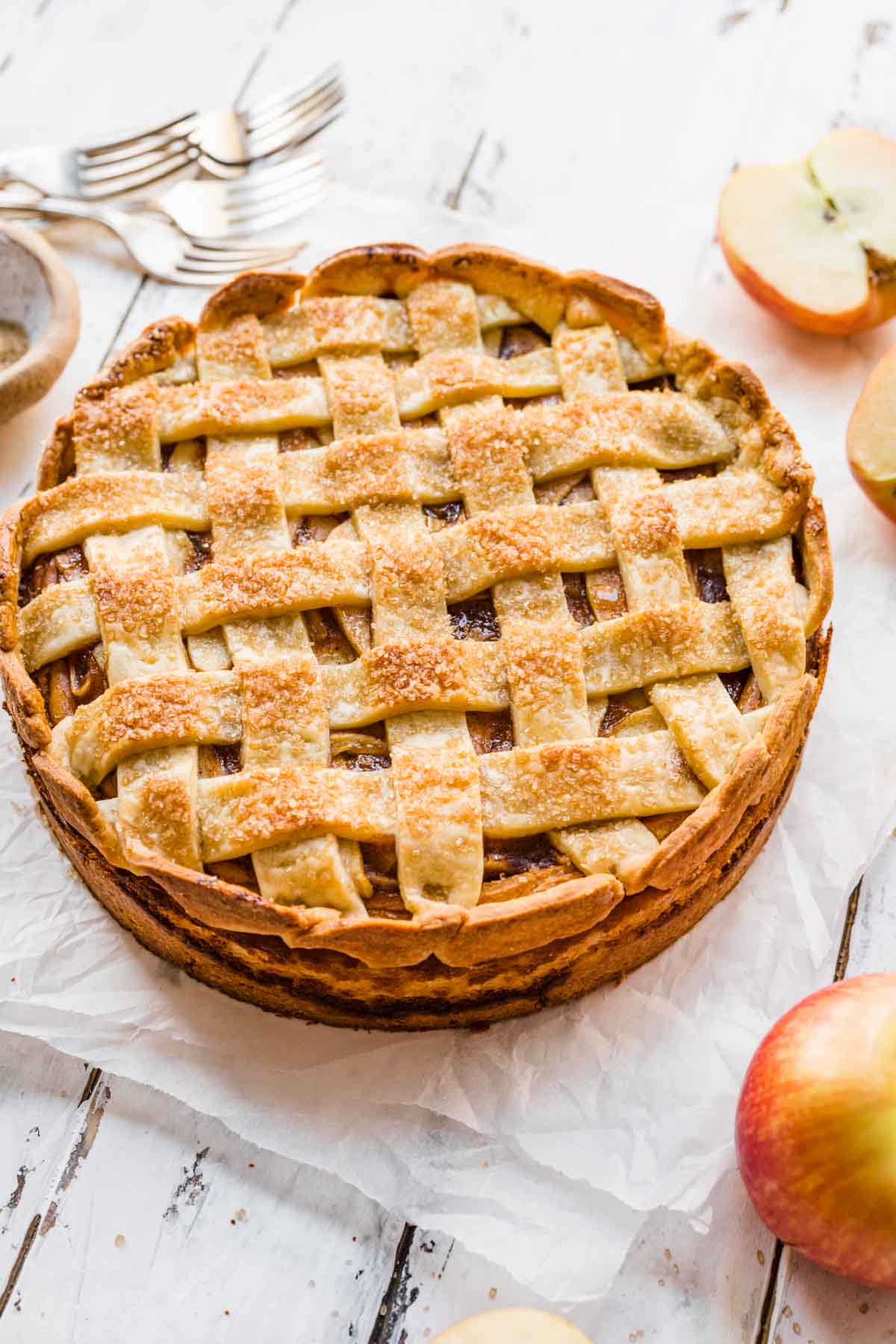 More Amazing Holiday Cheesecake Flavors
FAQs for Apple Pie Cheesecake
Do I have to use a waterbath to make this cheesecake recipe?
No, this is actually a baked cheesecake that doesn't require a waterbath! There aren't any eggs in the cream cheese mixture so you don't have to worry about them scrambling. Since you are covering the top with an apple layer and pie crust, you also don't have to worry about cracks. 
Can I use canned pie filling?
You could just use canned apple pie filling, but this apple filling is so easy and it tastes so much better! The apples are cooked for a few minutes before baking so they are perfectly tender and the filling has just the right amount of warm flavor and sweetness.

Create a free account to

Save Recipes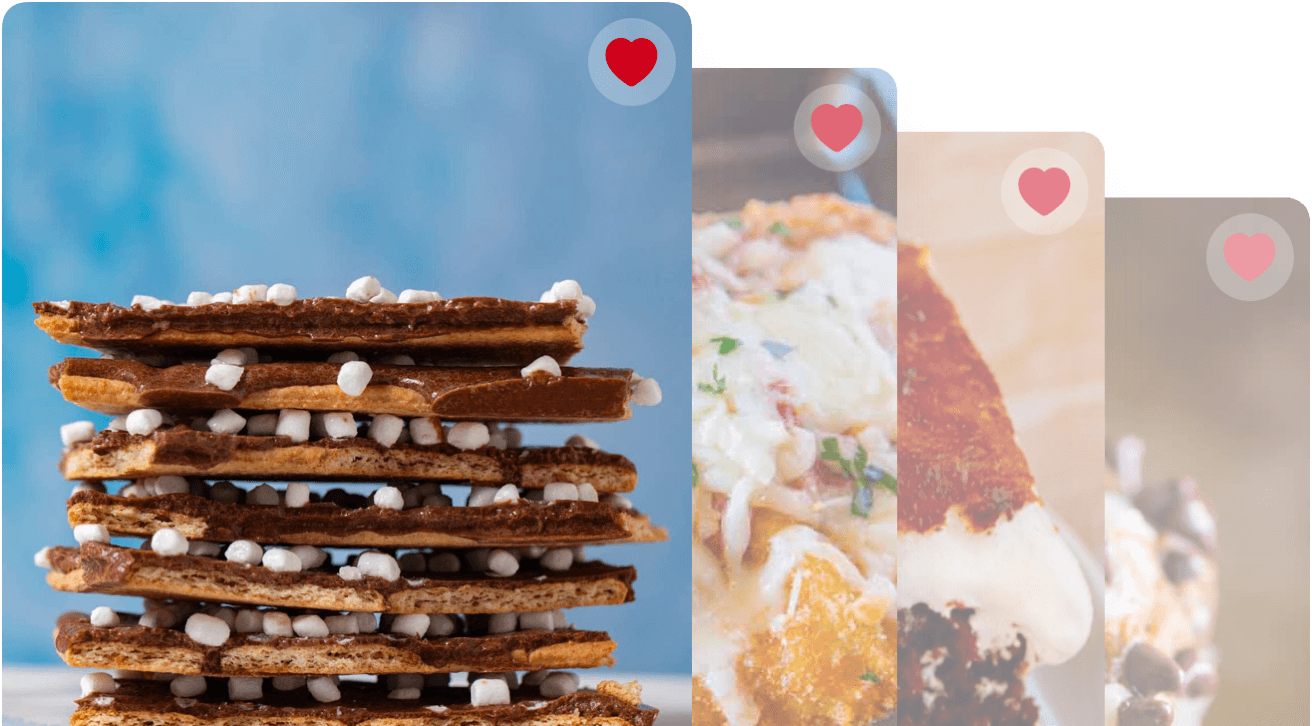 Key Ingredients
Cheesecake: For the most part, everything in the cheesecake filling is what you'd find in an average cheesecake recipe. The key differences are the spices. Adding cinnamon and nutmeg gives the cheesecake a delicious cinnamon flavor that pairs perfectly with the sweet apple filling.
Apples: For the flavorful apple pie filling there are a few varieties of apple that usually work best. Honey crisp, Granny Smith, and Jonagold are go-to apples for baking. These apples have a firm flesh that doesn't get mushy when baking and they have a nice, strong apple flavor.
Apple Filling: Apart from the apples themselves, you need spices, water, sugar, and cornstarch to make the apple filling. The cornstarch is especially important because it helps to thicken the syrup so the pie stays together when sliced.
Pie Crust: Unlike most cheesecake recipes, this delicious dessert is made with a regular pie crust like fruit pies. Use thawed store-bought pie crusts or use a Homemade Pie Crust recipe, just make sure to prep it ahead so that it chills fully.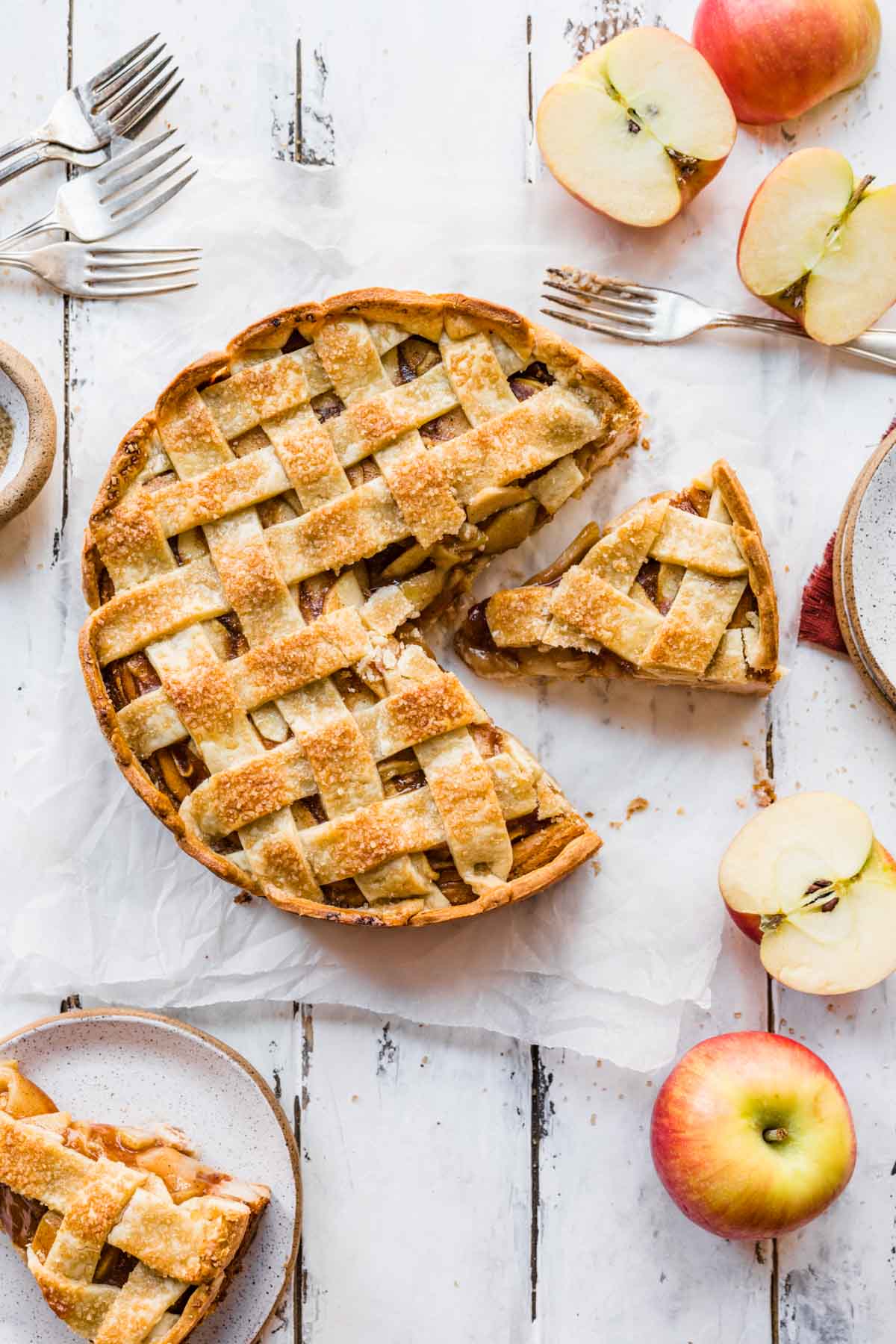 Can you make Apple Pie Cheesecake ahead of time?
You can definitely make parts of this Apple Cheesecake in advance to save yourself time the day you want to serve it. The cheesecake mixture can be blended and stored overnight in the fridge before baking, or you can store the baked cheesecake layer for up to 2 months. The apple layer can be made a couple days ahead of time or frozen for up to 3 months. If you plan on making lots of apple desserts in the holiday baking season, make a big batch of apple pie filling so you have extra apple fruit filling ready for your favorite recipes.
Variations
Caramel Apple Cheesecake: Swap the granulated sugar for brown sugar and omit the spices to make a brown sugar cheesecake batter that gets a warm caramel flavor as it bakes. Use brown sugar in the apple layer and drizzle your finished pie with Salted Caramel Sauce for a decadent Caramel Apple Cheesecake.
Fruit: Juicy apples aren't the only fruit that would taste amazing in this cheesecake-pie combination! Try this with pears or plums in the winter. For a summery pie, don't use any warm spices in the cheesecake mixture and make a fresh berry pie filling like in Blackberry Pie or Blueberry Pie.
Cracker Crust: Instead of a flaky shortcrust pie crust, you can make a classic Graham Cracker Crust, or make another kind of cookie crumb crust. A gingersnap cookie crust with the combo of apple pie and cinnamon cheesecake would make the perfect winter holiday dessert!
Apple Crumb Cheesecake Pie: Instead of the lattice crust topping, you can make a brown sugar streusel topping, as you'd find on an apple crumb pie. To make the topping, add ½ cup brown sugar, ½ cup granulated sugar, ½ cup flour, 1 ½ teaspoons cinnamon, ? teaspoon salt, and ¼ cup cold butter to a large bowl. Use a pastry cutter to cut the butter into the ingredients until you have coarse crumbs. Cover the apple layer with the crumb topping before the last round of baking.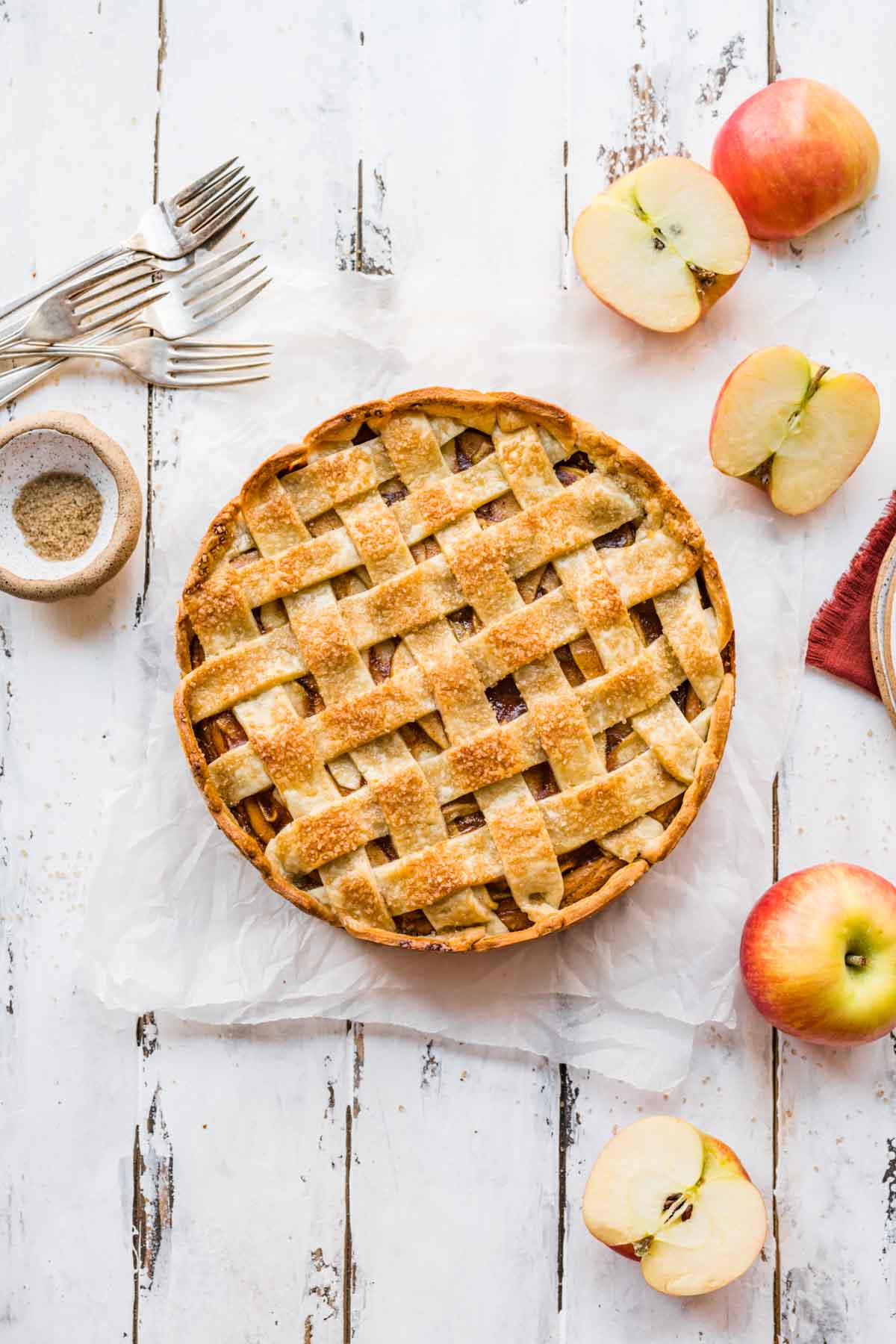 More Delicious Apple Pie Recipes
How to Store
Serve: You don't want to leave this Apple Cheesecake recipe at room temperature for more than a couple of hours.
Store: If you have leftovers, cover the pie in aluminum foil, or store individual pieces in an air-tight container. They'll stay good for up to 5 days.
Freeze: For longer storage, make sure you carefully wrap the pie in plastic wrap followed by aluminum foil. As long as it's carefully sealed, it can stay food frozen for up to 2 months.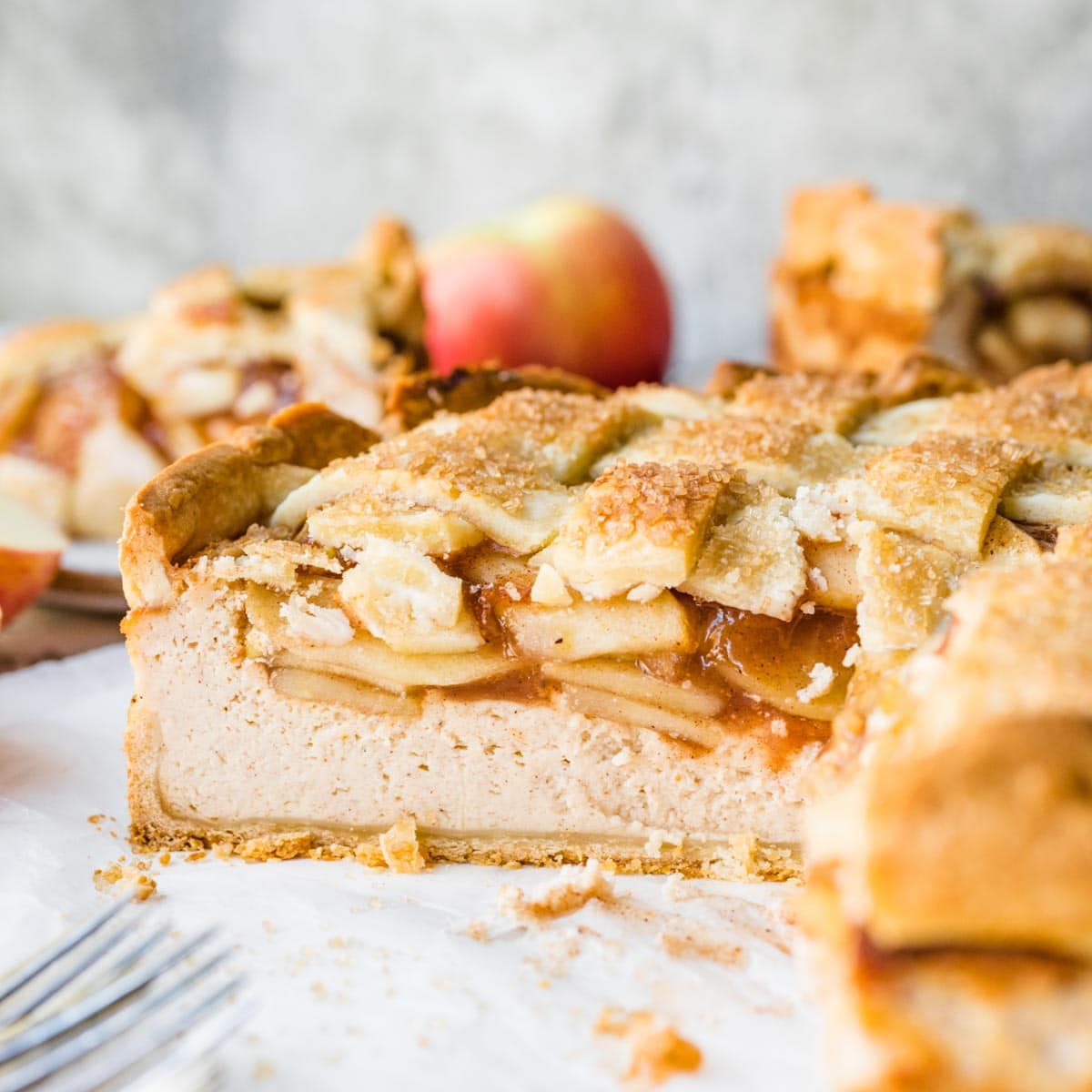 Ingredients
Cinnamon Cheesecake:
24

oz

cream cheese

3/4

cup

sugar

3/4

cup

sour cream

1

teaspoon

vanilla extract

1

teaspoon

ground cinnamon

1/2

teaspoon

ground nutmeg

3

large

eggs
Apple Pie Filling:
3

granny apples

, peeled, cored and thinly sliced

1

cup

water

1/3

cup

sugar

1

teaspoon

ground cinnamon

1/2

teaspoon

ground nutmeg

2

tablespoons

cornstarch
Instructions
Preheat the oven to 325 degrees.

Line a 9-inch springform pan with one of the pie crusts.

In a stand mixer on medium high speed add the cream cheese and sugar, beating until light and fluffy.

Add in the sour cream, vanilla extract, cinnamon and nutmeg until smooth on low speed.

Add in the eggs one at a time until well combined.

Evenly spread the mixture into the pie crust lined springform pan.

Bake for

55-60 minutes

until no longer jiggly in the center.

Let cool completely.

In a large saucepan add the apples, water, sugar, cinnamon, nutmeg and cornstarch stirring well.

Cook on medium heat for

6-8 minutes

until softened and thickened.

Let cool.

Preheat the oven to 425 degrees.

Pour the apple mixture over the cheesecake and spread evenly.

Cut the second pie crust into 1/2-inch thick strips and make a lattice topping on the cheesecake.

Brush with egg wash and sprinkle with coarse sanding sugar.

Bake, uncovered, for

25-30 minutes

until the pie crust is golden brown.

Let cool completely before serving.
Nutrition
Calories:
489
kcal
|
Carbohydrates:
46
g
|
Protein:
8
g
|
Fat:
31
g
|
Saturated Fat:
16
g
|
Polyunsaturated Fat:
2
g
|
Monounsaturated Fat:
10
g
|
Trans Fat:
0.01
g
|
Cholesterol:
128
mg
|
Sodium:
324
mg
|
Potassium:
195
mg
|
Fiber:
2
g
|
Sugar:
28
g
|
Vitamin A:
967
IU
|
Vitamin C:
2
mg
|
Calcium:
91
mg
|
Iron:
1
mg