Banana Bread Cookies are the ultimate oatmeal cookie recipe with all the flavor of banana bread. Made with real bananas and crunchy walnuts!
Homemade Banana Bread is such a classic, comforting Baked Good that we all know and love. This easy Cookie Recipe has all the same homey banana flavor baked into a warm, soft Oatmeal Cookie.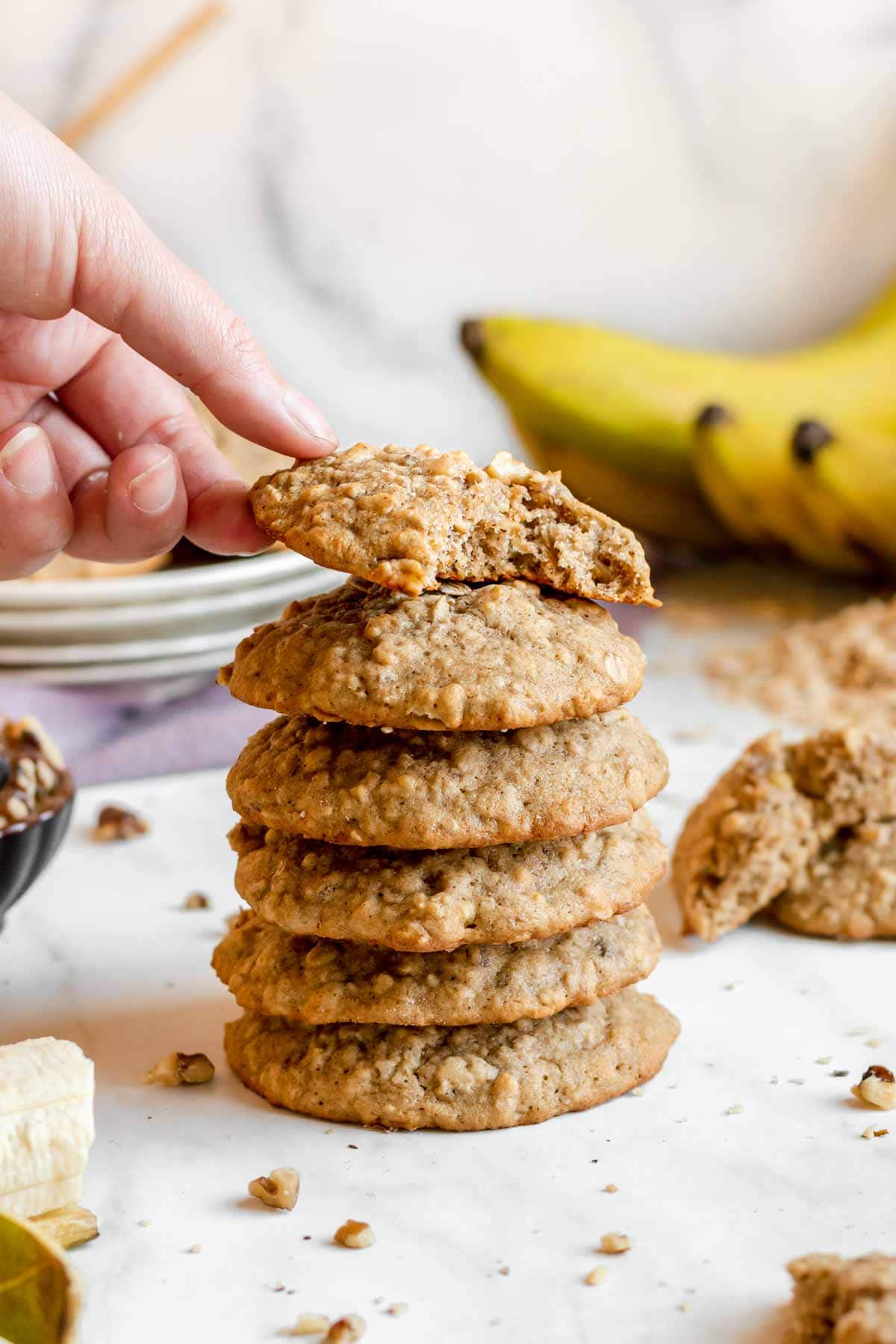 If you're a banana bread fan, then you're sure to love these Banana Bread Cookies. They have that same delicious flavor and wonderfully soft, tender texture that you get from banana bread. But, instead of a quick bread that you have to slice up, you have easy individual cookies. They're perfect to pack in lunches, eat on the go, or bring to a bake sale.
One of the best things about banana bread is all the real banana flavor and warm spices, and these cookies have plenty of both! Delicious ripe bananas are mixed into the dough to add sweeteness and make them super soft, and the cinnamon bring that delicious bakery scented warmth. Plus, there are hearty, fiber filled rolled oats and walnuts mixed in. While it's hard to call cookies a health food, these amazing banana cookies do have some healthier ingredients so you won't feel guilty indulging in two or ten.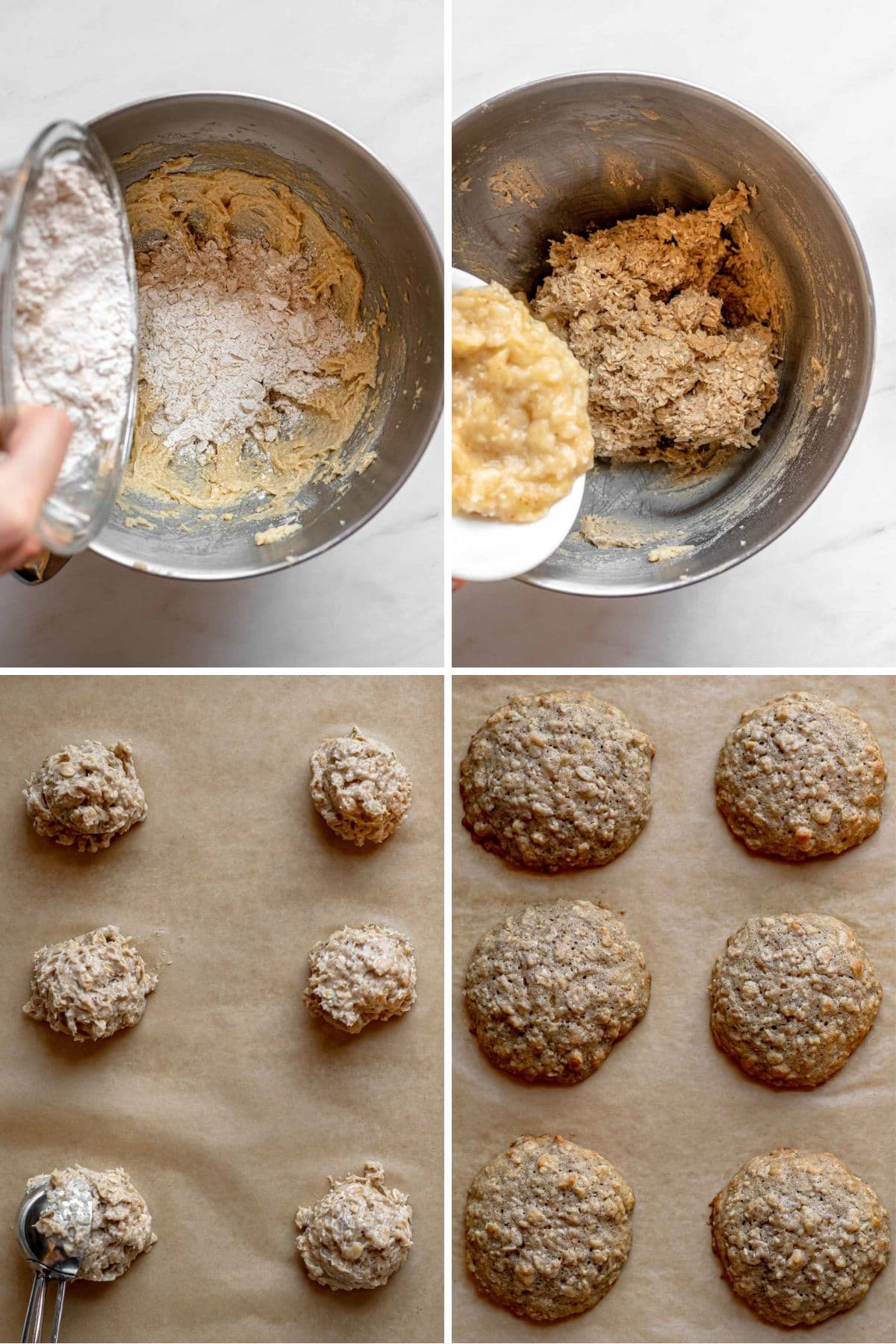 This Banana Bread Cookies recipe is perfect for when you have overripe bananas but don't want to bake a whole loaf of bread. This doesn't mean you have to miss out on the bread flavors you are craving though! From Chocolate Banana Bread to Blueberry Banana Bread, you can easily turn your favorite banana bread recipes into a tasty, soft, sweet cookie. Check out the variations section for yummy banana bread flavor combos!
How to Make Banana Bread Cookies
Prep: Preheat the oven. Spray your baking sheet with non-stick spray, line with parchment, or use a silicone baking mat.
Cream: Cream the butter and both sugars in a stand mixer until light and fluffy. Begin adding the eggs one at a time, then the vanilla, and beat until smooth.
Dough: With the mixer on low speed, carefully add in the flour, oatmeal, baking soda, cinnamon, and salt until just combined. Finally, mix in the mashed bananas and walnuts.
Bake: Scoop 2 tablespoons of dough for each cookie and add 8 cookies per prepared baking sheet. Bake cookies until the the edges are golden brown and starting to set.
More Delicious Oatmeal Cookies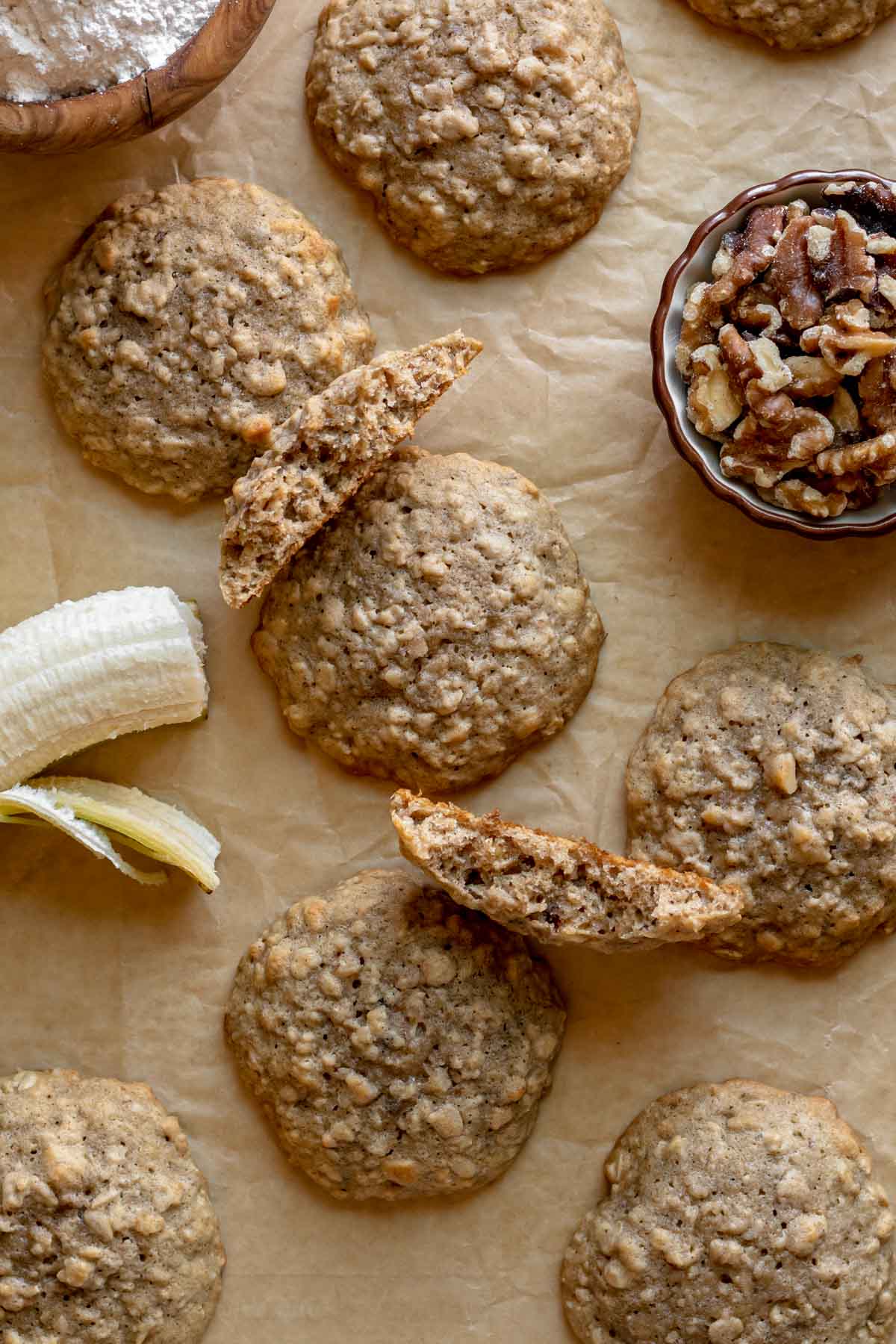 FAQs for Banana Bread Cookies
How to soften butter for cookies quickly? 
To quickly soften butter for cookies, cut it into small pieces and place them on a microwave-safe plate. Microwave on low power for 5 to 10-second intervals, checking and flipping the butter pieces between intervals until they are soft but not melted. Be cautious not to melt the butter because it won't cream and get fluffy meaning flat and dense cookies.
Do I have to use ripe bananas for these cookies?
Yes, using ripe bananas is recommended for these cookies. Ripe bananas are sweeter and have a stronger flavor, which will contribute to the desired taste and moist texture of the banana bread cookies. Ripe bananas also mash more easily, ensuring they blend well into the cookie dough, so you get their flavor throughout without overmixing the dough.
How do you ripen bananas quickly?
To ripen bananas quickly, you can place them in a brown paper bag and loosely fold the top to trap the natural gases they emit, which accelerates the ripening process. Adding an apple or a ripe avocado to the bag can further speed up ripening due to the additional release of ethylene gas. Keep the bag at room temperature, and within 24 to 48 hours, the bananas should ripen to the desired level of sweetness.

Create a free account to

Save Recipes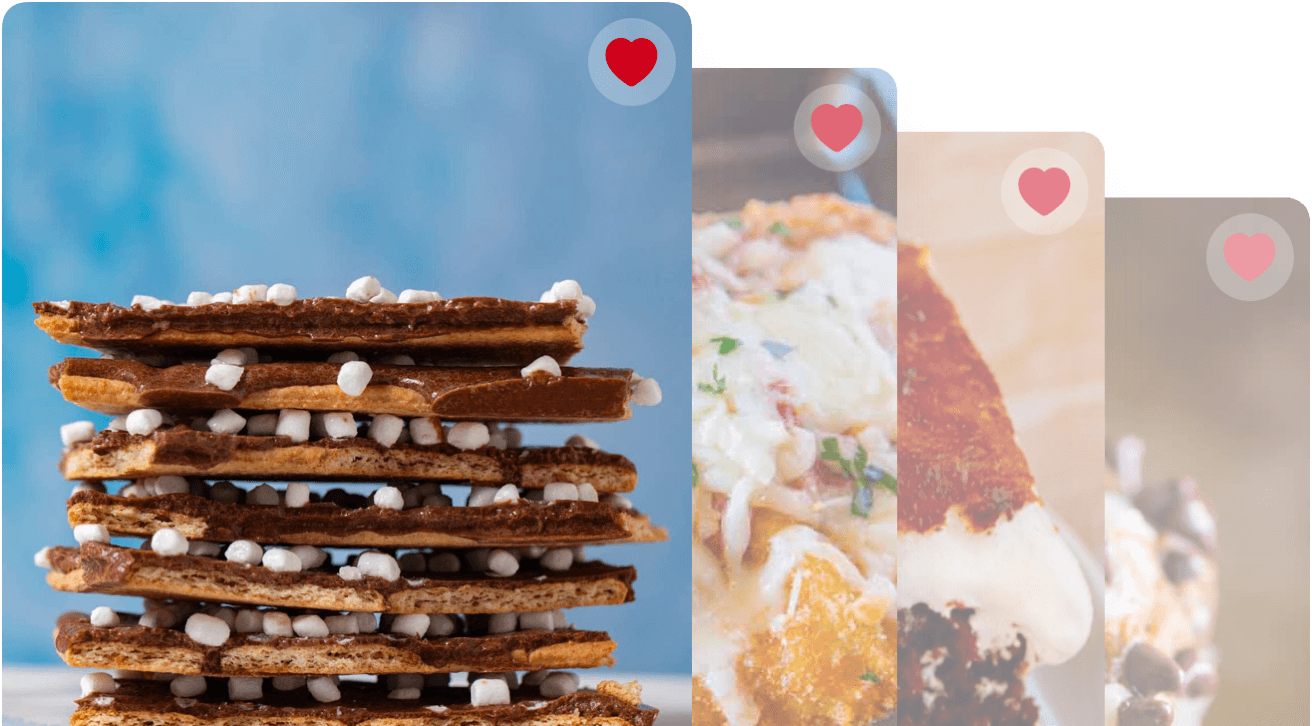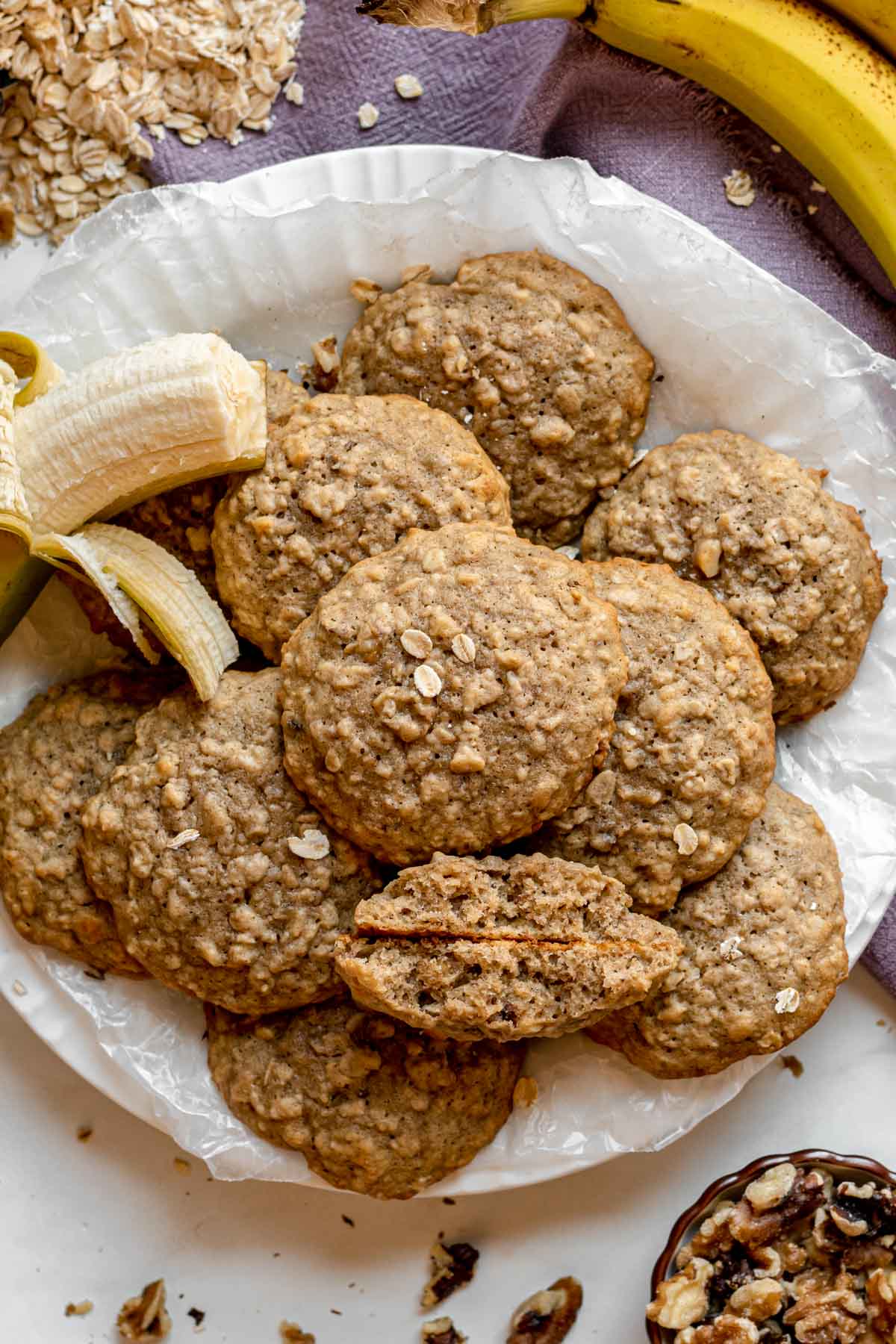 Key Ingredients
Bananas: Baked goods like this recipe are the perfect way to use up ripe to overripe bananas! While brown bananas may not be appetizing to eat on their own, they're perfect to make flavorful and chewy banana cookies.
Butter: The softened unsalted butter provides moisture, richness, and flavor to the cookies. You want to use softened butter that will whip up nice and fluffy tender, light cookies.
Rolled oats: The oats in the recipe blend wonderfully into the soft cookies to give them a little more structure and a similar texture to banana bread. They are also deliciously chewy and slightly nutty.
Sugar: For the sugar, use a combination of brown and white sugar. Using both balances out the brighter and richer sweet flavors. Plus, brown sugar brings more moisture to baked goods than granulated sugar and has delicious caramel notes that taste amazing with the warm spices and banana flavor.
Eggs: You want your eggs to be room temperature so they create a lot of air and bind with the butter and sugar really well. This ensures soft, fluffy texture and keeps your cookies from being dense.
Flavorings: The warm flavors of vanilla and cinnamon turn these from regular banana cookies into bakery-style cookies that taste like freshly baked banana bread. You can feel free to add some other baking spices like nutmeg or cardamom for more warmth.
Walnuts: Adding a simple ingredient like chopped walnuts is what really sets these amazing cookies apart. The walnuts add a delightful crunch and a nutty flavor to complement the banana flavor. Try toasting them for an even more special banana cookie recipe!
Can Banana Bread Cookies be made ahead of time?
Yes, you can prepare both the cookies and the cookie dough in advance and store in either the fridge or freezer. See the "How to Store" section for storing baked cookies.
Prepare the dough as usual then cover the bowl and refrigerate for up to 24 hours before baking. You can also scoop the dough into balls and place a parchment lined baking sheet. Freeze the dough balls until hardened, then transfer to a sealed container. Freeze dough for up to 4 months and bake the cookies from frozen, adding a few minutes to the baking time as needed.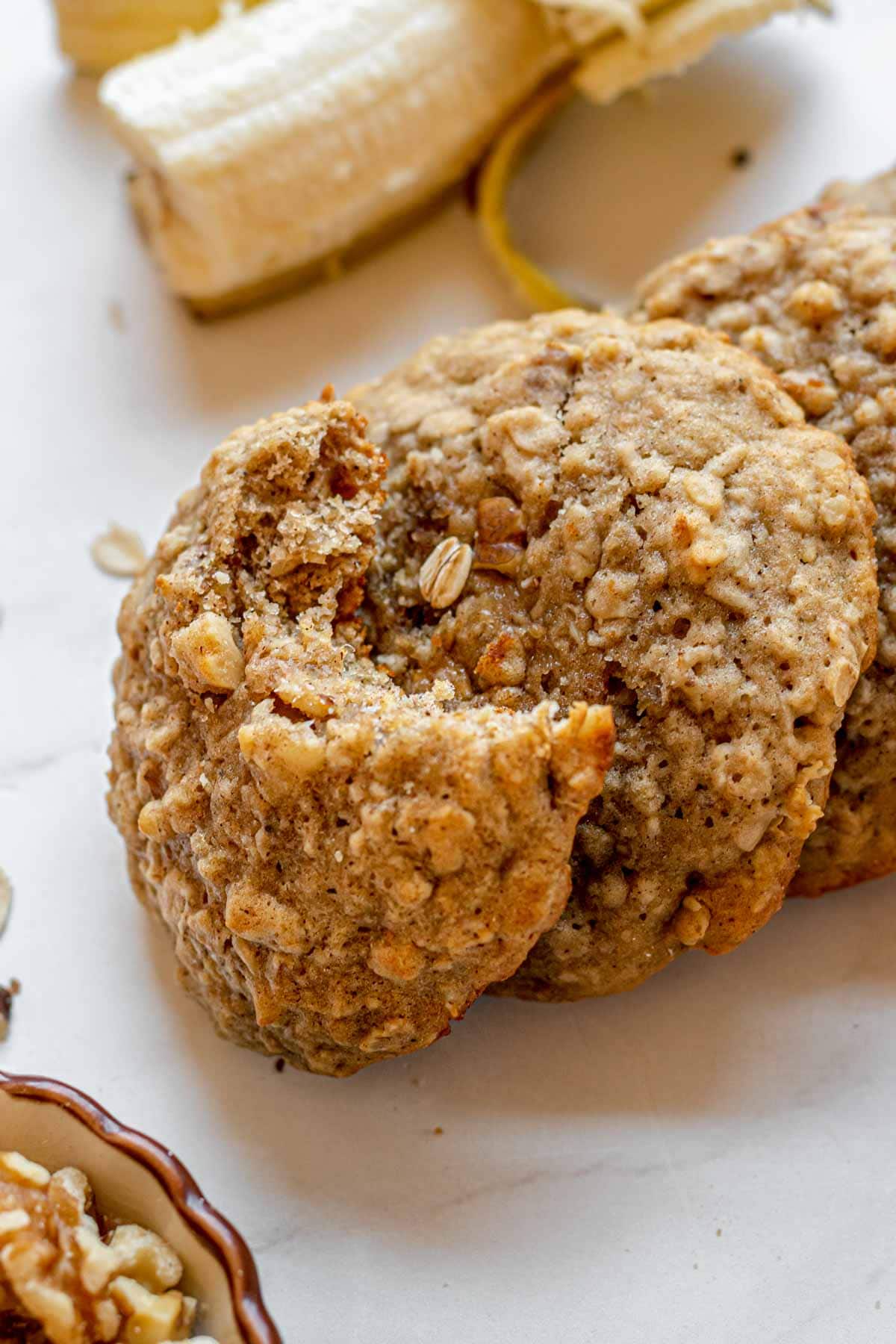 Variations
Nuts: You can try different kinds of nuts in this recipe like almonds, cashews, pecans, or macadamia nuts. Try toasting the nuts in a dry skillet until fragrant for an even deeper nutty flavor.
Chocolate: Easily turn these into Chocolate Chip Banana Bread Cookies by folding in a ½ cup of chocolate chips into the dough with the walnuts. For double the chocolatey goodness, swap ¼ cup flour with ¼ cup unsweetened cocoa.
Hawaiian: Add the tropical flavors of Hawaiian Nut Banana Bread by adding dried pineapple pieces, sweetened flaked coconut, and maraschino cherries in addition to the walnuts. You want to use a total of 1-½ cup mix-ins so you don't overpower the cookies and they hold together.
Fruit: Add ½ cup dried fruit pieces like dried cranberries, strawberries, apples, or peaches for a tasty sweet burst of fruit flavor in these cookies. You want the fruit pieces in small pieces for better distribution in the cookie dough.
Blueberry: Blueberry Banana Bread Cookies would be a bakery dream treat! Add a ½ cup dried or fresh blueberries to the dough. Make sandwich cookies by baking them a little smaller, about 1 ½ inches. Flip one cookie over and spread a thick layer of Blueberry Jam, and top with another cookie, bottom facing the jam layer.
Frosted: Top these cookies with Cream Cheese Frosting for an extra sweet cookie treat. Make them slightly bigger, about 4 inches across, and cook for a little longer for a jumbo bakery style cookie. Dust your frosted Banana Bread Cookies with a little cinnamon for an extra special touch.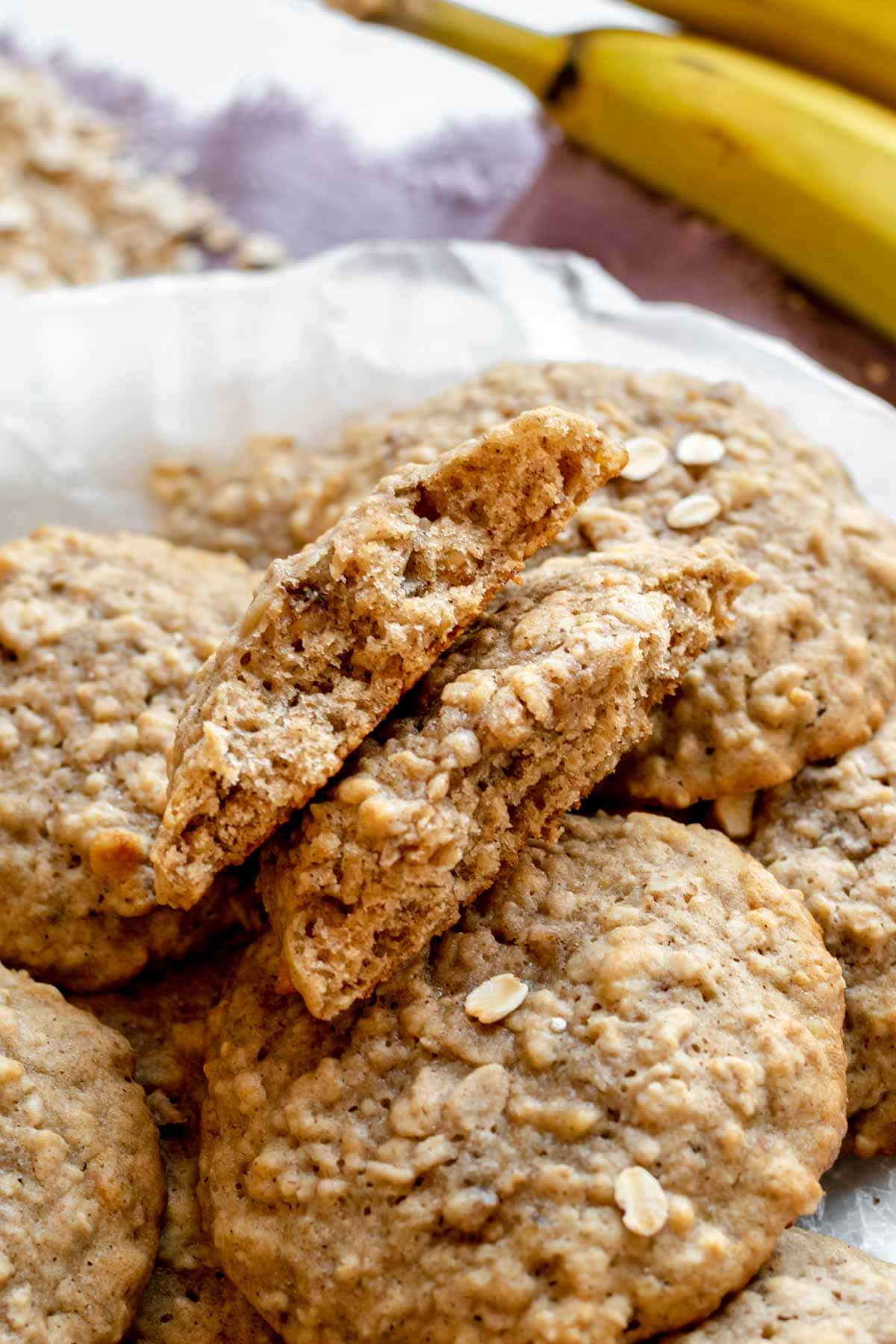 More Banana Flavored Desserts
How to Store
Serve: All your Banana Bread Cookies to cool completely and then cover with plastic wrap or transfer to an airtight container. These cookies will stay soft and moist at room temperature for about 3 days.
Store: You can also store cookies in the fridge for up to 1 week. Leave them at room temperature for a bit so they soften again or wrap them in a slightly damp paper towel and heat in the microwave for about 10-15 seconds to warm them up.
Freeze: To freeze the leftover cookies, put them in a freezer safe container with parchment paper between the layers of cookies. They'll stay good for up to 3 months and you can enjoy them frozen or thaw at room temp first.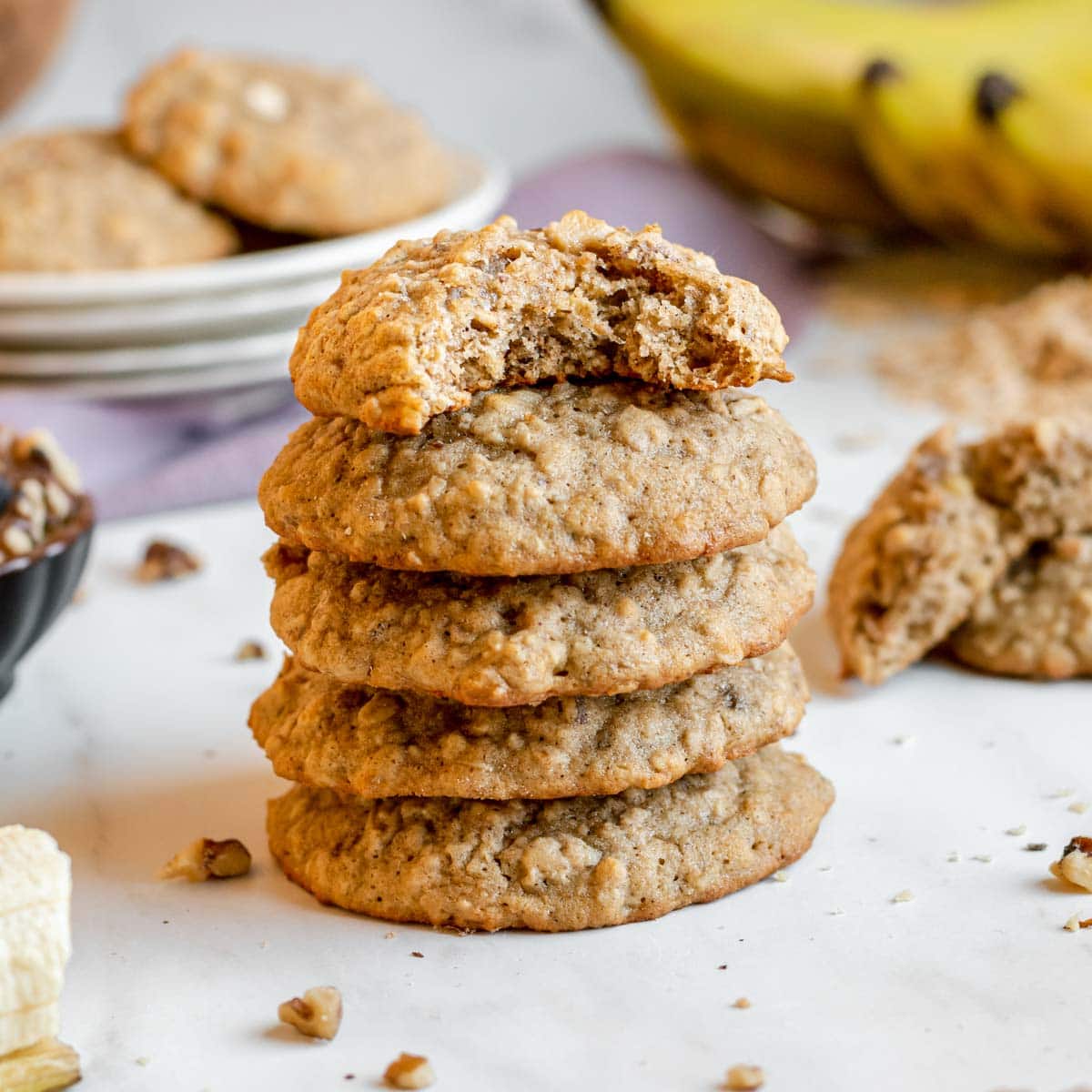 Ingredients
1

cup

unsalted butter

, softened

1/2

cup

sugar

1/2

cup

brown sugar

, packed

2

large

eggs

1

teaspoon

vanilla extract

2

cups

rolled oats

2

cups

flour

1

teaspoon

baking soda

1

teaspoon

ground cinnamon

1/2

teaspoon

salt

3

medium

ripe bananas

, mashed

1

cup

walnuts

, chopped
Instructions
Preheat oven to 375 degrees.

Line baking sheets with parchment or spray with nonstick spray.

To the stand mixer add the butter, sugar and brown sugar until light and fluffy, about

2-3 minutes

.

Add in the eggs and vanilla until smooth.

Add in the flour, oatmeal, baking soda, cinnamon, and salt.

On low speed add in the mashed bananas and walnuts until mixed in.

Using a 2 tablespoon cookie scoop, place 8 cookies on each sheet.

Bake for

11-13 minutes

or until the edges are browned and cookies are set.
Nutrition
Calories:
216
kcal
|
Carbohydrates:
25
g
|
Protein:
3
g
|
Fat:
12
g
|
Saturated Fat:
5
g
|
Polyunsaturated Fat:
3
g
|
Monounsaturated Fat:
3
g
|
Trans Fat:
0.3
g
|
Cholesterol:
36
mg
|
Sodium:
103
mg
|
Potassium:
125
mg
|
Fiber:
2
g
|
Sugar:
11
g
|
Vitamin A:
270
IU
|
Vitamin C:
1
mg
|
Calcium:
20
mg
|
Iron:
1
mg