Cajun Shrimp is a quick and easy seafood dish of tender, juicy shrimp tossed in a homemade seasoning with bold spices and sauteed in butter.
Just like Shrimp Etouffee, this amazing Seafood Recipe is filled with incredible flavor from the Bayou. It's a quick and delicious meal perfect for a weeknight Dinner.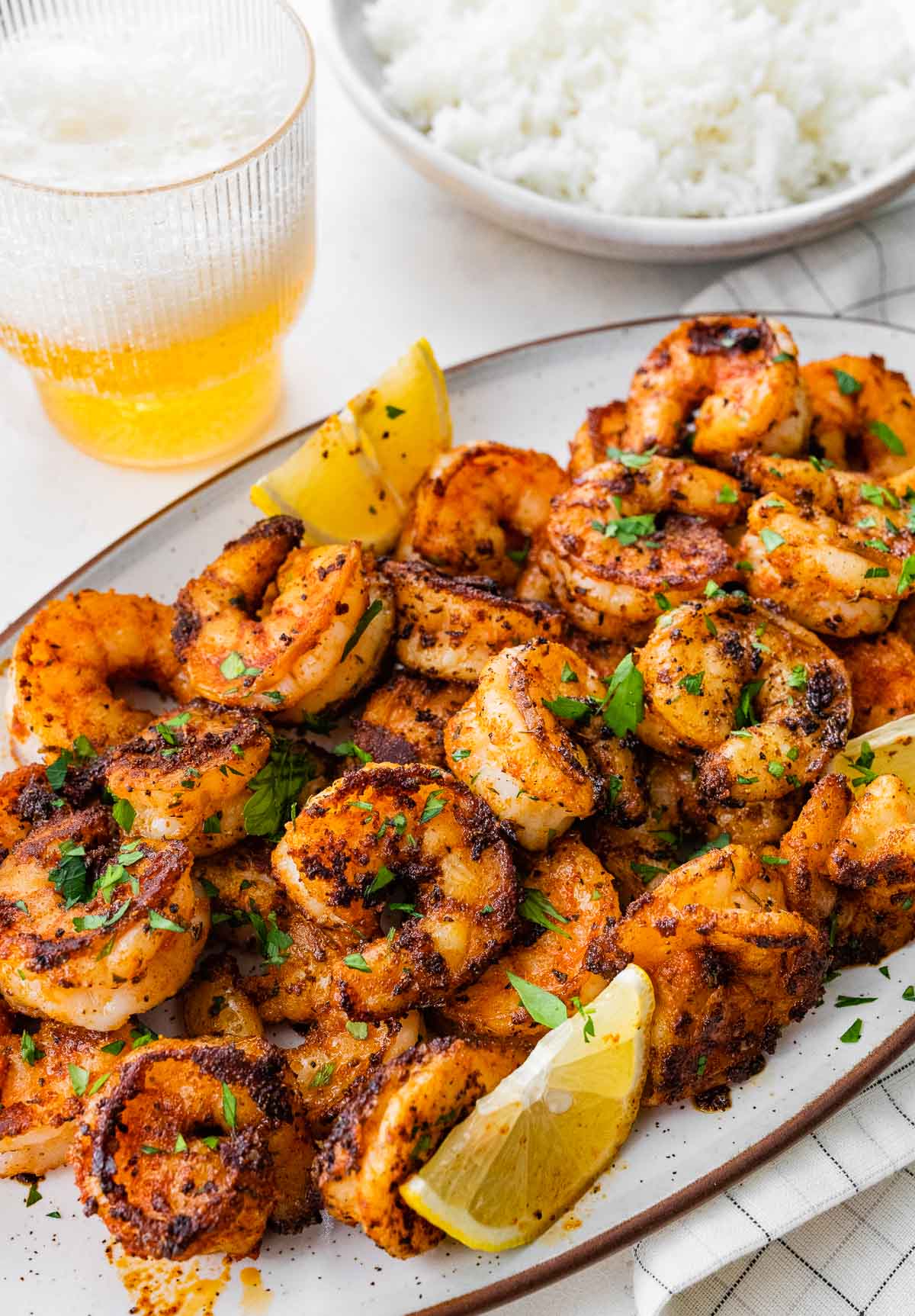 If you are looking for an easy and quick dinner, you can't go wrong with this delicious Shrimp Recipe! It has tons of bold, spicy, and slightly earthy flavor thanks to the Cajun seasoning and butter. Plus it cooks up in just minutes for a flavorful, tasty dinner in no time at all. The bold flavors go with all kinds of sides making it a versatile main dish for all your favorite weeknight meals.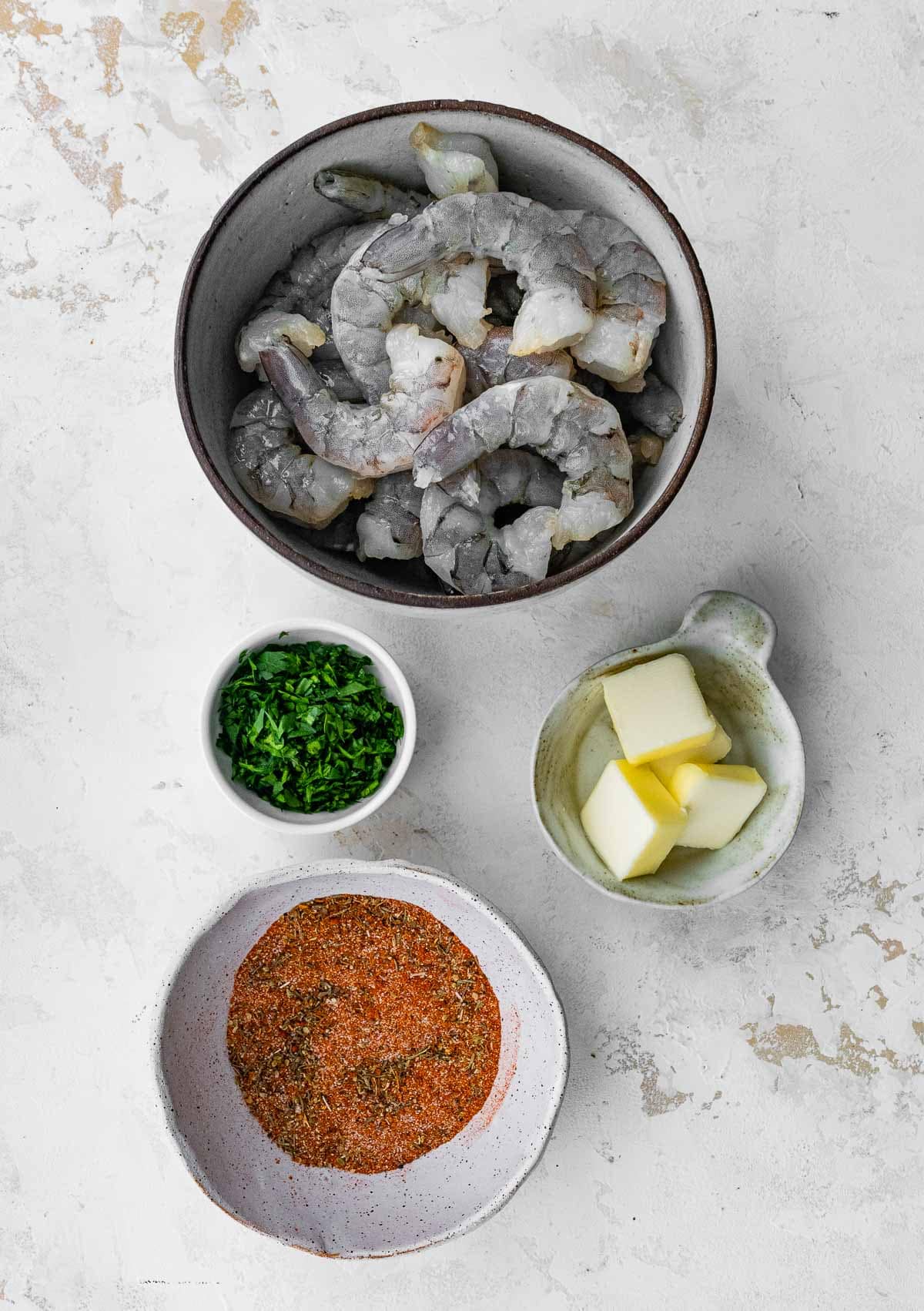 The homemade spice blend for this dinner recipe comes together with basic pantry spices like cayenne pepper, garlic, smoked, paprika, and oregano. If you have store-bought Cajun seasoning, you can use that as well. But, making it yourself not only lets you control how bold the flavors are, but you can double up the recipe for extra seasoning. Save the leftover spice blend for the next time you want to make Cajun Butter Shrimp, use it to season your side dishes for an amazing dinner filled with a bold burst of flavor in every bite.
This bold, flavorful shrimp is the perfect main dish to serve with simple side dishes like your favorite type of rice. White Rice and Brown Rice have a milder flavor to soak up all the buttery shrimp and let the bold flavors shine. Or try a more flavorful rice pilaf like our Popeye's Cajun Rice, which is a copycat of their famous dirty rice. Check out our "How to Serve Cajun Shrimp" section for some more delicious ways to serve this succulent shrimp dish.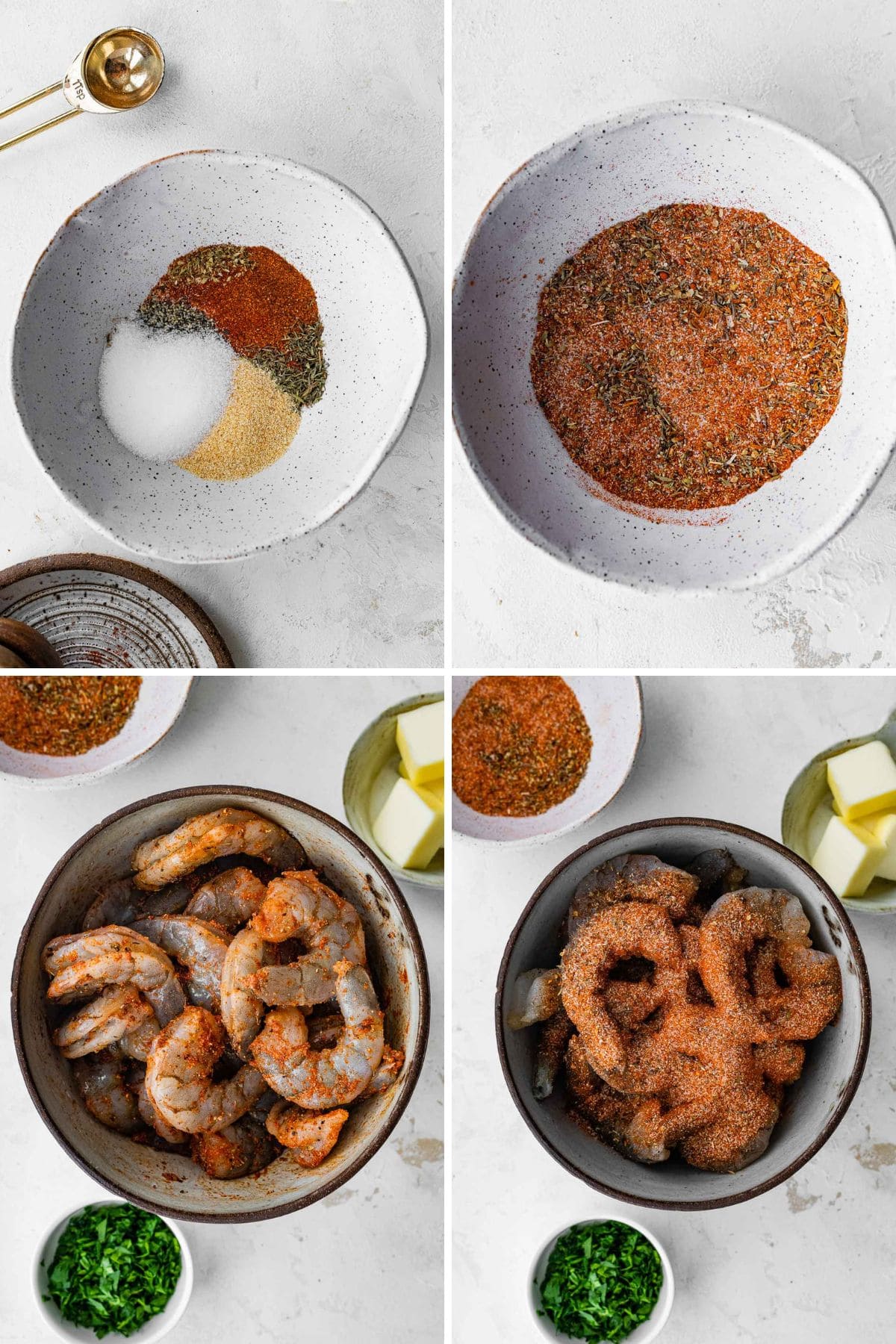 What is Cajun Seasoning?
Cajun Seasoning is a traditional spice blend that gives dishes a wonderful depth of flavor and a bit of heat. It's typically made with garlic, paprika, cayenne pepper, and a handful of other spices. The delicious flavor profile was developed in the American South, specifically the Louisiana region, from Acadian immigrants.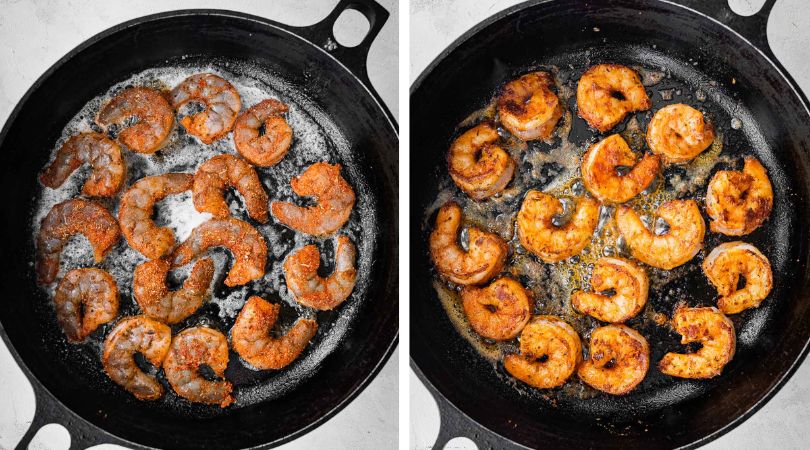 How to Make Cajun Shrimp
Prep Seasoning: Add the salt, garlic powder, paprika, black pepper, onion powder, cayenne pepper, oregano, and thyme to a small bowl. Use a fork to whisk the spices until blended and there are no clumps.
Season Shrimp: Season the cleaned, raw shrimp with the prepared Cajun seasoning. Toss until the shrimp are evenly coated in the spices.
Cooking Time: Add unsalted butter to a large, heavy skillet. Turn the stove top to high heat. Once the butter is melted, add the shrimp in small batches so as not to overcrowd. It should only take about 2 minutes of cooking on each side to finish the shrimp. Serve the cooked shrimp with rice and garnish with minced parsley and lemon wedges for a wonderful light dinner.
Easy, Delicious Rice Dishes
FAQs for Cajun Shrimp
Do I have to peel the shrimp before cooking it?
Yes, you should peel and clean the shrimp before cooking it. Since the shrimp is cooking quickly and not simmering in any broth, you want the seasoning to go directly on the shrimp meat otherwise it won't really pick up the flavoring.
How to peel and devein shrimp?
To quickly peel and devein fresh shrimp, start by pulling off the head and legs with your hands. Then it should be easier to pull off the shell, starting at the head end and pulling away from the body. Discard the shells after removing them. Then use a small knife to cut a shallow line down the back of the shrimp. The black line running down the back is the vein. Insert the point of the knife beneath the vein and remove it. Note that you should peel and devein raw shrimp while it's cold.
How do you know when shrimp is done cooking?
The cooked shrimp should develop an opaque, light pink color. It's best to cook it in batches so you can tell when it's done and it doesn't overcook. Once it's done, remove the first batch of shrimp from heat and set it to the side. It should take 2-3 minutes tops to cook jumbo shrimp, flipping once halfway through cooking.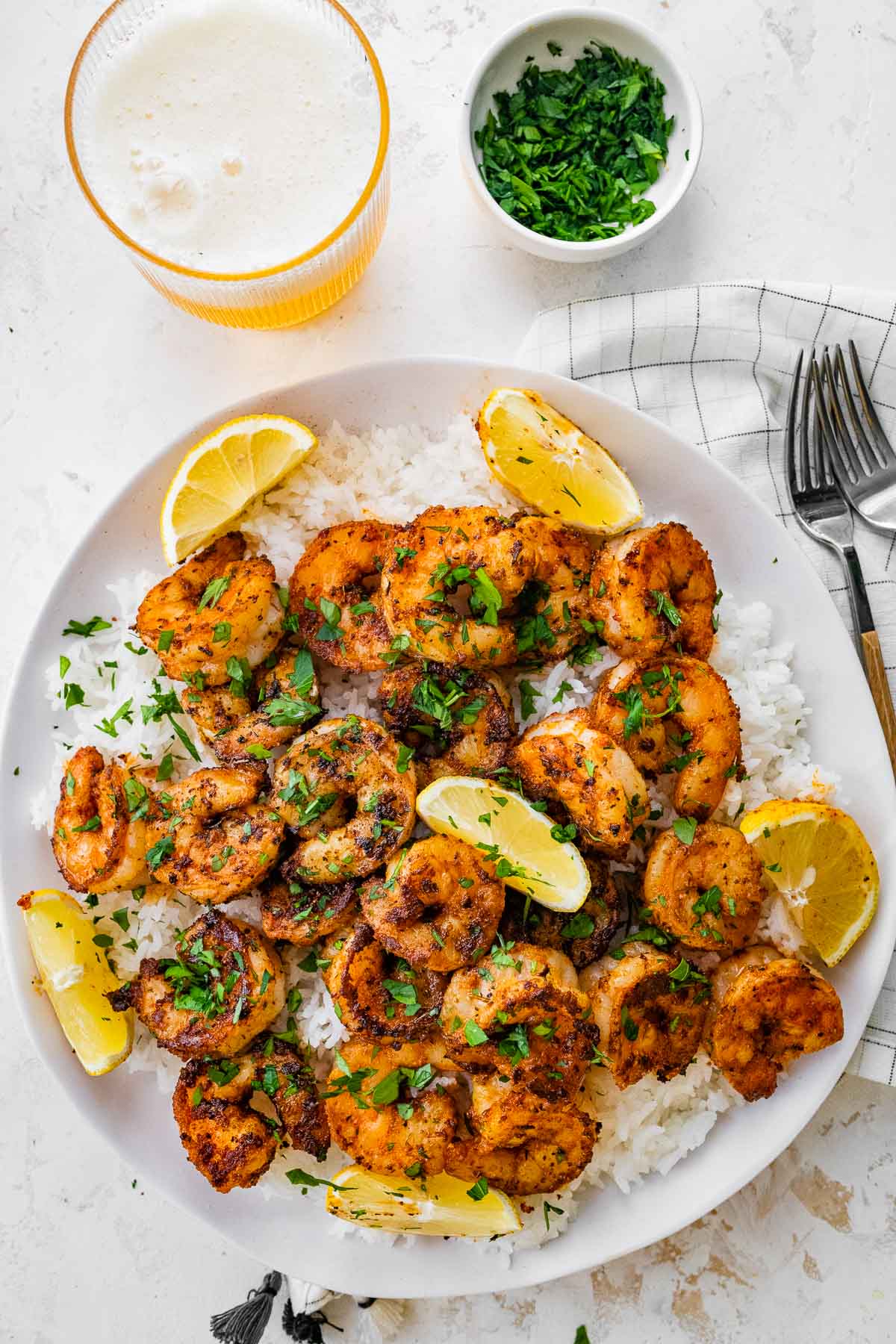 Create a free account to Save Recipes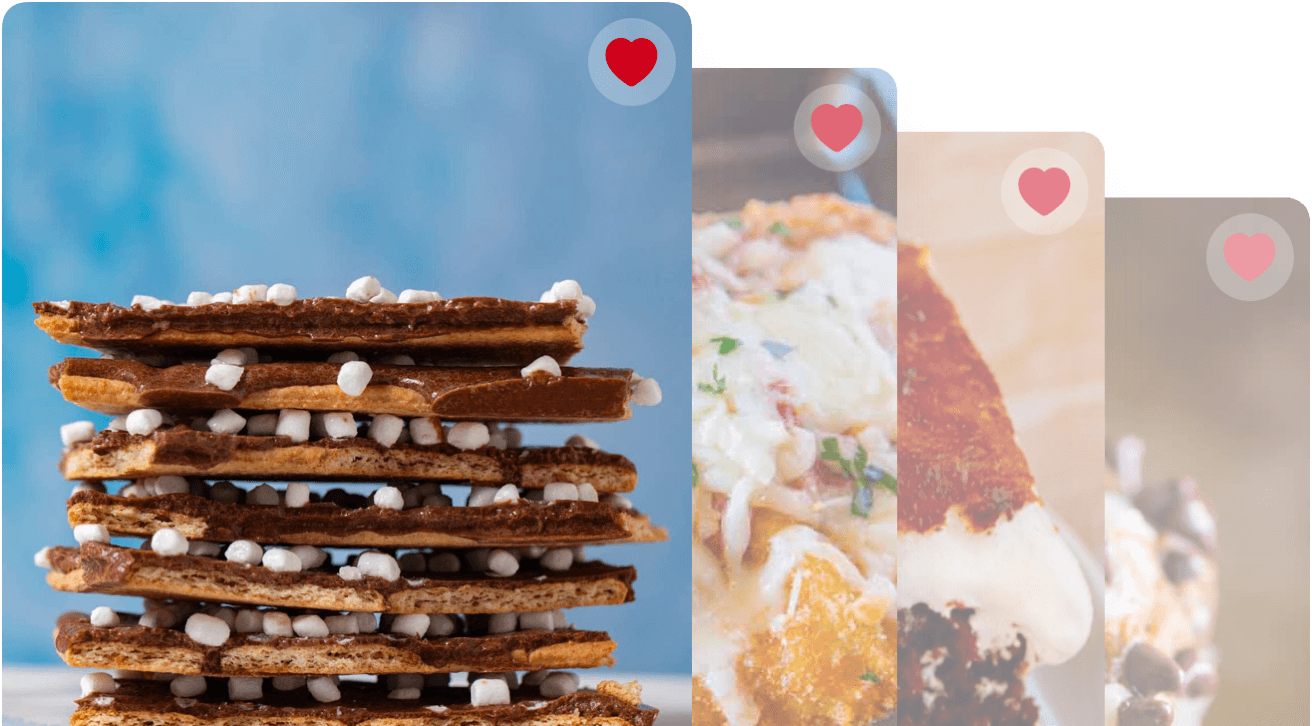 Key Ingredients
Cajun Seasoning: If you have a stocked spice rack, you likely have all the necessary ingredients for homemade Cajun Seasoning. All you need for the classic Cajun flavor is kosher salt, garlic powder, paprika, ground black pepper, onion powder, cayenne pepper, dried oregano, and dried thyme. After whisking the simple blend together, you'll have the ultimate flavoring for your shrimp recipe.
Butter: Cooking Cajun Shrimp in butter makes crisp and juicy shrimp with a rich flavor. Use unsalted butter since there is already salt in the seasoning blend so your shrimp isn't too salty.
Shrimp: You'll want 2 pounds of shrimp for this recipe. Extra large or jumbo shrimp will work best and make about 4 good sized portions. You can either buy the shrimp already shelled and deveined or do that yourself during the prep time.
Can you make Cajun Shrimp ahead of time?
You can coat the shrimp in the seasonings and let it marinate overnight before cooking it. However, you don't want to cook the shrimp ahead of time because it tends to get rubbery when reheated. You can also mix the spice blend and store in an airtight container in the pantry for about 6 months or in the freezer for up to a year.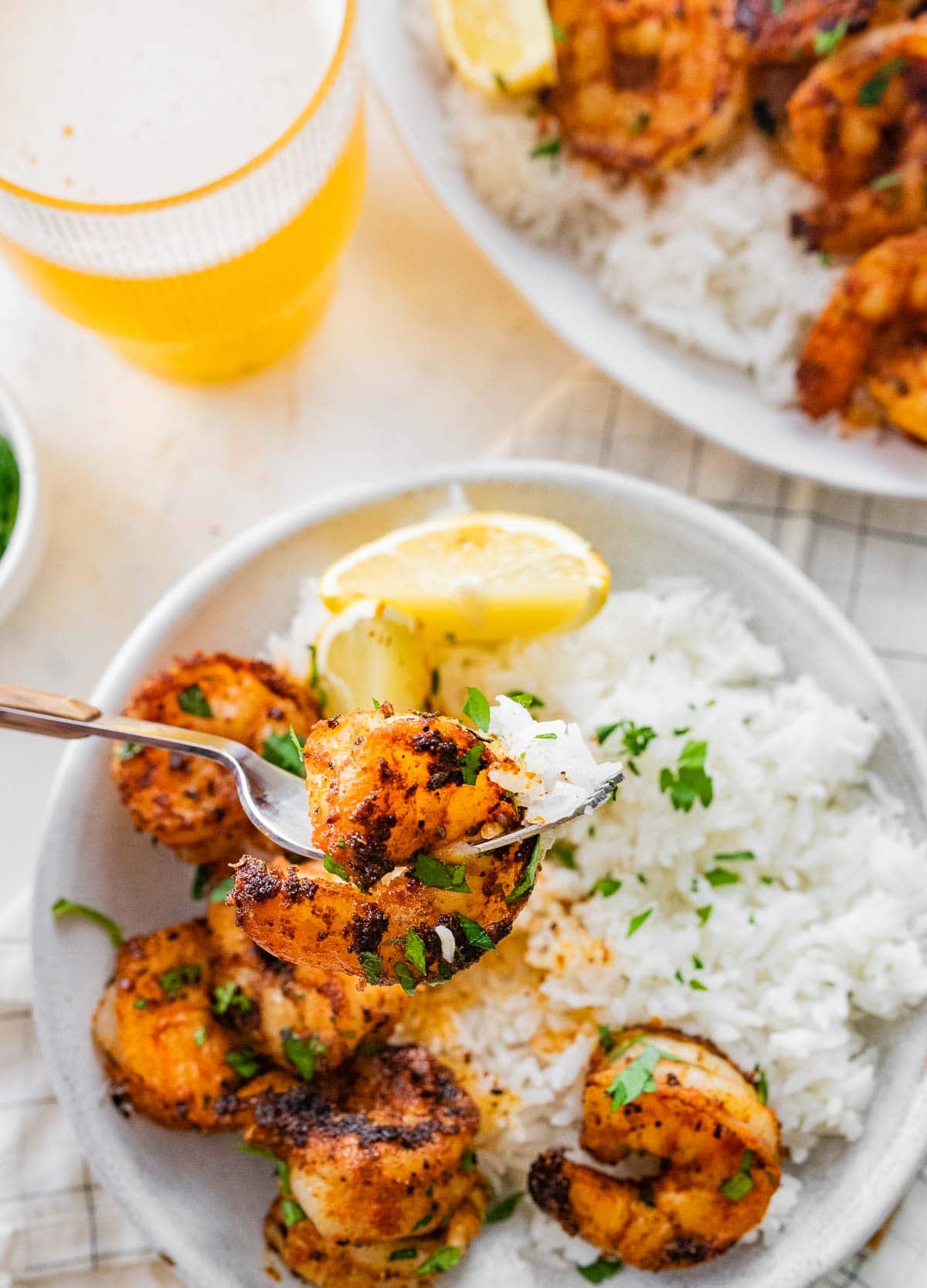 Variations
Spices: You can add some more amazing flavor to the homemade seasoning blend with more common savory pantry spices. Try celery seed, ground dry mustard, ground ginger, smoked paprika, white pepper, crushed chili pepper flakes.
Sweet: Balance out all the spicy, smoky flavor with sweeter baking spices like nutmeg, cardamom, cinnamon, ginger, or allspice. For a real sweet and spicy combo, add brown sugar to the spice blend or toss the shrimp in honey before rubbing with the spices.
Vegetables: You can add a variety of vegetables to your shrimp recipe. Cook bell peppers, green onion, corn kernels, or zucchini in the pan and cook in butter along with the shrimp. Veggies will not only add flavor but make a quick dinner that's healthy and low carb.
How to Serve Cajun Shrimp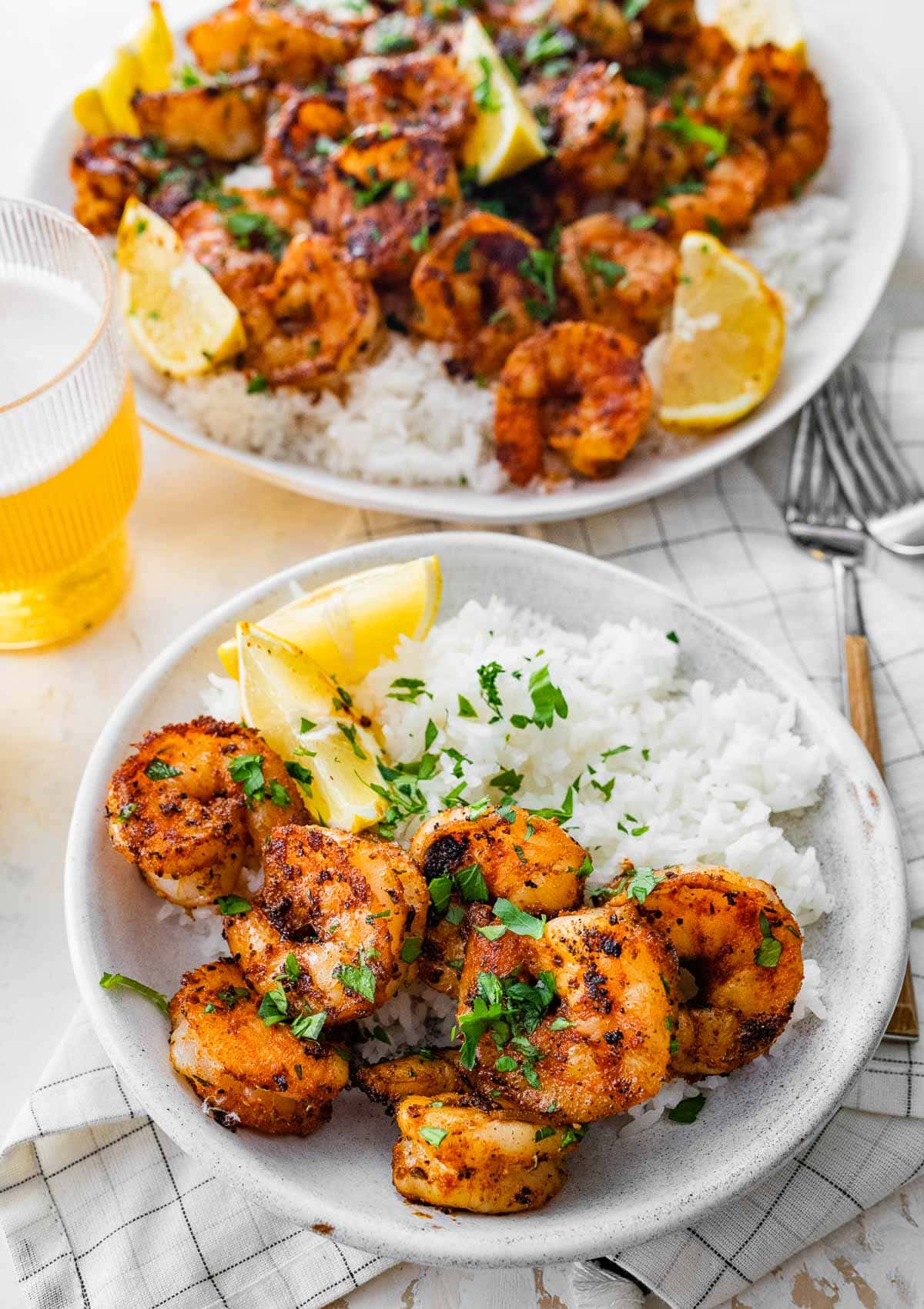 More Flavorful Shrimp Recipes
How to Store
Store: Once it's cooked, your shrimp can be at room temperature for up to 2 hours. To keep leftovers, transfer the shrimp to an airtight container after it is cooled. It can stay good for 3-4 days in the fridge.
Reheat: It's best to reheat the shrimp in a skillet to keep it from getting rubbery. Add a little broth to the pan and reheat covered to steam the shrimp for a few minutes until heated through.
Freeze: Let the shrimp cool to room temperature before freezing to prevent freezer burn. Store in a freezer bag for up to 6 months.To prevent the shrimp from drying out or overcooking, reheat it from frozen in a skillet.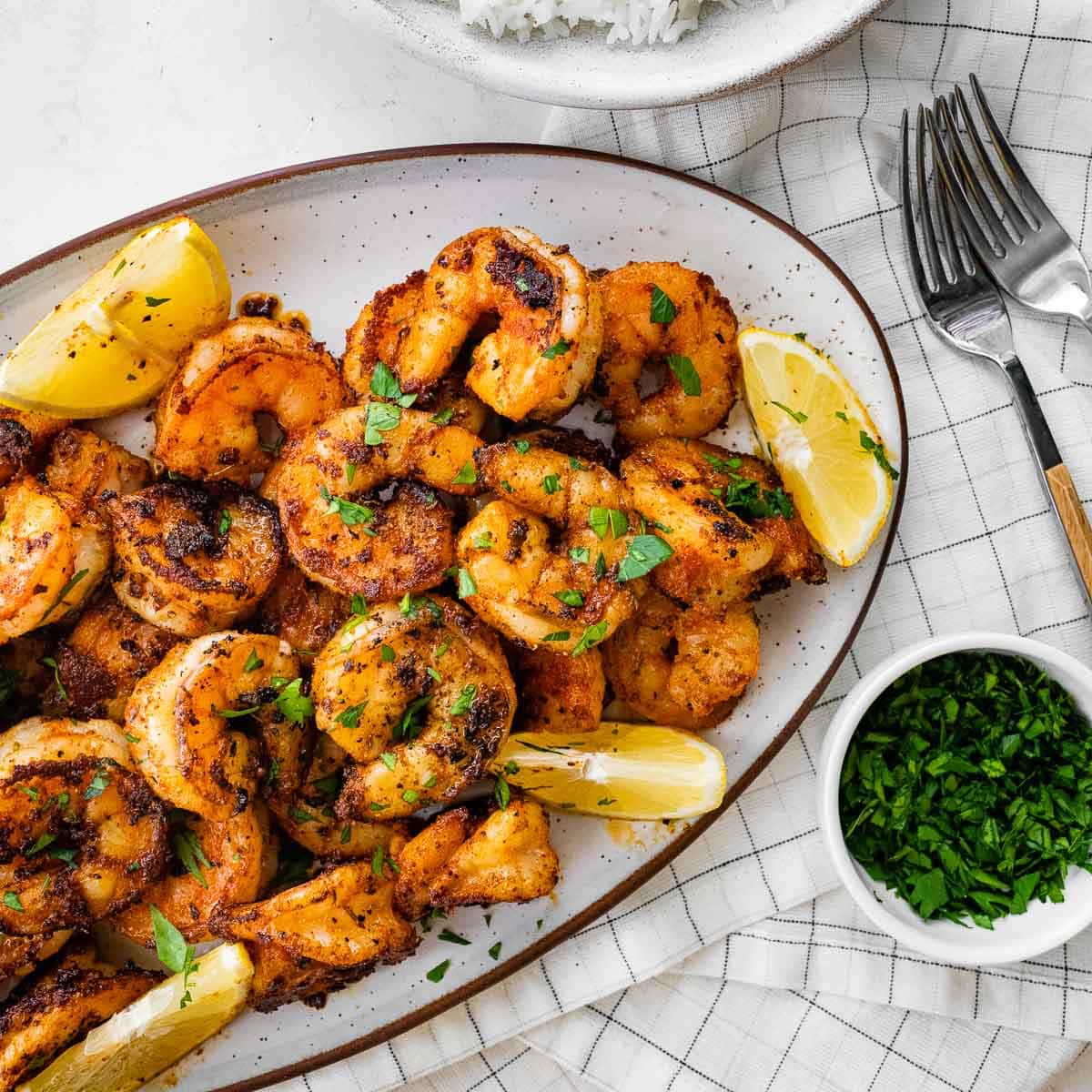 Ingredients
Cajun Seasoning:
1

teaspoon

kosher salt

1

teaspoon

garlic powder

1

teaspoon

paprika

1/2

teaspoon

ground black pepper

1/2

teaspoon

onion powder

1/2

teaspoon

cayenne pepper

1/2

teaspoons

dried oregano

1/2

teaspoons

dried thyme
Shrimp:
2

pounds

shrimp

, peeled and deveined (13-15 count)

4

tablespoons

unsalted butter

1/4

cup

parsley

, finely minced
Instructions
Cajun Seasoning:
In a small bowl add salt, garlic powder, paprika, black pepper, onion powder, cayenne pepper, oregano and thyme and mix well with a fork.
Shrimp:
Season the shrimp with the cajun seasoning.

Add butter to a large heavy skillet, heat to high.

Cook in small batches,

2 minutes

on each side.

Serve with rice, garnish with finely minced parsley and lemon wedges.
Nutrition
Calories:
302
kcal
|
Carbohydrates:
2
g
|
Protein:
46
g
|
Fat:
13
g
|
Saturated Fat:
7
g
|
Polyunsaturated Fat:
1
g
|
Monounsaturated Fat:
3
g
|
Trans Fat:
0.5
g
|
Cholesterol:
395
mg
|
Sodium:
856
mg
|
Potassium:
658
mg
|
Fiber:
1
g
|
Sugar:
0.2
g
|
Vitamin A:
1026
IU
|
Vitamin C:
5
mg
|
Calcium:
165
mg
|
Iron:
2
mg