Creme Fraiche recipe for the rich creamy topping and condiment for savory dishes like baked potatoes, soups, scrambled eggs, steak and more.
Crème Fraîche is a fancy French Condiment that you can use for all kinds of Dinner Recipes from Baked Potatoes to Ribeye Steaks to Classic Beef Chili. It takes a bit of time to prep, but you can keep it on hand for months to fancy-up all your weeknight meals!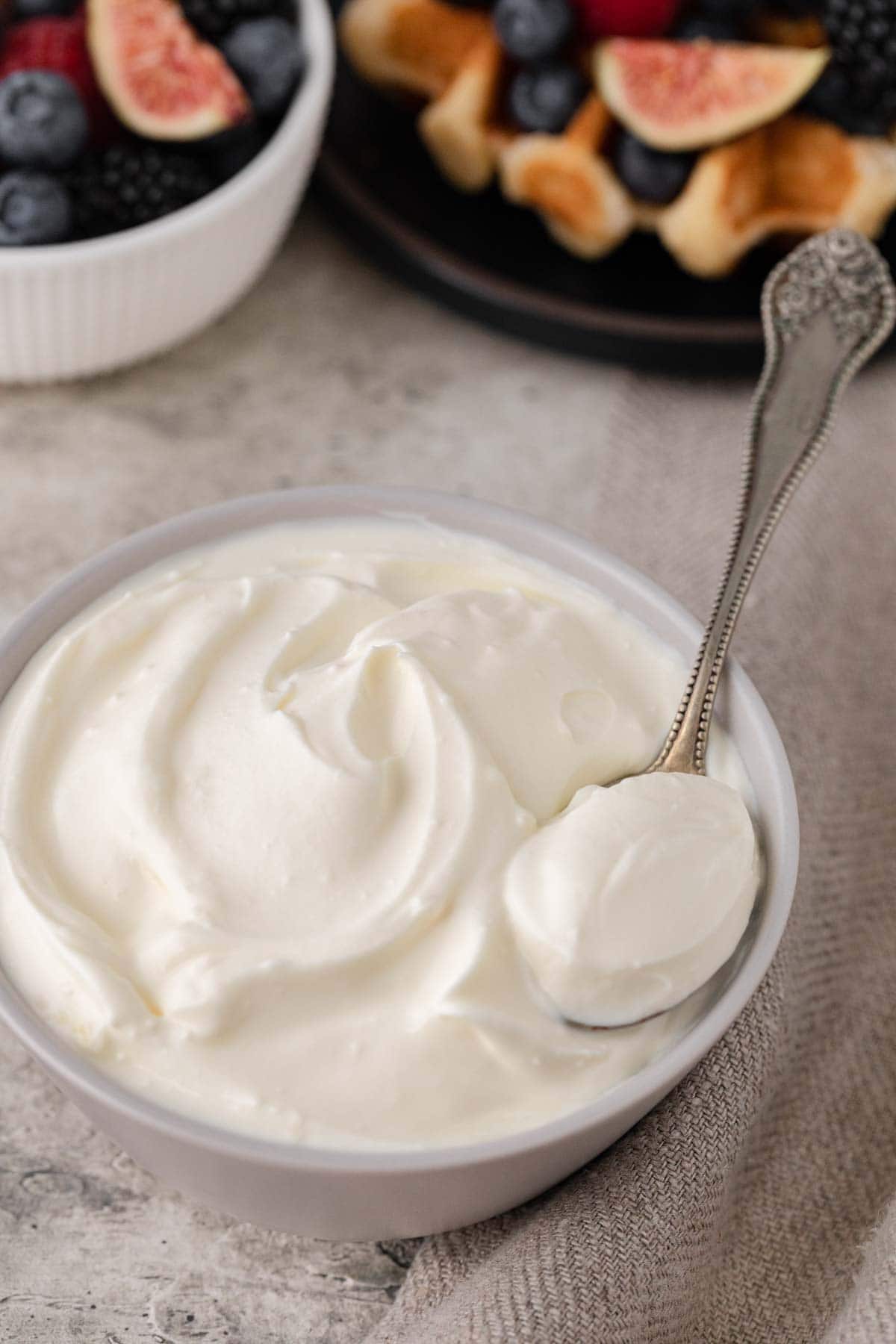 Even though it takes a while to make Crème Fraîche, practically all of that is just letting it sit and let the natural ingredients do all the work. It doesn't take a lot of hands on time, but after a couple days you'll have a gourmet topping to add some creamy, sour flavor to any savory dish. It's the perfect condiment for dinner parties during the holidays or whenever you want to make mealtime a little more special.
Making Creme Fraiche at home is a little different than other sauce recipes. You actually leave the cream out with the buttermilk which is how it gets the rich, tangy flavor and start thickening it up. After a day, you'll stir the cream and then chill it for another day so it finishes thickening and turning into the flavorful, thick cream. So, if you want to serve Creme Fraiche make sure you're thinking in advance, and start the recipe two days before you need the cream.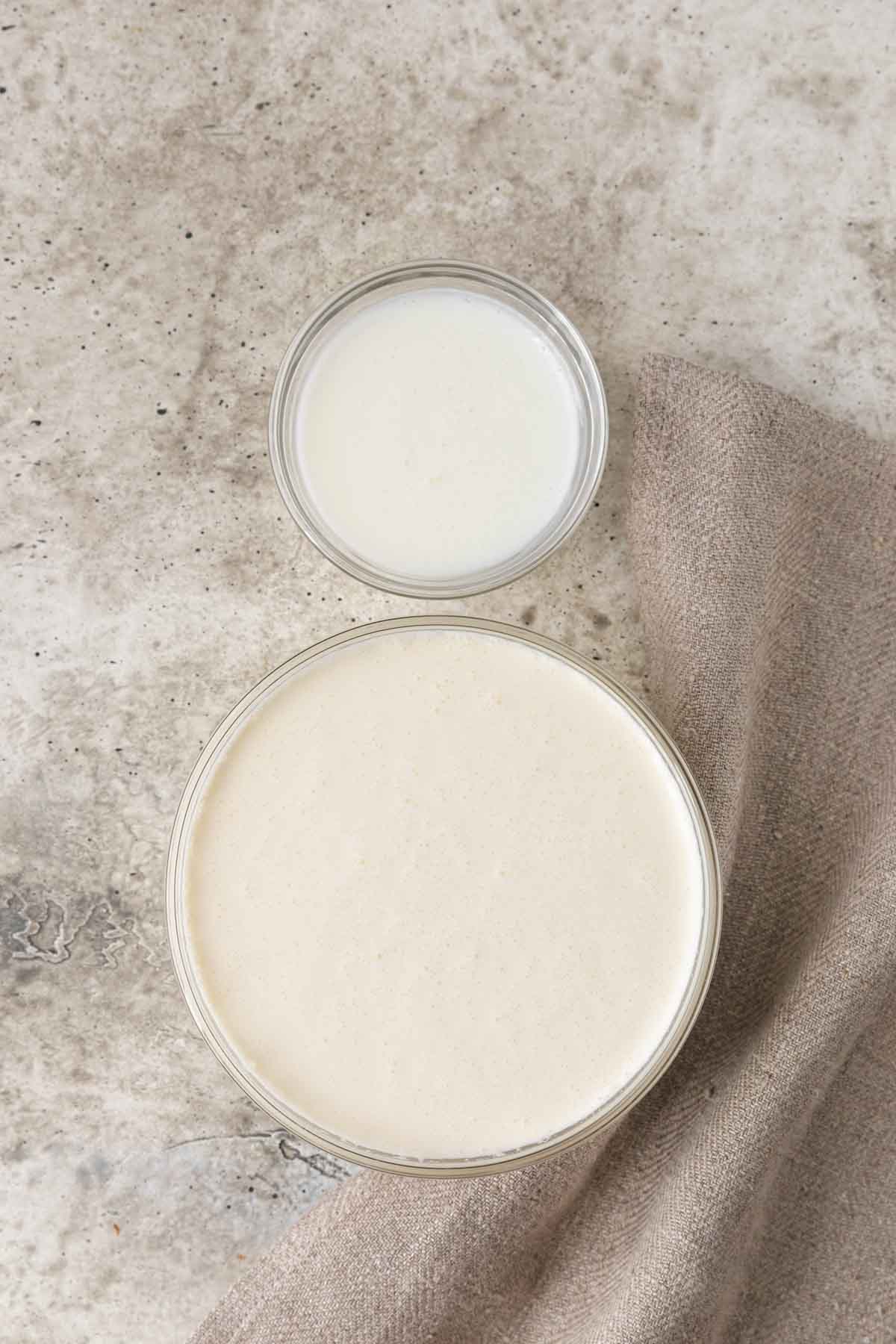 What is Creme Fraiche?
Creme Fraiche pronounced "krem fresh", is a classic French condiment for savory dishes. It is made primarily with heavy cream and in homemade recipes like this one, buttermilk is added because it helps with thickening and souring the cream. The result is a cultured cream with rich creamy flavor and thick velvety texture that tastes like a mild and decadent sour cream.
What is the difference between Creme Fraiche and Sour Cream?
If you haven't tried Creme Fraiche before, it is most similar to sour cream. The key differences are that Creme Fraiche is more thick and less tangy than sour cream. However, if you don't have Creme Fraiche and don't have the time to make it, sour cream makes the best substitute for it.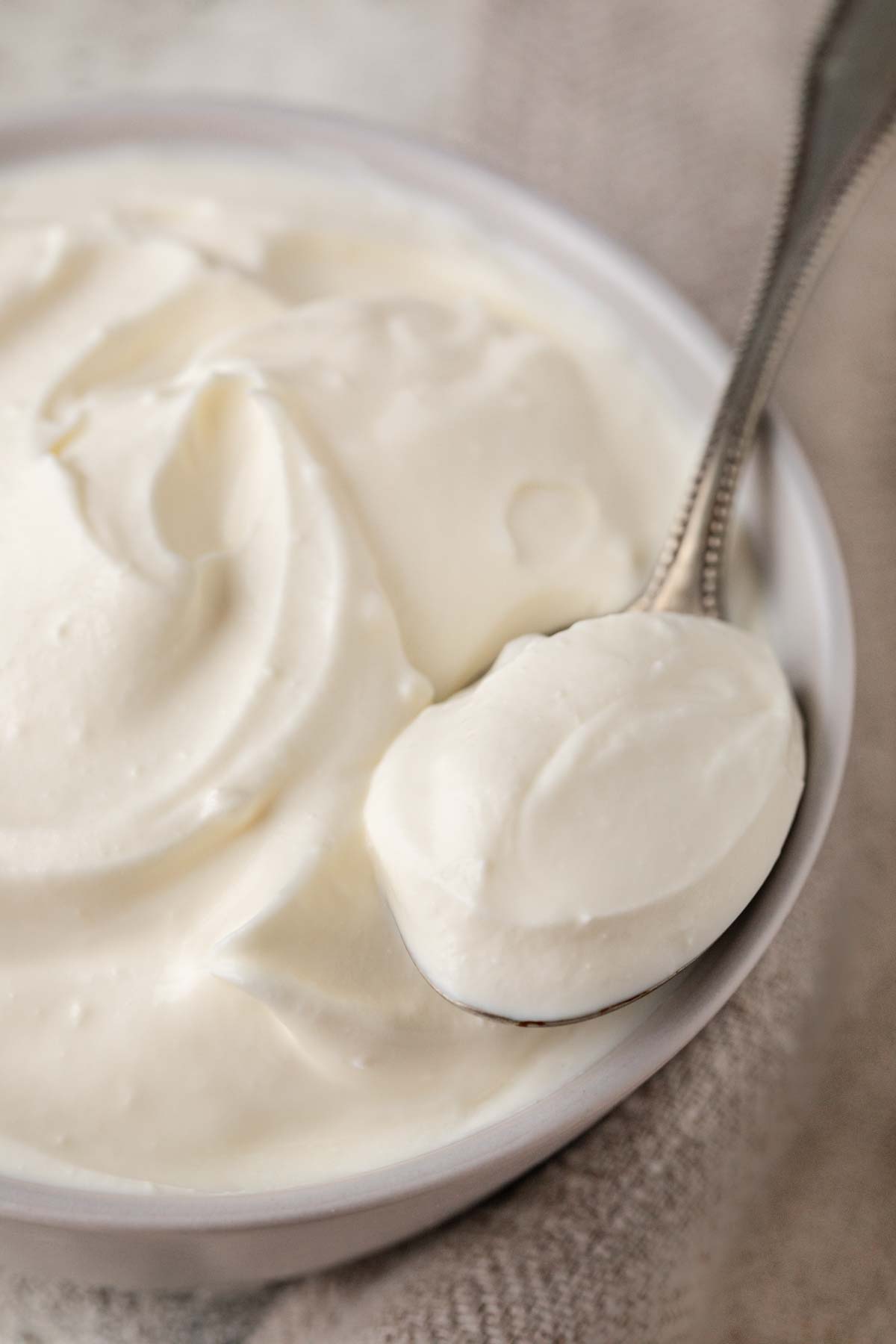 How to Make Creme Fraiche
Whisk: In a metal mixing bowl, vigorously whisk together the heavy whipping cream and buttermilk.
Ferment: Cover the bowl with a clean linen towel or cheesecake cloth and place somewhere out of direct sunlight. Keep at room temperature for 24 hours.
Chill: Whisk the cream mixture again. Cover the bowl with a lid or plastic wrap and refrigerate for 24 hours. Stir well to fluff up before serving as a condiment or spread.
What to Serve with Creme Fraiche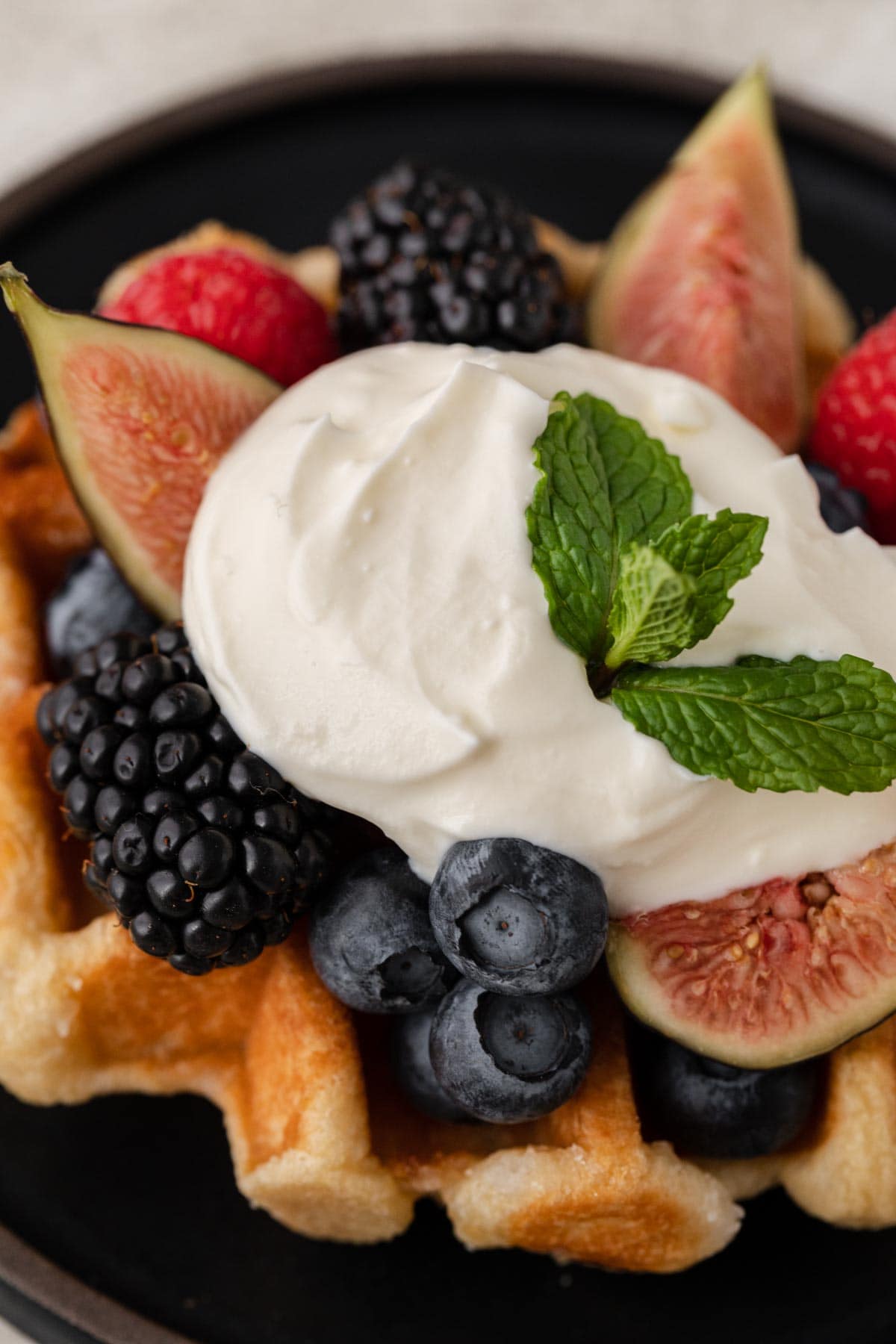 FAQs for Creme Fraiche
What does Creme Fraiche taste like?
Creme Fraiche has a distinct flavor that is lightly sour, nutty and tangy while also being creamy and almost buttery thanks to its high fat content. It tastes like a richer, less tangy sour cream or Greek yogurt, with an ultra creamy, velvety texture.
What are some Crème Fraîche substitutes?
The closest substitute for Creme Fraiche as a topping would be sour cream, followed by Greek yogurt. You can also beat heavy whipping cream with lemon juice to make a lemon whipped cream that mimics the acidic taste. For baking recipes, you can use real full-fat buttermilk in a one to one swap.
Can you freeze Creme Fraiche?
While technically yes Creme Fraiche can be frozen, it's not recommended. Much like sour cream and yogurt, the Creme Fraiche will separate as it freezes and thaws and won't come back together smoothly.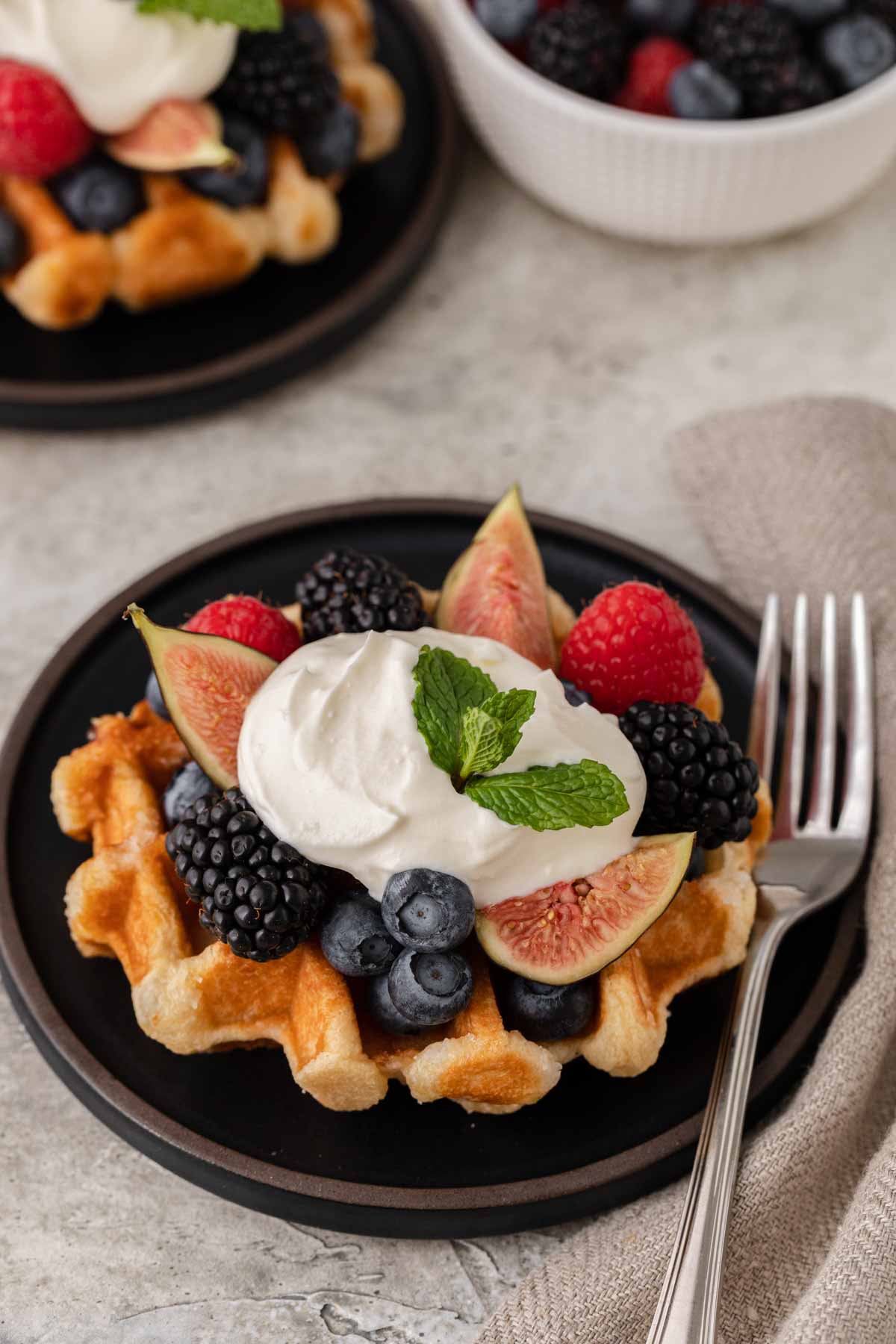 Create a free account to

Save Recipes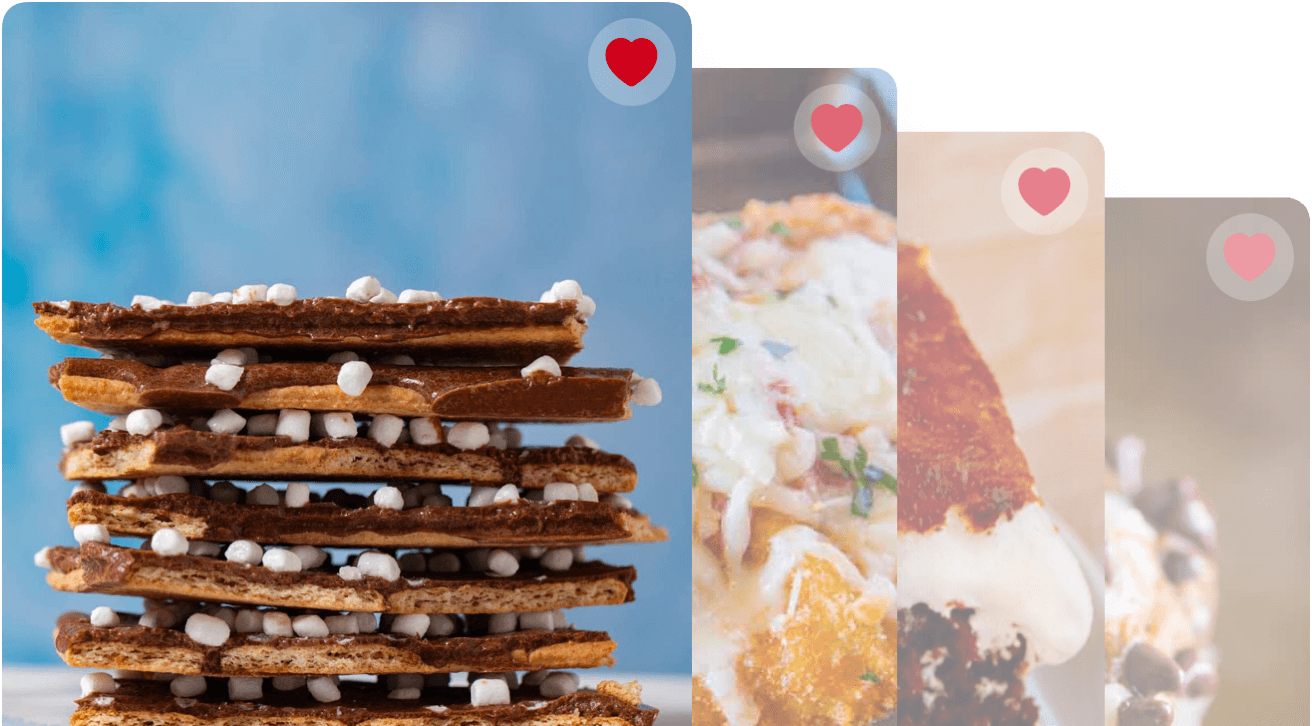 Key Ingredients
Buttermilk: The acid in the buttermilk is what helps naturally feed the good bacteria that creates the cultures in the cream and turns it into Creme Fraiche. It speeds along the fermentation process and is a natural way to make the cultured cream versus using additives.
Heavy Cream: You want to use heavy whipping cream because it will have the high fat content necessary to create the thick, rich cream. The high fat is what helps it stay good at room temperature instead of curdling like milk or lower fat dairy would.
Can Creme Fraiche be made ahead of time?
Yes! Creme Fraiche is actually a dish that you need to make ahead of time before you want to serve it. You need at least 1 full day to ferment and create the cultures in the cream and then another full day for them to thicken and create the flavor in the Creme Fraiche.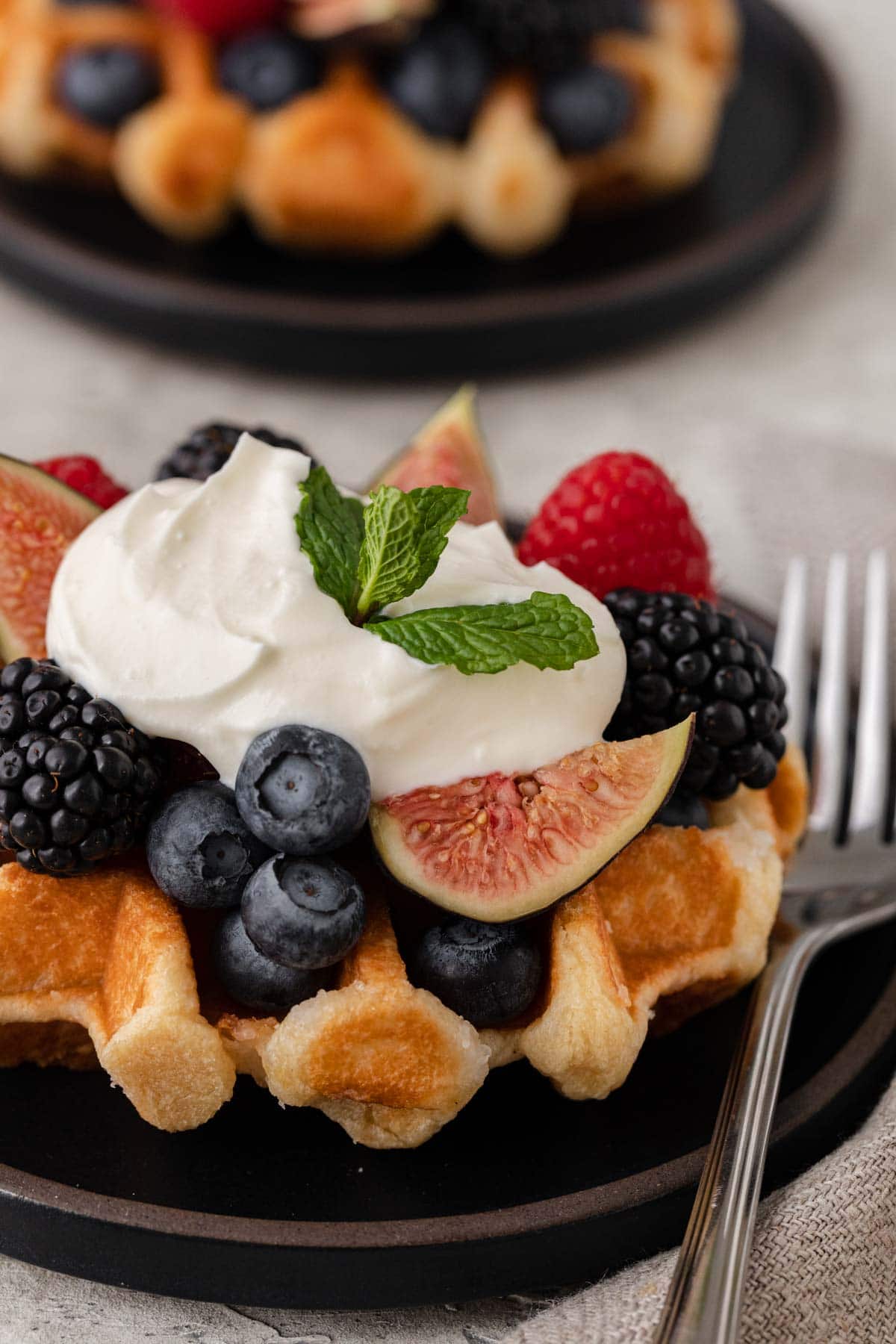 How to Serve Crème Fraîche
Crème Fraîche is a wonderfully versatile topping that you can add to a variety of dishes. It adds a nice tang and creaminess that makes it perfect for plenty of recipes.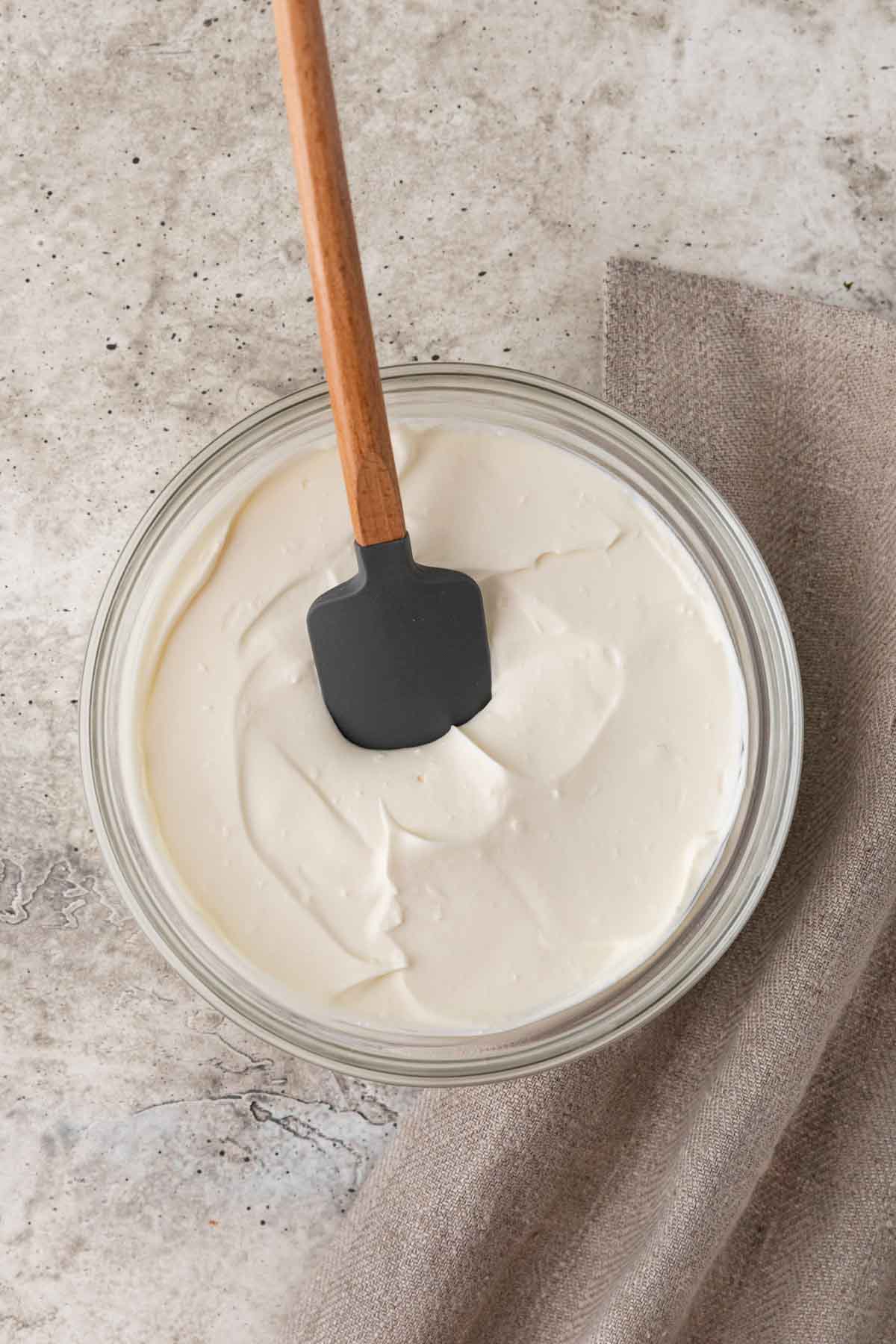 Variations
Citrus Creme Fraiche: To make a citrus flavored cream whisk a little lemon juice or lemon zest. You can also mix in some orange zest. Or, if you want other fruity flavors add strawberry, or raspberry extract.
Greek Yogurt: You can make this same recipe using Greek yogurt in place of the buttermilk in the recipe. Use plain Greek yogurt and do a 1 to 1 exchange for the buttermilk. The yogurt will make it tangier but also a little lighter.
Seasoning: You can also make some flavor additions with herbs and spices. After you've given the cream time to thicken, mix in some flavors when your stir it. Parsley, chives, rosemary, thyme, basil, garlic, or paprika would all taste great with the sour, tangy flavor.
Sweetened Creme Fraiche: To make sweet Creme Fraiche for a dessert topping mix in 1-2 teaspoons sugar or honey and a pinch of ground cardamom. You can serve the sweetened cream over your favorite desserts just like you usually would Whipped Cream.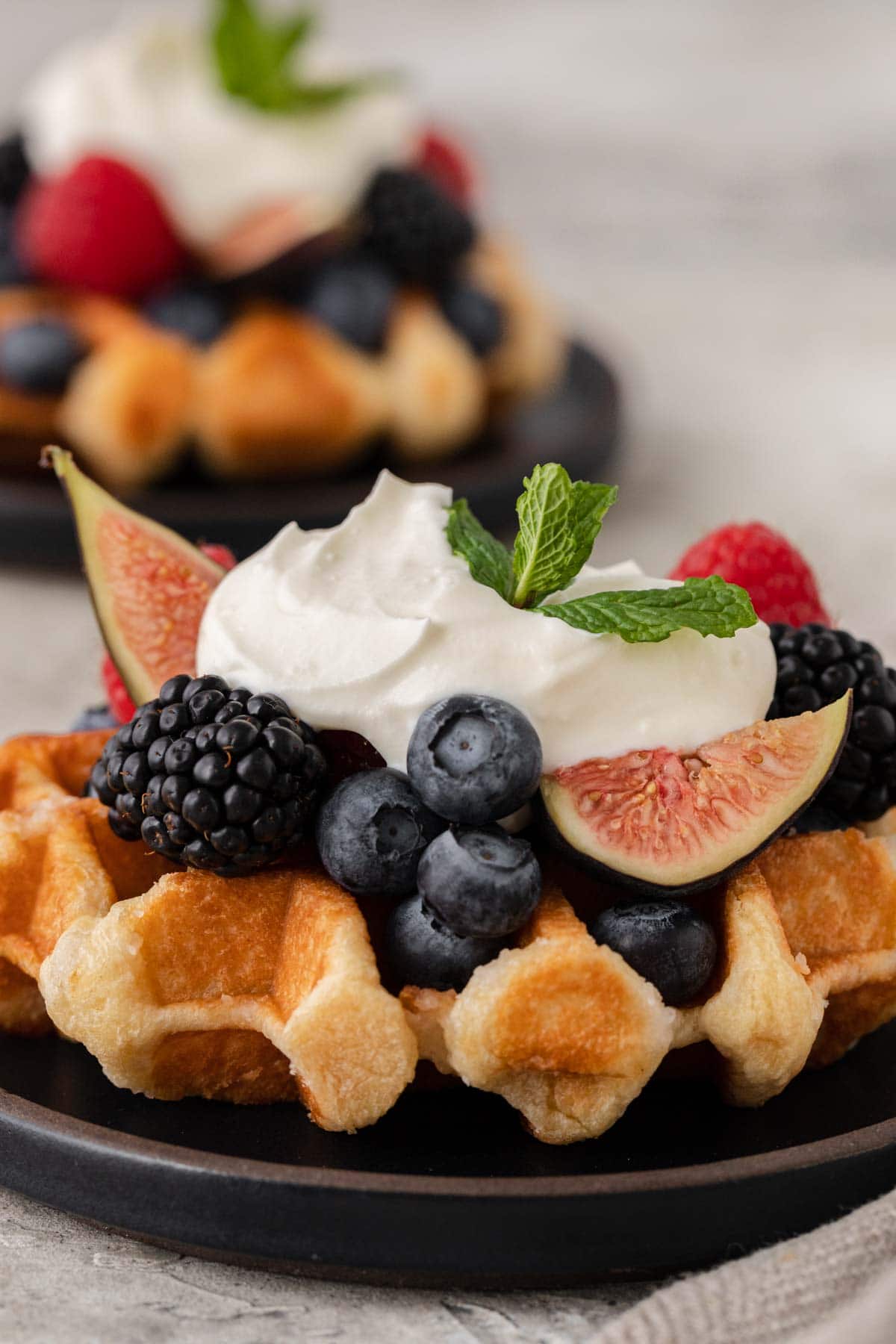 How to Store
Serve: You want to chill the Creme Fraiche for at least 24 hours before serving so that it thickens up and develops the sour flavor. Once it's been chilled, it can be at room temperature for up to 2 hours. It's best served chilled after a good stir to fluff it up.
Store: For the 24 hour chilling time, transfer the Creme Fraiche glass jar with a lid or another airtight container so it's ready to store. It will stay good in the fridge for up to 2 months. It may separate while stirring, so mix it gently before serving.
Freeze: Unfortunately dairy products won't freeze well once they are all emulsified and whipped up. So, if you haven't finished the Creme Fraiche after 2 months, it's better to just toss it out and make a fresh batch.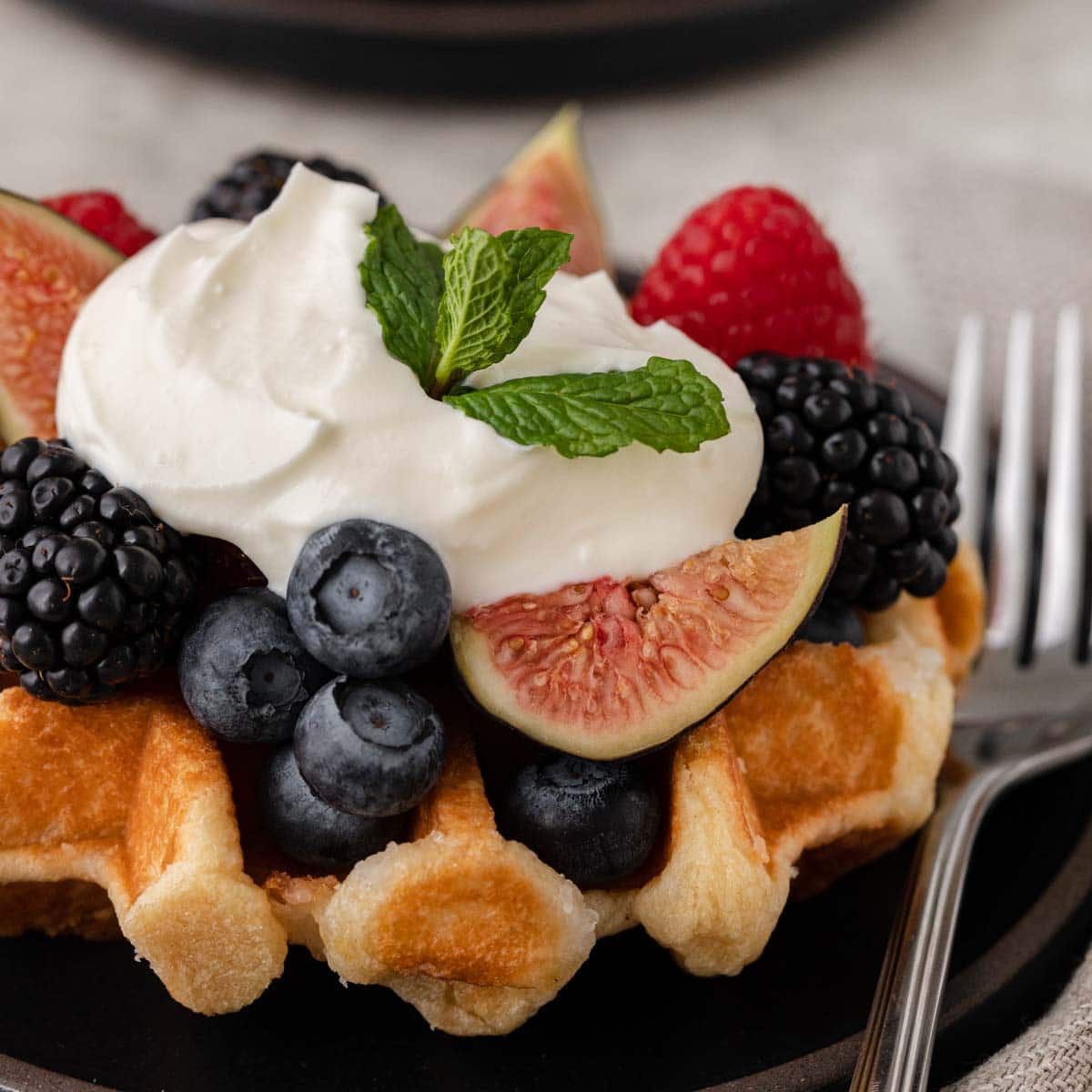 Ingredients
2

cups

heavy cream

3

tablespoons

cultured buttermilk
Instructions
Whisk together heavy cream and buttermilk.

Cover bowl with cheesecloth and leave at room temperature for

24 hours

.

Stir well and refrigerate for

24 hours

.

Stir before serving.
Nutrition
Calories:
103
kcal
|
Carbohydrates:
1
g
|
Protein:
1
g
|
Fat:
11
g
|
Saturated Fat:
7
g
|
Polyunsaturated Fat:
0.5
g
|
Monounsaturated Fat:
3
g
|
Cholesterol:
34
mg
|
Sodium:
11
mg
|
Potassium:
32
mg
|
Sugar:
1
g
|
Vitamin A:
442
IU
|
Vitamin C:
0.2
mg
|
Calcium:
23
mg
|
Iron:
0.03
mg